Post by EWC on Sept 28, 2020 19:40:06 GMT -6



















WARNING:
This live event contains strong coarse language (L), and intense violence (V) which may be unsuitable for younger viewers. None of the matches you are about to watch have been predetermined. Only some of the thematic story-lines have been discussed beforehand. Accordingly, EWC and it's producers must insist that no one attempt to recreate or re-enact any match or activity performed in this live event.
EWC RUMBLE XVII

Brought to you by EWCTV, Under Armour, PS4 and Dr Pepper
LIVE! from FNB Stadium in Johannesburg South, South Africa
Tickets available at the venue box office, the official EWC website & toll free: 1-800-EXTREME
Ticket prices (in USD):
$120, $60, $45, $30, $25, $20, $15
Prices do not include service charges or facility fees
EWC RUMBLE XVII

Commentators: Marcus Woo, Valentina Gomez

Announcer: Nina Dobrev
Senior Referee: Toyo Yasahiro
Referees: John Dean & Niklaus Forbes
Interviewers: Ace Heart & Pepper Montana
"BEG" by SEETHER begins to blast throughout the FNB Stadium as they rock the stage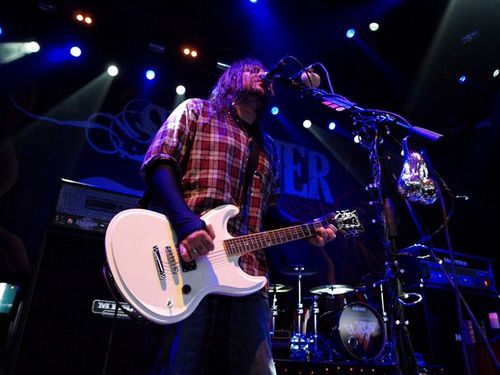 Video footage detailing historic events over the EWC's Twenty Three year history.
From March 1997 all the way down to the most recent episodes of Monday Night Brawl, Friday Night Rampage, Future Stars of Wrestling and EWC Prime!
Images of previous EWC Champions are shown, starting with the very first Champion Black Ninja, then moving onto Big Danny Mac and Steve "The Predator" Bennett. Sped up footage then shows a special montage of Memphis Reigns, Shadow Man, Hirsh Valentine, Jesse Nunez, Hurricane Jeff, Moses Lake, James Chambers, BDC, Jay Cee, Stray, Gladiator, The Rev, Drake, Xplode, Luke Wolfe, Natalie Young, Candy, Ace King, Dominic Sanders, Cyrus Black, Melody Malone and Scorpio all with the EWC Championship.
This is followed by highlights of showcasing current EWC Champions:


Xavier Reid
Samantha "Titaness" Hamilton
Ace King
Candy
Jordan Sharpe
Ezio DeLuca
Nevaeh
The Southern Express
The opening pyros hit and here we go.
The energy in Johannesburg is breathtaking as the crowd is absolutely electrifying in their uproar of cheers.
Spotlights circle around the FNB Stadium as the thousands of fans in attendance are shown in a wide angle shot. The camera then pans back out showing a full-scale view of the FNB Stadium and zooms in on some crazy fans. The crowd is rowdy, chanting the company's namesake at such a loud volume that it's a wonder that the music can be heard at all.
EWC
EWC
EWC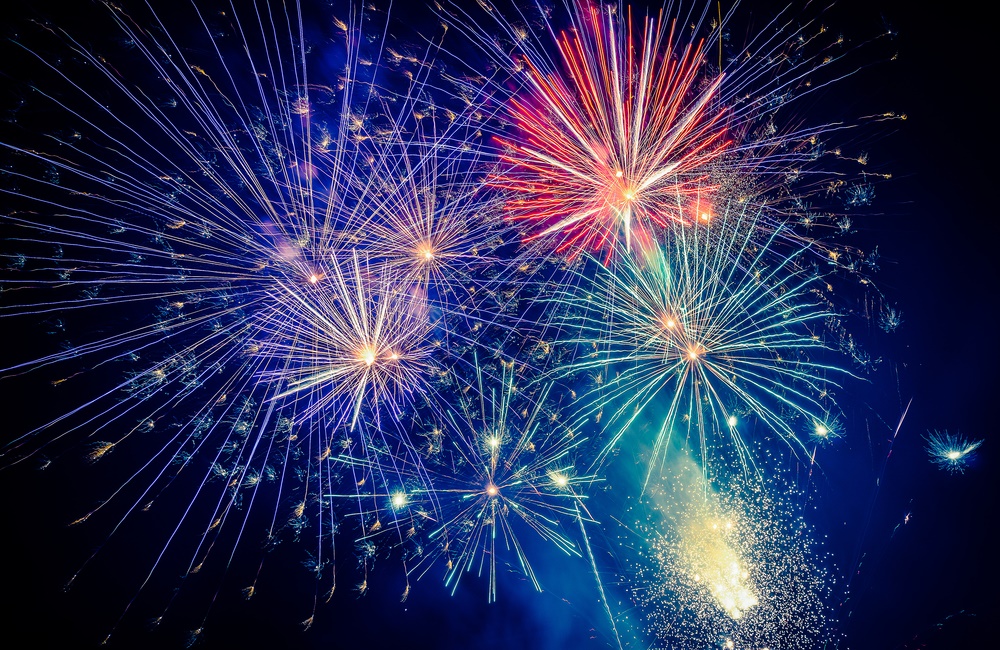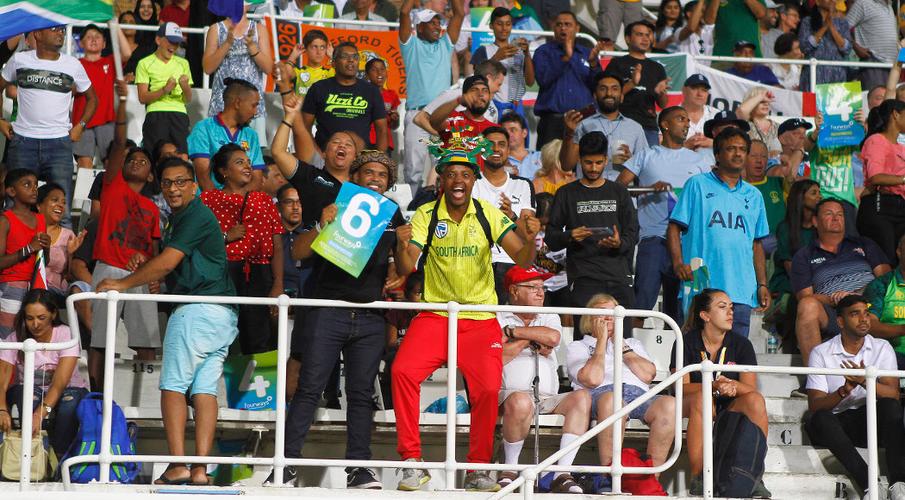 Fireworks emit from all around the arena and then all around the ring! Fans are standing, pumping their fists and raising signs as the camera feed pans to each one of them. One last round of fireworks blast out now, and we turn our attention to Marcus Woo and Valentina Gomez



Woo:
Ladies and gentlemen WELCOME .. to Rainbow Nation!! We are coming to you all live from Johannesburg, South Africa at the gorgeous FNB Stadium and I for one am so honored and excited to be bringing you the call tonight for the EWC Rumble in South Africa. You just heard South Africa's own SEETHER playing our theme song tonight, and boy did they put on a great concert earlier tonight. Along with me, as always is Valentina Gomez.
Gomez:
Thank you Marcus, I am very excited because we have an absolutely STACKED show for you tonight all before we get to the most stacked Rumble match possibly in EWC History. 40 wrestlers enter, but only ONE can walk out of here having filled in their dance card for December 14th, when we bring you WrestleFest! Who will that winner face? That will be decided tonight as well as current Undisputed champion Xavier Reid will face off against the man who he took the title from in the Power Struggle match at Parabellum, the 46th President of the United States, Scorpio.
Woo:
But what condition will Reid be in after he goes to War with Bosa over the International title? Will he even still BE a dual champion by the time he gets to Scorpio?
Gomez:
That's a great point Marcus. Xavier Reid could walk out of here tonight with one, two, or ZERO championships. He and the entire Love family have a LOT on the line. They could walk out with as little as one championship and as many as FOUR tonight as KillJoy Ito set to take on Ace King in an X-Division title match!
Woo:
And as the title matches keep rolling, we also have Candy's Husband, former FSW champion Robbie Rayder, has won the right to challenge North American champion Ezio DeLuca. These two have not liked each other for a while now so this match should be VERY aggressive. Then we have another feud reignited when the United States Champion Samantha Hamilton puts the title on the line against Nezumi Hazama, who is coming into this match on a 15 match win streak!
Gomez:
He is also the odds on favorite to win the entire rumble tonight. We could see him walk out with the U.S. Title and a shot at the Undisputed championship!
Woo:
There are 40 people in the rumble, so anything could be possible there! Both Sam AND Nezumi are in the Rumble. They could both be on stretchers and still burn this stadium down to get a shot at the Undisputed championship.
Gomez:
Two more people who are in the Rumble and have a match are FSW champion Candy and the Carnival Clown, Stitches in a Candy Castle match! Whatever the hell that is?!
Woo:
That match will be held inside of the Candy castle and in order to win, you will have to reach the Ivory tower in the center of the building and then take it to the Candy throne. Last time that these two went to battle it was in Stitches home turf, and Candy won the FSW championship. Can she keep it when they are on her home turf?
Gomez:
And the final championship match of the night will see Prime's most vicious rivalry go around one more time when JFS puts the title on the line against Dominic Sanders once again!
Woo:
Last time Sharpe threw Sanders OFF OF A TRAIN. What will JFS have to do to retain tonight?
Gomez:
You mean what will Sanders do to knock that punk JFS off his pedestal?!
Woo:
Either way, this will be one hell of a match! Speaking of, the last match we need to bring up is one I personally never thought we would ever see. At Parabellum, President Mac called for a truce in the brand warfare and pranks… That lasted about as long as a wet fart and in the end Mac suffered the consequences as he was left bloody on the mat after the GMs could not keep their composure. So tonight it all ends. Marshall Evans, Jim Connors, Chris Brock and Grizzly Duggan will meet in that ring tonight and there MUST be a winner! And to top it all off, President Mac will be the guest referee! It is going to go DOWN here in South Africa!
Gomez:
All of this and much more here tonight! We will be right back after a message about EWCTV. Don't go anywhere folks. This .. IS .. EWC RUMBLE!!!
The fans continue to chant and cheer as we fade to the EWCTV commercial


---
---
---
---
WHAT IS EWCTV?


All live EWC Pay-Per-View events (including StrangleMania, Night Of Champions, Rumble in the Bronx & WrestleFest)
All day scheduled & live programming
Plus, hours and hours of on-demand content & never before seen behind-the-scenes footage!
Groundbreaking original series - See new episodes of BRAWL, RAMPAGE, FSW, PRIME and more
Live in-ring action, reality shows and documentaries
HOW TO ORDER
Get the award-winning EWC Network through your TV provider. Call your local TV Provider today to subscribe.
Only $7.95/month

WATCH ONLINE
If you are subscribed to EWC Network through your TV Provider you can now enjoy EWC Network on your:
PC, Laptop, PS3, PS4, or tablet.



EWCTV for only $7.95 USD per month
Along with being an EWCTV Subscriber, you get:
EVERY Pay-Per-View event included at no extra charge
15% off any and all EWC Merchandise from the EWC Store
20% off all tickets to LIVE EWC Shows
A free EWC Yearly Wall Calendar signed by the entire active EWC Roster
As an added bonus for all those currently subscribed including any new subscriptions
prior to midnight OCTOBER 31ST

Receive
a
FREE
copy of
EWC RUMBLE XVII
DVD and Blu-Ray combo when it's released early next year
+ free T-Shirt and Replica EWC Undisputed Championship belt.
So act now if you aren't already subscribed to EWCTV
---
---
We head backstage as we see Pepper Montana's smiling face as he stands next to Gabrielle Visconty.
Montana:
Gabrielle, you've had a…"
Gabi:
Gabi… Just Gabi."
Gabi replies through a smile as she cuts him off. Pepper nods his head slowly as he clears his throat to continue.
Pepper:
Okay… Gabi, you've had a tough year but you have managed to stay in the hunt for several titles. Now, with your recent move to Rampage, you have completely changed everything about you from last year, cut all ties with Tommy Love, changed brands and even changed your hair color. What should the EWC expect out of Gabi Vee in the last half of 2020?
Gabi smirks as she looks at Pepper.
Gabi:
Well, Pepper, I've begun re-focusing back on the basics. I've moved to the toughest brand in the EWC, and it wasn't by accident. You know the old saying: 'If you want to be the best, you have to beat the best'. I'm out to live it.
Pepper:
Well the current Undisputed and International title holder is on Brawl. Some would say the Undisputed Champion is the top title of the company, and Xavier Reid is holding it as well as on Brawl, the brand you just left. Some would also say that Xavier Reid is the man to beat.
Gabi chuckles as she looks past Pepper for a brief moment.
Gabi:
Maybe you should ask Scorpio about that.
Pepper's eyes about bulge out of his head as Gabi glances past him again. Pepper turns with the expected look of a man that is about to get hit in the face with a Louboutin high heel… Yet no one is there. He lets out a sigh of relief and looks back to Gabi with a questioning look.
Gabi:
Relax, Pepper… You are a little jumpy. I was just saying that Xavier won that title when Scorpio didn't really lose it himself, his team lost it for him. Remember the 'to be the best, you have to beat the best'? We will see if my theory holds water here in a bit. But, back to your question: I beat Xavier Reid right in the middle of the ring at Rampage #468. He took a Dirt Nap and didn't get back up. The irony of it all is staggering. The night I beat him is the night I finally decided to free myself from Tommy Love. Then, at the following Brawl I dropped Tommy and came clean about my addiction to painkillers. While I was getting better, Xavier Reid was getting worse. He ended up WILLFULLY taking Tommy Love as his manager and lucked into the International title against a very lackluster Clay Byrd the very next show… Yeah, Xavier has gotten lucky. But I have been called lucky, Pepper. I survived a car crash that took both my parents but spared me… they told me I was lucky. I sure don't feel lucky, and neither should Xavier Reid. Scorpio is going to exact his revenge and reclaim the Undisputed title tonight, while Bosa is going to take the International title off his hands as well. Then, when Xavier is back to square one, he will hopefully see that Tommy Love has done nothing for him, much to Tommy's own bragging and boasting. Xavier Reid's run as Champ-Champ was a text book case of being in the right place at the right time.
Pepper:
You sound a little bitter, Gabi.
Gabi chuckles as she stares at Pepper.
Gabi:
I am a little bitter, Pepper. I've had a shit year. Hell, the whole world has had a shit year. But I've beat the really big names in this company, but only when it didn't matter. I am no longer satisfied with just being here and collecting a paycheck. I have resumed training with Ruthann Hunter. I am focusing on what I need to do to get to the next tier of the company, to silence the idiots that post their own self loathing on my Fighter Talk feed. It's what I have to do… beat the best.
Pepper nods his head as Gabi finishes speaking.
Pepper:
How do you feel you'll do in the Rumble? There are some huge names in the company in the match.
Gabi:
It's a crap shoot, it always is. You could be Ace King and roll in there and get eliminated right off the bat. But, I am not the same wrestler I was last year. I am not the happy go-lucky girl bouncing down to the ring with pink hair and a smile to hide the addiction. I didn't do well at last years Rumble, finishing lucky #13, but this year I need a top10 finish… I'd love to sit here and tell you that I am going to win it all. I'd love to have that much Ego coursing through me right now, and maybe I will at this time next year, but I still have a lot to prove to myself. Once I have done that, proving it to the rest of the company will be easy.
Pepper:
Who are Gabi's top targets in this match tonight?
Gabi smirks and then laughs at Pepper.
Gabi:
Anyone that finished in the top 10 last year: Malone, Sanders, Hamilton, Killjoy, Faith Rivers and JFS. Candy is on that list as well… but she isn't a target unless she has to be. She's a great friend but this is business. She'll be out to do the same if we run into each other. We both understand what this match means. I need to secure a strong finish in this match to help with the momentum I am trying to gain ending out this season. I'm still on the contender list for the International Title as well as the US title… It could be a long shot, but I could still end the season with a title wrapped around my waist. Winning the Rumble would put me in contention for three titles.
Pepper:
It is a long shot, but it could happen, I guess.
Gabi frowns slightly at Pepper as she places her hands on her hips.
Gabi:
Thanks for the support, Pepper.
Gabi shoots Pepper a very unamused look. Pepper suddenly realizes what and how he spoke.
Pepper:
I didn't mean it like
that.
Gabi cocks an eyebrow at him before she twirls away, slapping Pepper in the face with her hair before she walks away.
Gabi:
Too late! This interview is over.
Pepper:
I… But, wait! You always gave me a hug in every interview I have ever done with you. Can I at least get a hug?
Gabi:
Change… It's all about change.
Gabi says over her should just before she rounds the corner and vanishes from sight. The camera pans back to Pepper, who has a disappointed look on his face.
Pepper:
And now we go to Ace Heart with Tommy Love and Xavier Reid.
The camera cuts to a different area backstage where we find Ace Heart standing next to 'The Memphis Mouthpiece' Tommy Love, who has a huge smile on his face.
Heart:
Ladies and gentlemen please welcome at this time, the manager of the Undisputed and International Champion Xavier Reid...Mr. Tommy Love!!!
Tommy looks smug as he looks into the camera.
Heart:
I would ask you how things are going but…
But Tommy cuts in
Love:
I'm on top of the world Ace, look at me, I was banned from Brawl not too long ago and now I'm the manager of Xavier Reid, who is the Undisputed and International Champion…
Heart:
For now but you know Tommy, Xavier could walk tonight as a double champion and walk out of the FNB Stadium a former double champion and we kick things off with his first match against Bosa for the International Championship…
Love:
Ace that's wishful thinking and I know the Tommy Love haters out there would love nothing more than to see Xavier lose both championships but that's not going to happen...Xavier has told the world just how much the International Championship match means to him and he's not about to give anything less than 100% to make sure he completes task number on tonight...defend the International Championship…
Heart:
And giving anything less than 100% out there against Bosa wouldn't be good for Xavier's health...the kids been…
Love:
Protected Ace...he's been protected to give the illusion of greatness and Jim Connors has done a hell of a job doing so...the kid could be the face of the EWC if they handle him correctly...honestly Jimbo should give me a call after this match and I'd have him in the Main Event of the 2021 WrestleFest…
Heart:
That's the last thing the kid needs…
Reid:
Yeah why would you need Tommy Love when you have X right…
Ace turns his head as Xavier Reid walks up behind him…
Heart:
Xavier...I wasn't expecting you.
Reid:
Why's that...thinking I was Killjoy and needed Tommy to do all my talking…
Xavier smiles
Reid:
But fear not, Killjoy's English is coming along nicely...as is Brett Bosa.
Heart:
You can't deny you have been dealt a tough hand here tonight…
Xavier hands Tommy the Undisputed Championship as he puts the International Championship over his shoulder.
Reid:
It's a tough night, I'm not going to lie but it's what champions around here must deal with...EVERY championship is on the line here tonight and MOST of the champions are also in the Rumble so it's not like I'm being singled out but I understand where you want to take this interview Ace so I'll play along...yes having to face both Bosa and Scorpio in one night is a tough draw. I know Brett is going to try and hit me with everything he has in order to win this…
Xavier pats the gold face of the International Championship
Reid:
That many here in the EWC think it's Brett's time to break through and become an EWC Champion...some may think I'm looking past him and focusing all my attention on Scorpio and that championship…
Xavier points at the Undisputed Championship that Tommy is holding
Reid:
But those people are idiots Ace, they don't understand how much this International Championship means to me...it reminded me and everyone in this business that I'm still a champion and I could have never have won the Undisputed Championship had I not won the International Championship...it's not the forgotten child Ace.
Heart:
Well that's good to know but Bosa has been a one man wrecking crew…
Reid:
Against hand picked opponents to make him look like a 'one man wrecking crew'...listen it wasn't a cheap shot at Brett when I pointed out his win's have been over FORMER EWC wrestlers and that when the elite of the other brands in the EWC come to Brawl Brett somehow seems to avoid them and I understand, Brett is Jim's golden goose on Brawl...the kid is the future and you don 't want to kill his confidence...it's a smart move and one I would have made if I was in Connors boots but the problem is while someone like Nezumi is battle tested Brett seems hasn't faced adversity and when he does...he fails...this isn't me lying or running him down this is just fact...he's use to facing guys he can roll right over but put him in the ring with talent and we get StrangleMania, we get Parabellum...we get an underwhelming performance from 'the beast'...
Love:
At Parabellum Brett Bosa had the chance to grab a hold of Brawl and put it on his back but he didn't...he let Iggy Swango eliminate him, he wasn't a factor…
Reid:
The moment was just too big for Brett and yeah...he won the right to challenge for the International Championship at Night of Champions but I'd question how 'game' Darius and Gabi were for that match...you can't deny they both have issues right now but good on him, he was able to get the win and this opportunity…
Love:
And we know that X has been in his ear, pumping the kid up and telling him that tonight can be his moment…
Reid:
Filling the kid with false confidence...now I know I'm going to have to weather the storm early...that Brett is going to come out all amped-up ready to roll, he's going to hit me with the best he has but what's going to happen when he realizes his best isn't good enough to keep me down…
Love:
What's going to happen when what takes care of his normal opponents doesn't keep Xavier down…
Reid:
See unlike those other opponents I'll be able to take Brett to the deep waters he's never been in...he may have size but I have experience and in this business that means everything...nothing Brett bring at me isn't something I've already seen and by better...I've been in that ring with the GREATS of the EWC, is he going to bring something to the table that Ace didn't, that Dominic didn't and before you say size Clay had size...it didn't work out for him in Las Vegas…
Love:
At Night of Champions Xavier beat the odds, he beat 7 other champions and won the Power Struggle Match so if you think he can't overcome a size issues...well then you haven't been paying attention…
Reid:
Brett I know you think this is your moment, people are saying it's your time...but that's just not the case...you aren't ready Brett and I'm going to show the wrestling world that here tonight. You still have too many lessons to learn and I'm going to send you back to X needing a little more teaching…
Love:
Brett isn't going to have that 'win one for the Gipper' moment here tonight, we aren't here to make a 'special moment' for the wrestling world to gush all over…
Reid:
I'm walking in tonight as a double champion Ace and I'm walking out a double champion, the first step into making that happen is going out there and beating Brett Bosa...to retain this International Championship and that means slaying 'The Beast'...Brett go right ahead and Active whatever you need but at the end of the night it's not going to matter...I'm walking out of here the International Champion…
And with that Xavier turns and walks away and is followed by a smiling Tommy Love.
EWC INTERNATIONAL CHAMPIONSHIPBosa
Vs Xavier Reid
Woo:
Alright, Valentina! You ready to rumble?
Gomez:
That's not til later.
Woo:
No, it's a saying...
Gomez:
I know, you numbskull. Yes, of course!
Woo:
Alrighty! We are going to kick it off with the first of two matches for both of these men tonight! The challenger, Bosa, will enter into the forty person Rumble Match later tonight.
Gomez:
While the Champion, Xavier Reid, will defend not only his International Championship right now, but also the Undisputed Championship later tonight.
Woo:
I cannot wait for this one. Let's get down to it!
Dobrev:
The following contest is schedule for ONE FALL, and it is for the Extreme Wrestling Corporation INTERNATIONAL CHAMPIONSHIP!
FNB Stadium goes silent as Nina Dobrev stands at center ring. Around her, camera's flash and fans speak amongst themselves as she smiles. Raising the microphone, her earrings sparkle under the lights as she begins to speak....
Dobrev: Introducing first, the challenger! Hailing from San Francisco, CA! He is BEASTMODE INCARNATE... BOOOOOSAAAAAAA!!
"Man in the Box" by Alice in Chains begins to play! The crowd completely erupts as Bosa emerges from the backstage area! Stopping on the stage area, he glares at the ring a moment, adjusting his gloves and pads. He looks determined, his eyes remaining on the ring as the camera pans around him.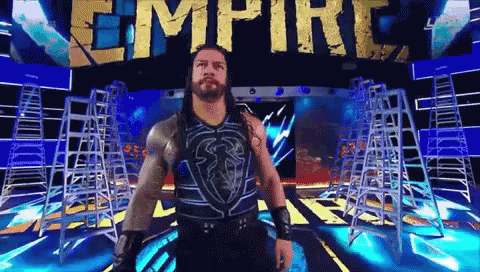 As his theme song continues on, Bosa walks down the ramp and towards the ring, reaching out to slap the hands of the fans along the way. Once at ringside, Bosa then raises both fists slowly as a fireworks display erupts behind him, sending the fans into a frenzy!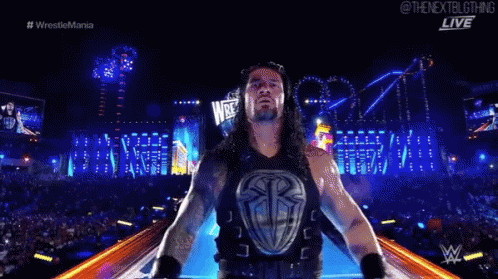 With the fans still cheering and chanting his name, Bosa lowers his fists and ascends the metal stairs. Stepping through the ropes, he circles the ring once as he nods his head in respect to the fans! The fans continue to cheer him on as Bosa comes to a stop in the middle of the ring.
Woo:
This young bull has been dang near unstoppable en route to this match, Valentina.
Gomez:
He's toppled many superstars, but perhaps he hasn't had a match as big as this one. He steps into the ring with not only the International Champion, but the UNDISPUTED Champion in Xavier Reid.
Woo:
You got that right. Bosa beat both Gabrielle Visconty and Darius on the way to this moment. That's the same Darius who, earlier this year, challenged Scorpio for the Undisputed Championship.
Gomez:
There was no easy road to South Africa, Marcus. But will Beastmode Incarnate be able to knock off arguably the hottest wrestler in the company here tonight?
The spotlights inside FNB Stadium start to flash around the crowd as 'Papercut' starts to play out of the speakers.
Xavier Reid walks out onto the stage in his new black fight shorts, kickpads and boots. His hands are wrapped in black tape with the EWC International Championship around his waist. Following him out is 'The Memphis Mouthpiece' Tommy Love, who holds the Undisputed Championship over his shoulder. He walks to the front of the stage and crosses his arms into an X in front of his chest and smirks as Tommy follows from behind and acts as if he's going to hit the camera with the 'Love Stick'. Tommy points to the ring as Xavier unhooks the International Championship and hands it to Tommy who raises it into the air with the Undisputed Championship.

Dobrev: And his opponent, being accompanied to the ring by 'The Memphis Mouthpiece' Tommy Love... from New York and weighing in at 220 pounds... He is the Extreme Wrestling Corporation International Champion and the EWC Undisputed Champion! XAAAAVIEEEEER REEEEEEEID!

Xavier walks towards the ring shadow boxing as he makes his way down the aisle. Xavier storms up the steps and climbs into the ring, Tommy follows suit and walks towards the referee, already complaining about something. Xavier storms across the ring to the opposite corner and jumps to the middle rope and looks over the crowd and once again crosses his arms into an X as Tommy holds up the two Championships in the official's face and reminds him who the Champion is. The official ignores him and walks away as Tommy laughs. Xavier jumps down and squats down in the corner waiting for the bell.
Woo:
That Tommy Love sure is a character, isn't he?
Gomez:
I don't really care for him. Let's just hope he stays away from me. There won't be any seeding tonight, no sir.
Woo:
Xavier Reid has been the International Champion since way back in June, when he won it at Hardcore Revolution against Iggy Swango and David Scott.
Gomez:
And his momentum has not stopped!
Woo:
That it hasn't!
The referee is finally able to convince Tommy Love to hand him the International Championship. He walks into the middle of the ring and holds the Championship up high for everybody to see. Tommy exits the ring as the referee hands the Title to the ringside attendant and calls for the bell.
DING DING DING
Bosa walks to the center of the ring and stares down Reid. He motions to his waist that the International Championship is his. Reid gets up from the crouched position and walks towards Bosa. He goes low, grabbing Bosa's left leg. He lifts it up off of the ground, taking the bigger man off balance. Bosa stumbles back into the ropes. The referee calls for a break. Reid lets go of Bosa's leg and grabs the other one. He drags Bosa to the middle of the ring and leg-whips Bosa to the mat. He immediately locks Bosa into a leglock, but Bosa quickly scrambles to the ropes and grabs the bottom rope. The referee counts for Reid to break the hold.
ONE!
TWO!
THREE!
FOUR!
Reid breaks it. Bosa leans against the bottom rope. On the outside, Love feigns hitting Bosa with the Love Stick. Bosa squirms out of the way and Love laughs at him. Bosa gets up to his feet and stares over the top rope at Tommy Love. Reid comes up from behind him and rolls Bosa up with a school boy.
ONE!
.
.
.
TWO!!
.
.
Bosa kicks out.
Woo:
Close two-count. Give an assist to Tommy Love.
Gomez:
I will give him nothing. Ever.
Bosa, a tad irritated, gets up quickly and drives a boot into the side of the Champion's head. He grabs Reid and lifts him off of the ground, driving him down with a spinning spinebuster! He stays on for a cover.
ONE!
.
.
.
TWO!!
.
.
.
Kickout by Reid!
Bosa grabs Reid's head and lifts him off of the ground. He drags him to the corner and slam's Reid's head into the turnbuckle hard. He turns Reid around in the corner and drives a hard right forearm into Reid's jaw. He follows it up with a second. He grabs Reid by the wrist and whips him across to the opposite corner. Reid reverses. Reid follows Bosa and goes for a jumping knee into Bosa's chin. Bosa catches Reid and drops him up and over the top rope. Reid lands on his feet on the apron. He grabs Bosa by the hair and yanks him down onto his back on the mat. The referee gets in his face about grabbing the hair as the crowd boos.
Woo:
He had a handful of that beautiful mane, Valentina.
Gomez:
Smart move. He knew it wouldn't get him disqualified this early. And, if it did? Would he care? He keeps the Championship!
Woo:
I would like to think Xavier Reid doesn't want to keep his Championship that way, and Bosa sure wouldn't want to win that way, either.
Reid climbs up to the top turnbuckle. He measures Bosa and leaps off, looking to drop a knee into Bosa's temple. Bosa moves. Reid somersaults through. Reid pops up to his feet and is met by a fantastic clothesline by the challenger! Bosa gets up and grabs Reid's legs. He looks to hook Reid into a Sharpshooter, but Reid turns it into a small package!
ONE!
.
.
.
TWO!!
.
.
.
Kickout by Bosa!
Both men pop up to their feet. Reid leaps up for a hurricanrana, but Bosa drops him into a powerbomb! He covers the Champion!
ONE!
.
.
.
TWO!!
.
.
.
T-KICKOUT!
Bosa gets up to his feet and stalks the ring for a moment, looking down at the Champion who is starting to get to his feet. Bosa looks at Reid and raises a fist into the air, inciting cheers from the fans.
Woo:
Might we see the Chin Check?!
Bosa bounces off of the ropes. When he returns, his move is interrupted by a hard basement dropkick to Bosa's right knee, taking the big man down to the mat. Reid, once again, focuses on that knee and locks Bosa into an STF!
Gomez:
Bosa is in the middle of the ring!
The referee checks for a submission, but Bosa refuses. Bosa begins to slowly claw his way towards the ropes. The move is locked in well, but Bosa's power is just a bit much for the Champion. He inches towards the ropes more. As he is about to reach the rope, Tommy Love runs over and grabs the bottom rope, using all of his might to pull it away from Bosa. The referee gets up off of the mat and yells at Tommy Love. Love tries to act like he did nothing. The referee points at Tommy Love and then at the stage, indicating that he has been ejected from ringside!
Woo:
WOW! Tommy Love has been ordered to the back!
Gomez:
Thank. God.
Reid releases the hold and gets up and starts yelling at the referee. The referee warns him that he's "this close" to disqualification. As Reid argues with the referee, Bosa is up to his feet. He shakes his leg out as he stares at Love and smirks. Love is ushered away from ringside by another referee. Reid finally stops arguing with the referee and turns around… RIGHT INTO THE CHIN CHECK! Bosa rolls onto his back and kips up, but he lands hard on his feet and his right knee buckles. He drops to a knee and tries to shake his knee out. Bosa gets up and limps around the ring. Reid is slowly up to his feet. Bosa grabs Reid by the wrist, going for Unleash the Beast! Reid grabs ahold of the top rope and anchors down, sending Bosa to the mat on his back. Reid grabs both of Bosa's arms and drills him with the Fuck You Stomp over and over and over. He sits Bosa up and bounces off of the ropes. He returns and delivers a swift kick right into Bosa's chest! He covers!
ONE!
.
.
.
TWO!!
.
.
.
THRE-NO!
Woo:
That may have been as close to three as you can get without it actually being three!
Reid can't believe that Bosa kicked out. He gets up to his feet and signals for the end. He lifts Bosa up off of the mat. He tries to lift Bosa up into the Package Piledriver, Bosa anchors down and into a back body drop! He flops to the mat to rest as both men are down. The referee begins to count.
ONE!
TWO!
THREE!
FOUR!
Bosa begins to stir.
FIVE!
SIX!
SEVEN!
Reid is up to his feet. Bosa is up to his feet.
Woo:
Both men are up and showing signs of wear here.
Gomez:
Let's not forget that both men have another match tonight! These guys are giving it their all here.
Bosa grabs Reid's wrist and looks for an Irish-whip into the corner. Reid reverses in the opposite direction and sends Bosa crashing into the referee in the corner! The referee goes down! Bosa turns around. Reid goes for a roundhouse kick. Bosa ducks. UNLEASH THE BEAST! HE NAILS IT! HE COVERS THE CHAMPION!
Woo:
Valentina, the referee is still down!
The crowd counts.
ONE!TWO!THREE!
Bosa looks around and sees the referee still down. Out of nowhere, Tommy Love is back into the ring and runs and drills Bosa in the back of the head with the Love Stick! Bosa drops to the mat. Tommy grabs Reid and drags him over to Bosa and drapes an arm over Bosa's chest. Tommy shakes the referee, who is in a daze. Tommy leaves the ring and hides at ringside. The referee sees the cover. He counts as fast as he can in his daze.
ONE!
.
.
.
.
.
.
.
.
.
.
.
TWO!!
.
.
.
.
.
.
.
.
.
.
.
.
.
THREE!!!
DING DING DING
Dobrev:
Here is your winner… and STILL the EWC International Champion… XAAAAAVIEEER REEEEID!
Woo:
Son of a gun. Tommy Love knew with the referee down that he could get away with it!
Gomez:
That man literally makes me sick.
Woo:
Regardless, Xavier Reid is still the International Champion.
Back in the ring, Bosa looks disappointed and angry. He looks at the International Championship being handed to Xavier Reid and then exits the ring. Xavier raises his International Championship high into the sky while Tommy Love raises the EWC Undisputed Championship.
Gomez:
And now we head to the back where Melody Malone and Kyle Gautier have been spotted.
Backstage cameras pan down a hallway and the fans at the FNB Stadium erupt into cheers to see the former North American champion Kyle Gautier walking down the hall with his trademark sash proudly across his chest. He looks ahead, a grin spreading over his face before he holds his arms out to the side and does an exaggerated curtsey.
Gautier:
"Your majesty!"
The camera pans back and coming into the shot is Melody Malone, who stands with her crown on her head and a crown shaped hand mirror in her hand, admiring her Rumble attire.
Malone:
"Kyle, my favorite mustachioed man."
She smiles, but the smile doesn't quite reach her eyes as Kyle reaches into the sporran of his kilt ensemble and pulls a sash out.
Gautier:
"I brought you this, you know, good luck on repeating and everything. I know Cyrus would be proud."
Gautier holds out the sash to Malone, who takes it in her free hand and looks at it before she chuckles. Her opposite hand lashes out, smashing the mirror into the side of Kyle's head as glass splinters fly. She drops the mirror and loops the sash around Kyle's neck, leaning into his ear as he claws at the sash around his throat.
Malone:
"Sweetie, these sashes and curtseys are exactly why I'm stuck waiting back here to find out what number I am for the Rumble and not waiting from a skybox to find out who my eventual challenger is. I've been caught up with the cute impressions, the mustaches, the 'wacky friendships'... and I've let everything slip through my fingers so I could keep playing these kids games. I'm done with it. Tonight? The Queen is headed straight for the castle and no one is going to be able to stop me from taking back what's mine."
It doesn't take long before stage hands and officials rush the scene and Melody relinquishes the sash from Kyle's throat before taking a step back and holding her hands up to the striped shirts swarming in on her. The distraction is seemingly all part of the plan though, as a cold smile crosses her face. Behind the officials, Rory grabs hold of Kyle and hoists him up before driving him down onto the concrete with The Royal Proclamation! As the officials turn their attention to Malone's retainer, she steps down on the discarded mirror, finishing the glass off with a scraping crack as she grinds her boot into it.
Malone:
"Long live the Queen."
Melody turns, walking away from the fallen Gautier before Rory looks down at him and shakes his head.
Rory:
"Can't even go fookin' traditional in that kilt, you coward."
Hyland turns and follows after Melody as the cameras cut to the gorilla position. Dominic Sanders is standing there with Cora, waiting for their cue. He looks at her and takes a deep breath.
Sanders:
In just a little bit, I am going to be walking out of here as the new EWC Indy Champion. Jordan Sharpe has done nothing but run his mouth all week long. Sure, maybe I have too. But I always back my shit up. It is time to shut Jordan up for good.
Cora:
You got this, babe.
Off-Screen Voice:
Go kick some ass.
Sanders gives Cora a kiss on the cheek. He looks off-camera and fist-bumps whomever just said that. We return to ringside.
EWC INDY CHAMPIONSHIP
NO DQ MATCHDominic Sanders
Vs Jordan Sharpe
Woo:
Valentina, I am very curious about who Dominic just fist-bumped.
Gomez:
It could be anybody. Ace King. Clay Byrd. Big Bird.
Woo:
Well, the voice didn't sound like any of those three. I suppose we might find out sooner rather than later. This next match between Dominic Sanders and Jordan Sharpe is nearly a full year in the making. When Dominic Sanders joined the Prime brand last October, he put Jordan Sharpe on notice. They went back and forth over social media and in the backstage area until StrangleMania, when Sanders won the Indy Championship in a Last Man Standing Match.
Sanders then pulls out a table from under the ring and sets it up. He sets Sharpe onto the table and makes sure he's in perfect position. Sanders slowly makes his way to the top rope and jumps off hitting Titletown through the table! Neither are moving!
1!
2!
3!
4!
5!
6!
7!
8!
Sanders gets up!
9!
10!
DING DING DING
Dobrev:
The Last Man Standing AND NEW EWC INDY CHAMPION DOMINIC SAAANDEERRRSSS!!!!
Gomez:
And then they had a rematch at World Wide in the United Kingdom. A CRAZY TRAIN MATCH. This might have been the stupidest and most-brilliant idea in history. That match ended when Jordan Sharpe knocked Dominic Sanders off of the top of the train, sending him rolling around the earth. As much as I can't stand Jordan Sharpe, it was a glorious sight.
Sanders is stumbling around aimlessly as Sharpe gets to his feet. Sharpe grabs Sanders and drives a headbutt into Sanders' forehead. Sanders stumbles backwards and teeters on the edge of the roof. Sharpe grabs him by the hair to keep him from falling momentarily and looks at him.
Sharpe:
HEY SANDERS! I GOT SOME BAD NEWS! YOU ARE THE WEAKEST LINK! GOODBYE!
Sharpe rears back and then drives a palm thrust right into Sanders. Sanders flies backwards and off of the top of the train about twenty feet down into a grassy area near Cleghorn Parks. Sharpe drops to his knees and then lays down on his back.
CHOO CHOO CHOO
Forbes:
Your winner and NEW Indy Champion… Jordan Sharpe!
Woo:
Dominic Sanders suffered broken ribs. A broken wrist. A concussion. Multiple injuries that took him off of our television screens for almost an entire month. Until one day on FSW episode 99.
Watson is cut off when the lights in the Cow Palace go out. A light blue glow lights up the stage where Jordan Sharpe now is. Sharpe looks around at the light, not knowing what is happening. Finally, after about fifteen seconds, the lights go out and it's pitch-black again.

Watson: What in the hell is happening? What was that?

Sydney: I have no earthly idea!

The MacTron lights up with the words "THIS ISN'T OVER". Sharpe stares up at the screen in confusion. Finally, you hear something faint… the sound of a train horn getting closer and closer. Behind "THIS ISN'T OVER" you see a train rapidly approaching. Finally, the train bursts through the graphic on the screen and the loud sounds of a train passing through fill the Cow Palace. Then the MacTron fades to black. The lights come back on a moment later and there's a figure behind Jordan Sharpe on the stage.

Sydney: IT'S DOMINIC SANDERS!!!!!!

Sanders stands there in an America's Most Hated t-shirt and a pair of jeans with cowboy boots. He's got a heavy plaster cast on his left wrist and lower arm. Bandages still cover some of the deepest wounds from the Crazy Train Match. Sharpe spins around quickly and looks at Sanders directly in the eyes. Sanders doesn't move. He just smirks and begins laughing menacingly. Sharpe, waiting for Sanders to attack, stands waiting. Sanders takes a step backwards onto the ramp. He yells the words "THIS ISN'T OVER!" and snaps his fingers. The lights go back out and the show goes off of the air.

Woo:
Of course, Parabellum season and Night of Champions season put this one on hold for a little while. Jordan Sharpe found himself in all-Champions matches at both pay-per-views. Dominic Sanders was the Prime team captain at Parabellum and then, essentially, ended Otaki's in-ring career in the EWC at Night of Champions. Finally, we find ourselves here.
Gomez:
Well what are we waiting for? Let's get it going!
Woo:
Let's!
Dobrev:
The following contest is a No Disqualification match... and it is for the EWC Indy Championship!
The lights go out in FNB Stadium. Blue pyrotechnics burst up on the stage and down the sides of the ramp heading towards the ring. "War Machine" by KISS begins playing. Dominic Sanders steps out from the back in a navy blue hoodie and gold wrestling tights on, finished by white boots. The hood of his sweatshirt drapes over his eyes as he stares out at the fans. Suddenly, Cora Whittaker appears from behind the curtain with a gold dress and navy blue streaks in her hair. Sanders and Cora stand at the top of the ramp and listen to an extremely hateful reaction from the crowd.
Dobrev:
Introducing first the challenger... from Fort Worth, Texas. Weighing in at two hundred and seventy pounds and being accompanied by Cora Whittaker... DOMINIIIIC SAAAAANDEEERS!
Dominic beats his chest with both fists and raises his arms in the air with a roar. The crowd reacts even louder as he starts to make his way down to the ring. A cocky grin can be seen under the hood of his sweatshirt as he walks down the ramp hand-in-hand with Cora at his side.
Sanders rolls underneath the bottom rope and into the ring. He jumps up to his feet and stares out into the crowd underneath the hood of his sweatshirt. Cora joins him at his side. The two share a brief kiss in the center of the ring before he turns his attention back out to the hostile crowd. He grins and nods his head as he moves over to the corner and waits as "War Machine" fades out and Cora exits the ring.
Woo:
The challenger has been very hot this year, although he has cooled down a little bit as of late. He has not been victorious in his last two matches, as he lost to Xavier Reid on Monday Night Brawl and did not win the Fatal Fourway in Canada on FSW.
Gomez:
And we heard him this past week. He believes that plays into his advantage. In just over two and a half years in the EWC, he has never lost more than two matches in a row. So tonight we will either see a two-time Indy Champion or we will see Jordan Sharpe do something that no one has been able to do since Dominic Sanders came to this company.
"You Ain't Ready" begins to play. The crowd erupts as Jordan Sharpe comes out, wearing the newest JFS Officially Licensed T-Shirt. Carley California follows and stands next to her client. He has the EWC Indy Championship around his waist and soaks in the cheers.
Dobrev:
And his opponent... from Toronto, Ontario, Canada... weighing in at two hundred and twenty pounds and being accompanied by Carley California... he is the EWC Indy Champion! JORDAAAAAAN SHAAAAAARPE!
They head down the ramp with gusto, with Jordan Sharpe merchandise to pass out for the fans. He hands them out to kids, neckbeards, and blonde girls that are almost always definitely over the age of 18. As he makes it to the ring, the fans chant 'NO!' after each 'You Ain't Ready' in his entrance music. He poses against the ropes as Sanders glares at him. Cora and Carley are already jawing at each other on the outside of the ring. Sharpe holds up the Indy Championship before handing it to the official.
Woo:
I can't imagine that this match won't be explosive, Valentina. These two hate each other.
Gomez:
They sure do. Add in a No Disqualification stipulation and there will be a lot of fireworks here.
DING DING DING
Sanders steps to the middle of the ring and taunts Sharpe to come at him. Sharpe walks up and gets in Sanders' face. They stand forehead to forehead spouting off words to each other. Sanders taps Sharpe's forehead with his own in a small, blunt force. Sharpe rears back and drives a hard right fist into Sanders' left cheek. Sanders returns a right hand, but Sharpe blocks it. He drives another right fist into Sanders' face. Sanders stumbles backwards. Sharpe runs at Sanders and tackles him through the ropes and to the outside. Sharpe gets to his feet and stomps on Sanders' head. He walks over to the timekeepers table and grabs the ring bell. He walks to Sanders, but Sanders has recovered and punches Sharpe in the stomach. Sharpe drops the bell. Sanders goes to DDT Sharpe into the bell, but Sharpe breaks Sanders' grip and runs, pushing his body into Sanders' and driving him hard into the ring steps!
Woo:
Jordan Sharpe is out for blood tonight.
Gomez:
It's early, Marcus. Don't get too far ahead of yourself.
Sanders arches his back in pain. Sharpe gets to his feet and climbs up onto the ring apron. He leaps off and drives a double-axe handle into Sanders' upper back. Sanders drops to the ground. Sharpe picks Sanders up, looking for the Sharpeknife on the floor, but Sanders counters by shoving Sharpe away. He runs at Sharpe and leaps with a knee to Sharpe's face. Sanders walks around for a second regaining his composure. He turns and runs at Sharpe. Sharpe ducks and back body-drops Sanders over the barricade and into the front row. Sharpe climbs up onto the barricade and waits for Sanders to get up. He leaps off with a clothesline, laying Sanders out in the aisle. He looks out at the crowd, who approves.
Woo:
Jordan Sharpe is on top of this match.
Gomez:
But does it really matter right now? Jordan Sharpe has to get Sanders in the ring in order to win. The farther they get from the ring, the less chance he has to end this.
Sharpe grabs Sanders and drags him over to a wall. He slams Sanders' head into the wall hard! He grabs Sanders by the back of the head and drives him hard into it with a Sharpeknife! Sanders falls to the ground in a heap. Sharpe grabs Sanders by the wrist and starts to drag him back towards the ring. He struggles a bit with the weight, so he leans down and picks Sanders up onto his shoulders and walks with him to the ringside area. Once they arrive, Sharpe tosses Sanders over the barricade and to the floor by the ring. Sanders gets up slowly as Sharpe crawls over the barricade. Sanders slowly walks around the ring to the commentators' table and Sharpe follows him. Sanders turns and tries to throw a right fist into Sharpe's face, but Sharpe ducks. Sharpe picks Sanders up and delivers a spinebuster onto the floor! Sharpe rolls off to the side and sits on his ass to think for a moment. He looks at the ring skirt and then reaches under it.
Woo:
What could Jordan Sharpe be looking for here?
Gomez:
Anything he can use to help him try and beat Dominic's ass!
Sharpe pulls out a ladder and stands up to his feet. He lifts the ladder upright and sets it up at ringside. Sanders slowly gets to his feet. Sharpe drives a right elbow into Sanders' jaw and sets him reeling backwards. He grabs Sanders and flings him onto the announce table.
Woo:
I don't know about you, Valentina, but I am getting out of here!
Gomez:
Me too!
Sharpe lays a few elbows into Sanders and then slams the back of Sanders' head into the table. Sharpe turns and looks at the ladder. He walks over to the other side and begins to climb up. Cora makes her way over and stands in front of Sanders and in Sharpe's way.
Woo:
OH! Cora Whittaker was trying to keep Jordan Sharpe from what might be about to happen and Carley California just ran in and tackled Cora to the ground! The referee is trying to separate them, now.
With Cora out of the way, Sharpe looks down at Sanders from the top of the ladder. He leaps off!
Woo:
TITLETOWN! Jordan Sharpe just drove Dominic Sanders through the table with his OWN MOVE from the top of the ladder!
Gomez:
Good God. If Sharpe gets Sanders in the ring this one will be over!
Both men are down. The referee returns his attention to the match as both women separate and check on their respective men. Sharpe stirs first, as he took the lesser of the two impacts. He reaches over to Sanders and grabs Sanders by the hair. Sharpe gets to his feet and tries to pull Sanders to his. He drags Sanders out of the wreckage and towards the ring. Sharpe pulls Sanders to his knees and leans him up on the ring apron. Sharpe grabs Sanders by a leg and is able to finally roll Sanders into the ring. Sharpe goes to slide into the ring for the cover, but Cora grabs ahold of his ankle. She yanks hard, pulling him back out of the ring! Carley comes back over to hit Cora, but Cora ducks and Carley accidentally slaps Sharpe in the face!
Sharpe:
What the hell?!
Carley:
I'm sorry!
Sharpe scoffs and slides into the ring. He covers Sanders!
ONE!
.
.
.
TWO!!
.
.
.
TH-Kickout!
Woo:
That whole thing just took far too long. Dominic Sanders recovered just enough to kick out.
Gomez:
He can thank that smoke-show fiancée of his!
Sharpe is having trouble believing that wasn't three. He gets up to his feet and pulls Sanders up. He goes for another Sharpeknife! Sanders blocks it and delivers a belly-to-back suplex. Both men are down. Cora slides something into the ring to Sanders. It's a bag.
Woo:
God only knows what is in that bag, Valentina.
Sanders grabs it and uses the ropes to pull himself to his knees. Sharpe is up. He kicks Sanders in the chest, but Sanders drops the bag and catches his foot. Sanders stands up with Sharpe's foot in his hand. Sharpe goes for an enzuigiri with his free foot. Sanders ducks. Sharpe hits the mat on his stomach. Sanders grabs Sharpe's other leg and locks him into the Texas Bluebonnet!
Woo:
Finally, Dominic Sanders is able to get SOMETHING going offensively! And he has the Texas Bluebonnet locked in!
Gomez:
Sharpe has NO WHERE to go!
The referee checks on Sharpe, but Sharpe refuses to quit. Sanders sits down deep. Sharpe tries to claw his way to the ropes. He reaches and grabs the bottom rope! But it's No Disqualification, so Sanders refuses to release the hold. Sharpe keeps pulling himself out and grabs the ring skirt. He pulls himself halfway under the bottom rope, but he can't go any farther because Sanders still has the hold locked in and Sanders has run into the ropes. Carley California comes over to try and pull Sharpe out, but Cora comes over and shoves Carley. Carley rears back and drives an elbow into Cora's face, knocking her to the floor. Carley sees that Sharpe is struggling to function as he is, essentially, hanging upside-down. Carley reaches under the ring and pulls out a two-by-four! She winds up and cracks Sanders in the back of the head with it! Sanders releases the hold and Sharpe drops to the floor.
Woo:
Carley California with that two-by-four! She might've just knocked Dominic Sanders out!
Sharpe sits on the floor outside allowing blood-flow to return to all parts of his body. After a few moments, he stands up and Carley hands him the two-by-four. Sharpe slides into the ring with the two-by-four as Sanders is beginning to stir. Sharpe pulls Sanders up to his feet. He grabs him from behind and puts the two-by-four across Sanders' throat. He grabs the two-by-four on both ends and hooks his leg with Sanders'. SHARPEKNIFE WITH THE TWO-BY-FOUR ACROSS SANDERS' THROAT! Sanders rolls around gasping for air. Sharpe drops on top and hooks both legs.
ONE!
.
.
.
TWO!!
.
.
.
THREE!!!
DING DING DING
Dobrev:
Here is your winner... AND STILL EWC INDY CHAMPION! JORDAN SHARPE!
Sharpe stands up and raises his arms in the air as he leans against the ropes. The referee grabs the Indy Championship and hands it to Sharpe, raising his hand in the process. The crowd is deafening!
Woo:
Jordan Sharpe does it! He beats Dominic Sanders and retains the Indy Championship!
Gomez:
I'll give him props, but I sure as hell didn't see that coming!
Woo:
Wait, what the...
The celebration has been cut short as ANOTHER hooded figure enters the ring with a steel chair. He cracks it across Jordan Sharpe's back.
Woo:
Valentina, we saw this on Monday Night Brawl. A hooded figure came out to attack Xavier Reid and it ended up being Clay Byrd, who is now a member of America's Most Hated. Is this Clay again?!
Gomez:
One might think, but this person's stature is a bit different, Marcus!
The hooded figure brings the chair down hard twice... three times... four times. Carley California tries to get into the ring, but Cora grabs her and tosses her hard into the steel steps. Cora climbs up onto the apron and enters the ring. She helps Sanders up to his feet. They both watch as the hooded figure continues to dismantle Sharpe with this steel chair. Sanders says something to Cora, who walks over and gets the microphone from Nina Dobrev. Cora walks it back over to Sanders and hands it to him. The figure drives the chair down into Sharpe's chest. Sharpe is in serious pain. Sanders walks over and whispers something to the hooded figure. They unfold the chair and straddle it over Sharpe. Sanders sits on the chair backwards, pinning Sharpe down to the mat. He stares right into Sharpe's eyes and raises the microphone up to his mouth.
Sanders:
You might have won this match, Sharpe. Congratulations on that. But this war is far, far from over. This war may NEVER be over. But now watch your back. My BEST MAN is here!
Woo:
His "BEST MAN"? Like for his wedding?
Gomez:
I would assume so?
Woo:
Well, who the hell is it?
Sanders:
I told you that you weren't going to have to worry about Melody or Iggy or Clay coming out here tonight. Nah. They are my friends. They are my partners. But they are not my BEST FRIEND. This man right here. Now that he's back at my side... we will be unstoppable! And YOU will continue to be a whiny, sensitive bitch!
Woo:
Wait, did he say "back?!"
The hooded figure reaches up and removes the hood.
Gomez:
IT'S GIL GRIFFIN!!!
Woo:
These two haven't been friends since 2018! Last we saw they HATED each other! And now Gil Griffin is Dominic Sanders' BEST MAN?!
Sanders stands up from the chair and tosses the microphone aside. He picks up the chair, folds it, and drives it down into Sharpe's temple. He tosses the chair aside and he, Gil, and Cora exit the ring.
We cut backstage where Pepper Montana is seen walking with a cameraman in toe and a microphone, on the hunt for an interview. He comes across FSW General Manager Chris Brock, standing with his wife Stephanie and his son Jeremy. They have their bags, looking as if they just arrived to FNB Stadium.
Pepper:
Mr. Brock! Just the man I was looking for.
Brock gives him an expression that clearly says "Sure you were".
Pepper:
You have a big match coming up tonight against the other General Managers here in EWC. I just wanted to get your last minute thoughts before you compete later tonight.
Brock lets a silence fall for a few seconds before he responds.
Brock:
Pepper, tonight is going to be a night that this company will not forget, because win or lose, these people are going to see the 4 GMs of this company beat the ever loving crap out of each other and its going to be fantastic!
Pepper:
That's a bold statement sir. Are you looking forward to getting pummeled by Grizzly Duggan?
Brock:
Not at all. In fact, in Mr. Duggan's own words, I have no beef with you Grizz. If we weren't in this match together we would be in the back trading war stories like we normally do at these big events. Tonight though, I'm going to have to take you on to get this win and I REALLY want this win.
Pepper:
any other final words before you head out there later tonight?
Brock:
I was 100% accurate when I appeared on Heel Turn Radio and said that Marshal Evans and Jim Connors were going to hire people to get them through this match. By the way Marshall, smart move hiring one of MY roster. There's a reason why we are the best in this company.
Brock winks at the camera.
Brock:
As for Connors... All the jokes in the World aren't going to save you from the ass kicking you are going to receive tonight. You all are coming into this match 5 moves behind me, so consider yourselves already in check. When that bell rings tonight... it's Check...Mate.
Brock turns and heads to his dressing room.
Pepper: There you have it folks, the battle of the GMs is going down TONIGHT and it looks like at least one GM is coming in full throttle.
the camera cuts to a different part of the backstage.
Carter Normandy walks into the backstage area, he has his bag with him and get's his gear ready to fight in the Rumble match. He's warming up when a backstage worker comes up to him and shakes his head and shows Carter a piece of paper showing all the Rumble participants. Carter Normandy looks dejected as the backstage worker shrugs. He opens his bag and pops a Mentos in his mouth, Carter then smiles and walks off camera. He returns with a mask in his hand, he puts on a Morden Crypt mask and gives the worker a thumbs up before he turns to walk out of the dressing room. He bumps into Morden Crypt who grabs his neck then throws him through a wall!
FSW CHAMPIONSHIP
CANDY CASTLE MATCHStitches
Vs Candy
Gomez:
An unbelievable night so far here in South Africa and, to be honest, I'm not real sure what to expect in our next match tonight.
Woo:
We've been speculating since the match was announced. Just what is a Candy Castle Match? All we know is that the FSW Championship has to go from the Ivory Tower to a throne room, but beyond that? Anything is possible. Right?
Gomez:
These two matched up in a Carnival Carnage match back in April, and Candy took the FSW Title in that match.
Woo:
So could this be a bit of "what you can do, I can do better" type of match?
Gomez:
I don't know, but let's go to ... the Castle and find out.
The Mac-Tron
illuminates
in the FNB Stadium and shows a drone's aerial view of Chartwell Castle about 30 minutes from the stadium.
The view changes briefly and appears as if the Castle walls have changed into something other than stone. The view changes back to normal just as quickly as it had changed. The drone zooms in and shows a town crier standing in the courtyard just inside of the Castle. He rings a handbell then takes a scroll from his pocket.
Town Crier:
Oyez! Oyez! Oyez! My Lords and Ladies, and revered honored guests from around the world, our next event is a Candy Castle Match and is for the FSW Championship.
The Town Crier looks over to the side as the Johannesburg Philharmonic Orchestra begins to play 'One Missed Call (2008) Theme'. Walking up along the driveway and through the archway into the courtyard is Stitches, followed by Marionette, Harrow Quinn and Felix Lestrange.
Town Crier:
Oyez! Oyez! Oyez! First accompanied by Lady Marionette, Baron Harrow Quinn and Viscount Felix Lestrange, from the Carnival of Shattered Dreams, weighing in at 260 pounds, the former FSW Champion, Lord Stitches the Clown!!!
Stitches walks into the courtyard and the view changes, showing different textures in the courtyard similar to before. The view changes just as suddenly back to normal as Stitches walks up to the town crier as the other three stop about two feet away. Stitches turns towards the Orchestra and gives a slight smirk. The Town Crier rings his bell once again.
Town Crier:
Oyez! Oyez! Oyez! His opponent, accompanied by Prince Robert Rayder, now residing in Alamo, California, weighing in at 106 pounds, the current reigning and defending FSW Champion, the Queen of the Sweetest Treats, Queen Candy!!!
The Orchestra begins to play 'I Want Candy' as six 'gingerbread' knights ride in on horseback. A carriage follows behind the knights, adorned in gumdrops and hard candies. The carriage stops and the driver hops down to the ground. He walks over to the door of the carriage as two other 'gingerbread men' walk up and lay out a red carpet. Robbie Rayder steps out of the carriage then stands beside of the door. He holds his hand out as Candy emerges from the carriage. She takes his hand and steps out on the red carpet. He softly kisses her hand then steps back into the carriage. The carriage and the knights disappear back through thr archway out of the courtyard. The view warps once again as Candy walks along the red carpet towards the town crier, making the carpet look very similar to taffy but then changes back to normal just as quickly as before. Candy and Stitches stand side by side in front of the Town Crier.
Town Crier:
Both of you have been made aware of the rules of the Candy Castle Match. Retrieve the Championship from the Ivory Tower. Take the Championship to the Throne Room. Win the Championship. May the gods have mercy on your souls.
The Town Crier steps to the side then rings his bell, signifying the start of the match. Candy rushes towards the castle door and stands there, waiting for Stitches to approach. Stitches approaches with caution as he walks up a flight of stairs. A meter or so away from Candy now, Stitches simply stares at her as Candy stares back. Suddenly, the carnival clown lunges forward and grabs one of the gingerbread man as Candy watches on from nearby. Stitches takes a firm grasp of the gum drop buttons attached to the gingerbread man's chest. The gingerbread man stares down in horror.
'Move out of my way, Candy, or the gingerbread man gets it'.
'Please, no! Not the gum drop buttons'
the gingerbread man screams at Stitches as he glares at the gingerbread man with a sinister smile.
Candy stares back at Stitches and then down at the gingerbread man who continues to cry out in agony, then back up at Stitches.
'Sorry'
Candy says as she opens the door and enters the castle.
'Candy, no!'
the gingerbread man screeches, but it is too late.
Not satisfied with Candy's response, Stitches begins to yank on the gum drop button as the gingerbread man screams in agony. The carnival clown yanks on the gum drop button so hard that it tears off, a vanilla ooze seeping from the wound. Letting go of the gingerbread man, Stitches approaches the looming castle. Stitches places a hand on the doorknob and throws open the giant castle doors and steps inside the castle. Before him there is a giant staircase that spirals up to the second floor rooms. Either side of the staircase is two hallways which lead out to rooms deeper into the castle and to the left and the right there are also several more hallways leading to more rooms. Stitches stares skyward, admiring a large chandelier hanging from the roof above. The chandelier is golden and sparkles amongst the light beaming in through the windows. As Stitches is admiring the chandelier Candy comes out of nowhere and blind-sides Stitches, sending him crashing back through the large castle doors and out to the opening courtyard where soldiers holding giant candy canes as staffs stare on with bemusement at the stumbling clown. Candy emerges from the castle and kicks Stitches down a flight of stairs, Stitches tumbles all the way down to the bottom to the satisfaction of Candy.
As Candy stalks the carnival clown her perspective slowly begins to come into play and the dull, pallid walls of the castle turn into bright pinks and reds and oranges as all sorts of candies make up the foundation of the castle. Candy meets the carnival clown at the bottom of the flights of stairs and grabs him by the scruff of the neck, leading him to a nearby wall where she scraps the carnival clown's painted face along the brightly coloured concrete like cheese to a cheese grater. The carnival clown lets out a bellowing cry of agony as his face is carved up, surprisingly no blood surfaces. Candy allows Stitches to fall to the wet grassy ground and watches him try and stumble away, glee in her eyes. Candy stalks the carnival clown, watching him squirm. All of a sudden the carnival clown grabs a clump of dirt fo throws it into the face of Candy, blinding her for a moment. This gives Stitches the opportunity to get to his feet and charge at Candy, spearing her into the ground.
'Are we going to do this inside the castle or what?'
the blind face of Stitches screams at Candy, his grotesque face mere inches away from hers.
Stitches stomps Candy into the ground as the bright colours of the castle start to desaturate and turn back into the pallid, grey colours of old. The carnival clown then grabs Candy by her bright, blonde hair and drags her back up the flight of stairs with reckless abandon, her body bouncing across the stairs. The carnival clown reaches the top of the stairs and lifts Candy to her feet, before lifting her up into a military position and lawn darting her through the doors of the castle. Candy lands on the opposite side of the doors as they swing violently back and forth. Stitches grabs one of the doors to stop it from swinging and heads back inside the castle. Candy grabs the other door and smashes it into the face of Stitches, giving her a little reprieve from the carnival clown. Candy heads down a hallway to the right of the staircase and Stitches slowly follows after he, clutching his head. As Stitches enters into the room he is met with the eloquence of a great hall, several rows of wooden tables are lined up across the room with a large wooden chair at the opposite end of the room, clearly set for the head of the table. Stitches eyes his surroundings before noticing Candy trying to scuttle off nearby. Stitches charges Candy, delivering a stiff elbow to the small of Candy's back. Candy doubles over, screeching in pain.
The carnival clown grabs Candy and powers her onto one of the tables, her face colliding with the cold, hard wood. Stitches grabs Candy by the scruff of the neck and begins to slide her face along the lengthy table until she reaches the opposite end, Stitches throws Candy from the wooden table and she penguin-dives onto the cold stone floor. Having knocked over a few goblets and candles that were on the table, Stitches grabs a goblet and smashes it across the head of Candy, the goblet barely takes damage but Candy definitely feels it. Stitches then grabs one of the candles and smashs it over Candy's head, the candle shatters across the crown of her head as Candy crumbles to the ground again. Realising his opportunity, Stitches retreats from Candy in search of a way to reach the ivory tower where the FSW Championship is hung. Logic dictates that the carnival clown would need to climb to the top of the castle to reach the ivory tower so Stitches heads back into the entrance room and starts to ascend the spiral staircase.
As the carnival clown ascends the spiral staircase he passes by several statues of knights decked out in brightly coloured gear. Instead of swords, the knights are holding candy canes with the tips of the candy canes sharpened into a point. The carnival clown scoffs at the knights and seconds later one of the knights emerges from the wall, coming to life and attacking Stitches. The knight headbutts Stitches with his brightly coloured helmet and the carnival clown stumbles back down a few steps. The knight approaches Stitches, throwing a steel leg at the back of Stitches' leg and tripping him up. With the carnival clown floored, the knight looks to drive the point of their sharpened candy cane sword into the chest of Stitches, the carnival clown realises the predicament that he is in and grabs a hold of the candy cane sword with two hands, keeping it away from his chest. The knight continues to try and drive the candy cane sword through Stitches chest, Stitches moves one hand up the candy cane sword and with much might, he managed to snap the candy cane sword in two. The candy shatters and a powdered substance fills the air. The shattering of the sword stuns the knight, Stitches sees this as an opportunity to get to his feet. Stitches drives a boot into the chest of the knight and sends it tumbling down the spiral stairs. As the carnival clown continues to ascend the spiral staircase you can hear the knight as metal meets stone as it tumbles right down to the bottom.
In the great hall, Candy can be seen back on her feet and heading towards a nearby bookcase. The perspective of the great hall had changed now, instead of wood and stone, the great hall was made up of chocolate and hard candies. The wooden tables were now Hershey bars and the cold, stone slabs of the floor were now made out of Pop Rocks. The goblet that was smashed over Candy's head had turned into a Dum Dum lollipop and the candle had become a Musk Stick. Candy reaches into the bookcase and begins to run a finger across the books, looking for a particular book. She smiles when she finds the book and goes to pull it out of the bookcase, it doesn't come right out but instead the bookcase swings open to one side, revealing a secret passage. Candy enters the secret passage as the bookcase returns to its original position behind her. Now inside a dimly lit tunnel, Candy walks precariously forward. Suddenly a bat flies past her head, spooking her a little. Candy brushes it off and continues down the tunnel. Eventually, Candy reaches a fork in the road where she can either go left or right. Looking at her options, Candy chooses right. Candy continues down the tunnel until she reaches another fork in the road, it looks exactly the same as the first. Candy chooses left this time, not looking to double back around on herself. Candy heads further down the tunnel and reaches yet another fork in the road, the same as the first two. Realising that the tunnel was, in fact, a maze, Candy stops abruplty and rethinks her decision to have entered the secret tunnel.
The carnival clown had reached the second floor now and had entered into a darkened room, turning on a light he sees a giant pile of brown at the opposite end of the room. Stitches, curious about the giant pile, begins to approach it. As the carnival clown approaches the pile begins to move and then it starts to rise. Standing still, the carnival clown stares at the pile as it stands to its feet, revealing a giant gingerbread man. The gingerbread man stares down at the carnival clown, vanilla ooze dripping from its mouth as it salivates at the appearance of the carnival clown. 'Not the gum drop buttons' the gingerbread man screams at the carnival clown with a bellowing voice. Realising he is in trouble, Stitches begins to run away from the gingerbread man, just in time to avoid a clobbering blow as the gingerbread man slams down its right fist. Stitches continues to run as the gingerbread man continues to smash down its fists in an attempt to squash the carnival clown. The carnival clown ducks and rolls underneath the gingerbread man's attacks and goes to approach a nearby door, the gingerbread man sees this and smashes its fist into a nearby pillar made out of Twizzlers, bringing it crashing and blocking off the door.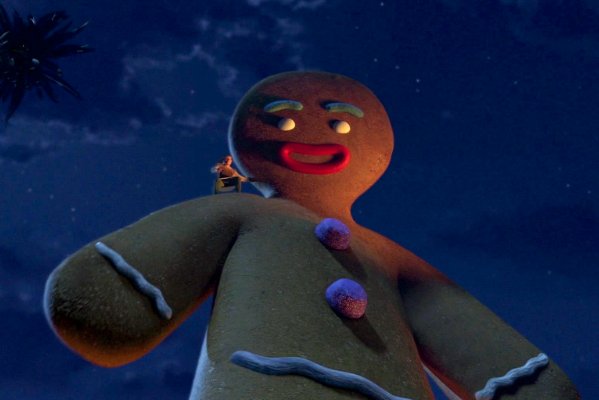 There was no escape for Stitches now. The carnival clown continues to duck and dodge the gingerbread man's attacks, wondering how he was going to get out of this situation. And then he saw it, a balcony behind the head of the gingerbread man, he would have to leap off of a nearby cabinet to get up there. Seeing an escape, Stitches climbs onto the cabinet and lunges for the railing to the balcony that overlooks the room. Lifting himself up to the second level the carnival clown is now roughly head height with the gingerbread man. The gingerbread man sees the carnival clown and starts to approach with a candy-painted smile on its face. Stitches attempts to go through the nearby door, but it is locked. The carnival clown looks around in desperation, looking for something to protect himself with. He sees another set of knights holding candy cane sword, he yanks one of them out of their grasp and then charges towards the railing of the balcony, he jumps onto the railing and dives towards the gingerbread man. Landing on top of the gingerbread man's head, Stitches drives the candy cane sword deep into its skull. The gingerbread man collapses to the ground, sending the carnival clown flying. Stitches collides with a wall and collapses to the ground below in a heap. The carnival clown doesn't move.
Inside the tunnel, Candy has managed to traverse the maze of the tunnel and reached the other end where there is a boat floating in chocolate water, attached by a rope wrapped around a peg. Candy removes the rope from around the peg and jumps into the boat. There were no oars for her to row the boat, it simply moves on its own accord. Candy looks over the edge of the boat and stares down into the chocolate river. The chocolate looked delicious and she hadn't tasted the swwet taste of chocolate for several hours now. Without giving it a second thought or thinking of the consequences, Candy dips two hands into the chocolate river and retrieves a handful. Candy puts the chocolate up to her lips and downs the entire thing. Her reaction to the chocolate water was almost instantaneous as the tunnel began to swirl around her. The chocolate river turned into a multi-coloured, kaleidoscopic concoction and the wooden boat had transformed into the over-turned shell of a giant turtle that had been hollowed out. Candy stares skyward only to find that the roof of the tunnel had disappeared and, instead, there was nothing but a void. Then there was an evil laughter, it seemed to echo around the entire tunnel. Suddenly, the carnival clown's twisted face appeared in the void as he stared down at Candy.
Candy rubbed her eyes to wash away the effect of the chocolate, but to no prevail. The face of Stitches was overly large as it hovered in the void, staring down at Candy. 'You don't have what it takes to survive this' the carnival clown says to Candy before letting out another cackling laugh. Candy stands to her feet in the turtle-shelled boat and reaches up to grab the face of Stitches, only for the carnival clown to disappear. Candy loses her balance and falls out of the boat and into the chocolate river. Candy splashes and squirms in the chocolate water as she tries to get back to the boat, however, the boat had sailed away. Candy tries to keep her head above the chocolate water but it seemed as if she was being dragged down by her feet. For what seemed like an eternity Candy struggled in the chocolate water until, finally, her head disappeared under the chocolate water. Underwater now Candy continues to struggle, trying to swim back to the surface. However, she keeps being pulled further and further down by shadowed hands. Candy clutches her throat, trying to take in her final breathes and then, suddenly, she emerges from the bottom of the chocolate river and drops down into a room below. Candy lands back first on the cold, stone floor of the room, which seemed to be a chamber room with several prison cells. Candy struggles to get back to her feet. Once she is on her feet she drags herself to a door nearby and leaves the room, covered in chocolate.
Stitches had stumbled back to his feet, with a hand placed on the small of his back he looks around the room for a way to escape. Underneath the balcony, hidden in the shadows is yet another door. Stitches walks towards the door and attempts to open it. Success. The door opens and the carnival clown walks through it. Inside the room there is another flight of stairs made out of Violet Crumble chocolate, realising he needs to continue to ascend, the carnival clown heads up the flight of stairs. As Stitches starts to walk up the flight of stairs the stairs begin to, well, crumble. The carnival clown should have expected them, but being a flight of stairs made out of an Australian chocolate, he had no clue what to expect. Stitches begins to rush up the stairs as fast as he can, still struggling from being tossed against the wall earlier. As Stitches steps on each stair they start to crumble underneath his feet. Stitches needs to pick up the pace to reach the top. The carnival clown continues to run, stained glass, fruit Roll-Up covered windows rushing by him in a blur. He can see the top now, Stitches continues to rush forward as the stairs crumble underneath him. The carnival clown reaches the last few stairs and dives to the top, narrowly avoiding falling back down into the room below. The carnival clown's legs dangle over the edge as he pulls himself up onto the next floor. Stitches clutches his chest and looks to catch his breathe after enduring such a close call. Suddenly, a nearby door opens and out emerges Candy.
Candy sees Stitches gasping for breath, Stitches sees Candy covered in chocolate. Candy, fresher than Stitches, rushes the carnival clown, mounts him and starts laying in strikes after strikes into the forehead of Stitches. Stitches holds his hands to his face to protect himself from the barrage of strikes. Candy sees this and tries to pry Stitches hands away, the carnival clown uses this opportunity to headbutt Candy in the bridge of her nose. Candy stumbles back and Stitches tries to get to his feet, Candy sees this and punts him directly in the stomach. Candy attempts to grab Stitches but the carnival clown rakes her eyes before delivering a swift kick to her knee caps. Candy drops to her knees and Stitches grabs her by the head and delivers a low DDT. Stitches grabs Candy but Candy rolls him off and starts smashing her forearm into his face, over and over again until the carnival clown stops moving. Next, Candy reaches into her attire and retrieves a packet of Skittles, she rips the packet of Skittles open with her mouth and then grabs Stitches by the jaw, prying open his mouth. Candy dumps the entire packet of Skittles down the carnival clown's throat as he gags on the sweetened goodness. Candy throws the empty packet away and forces Stitches to chew the Skittles, the sugar, coloured mess eventually sliding down his throat.
'That one was for El Pablo'
Candy says to Stitches with a devious smile.
Stitches stares up at Candy as what can be seen of his stitched and decaying eyes begin to glaze over. Glancing over Candy's shoulder, the carnival clown watches as the desaturation of the castle begins to disappear as the over-bearing, bright colours of the rainbow begin to cover the entirity of the castle. The pillars of the castle change to overly sized Twizzlers and the stones that covered the wall are now Necco Wafers and the roof is covered in splatters of chocolate mixed with popping candy. Candy, realising Stitches perspective has changed, smiles a wilder smile as she whispers 'have fun with that sugar rush'. Candy grabs Stitches and lifts him to his feet before kicking him in the gut, forcing him to spit out what remains of the Skittles in his mouth. Candy grabs Stitches around the head with a headlock and begins to drag him around. Candy drags Stitches over to a large round table shaped like a Reese's peanut butter cup and lifts Stitches up and connects with an awkward-looking Spinebuster, clearly struggling to lift up the larger carnival clown. Stitches smashes through the peanut butter cup table as it shatters into several pieces. Satisfied with her work, Candy decides to head towards the ivory tower to retrieve the FSW Championship.
Candy scales through several rooms, trying to find the right way to the ivory tower. Stopping, checking and moving forward, Candy makes her way through each road with a clear idea of where she is going to get to the ivory room. Suddenly, Candy enters a darkened room, a room which usually isn't dark. Candy reaches towards a nearby light switch and turns it on, the chandelier hanging above illuminates the entire room, revealing Marionette, Harrow Quinn and Felix Lestrange standing in the centre. Harrow Quinn stands as still as a tree, his arms folded over the other. Marionette has a sly smile across her face and Felix Lestrange waves at Candy. Realising she is in trouble, Candy puts two fingers to her mouth and whistles. Suddenly, from nearby two gummy bears appear, shaped awfully similar to Marionette and Felix Lestrange, a third gummy bear smashes through a nearby wall, as tall and towering as Harrow Quinn. Candy smiles at the carnival clown's cohorts, brings her hands up to her face, twists her fingers into clenched fists and the battle is on between the two groups. Candy charges at Marionette and spears her to the ground. Felix Lestrange fends off two of the gummy bears and Harrow Quinn goes toe-to-toe with the larger gummy bear. Harrow Quinn and the large gummy bear lock-up, a test of strength ensuing. Felix Lestrange throws left and right elbows, fending off the other two gummy bears and Candy has Marionette mounted, throwing fists towards the direction of Marionette's face.
Felix Lestrange, realising he is out matched, starts to retreat, observing the room looking for a way to fight back against the two-on-one situation. Candy is back to her feet now and so too is Marionette. Candy throws a wild arm at Marionette only for Marionette to duck under. Marionette delivers a swift kick to Candy's mid-section before flooring Candy with a facebuster. Marionette goes down to a knee, grabs Candy's head and starts bashing it into the ground. Harrow Quinn has thwarted the larger gummy bear for the time being as bear swats one of them gummy bears persuing Felix Lestrange. The other gummy bear continues to follow Felix Lestrange. Nearby Felix Lestrange finds a lit candle. A smile comes across Felix Lestrange's face as he has a plan. Felix Lestrange reaches into his jacket pocket and retrieves a small flask. Felix Lestrange places the flash to his lips and takes a swig. Felix Lestrange then holds the lit candle to his face and waits for the gummy bear to approach. Aiming the candle, Felix Lestrange sprays alcohol through the candle and in the direction of the gummy bear. The alcohol ignites into one big ball of fire and collides with the gummy bear. The gummy bear screams in pain as it starts to melt.
'Never mess with the firestarter'
Felix Lestrange says to the melting gummy bear.
Candy hears the screams of her fellow cohort which turns her attention away from Marionette. Candy looks over at the gummy bear to find its gummy abdominal melted into the pile of melted gummy that was its legs. Candy's eyes widen as she rushes over to console the gummy bear. 'No!' she screams, just in time for Marionette to connect with a swift kick to the side of the head of Candy, this prompts the other two gummy bears to jump Felix Lestrange, Marionette and Harrow Quinn. The two gummy bears fend off the carnival clown's three cohorts as Candy holds a hand to her head, her head ringing from the kick to the side of the head. The two gummy bears keep the other three distracted long enough for Candy to get back to her feet. Realising the opportunity, Candy tries to slip away, slightly guilty about leaving her gummy bear friends behind, but the FSW Championship is more important. Marionette, Felix Lestrange and Harrow Quinn spot Candy slipping away and try to rush after her but the other two gummy bears keep them back long enough for Candy to slip through a door and into another room. Candy grabs a steel chair placed nearby, opens it up and wedges it into the steel-pipe door knob to ensure the door cannot be opened.
A single door can be seen up ahead, down a small hallway. Candy clenches her fist in triump, this must be the room she was looking for. Candy rushes down the hallway and to the opposing door, she opens the doors and steps back outside the castle. Several stories high now, Candy sees the ivory tower in the distance, across a small stone bridge. Candy crosses the stone bridge and reaches the ivory tower and enters. Candy climbs a spiral staircase until she reaches the top of the ivory tower where she finds the FSW Championship hanging from the roof. The FSW Championship is slightly too high for her to reach, Candy jumps several times, trying to grab the FSW Championship, but to no prevail. One of the windows of the ivory tower are open, Candy climbs up onto the window sill and precariously holds on, keeping herself from falling out of the window. Candy eyes the FSW Championship and then leaps forward, clasping the championship with two hands. Candy hangs from the FSW Championship several feet in the air. Candy tries to un-strap the championship but has a difficult time doing so. Suddenly, the buttons holding the strap together unbuckle and the championship falls, so too does Candy. Candy lands back first on the cold, hard floor of the ivory tower, the FSW Championship falls into her lap. Pleased, and slightly hurt from the fall, Candy smiles before grabbing the FSW Championship and retreating out of the ivory tower.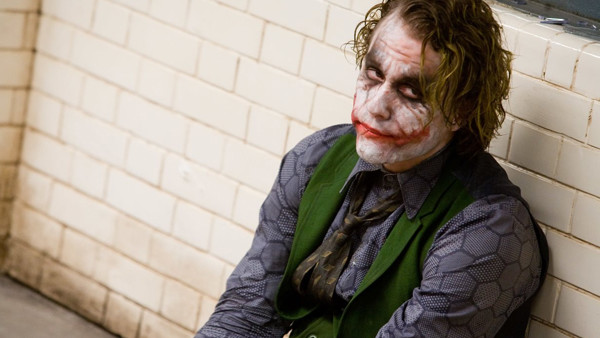 Back inside the castle, Marionette, Harrow Quinn and Felix Lestrange have found Stitches who simply sits in a corner, watching as the walls continue to melt. The three of them approach the carnival clown, curious as to why he isn't persuing Candy. Stitches notices the three of them approaching, his blind, stitched eyes grow as wide as they can, but not in elation, but horror.
'It's okay'
Marionette says to Stitches, reaching out a hand.
'Back the fuck away from me'
Stitches yells at Marionette.
'What the hell is wrong with you?'
Harrow Quinn asks Stitches.
'I said get the fuck away from me'
Stitches yells at Harrow Quinn.
'Stitches?'
Felix Lestrange gingerly asks, worried about his estranged friend.
Stitches looks over at Felix Lestrange and his eyes light up once again.
'Felix!'
Stitches says with excitement to Felix Lestrange.
'Help me fend off these two'.
Felix Lestrange looks over at Marionette and Harrow Quinn and then back towards Stitches.
'These two?'
Felix Lestrange asks.
'Yes'
Stitches replies.
'Are you going to help me or not?'
Stitches asks.
Felix Lestrange turns back towards Harrow Quinn and Marionette and shrugs. Felix Lestrange charges at Marionette and tackles her to the ground.
'What the fuck are you doing?'
Marionette quietly asks Felix Lestrange.
'Play along'
Felix Lestrange replies.
'Let Harrow Quinn deal with Stitches'.
Both Felix Lestrange and Marionette start trading blows with one another, a little more verocious than would be necessary for a faked fight. The two are siblings, after all, and sibling rivalries will always exist. Meanwhile, Harrow Quinn has Stitches in his grasp, keeping him from attacking himself or Marionette. The carnival clown squirms in Harrow Quinn's grasping, screaming for the demon to let him go. Harrow Quinn looks around the room, trying to find a way to subdue Stitches, and then he sees it, the empty packet of Skittles that were littered near where the carnival clown was found. Harrow Quinn had no clue what to expect, but he had to think outside the box considering where they were, the Candy Castle. Realising that Stitches may be under the trance of a sugar rush, Harrow Quinn reaches inside his pocket to retrieve the water bottle he had stashed away. However, instead, Harrow Quinn pulls out a Snickers bar. Eyeing the Snickers bar with absolute confusion, Harrow Quinn decides to shove the Snickers bar down the throat of Stitches. Stitches chews the chocolate goodness and swallows. The carnival clown's body goes limp as he slips out of the grasp of Harrow Quinn. Both Marionette and Felix Lestrange stop their sibling fight and turn to Harrow Quinn.
'What the hell did you do?'
Marionette asks Harrow Quinn.
'I have no clue'
Harrow Quinn replies.
Suddenly Stitches rises to his feet, his head tilted downward and the shadows of his hollowed sockets covering his eyes. Marionette, Felix Lestrange and Harrow Quinn all stare at Stitches as he simply stands there, looking down at the ground.
'Umm, Stitches, are you okay?'
Marionette asks.
Harrow Quinn approaches Stitches and places a hand on his shoulder.
'Better?'
Harrow Quinn asks.
Stitches lifts his head up and turns his attention towards Harrow Quinn.
'Better'
Stitches replies, a sinister smile coming across his face.
Suddenly, a nearby door opens and Candy rushes in, clutching the FSW Championship to her chest. Candy sees Marionette, Harrow Quinn, Felix Lestrange and Stitches all standing there, eyeing her down.
'Oh, fuck!'
Candy whispers under her breath.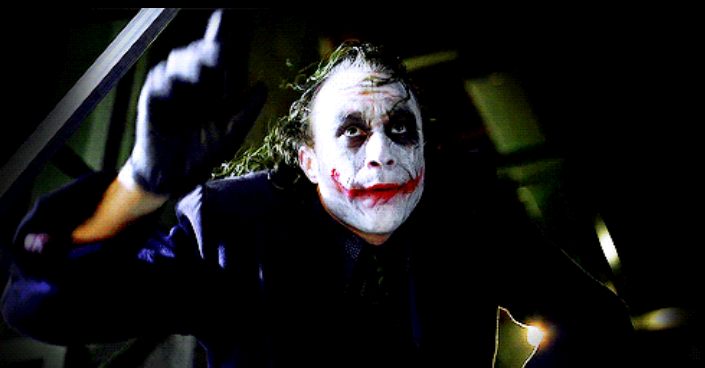 Stitches raises his arms and points in the direction of Candy. Harrow Quinn, Marionette and Felix Lestrange all read the cue and begin to approach Candy. Candy looks around the room, trying to find a way to escape. Candy eyes a door in the distance and begins to rush towards it but Harrow Quinn is quick to block it off. Candy turns around to go back through the door she came through but Marionette now blocks it off. Candy has nowhere to go, she looks at the FSW Championship, then the three surrounding her, and then back at the FSW Championship before dropping the FSW Championship in order to fend off Harrow Quinn, Felix Lestrange and Marionette. Candy reaches into her pocket and pulls out a small piece of candy, it is a piece of Now Or Later which she stuffs into her mouth.
'It's either now or later'
Candy says, chewing on the candy.
Candy charges at the carnival clown's three cohorts and takes the fight head on. She is clearly out-matched as the three of them begin to pound away at Candy. Stitches watches on with a sinister smile across his face. He then eyes the FSW Championship and with no sense of urgency, walks towards the FSW Championship, his gaze afixed on the FSW Championship as he walks past Candy being mugged by his friends. Stitches picks up the FSW Championship, eyes it down for a second and then leaves Candy to fend off Harrow Quinn, Felix Lestrange and Marionette. Stitches throws the FSW Championship over his shoulder and exits the room through the first door Candy was looking to escape through. Just as Candy had did, once Stitches is through the door he barricades it off, sliding a table up against the door so that it can't open from the other side.
Turning around, Stitches notices a long hallway, the walls are dripping with a multi-coloured sludge, in particular, melted M&Ms. Stitches rubs his eyes, assuming he was beyond the sugar rush, but when he opens them again the walls are still dripping with multi-coloured sludge. Stitches precariously walks down the hallway with the FSW Championship over his right shoulder. As he reaches a third of the way into the hallway a white-gloved hand emerges from the wall and grabs Stitches, the carnival clown fends it off just in time to see another white-gloved hand emerge from the wall, and then a third. The carnival clown walks through the multi-coloured hallway with more haste in his step as more hands emerge from the wall, and then large, candy-coated circles emerge from the walls with eyes, a nose and a mouth and a white 'M' painted on what seems to be their chest. Large, living M&Ms are emerging from the multi-coloured wall and intent on grabbing Stitches. Stitches runs now as the M&Ms chase after him, a red one and a yellow one lead the charge. Stitches reaches the door on the other side of the room and tries to open it but it is budged shut. Stitches pounds his shoulder against the door trying to open it as the M&Ms reach closer. They are mere fingertips away now and Stitches finally manages to open the door, he stumbles through into the next room and closes the door behind him just in time to avoid the M&Ms.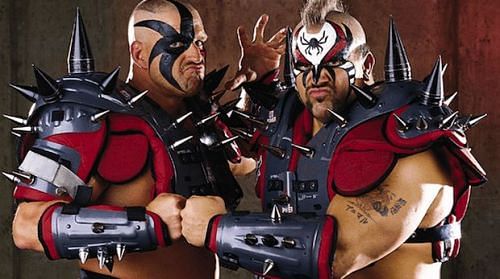 Back in the previous room now, Candy has been left in a beaten, battered mess, blood staining her blonde hair. Marionette and Harrow Quinn also lie beaten and battered and standing next to Candy are two large, mountain-esque men. The two men are made out of chocolate, nuts pieces attached to their bodies with a marshmellow centre. Several pieces of chopped nuts protrude from their shoulder blades like spikes and their faces are painted with liquid candy. The two are known as the Rocky Road Warriors. The Rocky Road Warriors stare down Felix Lestrange who is getting back to his feet, one of them grabs Felix Lestrange and lifts him up into the air, the other one leaps into the air with great leaping ability and the two of them essentially decapitated Felix Lestrange with the Turkish Delight, a modified version of the Doomsday Device.
The two gargantuan men then help Candy to her feet as Felix Lestrange crumbles into a heap. Candy struggles but eventually she gets her footing. The Rocky Road Warriors lead her over to the door that Stitches had walked through earlier and try to open it, but to no prevail because Stitches wedged the table up against the door earlier. The Rocky Road Warriors try to nudge open the door with their spiked shoulders but it doesn't work. Candy watches on as the two Rocky Road Warriors try to knock down the door, not pleased with their progress. Candy stands and waits forever for them to open the door but they aren't having any luck. Realising time is not her friend, Candy settles with heading back through the door she had came from earlier in pursuit of Stitches and the FSW Championship.
'Thanks for your assistance'
Candy says to the Rocky Road Warriors as she disappears behind the door, waving at the Rocky Road Warriors. The Rocky Road Warriors wave back and then abandon the door, returning to their post, standing sentinel by a nearby wall.
Candy retreats into the previous room, but this time it is different than the last time she was in there. From the ceiling hang long, snake candies like vines and in the centre of the room there is a blue beanstalk, having grown from a magical blue jelly bean planted in the ground. Candy decides to climb the blue beanstalk, using the candied snakes as support as she climbs. All of a sudden the snakes come to like and start trying to strike Candy. As the snakes attack a large face of a woman emerges from the wall with liquorice snakes for hair. The woman was no Medusa, so thankfully Candy wouldn't be turned to stone from her glare, but the liquorice snakes were still an issue as she continues to climb the beanstalk. The woman's face in the wall starts whipping her hair, detaching the liquorice snakes from her head and sending them flying in the direction of Candy, Candy manages to dodge them by using the leaves and the vines of the beanstalk as cover. As the liquorice snakes connect with the leaves and vines they disintergrate, almost like the liquorice snakes were made out of acid. Candy is close to the top now.
All of a sudden one of the snakes dangling from the ceiling wrap around her neck and start to constrict. Candy fights off the snake's grip as she continues to climb. A few more steps now and Candy will be at the top of the beanstalk. Candy yanks at the snake around her neck and manages to pull hard enough to yank it right off. The snake falls to the ground below, Candy loses her balance and falls ever so slightly but manages to grab a hold of one of the leaves. Candy lifts herself up and proceeds to the top of the beanstalk. Candy pulls herself up into the room at the top of the beanstalk, narrowly avoiding an incoming snake, and looks across the room to see exactly what she had been looking for; the throne room. The throne is enormous, fit for a giant. The throne is made out of golden-wrapped chocolate, with candy-esque jewels encrusted into the gold. At the top of the throne there is a large golden crown wielded into the throne's framework. Either Stitches are Candy would have to hang the FSW Chamionship over the golden crown of the giant throne to be crowned the FSW Champion. Stitches clearly hadn't arrived yet otherwise the FSW Championship would be hanging from the golden crown. Candy chooses a place to hide and waits for Stitches to arrive with the FSW Championship.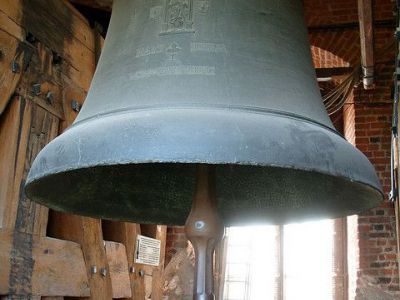 The carnival clown had long since left the M&Ms that tried to attack him in the multi-coloured hallway and had no managed to scale several flights of stairs to reach a large room with a large window which over-looked the outside of the castle. Hanging from the ceiling is a giant bell which remains still. As Stitches enters the room each and every door in the room is suddenly barred shut and the bell begins to ring. Suddenly, from inside the bell drops several Kinder eggs which land on the ground below and simply remain stil. Stitches stares at the chocolate eggs for a moment, waiting for something to happen, but nothing happens. The carnival clown dismisses the eggs and tries to open the barred doors. Suddenly, the eggs begin to crack open and from within the eggs emerges several small toys. A small dinosaur, a squirrel with a guitar and a racecar emerge from the cracked eggs. Stitches turns around the face the newly minted toys and laughs before returning to trying to pry open the doors. The dinosaur, in particular, isn't happy by Stitches laxadasical approach to their arrival and decides to jump on top of the racecar before charging towards Stitches. Stitches turns around just in time for the dinosaur to whip him across the room with its tail.
'Shit, you aren't playing around'
Stitches says as he gingerly gets back to his feet.
From behind Stitches the squirrel with the guitar approaches and swings the guitar, Stitches sees it just in time to duck under. Stitches grabs the squirrel by its tail and slams it up against the nearby wall. The squirrel squirms down the side of the wal, still holding the guitar. The dinosaurn on the racecar once again tries to whip Stitches but this time it misses. The racecar turns around and tries again. Stitches sees the dinosaur on the racecar this time and tries to clothesline the dinosaur off of the racecar but the dinosaur manages to duck under. Stitches once again turns around as the dinosaur tries for a third time to mow down Stitches. Stitches once again ducks, but this time as he ducks the squirrel has also got back to its feet and once again swung the guitar. The squirrel misses Stitches and smashes the guitar right into the face of the dinosaur. The dinosaur falls off of the racecar and crumbles into a heap. The racecar careens out of control and crashes into the wall, also crumbling into a heap. The former guitar-wielding squirrel is the only one left.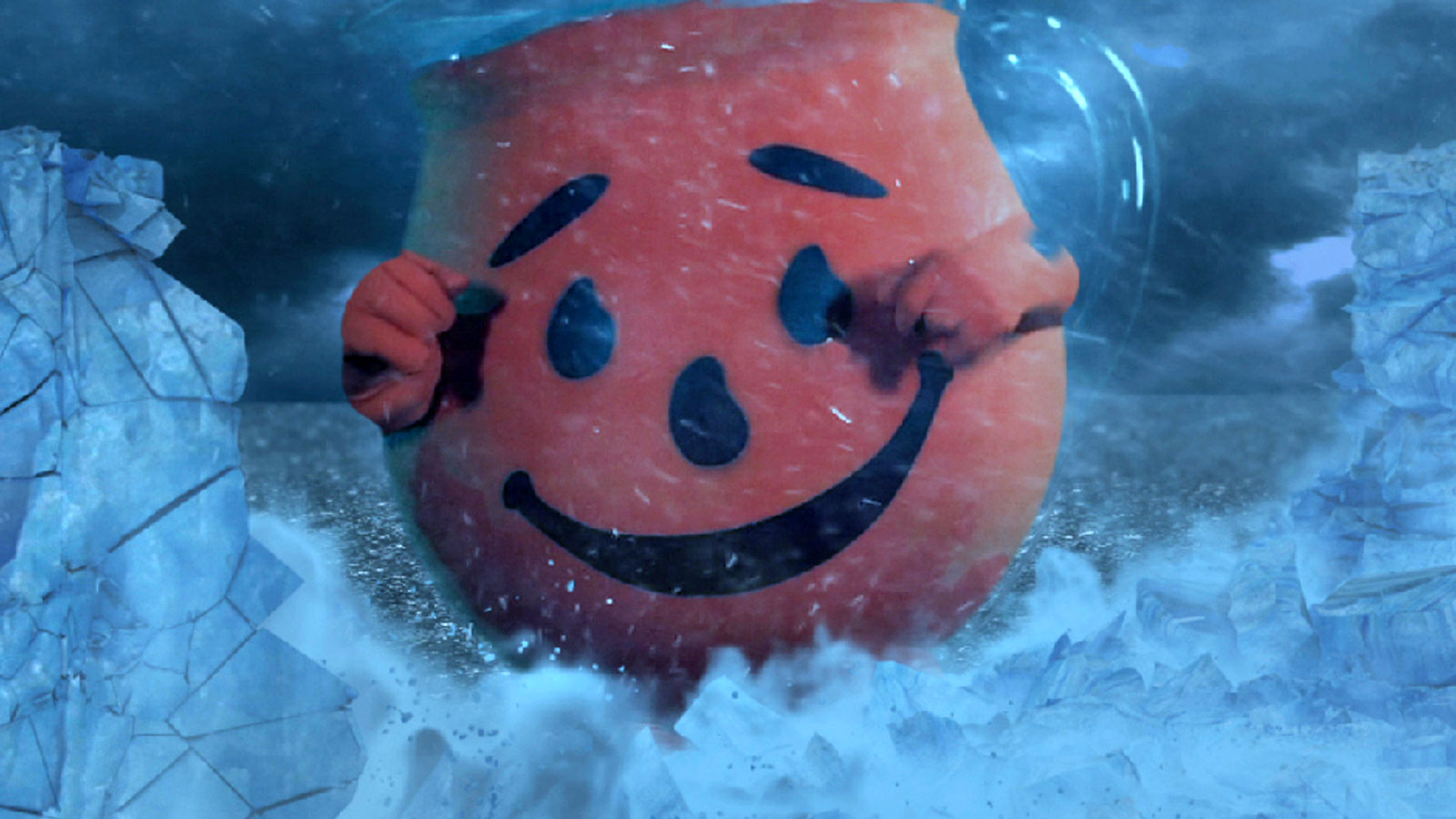 The squirrel, realising it is out-matched, puts two fingers to its lips and whistles. From out of the bell drops another Kinder egg, much larger than the first two. The squirrel smiles as the egg starts to crack. Before the egg can even crack open the sides of the egg explode and out of the egg emerges the Kool-Aid man. The squirrel jumps on top of the Kool Aid man and orders it to charge towards Stitches. 'Really?' Stitches mutters under his breath. The carnival clown starts to run around the room as the Kool Aid man swings a giant jug of Kool-Aid, smashing pillars and cracking the stone floor. The carnival clown realises he probably won't out-power the Kool Aid man so he needs a different approach. Looking skyward Stitches sees the bell swinging from the ceiling, then he sees how loose the bell is. Realising this, the carnival clown charges towards the bell and leaps forward, grabbing onto the ball hanging from the bell. Stitches climbs the ball, and then the rope, and climbs onto the bell, anticipating the Kool Aid man to strike. The Kool Aid man sees Stitches on the bell and swings its jug again, Stitches sees this and dives off of the bell just in time to miss being hit by the bell. The Kool Aid man hits the bell and it comes crashing down right on top of the Kool Aid man. The bell crushes both the Kool Aid man and the squirrel and then both crumble into a heap like the dinosaur and racecar before them. The barred doors unbar and Stitches grabs the FSW Championship and heads through the door opposite the one he entered through.
Candy pulls herself up into the throne room from the beanstalk. Nearly out of breath, she looks around and sees the Throne. It's 'Giant' sized, compared to her, but then she looks around the entire throne room and it's giant-size itself. An opening shaped like the Championship is at the top of the throne. Candy gets to her feet, her head still hurting from the earlier gash. She searches around the room and sees a giant lollipop lying beside the throne. Candy scampers over to it just as she hears footsteps coming from a hallway. The click-clack of Stitches' footfalls echo as he enters the throne room with the title over his shoulder. His eyes scan the room, trying to find out if she's here. He sees a giant candybar, a large-size plastic clear box of mints, a small piece of black licorice and an opening in the floor, with the leafs of the beanstalk edging out from it.
Stitches:
Fee, Fi, Fo, Fun. Soon there will be a new champion.
Candy:
Not if I have anything to say about it!
Stitches turns and sees Candy appear from beside the throne. She throws the lollipop at Stitches, who dodges it to the side falling to the floor. He gets back to his feet just as Candy charges and hits a Lou Thesz Press. The championship falls to the floor as Candy tries to ground and pound the clown. He shoves her away and looks around for the title. Candy gets to a knee then races towards Stitches. He counters her momentum and hip tosses her against the giant candybar, sending her through it and breaking it in half. Stitches looks up at the seat of the throne that's about ten feet above his head, then up at the opening where the title will fit. He looks around and sees a small pile of lego blocks. He runs over to the stack of legos and pulls them towards the throne. Stitches quickly builds a makeshift ladder with the legos and leans it against the throne. He looks around for the championship and sees a disheveled Candy holding it in her hand.
Stitches stalks towards Candy, holding a loose lego piece. He swings at her with the wide stick piece and she blocks it with the title.
Stitches:
You're not going to win this!
Stitches swings wildly with the wide stick, Candy ducks it then grabs Stitches by the head, hitting a Codebreaker with the title across her knees. She scoots away from him with the title in her hand. He holds his face and blood drips from his nose as he looks towards her. She runs towards the licorice, grabs it and runs towards the leaning ladder. Stitches stumbles towards the box of mints as Candy runs up the ladder and reaches the seat of the throne. She pulls the ladder up to her and looks up at the top of the throne. He looks over at Candy then at the mints then grabs one. Candy pulls the ladder over and leans it against the back of the throne. She starts to climb it but with only one hand and a higher pitch on the ladder, she's going very slow. Stitches runs towards the throne and chucks the mint at Candy, hitting her in the back of the head. It knocks her off the ladder, dropping her and the title onto the seat. Stitches looks around and sees the few remaining legos. He spies the broken chocolate bar and drags it over towards the throne. He places the wide stick he was swinging with across a single block. Candy starts to stir as Stitches lifts up the broken chocolate bar. He stands on one end of the stick and tosses the bar into the air. The chocolate bar hits the other end of the stick, like a teeter-totter, sending Stitches into the air and onto the seat of the throne, landing on his feet.
Stitches:
Now I have you.
He walks over and grabs the Championship in his hand. He starts to climb the ladder towards the top of the throne. Candy gets to her knees and sees the mint that hit her. She picks up the mint and tosses it at Stitches but misses him. She looks around as Stitches nears the top of the ladder, which is still a few feet away from the title holder. Candy scrambles and slides in between the ladder and the back of the throne. She tries to push over the ladder but can't seem to move it with Stitches' weight stopping her. Candy grabs the licorice and tears a strand from it. She ties the licorice rope around her waist then ties it around the ladder, putting her back to the ladder.. Stitches nears the top as Candy spider-climbs along the back of the throne, up the ladder from the inside, the licorice rope keeping her secure to the ladder. She looks up then pushes her legs against the back of the throne. The ladder begins to fall backwards and Stitches tries to hold onto the ladder, dropping the title on the seat of the throne. . Candy lands backfirst against the ladder as the ladder lays on the seat of the throne. She unties herself from the ladder then walks over towards the edge of the seat, trying to find Stitches. She edges close and his hand reaches up and grabs her ankle, pulling her down on the seat.
Stitches:
You're going to fall once and for all!
Candy tries to keep herself from being pulled off the seats as Stitches hangs precarious from the edge and holds her ankle. Candy reaches back and finds the mint. She smashes his hand holding her ankle, bringing for a yelp of pain from Stitches. He hangs on for dear life as Candy begins to kick at him.
She kicks him in the face
She kicks him again in the face, stunning him.
Candy kicks him over more time. Stitches loses his grip and falls to the floor, landing on the chocolate bar teeter-totter contraption. Candy slowly gets to her feet and lifts the ladder back in place. She tears apart the licorice, then ties them together into a long rope. Candy then ties the rope to the title, dragging it over to the back of the throne. She takes the loose end and ties it around her waist and climbs up the ladder. She looks up from the top of the ladder and sees she's about eight feet short.
Candy:
Don't look down. Don't. Look. Down.
She slowly starts to do a free climb, using the crevices and cracks along the back of the throne like a rock climber would. Candy finally makes it to the top of the throne, and sees the place for the title. Candy loops the licorice rope around part of the ornamentation along the top of the throne and pulls the title up to her. After about a minute she reaches down, grabs the title, tears away the rope and places it into the slot. The throne lights up as 'I Want Candy' begins to play. Candy stands on top of the throne with her hands in the air, claiming victory!
Candy stares down at Stitches as she holds up the FSW Championship.
Candy:
And your winner, and STILL FSW Champion... CANDY!
'I Want Candy' continues to play as Candy stares down at Stitches who hasn't moved an inch. Candy looks up at the championship and back down at Stitches, tilting her head to one side as a gleeful smile crosses her face. The castle slowly starts to fade to darkness as the Candy Castle match reaches its end.
We cut to the back hallways of FNB Stadium. Dominic Sanders and Cora are walking through the hallways with pissed off looks on their faces. They're walking dead silent next to each other when, suddenly, a familiar face crosses their path.
Voice:
HOLA, AMIGO!
Sanders and Cora look up and see Carlos Ruiz walking at them. Sanders seethes at Carlos.
Sanders:
WHAT?
Ruiz:
I so happy to see you, amigo!
Sanders responds with the thickest of sarcasm as he fumes.
Sanders:
Oh.. you know the feeling is likewise.
Carlos smiles and reaches up, patting Sanders on the shoulder. Sanders looks down at his hand.
Sanders:
So... what are you doing here, Carlos?
Ruiz:
Carlos is going to get the baby oil for Señor Grizzly. He say something about being lube up for his fight. I not know what that mean.
Carlos looks over to Cora.
Ruiz:
AH! This is the future Señora Dominic, si? I am Carlos Ruiz! Numero uno luchador in all of España!
Carlos reaches his hand out to shake Cora's. He is greeted with a hard right fist from Sanders. Carlos rocks backwards. Sanders grabs Carlos. He sees a nearby golf cart and hurls Carlos into the side of it. Sanders walks over to the other side of the cart and pushes it for a bit, finally toppling it over on top of Carlos. He walks over to Carlos' head and squats down next to him. He places his hand on Carlos' face and squeezes.
Sanders:
Do not EVER touch me. And do not EVER talk to my fiancee! Comprende AMIGO?!
Sanders shoves Carlos' head and stands up. Cora grabs his hand and they walk off just as medical personnel comes to check on Carlos. We head back to ringside.
EWC UNITED STATES CHAMPIONSHIPNezumi Hazama
Vs Samantha Hamilton
Dobrev:
The following match is scheduled for one fall and it is for the EWC United States Championship!
The camera moves away from Dobrev to a sweeping glimpse of the arena.
A peaceful, inviting chill falls over the arena...
There's only a soft light glossed over the attendance...
It's like sunlight...
Nurturing...
Blissful...
Familiar...
The tones of Shiho Ochi brings the audience to a still.

♫ ARAWARU KUROI SORA...
KODOU WA RAIMEI WO KURIKAESU...
ARASHI GA KURU MAE NI...
KOYOI WA ANO UTA WO SAZUKEMASHOU... ♫
A loud blast of percussion strikes the audience as the lights in the arena begin to take on chaotic timing. Flashes of orange, yellow, and red cascade in rhythm with the individual beats of Superfly's 'Kakusei' and the camera drops to focus on the person the song introduces. A jet of smoke spawns from the ring stage, and in it, there stands a silhouette. With a cape flowing in the wind, the intensity of 'Kakusei' picks up, and lures the audience into its infectious beat.
♫ MAHARI YUWARE GAAIE SABANARE! ♫
As he steps out of the emission of smoke on the stage, Hazama stands in the bright spotlight. Primping the collar of his suit jacket and shifting the shawl draped over his shoulder, Hazama listens to the chorus of boos that follows his appearance.
♫ AMARE DIRAHI JUMAGI GANASHARA! ♫
He raises his arms in protest to the crowd's displeasure towards his existence. He invites them to get louder as he drowns them out to the high, loud energy of his own theme.
♫ MAHARI YUWARE GAAIE SABANARE! ♫
Hazama fans himself with their hatred, not at all perturbed by them.
♫ AMARE DIRAHI JUMAGI GANASHARA! ♫
And when he's done humoring his critics, Hazama begins down the ring ramp.
Dobrev:
Introducing first...the challenger...from Shinsekai, Osaka, Japan...weighing in at 238 pounds...he is the self-proclaimed Captain of Rampage...he is...NEZUMI HAZAMA!
♫ YOMIGAERASERU NO SA...
AISURU KIMI NO KOKORO...
KARADA WO NUGISUTETE...
IMA, WARE NI KAERU TOKI... ♫
Hazama reaches the end of the ring ramp, having spent a few moments teasing the people reaching for him. He tests to see if someone was brave enough to jump. He berates someone and tells them about how much they pale in comparison to him. There at the edge of the ramp, Hazama throws up his arms again, and the camera pans out. It catches the atmosphere that he has created, where the world is rocking with their hateful noise. With him at the epicenter of it all, Hazama only chooses to smile and then make his move towards the ring.
Still committed to his former eccentricities, Hazama slides into the ring on his stomach and turns onto his back. He sprawls out, massaging the ring before lifting himself up. With his head hung, Hazama spreads out his arms, soaking into the limelight once more. It sates him. It powers him. It urges him to continue. As the song calms down, his sinister nature of Hazama brightens through his flamboyance.
♫ ME WO TSUBUTTE KAZE WO SUKUTTE...
MI WO TOKASHITE KANE WO NARASHITE... ♫
Hazama remains this way, even as he begins to rise back to a standing position.
♫ KAKUSEI!
KAKUSEI!
KAKUSEI!
KAKUSEI! ♫
Hazama hits the top turnbuckle, reaching out to the fans, inviting their disdain again.
♫ MAHARI YUWARE GAAIE SABANARE!
AMARE DIRAHI JUMAGI GANASHARA!
MAHARI YUWARE GAAIE SABANARE!
AMARE DIRAHI JUMAGI GANASHARA! ♫
As 'Kakusei' begins to fade out, Hazama denies everyone their chance to get to him. He hops off the turnbuckle, discharging the intensity of his taunting in lieu of his sinister serenity. He crouches down in his corner, watching his environment with a hawk-eye precision. A smirk dawns on his face as he waits for the beginning of the match, and his own personal war.
Dobrev:
Introducing his opponent...from Ft. Lauderdale, Florida... weighing in at one hundred and forty-five pounds, she is the EWC United States Champion ... Samantha "The Titaness" Hamilton!
'Indestructible' by Disturbed blares over the PA system. As it does, we see the forms of The Titaness and her husband, Joseph "Orion" Hunter, standing at the top of the ramp. The Titaness saunters down the ramp. Upon closer inspection, we also see the United States Championship draped over Samantha's right shoulder.
A sense of determination and resolve can always be found in her eyes. Despite wearing a more stern and serious expression, she's not one to ignore any fans or supporters. Every now and again, she'll give a wave or slight smirk. More often than not, however, the Titaness will stick to her more serious and stoic look.
When she finally gets in front of the ropes, the Titaness will usually slip through the middle and top ropes.
DING DING DING
As the match starts, the two competitors pace the diameter of the ring. They both look as if they're going to tangle up, but they stop before they continuing. It takes several times before they lock up. Hazama's quick to aim low with insides knees to the thigh. Hamilton backs her lower body up to avoid taking full damage and throws Hazama to the ground with a shove. She follows up by grabbing onto him and pulling him up to a standing position. She keeps her arms wrapped around his neck. Settling in the center of the ring, Hamilton lifts Hazama up and drives him into the mat with a suplex.
Hazama gets to his feet, tackling into Hamilton. Her strength proves to be a deciding factor, stopping him in his tracks. Hazama lifts Hamilton off the mat and plants her with a side slam. She gets to her feet, holding the small arch of her back. Hazama tells her that she's not the only strong one here, which causes them to lock up again.
Woo:
It's rare to see Hamilton sized up in strength.
Gomez:
Yeah, she's strong, but Hazama was definitely rivaling her when he was even lighter. He's a bonafide heavyweight now. She won't have the size advantage.
Hamilton gets around Hazama, holding him in a rear waist lock. She picks him off the ground but Hazama deadweights to stop her from taking the advantage. He loops around her, reversing into his own rear waist lock. As he holds her, he starts to move her closer to the turnbuckle. Once there, the referee goes to break the hold. Hazama gives the clean break with his arms outstretched. As Hamilton begins to move away from the corner, the Captain throws out an open-handed slap. The sound echoes out throughout the arena.
Gomez:
Yes, do it again!
Hamilton steps out, ready to tear into Hazama, but referee Forbes gets in the way. He admonishes Hazama for his actions, to which the Captain raises his arms with a chuckle. Hamilton tries to weave around Forbes and when she does, Hazama greets her with a knife edge chop. Hamilton stumbles back into the corner. Hazama follows her and strikes her with another one. Now in firm control, he takes his time to wind up another chop. When he does, Hamilton lets out a yelp and clutches her chest. Hazama takes her arm and sends her to the opposing corner.
Hamilton hits the turnbuckle but comes charging out. Hazama scouts this and hits her with a kitchen sink, sending her into the mat. He walks over and presses his boot against her shoulder for the count.
ONE!
.
.
KICKOUT!
Hamilton throws Hazama's foot off and gets to her feet. Hazama retreats back, hands up defensively. Hamilton starts at her opponent, only for him to duck and weave around her. Hamilton stops in the turnbuckle, seething, and she twists around only for Hazama to try to throw out Satori (Bicycle Knee)! Hamilton falls to the mat on pure instinct. Hazama puts down his rising leg and moves back, offering his hand to his opponent. Hamilton looks agitated by the gesture and tries to snatch Hazama, but he's quick on his feet and retreats again.
Woo:
The champion has to calm down. If she keeps getting upset this early in the match, this will be a long night for her.
Hamilton continues to throw out punches, only for Hazama to dodge them all. Looking like he's out of a martial arts movie, Hazama doesn't reply to her efforts with violence. Instead, he continues to tease her until she grabs onto him. Hazama hits a drop toe hold and sends Hamilton out with a baseball slide. Hamilton quickly gets to her feet and sees Hazama running the ropes. She readies for him, only for him to stop and slide into a pose. Her eyes widen with anger and she hits the ring again. She tries to dive onto him with a double ax handle, but Hazama rolls away. Once back to a standing position, Hazama secures a standing headlock and transitions into a hammerlock.
Hamilton tries to fight out of it, only for Hazama to quickly transition and drop her with a half nelson backbreaker. He goes for another cover, this time shoving his forearm into the champion's jaw.
ONE!
.
.
TWO!
.
.
KICKOUT!
As Hamilton gets up, Hazama smacks her on the back of the head. Hamilton stiffens up and rises to her feet. Hazama hits her with a knife-edge chop. When she returns back to hit him with hers, he slaps her in the face again. Hamilton raises her head, looking at the audience. She checks her cheek before asking Hazama to hit her with another chop. He obliges. Hamilton looks down at her chest, seeing how red it had become. Hazama grabs her by the hair, tugging her back--to the chagrin of the referee--and goes for a European Uppercut. Hamilton sparks to life and drops low. With a snap and a drop, she plants Hazama to the mat with a powerbomb!
No cover, no pause, Hamilton jumps onto Hazama and begins to batter him with lefts and rights. The crowd explodes. Hazama puts a guard to defend himself. Hamilton drags him to his feet and drives a flurry of knee strikes into him before sending him into the ropes. Hazama ties himself up in them, trying to safeguard himself from more punishment. Hamilton runs forward and drives him to the outside mat with a big boot to the head.
Woo:
Hamilton has seemingly found her senses out there!
Gomez:
Give it time. She just managed a lucky shot!
Hazama crawls underneath the bottom rope, stopping the count at five. Hamilton's hot on his tracks, picking him up on the mat. He tries to fight back with some gut punches, but Hamilton snaps him up and rocks him with a stiff forearm smash. Hazama falls against the ropes and Hamilton uses this to send him rebounding off the others. She lifts him up and drops him with a spinebuster before hooking both legs.
ONE!
.
.
TWO!
.
.
KICKOUT BY HAZAMA!
Hazama wills himself to a standing position. Hamilton invites him to try the same tactics that he did earlier. No longer smirking, Hazama nods and hits Hamilton with a stiff forearm. Hamilton responds with her own. Hazama falters and Hamilton continues to strike at him until Hazama comes back to life with a spinning backfist. Hamilton checks her jaw and mouth for any blood, but sees Hazama coming in with another strike. She evades it and hits him with a backbreaker, which she then follows with a suplex lift. She sends Hazama down into her knees with another backbreaker.
She shakes her head, knowing that she had a better opportunity to put down her foe. She lifts Hazama onto her shoulders and positions him in the center of the ring. She goes to bring him down with Zeus's Wrath (One Winged Angel)!
But Hazama reverses the move into a victory roll pin!
ONE!
.
.
TWO!
.
.
THR--KICKOUT!
As the United States Champion gets to her feet, Hazama connects with a back heel kick right under her chin. He then brings her up into a suplex hold. With a running start, he drops her down with Fatal Frame (Running Brainbuster)! Hazama gets up, signaling for the end.
Gomez:
He drew her into his kind of fight! And now he's looking to put her away.
Woo:
That brainbuster has put out some of the lights in the champion's head!
Hazama brings Hamilton up onto his shoulders, readying her for Let It Die (Go To Sleep), but she drives her elbow into the side of his neck. Fragments of life ignite into a full flame as she continues to do so until Hazama drops her. Hamilton takes a step back, calling for Hazama to turn around. When he does, she connects with a superkick. She doesn't let him fall and this time connects with Zeus's Wrath! She reaches over and pulls his legs up.
ONE!
.
.
TWO!
.
.
KICKOUT!
Hamilton gets up, eyeing Hazama, who stirs on the mat. She lets him get to his feet before gearing up a forearm. She lands and Hazama doesn't fall. He returns with a knife-edge chop. Hamilton replies with a kick to his chest. Hazama stumbles back but rallies back quickly with a back heel kick to Hamilton's gut. The champion doubles over but responds with a superkick that doesn't knock Hazama over, but it definitely stuns him. The two stand, shaky, and grabs hold of one another's shoulders.
Woo:
Some hard strikes after some devastating moves!
Gomez:
It's only a matter of time before either one of them drops. I need some bloodshed! Where is it at?!
Hamilton gets some life back first and gears up her arm. She drives forward with a standing clothesline that knocks Hazama to the ground. She stumbles forward, trying to catch her bearings. Resting in the corner, she eyes Hazama crawling to his feet. She takes aim and charges at Hazama, going to spear him!
SATORI!
The bicycle knee sends Hamilton to the mat. Hazama falls on top of her.
ONE!
.
.
TWO!
.
.
THREE--KICKOUT!
Woo:
The champion's still in this!
Hazama eyes Forbes, who protests that Hamilton got the shoulder up. The Captain shakes his head and begins to bring Hamilton to her feet. He brings her up onto his shoulders, smirking to the audience as he goes for Let It Die (Go to Sleep)! Hamilton wriggles out at the last second and brings him around. She connects with a gut kick that ignites the crowd. She hooks both arms--
WRATH OF THE TITANS!
NO!
Gomez:
YES!
Hazama rotates out of the double underhook and lifts Hamilton onto his shoulders. With much need for preparation, he drops her right down into Let It Die! Hamilton gets rigid and collapses to the mat. Hazama falls on top of her and hooks the leg.
ONE!
.
.
TWO!
.
.
THREE!!!
DING DING DING
Dobrev:
Here is your winner...and the NEWWWWWWW EWC UNITED STATES CHAMPIONNNNNNN…NEZUMI HAZAMA!!!
Hazama covers his face upon hearing the announcement, overjoyed by the sound of his victory. Kakusei hits again, drowning out many of the boos of the audience. Hazama begins to crawl to his feet, where he sees Forbes holding the EWC United States Championship. He takes it into his grip and holds to his chest, grinning wildly.
Woo:
Love him or hate him, the journey of Nezumi Hazama to the top continues. As he said, winning this was another way to clear the stains left by his loss to Scorpio. The reign of the Titaness is over and the reign of the Captain has started!
Hazama moves to the turnbuckle, where he scales it. He presents the championship to each person closest before moving to leave. As he heads up the ramp, he draws the camera close. "One match down, one Rumble to go!" he cackles as he heads behind the curtain. The camera cuts to backstage.
The camera cuts backstage inside the FNB Stadium where we find Killjoy Ito and Buddy Love in a little pre-game meeting.
Love:
I never really understood why Ace had so much 'backstage heat' from his fellow wrestlers but I'm starting to see it…
Buddy shakes his head.
Love:
I mean this is a PPV...one of the big ones...where a lot of the EWC stars are pulling double duty…
Buddy starts counting the names off lifting a finger for each name.
Love:
Nezumi, Samantha, Stitches, Candy, Dominic, Jordan and YOU…
Buddy looks up at Killjoy.
Love:
Ace is the minority tonight, Robbie, Ezio and HIM are the only ones who have a match and aren't trying to win their shot to Main Event WrestleFest...I thought he WANTED to be the Undisputed Champion again?
Buddy shrugs
Love:
Well his loss I guess but to call out your history with not performing well in these types of situations is a false narrative...I mean the match against him is up first...why does he care about the Rumble match he's not even in…
Buddy shakes his head.
Love:
He seems to be the one not giving this X-Division Match all his attention and is thinking about the Rumble a little too much...but let it be HIS downfall…
Buddy smiles at Killjoy
Love:
Winning that X-Division Championship is priority number one!
Heart:
Well that's good to know…
Buddy and Killjoy look over as Ace Heart is walking over.
Love:
Of course they would have ACE come talk to us about ACE King…
But Ace ignores the jab.
Heart:
But you have to admit that Killjoy is just too new to be in this championship match against someone like Ace King, who has made a career in the X-Division, I mean he was X-Division before it was X-Division.
But Buddy shakes his head.
Love:
Killjoy is just as tough as anyone in the X-Division and he won the right to challenge Ace King here tonight at the Rumble and I could make the case that Ace is worried…
Heart:
I'd like to hear this…
Love:
He knows he's in for a war and might not make it out...to the point he didn't even enter the Rumble, because he's afraid of what Killjoy might do to him in this X-Division Match, see Ace...and ACE, the rules are tossed out the window, Killjoy is free to do what he wants when he wants inside and outside that ring tonight...even I have free reign to be my nastiest out there if I'd like…
Heart:
Ace King…
Love:
Oh enough with Ace King...I think I speak for many people when I say we've had enough of Ace King as a champion here in the EWC, it's time for a chance and Killjoy is going to take over the X-Division here tonight and we are going to beat Ace King into a bloody pulp...I'm glad he was able to celebrate his wife's birthday before this match because she might not recognize him after the match and then…
Buddy smiles
Love:
We are going to enter the Rumble and outlast 39 other people in punch our ticket to the Main Event of WrestleFest and the Undisputed Championship…
Buddy puts his hand on Killjoy's shoulder.
Love:
We are going to have a historic night here tonight in Johannesburg as Killjoy Ito becomes the X-Division Champion and 2020 Rumble winner and we will silence ALL the critics and breaks through the glass ceiling into superstardom!!!
Buddy motions for Killjoy and the pair walk off camera. We cut back to ringside.
EWC X-DIVISION CHAMPIONSHIPKilljoy Ito
Vs Ace King
We return to ringside where the FNB Stadium fans are returning to their seats after a brief break in the action.
Woo:
Welcome back ladies and gents, and what an AMAZING bout we just saw for the United States championship.
Gomez:
Enough about the US title, because we're about to see the bloody and the dangerous.. .the X DIVISION!
Dobrev:
The following match is for the EWC X-Division championship! Joining us first, from Tokyo, Japan, weighing in at 235 pounds ...
KILLJOY ITO!
'The Prodigal Son' Buddy Love walks out onto the stage and raises his arms into the air and lowers them as the lights also fade out, he jumps up and down all excited as 'Deeper Deeper' begins to play. A strobe light circles around the stage as a single white spotlight hits the stage where Killjoy Ito is standing, his back facing the ring, his arms stretched out and his head down. He swings around to face the camera and the ring as Buddy Love runs up and stands by his side. Buddy motions towards the ring and the pair begin to walk down the aisle to the mix reaction of cheers and boos from the fans. Buddy climbs up the steps first and holds the ropes open for Killjoy and then Buddy walks up to the referee and offers them a few dollars to 'keep it fair' but then laughs and shoves the singles back into his pocket as Killjoy walks to the center of the ring with his arms outstretched and tilts his head back and soaks it all in. Buddy helps Killjoy take off his robe and exits the ring.
Woo:
What on Earth is Buddy doing?!
Ringside, Buddy Love has already begun amassing a fair collection of weapons ringside, digging under the ring and building a pile of chairs, kendo sticks, a baseball bat, and setting up a table with a thumbs up to Killjoy in the ring.
Gomez:
He read the contract for the match, this is an X-Division match Woo. C'mon, read your notes man.
"THE ACE OF SPADES!!! THE ACE OF SPADES!!!"
The crowd hears Lemmy's growl, and they go nuts as the opening bass line to 'Ace of Spades' rips through FNB Stadium. As the drums kick in, pyro goes off up and down the ramp in time with the beat, while frenetic red and gold spotlights pulse through the building before fixating on the ramp.

Announcer: Making his way to the ring, FROM Las Vegas, Nevada, weighing in at 221 pounds... He is the X-Division Champion... THE GAMBLER... AAAAAAAAAAAAAAAAAAACE KIIIIIIIIIIIIIIIIIIIIIIIIINGGGGGG!!!

There's a huge explosion as the guitar kicks in, and the crowd roars as the one and only Ace King rises from a platform through the smoke of the pyro and into the spotlights, soaking in the ovation with his championship draped over his shoulder. 'The Gambler' stays on a knee, taking the title down to look at it for a few seconds. He takes a deep breath and walks to the ring, calmly interacting with fans all the way down the ramp.

He stops for a couple seconds at the end of the ramp, then charges to the ring, with gold pyro exploding from the turnbuckles as he dives in under the bottom rope. He spins up onto one knee and stares out into the crowd before getting to his feet and hoisting his championship up for all to see. Once he hands the belt to the referee, he gets his game face on while staring a hole through his opponent.
Woo:
This match is sure to be a banger folks! Neither man cares for the other and this is X-DIVISION Rules.... HAVE AT IT GENTS!!!
DING DING DING
Killjoy and Ace begin circling one another before Buddy Love at ringside already takes the liberty of sliding a kendo stick into the ring that
bounces off of the side of Ace's boot. Ace looks down, and Killjoy strikes with a quick knee to the midsection. With Ace doubled over, Killjoy grabs him by the wrist and whips him across the ring and hits a dropkick as Ace comes off of the ropes. Killjoy grabs the kendo stick from the mat as Ace gets back to his feet and Ito swings, but Ace ducks the shot and catches Killjoy with a shoot kick to the thigh. Ito drops the kendo stick and Ace whips him toward the ropes, looking for his own dropkick but Killjoy hooks the top rope with both arms. With Ito on the ropes, Ace instead runs forward and clotheslines Killjoy out of the ring, quickly following suit behind him. Ito stumbles away from the ring but Ace grabs hold of him from behind, hitting a german suplex. Ace gets to his feet, looking at Ito on the ground arching his back, and flips the ring apron up before dragging out a tumbleweed of barbed wire. He tosses it out toward the barricade beside Ito before picking up Killjoy from the ground and driving him into the barbed wire with the Big Slick STO! Killjoy writhes in pain, instinctively getting away from the barbed wire as his bare back starts to bleed. He rolls toward the ring apron, reaching under the apron as he writhes. As King goes to grab Ito and bring him back to his feet, Killjoy shoots a shot out into Ace's gut. Ace doubles over gasping for air as Killjoy tosses aside a pair of brass knuckles he found under the ring. With Ace winded, Killjoy sweeps the leg on King and sends him down to his back before climbing onto the apron and jumping down, hitting a diving double stomp into Ace's chest. Killjoy is still visibly pained by the barbed wire, but grabs Ace and drags him over toward the table that Buddy erected earlier, throwing Ace up on top and raining down a series of blows to keep the gambler down. Ito gets back into the ring, looking from the far ropes to Ace before he takes off running, rebounding off of the far ropes and flying through the air with a suicide senton that sends both Ito and Ace through the table ringside!
Woo:
Both men are down, and referee John Dean is counting!
Gomez:
If this match ends via KO I'm gonna be so pissed...
Killjoy is back to his feet by the count of 7, and Ace is to a knee as the official waves off the count. Ito grabs hold of King, looking to send him into the ring but Ace blocks and reverses, sending Ito crashing back first into the edge of the ring. Ace grabs Killjoy, setting his feet up onto the apron as he looks for a swinging neckbreaker down to the outside. Buddy, however, leaps up onto Ace's back to protect Ito and Ace drops Killjoy who manages to roll out of harms way. King turns his back toward the ring, taking a few steps before slamming Buddy into the ring apron and he drops off of Ace with a thud ringside. Killjoy has rounded around the outside of the ring, putting distance between himself and Ace before he flips the ring apron up and pulls out what appears to be a big sheet of plywood. He slides it into the ring, and its clearly a bed of nails. The crowd roars at the sight of it, and Ace slides back into the ring, grabbing hold of the previously discarded kendo stick. Ace catches Ito as he gets back into the ring and cracks the kendo stick down across his back. Killjoy drops to a knee and Ace seizes the opportunity to drop down and force a pinfall.
1!
2!
Killjoy's shoulder shoots up as soon as the second hand hits the mat and Ace gets back to his feet, taking stock of where the bed of nails is lying before he pulls Killjoy to his feet. Ace lifts Killjoy for a powerbomb, but Ito fights through it, causing Ace to stumble back away from the nail bed before Ito manages to reverse the powerbomb into a facebuster. Ace rolls onto his back and Killjoy climbs to his feet. Ito steps back out of the ring, sizing up Ace as the Gambler gets back to his feet. Killjoy leaps up, jumping off of the top rope with Kushu - hitting Ace with the springboard forearm that drives Ace down onto that bed of nails! Ace writhes and Ito pulls Ace off of the bed of nails and hooks the leg as the official dives into position.
1!
2!
NO!
Ace's shoulder shoots up, blood splattered on the mat beneath him as Buddy Love has dragged himself to his feet and looks on from the ring apron with his hands on his head in shock. Killjoy looks equally shocked as the crowd screams in appreciation.
Woo:
Ace King kicks out!
Gomez:
Both men are bleeding, this is finally an X-Division match!
Killjoy gets to his feet, pulling up Ace King who knocks Ito's hands away and nails him with a european uppercut. Killjoy stumbles back and Ace runs at him as both men tumble out of the ring over the top rope. It takes a moment for either man to get to his feet at this point, but Ace flips the apron up and reaches beneath the ring before pulling out an oversized key with 'Candy Castle' etched into the side and a 'property of Jordan Sharpe' tag hanging off of it. He swings the key like a nightstick, catching Killjoy across the middle. Killjoy stumbles back, fumbling as Buddy panics for a second before digging under the ring and grabbing the first thing he can find - a fishnet stocking lamp! Killjoy doesn't even flinch at the odd weapon of choice and as Ace comes in for another swing, Killjoy ducks the key and smashes the lamp into Ace's head. Ace is down, and Killjoy pulls Ace up before dropping him back down with a hesitation brain buster suplex he called Burakkuatuo. Both men are down on the outside again, and the official begins his count with both men down as Buddy anxiously urges Killjoy to get to his feet.
1!
2!
3!
4!
5!
6!
Killjoy is the first to his feet, pulling Ace up and rolling him back into the ring. He slides in under the bottom rope, getting to his feet as Ace is still down on the mat. Ace reaches for the kendo stick, but as he grabs hold Ito pulls Ace up from behind looking to lock him into the 'Long Goodnight'. Ace throws an elbow back to block the choke hold, turning around and bringing the kendo stick around the back of Killjoy's neck and dropping backward with the High Roller! Both men are down again and Ace rolls over, throwing an arm over Killjoy's chest.
1!
2!
At the last minute, Killjoy manages to roll the shoulder up as both men continue their labored breathing. Buddy at ringside looks around before fumbling in his jacket pocket to look for something before either man can get back to their feet.
Woo:
What a tremendous show from both of these men, Valentia can you believe what you're seeing?!
Gomez:
I'd say I can't believe they're still standing but.. They're not yet.
Ace rolls off of Killjoy, exiting the ring as Buddy slaps the mat near Killjoy to get his attention. As Ace is digging under the ring, Buddy gets into the ring with Killjoy and motions frantically from Ace to his own sleeve of his jacket. Ace pulls a black bag out from under the ring and sets it aside before pulling a table out and sliding it into the ring. He sets the black bag in the corner and climbs back into the ring where Killjoy has gotten back to his feet and rushes to meet Ace with a dropkick that sends Ace stumbling into the corner. Buddy cheers, urging Killjoy out of the way before Buddy stands between Ito and Ace. He pulls his sleeve back, and grabs a lighter from his pocket before clicking it a few times. Unfortunately for Buddy, the curse of the Love family strikes as the fire paper goes off too soon and before Buddy can hurl it in Ace's direction the flames explode in front of his face!
Buddy drops down to the mat, flailing as he rolls from the ring and Ace comes out of the corner with a running start and catches a bewildered Killjoy with a slingblade. The gambler gets to his feet, turning back to the table on the mat before he reaches down and sets the table up in the center of the ring.
Ace turns back to Killjoy, but Ito throws a shoulder into Ace's midsection before he grabs hold and pulls Ace up over his shoulders and drops from the fireman's carry into a gut buster. With Ace down, Killjoy grabs the table and knocks it aside and takes the legs down. Instead, he puts it into the corner of the ring before he sizes up Ace and pulls him into a falcon arrow. Ace is dazed on the mat, and Killjoy looks from Ace to the table in the corner. He drags King toward the corner, propping him against the table before Killjoy retreats to the opposite corner. He takes a running start and DRIVES Ace King through the table with the Kettei-da! The table explodes into splinters, as Killjoy barely manages to drag Ace from the rubble and hooks the leg.
1!
2!
3!
DING DING DING
Dobrev:
Your winner, via pinfall and NEEWWWWWW X-DIVISION CHAMPION...
KILLJOY ITO!
Killjoy simply collapses backward, the shock and exhaustion written all over his face as Ace rolls from the ring.
Woo:
It wasn't easy but Killjoy Ito is the NEW X-Division champion!
Gomez:
Look at Buddy! HAH! I love it!
Buddy Love flails, his arms in the air before he grabs two beers from the front row spectators and rushes the ring, dousing Killjoy in a celebratory drink before he slips in the beer himself. It doesn't seem to phase the (albeit slightly charred) Buddy Love though as he celebrates even harder than his client.
Woo:
Next up we have Ezio defending his North American Championship against Robbie Rayder. But first, Southern Express are backstage.
The camera cuts backstage inside the FNB Stadium where we find the EWC Tag Team Champions Bobby Rose and Jimmy Lane of The Southern Express looking through an old photo album labeled:
1999
, Jimmy is flipping through the pictures, he smiles as he takes a trip down memory lane.
Lane:
You honestly don't remember this show?
Bobby shakes his head no.
Rose:
99' was a blur to me man, I was with Stacy at the time…
Bunny:
Who's Stacy and what are we doing?
Bunny Love comes walking into the room and looks at Bobby and Jimmy like she caught them doing something they shouldn't
Lane:
Stacy is Bobby's ex-wife…
Bunny:
You were married?
Lane:
We both were, I married about 5 months after he did…
Bobby smiles at Jimmy
Lane:
Said he didn't want to see me suffer alone…
The two share a laugh and a high five.
Rose:
Jimmy married a waitress from the International House of Pancakes…
Bunny:
You married an IHOP waitress?
Jimmy nods
Lane:
Got free pancakes for 10 years...best 10 years of my life!!!
Bunny:
That's sad...but why are we taking a trip down memory lane?
Rose:
Because Jamie Matthews found out his dad wasn't really his dad and his dad knocked up his mom at a wrestling show we were at…
Bunny:
Who is Jamie Matthews"
Rose:
Jamie Matthews, form Premium Posse…
Lane:
The guy you made the sexy video for…
And as if the light bulb goes off in Bunny's head...
Bunny:
OH...and what's this have to do with the two of you?
Lane:
His dad was a wrestler…
Bunny's mouth drops open…
Bunny:
Did one of you knock up his poor mother?
Rose:
She was a ring rat and…
Lane:
And we did our fair share of rats back then…
Bunny:
But you were marr...what am I saying, as if that mattered…
Rose:
Now wait...I was faithful to Stacy, for the most part but the problem is the two of us…
Jimmy clears his throat loudly…
Rose:
Ok the THREE of us were doing a lot of coke back then, it wasn't until 2000 that I cleaned myself up...Jimmy and I went to rehab together so my memory is a little foggy from back then…
Bunny nods and takes her phone out…
Bunny:
What did he say her name was?
Bobby pauses for a second but it's Jimmy that speaks up…
Lane:
Sarah Matthews why?
Bunny starts typing on her phone…
Bunny:
Because all old people have Facebook now…
Lane:
She lives in South LA by way of Vermont…
Bunny:
BINGO…
Bunny slides her phone over to Bobby and Jimmy who look down at the picture
Bunny:
Ring a bell?
They look at the picture but shake their heads…
Rose:
She wouldn't have been this old when we knew her?
Lane:
Yeah, do they have a Facebook from 1999?
Bunny:
God you two are old...hold on…
Bunny starts looking through her pics and after a few moments smiles…
Bunny:
Here is the little whore back in the day…
Bunny shows the boys the picture and Jimmy shakes his head but Bobby covers his mouth…
Bunny:
OH FUCK…
But before Bobby can say anything Jamie Matthews knocks on the open door
Matthews:
Hey guys…oh hi Bunny…
He gets a little red in the face and smiles at her but she looks at Bobby...
Lane:
Hey man, this isn't the best time…
Matthews:
Sorry but I have the Rumble to get ready for and I wanted to catch you before you left to see if you had any info about what we talked about…
Bunny:
About which dick blew it's wod inside your mom?
Jimmy sort of smiles…
Lane:
So Bunny knows about your situation, sorry we don't keep anything from her…
Bunny:
Yeah, so did you guys discover ANYTHING about that night?
Bunny says without taking her eyes off Bobby…
Lane:
Um, not yet kid but we are looking into it, you will be in Austria right?
Matthews:
Yeah, booked against this new guy named Jason Ryan, lucky asshole gets the booking of lifetime because after I win the Rumble tonight everyone is going to want a match with yours-truly!!!
Jamie sort of flexes for Bunny who doesn't notice
Lane:
I might know a guy with some answers to all your questions kid...let me talk to him and get back to you at Prime ok…
Jamie smiles and nods
Matthews:
Thanks man, I really want to know who my father is, maybe he's still in the business and we can tag up...or maybe he's a GM and can get me a World Championship match…
Bunny:
Or maybe he's dead...you know a lot of those old timers died off right or he might hear that he has a kid and stroke out right there...right Bobby…
Bobby still has his mouth covered with his hand and nods…
Lane:
Listen kid your head needs to be in this Rumble match and not on this...let me give you some unclely-advice...keep your eye on the price...we will get to the bottom of this for you…
Jamie smiles at the nice jester from Jimmy Lane
Matthews:
Thanks Jimmy...and you to Bobby, this is really nice of you…
Bunny:
Yeah they are saints...now run along and win that Rumble and maybe I'll be waiting for you when you get back…
She winks at Jamie who nods
Matthews:
Ok Bunny...I'll see you later and I'll see you two at Prime…
Jamie nods again and leaves the room as both Bunny and Jimmy turn and look at Bobby who is still covering his mouth…
Lane:
You know her don't you?
Bobby nods his head yes
Bunny:
Do you know her or do you KNOW her…
Bobby's eyes widen as he drops his head on the table and Bunny nearly falls out of her chair laughing...
EWC NORTH AMERICAN CHAMPIONSHIP

Robbie Rayder
Vs Ezio DeLuca
Woo: Up next we have the battle for the EWC North American title. Ezio Delua wrestled the title out of Wes Walker's hands at FSW #100 back in July, ending Wes Walker's record setting run. But can Ezio retain against a very seasoned opponent in Robbie Rayder?
Gomez:
This is going to be a great match, Marcus. Ezio has his work cut out for him, but the pressure is all on Robbie. Robbie wins and he joins his wife: Candy as a EWC title holder. Ezio wins and he bumps off a very game challenger and continues on with his time holding the title. Does Ezio have the ability to challenge Wes Walker's 206 day run?
Woo:
All these questions are about to be answered!
Dobrev:
The following match is for the EWC North American Championship! Joining us first, from Alamo, California, weighing in at 225 pounds ...
The Dreadnought - ROBBIE RAAAAAAYDER!
The lights go out in the arena then a fog covers the entrance. The lights slowly come up as Robbie Rayder, wearing long purple tights and black boots, walks out through the fog and kneels down. He points his index fingers to the ceiling then lowers them to his lips. Rayder looks out at the crowd as he walks half way down towards the ring, then runs towards the ring, sliding in under the bottom rope. He gets to a knee then gets to his feet, leaning out through the middle and top ropes, playing to the crowd.
Dobrev:
And his opponent, from Oakland, California, weighing in at 244 pounds ... The current EWC North American Champion
EZIO DELUUUUCA!
"Hard Time (Kretsen Remix)" by Seinabo Sey starts to play as Ezio appears on the entrance ramp. He winks at a few adoring fans in the crowd and picks out one lucky fan for a blown kiss. He climbs up the steps to the ring, smirking at the crowd as he slowly and carefully bends over through the top and middle ropes to enter. One final wink to the crowd and he carefully folds his feathery robe over the turnbuckle and hands his North American title to Referee John Dean.
Woo:
Both men are in the ring and we are READY. TO. GO!
DING DING DING
As soon as the bell sounds Robbie dashes across the ring and locks up with Ezio. Robbie slips to the side and locks in a wristlock. Ezio rolls out of it and reverses the wristlock, following it up with a boot to Robbie's mid section. Ezio whips Robbie into the ropes and follows him in. Robbie bounces off the ropes and just manages to duck under a running lariat from Ezio as he transitions into a belly-to-back suplex. Robbie pulls Ezio back up and looks to roll into another belly to back suplex but Ezio blocks it and manages to grab the top rope. The ref breaks the hold and Robbie backs away. Ezio smiles as she turns back around, flashing Robbie a sly wink. Robbie shakes his head at Ezio and motions for him to bring it on. The men circle, each trying to feint and bait the other in, but neither man falls for it. Ezio suddenly dashes forward with a shoulder block and sends Robbie to the mat. Ezio immediately grabs Robbie's leg in an attempt at an ankle lock. Robbie kicks Ezio off of him, sending him into the ropes. Ezio springboards off with a flying crossbody block that Robbie catches. Ezio flails around right before Robbie plants him with a sidewalk slam. Robbie rolls Ezio up for the quick pin attempt and Referee John Dean is right there:
1…
2 - Kick out by Ezio.
Woo:
Excellent exchange here at the start, leading to a quick pin attempt but only netting Robbie a two count.
Gomez:
I think Ezio expected this quick start from Robbie, but more so in the way of Robbie going to the air.
Ezio rolls away and uses the turnbuckle to climb to his feet. Robbie is back up and charges in on Ezio with a flying forearm, but Ezio gets a knee up at the last second. Robbie staggers back as Ezio steps out of the corner with a perfectly timed superkick. Robbie falls flat on his back and Ezio climbs the corner and jumps off the second rope with an elbow drop. Ezio grabs Robbie by his hair and pulls him up to his feet. Ezio blows Robbie a kiss right before ripping Robbie into a side headlock. Ezio cranks the hold and Robbie drops to one knee. Robbie fights back to his feet as Ezio tries to keep him locked into the head lock. Robbie drives an elbow into Ezio's mid section and then shoves him off, sending Ezio to the ropes. Robbie dashes the opposite direction to the ropes and comes off with a sick kick, blasting Ezio in the face. Ezio staggers back and drops to a knee as Robbie kips back up to his feet. He climbs the ropes to springboard off with a Aire Rayde V.2 but Ezio slips to the side and delivers The Anchor Drop! Robbie is down hard as Ezio rolls slowly onto him for the pin attempt.
1…
2…
3 - NO! Last second kick out by Robbie. Ezio can't believe it as Referee John Dean shows Ezio he only got a 2 count.
Woo:
So close! A near three count leaves Ezio wondering what he has to do to keep Robbie Rayder down.
Gomez:
That leaping clothesline near tore Robbie's head off.
Woo:
This match has lived up to everything we hoped it would be! Both of these men are giving it their all tonight with the belt on the line.
Ezio struggles to get to his feet as Robbie rolls to his side. Ezio stalks in on Robbie and pulls him up and into a suplex. Ezio climbs back to his feet and pulls Robbie back up. Ezio measures up and delivers a knifehand chop that echoes through the stadium. Robbie clutches his chest and staggers away from Ezio. Ezio follows and grabs Robbie from behind only to get a back elbow from Robbie. Robbie spins and plants a kick to Ezio's guts and then follows it up with an enziguri. Ezio is rocked by Robbie's sudden offensive burst and Robbie presses the advantage. He grabs Ezio and slings him into the ropes and follows him in with a Superman punch that floors Ezio. Robbie reaches down to pull Ezio to his feet but Ezio rolls out of the ring. Ezio is trying to shake the cobwebs from his head as Robbie measures him up. Dashing across the ring and coming off the ropes, Robbie comes back across and leaps out of the ring, nailing Ezio with a tope con hilo! Both men are down on the outside of the ring as John Dean begins the count out.
1…
2…
3…
4…
5...
Robbie slowly gets to his feet as Ezio is starting to use the ring apron to help him up.
5…
6…
Robbie walks in and plants a double ax handle to Ezio's back and then rolls him back into the ring as John Dean hits the 8 count. Robbie rolls back in himself.
Woo:
Wise move by Robbie by getting the match back into the ring.
Robbie rolls back out under the ropes and stands up on the side of the ring, waiting for Ezio to get to his feet. Ezio slowly struggles to his feet in time for Robbie to springboard off with a corkscrew back elbow. Robbie rolls back to his feet as Ezio looks out of it. As Robbie goes to pull Ezio up, Ezio imanari rolls into Robbie's legs and wraps him up in a leg lock in the center of the ring. Robbie tries to hop towards the ropes but Ezio sweeps his leg with his other arm! John Dean is checking on Robbie as Ezio torques the leg. Robbie shakes his head NO as he pounds the mat in agony. Robbie tries to pull them towards the ropes but Ezio is locked in deep. Robbie screams in pain as Ezio is doing everything he can to break his leg.John Dean on the check again, and once again Robbie shakes his head NO. With one last lunge Robbie grabs the bottom rope, John Dean calls for the break of the hold. Ezio is in shock as he can't believe Robbie didn't tap out.
Gomez:
Did he break his leg? I swear that leg looked like it was twisted in a really un-natural angle!
Woo:
Big heart from Robbie, but if Ezio just did break his leg, that could be months of being sidelined and rehab.
Robbie grabs his leg in pain as Ezio slowly gets to his feet. He stomps Robbie's leg before picking him up and slamming him into the corner. Robbie's leg can't support him and he crumbles into the corner ropes. Ezio walks back a few steps and charges in with the Spear of Justice - BUT ROBBIE DUCKS! Ezio slams head first into the ringpost with a sickening thud! The crowd starts the 'HOLY SHIT!!' chant. Ezio is pouring blood from the top of his head as Robbie climbs the ropes to get to his feet, his leg still not quite able to support the weight. Robbie feebly pulls Ezio out of the ropes and pulls him out a few feet from the ropes. Ezio is starting to stir as Robbie sinks in the Blackout! John Dean in there checking on Ezio, he is refusing to tap! Ezio is struggling, starting to kick his legs, shoving them toward the ropes. Robbie grits his teeth and holds on. It's finally too much and Ezio collapses. John Dean calls for the bell - Ezio is out cold!
DING DING DING
Dobrev:
And your winner, via Blackout and NEEEW EWC North American Champion -
ROBBIE RAAAAYDER!!!
Robbie releases the hold and falls onto his back. The expression of joy and pain wash over him as the ref lays the EWC North American strap across his chest. Robbie holds it up from his back and the crowd cheers. The medics hit the ring to check on both of the wrestlers.
Woo:
Blackout from Robbie Rayder to end Ezio's run, but at what cost?! How much damage was done to Robbie's leg?
Gomez:
He still isn't standing on it.
Woo:
While the medics check on Robbie and Ezio, we will head backstage to Melody Malone.
Malone:
"It was perfect. One distraction down."
Melody Malone's voice carries through the backstage area as she stands, crown atop her head and a new mirror in hand. Rory stands beside her, a satisfied smirk on his face after the earlier encounter with Gautier before that ever present voice cries out from off screen.
Heart:
"Melody!"
Coming into view is the one and only Ace Heart with a microphone in hand. Rory takes a step toward Ace, but Melody gives the Scotsman a pat on the chest to back him off before she turns to Ace with a saccharine sweet smile.
Malone:
"Ace…. to what do I owe such an unexpected visit?"
Heart:
"Y.. you can't be serious."
Heart stammers, shaking his head before regaining his traditional composure.
Heart:
"Ladies and gentlemen, I'm here with the Queen of the EWC, Melody Malone, and Melody… everyone saw what happened earlier tonight. At one point you went on record calling Kyle one of your dearest friends.."
Malone:
"Ace… who am I?"
Heart:
"Erm… Melody Malone?"
Malone:
"And what does that door say?"
Melody points past Rory as the camera follows, and the nameplate of America's Most Hated is emblazoned on the door.
Heart:
"America's Most Hated.."
Malone:
"So, you're asking me… a member of America's Most Hated… about what happened to the man that the collective EWC voted as the most loved wrestler of the year?"
Malone's voice deadpans as Ace Heart shakes his head.
Heart:
"He was your friend."
Malone:
"And look where that got me!"
Malone's voice raises before she hands off the mirror to Rory.
Malone:
"See, here's the deal Ace. Over the last year, I've been called a LOT of things. But the one thing that no one has seemed to be able to pin down on me is how I somehow fit into the image of being 'hated'. I was nominated for that very same 'most loved wrestler' award that Kyle won last year - despite the fact that I'm part of America's Most Hated. The jokes have been flooding in all season.. "Oh you're not America's Most Hated, you're almost America's Most Loved!" or how I went from the Siren of Scorn to being the face of the EWC every month while hosting pay-per-view watch parties and suddenly I'm everyone's favorite bitch to hang out with and talk to."
She scoffs, shaking her head.
Malone:
"I remember when Scorpio asked me last year just HOW I managed to fleece everyone into thinking I was such a good person, and how I got the world behind me with the snap of my fingers. The truth of it was, because I pandered to everybody around me. I played to the 'friends' backstage, I rose to the top and got everyone in the EWC Nation behind me because compared to Scorpio I was the 'lesser' of the two evils. DSR was the 'lesser' evil compared to NSFW. And guess where that's landed me? The LESSER of the pack, waiting to see what happens in the Rumble tonight. So I'm done. WE are done. America's Most Hated is going to go out there tonight, and we're going to remind everyone why we chose that name. I'm not about to go around and be the 'lesser' of anything anymore. And tonight? While people like Darius can't even be bothered to call me by my name, despite the fact that I won last year? I won't be letting anyone make that mistake again. America's Most Hated is one… and when the dust settles, one of us will be walking out as the guaranteed headliner at Wrestlefest. I may love my brothers in arms? But I have a personal vendetta to settle with the year 2020, and I'm going to start by setting EWC history tonight."
Malone:
"And as for Kyle…? My dear, sweet Kyle… is simply a means to an end. You know how they say to assert your dominance in prison, you gotta go after the biggest, baddest guy in the joint? Well.. if you want to be hated? Cut off the proverbial head of the most beloved man in the EWC.. and if you listen to the crowd? I think I've achieved exactly what I set out to do."
Melody smirks, the sound of boos from ringside echoing through the corridors of the FNB Stadium before she gives Ace Heart a wink. Malone turns, taking the hand mirror back from Rory before they both disappear behind the door and the camera focuses on the nameplate of 'America's Most Hated' once more.
BATTLE OF THE GM'S
FATAL FOUR-WAY

Jim Connors
Vs Grizzly Duggan
Vs Chris Brock
Vs Marshall Evans
Special Guest Ref: President Mac

We return to ringside for our next match, the battle of General Managers.
Gomez:
What a RUMBLE this has been so far. We've had Championships stay with the Champions, and we've had them change with new Champions. We have one more Championship to go tonight, the EWC Undisputed Championship .. which could see Reid walk out as a dual Champion or Scorpio could win back what he lost at Night of Champions. Before all that goes down though, we have a match set by our very own President Mac.
Woo:
That's right, the man the trolls claim does nothing in the fed, has setup this match which has had fans and social media going crazy over. We finally get to see the General Managers of the EWC settle things in the ring. A match which was dreamed up by the fans but one we never thought would happen.
Gomez:
President Mac finally had enough of the constant shenanigans being done by each GM and told them they need to settle things in the ring. Will this actually squash the beef? Most likely not, but it will allow these GM's an opportunity to go at each other under the watchful eye of President Mac.
Woo:
Mac not only booked this match but made sure he was the referee tonight to avoid any possible argument of collusion between a GM and referees. Of course that would never happen in the EWC, but Mac wanted to make overly sure that everything was on the up and up in this match .. which should be wild considering who we have involved in this match.
Woo:
Some song is blasting over the PA system and we aren't sure what it is ..
Gomez:
I mean, its not terrible .. but what is it?
The music fades out and is replaced by ..
"Coming Undone" by Korn begins to blast all over the stadium as the fans jump to their feet in excitement.
Woo:
Hmm .. must have been an odd technical error as here comes President Mac to his theme song.
Gomez:
Was that song about Groot?
Woo:
Really don't know .. it could have been worse .. but here comes President Mac and our ring announcer Nina Dobrev.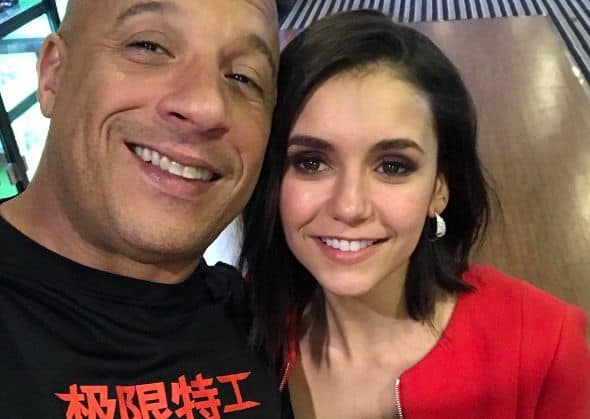 Mac and Nina both walk down the ramp together and enter the ring .. they both pose for cameras together.
Woo:
Can't lie, I'm really excited for this match .. any early predictions?
Gomez:
Other than Jim being totally over his head and Duggan having the clear advantage in this match, I predict .. chaos and possibly .. death
Nina Dobrev has mic in hand and is ready to call out the competitors.
Dobrev:
Ladies and Gentleman, our next match of the evening is the Battle of the GM's Fatal Four-Way featuring the General Managers of the EWC. This match is sponsored by Greco Pizza. Specifically the Greco Pizza in Woodstock, New Brunswick, Canada. Be sure to mention code:
'EWCLovesPineapple'
for a discount Nina winks at the camera. Joining us tonight as a special guest ref, is none other than .. the Man, the Myth, the Legend .. my personal friend .. President Danny Mac.
There is a big pop from the crowd as President Mac soaks in the cheers and waves to the fans
Dobrev:
Coming to the ring first, from Los Angeles, CA, weighing in at precisely one less cheeseburger than he had yesterday, the General Manager of BRAWL .. JIM CONNORS!
'Da Da Da (English)' plays as Jim makes his way to the ring, looking more than a little nervous to actually be wrestling rather than just handling business matters. His confidence slowly starts to build as he approaches the ring, entering to warm up and appearing to say a silent prayer that he survives the night.
Dobrev:
Next, from Augusta, Georgia and standing at 6'8", 385 pounds .. the General Manager of RAMPAGE .. Griiizzly Duuuggaaan!
'Omerta' by Lamb of God begins to play as Grizzly Duggan walks out to a large reaction of cheers. He looks dead ahead and makes his way to the ring, once inside he raises his hands high into the air.
He then stares down Connors who gets noticeably uncomfortable and tries to hide behind Mac.
Dobrev:
Next up .. making his way to the ring, from Daly City, California by way of West Palm Beach, Florida... Weighing in at Two Hundred and Six Five pounds.... He is the General Manager of FSW... CHHHHRRRRRRRISS! BRRRRRRRRROCK!!!!

Smoke fils the stage as the orchestral opening to "Remember The Name" by Fort Minor starts to play throughout the arena. Green lasers cut through the fog as the chorus hits and as Chris Brock walks out through the smoke, head down and arms by his side. As the lights start to brighten, Brock raises his arms over his head, which is still down, to form an "X" as pyro starts to explode around the stage.
This is 10 percent Luck
20 percent skill
15 percent concentrated power of will
5 percent pleasure
50 percent pain
and 100 percent reason to Remember The Name!
Brock raises his head as the crowd is on their feet and cheering for the FSW General Manager. Once the pro is gone, the lights come on as normal and Brock begins making his way to the ring, slapping hands with the fans near the ramp and ringside. He stops at the bottom of the ramp, looking out into the crowd and taking in all the cheers before he quickly climbs the ring steps, enters the ring and then climbs the nearest turnbuckle and then poses for the crowd, raising his arms over his head once again to form an "X".
Dobrev:
And finally .. residing in Los Angeles, weighing in at 215 pounds ..The Prime Co-General Manager, MARSHALL EVANS.
"Could Have Been Me" by The Struts plays and Marshall Evans comes bouncing through the curtain clapping his hands to the music trying to get the crowd clapping along too. As he walks down the isle, he sings along with the music even playing air guitar. He stops when he's close to the ring and stares at the ring as the enormity of the situation hit him. It's brief as he runs a hand through his hair before sliding in the ring, climbing to the middle turnbuckle and resuming his clapping and singing until the music ends.
President Mac stands in the middle of the ring and addresses all four General Managers
Mac:
Look .. this match has been a long time coming. I want to see good clean action here. The world is watching. I don't want anyone being a sensitive, whiny bitch tonight Mac winks at the cameras.
Woo:
Well here we go .. all four GM's are in the ring .. President Mac is in the ring, very present, very involved, not at all out of touch or absent Woo winks at the cameras .. this crowd is going absolutely crazy.
Gomez:
You can be sure each Superstar is glued to the screens in their dressing rooms right now too .. watching this with great enthusiasm ..
Woo:
Which GM will come out on top? We'll find out .. right now .. it's the BATTLE OF THE GM'S .. ring that bell!
DING DING DING
When the bell rings, Jim Connors abandons the ring almost immediately. Mac gives him a look and tells him to re-enter the ring, but the Brawl GM protests against that. Especially as he points to Chris Brock and Grizzly Duggan tying up. Marshall Evans scouts around but doesn't engage with what's going on before him. Mac, seeing that Connors isn't going to comply, turns his head back to the action. Duggan, with raw strength, pushes Brock back to the nearest corner and holds him there. Mac doesn't intervene, due to the rules of the fatal four way. Brock hammers his forearm into Duggan's face and gives himself enough room to duck underneath the big man. When he moves around, he gets caught with a superkick from Marshall Evans!
Gomez:
Wow, that was actually pretty crisp! A surprise move by Evans.
Woo:
No kidding, I see Evans has been doing some hard training. He's showing he's more than just a media guy early on tonight.
Duggan turns around to see Brock on the ground. Evans looks to go high with another superkick but instead, he goes low and hits him directly in the shin. Falling over, Duggan barely puts his arms up before he gets caught with another superkick. Evans, knowing that Duggan was too big, he finds the awareness to dive onto Chris Brock.
ONE!

TWO!

KICKOUT!
Evans looks back at Brock and notices Duggan getting up. Evans escapes the ring and heads around. Connors, seeing him, heads away from any confrontation. Yet, he keeps an eye on the ring. Brock gets to his feet and confronts Duggan again. Duggan throws a mean punch into his jawline, stumbling the FSW GM. Brock returns the punch. Seeing that it isn't going to fell the big man, he heads off the ropes. He comes back with a Shotgun Dropkick. Duggan falls through the middle ropes.
Woo:
And Brock has brought the big man down! Absolutely incredible what we are seeing right now.
Gomez:
If you look outside, you can see something .. funny.
Connors looks at Duggan, getting up, and flinches. He tries to get some distance, but Evans stops him mid-way through. Connors puts up his hands in defense and protest. Evans tries to grab him, but he doesn't get his hands on him. Connors escapes to the ring, where he laughs. He gets up and turns to Brock. The FSW GM glares him down and begins to stalk him towards the turnbuckle. Connors stops and starts to try to talk his way out. In retaliation, Connors pushes Brock back. Mac braces himself and catches Brock, not falling victim to circumstance again. Connors begins to run at Brock, looking for his first burst of offense, but Brock catches him. Instead of driving him to the mat, he holds him in place.
Woo:
Oh boy ..
Because a large, looming shadow stands over him .. Connors spots Evans returning to the ring behind Brock. So, the process of elimination leads to him realizing that there was a behemoth behind him. Brock turns Connors around and shoves him into Duggan's grip. Connors continues to shake his head and looks to Mac for help. President Mac shakes his head, telling him that it's out of his hands. Connors pleads with him, but Duggan turns his head towards him.
He shoves Connors into Brock.
Gomez:
This could get ugly here ..
Brock holds Connors, who stares at Duggan. He starts to smile, but suddenly—
WHAM!
Duggan drops Connors to the ground with a picture-perfect punch. The force of which sends Connors up and over with a full backflip. He bounces off the mat and rolls around, screaming. Brock looks up at Duggan, asking him if how hard did he hit him. "Hard enough," Duggan says. Evans looks at them both and gets a shrug. The camera catches Mac, who looks at the sight of Connors thrashing around with…well, clear annoyance. Connors grabs onto him, telling him to check if his nose was broken. Mac rolls his eyes and pushes him back. It was a light shove, but it sent Connors back to the mat.
Connors concludes his antics as he holds his face, but survival instincts kick in. He tries to escape but Evans pulls him up and hits him with Evans Above! Connors' lifeless in Evans' grasp but he throws him towards Brock. He smirks at Evans and tells him that he'll show him how to hit the move. With a bit more snap and experience behind it, Brock plants Connors with Check! Connors' out like a light and Duggan deposits him out of the ring to the roar of the crowd.
Woo:
And I think it's safe to say that revenge was sweet for the three of them.
Gomez:
Man, bullying a fifty-five-year-old man like that? I hope they really feel good about themselves.
The three remaining GMs look to Mac, who tells them that there's still a match going on. To which, Evans' the first on the uptake. He pulls Brock down with a schoolboy. Mac falls to make the count.
ONE!

TWO!

THR—DUGGAN BREAKS IT UP!
He does so by yanking both men off the mat.
Woo:
If you don't remember how massive and strong the Rampage GM is, here's an example .. he is a beast of a human.
He chucks Brock out of the ring and puts his full strength into Evans. He lifts him up onto the top turnbuckle and follows. He hooks the arm and sends him and Evans crashing into the ring with a Superplex! Evans may have trained his heart out, but he wasn't ready for the impact. He arches his back, letting out a loud scream as Duggan covers him.
ONE!

TWO!

BROCK BREAKS IT UP!

Woo:
Not gonna lie, I thought this one was over
Brock jumps onto Duggan, trying to secure the Bruno Sassi Armbar (High Angle Armbar). Duggan begins to get to his feet, but Brock retains the armbar. Duggan roars and runs for the nearest turnbuckle and smashes Brock against it. Brock falls in a heap. Mac tells Duggan to be careful with that. When Duggan turns, Evans connects with No Strings! The roundhouse kick connected flush and the big man fell. Evans looks absolutely shocked that he pulled it off. He goes for the cover on Duggan.
ONE!

TWO!

DUGGAN KICKS OUT WITH FORCE!Gomez:
It's going to take a whole lot more than that to take out Duggan.
Woo:
He's like a bull among sheep out there. Its like all these GM's are doing all the work, and Mac is standing around doing nothing Woo winks at the camera. Well I mean, in this instance .. I guess that's the whole point of this match .. carry on ..
Evans goes into the air upon Duggan's kickout. He crashes into the mat and stares at Duggan lifts himself off the mat, glaring at him. Evans scoots back and gets to his feet. Swallowing his anxiety, he stands up to the giant. He tries for another shin-targeted superkick, but he gets caught by the throat.
Gomez:
Evans thought he had control ..
Woo:
He's dealing with one of the biggest men in the EWC, GM or not ..
With ease, Duggan plants Evans with a one-handed chokeslam. The impact's enough to make Mac's feet come off the ground. He looks impressed. Duggan goes for the pin.
ONE!

TWO!

CHRIS BROCK COMES DOWN WITH SACRIFICE OVER MAC'S HEAD!
Not only breaking the pin attempt, but he's able to cover Duggan.
ONE!

TWO!

EVANS BREAK IT UP THROUGH SHEER FORCE OF WILL!
HOLY SHIT
HOLY SHIT
HOLY SHIT
HOLY SHIT
Woo:
Holy shit indeed .. we are getting one hell of a match .. I don't think any of us expected this.
Evans and Brock get to their feet with Brock shoving Evans back. Evans tells him that it's still his match to win, and then shoves Brock back. Mac gets in-between them, telling them to get back to wrestling, not squabbling. Brock pushes Mac away and Evans gets more incited by that. Soon, they're in one another's faces to the pleasure of the audience.
Woo:
Yeah, I think things are going to get much more personal!
Mac then steps in and pries them apart. As the two continue to try to get over one another, Mac's face hardens. And without much more words, he draws back and knocks both men to the ground with two well-placed punches. Both men look at Mac, who flattens out his referee's shirt, and tells them to continue the match.
MAC
MAC
MAC
MAC
Gomez:
Safe to say the crowd is behind that move .. but hopefully that levels their little attitudes. We don't need Mac trying to drop everyone in this match ..
Woo:
It looks like we don't have to.
When both Evans and Brock are to their feet, Duggan decides it's best for them to sit back down. He sends both men careening out of the ring with the Grizzly Pounce!
Gomez:
Holy hell ..
Duggan, seeing how far he sent both men, growls to himself and exits the ring to retrieve them. As he chooses Evans and sends him back in, he doesn't see someone else entering the ring. As Duggan goes for the pin—
JIM CONNORS CONNECTS WITH A LEG DROP!
Woo:
I thought he had tucked tail and ran away by now!
It's not much, but it's enough to get Duggan to roll out of the ring—his head struck the mat hard. Connors, on shaky legs, climbs the top rope and prays to himself. He throws himself onto Evans with a sloppy splash, but it connects! He looks between just laying against Evans or hooking the leg. He hooks the leg .. finally .. and Mac goes to count.
ONE!

TWO!

THR—

BROCK DROPS AN ELBOW ONTO CONNORS!Woo:
Wow that was close .. this was almost over.
Connors let out a yelp of anguish as he rolls off Evans. Brock picks him up and sends him towards the ropes. Brock, ready for Connors, doesn't defend himself from the roundhouse kick from Evans. Brock falls against the 2nd rope. Connors stops and looks between the fallen FSW GM and the recovering Prime GM. Noting that Evans wasn't far off from his experiences, he decides to go for him. Smirking the whole while, he goes to grab Evans, but Evans sparks to life and brings him up—
SKY HIGH!
The lifting sit out spinebuster rocks the ring, the crowd, and most definitely, Jim Connors. Yet as Evans goes for the pin, Brock throws him off. He looks to go for the pin on Connors, but Duggan drags the Brawl GM out of the ring with ease. Brock looks to Duggan, who has collected Connors onto his shoulder. Evans, meanwhile, jumps onto Brock and batters him with lefts and rights. Mac goes to stop him, which draws his attention away from Connors and Duggan's intention with him.
With a mighty roar, Duggan sprints and hits his running powerslam through the barricade!

Gomez:
OH MY GOD!
Woo:
AND DUGGAN JUST TOOK HIMSELF OUT WITH CONNORS!
Gomez:
HE KILLED HIM!
Mac stares up at the wreckage, a little flabbergasted, but the action in the ring is too hot for him to attend to them. He motions for the medical personnel to hurry to them before returning his focus back to the match. Brock has gotten back to a standing position and Evans sends him to the corner. He lifts him onto the top rope and throws a punch for good measure.
Woo:
What is he planning to do here?
Evans climbs the top rope and hooks Brock's arm. With an immense amount of effort, he lifts Brock up, going for a top rope brainbuster!
Gomez:
Oh my ..
Brock drives his knee down and manages to slip down. Knowing that this was his chance, Brock pulls Evans up and throws himself and Evans off the top with Endgame!
In a heap on the ground, Brock throws his arm over Evans. Mac falls to the mat and counts!
ONE!



TWO!



THREE!!!
DING DING DING
Dobrev:
Here is your winner … THE FSW GM … CHRIS BROCK!
Mac helps Brock to his feet and lifts his right arm in victory .. Chris Brock can't believe it
Woo:
Wow, Chris Brock has done it .. he has won .. what an unbelievable showing.
Gomez:
What a huge moment for Chris Brock here tonight and ultimately, all of FSW .. or soon to be known as PARAMOUNT WRESTLING. I mean .. if I'm a Superstar on FSW right now .. I'd be feeling pretty damn good about myself knowing Chris Brock did what he did tonight.
Chris Brock still appears in shock as he's now met in the ring by his son and wife, he embraces both as they celebrate with him.
Woo:
What a nice moment that is for Brock and his family. I'm impressed with this match .. it was more of a match then I expected .. I thought it was going to be a massacre and lawsuit in waiting.
Brock with family in tow, seeks out Duggan and shakes his hand.
Gomez:
Its clear Brock has respect for Duggan and none for Connors or Evans.
Woo:
It's hard not to respect Duggan in that ring .. he was a beast tonight as always .. I'm not surprised to see Evans take the fall but I think we all expected Connors to be the one pinned.
Gomez:
Don't go anywhere folks, we still have the 40 Person Rumble coming up .. but next .. its the highly anticipated EWC Undisputed Championship match. It's Scorpio Vs Reid .. next .. on EWC RUMBLE. First .. lets see what's going on backstage.
The camera feed takes us backstage.