Post by The Mad King on Nov 29, 2020 20:26:28 GMT -6
OFFICIAL MONDAY NIGHT BRAWL CONTRACT
T H E M A D K I N G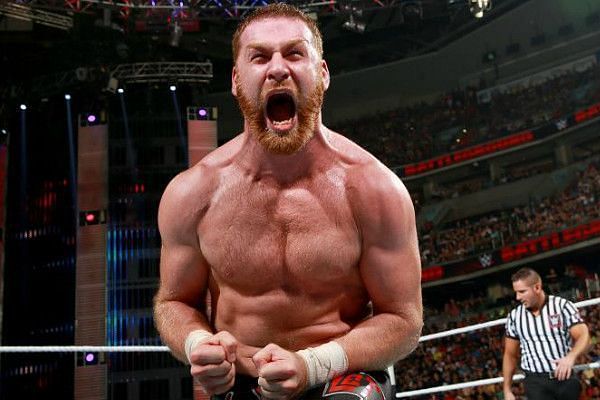 PERSONAL INFORMATION
Birth Name: Flip Frields
Wrestling Name: Mad King, The
Nicknames: Untouchable, Benchmark of Brawl, Flip, King Flip, The Cold-Hearted King
Picture Base: Sami Zayn (short hair)
Date of Birth: 12/15/86
Height: 6'0"
Weight: 220 Lbs
Place of Birth: Sacramento, CA
Now Resides: The Land
CHARACTER INFORMATION
Character Disposition / Alignment: FACE / When reading dialogue, think: Deadpool, The Punisher; for TTRPGs, consider reading it as a coarse Paladin who never wavers from the tenets of his own personal scripture. King Flip is also in a very unstable mental space right now. Consider that a warning if he comes off with some 'heel' style tendencies during a 'shoot' promo; furthermore, if King Flip has
history
or
reason to be upset
, he may be particularly visceral.
[CLICK HERE FOR IDEAS ON DISPOSITION]
Fighting Style: Lucha + Strong Style background; penchant for backyard-style, loose, and more fatally aggressive hardcore wrestling (Read: Flip's XD-style matches against: Clark, Reid, Aiya, Jamie Love, Ito, Darna, Ace King, Stitches, Insanity Cage 2022, etc.). Ultimately, he was trained in Mexico for his quick lucha maneuvers. Then he traveled out to Japan and learned the art of Strong Style. During those times, on the side, he would also 'walk the night' as a backyard wrestler in Mexico, the United States, and later Japan.
[CLICK HERE FOR IDEAS ON FIGHTING STYLE]
In-Ring Strengths: Can match or change the tempo/speed of the match as desired; plays possum and uses similar tactics to win (quick pins, out-of-nowhere submissions/signatures/finishers, etc); focuses solely on the opponents in the ring from bell to bell
In-Ring Flaws: Will rile up the crowd at inopportune times; Darkwater may take something too personally and distract TMK / get involved when he shouldn't; TMK has a tendency, when doing well in a match, to rile up his opponent with degrading hits or taunts directed at them specifically (SOMETIMES this is to his service, but more often than not it is to his disservice); TMK goes to the top rope too often, he takes too many risks for 'spot monkey' style feats of flight, strength, or other grandeur ("The Great Game") whether or not he has time for that sort of thing (He will go for weaponry at his own risk, he will go for rope breakable submissions, he will try to hit his 'Fliptastic' signature move WAY MORE than he will successfully hit his 'Fliptastic' signature move [Dragonrana Pin executed from top rope]. He gets Ric Flair'd off the ropes a lot, I'm saying)
Ring Attire: Burgundy ring gear. Right elbow pad with gold-stitched "G", left elbow pad with gold-stitched "J", knee pads with colorfully decorative clown emojis stitched over the front, pads over full length burgundy tights that read "KING" across the ass in a gold-shadowed black stitch and "MAD" down the left leg in gold-shadowed black stitch, beneath "KING" across the ass, like a comma, is a small red lightning bolt; to be removed during entrance: hooded fur-lined vest with a gold-stitched insult to his opponent* over a King Flip t-shirt.
*I will provide weekly insults to the GM or match writer
Backstage Attire: Expensive clothing, good looking women, and a sport's car.
THEME SONG & ENTRANCE
Theme Music: 'HEIMDALLR' – Munknörr
SHORT ENTRANCE:
T H E M A D K I N G
zooms from right to left across the EXT and is followed swiftly by a red pyro. 'Heimdallr' begins to play, King emerging with his usual war paint. A big white palm across his face, small gold lines accented the edges of his face. Upon the usual red vest is a blood-matted fur that lines the collar down the button line and goes up into a massive hood. He gets to the edge of the rampway when that arrogant half smile emerges, the crowd fully immersing in the moment. The "Mad King" chant grows as he walks slowly down the ramp with his eyes locked in on the ring. His approach to the steps is slow, eyeballing the corner above them, as he slaps a few hands and hands a small child a little red 'Brawl' flag. He slaps the ring corner with a smile, reminiscing a moment before sauntering the steel and quickly slipping through the ropes. After a sarcastic bow, King turns to the stage ready for the action to start as his theme fades.
MAIN EVENT / PPV ENTRANCE:
May do later
PERFORMANCE INFORMATIONTendency to Cheat (Delete ALL that do NOT apply):
- [x] Always
Motivation to Compete (Delete ALL that do NOT apply):
- [x] Passion; they love wrestling and don't care about winning or losing, just fighting.
- [x] Glory; they are obsessed with winning and will stop at nothing to avoid defeat.
- [x] Going for Gold; all they care about are title belts and winning them. They want to be the best.
- [x] Punishment; they fight as a way to unleash their frustrations. They just want to hurt people.
Favorite Match Types: 1v1 gimmick matches
Least Favorite Match Types: randomly grouped tag team matches; singles matches; awkward 5-ways; rumbles; matches with math that shouldn't be there
[OPTIONAL] Favorite Weapon: Anything that makes 'em bleed; specific favorites: the Stranglemania toaster, a steel chair, and a barbed bat (sometimes lit on fire) that he will appropriate with a feminine name.
WRESTLING INFORMATION
Pro Debut: Dec 2002
..Signature Moves:
1. The Dethronement
Rolling Thunder
2. $¥K€
Octopus Stretch, sometimes accompanied with "rope play"
3. Good to be the King
Doctor Driver II
4. The Beheading
Spinning Impaler
5. K.I.N.G
Lightning Spiral
Finishing Moves:
1. For The Land
Vertebreaker
2. KNEEL
Camel Clutch
3. Remember
Dragonrana Pin
Common Moves
1. Kicks
- Backflip Kick [Crowning Moment - Signature - currently subbed out, but may make occasional returns]
- Dropkick
- Rolling Wheel Kick
- Legsweep
- Tiger Feint Kick
- Enziguri
- Spinning Heel Kick
2. Lariat
- Crooked Arm
- Flying
- Bulldog
- Leg
3. Suplex
- Vertical (Delayed/Snap)
- German
- Dragon
- Tiger
- Northern Lights (always a pin)
- Side
- Belly to Belly/Back
- DDT
- Fisherman
- Chicken Wing *
- Gutwrench
- Double Underhook
- Cobra Clutch *
- Suplex Slam
- Superplex
- Capture
- Back
- Super Back
*submission may be held in for a period of time prior to the suplex being performed
4. DDT
- Inverted
- Reverse
- Double Arm
- Tornado
5. Springboard
- Planca
- Moonsault
- Dropkick
- Spinning Heel Kick
- Flying Crossbody
- Lariat
- Legdrop
6. Submission
- Chickenwing Crossface
- Armbar
- Reverse Chinlock
- Fujiwara Armbar
- Torture Rack

- Tarantula (a la Tajiri)

7. Hurancanrana
- Dragonrana [Fliptastic - Signature]
- Headscissors
- Roll-up (hurancanrana pin)
- Reverse Headscissors Sunset Flip
8. Flying
- 450 Splash
- Corkscrew Moonsault
9. Russian Legsweep
10. Dragon Screw
MINI BIOGRAPHY
The return of the King. In 2021, the road was long. Four times the King got a shot at a championship, and four times he fell short. At Hardcore Revolution that year his feud against Callie Clark would come to a head on Alcatraz Island. The Hard Times Match.


The 2021 tag team tournament would see the King team up with Jack Severn as 'The Flip & Jack Connection' where he'd catch a couple wins before falling to Rushin' Roulette. Jack would then completely fall off the map not long after that.

2022 was different. More feuds! Stitches, The Bastards, El Pablo. More championships! Well, more of the same; HOWEVER, the King etched his name in the history books by becoming the second man to hold the International championship three times. He secured this feat by beating Xavier Reid in an Inferno Match at Hardcore Revolution beginning his second reign and his most recent victory at Wrestlefest when he got through then champion Stitches, Xavier Reid (fucking again), and pinned Morgan Darkwater in a Falls Count Anywhere nightmare for his third reign.

New year, new tag team! Flip would eventually convince Dio to slap hands with him under the name King Dong. Once again, they got a few wins and had one crucial loss against Damage Incorporated where DInc secured the World's Tag Team championships away from The Bastards. But King Dong returns with greater Dong-itude in the coming season!

He enters 2023 as Brawl's top champion looking to right the wrongs of Parabellums passed. Will he? Will he form a new tag team? Start new feuds? I mean... probably.
NOTES / ACHIEVEMENTS
• EWC International Champion (x3 - defended x3) - formerly "Mister international"
• EWC Combat Champion (x2) - formerly "The Cold Hearted King of Extreme Wrestling"
• NJPW FIGHTING LightHEAVYweight Champion [former EWC subsidiary] (x1) - formerly "Mister Lightweight Heavyweight"
OOC: ABOUT YOU THE HANDLER
Your First Name: Flip
e-Fed Experience: decaaaaades
e-fed Staff Experience: Yes
Are you willing to opt-in and write matches from time to time?: I have been.
Would you like to be considered for helping with creative writing (e.g. EWC Magazine)? No
How did you find us?: I got emailed!