Post by PARAMOUNT on Apr 28, 2021 18:15:37 GMT -6
FREEVIEW SHOW
Brought to you by HBO Max & Dr. Pepper Zero Sugar


Wolfe:
Hello everyone I'm Patricia Wolfe and welcome all to Paramount Wrestling Presents: The Uprising Freeview show sponsored by Dr Pepper Zero Sugar! We are LIVE here inside the Camping World Stadium here in sunny Orlando Florida! Strap yourselves in because the orange brand has got an amazing line-up of matches coming at you here tonight and we're gonna break 'em all down for you and give you our 'expert' predictions! Not only that, but we've got an exclusive match for you on our show tonight as well! More on that in a few minutes, let's first meet our awesome panel! Of course to my left, we have my partner in crime Nolan Castle!
Castle:
Why thanks for having me, Patty. I keep thinking I'm gonna get kicked off here for being too sexy but here we are! Let's break it down!
Wolfe:
Haha, ohh gosh. Well to my right, first we have the always professional and unbiased, Dwight Snoot! How's it going tonight, Dwight?
Snoot:
Better once I see Ace King lose.
Wolfe:
Ohh goodness, it's gonna be like that is it? Well, we're lucky enough to also be joined by a guest panelist as always and this time it's the Paramount Wrestling general manager Mr. Chris Brock! Thanks for coming on, Mr. Brock!
Brock
: Ohh please Patricia, call me Chris! I'm honored to be part of the Freeview panel here with you guys tonight and run down these matches. I think we've put together an amazing card!
Wolfe:
Indeed it is, and let's get at it first with our opening match we have Joe Kane taking on OMEK.
Nolan
: How on Earth … or whatever planet .. Do you prepare for someone like OMEK? The guy is from another universe or something. A huge dude for sure, we haven't seen much of him yet but what we have seen, has been impressive.
Brock:
I think it's gonna be a real hard hitting opening contest to get everyone fired up. OMEK is going to be put to the test here and see if he has what it takes in the world of professional wrestling, and Joe Kane is no joke. He loves to cause himself some mayhem and he's going to be looking to go home with a big win here.
Snoot:
That snarling brute OMEK should not be allowed in the ring. Has anyone even checked if he's properly trained? Ridiculous.
Wolfe:
Next up we have a really interesting match between three of our female superstars, it's Laura Perelli Vs. Isabella Vs. Adriana Aquila and the winner will get a CW Broadcast Championship!
Brock:
This is one I'm really looking forward to. It's hard to pick a winner but it's hard to bet against Adriana. She came up short in that North American Title match at Mania, and you know she had gold on her mind and within her reach. She wants it. But I would not count the other two out either, that's for sure.
Snoot:
Laura Perelli has got this one. She has been waiting for a chance like this, and when she beats the living crap out of these two bimbos you'll see what I'm talking about. Championships on the radar for her, I can tell.
Castle:
Well. I Guess that leaves me with Isabella doesn't it! Well that's fine by me, haha. Whichever one takes the win tonight, Miller better watch his back if he's still got that Broadcast Title because these are three hungry superstars who are ready to make that next leap. It can go any way.

Wolfe:
We've got a tag-team showcase next on the card, where we see Damage Inc take on Mercenary and Wes Walker.
Snoot:
Mercenary is on the down and outs, you might as well call him a dead man walking. Imagine having NOBODY else to come team up with you but Wes Walker?? HAHAHA. Damage Inc is going to murder these two. In fact, I'm surprised they haven't murdered Mercenary already.
Castle:
Are you kidding me right now, Snoot? You're disrespecting Walker like that? The man was FSW Champion, and was THIS CLOSE to beating Stitches for the Undisputed. He seems like a man I'd like to have on my team, that's for sure. This is a hell of a deeply personal, brutal tag-team contest and Mercenary has picked an awesome partner.
Snoot:
What are you Castle, the Walker fan club?
Brock:
Guys, c'mon. I think we can respect both teams here. Damage Inc may have beaten Mercenary down but he's definitely not out. I think you're going to see an explosive match here and man, I don't know if I can bet against Merc!
Wolfe:
Following that we've got a singles match, it'll be Jason Hunter going one on one with James Keaton.
Castle:
Keaton was ohh so close at getting the North American Championship match for Uprising but he came up short against Roozilla so I know that's gotta sting. But you cannot let that hold you back, you gotta keep your momentum going and the best way to do that is with a win. So I'll go Jason Hunter.
Snoot:
Ha yeah you would, Castle. Have you seen James Keaton? The man is terrifying. Look at his BEARD, CASTLE! It's a crime that he's not been added to the North American Title match. What kind of show are you running anyways, Brock?
Brock:
The best damn show in the EWC?
Castle:
Good answer!
Snoot:
God this is nauseating.
Wolfe:
Aww, Snoot. Sorry to hear about your tummy! Next on the docket we have a huge match for the EWC CW Broadcast Championship. It's going to be Jake Lumas challenging David Miller.
Brock:
And this is a match I'm very much looking forward to seeing. David Miller has been nothing short of dominant since winning that title, but I've known Jake Lumas for many years, I've been in other wrestling companies with him and I know the type of things that man can do. He is dangerous. So is Miller. This is what we looked for when we created the CW Broadcast title, and that's what we are getting. This isn't going to be a match, this is going to be a fight and I'm here for it! I can't wait to see who comes out with the win on this one.
Castle:
Well said Chris, I think this one is gonna be brutal. I think I'm gonna have to go with Miller on this one he's just on a roll and I don't know if you can call whoever comes outta this one a winner as much as you can a SURVIVOR. Gonna be war, guys!
Snoot:
I'll agree that it'll be a fight, but I don't agree with your prediction, Castle. Miller's time is running out. You can only get the crap kicked out of you so many times before it catches up with you. Time for something new! Jake Lumas is about to rip that title away from Miller's bloody hands tonight. Trust me.
Wolfe:
Can't wait to see that one. Next up we have a returning Lavender! She's going to go one on one with El Pablo here tonight.
Castle:
We haven't seen Lavender much this season, she's been off and on but she's here tonight and she's got a real challenge ahead of her with El Pablo. Is she up to the task? I'm not sure on that one yet.
Brock:
For sure El Pablo has been great since signing with Paramount. Teaming with Ace has been cool, he was part of the winning team for us at StrangleMania, he's been great. But Lavender is certainly no slouch either. Coming onto a Paramount Pay-Per-View like this and challenging one of our top superstars does add some pressure and I think El Pablo might take the win here tonight. Could go either way though. I can't choose!
Snoot:
Don't care for either one. Next.
Wolfe:
Next up it's no holds barred! A grudge match between Darius and Marcu$ $t John.
Brock:
Darius is just an unhinged guy. You saw what he did in his match against Candy at Paramount 04. Now with no holds barred here, he and Marcus are just going to tear each other apart. I really wanted a big fight feel for this pay-per-view and I feel like it's going to deliver on that whole heartedly. This could be a big win for Marcus if he can pull it off, he was another member of Team Paramount at StrangleMania and I'm looking forward to seeing what he can do here against Darius, another great signing by me by the way.
Castle:
I'd love to see Marcus take the win here but No Holds Barred definitely favours Darius I think he ca---
Snoot:
OBVIOUSLY, CASTLE! Darius is one of THE most violent superstars in this company! The amount of violent matches he's been in outweighs anything Marcus has done. Darius WILL win this match. He WILL make his way back up the rankings after the travesty at StrangleMania. Marcus is in over his head here.
Castle:
Okay, buddy.
Wolfe:
Next up we have a singles match between Gabriel Ohio and the former Undisputed Champion, Candy!
Castle:
Candy's definitely got the disadvantage between height and weight, but not in experience. She's been in every big match you can think of, she's won the Insanity Cage and held that big belt so we'll see if she can take down the, quite frankly, scary Gabriel Ohio.
Snoot:
The pipsqueak is finally going to be put to rest here tonight. Who is she going to cry to when she loses, Robbie Rayder loses, and her best pal Jordy ends up floating in the ocean or something? 3C is a myth, Candy is a myth, and she's going down TONIGHT!
Brock:
I think you've gotta calm down a bit, Dwight. Candy is a very decorated superstar and she's been a mainstay here on the orange brand for a long time. She wants back in that Undisputed title conversation, stacking up wins is gonna do that for her. I think Ohio might be the underdog.
Wolfe:
We've got another Championship match up next, it's going to be The Southern Express defending those Tag-Team Titles against The Xtreme Ravagers, Samantha Hamilton and Xavier Reid.
Brock:
There's a lot riding on this match. Southern Express they just keep winning and winning, they have been incredible Champions. But now they're basically fighting their own family in the Love Club with Sam and Xavier. And Sam and Xavier have been amazing singles Champions, but don't nearly have as much tag experience as these two. I mean, who does really? If the Xtreme Ravagers are going to take the win, they're going to have to work for it. Southern Express don't go down without a fight. Yet another great signing for Paramount this season.
Snoot:
The Love Club continue to be the most impressive faction in the EWC, now with four of their members fighting each other for gold with Reid also already having a Championship himself thanks to beating down that insufferable Gabi Vee.
Castle:
You mean the slimiest faction in EWC, right?
Snoot:
Quiet Castle. You wouldn't know good tag-team wrestling if it bit your ass.
Castle:
One of these days I gotta slap you.
Wolfe:
Ooookay well let's not stop with the Championship matches now, it's time for the EWC North American Championship, Paramount's top prize as Robbie Rayder defends against the red hot Roozilla.
Brock:
The longest reigning singles Champion in EWC is Robbie Rayder he has become synonymous with that Championship since winning it. Yet, when people keep naming the titans and main event guys in EWC, they almost always leave Robbie off the list. Robbie deserves A LOT of praise, he's an amazing wrestler and he's been showing it every time he steps in that ring. Now, Roozilla, he has become so aggressive and volatile and he's got his sights set on ending that. Robbie's got a chip on his shoulder, he feels he's underappreciated. Roozilla feels like this is his destiny to take that title from Rayder. I don't know how you're going to predict this one.
Snoot:
Roozilla is going to make Mr. Candy wish he never got outta bed in the morning, that's how. Roozilla's time is now, baby. Robbie can go back to washing Candy's tights or whatever he did before.
Castle:
You're absolutely ridiculous Snoot. Robbie Rayder is a dominant Champion and it's staying that way tonight. I think he could go a year plus with the North American Championship.
Snoot:
That's why you're dumb, Castle.
Wolfe:
Before we discuss tonight's main event, we're gonna throw it over to ringside to give you an exclusive Freeview match! It's gonna be Jake Caxide vs El Gran Azul!
---
---
FREEVIEW MATCH
SINGLES MATCH
Jake Caxide
Vs El Gran Azul
El Gran Azul is already in the ring waiting for the newcomer Jake Caxide. The descending piano line of "Back in Blood" begins to play. The lights drop and the beats hit. Flashing white lights frame Jake Caxide as he comes out from the back exuding energy. He double pumps, yelling to the crowd.
Starr:
The following contest is scheduled for one fall! Already in the ring...
EL GRAN AZUL!
And his opponent, from Santa Monica, California... weighing in at 195 pounds...
JAKE CAXIDE!
Caxide slaps hands all the way down to the ring. He slides into the ring, doing a three-sixty and pointing at El Gran Azul before slapping his elbow pad.
DING DING DING
El Gran Azul had a clear size advantage in this one, being over three hundred pounds. He ran in at Caxide and attempted to splash him in the corner. Caxide, however, used his speed and ducked out of the way. As Azul turned, Caxide threw a hard right elbow under Azul's chin, stunning the big man. Caxide climbed up onto the second rope and started raining down hammering elbow strikes into the masked man. The crowd applauded him as he hopped down off of Azul and onto the mat. Azul shook the cobwebs out and approached Caxide. Azul grabbed him by the arm and Irish-whipped him across the ring. Azul went for a haymaker, but Caxide ducked. Caxide, picking up speed, bounced off of the ropes and drilled Azul with a running dropkick. The big man staggered back and bounced off of the ropes. Already up to his feet, Caxide drilled Azul with a step-up enziguri. Azul tumbled backwards and out of the ring through the ropes, landing on his feet. Caxide wasted no time. He sprinted across the ring and, on the return, dove through with a suicide dive! This finally brought the big man to his back. Caxide used as much strength as he could muster and rolled Azul up to a knee, up to his feet, and finally back into the ring. Caxide slides back into the ring and sees Azul slowly up to his knees. He drills Azul with a superkick! Azul is stunned and damn near out cold. Caxide grabs Azul by the chin of the mask and forcefully lifts Azul to his feet. Caxide measures him up and drills him with the Attis' Blade! Azul drops like a sack of potatoes and Caxide covers.
ONE!
.
.
.
TWO!!
.
.
.
THREE!!!
DING DING DING
Starr:
Here is your winner...
JAKE CAXIDE!Wolfe:
What a way to get this crowd fired up! Okay, gentlemen, tonight our main event is for all of the marbles. A triple threat match. Two falls. The EWC X-Division Championship. The EWC Undisputed Championship. Killjoy Ito. Stitches. Ace King. And as we learned on Rampage, Annabelle Wolfe will be the special guest referee. I don't know if there's ever been a higher stakes match in EWC History!
Castle:
Here we've got three of the top superstars in the entire company. Ace King, he puts all that pressure on himself to win the big one and he does that at StrangleMania again but kind of finds himself in a losing streak suffering a couple losses to Matsuda and Visconty. Now he's got a chance to not only walk out with the Undisputed title still around his waist but he could add the X-Division title to that as well.
Snoot:
I am so happy that this SHAM of a title reign will be over and returned to the rightful Champion, Stitches! I don't actually care as long as Ace King walks away with absolutely nothing! That is the BEST THING about this match! You can walk away with everything, or in King's case, NOTHING!
Brock:
This is everything the EWC is built on. Three incredible superstars. You have the deranged clown who wants revenge and the Championship back that he worked his whole career for. You have Ace King, finally winning the Championship for a second time and finding himself on top of the mountain. You have Killjoy Ito, never having won the Undisputed Championship and looking to fulfill his destiny and win that title. Not only that but you have two Championships in play, one person winning both can happen. Stitches enters with none, he can leave with both. Do not count out Annabelle as our special guest referee. What an amazing pick-up and return for Rampage. This is going to be a night that EWC never forgets and I am truly honored to be able to put together this amazing main event for Uprising. Whoever wins this one, they've definitely earned it. With that though, I have a show to go run so excuse me. Thanks for having me on!
Wolfe:
And if you want to see that and all of the other amazing matches Uprising has in store, well lucky you! Because we are out of time and it is next! For all of my Freeview panel, I'm Patricia Wolfe and we all hope you enjoy! Goodnight!
WARNING: This live event contains strong coarse language (L), and intense violence (V) which may be unsuitable for younger viewers. None of the matches you are about to watch have been predetermined. Only some of the thematic story-lines have been discussed beforehand. Accordingly, EWC and its producers must insist that no one attempt to recreate or re-enact any match or activity performed in this live event.




E

W

C

PRESENTS
UPRISING XXI

Brought to you by Under Armour, PS5, Dr Pepper and Corsair GamingAiring LIVE! on EWC NETWORK, DISH, Verizon FIOS TV, & XFINITY
UPRISING XXI
April 28th 2021
Commentators: Tim Watson, Cid Sydney
Announcer: Isabella Starr
Correspondent
: Lisa Goldrush
Referees: Matt Mercer & Jesse Lizarraga


---
JUNE 19th, 2018
---
The date appears on the screen as we come in from black. Big white letters... The familiar voice of a Legend gone, but not forgotten comes through your speakers.
Xplode
: Now this.... this is a damn show!
Loud cheers are heard as we begin to see footage from the very first episode of FSW: UPRISING.
Xplode
: That's right... this... is... THIS IS UPRISING! THIS IS HOW IT WE GET SHIT DONE!!!!

Xplode:
I am honored to stand here before you all as I reintroduce this brand to the EWC Universe! How do you like the new arena?! The ring?! The experience?!! What hasn't changed however is the damn good talent in that locker room tonight and trust me when I say that there isn't a soul back there who isn't ready to step into this right tonight... and risk it all.. just to be a part of this moment. None of this would be possible without any of you however... the fans of the EWC. Thank you for showing up here in droves and thank you for the social media responses! Currently, our ratings are the highest that they have EVER been... and that's just the beginning!
The image fades as new text comes onto the screen:
---
And it truly was just the beginning... R.I.P. Jaden "Xplode" Hunter.
---
"Rise Up" by Sixx A.M begins to blast over the arena speakers as our feed comes to life...
The music fills Camping World Stadium in Orlando, Florida as a video starts to play on the giant X-Tron above the stage for
tonight's event. A montage detailing many of the historic events that have taken place in the three year history of the UPRISING PPV. From The debut of Wes Walker at the USS KIDD Invitational, the return of the North American championship in a ladder match that Kyle Gautier won, Melody Malone Vs Stitches Vs Robbie Rayder for the FSW Championship, to last years show with a clip of Wes Walker as North American Champion facing off against Kyle Gautier and then clips of Candy Versus Stitches in Carnival Carnage...
As Pyro starts to go off the fans in Orlando, Florida are on their feet! The video then starts highlighting some of the current roster of Paramount Wrestling such as Mercenary, Wes Walker, Stitches, Marcu$ $t.
John, Roozilla and Candy
. The final images shown is a montage of David Miller, the CW Broadcast Championship over his shoulder, Robbie Rayder with the North American championship high in the air, The Southern Express with Bunny Love, the EWC Tag Team Championships over each shoulder, and then Killjoy Ito with the Buddy Love, the EWC X-Division championship proudly around his waist.
Back inside Camping World Stadium, the crowd is absolutely electric now as spotlights circle around the stadium as the thousands of fans in attendance are shown in a wide angle shot. The camera then pans back out showing a full-scale view of the jam-packed stadium and zooms in on some crazy fans. The crowd is rowdy, chanting the company's namesake at such a loud volume that it's a wonder that the music can be heard at all. The camera begins to get some shots of the various signs that they have brought tonight:
"ACE KING- FOREVER MY CHAMPION"
"ROBBIE RAYDER - THE MOST DOMINANT SINGLES CHAMP IN EWC"
"WE MISS YOU JFS! COME BACK SOON!"
"WHAT HAPPENS WHEN A HAMMER MEETS A HAMMER? THE FANS WIN!"
"IM READY FOR AN UPRISING!"
Fireworks emit outside the building and then all around the ring while a fog machine covers the arena in an
Orange
and
White
haze! Fans stand up, pumping their fists and raising signs as the camera feed pans to each one of them. As the camera comes back into the arena, "Remember the Name" by Fort Minor is playing as Chris Brock is already in the ring, microphone in hand
Watson: Well it looks like in true Uprising tradition, we are going to hear from our General Manager Chris Brock to start us off. Welcome to Uprising XXI folks!

Back in the ring, the fans are going wild as Brock is waiting for his moment to speak.

Brock: ORLANDO, FLORIDA!!!!! Damn it feels good to be...home.

The crowd pops hard for the mention of their hometown.

Brock: You know, I grew up about 4 hours down the turnpike in West Palm Beach, Florida... Had you told 15 year old me that 20 years later I would be standing in the middle of what used to be the Orange Bowl addressing sixty THOUSAND wrestling fans, with millions watching live on Pay-per-view, I would have told you to get bent.

Brock laughs at his own joke for a moment before continuing.

Brock: In all seriousness, the past 2 years with EWC and this brand have been some of the best of my life in this industry. Together we have been able to do something that no one thought was possible. See, 3 years ago when the first episode of FSW: Uprising aired, no one knew what to expect... Well.. One man did. Xplode knew that all you had to do was give this locker room a chance and they would blow you away with their talent and dedication. And he was right. 2 years ago in Baton Rouge, Louisiana I came out here and I talked about the changes that I had made, and I rallied the troops. Last year, in Cancun, Mexico I told you that we were going to raise the bar even higher and that I had worked an entire year to bring what was then FSW back to its glory. Last year we not only took home brand of the year for the first time ever! but I was recognized for my efforts as GM of the year. See, I have poured my heart and soul into this brand. I have dedicated my every waking moment to making it the absolute best that it could be. Hell, I even FOUGHT for this brand last year and I beat Marshall Evans, Jim Connors and Grizzly Duggan at The Rumble in South Africa. So what comes next?

Brock looks out to the crowd as if he will get an answer.

Brock: I'll tell you what.. We do it all over again... There is a reason that we got to be the first show of season 22 of EWC. There is a reason why this is the first brand specific Pay-per-view of the year. There is a reason why a member of this brand won the Rumble last year, and then went on to be the first member of this brand to compete in the main even of WrestleFest and WIN the Undisputed championship... Because this ain't Monday Night Brawl... This ain't Friday Night Rampage... This ain't even PRIME... This right here... LIVE in Orlando, Florida is the pinnacle of Professional Wrestling known as... Paramount.... To paraphrase the late, great Xplode, there is not a single person back there who is not willing to put it all on the line and show you what the hell we are all about... and tonight we stage a GODDAMN UPRISING!!!!

The crowd erupts as Brock hands the mic off to Isabella Starr and exits the ring. We cut back to Tim Watson and Cid Sydney.


Watson: Well, that certainly is one way to start the show. Welcome to PARAMOUNT wrestling's brand specific extravaganza.. This! is UPRISING XXI. I am Tim Watson and with me as always is Cid Sydney.


Sydney:
It's great to be here tonight Tim. This show is so stacked tonight I don't know how we are going to fit it all in, but we are going to do our damnedest that is for sure. You saw Jake Caxide debut earlier tonight, and that was just a tiny sliver of what is to come. We have Omek versus Joe Kane, a triple threat match to determine the next challenger for the CW Broadcast championship in which three of Paramount's finest wrestlers will battle it out. We then have tag team action as Damage, Inc takes on the unlikely team of Mercenary and Wes Walker.
Watson:
We also have James Keaton taking on Jason Hunter. The CW Broadcast championship is on the line when Jake Lumas takes on David Miller, Prime's very own Lavender takes on El Pablo, Darius and Marcu$ $t. John go at it in a no holds barred match
Sydney: Gabriel Ohio looks to pick up an easy win over Candy, and then we have The Love Club special as I am calling it when the Xtreme Ravagers take on the EWC Tag Team champions, The Southern Express. The North American Championship is on the line as Roozilla challenges Robbie Rayder

Watson: And then we have the main event that people have been talking about for weeks now! Stitches, Killjoy Ito, Ace King. Two titles, two falls, one match to settle this once and for all. Fall one is for the EWC X-Division Championship. Fall two is for the EWC Undisputed championship. ANABELLE, Luke Wolfe's wife, will be the special guest referee for that one. and that's JUST the matches!

Sydney: We have so much more beyond that but first we are going to hear all about EWCTV! We'll be right back!


---
---
The feed moves backstage to find David Miller just entering the stadium, prompting a loud reception from the crowd watching the monitors. The CW Broadcast Championship hangs proudly on his shoulder, the golden plate gleaming in the lights as he makes his way down the corridor towards the locker room area. As he rounds a corner, however, a voice calls out to stop him.
Goldrush:
David! You got a minute?
As the camera pans back to widen the frame, Lisa steps into view, a beaming smile already in place. Miller stops, but says nothing, choosing to answer with a casual shrug, instead.
Goldrush:
Oh, good, I caught you in a talkative mood.
Lisa grins, forcing even Miller to crack an amused smirk.
Miller:
Cute. But that minute's getting smaller.
Goldrush:
Ok, we'll keep it brief. Jake Lumas. Any thoughts? He seemed to get a little under your skin with some of those comments, judging from that last promo you shot.
Miller shook his head.
Miller:
Beyond what I've already said? Not really. Jake's … interesting. Most people are pretty black and white. Easy to either read or see through. But him? Not so much. Doesn't change what I said, though. Jake already admitted he doesn't belong in this match. Won't stop him from fighting. Won't stop him from trying. But how much'll it actually help if even he doesn't believe he can do it?
Goldrush:
Fair point. Or maybe it's all head games. Guess we'll just have to see. You also mentioned the implications this would have on the North American rankings. No pun intended, but you've been championing pretty hard for the CW Broadcast title, you looking to trade up?
Miller hitched the belt a little higher on his shoulder, almost seeming insulted.
Miller:
No. This is my belt. It'll always be my belt, long after I've forced them to give me another one. Five months from now, six months from now, a year. Doesn't matter how long, or what belt I've got hanging off this shoulder, the CW Broadcast Championship will always be synonymous with David Miller. Because I'm setting the standard. I'm setting the bar. And I'm making damn sure it's one that sticks around.
He cocked his head, as he mentally contemplated his next few words.
Miller:
The comments about Robbie? True. Every one of them. I have to admit, I figured the guy for a joke when I first got to FSW. I mean, you had people like Stitches, Sarah Roberts, Joe Hustler, Smokey Jones … and then you had little Robbie Rayder, playing at being something more than just "Mr. Candy."
He chuckled with a slanted smile.
Miller:
Lot of people wrote him off. And I think it lit something. Because show me one person who's personified this brand in the last few months more than Robbie Rayder. Yeah, Stitches won the belt. But he lost it the first chance he got. Ito's been on a tear, but we still need to see how dominant a champion he is. Robbie? Robbie's been nothing but consistent. He's been fucking unstoppable. To the point where even I have to take a step back and wonder how to take him down. Doesn't mean I won't when the time comes, but it's got nothing to do with the North American Championship, and everything to do with the man.
Lisa nodded slowly.
Goldrush:
It's an exciting thought, to be sure. And one I bet the fans would sell out the arena for in a heartbeat, but to stick with the CW title, you have a chance to do some scouting tonight. Triple threat match to determine your next challenger. You plan on keeping an eye on that one? Maybe take a few notes?
Miller laughed, somewhat out of nowhere, causing Lisa to hold back a look of confusion. Eventually, Miller seemed to catch himself, waving it off a little as he caught his breath.
Miller:
Sorry. Just remembering something I heard over the weekend. You said this was supposed to determine my next challenger, but I guess only Perelli and Isabella got the memo, 'cause Aquilla thinks she's going after fucking Ito!
Trickles of laughter ripple through the crowd, along with a few jeers at the cheap shot against the young rookie.
Miller:
Might just be me, but if you've got a shot at a championship? Might be good to make sure you're going after the right fucking guy! If by some fucking miracle that kid actually earns the shot, I'll have to make sure she remembers who the fuck I am by the time I'm done.
Just a hint of darkness slipped into the man's tone towards the end, causing Lisa to squirm a bit in discomfort.
Miller:
As for the other two, I'll admit bias. I'm pulling for Isabella. We've fought before, so I know how to beat her, and that gives me an advantage. I also pissed her off. Which means she'll try even harder, and I like the idea of having that extra bit of challenge. Perelli's a question mark. Like Lumas, actually. Hasn't done a damn thing since she showed up besides talk. Has some background, few stints here and there in places I've heard of, but aside from a bunch of blabber, I'm not expecting much from La Principessa.
?:
Always so confident. Always so certain.
A new voice, low and deep in tone interrupted the moment. Both Miller and Lisa turned towards the source, only for a massive frame to invade the shot, barreling into Miller with enough impact to send him flying into the nearest wall. Lisa gave a sharp scream of alarm, as the cameraman struggled to distance himself, pulling the frame back to reveal Gabriel Ohio standing over the dazed champion. Miller shook the cobwebs loose, but Ohio gave no quarter, as he clutched the man's throat in both hands and pulled him to his feet, then off the floor with ease! Slamming him back to the wall once more, he stared, wide-eyed, at Miller's face as it began to redden from lack of oxygen. His feet kicked at the wall, Ohio's abdomen, anything within reach, but the monster retained his grip, even as Miller's face turned from crimson, to near purple. Leaning in until they were inches apart, Gabriel growled in disappointment.
Ohio:
No. No, no, don't you dare. Not you. You were supposed to be different. You were supposed to be … capable.
Miller's eyes grew bloodshot, his kicks showing signs of fatigue, until he finally managed to plant his foot against Ohio's gut, and use the last of his strength to shove the monster back. Still, Ohio barely staggered away, more caught off guard than anything, as Miller choked and sputtered for air, struggling to scramble back to his feet, though the lack of oxygen had left him near exhaustion. By now, security had arrived alongside a few of the trainers, but none of them seemed keen on the idea of restraining the behemoth, as he clutched Miller's jaw in a pale hand, fingers biting deep in order to drag him up once more. Disappointment turned to disgust as he turned and ran Miller face first into the opposite wall, striking with enough force to crack and shatter the surface. Blood splattered, running freely from a wound in Miller's scalp, as well as staining Ohio's fingers. Peering down at it, he simply flicked it away, and pulled Miller up once more, only to drive a balled fist deep into his belly, doubling the champion and leaving him prone to a vicious knee as it rose to meet his jaw. The crack of bone on bone echoed in the hall like a gunshot.
Ohio:
Where is he? Where is the dominant warrior now? Where is the violence you promised all challengers? WHERE? Am I not CHALLENGING you? Am I not questioning your BLIND superiority? Am I not WORTHY OF YOUR ANGER? AM I NOT DESERVING OF YOUR WRATH?
A massive boot stomped down on the back of Miller's neck and skull, followed by a second. Each one drew a weak sound of pain from Miller, as his bloodied face contorted, eyes widening from the lightning bolts of agony coursing down his spine. Clawing at the floor, he tried to find his way to all fours, but Ohio simply gripped him at the nape like a mewling kitten, and lifted him easily with the strength of a single arm … only to be stopped as someone finally stepped in to intervene. Leading a group of larger security officers, trainers Jackson Bale and Felicia Mathews forced Ohio to release the champion, trying to bodily move him back, though even combined, they paled in comparison to the mass and muscle of Ohio. Irritation flashed in the creature's eyes, as he brought a palm up hard to the chest of each, sending them reeling back across the hall. Bale tripped over Miller, while Felicia caught herself against the far wall, turning just in time to see Ohio stalking towards her … and then he stopped.
Eyes cast downward, Ohio saw the hand of Miller clutching at his ankle, though his eyes were directed elsewhere, darting like those of a frightened child … between the monster … and the woman. Seeing this, realization came, and with it, a knowing smile formed.
Ohio:
I see.
Easily pulling free of Miller's grip, Ohio brought his foot down on the wrist, not too firmly, just enough to pin, and pain, as he leaned in closer to Mathews, a hand coming up to clutch at a fistful of hair.
Ohio:
So predictable … and pathetic. You think it matters? The good now? The sins past? One does not cancel the other. They simply change shape. The service is still for yourself, not others. But if this is the key to what I desire …
He shifted his grip to Felicia's throat … and felt Miller tense in response. The smiled deepened with the confirmation.
Before things could escalate further, Bale and the larger officers hooked Ohio's arms, two men to each, and hauled him away, leaving Felicia to quickly kneel and check on Miller as Dr. Chase rushed in with the EMTs to assess his injuries. Looking up, Felicia glared at Ohio as he allowed himself to be removed from the area, that smile still present, and only growing colder, as he began a slow, promising laughter.
---
---
---
---
WHAT IS EWCTV?


All live EWC Pay-Per-View events (including StrangleMania, Night Of Champions, EWC Rumble & WrestleFest)
All day scheduled & live programming
Plus, hours and hours of on-demand content & never before seen behind-the-scenes footage!
Groundbreaking original series - See new episodes of BRAWL, RAMPAGE, PARAMOUNT WRESTLING, EWC PRIME and more
Live in-ring action, reality shows and documentaries
HOW TO ORDER
Get the award-winning EWC Network through your TV provider. Call your local TV Provider today to subscribe.
Only $7.95/month

WATCH ONLINE
If you are subscribed to EWC Network through your TV Provider you can now enjoy EWC Network on your:
PC, Laptop, Playstation, mobile app, or tablet.



EWCTV for only $7.95 USD per month
Along with being an EWCTV Subscriber, you get:
EVERY Pay-Per-View event included at no extra charge
15% off any and all EWC Merchandise from the EWC Store
20% off all tickets to LIVE EWC Shows
A free EWC Yearly Wall Calendar signed by the entire active EWC Roster
As an added bonus for all those currently subscribed including any new subscriptions
prior to midnight APRIL 30TH

Receive
a
FREE
copy of
StrangleMania XVI
DVD and Blu-Ray combo when it's released later this year
+ free T-Shirt and Replica EWC World Tag Team Championship belts.
So act now if you aren't already subscribed to EWCTV
---
---
---
We're backstage with a car making its way into the parking area of the Camping World Stadium. Out steps Jason Hunter, looking as determined as ever and ready for their upcoming match tonight. As Jason is unlocking the boot and reaching for his bags along with him is Sara and Diana. Sara is leaning against the car while Diana is helping him with his bags. We see another car arrive into the same area. This one contains another determined figure and Hunter's opponent for the evening, 'The Wicked' James Keaton.
Keaton:
Chance would be a fine thing!
Both men immediately lock eyes with the realization that the other is there. They probe each other for weaknesses and information for their match later tonight, but neither decides to take a step closer. Sara smirks, licking her lips looking over at Keaton while Diana watches Jason analyze Keaton.
Both Jason and Keaton decide that it's more beneficial to continue with their unpacking.
Hunter:
You plan this? Some sort of
wicked
game?
Keaton:
This? Nah, leave that to someone else. I'm happy enough to beat you in the ring.
Hunter:
I doubt that.
Keaton:
You wanna change the stip right now and throw down here? I'll work for free.
Hunter:
Not the best call there, I hear you're not that great at freeviews.
A scathing comment given the amount of recovery James Keaton has had to endure since Stranglemania XVI, but not the only sharp jab that's been made between the two recently. Still, neither man has actively approached the other. Both are content getting their gear and carrying on.
Keaton:
Good thing I'm all healed up now, you'll see that when the bell rings.
Hunter:
But if you are a person who loves pain...aren't you supposed to be all about "Let the blood flow". You see the person I know who lives by those words wouldn't let a "little burn" affect their ability to wrestles but then again it just shows how weak you truly are but then again. I love it better you took the time out to "heal".
Keaton:
But then, you don't have to worry about
me
do you?
Hunter:
You're right, I don't have to worry about someone who's getting pinned tonight.
Hunter's prediction is the comment that gets both men away from unpacking and into each other's faces, while Sara gets in between the two men placing her hands in between them both. She looks between them as Keaton lets out a slight laugh.
Sara:
Do your two want tonight's match to be spoiled because at this moment you're both trying to see who has the biggest sword... or do your two want to settle it like REAL wrestlers inside of that ring!?
Diana smirks as she looks over at them. She was sitting on top of the car with a grin.
Diana:
LET THEM FIGHT! This will be fun!
Sara glares over at Diana as she places up her hands as she places her blow pop back into her mouth. Sara looks between the two and then looks over at Keaton.
Sara:
Don't get the wrong impression either just because I am standing in the middle of both of you doesn't mean I don't think Jason can't kick your ass either. We see you where it truly belongs in that ring and we will see who will be letting the blood flow tonight. Be careful what you wish for.
Jason fixes his suit looking Keaton up and down as Sara gives him a look, Jason walks over to Diana grabbing his bag. Sara looks over at Keaton as she slowly offers her hand out to him. Keaton stares at the hand for a moment before responding.
Keaton:
Just so we're absolutely crystal on this one…
Keaton places both of his palms around Sara's outstretched hand.
Keaton:
...Mine's a two-hander.
Sara scoffs and pulls back her hand in disgust, returning to Jason and Diana. Keaton watches them for a moment before collecting his bags.
---
---
SINGLES MATCH
OMEK
Vs Joe Kane
We return to ringside where Tim and Sid are standing by.
Watson:
Tensions are certainly running high already tonight between Jason Hunter and James Keaton. That match to come later in the evening, but we have our opening contest coming up folks! Recent Paramount signee OMEK will be taking on the ever entertaining, but also mostly just out there Joe Kane!
Sydney:
Omek absolutely destroyed Ursus in his Gambit debut a few weeks back. The man has a strength that I didn't even know you could poses, let's see how the fast and furious Joe Kane combats that tonight.
Starr:
The following match is scheduled for one fall. Joining us first, residing in Miami Beach, Florida, weighing in at 225 pounds...He is the "The Anointed One" ...
JOE KANE!
The throbbing base of Bad Boys by "Shyne" fills the arena as Joe steps on to the podium. He smirks and sizes up the audience, slowly rubbing his hands together. When the artists says "So tell me who wants to fu@k with us" Joe proceeds to slowly head down the ramp, rolling underneath the bottom rope, stopping to roll out and walk around the ring. He walks up the steel steps, wipes his feet and climbs to the second turnbuckle. Joe looks around with a smirk and sits on the top rope, waiting for the match to begin.
The arena shifts to a red hue as the light dim. Immediately, the fans stand up and cheer as "I don't wanna stop" by Ozzy Osbourne begins to play! Fireworks emit from the stage area in two's.... three's... and then BOOM! A massive explosion erupts next as Omek emerges from the backstage area! A thick fur skin is draped over his shoulders as he looks out at the fans, his chest heaving with each massive breath! As the theme song continues to play, Omek raises his mighty arms, letting the fur fall to the floor behind him!
Starr:
And his opponent, HAILING FROM THE FORGOTTEN REALMS... HE IS ...
OMEEEEEEEEEEEKKKKKKKKK!!!!!
Omek rushes down the ramp way full speed and slides into the ring! He repeatedly bounces off of each set of ropes as the fans really get into it! Pointing to the arena rooftops Omek slows down, only to pace the ring as his theme song fades out..
Watson:
Both men looking determined her tonight, but only one can come out victorious... Will Joe Kane be able to slay the warrior Omek? Or will Omek summon the strength of the Gods and secure the victory? We're about to find out!
DING DING DING



Omek runs at Kane looking for a Clothesline. Kane ducks and Omek runs off the opposite ropes before eating a standing Dropkick from Kane. As Omek gets to his feet, Kane runs off the ropes and throws himself at Omek looking for a Cross Body. Omek catches Kane and Bodyslams him to the mat. Omek runs off the ropes looking for a Leg drop but Kane quickly rolls out of the way and Omek crashes to the canvas. Kane is on his feet and drops a standing Elbow to the middle of Omek's chest. Kane lifts Omek to his feet and blasts him with a series of Forearm Smashes before applying an Arm Wringer that he pulls into a Short Arm Clothesline. Kane lifts Omek looking for a DDT but Omek backdrops him. As Kane gets to his feet, Omek attempts a Superkick. Kane catches it and throws Omek's foot away. Omek charges for a running Clothesline. Kane ducks it but Kane walks into a Two Handed Chokeslam from Omek. He tries to apply a Sharpshooter to Kane but Kane is able to quickly roll Omek for a Small Package.
The referee isn't able to reach the mat when Omek kicks out. Both are back to their feet. Kane fires a Superkick at Omek but this time Omek catches it! Kane tries for an Enziguri but Omek ducks the kick and sends Kane off the ropes. Kane comes back off the ropes knocking Omek down with a Flying Forearm.
Watson:
The action is fast and furious here to start off. Both men going full throttle on offense AND defense!
Sydney:
You wouldn't think that Omek would have the endurance to keep up this pace, but he does NOT look wined at all. That is a level of Cardio that you don't come into by accident folks.
Both are back on their feet and Omek attempts to Irish Whip Kane only for Kane to hit a few jabs to the gut blocking the move. Omek clutches his gut as Kane runs looking for a Superman Punch. Omek sees it coming and ducks the move. This enables Kane to run off the ropes and catch Omek in the back of the head with a Bomaye. He makes a cover.
ONE...
TWO...
Kick Out.
Omek is able to roll onto his side breaking the count. Kane stands in the corner waiting as Omek gets to his feet. Kane runs again looking for a Superman Punch but, this time Omek hoists Kane into the air. Omek walks around all four sides of the ring before dropping Kane to the mat with a Gorilla Press Slam. Omek makes a cover.
ONE...
TWO...
Kick Out.
Watson:
The power of OMEK on display here tonight. Look at how easy he made that look. You don't just hold a guy up in midair that long Sid. It cannot be easy.
Sydney:
Absolutely right. He's proving a point to Joe Kane that he can combat Kane's speed, but Joe Kane is showing that power and brute strength is not always the answer either as he is absolutely holding his own with his speed.
This time Omek waits for Kane to get to his feet. Omek runs looking for a Clothesline but Kane spins around cracking Omek with a Discus Back Elbow. Omek is out on his feet and a simple push knocks him to the mat where Kane hooks the leg as he makes a cover
ONE...
TWO...
Kick Out!
Somehow Omek is able to get a shoulder up. Kane runs a hand over his chin before lifting Omek to his feet. Kane then lifts Omek for a Suplex but Omek is able to slip out of it, push Kane away and charge at him hitting a Running Clothesline. Omek drapes an arm
across
Kane as he makes a cover.
ONE...
TWO...
Kick Out. Kane rolls onto his side breaking the count.
Watson:
Joe Kane taking some brutal punishment there, but still able to kick out at the last moment. This one is not over yet!
Sydney:
It's not, but Kane is being slowed down here by the brute force of the warrior Omek. That might be the deciding factor here.
Omek lifts Kane to his feet and shoves him into the corner. Omek blasts Kane with forearms to the gut before whipping him out of the corner, pivoting and sending him off the ropes. Omek backdrops Kane onto the canvas before running off the ropes. He jumps
looking
for a Big Splash but hits nothing but the mat as Kane rolls out of the way. Kane climbs to the top turnbuckle and leaps at Omek with a Splash. He too eats canvas as Omek rolls to avoid the Splash both men are down.
Watson:
The absolute back and forth here is so awesome to see. Neither man willing to give in here. It's all going to come down to who has more left in the tank.
Sydney:
Both these men need to look inside themselves right now and find that extra gear because whomever cannot is going to go home without the win here tonight.
Both get to their feet and Kane lifts Omek onto his shoulders hitting a quick Powerslam. He hooks the leg
ONE...
TWO...
KICK OUT!!
Omek kicks out with force throwing off him as the power of the forgotten realms courses through him. Kane lashes out with a Right hand, a left and another right. All are blocked by Omek who hits Kane with three Right Hands of his own that send Kane leaning against the ropes.
Omek
whips Kane off the ropes and catches him in the face with a raised boot that staggers Kane allowing Omek to lift his opponent up into a fireman's carry, then lift and push Kane out, hitting the F-5 that he calls "Ragnarok" Omek pins Kane...
ONE...
TWO...
THREE!!!
DING DING DING
Starr:
Here is your winner, via pinfall..."
THE WORLD BREAKER
".....
OMEK!
Omek leaps to the middle turnbuckle and motions to the throng of support that celebrate his win before exiting the ring and speeding up the isle
Watson:
Omek leaving the ringside area just as quick as he arrived. His ability to just go at such a high intensity is... I don't even know how to describe it Cid.
Sydney:
It's unparalleled to me Tim. I've never seen someone go that hard that long without slowing down. Joe Kane, though, has to be commended. If not for the really stiff shots he took, he was going just as fast and just as hard. He really showed a lot of what he needs to be successful long term in EWC tonight.
Watson:
We are underway, but the night is young folks! We have our next match coming up in just a moment!
Camera cuts to ...
---
---
The scene opens with the words prerecorded earlier in the day in the lower right hand corner. Jason Hunter, Sarah, and Diana are seen standing in the parking lot. Jason is holding his signature sledgehammer with his name engraved upon the handle. He's holding it in a way that suggest that he has already used it as he breathes heavily. Standing next to him are his bestfriends Jun Yao, Diana, and Chris.
They are seen standing in front of a 2020 Porsche Taycan looking like it had been worked over. The hood is caved in, headlights and taillights broken, windows smashed, as glass glistens on the concrete.
Jun, Chris, and Diana are grinning as they look over what they had just done.
Jason:
No one places a hand on my family!
They turn towards the entrance of a hospital building as they wait for someone to come out. Within moments Jules Cassidy and Rupert Garfield Huxley come through the entrance pushing Baby Face Badly in a wheelchair. Not paying attention to their surroundings they walk down the sidewalk before Chris, Jun, and Diana come from behind and grab them.
Diana grabs Jules Cassidy by the arms and pulls her to the side out of the way. Chris and Jun grab Huxley from behind as they force him down onto his knees. Jason is standing behind Babyface's wheelchair as he turns Babyface so that he has no choice but to watch. Jun and Chris grab Roozilla by the back of his hair forcing him to watch. Diana does the same to Jules as she holds her back making her watch. Babyface attempts to stand up but Jason places his hands on his shoulders forcing him back down in the wheelchair.
Jason:
SIT DOWN!
Babyface wants to say something as Jason looks over towards the eyes of Roozilla.
Jason:
You want to try and send me a message... huh.. You attacked my mother.... have you never heard the saying "There is no stronger bond than a mother with her son?" You made my daughter watch as you beat me...in the parking lot.... You made me watch as you tried to destroy my mother...a woman who can't be killed...and now it's time for you to feel what I feel... I can easily just kick your ass but that isn't enough. I WANT to make you understand something. You DON'T MESS WITH ME!"
Jason walks over to Roozilla, slapping him across the side of his head a couple of times. Roozilla attempts to break Jun and Chris's hold on him but Chris punches him in the stomach causing him to hunch back over. Jason fixes his gloves on his hands as he looks over at Babyface before grabbing him by the shirt. Jason lifts Badley from the wheelchair and tosses him headfirst into the car's driver side window shattering the glass with his head. Jason then grabs the back of Badley's shirt pulling back out of the car window. He shoves him back down to the ground where blood is streaming down his face.

Jason stands over the top of Roozilla with the sledgehammer with a look of pure vileness upon his face. Jason was about to bring it down as he stopps and he drops the sledge hammer in front of Roozilla, with a grin and then a smirk across his face.
Jason:
That would be too easy. When I take you out... It's not going to be where no one can see it. I want the world to witness what I do too you. It will be inside of that ring where I KICK THE LIVING DAYLIGHTS OUT OF YOU!"
Jun and Chris pull Roo up to his feet and then toss him into the grip of Jason. Jason catches him and hits Roozilla's own finisher on him dropping him to the concrete. With the impact Jason gets up glaring at Jules Cassidy. Diana pushes her away and onto the ground. Jules is quick to get back to her feet as she runs over and covers Roozilla hoping to protect him with her own body.
Jason starts to hit his own head as he takes in a deep breath as he cracks his neck walking away with his friends looking on with a smirk. A black limo pulls up as Jason and his friends get into it before it pulls away.
The camera turns back towards Roozilla and his crew as he begins pushing himself back up as he motions for Jules to check on Badley. Roozilla has a deep gash across his forehead and his face is covered in blood.

---
---
Lisa Goldrush:
Guys, we're heading out into the parking lot because we heard there was a weird sound and we're trying to find out what's going on, follow us.
As Lisa and the camera crew get outside, they see Marcu$ $t. John revving up a chainsaw outside. He's standing in the middle of the parking lot with a stoic look on his face. Lisa slowly approaches.
Lisa Goldrush:
Ummm, excuse me, Marcu$. Why are you outside standing here with a chainsaw?
The revving stops and the chainsaw slows and idles out. He looks over at Lisa then glances at the camera with his expression being unphased.
Marcu$ $t. John:
Obviously I'm out here to cut a tree down Lisa. M$J the arborist, a tree surgeon even is what you can call me. The tree is about 6 feet, 5 inches and weighs about 265 pounds and inexplicably it moves. Imagine that. Have you seen this tree anywhere?
Lisa Goldrush:
Well, I haven't but it sure sounds like you're describing your opponent tonight, Darius.
Marcu$ $t. John:
You damn right that's who I'm describing, I'm waiting for him to get here so I can cut his bat, his bitch, and him. Hell, if you get in my way, I might even cut you. I figured it's a No Holds Barred Match, right? He's a hardcore specialist. So why wait until we get in the ring, why don't we start this shit out here. He's the badass here after all, he started this ripple effect, I'm just going to be the one to finish it. He shows up on the premier of Paramount Wrestling and takes away from my moment, well it's time for me to take something away from him.
Lisa Goldrush:
I don't think it would be a good idea to try and chainsaw him down in the parking lot Mr. $t. John. This is very unlike you right now and you're scaring a lot of people including me.
Marcu$ $t. John:
You know what you're right Lisa, I'm sorry. I don't know what came over me. I'm doing a disservice to the fans here in Orlando. I'm being selfish, let me chop his ass down in the ring so that all the fans get to see.
M$J kicks the door in and revs up the chainsaw once more as he steps into the arena.
---
---
The camera opens backstage as we see Roozilla standing with Jules Cassidy. He has a large gash over his eye with multiple stitches that have been used to close the gash. He doesn't speak but allows the image of his face to be concentrated on. A snarl comes across his face and anger begins to fill his expression.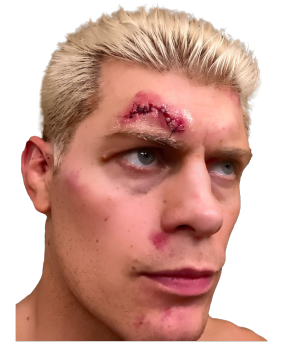 Roozilla: Jason Hunter you want to come and find me outside of the EWC, outside of Paramount, and do this to me! That's fine! I don't have a problem with that. Sneak against, gorilla warfare, or whatever attempts you want to take at getting an upper hand. THAT'S FINE! But you want to grab my girlfriend... You want to put my manager's head through a car window!!? That's very personnel. He was being released from the hospital after your mother gave him a severe concussion where he was put into an induced coma.
He pauses momentarily as Jules stands beside him in quiet support.

Roozilla: I get it Jason. You felt like me and mine had it coming. Maybe we did. Maybe I started this thing between us. But let me explain something to you. You're mother has the word Ruthless in front of her name. She can handle herself or so I was led to believe. I guess momma's little boy doesn't believe that. He thinks he needs to eliminate the threat at his door.
Jason Hunter! The only thing you've done is piss me off. You're in for the beating of a lifetime. If you don't believe me go ask your opponent for tonight, James Keaton.
I've got a match of my own tonight so this thing between us is going to have to wait. I'll take care of you another night.
Roozilla raises his hands as he begins rubbing them together. He grabs each wrist tightening the tape around them.

Roozilla: Robbie Rayder, don't think for a minute that this gash over my eye is gonna change things. I walked into Uprising with a goal and a Championship in mind. I'm walking out as the New North American Champion and there's not anything you can do about it.

---
---
TRIPLE THREAT MATCH
For a future CW Broadcast Championship Opportunity
Laura Perelli
Vs "La Belicista" Isabella
Vs Adriana Aquilla
We return to ringside where the triple threat match to determine who's next in line for a CW Broadcast Title shot is about to begin.
Watson:
Marcu$ St. John certainly looks to be in a serious mood …After that fantastic opening match, now its time to see who is going to go on to Paramount #5 to face the CW Broadcast Champion!
Sydney:
Addy Aquilla got a shot at the North American championship and came up short, can she cash in here and get another opportunity at EWC gold? Will Isabella, the recent former Brawl superstar to move to the Orange brand take it? Will Laura Perelli show us all she's THAT bad ass? Let's find out!
The arena goes dark for just a moment, as the opening riffs to Voodoo Johnson's "United Divided" play through the PA, before the white lights are replaced by swirling blue and yellow replacements. A few seconds pass, though, and it's only when the drum beat kicks in that the curtain is pushed aside, and Laura Perelli comes spinning through, immediately spreading her arms out wide, a sly little smile on her face as she glances out into the arena. She holds her spot in the center of the stage, rolling her neck out to either side, only making her way down the ramp when she's good and ready.
Laura's not exactly in a particular hurry, as she more saunters down to the ring, occasionally glancing to either side of her to take in the fans at the aisleway. It's never for more than a moment or two, though, as the most regard Laura's willing to give is a little tilt of the head to one fan in particular trying to get her attention--whatever he may have been saying, it didn't do much to faze her, and she just continues to move on. At her own pace, she eventually reaches the ring steps, pausing with one boot on the bottom step, closing her eyes for just a second before quickly jogging up onto the apron, casually wiping the soles of her boots off before spinning around to face the crowd--if only to smirk a little bit.
Starr:
The following match is a Triple Threat. Joining us first, from Trenton, New Jersey, weighing in at 132-pounds ...
LAURA PERELLI!
Laura swings herself through the ropes, spinning in a half circle to face the opposite side fans and stretching both arms out, holding the pose for more than a couple seconds before eventually backing herself into her corner, shrugging her jacket off and dumping it out of the ring. Grabbing the top rope with one hand, she leans down, stretching her opposite leg out in preparation for the match.
Starr:
And her opponent, from Tijuana, Mexico, weighing in at 164-pounds ... she is LA BELICISTA ...
ISABELLA!
As Sabaton's "Resist and Bite" blasts over the PA, a large plume of smoke conceals the top of the ramp. The Mexican flag appears on the MacTron as a shadow appears in the lingering smoke. Red pyros shoot off into the air as the smoke begins to vanish, eventually revealing "La Belicista" Isabella's figure.
As the 15 second mark rolls around, Isabella strides confidently down towards the ramp, giving high-fives to the fans and audience along the way. When "La Belicista" Isabella arrives in front of the ring, she slips in between the middle and uppermost set of ropes.
She then stands atop the same ropes she slid through. She clenches her right fist and raises it high up in the air. Her left, meanwhile, raises as she salutes to the EWC audience. After soaking in the reaction and atmosphere, "La Belicista" jumps off the ropes, lands gracefully on her feet, and turns to wait against the turnbuckle whilst waiting for her second opponent to arrive.
The opening riff to "Iron" by Within Temptation hits the speakers and the crowd comes to their feet as the lights flash around the arena before finally, Adriana comes out from the back ready for her big match.
Starr:
And their opponent, from San Antonio, Texas, weighing in at 120-pounds ... she is LO DIVINO ...
ADRIANA AQUILLA!
Adriana makes her way down to the ring mouthing the lyrics to her theme song along the way, as she enters the ring she yells out "THE WAR IS COMING" in time with her song before jumping over the top rope and rolling into the ring before posing on one knee with her arms outstretched at her sides.
DING DING DING
Buckle your seatbelts, ladies and gentlemen! This match is officially underway! Isabella and Perelli don't even wait for the third ding to resonate before they charge right into action. Isabella with a flurry of elbows, knees and kicks (oh my!) to Perelli who, to her credit, is able to deflect most of. Perelli catches Isabella's arm and drags her down to the mat. She doesn't bother to lock in the arm bar just yet because she knows she still has Adriana to contend with. Speaking of Adriana, she's there to greet Perelli with a Snap Suplex as the latter gets back to her feet. Perelli is quick to get up again, as Isabella has done the same. The three fierce combatants circle the ring, sizing each other up. Perelli runs in and connects with a Tilt-a-Whirl Headscissor Takedown on Adriana out of nowhere! She returns to her feet... Big Boot from Isabella! Isabella follows through with a Vertebreaker and hooks the leg for an early pin attempt. Perelli gets her shoulder up at two, just as Adriana grabs Isabella's leg and yanks her off. Either way, no pinfall happening yet. Isabella turns her attention to Adriana, giving Perelli the chance for a German Suplex! Adriana runs at Perelli, avoids her outstretched hands, and flies off the ropes with a Springboard Clothesline on Laura Perelli!
Watson:
All three women here are coming in firing on all cylinders! You can tell they all want this opportunity!
Sydney:
I am just going to sit back and enjoy this one Tim!
Perelli and Adriana start trading blows as Isabella gets back up. She spins Perelli around just as she's starting to get the upper-hand on Aquilla. Knee to the abdomen from Isabella! She's got Perelli in position for a Powerbomb, but NO! Perelli reversing with a Hurricanrana that sends Isabella through the ropes to the outside. Isabella slams into the ring barrier. Perelli turns her focus back on Adriana in time to catch her leg. Adriana was looking for a Super Kick and it backfires. Perelli laughs in Adriana's face as the latter hops around on one leg. Perelli thrusts Adriana's leg away, spinning her around. Jumping Leg Lariat on Adriana! She rolls out of the ring before Perelli can make a cover. Now the only woman in the ring, Perelli strikes a pose for the fans, but they don't seem too enthused she's doing so well. It doesn't appear to bother her that much, though. At ringside, Isabella's stirring. It takes her a moment, but she gets back to her feet and slides into the ring. Luckily for Perelli, she sees her coming and moves in to strike. Isabella comes prepared! The two women trade a series of elbows, forearms, kicks, you name it! They're really going at it and they're quite evenly matched!
Watson:
They've got counters for counters and no one is willing to take the change of getting pinned here. What sportsmanship from these three women
Perelli and Isabella are starting to slow their roll now as Adriana, unbeknownst to her two competitors, has climbed up on to the ring apron and is now taking to the top turnbuckle. Isabella and Perelli turn their attention to Adriana, but they're too late! Adriana takes both women down with a Flying Crossbody! WOW! Adriana positions herself as Isabella rises. Dropkick! Isabella goes back down. Perelli to her feet now. Dropkick! Adriana is on fire! Isabella again getting to her feet. Dropki-- NO! Isabella swipes her legs away in mid-air and Adriana goes falling to the mat. Isabella wastes no time going for an Ankle Lock, but Aquilla flips over and shoves Isabella away with her free foot. Isabella charges back in and grabs Adriana's leg again, insistent that she get the submission locked in. Again Adriana kicks her away. She rolls backward and gets to her feet. She takes a swing at Isabella, who ducks, and comes back with a stiff kick to Adriana's midsection. Isabella's got her opponent's head locked in and she grabs a handful of her pants... She's got Adriana suspended upside down in the air. Stalling Suplex on Adriana Aquilla! Impressive show of strength by Isabella! But she doesn't get a chance to capitalize as Perelli strikes with a Double Knee Armbreaker! Now Perelli locks in an arm bar and Isabella seems helpless to do anything about it... Thirty seconds in and Isabella's still trying to roll out of it. Perelli's hold is weakening. Adriana hops up on the top turnbuckle in a single leap. MOONSAULT ON PERELLI AND ISABELLA! THAT'S ONE WAY TO MAKE THE SAVE! GO ADRIANA!
Watson:
These three are so evenly matches. Every time we think someone will get the upper hand, the third person puts a wrench in the plans!
The fans are loving all the twists and turns these three valiant superstars are putting on. Adriana is building up steam, preparing to take down whoever gets back to their feet first. It's Perelli! Adriana with another
precision
Dropkick! Isabella gets to her knees as Adriana wraps her arm around her head. Snap Suplex from Adriana, but she doesn't release her grip. She's going for a second Suplex! She pulls it off! Gawd, she looks to be going for a third, but NO! Isabella punches Adriana in the side two, three, four times! Adriana is forced to let her go! She stumbles back and is unable to stop Isabella from moving in, now setting her up for the GTS! Aquilla goes down. Perelli and Isabella lock up. Both women appear to be trying to get the other locked into a standing submission hold, but they're too evenly matched countering each other. Isabella shoves Perelli away and connects with a Spinning Heel Kick! Perelli whips back around and catches the now-running Isabella just in time for a Belly-to-Belly Suplex! Isabella doesn't stay down for long, having caught her second wind. Perelli and Isabella go back and forth with elbows and forearms in a frenzy of movement that only ends because Perelli now has Isabella locked into an arm bar following a successful arm drag. Perelli is again tweaking Isabella's sore arm, but Adriana's there to make the save once more!
Watson:
They can't possibly keep this pace up much longer? Someone will have to figure something out.
Sydney:
I'm in no rush Tim. They can go allllllll night if they want.
All three competitors lie on the mat, gasping for air and trying to regain composure. The fans get louder and louder as they all start making their way back to their feet. Perelli has her sights on Adriana. Isabella has her's on Perelli! What's going to happen next?! Isabella rushes in, looking for the black mass spinning kick she calls FUBAR, but Addy is able to JUST BARELY connect with a superkick! Isabella to the mat now as she is knocked a little silly, but while that was happening Laura Perelli grabs the arms of Addy and locks in the Jersey Neck tie! The rings of saturn submission is cinched in tight right in the middle of the ring!!! the ref asks addy if she wants to quit and she shakes her head no. Perelli cinches back even further to put more pressure on. Isabella now sees what's happening and goes to break it up but not before Addy finally screams and nods that she submits!!!!
DING DING DING
Starr:
And your winner, via submission...LAURA PERELLI!!!!
Isabella breaks up the submission just as the bell rings, but it was too late. Addy rolls to the outside as Perelli gets to her feet and demands that her arm be raised as the victor!
Watson:
Laura Perelli has taken charge and sealed her fate.. She will challenge for the CW Broadcast championship at Paramount #5!!
Sydney:
All three of these fighters gave it their all, but there could be only one winner and Laura Perelli used the fact that no one was near her to lock in that New Jersey Necktie to perfection!
Watson:
We have what I can promise will be a brutal match up next. Wes Walker and the Mercenary take on Damage, Inc. in tag team action!
Camera cuts to ...
---
---
The camera cuts backstage to find Ace Heart as he and his camera crew are standing outside The Love Club locker room, he's about to knock on the door when…
Reid:
Are you here for us...or them…
Ace turns around and looks behind him as Xavier Reid and Samantha Hamilton walk towards Ace.
Heart:
I'm here for the two of you...I just thought…
Hamilton:
We are giving The Southern Express The Love Club locker room tonight…
Reid:
Them being the champs and all…
Ace nods, a bit shocked at the gesture but isn't going to make a big deal about it.
Heart:
Tonight the two of you step into the ring with what might be one of the best tag teams the EWC has ever seen in The Southern Express, nobody has been able to knock them out of the top spot in almost nine months and this is only your third match together as a team, do you really think…
Sam intervenes before Ace can finish that question.
Hamilton:
I'll let Xavier choose his own reply, but I'll definitely say this much. We're not going to make the exact same fucking mistake every other team has. That they're too old and all that crap. We're not going in with
that
mindset. That alone already is going to make this match better in its own rights, regardless of the outcome.
Reid:
We have been able to sit back and watch other teams fail against Bobby and Jimmy and understand why, like Samantha said, it's a lack of respect, we don't have have that towards them, we understand who they are and what they've done during this run as tag team champions. Yes, this is our third match together as a team but this right here…
Xavier motions between him and Samantha
Reid:
This is a partnership, we might have only had three matches together but we have spent so much time together talking about THIS moment, how we would approach The Southern Express, we aren't just two people tossed together to see if it works...this has proven that it works and tonight we step into the ring as the biggest threats to those championships The Southern Express has faced as champions…
Sam takes a deep breath.
Hamilton:
I do get the point of view from the doubters. Mind you, Reid is definitely not wrong. Our teamwork absolutely has worked, and we have definitely proved it. Still, it's a whole different story to prove if that can work against champions, and that is definitely going to make tonight our toughest challenge, hands down. But we knew that coming here tonight. We've mentally prepared for a lot, including the possibility of them cashing in a rematch clause even if we win. All of that and more though? We're ready for that.
So while it's not wrong to wonder if I'm at least a bit nervous, it's not bad enough to make me start backing down or away.
Reid:
I think of Bobby and Jimmy as family, I know they aren't just going to hand those championships over to us, we will have to go out there and beat them for it...we all talked and agreed, between the time the bell ring to start the match and it rings to end the match our friendship is on a pause, a break if you will, but at the end of the night we will stand in that ring one unit, The Love Club and the tag team championships will stay in house…as for the doubter, well I can't do anything about them other than to say, who the hell else deserved this shot? I get that
some
people are pissed…
At that point The Young Lions walk down the hallway and stop right in front of Sam and Xavier.
Jamie:
Some people? We have names, feel free to use them.
Lorenzo
: To answer your question as to who else deserves this shot, we do. You've had 3 matches as a team while we've been to every brand and winning tag team matches.
Hamilton:
Except when it counted. You had that triple threat on Rampage. You, ST and Psych Ward. Get in line and deal with it.
Reid:
And let's not forget Brawl #564...when we pinned you…
Jamie:
Have you thanked Gabi for that by the way? I thought the four of us would work together to take out 2 people none of us like but here you are claiming a victory after someone else does the work.
Hamilton:
You clearly didn't hear your parents backstage before that fight started, then. Rewatch that tape. We all came to the agreement
every team for themselves
. Nothing more, nothing less. Now fuck sakes, we don't have time for this. We'll deal more with
this
issue later.
Jamie and Lorenzo smile as they haven't taken their eyes off Xavier and Samantha
Jamie:
Every team for themselves, that's fine by us…
Lorenzo:
We came here to make a statement and here it is…
Lorenzo looks over at Jamie
Jamie:
The Young Lions have next, whether it's the two of you or Bobby and Jimmy, the two of us have proven we deserve the next shot and we are here to put everyone on notice, whoever walks out of Uprising the EWC Tag Team Champions they will have us to deal with...and we can continue to keep this 'in the family'...
Xavier and Sam shake their heads.
Reid:
Samantha is right, we don't have time for this, WE have a tag team title match tonight, enjoy watching us here at Uprising boys…
Xavier and Samantha smirk at The Young Lions, turn and walk away as The Young Lions do the same and walk in the opposite direction leaving Ace standing there alone
---
---
Roozilla is seen standing backstage with his valet Jules Cassidy. They appear to be in deep conversation about his upcoming North American Championship match. Roo holds the now infamous black bag of salt used against James Keaton in his hands, looking at it and then back to Jules. It appears that they have both been discussing the bag intently.
Roozilla:
I'm not saying you have to use it...
Roo hands Jules the bag.
Roozilla:
...just keep it safe. Don't lose it.
Cassidy:
Okay, I trust you.
Roozilla:
I know.
Roo places his palms over her hands and presses them tightly as she holds onto the bag. Off from the side of the camera angle you hear the voice of James Keaton as he walks into view, now recovered from the burns suffered at Stranglemania XVI.
Keaton:
So what's all this then? Are you in charge of a salt factory and showing off free samples?
Roo cocks his head sideways.
Keaton:
You're not planning on using that again tonight, are you?
Roozilla:
Hey, it wasn't personal James.
Keaton:
Felt pretty bloody personal to me.
Roozilla:
I was always gonna do everything in my power to get to Uprising and face Rayder, you just happened to have an exploitable weakness. If I use it tonight...
Keaton clenches his fist, half-expecting retaliation.
Roozilla:
...it won't be against you, we're good.
Keaton:
Fair, fair.
Keaton nods and it seems like an agreement is reached between the two. Roozilla is slightly unsettled when Keaton doesn't start walking away.
Roozilla:
I think this is the part where you go, we've both got matches and you're on before me.
Keaton:
You're right, I am. But what about Jason? You're not planning on using that against him are you?
Roozilla:
I guess that's a wait and see moment.
Keaton:
That's not good enough for me.
Roozilla:
How so?
Keaton:
I'm saying that if you do decide to come down during the match, then it's gonna be a handicap match…
Roozilla:
Yeah.
Keaton:
...against you.
Roozilla:
Oh yeah?
Roo isn't happy about this comment from Keaton and they stare each other down, both aware of the threat the other is displaying.
Roozilla:
Like I said, wait and see.
Both men posture, sizing the other up. It takes Jules placing her palm on Roo's chest to take his focus away from The Wicked.
Cassidy:
See the title he's
not
wearing. We're not here for this.
Roo looks at Jules and back to Keaton, extending his arm as if to show he's allowed The Wicked to pass through a checkpoint. Keaton walks on with an intense look on his face when his phone beeps a notification. Keaton checks the notification and scowls.
Keaton:
Oh I BET you've learned a load about salt in the last two weeks. Real bloody funny!
We see that the notification was a
salt mining video on YouTube
, sent by Adriana Aquilla. Keaton shakes his head and walks on as the camera cuts away.
---
---
TAG TEAM SHOWCASE
Damage, Inc
Vs Mercenary & Wes Walker
We return to ringside where Tim and Sid are standing by.
Watson:
And now we come to this Cid. There are grudge matches and then there are Grudge matches with a capitol G. In recent weeks and months the members of the new FEUD have done their best to drive Mercenary out of the wrestling business for good leaving him a man without a country. But in his darkest hour came the most unlikely of allies. Wes Walker. The former champ came to his aid when seemingly nobody else was going to and now we shall see how this unlikely pairing will work together once they actually get into the heart of things in the ring.
Sydney:
They don't have a chance in Hell Tim. It's as simple as that. I predict that the throw together partners will be fighting each other before the night is through and will do most of Damage Inc's work for them and the sexy lady Savage will be walking out with a smile on her face.
Starr:
The following match is a tag team battle to settle the score. Joining us first weighing in at a combined weight of 735 pounds and being led to the ring by the mind behind the matter Lacey Savage:
Malice and Mayhem. DAMAGE INCORPORATED.

Pyro explodes across the stage as "
This is Gonna" Hurt
by Sixx A.M. pounds through the arena. The light pulses like lightning and Lacey Savage appears wearing a skull bandanna that covers her lower face. When the lightning pulses again a thick smoke rolls in, and from the smoke come two huge figures dressed in matching leather jackets that reach all the way to their matching boots. The two men are wearing full face masks that look like skulls. Each skull face is partially covered by a bandanna, outlaw style. The two men flank Lacey and they all come to stand in the center of the stage.
Removing their masks the group marches in lock step down the ramp to the ring. Once between the ropes the group clusters together in a tight huddle to go over their final game plan, each member sizing up their opponents and getting ready for a war. Malice holds the ropes open for Lacey before the bell rings where she takes her place at ringside where she prepares to aid her team however she can.
Starr:
And their first opponent, from Galway, Ireland and residing in Montreal, QC, Canada, weighing in at 185 Lbs pounds:
Wes Walker!



Pyros hit and
"Perfection Through Silence"
by Finch begins to play, Wes Walker comes from behind the curtain and the crowd goes wild. He bows his head and takes in the cheers. Wes walks down the aisle, pausing outside the ring to wait for his partner's introduction.


Starr:
And his partner, from West Oakland California, Weighing in at 365 pounds, he is the EWC Outlaw, I give you:
The MERCENARY!
The cover of "
Bad Company"
by Five Finger Death Punch blasts throughout the building. A flashing red strobe lights the stage as the rest of the room goes dark.
A masked Mercenary stalks slowly out to stand on the stage. Dressed all in black he looms like a menacing statue as smoke rolls in and the lights flash lightening strikes all around him. Slowly he pulls the leather mask off to reveal his focused eyes and granite features. Crossing his arms across his chest he lashes out of the crossbones pose, cutting through the smoke with the blades of his hands and unleashing a battle cry as he makes his way down the ramp to the ring to stand next to Wes Walker before the two get into the ring together.
Watson:
And there they stand, the EWC's newest odd couple. With a path of destruction or a path of revenge. Two roads converge and in a short moment we will finally know for sure which direction these men are going to travel. And here we go!
DING DING DING
Walker and Mercenary seem a bit at odds about who will be starting the match for their team. As the bell rings they're both broadsided by a charging pair of human rhinos with Malice attacking Mercenary and Mayhem jumping on Walker. Mayhem hits Wes with a running lariat, but the former champion grabs on to his arm and the two flip over the top rope to land hard on the floor outside the ring.
Mercenary manages to fend off Malice's initial assault with closed fists and a few knee strikes. He whips Malice into the ropes, hitting him with a hard knee to the gut upon his return. Grabbing Malice as he doubles over, Mercenary lifts the large man up, dropping him hard with a Pump Handle slam. He follows this power move up quickly with a combination of kicks and stomps that target Malice's ribs and upper body with a complete lack of mercy. Malice does his best to protect himself but Mercenary mounts him and drives an elbow across the bridge of his nose. He follows this up with a few stiff hammer strikes that causes his opponent's head to rebound disturbingly off the mat.
Watson:
Dear God, I think he might have broken Malice's nose with that hit!
Sydney:
Mercenary is out for blood tonight and I think he just got his first taste!
Out on the floor Wes Walker was the first to his feet, dragging Mayhem over onto his back with a snapmare suplex. With a few quick kicks to keep him stunned and grounded Walker picks Mayhem up and whips him towards the steel guardrail. He hits the heavy metal back first and barely has time to catch his breath before Walker ricochets off of another length of guardrail to hit him with a Hurricanrana.
Back in the ring Mercenary pulls Malice back to his feet and again bounces him off the ropes, catching him in a version of the Blackhole sidewalk slam. He appears to think about going for the pin, but thinks better of it, picking his former partner up to continue doling out the punishment. He whips him again into the opposite ropes with the intent of catching Malice in a Thesz press slam but this turns out to be one whip too many as Malice counters the move with a solid shoulder tackle that hits him like a heat seeking missile.
Outside Mayhem avoids a running knee strike, sweeping the leg and taking Walker to the ground. Wes hits hard and has to take a moment to shake out the cobwebs as Lacey screams from around the corner for Mayhem to get back into the ring to help Malice with the Mercenary. Mayhem slides under the bottom rope to join the counter assault. Malice picks Mercenary up from behind in a full nelson and holds him up for Mayhem to deliver the superkick. As Mayhem's foot hits him square in the jaw Malice pulls back at the waist, throwing Mercenary with a Snap Dragon release suplex. Mercenary lands with a solid thud on the back of his head and shoulders Without missing a beat Mayhem comes crashing down with the full force of his body weight, delivering a beautifully executed standing Shooting Star Press. Malice follows up with a quick pin:
ONE...
TWO...
Thre… Kickout at the very last second!
Watson:
What a combination there from Damage, Inc. a Full Nelson, followed up by a superkick that then transitions into a snap suplex, THEN Followed by a standing shooting star press. I thought for sure that was going to be the end right there.
Sydney:
I thought Mercenary had just been taken out on live Pay-Per-View. HOW he kicked out is beyond explanation!
Referee Jesse Lizarraga struggles to gain control of the match by guiding Mayhem and ordering him out onto the ring apron. Wes in the meantime pulls himself back into his team's corner and stomps at the apron with an outstretched hand trying to rally his partner over for the tag. Malice picks the EWC Outlaw's prone body up, dragging his dead weight away from the salvation of his corner and over into enemy territory where he tags his own partner into the match.
Mayhem comes in with a knee strike to the side of Mercenary's head that rings his bell and makes him see darkness and stars, sending him back down to the mat. Mayhem drags him to the center of the ring and hits a standing moonsault that he quickly follows up with a back flip double stomp that knocks what is left of the air out of the Mercenary's fallen form. He goes for the pin but Wes jumps into the ring and breaks it up before Lizarraga can even count to one.
Walker goes after Mayhem but the referee gets between them and walks Wes back to his own corner where he reluctantly climbs back between the ropes to the apron where he slams the top turnbuckle and yells at the Mercenary to make a move of his own. This seems to have some effect as Mercenary shows some signs of life when Mayhem returns to continue his attack.
Mayhem picks the Mercenary up, but the biker man fights him off with stiff elbow shots to the midsection to create separation, topping it off with a stiff pie face shove that sends Mayhem back into the ropes. As Mayhem stumbles Mercenary lands a glancing boot that keeps him off balance just long enough for him to stumble into his own corner to make the tag to Wes, who hits the ring with a flying elbow smash for Mayhem and a spinning front head kick that knocks Malice off the apron. Now it's Lacey's turn to slap the mat as she screams for her team to take control of the match. Wes looks down at her with a smile and a mock salute that sends her into a fit of furious noise.
Turning back to take on Mayhem, Wes catches him as he tries to rush him while his attention was directed outside the ring. Wes stymies the charge with the toe of his boot delivered hard to Mayhem's stomach, which he immediately follows up with a snapping DDT. Practically running up the ropes Wes comes crashing back down on his opponent's chest with a double foot stomp Walking Tall back down his body with a mocking flourish that the fans seem to enjoy. Kicking Mayhem's legs to weaken his base Walker picks the man up and sends him crashing into his team's corner, following him in with a flipping back splash. In the split second before Wes brings
Mayhem
back out of the corner with a bulldog Mercenary slaps his back for the blind tag making himself the legal man.
Watson:
Wes Walker showing some aggression here tonight as well, but Mercenary just cannot stay out of this match! How he is still even conscience right now is beyond me.
Sydney:
It's all instinct for Merc right now. He could be in la la land and he won't give up. This fight means too much to him!
Stepping through the ropes Mercenary starts to stomp Mayhem as Wes looks on with an offended expression on his confused face before the ref informs him about the tag and tells him to leave the ring. Walker looks dejected as he climbs back to the outside just in time for Malice to come at him from underneath, pulling him down by the ankle to fight out on the floor. The two exchange punches and chops until Malice uses his superior strength to ground the smaller opponent with a very stiff Clothesline from Hell.
In the ring all of this happens in the Mercenary's blind spot as he focuses in on keeping Mayhem off balance. Climbing to the second turnbuckle he drops an elbow spike to the top of Mayhem's head which he follows up by trapping his head and pulling it forward into several wicked knee strikes. Relinquishing his grip Mercenary scoops him up and holds him for a beat before throwing Mayhem back towards the ropes with a fall away slam. Mayhem's body bounces back off the ropes and hits the mat rolling. He manages to use that momentum to carry him under the bottom rope and temporarily out of range.
On the other side of the ring Malice struggles with the tenacious Wes Walker as he tries to pick him up in a Fireman's carry for the Death Valley Driver. Wes manages to create some separation with a short kick to the body and a European uppercut to the jaw. He ducks Malice's attempt at a Roaring Elbow strike, landing a palm strike and another elbow to the side of the big man's skull. From up in the ring Mercenary sees Wes in the thick of it and he climbs through the ropes to rain Hell from above on Malice with a falling fist to the hardest part of his head. But it seems like he might have hurt himself as tries to shake the feeling back into his stunned glove covered hand. Both Walker and Mercenary start bouncing Malice back and forth between them going shot for shot like some sadistic game pf ping-pong until Mayhem puts a stop to it by running through the ring and bombarding the three of them with a Tope Con Hilo leaving all four men flat on their backs.
Watson:
Tope Con Hilo from Mayhem has all four men in this match on the ground!
Sydney:
True to their namesake, they are doing DAMAGE out there right now.
Keeping her distance from both Mercenary and Walker Lacey comes around to try to rouse her charges to be the first to their feet. All four competitors start to rise around the same time as Lacey retreats and they pair off again to pummel each other with Mayhem taking on Mercenary and Malice facing off again with Wes Walker. From the ring Jesse Lizarraga starts his count:
One…
Two…
Three…
Mercenary dodges a Bicycle kick and Malice lands a Savate kick.
Four…
Five…
Six…
Walker hook trips Malice down to the mats and Mayhem follows up with a spinning back fist on the Mercenary.
Seven…
Eight…
Lacey yells at Mayhem, calling his attention to the count.
Nine…
Mayhem and Mercenary struggle over each other to both get back in the ring just in time to beat the count out.
Watson:
They all almost let their hatred for each other cost them the match. That was a CLOSE count.
Sydney:
When you are in the thick of it, sometimes that count from the ref isn't even heard. The adrenaline pumping through you drowns out everything except for what's right in front of you. They managed to get back in the ring though, that is what matters.
Broken free from Malice, Wes makes his way back up onto the apron. Lacey directs Malice to get back to Damage Inc' s corner to try to make the tag before Mercenary can tag in the fresher man. All four men are obviously exhausted and sucking bad air. Malice returns to his corner just in time to take the hot tag from Mayhem as Mercenary tags out to Walker at almost the exact same time. Walker runs at Malice who is just a half-step faster and catches him by popping him up into a Powerbomb. Malice drops spine to spine with a Senton splash before flipping over fast to try to apply the Rings of Saturn but Walker is still aware enough to struggle out from under his bulk and roll over onto his own back to kick him in the face with the bottom of his boot. With both bodies still on the ground Wes moves faster and tries to slap on the Gogoplata but Malice fights out of it to make a leaping tag to Mayhem before rolling out of the ring where he inexplicably runs around the ring to knock Mercenary off of the apron.
Mayhem launches himself into the ring with a Springboard Moonsault that only halfway connects. As Mayhem struggles to get to his feet Wes hits the ropes and catches him with a flying knee. Mayhem crumbles to the mat. Walker hauls Mayhem up with a double underhook, setting him up for the Irish Hammer. Seeing Malice tangled up with Mercenary and realizing that her man won't make the save Lacey jumps up on the side of the apron opposite the entrance ramp where she waves her arms wildly and leans forward in over the top rope to give the ref a good look at her cleavage in an attempt to hold his attention. From the opposite side of the ring Dalilah stalks her way around the ramp with a steel chair in hand.
Sliding into the ring while the ref's head is turned Dalilah raises the chair to hit Walker who turns just in time to partially block the blow with his forearms. On the floor Malice hit Mercenary with a Death Valley Driver across the guardrail before sliding into the ring just as Dalilah slides out a second before the referee returns his attention back to the match. Malice began stomping Walker until the ref pulls him off as Lacey slaps Mayhem awake so that he can crawl across the ring to make the much needed tag. Tagging in Malice pushes past the ref to get at Wes again. Scooping him up he hits him with a Running Powerslam that he follows up by hoisting his opponent up on his shoulders and with no little effort starts to slowly scale the turnbuckles backwards. Stopping at the second rope he pauses to gather himself before hitting the Damage Plan Avalanche Back Breaker out of the torture wrack from the second turnbuckle. With his last bit of energy Malice crawls on top of Walker for the
One…
Two…
Three!!!
DING DING DING
Mercenary was one step too slow to break up the pinfall as Malice rolls out of the ring to join the rest of The FEUD on the floor. Lacey laughs out loud, gathering her half dead duo to her ample breast in a big embrace as Dalilah slumps against the corner of the guardrail, cackling with a nervous and uncertain satisfaction. As a dejected Mercenary watches the four of them celebrate their way up the ramp they are soon joined by a smug Mister Maxxwell to add insult to his injury by coming out to publicly gloat about the completion of his master plan.
Back in the ring Wes hauls himself upright holding the back of his head with a look of disgust on his face. He waves over a ringside attendant to bring him a microphone. The crowd quiets as he began to speak:
Wes Walker:
Well? You feel better now do you? So what's it going to be? What happens now? Do you leave it behind us or do we leave here as enemies? How does this end? Where do you go from here?
Mercenary cocks his head and mulls the question over for a long and awkward moment. Shaking he head defeated he limply reaches out and slaps the back of Walker's hand with his own before rolling out of the ring and climbing over the railing where he makes his way up the stadium steps towards the exit. From the ring Walker watches him go with a shrug and almost a sad expression on his dejected face. From the ramp Damage Inc and Dalilah watch as The Mercenary stops for a second before lowering his head as he disappears out of an exit for what very well could be the final time in the EWC.
Watson:
Damage, Inc gets the win here tonight, but they were NOT the victors here in my eyes. The thrown together team of Mercenary and Wes Walker were in charge right until that devious vixen Delillah Ashe had to cheat and use a chair. She may not have gotten all of the shot, but it was enough to distract Wes and allow Damage, Inc to get the pinfall.
Sydney:
Cheating or not, Damage, Inc did what they set out to do which was win this match. They had some amazing offense of their own and kept Wes and Merc separated when it mattered the most. The bigger question is where does it all go from here?
Watson:
I hope we find out soon. Our next match will be James Keaton squaring off against Jason Hunter in just a moment. Folks.. we still have SO MUCH More tonight as we are LIVE on Pay-Per-View!
Camera cuts to ...
---
---
The X-Tron bursts to life playing
As the screen fades there is a brief glimpse of a shiny red letter 'E' before the screen fades
---
---
Cameras take to the parking area as a golden limousine is pulling to a stop. The driver door pops open and it takes a moment before cameras see a little suited fella waddling over to a passenger door.
Plung!
The door flies into the poor guy before he can catch it, sending him rolling backward on the ground. King Flip is seen exiting the limo fixing his own suit until he is expeditiously lifted by the collar into the brick wall. Panning out from the bear claw hands reveals it to be Omek clutching the King.
Omek:
"Speak your words wisely, you dog! For you have now encountered the WORLD BREAKER!!!
His grip tightens almost with every word. The camera pans to the side showing Chanel and the limo driver sharing a bucket of popcorn, watching as their employer struggles to form sounds at all. Chanel looks to lift a finger and interject but, after a few seconds, shakes her head and grabs for another handful. Cameras focus back on Omek and Flip.
King Flip:
"Doubles... conquest."
Omek:
"Conquest?... I am listening."
It takes a second to click but
something
fires up in Omek's brain and his grip, well, it doesn't loosen but King Flip is no longer six to eight inches in the air and choking. He's looking at the hands on his coat.
King Flip:
"Yes, Omek, right? Doubles conquest. You've been doing a hell of a job on your singles conquest but... I mean the deities, they might get bored with that. But watching you carry, er, show some non-believer the power of... I'm sorry, what was his--"
Omek:
"TYR... YOU WOULD DO WELL TO REMEMBER THE NAME. "
King Flip:
"Y-kkk-yeah... throat, buddy."
Omek realizes he's lifted Flip up again. He lowers the poor guy and begins patting out the coat. Flip is about to stop him when he notices something.
King Flip:
"Ki- ahem, as I was. Flip Frields, professional bard. You and I could easily champion that division for Ol' boy upstairs."
Omek:
"A Bard? In this realm? This is indeed comforting. You speak of a fellowship? All warriors of Faerun know that a Bard is good luck in battle."
King Flip:
"We shall be known across the globe as... The Bardbarians. Yes! There won't be a soul on the planet that won't have heard the tales of the Bardbarians. Many an ale shall be lifted in THE NAME... OF THE BARDBARIANS!"
Omek:
"The BARDBARIANS... THE GODS ARE PLEASED. I ACCEPT THIS. Let our story be told."
Omek storms off, still carrying on about Tyr and someone named Just Frank. The camera stays on King Flip who is more than pleased with himself. He walks right back to his limo and slumps into the open doorway. Chanel and the limo driver both look a little confused.
King Flip:
"I think we're already done here."
The scene fades..
---
---
SINGLES MATCH
James Keaton
Vs Jason Hunter
We return to ringside where Tim and Cid are waiting for their cue.
Watson:
This next contest could be a sneaky match of the night contender folks. Jason Hunter, battling the demons of his lineage is set to do battle against the man wo has been beaten and battered, but has never given up in James Keaton.
Sydney:
Keaton has been wearing that burn garment for weeks now and his recovery was set back by Roozilla LITERALLY pouring salt in the wounds. Does he have what it takes to find a way to win tonight?
Starr:
The following match is scheduled for one fall. Joining us first, from London, England, weighing in at 248-pounds ... The Wicked ...
JAMES KEATON!
The arena lights begin to flash in tune to the drums as "The Wicked and The Cursed" by The Cold Stares plays throughout the arena. As the guitar rhythm plays, James Keaton makes his presence known by appearing at the top of the entrance ramp. Keaton begins cracking his knuckles in a slow and methodical way before walking with purpose to the ring. Keaton takes his time using the steps to enter the ring before leaning against the ropes and testing their strength.
Starr:
And his opponent, from San Francisco, California, weighing in at 170-pounds ... He is The Prince of Wrestling ...
JASON HUNTER!

"Daechwita" comes over the speaker Jason is up on the ramp with his back towards the crowd. His red and gold leather jacket with his hood over his head. Diana is wearing a red outfit, while Sara will always be wearing the color gold standing on each side of him.
Daechwita, Daechwita, play it loud, DaechwitaDaechwita, Daechwita, play it loud, Daechwita
Sara pulls the hood off Jason's head while Diana walks down the ramp. Jason turns around on his heels with a bit of a smirk coming across his face. When the words come around again.
Daechwita, Daechwita, play it loud, DaechwitaDaechwita, Daechwita, play it loud, Daechwita
Jason just grins while he plays to the fans while Sara does a little bit of a dance. Diana is at the bottom of the ramp with her shades on her face a bit low looking around especially at the person inside of the ring she just grins walking up the stairs holding the ropes for Jason and Sara to enter the ring. Jason enters the ring and once he and Sara are in the corner of the ring he slides off his jacket with her help. She took it standing on the top of the ring on the outside. Jason kisses Diana first and then he kisses Sara as they look over at the person with a glare ready to fight.
Watson:
Keaton has already had words with Hunter AND Roozilla tonight, it's almost as if James Keaton is splitting his attention here. Will it cost him?
DING DING DING
Jason Hunter wastes no time charging into battle. He rushes at James Keaton with a Running Knee Lift, but falls short of connecting as James takes a step back. Keaton maneuvers behind Jason and hits a Release German Suplex. Neither man stays down for long. Fists start flying as Jason and James go back and forth, each hit looking like it hurts more than the last. Finally, having worn themselves down some, they lock up. With the size advantage in his favor, Keaton goes for a Belly-to-Belly Suplex, but Hunter, somehow, lands on his feet. Jason spins back around... Super Kick to James Keaton! Hunter hurries over to the turnbuckle, making his way to the top as James lies on the mat looking up at the sky. Diving Headbutt from Jason, but NO! Keaton rolls out of the way just in time! Now Hunter's seeing stars and looking a little dazed as he rises back to his feet. Keaton tries for a DDT, but Jason responds with a series of punches to his side, forcing him to let go. Jason grabs Keaton and whips him into the ropes. This time Hunter connects with the Running Knee Lift! They both go down to the mat, breathing heavily.
Watson:
Every match tonight has been so personal, so aggressive for every competitior and this one seems to be no different! Jason Hunter bringing the fast paces offense, but James Keaton showing his veteran status by reversing at some key moments.
Sydney:
Jason got the last laugh though with that running knee lift! they both may be taking a breather, but Jason Hunter has all the momentum right now!
Keaton and Hunter make it to their feet and immediately go back to punching the snot out of one another. Say what you will about Jason being the smaller man, but he's giving it just as hard as he takes it. The fans get louder and louder, ooh-ing and aah-ing with each punch thrown. No joke, both men are knocking the sense out of each other. Their punches get slower as fatigue and injury start to set in. Jason musters every ounce of strength he has left to throw one last big one as Keaton does the same. They connect at the same time and both men go crashing to the mat. They might have knocked each other out simultaneously! The fans are loving it! One look at Jason and we see there's blood starting to trickle off his forehead. The camera turns to take a peek at Keaton, and he's bleeding, too! Right above the brow! With blood blurring his vision in one eye, Keaton grabs the ropes and pulls himself to his feet. Jason does something similar on the other side of the ring. Seeing their opponent bleed, they both acknowledge the red substance start to ooze out of them. And they return to duking it out! Is this a wrestling match or a boxing match? Nobody knows anymore!
Watson:
ROUND 3! FIGHT!
Sydney:
There will be consequences from all these blows Tim. Each one takes a LOT of energy out of a fighter and they have each landed at this point 3-4 dozen blows. They are both starting to swell and bleeding,. This is not sustainable for either competitor.
Nothing but pure competitive drive keeps these guys from giving in just yet, but their punches are coming slower and farther in-between. Both men have swollen right hands, and it's impossible to tell whose blood belongs to whom at this point. Jason practically falls into Keaton, who looks to want to do another Belly-to-Belly Suplex, but doesn't have the strength left to really do it, so both men kind of collapse. The fans get louder, urging these two fierce competitors to keep the action going. Jason answers the call with every bit of fight he's got left in him. He seems to be setting Keaton up for a Surfboard now. He gets it locked in, but he's unable to hold it for long because he's so worn out. He shoves Keaton off and rolls over to the ropes. Jason, pulling himself up, stumbles a little on his way to the turnbuckle, and it takes him a while to climb up it. Keaton's starting to stir. He's crawling toward Jason on his hands and knees... He's at the corner now, clawing his way up to Jason. Jason kicks him in the head as hard as he can manage, but somehow Keaton doesn't loosen his grip on the turnbuckle. He continues to climb up the corner until he's in position to give Jason a pummeling. Jason reciprocates with a few punches to Keaton's midsection, but James gets the advantage. He hooks his arm around Jason's head and looks to be going for a Super-Plex! No! That'll kill them! MY GAWD! HOLY SHIT, IT MIGHT HAVE! YOU CAN FEEL THE IMPACT AS BOTH MEN CRASH TO THE MAT!
Watson:
OH MY GOD! That Superplex might be all she wrote for BOTH men in that ring!
Sydney:
A move like that is risky when you're fresh, but when you've been beating the crap out of someone for 10 minutes straight with almost no rest, they could have killed each other in there.
The fans are cheering THIS IS AWESOME! so loud the roof would blow right off if we weren't inside a stadium. Keaton has trouble going for the pin, but he does. The referee drops down to make the count! Does Jason Hunter have enough left in him to kick out?!
ONE...
Surely this has to be over!
TWO...
Jason's done for!
Thre-- NO HE'S NOT! JASON GETS A SHOULDER UP! HOW IS HE STILL ABLE TO DO THAT?! Keaton's not the only one shocked shitless! The fans can't believe it either! A Jay-Son Hunt-Er chant gets Jason moving again, albeit slowly and with every movement sending pain rippling throughout his body. He's barely strong enough to get back to his feet. Keaton's managed to get up to his knees. JASON WITH A PUNT KICK! HE NEARLY DECAPITATES KEATON! Jason crawls over, barely able to hook a leg.
One...
Two...
Th-- Kickout from James Keaton! This is unbelievable!
It's crazy these men still have more fight left in them. Jason gets on top of Keaton and slugs him once, twice, thr-- Nope! Keaton rolls him over and now it's his turn! A number of elbow strikes from Keaton. Jason's bleeding pretty heavily now, though his opponent isn't faring much better. One last elbow to the head and Keaton rolls off Jason. Both men are exhausted and gasping for air. The end could be coming soon! The fans can feel it! James Keaton is the first to roll over, grabbing the ropes to pull himself up. he sees the opportunity and steps out to the apron, makes his way to the corner and slowly climbs the ropes. the crowd buzzing as he makes it to the top rope. He looks up for a brief moment before jumping and landing a double nee drop that he calls "The Story So Far" Keaton's body
finally
gives out to the
exhaustion
as he just lays on top of Jason Hunter for the cover, not even hooking a leg, just his back on Hunter's chest.
ONE...
TWO....
THREE!!!
DING DING DING
Starr:
And your winner, via pinfall... JJJJJJJAMES.... KKKKKEEEAAAAATONNN!!!!!!
Neither man is moving, but Sarah and Diana rush into the ring and roll James Keatons bloody, sweat stained body out of the way to check on Jason Hunter.
Watson:
Both of these men gave it their absolute all here tonight. Neither man should be in that locker room with their head down after this fight. Jason Hunter and James Keaton just stole the damn show!
Sydney:
They definitely set the bar pretty hi Tim! I don't know if anyone can top this.
Watson:
I don't know about that Cid! The CW Broadcast Championship match is up next between David Miller... and Jake Lumas!
Camera cuts to ...
---
---
CW BROADCAST CHAMPIONSHIP MATCH
Jake Lumas
Vs David Miller

Watson:
Up next Cid is a match I have personally been looking forward to. David Miller, the inaugural CW Broadcast Champion, has taken on all comers since winning that championship, including Marcu$ $t. John twice and Gabriel Ohio. Most of the roster backstage is gunning to be the one that will take the title from him, and we know that Laura Perelli will be challenging next for the belt but in order for David Miller to make it to that next defense, he has to go through Paramount Wrestling newcomer Jake Lumas!
Sydney:
Jake Lumas is an interesting character, Tim. He hasn't won a ton of matches here, he struggled out of the gate to find his footing. Keep in mind he also has been out of the business for some time and is looking to recreate the magic so to speak. He won against Gabriel Ohio to earn this opportunity and it almost killed him in the process. If there is one thing I can say about Jake Lumas, it's that he does not know when to quit… Sometimes that is all you need to pull out the victory.
Watson:
Well we are going to find out in a moment folks. Both men are almost equal in height and weight, Miller has about 15 pounds on the challenger, but Lumas has 2 inches of height advantage over the champion. Both men are 38 years old. This is going to be an absolute hoss fight! Take it away, Isabella Starr!
Starr:
The following contest is scheduled for one fall and is for the CW Broadcast Championship!
The fans cheer as The steady bass and hi-hat intro to 'Born to Raise Hell' by Motorhead powers up at 140 beats per minute. The lead guitar crunches and slides as Jake Lumas steps out from behind the curtain.

Starr:
Introducing first, the challenger from Cincinati, Ohio weighing in at 220 pounds… JJJJJJAKE! LLLLLLUUUUUUUUUMMMMMMAAAAAASSSSSSS!
Jake Lumas looks at the crowd and raises his trusty steel chair in the air to let them all know he brought it. He allows the music to pour into his veins. Nods his head to the beat. He summons energy from the crowd into his hands and feet but stands perfectly still. The song itself is like a lightning rod that fills him with explosive energy. He relaxes his body and lowers his head.
As the song heads into the chorus, he lifts his head and smiles the peaceful grin of a lunatic on a full moon, and bumps his chair against his forehead to wake his body up. Gone are the bandages he has been wearing the past two weeks, but the bruises from his encounter with Gabriel Ohio remain.
Watson:
The battle scars from his match with Ohio at Paramount 04 are still visible as this human train wreck they call Jake Lumas prepares for battle.
Starr:
And his opponent!
The lights of Camping World Stadium fall low without warning. Seconds pass in silence, before a single tone bleeds through the speakers, leading into a hard, pounding cadence that echoes throughout the arena. Black and white video clips begin to play in time with the beat, showing Miller shadow boxing in an empty ring, competing in past matches, or glaring into the camera from various angles. As the music reaches a raucous crescendo, becoming the metal chords of Damnation Plan's "Judgement Day," the lights return in violent, pulsating strobes, driving the crowd into a frenzy as video clips of Miller play in a smash cut montage on the MacTron. David Miller marches out from behind the curtain with head bowed, and fists clenched, the EWC (title name) Championship strapped around his waist. Coming to a stop at the center of the stage, he lifts his head and stares down at the ring with an intense, singular focus. Giving a sudden twist to pop the bones in his neck, he starts down the ramp at a methodical pace.

Starr:
Now making his way to the ring, hailing from Long Beach, California. Weighing in at two hundred, thirty-five pounds. He is the current, reigning, and defending CW Broadcast Champion ...He is... DAVID... MILLER!
Reaching the floor, Miller stalks the inside of the guardrail and slowly circles around to the ring steps, pausing and rolling the joints in his shoulders lose while bouncing from one foot to the other in mental preparation. Suddenly exploding into movement, he charges up the steps to the apron and ducks between the ropes, immediately crossing to the far corner and pulling himself up onto the second rope, staring down into the ravenous fans below. Instead of reaching for his hood, Miller slowly unstraps the title and raises it overhead one inch at a time, a cold smile forming beneath his hood before he roars out into the crowd and pounds his free hand against his chest. Stepping down to the canvas, he turns and folds the strap beneath the plate before handing it to the official. Reaching back, he peels off his jacket and casts it aside, locking Jake Lumas with a hard stare.
Watson:
Jake Lumas, David Miller. Two absolute war hammers about to go at it. Let's see what they got Cid!
DING DING DING
Both men immediately square up and meet in the center of the ring. Collar and Elbow tie-up, but neither man is giving an inch here and after about five seconds they break the hold and circle the ring. Another collar and elbow, and again neither man is willing to budge. They break the hold, Jake Lumas is looking frustrated early. Miller cracks a small grin as if he just solved the problem and they both lock up a third time. This time Miller throws a knee to the gut of the challenger, doubling Lumas over. Miller is quick to stand him up and lay in a knife-edge chop that can be heard throughout the entire city of Orlando as the crowd is in shock with how hard he just hit Jake Lumas. Lumas grimaces, but Miller quick to follow up, throwing Jake into the ropes. He closes the distance quickly with his opponent though and as Lumas turns, Miller is right there with a snap scoop power slam! Miller goes for a cover, but Lumas kicks out before one! Miller stands back as the ref checks on Lumas who gets to hit feet, albeit a little slower than when the match started. Lumas crack his neck as he looks at the champion across from him. Lumas nods in a rare show of respect as Miller engages with him again, looking to lock him in for a belly to belly suplex, but Jake is able to avoid that by swatting away Miller's arms and then locking him up himself, lifting and hitting the spine buster that he calls "Saturday Night Special"
Watson:
Neither man willing to give an inch her and in the early going its a consistent back and forth. This is not how Miller's matches have been to this point. He has been able to use the strength to his advantage, but Lumas is giving him a fight here in Orlando!
Sydney:
Jake Lumas is not your average wrestler. He is from an old breed of hardcore fighters that will sacrifice anything, including their own bodies, to inflict pain onto their opponent!
Miller gets back to his feet as Lumas is waiting for him with heavy kicks to the legs, bringing David Miller right back to his knees before Jake drives a push kick right into David Miller's face! The crows in Orlando is shocked with this coming out of nowhere!
Watson:
Jake Lumas calls that one "From Thailand with Love"
Lumas with the cover now…
ONE…
TWO…
Kickout!
David Miller able to get the should up and this match continues. Lumas looks to engage Miller, but Miller now showing aggression with hard knife-edge chops to the bare chest of Jake Lumas the SLAP of hand connecting with skin is heard everywhere as Miller hits one, two, three, four, five hard chops before Jake Lumas falls to a knee. Miller turns takes two casual steps away from Lumas then comes right back with a running left knee to the face! Stiff Knee Lift by the champion and the crowd is fully in support of this display of barbarianism coming from these two!
PAR-A-MOUNT!!!
PAR-A-MOUNT!!!
PAR-A-MOUNT!!!
Miller picks Lumas up now and tossed him across the ring. Jake gets to a knee then drives forward, looking to catch Miller off guard but the broadcast champion is able to grab his challenger, lock him in, and hit a snap powerbomb! Miller with the cover this time…
ONE…
TWO…
THR-KICKOUT!
Watson:
I thought it was over right there Cid. That sequence from Miller was the signature brutality that we have come to know and respect from the CW Broadcast champion. Jake Lumas has to be reacting on instinct at this point.
Sydney
: They are both seasoned veterans of this business, Tim. They have that level of drive that only comes from years and years of plying your craft and experience.
Both men get to their feet at the same time and look to each other before closing the gap between them simultaneously, but this time they start throwing fists!! Miller and Lumas are absolutely pummeling each other in the middle of the ring and the crowd is about two seconds away from exploding from the sounds they are making! Back and forth they go, neither man seeming to slow down as fast, hard fists keep connecting with faces.
Watson:
Jake Lumas posed the question "what happens when a hammer meets another hammer" and we are finding out right here that the spectators win when this happens! My God, these men aren't going to be able to see after these fists!
Both men are starting to run out of steam here as their punches start coming slower. PUNCH! Lumas connects, Miller takes a step back finally, but PUNCH! He lands another hard blow to the head of Jake Lumas, who staggers back into the ropes, but he uses his momentum on the rebound to hit a flying forearm that sends David Miller into the ropes and to the outside!
Sydney:
What a forearm there by the challenger!
Jake Lumas is alone in the ring, looking around for his next move. Miller is on the outside, taking a breather but not for long as Lumas hits the opposite ropes, runs, jumps SUICIDE FLIP OVER THE TOP ROPE! Lumas just took a big risk but connects on the outside to David Miller! The ref now begins his mandatory ten count.
One…
Two…
Miller begins to stir as he reaches for the apron and gets to one knee.
Three…
Four…
Lumas to a knee know against the railing.
Five..
Six…
Miller reaches his feet and quickly attacks with more vicious knife edge chops, drawing blood now from the chest of his challenger.
Seven…
Miller quickly grabs Lumas' arm, wraps it around his own head, then locks the waist THE LONG GOODBYE INTO THE RING APRON!!!! Jake Lumas Crumples into a heap on the outside.
Eight…
Miller knows he has to get back in the ring. He deadlifts his opponent and rolls him under the ropes, following him in quickly to stop the count. Miller with the cover now…
ONE…
TWO…
THRE- KICKOUT!!!
Watson:
HOW?!! How did Jake Lumas just kick out of that?!
Sydney:
That is the adrenaline kicking in there Tim. There is no way that Jake Lumas took The Hard Goodbye into the apron like that and is still even aware of what state he is in!
Just as Sydney says that Jake Lumas is the first to his feet, not Miller! Lumas grabs the head of Miller and brings him to his feet. He locks the head of the champion before leaping into the air, snaking his body around his opponent's shoulder and using the momentum to land a devastating Tornado DDT he calls "Good Night Sally" Lumas immediately goes for the cover..
ONE…
TWO.
T-KICKOUT!
Miller kicks out and the frustration on the face of Jake Lumas is completely visible as he cannot believe that Miller kicked out. Lumas to his feet again and picks Miller up again, another "Goodnight Sally"! Miller lands near the ropes but Lumas is quick to cover…
ONE…
TWO…
THRE- Miller kicks his right foot out, landing just barely on the ropes.
Watson:
WE ALMOST HAD A NEW CHAMPION RIGHT THERE! David Miller couldn't even kick out, he had to put his foot on the ropes to break the pin.
Sydney:
Don't confuse what just happened there, Tim. That was not Miller being so out of it he could not kick out. That was the ring awareness of the champion KNOWING that he was right there and not wasting any energy in trying to muscle out, and instead using the ring to his advantage. That was a SMART move by the Workhorse of Paramount Wrestling.
Lumas pounds his fist to the mat as he gets back up. He takes a moment to plan his next move. He again gets Miller up and goes to lock in the DDT one more time, but Miller this time runs Lumas into the nearest corner. Miller with a burst of Strength then lifts Lumas up and sets him on the top rope. Lumas, seeing that he has way more leverage from this height, tries to go for "Goodnight Sally" one more time, but Miller has it scouted now and is able to stop his opponents' momentum with a well-placed punch right into the ribcage that stops Lumas in his tracks as the challenger instantly grabs his side. Miller throws another punch that connects with Lumas' head, and Jake Lumas falls to the mat from the top rope. Miller immediately picks Lumas up then lifts him into a Canadian rack that he immediately transitions into a spike piledriver!
Watson:
The Tragic Truth! Miller just hit the Tragic Truth!
Miller, completely spent, lazily drapes an arm over Lumas' red, bleeding chest.
ONE…
TWO…
THREE!!!!
DING DING DING
Starr:
Here is your winner via pinfall...and STILL EWC CW Broadcast Champion… DAVID… MMMMMMMIIILLLLLLERRRRR!!!!
Both men are still on the mat, staring at the lights, breathing heavily as Matt Mercer walks over to Miller and raises his hand while Miller is still on his back. His arm immediately falls once Mercer lets go. He then holds out the CW Broadcast Championship. After a few seconds, realizing Miller doesn't have the strength to pick up his own arm, he lays it across Miller's chest.
Watson:
WHAT a match folks! We knew that these two were going to be hard-hitting, but I for one was not expecting the brutality that we just witnessed. Jake Lumas was within INCHES of becoming a champion in EWC.
Sydney:
That he was Tim, but David Miller is not going to let go of that championship without someone putting him down and he made that VERY clear here tonight. You have to respect what Jake Lumas did here tonight. He took David Miller to a place that not many have ever been able to. They are both still laying on the mat right now, simply recovering from the brutal war that they both just went through. Jake Lumas just had his defining moment in EWC. People are going to look at him differently, take him a bit more seriously and not write him off. That is what taking a man like David Miller does for you.
Watson:
We are still just getting started here tonight folks, We have three more championship matches to come including that massive main event where TWO Championships are on the line.
Medical personal come to the ring to check on both men as we transition to
---
---
Marcu$ $t. John:
Oh Darius!!!
M$J is walking around the backstage area looking for Darius with his chainsaw in hand. He suddenly stops in The Camping World Stadium and stares at a poster on the wall.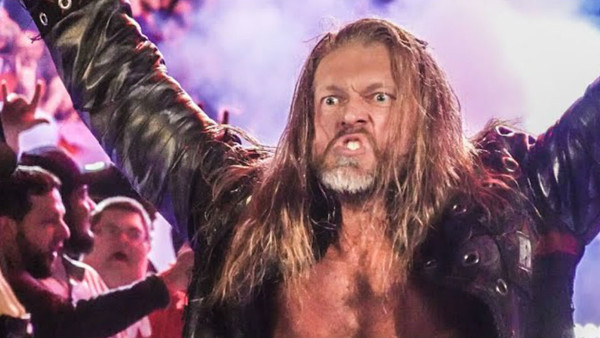 Marcu$ $t. John:
Worked two matches and a PPV since joining with a 1 and 2 record and already on a poster huh? Cute. Would almost say you were spoiled and undeserving. Like you have a silver spoon in your mouth. You're also an ugly son of a bitch too. Let's make this a little prettier, shall we?
He takes the chainsaw and completely obliterates the bulletin board and the poster that Darius is on. Cardboard and paper rip to shreds under the blades as M$J swings wildly at it.
Marcu$ $t. John:
Ahhh, that felt good but not good enough. Oh Darius!!! Where are you my little hardcore psycho. I want to introduce you to my friend here. He wants to speak to you. He wants to get up close and personal if you know what I mean.
The continuous search for his opponent is ongoing and he paces the halls of the stadium. People are clearing out of his way as they see him coming as to not get caught in the madness that is going on right now. M$J makes it to a door and tries to open it but it's locked. He rips the door and finds a merchandise area. He looks around in the room until he walks up on Darius cardboard stand up. He spits in the face of the cardboard version of his opponent.
Marcu$ $t. John:
What should I take first? An arm, a leg, split you in half? Nah, always aim for the head!
With one solid swipe he cuts the head off of the stand and kicks the rest of it down. He stands over the stand looking down at the severed head before turning and walking out of the room.
Marcu$ $t. John:
You'll have to come to the ring so I guess I'll see you there.
---
---
The Tron bursts to life playing
as the screen fades there is a brief glimpse of a green letter 'M' before the screen fades
---
---
SINGLES MATCH
Lavender
Vs El Pablo
Sydney:
Welcome back to the action people! Uprising has done nothing but live up to the promise thus far, and we're still only halfway through the night! Up next is a little surprise throw-together, courtesy of Chris Brock, as the Technicolor Technico, El Pablo, goes one on one with Prime's own Lavender!
Watson:
Interesting origins to this one. Must have been a little mix-up with the paperwork somewhere, because we didn't see Pablo on the initial card release, but some quick-thinking on the part of Chris Brock led to an open challenge to find Pablo's opponent, and interestingly enough, it was Lavender who stepped up first and foremost.
Sydney:
Pablo's no stranger to the Indies, and now that orange is his new blue, I can only imagine Lavender wants one last crack at the former champion. Let's take it up to Isabella and get this thing started!
The scene shifts to Isabella Starr standing at the center of the ring with microphone in hand.
Starr:
The following contest is scheduled for one fall to a finish, with a thirty-minute time limit.
The lights go out as 'Imaginary' by Evanescence begins to play. The lights flash in time to the guitar riff. The song kicks into its first verse as smoke billows from behind the curtains and a spotlight shined down upon the center of the stage. When the chorus kicks in the lights come back on and out walks Lavender. She looks out across the crowd as the crowd erupts into cheer. A smile creeps across her face as she embraces their warm welcome.
Starr:
Introducing first, now making her way to the ring. Weighing in tonight at one-hundred and thirty-two pounds, Prime superstar … LAAAAAVENDEEEEER!
Lavender begins to make her way down to the ring. As Lavender reaches ringside she walks over to the steel steps, walks up them and enters the ring before climbing the nearest turnbuckle and holding her arms up high in the air. Lavender steps down from the turnbuckle and waits for the match to commence.
Watson:
A warm Orlando welcome for our special guest as she settles in. This should be fun for all the fans out there since both these two tend to sway the crowd their way. Be interesting to see who pulls the majority tonight.
A cry of "VIVA LA RAINBOWLUTION!!!" leads to 'Party Hard' by Andrew WK hitting the sound system, as the stage and ringside area becomes bathed in flashing, flickering, brightly colored lighting. As the main hook hits, El Pablo bursts through the curtain, playing to the fans and chugging Skittles like a Steveweiser.
Starr:
And her opponent, now making his way to the ring, from Puebla City, Mexico. Weighing in at one-hundred and eight pounds, he is the TECHNICOLOR TECHNICO … EEEEEL … PABLOOOOO!
He charges down the ramp and slides under the ropes into the ring, then runs up the turnbuckle and flings a fistful of Skittles into the adoring crowd. After offering a final salute, he hops back down to the canvas, performing a few final stretches as his music fades. Seeing Lavender, he nods and smiles readily, bouncing from foot to foot.
Sydney:
Pablo's been tearing it up on Paramount as late. He broke the streak against Candy a couple episodes back, and most recently, scored a huge upset over X-Division Champion, Killjoy Ito! Ito, obviously, a part of that massive triple threat main event later tonight, but that win skyrocketed Pablo to the top of the North American rankings, as well as secured him a spot in line for the Undisputed title!
Watson:
The North American title on the line a little later tonight. You know Pablo will be paying close attention to see who comes out on top between Huxley and Rayder, but right now, he needs to focus on Lavender. Let's do this!
DING! DING! DING!
Both superstars move to the center of the ring, with Pablo ducking and feinting, looking to get in quick, but Lavender doesn't bite, keeping her eyes locked and moving to keep Pablo right in front of her. They lock up collar and elbow, and Lavender quickly tries to snapmare Pablo over, but the luchador lands on his feet! Pablo turns and locks in a side headlock, but Lavender shoves him into the ropes and drops him with a shoulder block. Pablo quickly rolls to his feet before she can cover, only for Lavender to catch him with a big lariat, taking him down again. Lavender starts pulling Pablo up by his mask, but Pablo lands a palm shot to the ribs, then an elbow to the jaw, before trying to whip Lavender across to the far side. Lavender reverses, sending Pablo to the ropes instead, but Pablo swings up into a headscissors takeover. Lavender is quick to her feet, but Pablo is already at the ropes again, this time coming back with a baseball slide, but
Lavender
stomps on his back, stopping him dead. Grabbing hold of Pablo's legs, she hitches him up into a wheelbarrow before swinging him overhead with a suplex, sending him rolling back into the corner.
Watson:
Lavender is most certainly not taking her opponent lightly here tonight! She is showing some edge that we have not seen from her in a LONG time Cid.
Sydney:
Something about tonight has everyone really elevating their game, Tim. I have not seen a single person come out and not absolutely throw caution to the wind and Lavender is no exception. She is in this to make a statement out of the leader of the Rainbow-lution.
Pablo pulls himself up just in time for Lavender to rush in with a corner clothesline, following up with a few stomping kicks to the gut. Pulling Pablo up, Lavender hooks both arms and throws him over with a butterfly suplex. Moving fast, she circles the fallen luchador, stomping at his knees, thighs, and calves, looking to seize up the muscles. Sitting him up, she drives a knee into his spine, then a second, before grabbing his arm and spinning around into a magistral cradle, stacking Pablo up on his shoulders. The official, Silas McKay, is quickly in position to make the count.
ONE...
TWO....
Pablo kicks out.
Undeterred, Lavender pulls Pablo up and sinks in a rear chin lock, cranking hard to wear the man down. Pablo reaches for the ropes, then stretches out with his foot, as well. Silas asks for the submission, but Pablo just shakes his head, gritting his teeth and straining to turn and get a knee beneath himself. Lavender tries to yank him off balance, but Pablo gets to one foot, then two, using the leverage to drive an elbow into her gut. Reaching back, he grabs Lavender by the hair and drops into a
sit out
jawbreaker, snapping her head off his shoulder. Dazed, Lavender staggers back and doubles over, clutching her jaw. Pablo gets to his feet and rushes forward, leaping over and catching her with his legs, swinging her around into a sunset flip powerbomb! Again, McKay is in perfect position.
ONE...





TWO....




Lavender lurches loose.
Watson: Pablo, and now Lavender both within miliseconds of losing this match, but neither is willing to give in!
Rising to his feet, Pablo hops onto the second rope, spinning around into a springboard leg drop, then follows up with a knee drop to the chest, and a quick standing moonsault, hooking Lavender's leg for another quick pin attempt.
ONE...





Lavender kicks out again, a little stronger this time.
Pablo pulls Lavender to her feet, and hits a chopping low kick to the thigh, then a hard palm slam to the side of the jaw, backing her into the ropes. Pablo looks to whip her across, but she blocks the attempt and pulls him back into a flapjack hot shot onto the top rope. Pablo hits the mat hard, clutching his throat and rolling out to the apron, as Lavender slowly gets to a knee and catches her breath. Shaking the cobwebs loose, she turns and hits a dropkick through the ropes, sending Pablo flying to the floor. Silas steps in to warn them about the count, as Lavender steps out onto the apron and waits, sizing Pablo up. As he turns, Lavender flies off the apron with Poetry in Motion, catching Pablo flush and sending them both into the guardrail. The fans crowd the barrier as security struggles to hold them back. Lavender is the first to sit up, as Pablo lays against the rail. Pulling herself up, Lavender drags him to his feet and brings a knee into his gut, before suplexing him over. Pablo arches in pain, groaning in agony.
Watson:
Things are not looking good for the Technicolor Technico right now! Lavender looks to be in absolute command here.
Sydney:
I have to say I am really liking this side of Lavender. This is the Lavender who beat Cyrus Black WHILE he was both International and Undisputed champion.
Hearing Silas at the seventh count, Lavender quickly rolls into the ring, then back out to the floor, as Pablo uses the steps to pull himself up. Lavender lands a forearm to the back, then grabs Pablo and swings him around, looking to toss him back into the ring, but Pablo reaches out to stop himself with the apron, snapping an elbow back into her jaw. As Lavender reels, Pablo kips up with the apron and traps her head with his feet before swinging around into another headscissors, throwing Lavender into the steel steps! The crowd recoils with an "Ooh!" as Lavender rolls away, kicking at the mats in pain as she cradles her skull. Pablo pushes up to all fours, and quickly rolls into the ring as Silas continues to count, already at four. Lavender slowly gets to her knees, using the guardrail to pull herself up.
Watson:
And just like that the tides have turned!!
As Silas closes in on ten, Lavender suddenly lunges forward and dives beneath the ropes, breaking the count.
Sydney:
Lavender is being so smart with these ten counts. She knows exactly when to get back in to break the count and buy her another 10 seconds on the outside. Smart fighter right there.
Pablo is there to meet her, landing a knee drop to the back, then slowly pulling her up to her feet. Draping an arm around his neck, he hooks one of Lavender's legs and rolls backward, planting his feet and lifting her up into the Dragonfishin'! Lavender lands face first on the mat, and Pablo shoves her over and hooks the near leg.
ONE...
TWO...
TH-NO!
Lavender kicks loose, but just barely.
Sitting up with an exasperated sigh, Pablo gets to his feet and moves quickly to the corner, climbing up to the top and measuring a second before leaping off with a shooting star press. Lavender manages to roll out of the way, but Pablo lands on his feet and rolls through, popping up and turning to charge Lavender in the corner, but she ducks out of the way, leaving Pablo to smash into the buckles at full speed. As he turns in pain, Lavender ducks down and hoists him over with a back body drop, then mounts the corner herself. Getting her balance, she dives off with a coffin-style senton, crashing hard onto Pablo's ribs.
Pablo rolls onto his stomach, half-curled with pain as he tries to push to his feet, but Lavender is already there to meet him with a stomp to the side of the head, following by an elbow drop to the back of the neck. Pulling the luchador to his feet, she backs him into the ropes and drives a knee into his gut, then a second, before whipping him to the far side with all her strength. Pablo tries to catch himself on the ropes, but misses the grip and staggers towards Lavender, who immediately scoops him up into the Amity Affliction. As she does, however, Pablo pops up onto her shoulders and swings around, snapping her over into a high-speed Taste The Rainbow! Lavender's body goes limp as Pablo quickly rolls her over and grabs for a leg, trying to sit back and add more weight to her shoulders.
ONE...
TWO....
THREE!!!
DING! DING! DING!
Starr:
Ladies and Gentlemen, here is your winner via pinfall … EEEEEL … PABLOOOOO!
Watson:
What an exhibition we just saw between the best of the Indies on Prime, and the Pinnacle of Professional Wrestling here on Paramount! Both competitors absolutely gave it their all and in the end El Pablo was just able to get the pin in, though visibly exhausted.
Sydney:
All the credit to Pablo, but you cannot forget about Lavender after this performance tonight Tim. She is back and she is better than ever! Watch out Dio, I think you might have a new challenger emerging for that Indy Championship!
Watson:
We still have FIVE matches left folks, and everyone seems to top the last. Darius takes on Marcu$ $t. John in a no hold barred match.. coming up next!
---
---
As El Pablo celebrates in the middle of the ring, the feed cuts backstage, and there's a positive, albeit mixed, reaction as Undisputed Champion Ace King watches intently on a monitor, clutching his championship tightly to his shoulder as he gets his breathing in check. His eyes remain locked on the monitor as Lisa Goldrush approaches from his left.
Lisa Goldrush
: Ace, it's obviously a big night for you as you make your first defense of the Undisputed Championship against two of Paramount's best in Killjoy Ito and Stitches. I know you've addressed this recently, but now that you're here, are you feeling the pressure of defending your championship against two elite Paramount competitors on Paramount's pay-per-view, especially with the X-Division Championship also being at stake?
Ace's body stiffens up at the question, slowly looking at Lisa with a deadpan expression on his face before looking down at his championship.
Ace King
: Of course I do.
The answer surprises Lisa, but before she can ask a follow-up, Ace turns toward her, surprisingly more relaxed than a moment ago.
Ace King
: The pressure is inherent with
any
situation involving the Undisputed Championship, and if you
don't
feel it? You're lying to yourself. It's what you do when confronted with the pressure that separates contenders from pretenders. I'll be the first to admit I've been on both sides of it, and it's affected me in different ways… but the only way to overcome it is to learn from it.
The Undisputed Champion's expression hardens a bit, though not in an overly angry manner.
Ace King
: The Lord knows I've been here before, and I've never hidden when things have bothered me in the past, but there's a point where you have to decide whether you're going to handle the pressure, or if it's going to throw you around like a ragdoll. It's easy for both Killjoy and Stitches to look at how things have gone since StrangleMania and just assume I'm just down in the dumps and my heart somehow isn't going to be in it.
After a few seconds of silence, the Undisputed Champion offers a grunt-laugh as a smirk washes over his face.
Ace King
: ...But what is it people say about wounded animals?
That they're most dangerous when they're backed into a corner
. In this 'What have you done for me lately?' world, it's easy to pick me apart… but you ask ANYONE in EWC who they're putting their money on TODAY in a match with their life depending on it… You'll find my name coming up a lot more than most.
The Undisputed Champion reaches down and picks up an unpeeled orange, prompting an arched eyebrow from Lisa.
Ace King
: There's only so much pressure a man can take before they break, and when the chips are down, there's only one man equipped to handle it… and you're looking at him. Paramount will most likely have the Undisputed Championship back…
but it won't happen tonight unless I'm dead.
The Undisputed Champion squeezes the orange as hard as he can, juice exploding all over as he stares right down the barrel of the camera. He casually drops the orange into a nearby trash can and heads off, leaving Lisa to survey the mess as the camera cuts to…
---
---
The camera cuts backstage and inside The Love Club locker room where Bobby Rose, Jimmy Lane and Bunny Love are all sitting in a corner of the locker room with a sign on the wall that reads: Champions Section, but there is a line through Section and under it reads Lounge. Each member of The Southern Express are sitting in a plastic red chair as 'The Memphis Mouthpiece' Tommy Love walks into the room, he looks around to see if Xavier and Samantha are in there when he catches the eyes of the former tag team he use to manage, his two friends and daughter, who all look at him the way that many in the EWC look at him, with disgust and hatred. Tommy exhales loudly, clearly Tommy's new tag team isn't in The Love Club locker room so he walks over towards The Southern Express.
Tommy Love:
Ok, listen guys…
But Bobby clears his throat as Jimmy points up to the sign and Bunny speaks out at her father
Bunny Love:
Sorry pops, this is the Champions-Lounge…
Tommy looks at his daughter
Tommy Love:
Xavier is the International Champion, I manage Xavier so...if YOU are in the 'Champions-Lounge' as the manager of The Southern Express then I can be in it as the manager of Xavier Reid…
The trio all look at each other, clearly not thinking this through or taking that into consideration
Bunny Love:
Always finding a loophole aren't you dad…
Bobby stands up and Jimmy quickly joins him as the tag team champions walk up to Tommy
Bobby Rose:
You've got a lot of nerve coming in here after what you did…
Jimmy Lane:
A lot of nerve…
Bobby Rose:
You've done a lot of shitty things over the years Tommy…
Jimmy Lane:
A lot of shitty things…
Bobby Rose:
We made a pact…
Jimmy Lane:
A pact…
Bobby Rose:
And Jimmy loves to wear ladies underwear…
Jimmy Lane:
Loves to wear ladies underwear...wait what…
Bobby looks at Jimmy a bit annoyed
Jimmy Lane:
Oh, stop repeating you, got it…
Bobby looks back at Tommy
Bobby Rose:
You've crossed a lot of lines over the years Tommy…
But Tommy holds up his hands
Tommy Love:
I got caught up in the moment…
Jimmy shakes his head
Jimmy Lane:
That's what you said when you hooked up with my ex-wife…
Tommy Love:
I drank my lunch…
Bobby Rose:
That's what you said when you brought those strippers to my wedding…
Tommy Love:
I didn't really think anyone would hear it…
Bunny jumps up and screams
Bunny Love:
THAT'S WHAT YOU SAID WHEN YOU GOT CAUGHT BANGING THE LUNCH LADY IN MY HOMEROOM CLOSET WHEN I WAS IN THE 3RD GRADE!!!
Bobby and Jimmy look at Bunny and then at Tommy
Bobby Rose:
Was that Miss Martin?
Jimmy Lane:
The one that brought snacks to all our matches?
Tommy nods yeah
Bobby Rose and Jimmy Lane:
NICE!!!
They go to high five their former manager but see Bunny's outrage and double back
Bobby Rose:
I mean, NOT NICE, how could you…
Jimmy Lane:
And in your own daughter's classroom…
Bobby and Jimmy both wink at Tommy, giving him their approval
Bobby Rose:
But you crossed a line with us Tommy, we have forgiven you time and time again over the years but this…
Jimmy Lane:
There comes a time when you have to let friends go Tommy and I think we've reached that time with you buddy…
Bobby and Jimmy look down at the floor, this clearly being a tough decision they have made but Tommy speaks up
Tommy Love:
Guys, I know what I did was wrong but you have to forgive me, listen you know I would have done the same for you guys and I have, remember when I brought Eddie's wife, girlfriend and the girl he was cheating on his girlfriend with and sat them all around the ring when him and Chico faced you in Morgantown? Or the time I told Chico his wife was rushed to the hospital when she was pregnant with El Pablo because the two of you were so hung over there was no way the two of you had a chance against him and Jerry, so he rushed off and you one the handicap match...or the time I slept with Jamie's mom and ended up knocking her up so Bobby didn't have to sleep with her...I've done a lot for you guys and I have to do the same for Xavier and Samantha because it' my job...besides...I will never tell a soul about that night in Oxford, Mississippi…
Tommy smiles as Bobby and Jimmy's mouth drop…
Bobby Rose:
You wouldn't…
Jimmy Lane:
You promised…
Bunny Love:
You have to be kidding me…
Tommy Love:
So what do you say boys, brothers forever…
Tommy holds out his hand and slowly Bobby and Jimmy reach out theirs
Bobby Rose:
Fine…
Jimmy Lane:
We couldn't really hate you Tommy…
Bunny shakes her head and walks away
Bobby Rose:
We will just have to beat you out there in the ring to make things even…
Jimmy Lane:
Yeah, make sure you don't win these…
The two point at the EWC Tag Team Championships
Tommy Love:
You can try…
The three men smile as the camera cuts away
---
---
SINGLES MATCH
GRUDGE MATCH
No Holds Barred
Darius
Vs Marcu$ $t. John
Watson
: This next one is bound to be absolutely wild folks. This situation between Darius and Marcu$ $t. John has gone beyond personal. It all started back at Paramount #1 when Darius attacked Marcu$ for seemingly no reason at all and it has just escalated from there.
Sydney
: It wasn't no reason Tim. Darius feels that M$J is the epitome of everything wrong with this business today. The Young Mogul has seemingly bought his way into his position according to Darius and he resents him for it. Darius has scratched and clawed his way for everything he's ever
accomplished
.
Tonight
they are both going to do damage to each other. We are going to see if M$J is up to the task or not.
Starr
: The following match is a No Holds Barred match! Introducing first, standing at 6'1" and weighing 210 lbs, it's The Young Mogul, Marcus St. John!
"Fast Lane" blasts through the arena by Bad Meets Evil. A Maybach drives up through the entrance ramp. A chauffeur gets out of the vehicle and opens the back door. Marcu$ $t. John gets out on the entrance stage and money starts falling down from the sky with his face on 100 dollar bills as green laser lights illuminate the arena. As the money shower stops, Marcus walks down the ramp with a smug look on his face.
He stops right before he gets to the ring and basks in the boos that he is getting from the crowd and waves his hands around as to tell them to keep it going and get louder. He jumps up on the apron and wipes his feet before he enters the ring and poses in the middle of the ring as a light shines a hundred dollar bill in the center of the ring with his face on it.
Watson:
No love lost here from this Orlando crowd. Florida is very much a blue collar state and they do not appreciate someone throwing their wealth in their faces.
Sydney:
It's all mind games Tim. Marcu$ is showing the crowd and Darius that he is not ashamed of the money he comes from.
As soon as "Burn It Down" begins to play, plumes of thick white smoke covers the stage, Darius and Elissa Bradley emerge from within, Darius holding Elissa with one hand, his bat in the other, and donning looks of absolute aggression and determination on both of their faces.
Starr
: And now, being accompanied to the ring by Elissa Bradley, he is from Albany, New York, weighing in at 265 lbs ... Darius!
Darius hypes himself up, slams the bat against the ramp a few times, then rushes down the ramp and slides into the ring. He leaps onto one of the turnbuckle and harasses the crowd for a moment, smacks the bat on the top of the ring post a few times, then holds the bat high into the air with one hand and throws devil horns up with his other hand as he waits for the match to begin.
DING DING DING

Neither man waste time as both rush to the center of the ring, Darius swinging his bat toward Marcus while Marcus manages to dip and roll out of the way. Darius turns around to face Marcus again, but is greeted by a pele kick from the young mogul himself!
Darius stumbles back into the ropes, clutching at his head with his free hand, but Marcus refuses to let him recover. Marcus leaps onto the ropes near Darius, springboards himself from them, and connects with a flying heel kick, sending Darius through the ropes!
Elissa rushes to Darius' side, checking his condition. Marcus smirks and plays up to the crowd, getting them to chant his name as he hypes himself up for a moment, eventually rushing to the opposite ropes, rebounding off them, then bursting out a full sprint, leaping over the top rope with a swanton bomb, crashing down onto both Darius and Elissa!
Watson:
Marcu$ $t. John is taking control early here folks! making that bat of Darius' a seeming non-factor as he fights with a barrage of kicks and Darius is on the outside looking in now.
Sydney:
This is smart by Darius. He's a veteran of this business, he knows when to retreat and regroup and that is exactly what he is doing.
Marcus kips up and punches his chest, letting out a victorious roar as he looks down at the dazed Darius. Marcus grins as he drops down to a knee, lifting the apron to look under the ring. He then pulls a metal lidded serving tray from under the ring, smiling from ear to ear as he pulls the lid off, revealing a plate full of thumbtacks and a chainsaw!!
Marcus tries to start the chainsaw, but it sputters, so he grips the lid tightly in his hand, stalking Darius as he pulls himself up with the barricade. The moment Darius is on both feet, Marcus swings the lid at his head, but Darius ducks out of the way! Darius tackles Marcus into the barricade from behind, landing numerous stiff shots to his kidney before grabbing hold of him, eventually chucking him into the stairs!
Darius looks down at the plate of thumbtacks and laughs loudly. He picks up the plate slowly, making sure he doesn't lose a single tack, and slides it into the ring. Darius then reaches under the ring and pulls out a small burlap sack, shaking it in his hands to reveal the sound of metal clanking together.
Darius sets the bag into the ring, then looks to the chainsaw on the ground. Darius grins widely as he picks it up in his hands, ripping the cord back, turning the saw on. Darius revs the saw in his hand as Marcus pulls himself up with the stairs, looking wide eyed at Darius. Darius then swings the saw down toward Marcus, but Marcus moves just in time, making Darius strike the stairs, busting the chain from the saw and cracking the blade! Marcus then rushes at Darius and flies at him with a forearm, but Darius catches him with a spinebuster, planting him onto the apron! Darius then picks his opponent up and rolls him into the ring. Darius picks up the sack and stalks Marcus as he gets to his feet, eventually swinging the bag at Marcus' head, who leans back and does a Matrix style dodge to avoid the bag!

Watson: Fancy dodge there by the young mogul. He knew what was in that bag and got the hell out of the way!

Sydney: No doubt Tim. That is not a bag you want to be on the business end of.


Marcus rolls around Darius, leaps up next to him, and hits him with a chop that sounds like a gunshot! Marcus lands three more shots onto Darius, forcing him into the corner as massive welts appear on the big man's chest. Marcus pulls the bag from Darius' hands, looks inside, then laughs. He tosses the bag onto the mat behind them, then hoists Darius onto the top turnbuckle. Marcus climbs up with Darius, pulls his head under his arm, and attempts to pull off a tornado DDT, but Darius holds on!
Marcus lands a few clubbing blows to Darius' back, but Darius manages to nail Marcus in the gut, knocking the wind out of him long enough for Darius to throw Marcus from the top, landing spine first onto the bag! Marcus arches his back and lets out a cry of pain while Darius chuckles on the top rope.
Watson:
AND THERE YOU HAVE IT! Darius' games have gone his way. High risk yields high rewards there.
Sydney:
What damage did that impact do to Marcu$ $t. John?
Darius leaps down from the top, grabbing the bag when he lands. He smirks as he opens the bag widely and then dumps the contents onto Marcus, revealing at least one hundred silver spoons!
Darius grabs one of the spoons and drops to his knees, grabbing Marcus by the head as he does. Darius then takes the spoon and slowly starts to shove it towards Marcus' eye!
Darius manages to do a small amount of damage to the eyelid before Marcus drives the point of his elbow into Darius' gut, breaking free from the sadistic attack! Marcus leaps onto Darius, raining down a flurry of blows onto his skull before eventually grabbing a handful of the M$J dollars that fell during his entrance and shoves them into Darius' mouth!
He then grabs one of the spoons and digs it into Darius' forehead, eventually breaking the skin and busting Darius open! As Marcus leads the attack, Elissa manages to slide into the ring with Darius' bat in hand and swings it, slamming it across Marcus' back with a sickening crack!
Watson:
As down right rotten as this is, it's all legal. Elissa can interfere here without repercussion.
Sydney:
I'm never one to turn down an advantage afforded me, but Darius needs to fight his own battles here. A victory now for him is tainted in my opinion.
Both men are down, with Elissa helping Darius to the ropes so he can stand. Darius perches himself in the corner as Elissa slides the plate of tacks into the center of the ring before exiting it. Darius snarls at Marcus, yelling at him to get up as Marcus slowly stands.
As soon as Marcus gets to his feet, Darius rushes forward and connects with the Hunter's Mark … but Marcus caught Darius with a reversal, DDTing him onto the tacks! Darius roars in pain but Marcus gives him no time, rolling Darius onto his back, going for the pin!
Watson:
Darius showing some testicular fortitude here kicking out after taking the brunt of those tacks.
Sydney:
Darius was born into this Tim. He has a long history of violent matches. At what point though does the body betray? Does all the years of abuse catch up? That is what I want the answer to.
Marcus looks to the referee in disbelief, holding up two fingers questioningly. Marcus then turns his attention back to Darius, dragging him to the bottom rope where he lays Darius throat over it. Marcus then plants his boot onto the back of Darius' head and pushes down, choking Darius with the rope as he claws at the apron! Marcus screams at Darius, telling him to quit, but Darius refuses to give in, despite his face turning blue. Marcus then suddenly pulls his boot away, spins around quickly, and lashes out with a superkick, dropping Elissa in the center of the ring, making her drop the bat from her hands!
Marcus talks some trash at Elissa as she rolls from the ring, but the victory is short lived as Darius' forearm comes crashing between Marcus' legs, slamming him right in the family jewels! Marcus drops to the mat, clutching his groin as he groans with agony, while Darius pulls himself up with the turnbuckle, spitting blood onto the mat as he glares at Marcus.
Darius then picks up his bat and stalks Marcus as he gets on his hands and knees, trying to recover from the low blow. Darius won't let that happen though, as he starts to swing the bat wildly, beating Marcus over the back with it repeatedly, letting out a primal roar as he does. Darius drops to the mat, rolls out of the ring, then lifts the apron, eventually pulling out another bat, but this one is made of metal and is wrapped with razor wire!

Watson:
Oh what do we have here! It looks like Darius' favorite toy just got an upgrade to version 2!
Sydney:
That razor wire is no joke! It will kill you if Darius hits too hard and digs it in too deep.
Darius slides back into the ring and paces around Marcus as he gets to his feet. Darius swings the bat at Marcus' gut, but he manages to catch the unbladed part of the bat under his arm! Darius looks on in shock as Marcus gets to his feet, staring daggers through Darius with an unrelenting rage. Marcus then headbutts Darius, making him drop the bat, and then Marcus grabs Darius' arm, leaps up, plants his foot into Darius' face, and drops him with the Eat Defeat!
Darius stumbles up to his feet quickly, but Marcus gives him no time to recover as he grabs the bladed bat and slams it into Darius' gut! Darius lets out a cry of pain as Marcus pulls him onto his shoulders, flips him over, and slams Darius face first into the tacks with the Bread and Butter! Marcus climbs onto Darius and hooks both legs!
ONE...





TWO...




THREE!!!
DING DING DING
Starr
: Here is your winner … MARCUS! ST. JOHN!!

Watson:
The kid has done it! Marcu$ $t. John has silenced his doubter in Darius and come out with a victory in a match that is seemingly MADE for Darius!
Sydney:
Don't small change Darius here though, he came out with a great gameplan, unfortunately I think Elissa was more of a distraction than a help tonight. Marcu$ was anticipating her interference and it ultimately cost the former International Champion.
Watson:
David versus Goliath is next as the big man Gabriel Ohio takes on the sweet treat Candy!
---
---
The Tron bursts to life playing
as the screen fades there is a brief glimpse of a dark orange letter 'M' that grows bigger before the screen fades
---
---
SINGLES MATCH
Gabriel Ohio
Vs Candy

We return to ringside where the crowd in the Camping World Stadium is doing the wave in the background behind Watson and Sydney.)
Watson:
The Orlando faithful have decided to start their own UPRISING here and start the wave. You just never know what to expect at a Paramount and EWC show
Sydney:
They're just bored with listening to you babble...
Sydney waits as the 'wave' approaches the broadcast area then stands and sits as the 'wave' passes by.
Sydney:
… and so am I, Let's get to the ring!
Starr:
The following match is a match for one fall. Joining us first, from Parts Unknown, weighing in at 286 pounds ...
GABRIEL OHIO!
Pieces of Eden by Satan's Arrival plays and the lights slowly start to flicker. The X-tron lights up with a dark figure walking up some stairs. It opens a door and the X-tron blacks out and the music stops.
A voice is heard.
"Carpe Noctum!!"
A Slowed down, more Hard rock version of the theme tune plays.
The announcer escapes with a hasty retreat out the ring.
The top of the ramp is filled with smoke and a 'Moonlight Style' spotlight appears shortly after. A face is zoomed in upon, cocked to the side.
The light goes out, few seconds later it appears again a bit down the ramp. Ohio stares, but he doesn't move. The light goes out. Shortly after the light comes back on and the face of Ohio is pressed against the camera lens, the burn scars on his face there for all to see.
He laughs a maniacal laugh before progressing into the ring at a slow manic pace. He stands centre of the ring as it starts to rain on the ramp way and stage.
Starr:
And his opponent, Making her way to the ring, from Candyland, please welcome…
'The Sweet Treat'...CAAAAAANDYYYYYY!!
Just as "I Want Candy" by Aaron Carter starts to play throughout the arena, fans immediately start to cheer as Candy emerges from the back all smiles as she does a little dance at the top of the stage. Candy begins skipping her way down the aisle as she tags the outstretched hands along the way. She circles half the ring before climbing up on the apron. As she takes a seat on it, Candy blows a kiss into the crowd. She then lays back and rolls into the ring under the bottom rope. Once she's on her feet again, Candy taunts the crowd until her music subsides.
Watson:
To say that this is a contrast in styles, is the understatement of the show. Ohio towers over Candy, but the Former Champion has never backed down from a fight.
DING DING DING
Ohio stands in the center of the ring as Candy leans against the ropes. Ohio points at Candy, then grabs at his throat, holds up his right hand and sprays Red Mist into the air, covering part of his hand. He smiles slightly, the red fluid dripping from the corner of his mouth. Candy nods then reaches into her pocket, taking out a small plastic bottle . She opens the bottle and pours it into her mouth. Candy makes a silly waving motion with her hand then spits Sprinkles into the air, infuriating Ohio as he kicks the bottom rope. The crowd pops as she places both hands under her chin in celebration. Ohio walks back to the center of the ring and motions for Candy to attack him but Candy cautiously begins to circle around him instead. Ohio pivots three times as Candy completes a full circle around him. She looks at him with a smile and raises her hand up, asking for a knuckle lock. Ohio raises his hand above his head and Candy looks up nearly vertical to see his hand waiting for the knuckle lock. The crowd pops as Candy shakes her head no and takes a couple steps back towards the ropes. She walks back up to him and raises her hand again. He does the same and she stomps on his foot. Ohio stumbles back as Candy hits a kick to his leg then another. Ohio lunges for her but Candy backpedals from his attack. Ohio continues to stalk towards Candy. Candy turns and goes into a full sprint towards the corner. She runs up the turnbuckle and flips backwards over Ohio as he grabs for her but ends up against the turnbuckle. He turns around and she uses the bottom rope to hit a springboard front kick to his chest.
Watson:
This is unusual.. CANDY playing some tricks to start things off here Sid!
Sydney:
It's really all she can do here Tim. Ohio is such a massive mountain of a man compared to Candy that all she can do is try to dodge and weave and if she's lucky prolong the match an extra 4-5 minutes because in the end, Gabriel Ohio is going to win this match.
Ohio brushes off the attack and reaches towards Candy. She runs to the far ropes and charges at Ohio. She goes for a running drop kick but Ohio swats her away. Candy gets back to her feet and charges at Ohio. He goes for a clothesline but she ducks and runs to the far ropes. He spins around to get ready for her attack but she runs past him again. He turns again and this time, Candy comes off the ropes and hits a double leg
spin wheel
kick. Ohio stumbles backwards as her boots connect with his chin. She scrambles back to her feet and runs to the far ropes. Ohio leans against the ropes, facing the crowd, as Candy runs towards the near turnbuckle. She steps up on the ropes, alternating left and right feet in the corner, then springboards towards the outside. She grabs Ohio's head as she falls over the ropes to the floor, hitting a guillotine on Gabriel. The crowd pops as Gabriel stumbles backwards towards the center of the ring and Candy lands on her feet on the floor. She climbs up quickly to the apron as Ohio holds his throat, stumbling around in the ring. She goes for a springboard cross body block on the off-balanced Gabriel, but he catches her out of the air, sets his feet and hits a fallaway slam on Candy, bouncing her off the mat, through the ropes and out to the floor on the far side.
Watson:
And there is that power from Ohio. Candy showed some flashes of innovation with the outside but Gabriel was always eventually going to get his hands on the former Undisputed champion.
Ohio rolls out of the ring then gets to his feet as Candy tries to stir. She slowly pulls herself up by the apron as Ohio watches slowly moving towards her. He picks up speed as he turns the corner. She stands up and looks in fright as Ohio hits a running shoulderblock on Candy. She flies backwards and lands against the guardrail, falling into a heap at the feet of the fans. The crowd boos Ohio and encourages Candy as Ohio smiles and holds his hand up high. He looks up to see Referee Matt Mercer administering a ten count. Mercer gets to 7 and Ohio ducks in under the rope then back out. Ohio walks over towards Candy and picks her up by the back of her tights. He lifts her with one hand up over his head, then places his other hand in position at her shoulder, tossing her over the top rope and back into the ring. Ohio climbs back into the ring as Candy lies motionless in the ring. Ohio places a foot on Candy. Mercer goes for a count….
ONE...
TWO...
Candy rolls the shoulder over. Ohio simply chuckles as Mercer holds up two fingers. The crowd boos as Ohio walks over to the far corner. He crouches in wait as Candy pulls herself up with the ropes. She looks over at Ohio and smiles, waving him towards her as she leans against the turnbuckle. Ohio shakes his head in disgust then charges at her, going for a spear in the corner. Candy hops up to the top turnbuckle as Ohio spears the turnbuckle post. She floats over and tries to pull Ohio down with a sunset flip but his mass is too big. Ohio reaches down and grabs Candy by the throat. He pulls her from below and into the air, holding her skyward in a choke hold. She fights his grip, slamming down across his arm but to no avail. Ohio grabs her thigh with his other hand, shifts his hand from her throat to her shoulder. She shakes her head No as he runs towards the far ropes. He tosses Candy from the ring, over the apron area and into the crowd!!!
Watson:
Looks like up to row 5 was the splash zone tonight! Flying CANDY! I hope she is ok, it looks like the crowd mostly caught her, but that was an IMPRESSIVE display by Ohio there
Sydney:
I think he's beyond ready for this to end. He wants to be done with Candy and if he can inflict just a little more pain, he will seal this up
The crowd catches Candy, not letting her hit the floor. Ohio is disgusted as the crowd 'surfs' Candy around to the far side of the ring. Finally, Candy is placed on her feet on the floor near the commentary area. She holds her hands up then under her chin as the crowd pops. Ohio fumes and climbs out of the ring towards her. Candy quickly sprints around the corner and slides into the ring. Ohio turns the corner and pulls himself up on the apron. Candy comes off the ropes and hits a running knee. She runs to the far ropes again and charges at him as he climbs through the ropes. She ducks a wild clothesline attempt, hits the near ropes then hits Ohio with a flying leg lariat. Ohio staggers back as Candy gets back to her feet and heads to the corner. She charges at Ohio, who lifts her up and tosses her backwards over his head. She flips and lands on the top turnbuckle. Ohio slowly turns as Candy bounces off the top and hits a Meteora, taking Gabriel off his feet for the first time in the match!
Watson:
Candy pulling out all the tricks here to stay afloat. She's actually still in this match!
Sydney:
All it will take is one solid impact by Ohio and this is over.
Candy scrambles up to her feet and climbs to the top rope. She jumps off for the Sugar High 450 splash and hits it. Mercer with a count.
ONE...
TWO...
Ohio presses her into the corner with an emphatic kickout. Candy's eyes widen as Ohio sits up and has an intense look on his face. She stands quickly and tries to get away but Ohio stands quickly, grabs her and tosses her towards the turnbuckle. He begins to throw lefts and rights at Candy, who does her best to cover up, deflecting most of the irate attack. She slinks down against the turnbuckle and he begins to stomp and kick her instead. He reaches down and lifts her up with both hands wrapped around her throat, her feet flailing about. The flailing catches the top turnbuckle pad and pulls it down slightly. Ohio turns around and simply drops her with a Choke Bomb.
Ohio reaches down and sets for a powerbomb. Candy tries to break free but can't as he lifts her into the air. She screams out as he drops her with the first power bomb. He holds on and lifts her for a second powerbomb as she continues to try and fight loose. He drops her again then lifts her for a this to complete the Kiss of the Cerberus. Candy lands three punches to his nose then leans back, rolling through with Ohio's momentum and hits a hurricanrana, sending Ohio into the exposed turnbuckle. He staggers backwards as Candy gets a burst of energy, grabs Ohio by the neck for a cutter, walks up the turnbuckle and jumps off, crashing to the mat with Sugar Free Candy, a corner-running three-quarters facelock bulldog. Candy grabs the far leg and goes for the cover...
ONE...
TWO...
THREE!!!
DING DING DING
Starr:
And your winner, by Pinfall
THE SWEET TREAT… CANDY!!
Candy rolls out of the ring and leans against the guardrail as the crowd celebrates the win, tapping her on the shoulder. Ohio slowly sits up and holds his chest as an exhausted Candy holds her hand up in victory.
Watson:
Candy does it once again! Gabriel was going step for step with the former Undisputed Champion but Candy continues to show that nothing can stop the diminutive dynamo when she's on her game.
Sydney:
So what you're saying is - Size doesn't matter?
Watson goes silent, shuffling through his papers.
Sydney:
Sometimes it's just so easy....
Watson:
Let's go backstage… quickly!
Camera cuts to ...
---
---
EWC TAG TEAM CHAMPIONSHIP MATCH
Xtreme Ravagers
Vs The Southern Express

Watson: Up next we have what has been and continues to be Paramount's biggest acquisition this season, the EWC Tag Team Champions! The Southern Express is set to take on fellow Love Club members The Xtreme Ravagers for the tag team championships! Let's head to the ring!
Starr:
The following contest is scheduled for one fall and is for the EWC Tag Team Championships! Introducing first, at a combined weight of 3665 pounds... They are... THE XTREME RAVAGERS!!!
As Heavenly's 'Bravery In The Field' plays over the PA system, we see the figures of Samantha "The Titaness" Hamilton and Joseph "Orion" Hunter standing next to each other. Not too far away, "The Memphis Mouthpiece" Tommy Love is beside Xavier Reid.
Each manager walks alongside their respective clients.
When everyone arrives at the ring, Tommy and Joseph pull the ropes open, allowing Sam and Xavier to step inside. The two wrestlers stand in the center and form an X with their arms. They stay in the center for a few moments before going to a corner, awaiting their opponents.
Watson:
The Xtreme Ravagers making their way into the ring getting the opportunity of a lifetime tonight against their very stablemates the Southern Express. To put it nicely, the Ravagers have nowhere close to the amount of experience as the Southern Express do, so it will be interesting to see how they plan on countering that.
Sydney:
Tim, I don't think that a couple of dinosaurs would have the experience that the Southern Express has in tag team matches. The Xtreme Ravagers are going to have to be careful in not hitting their stablemates hard enough that they turn to dust.
The electric guitar kicks in to 'Stranglehold' as the crowd gets to their feet, some of the older females in the crowd start to scream like they did when they were younger as Bunny Love walks out onto the stage and is quickly followed by Bobby Rose, who is still in his grey walking boot and Jimmy Lane
Starr:
And their opponents...Being accompanied to the ring by Bunny Love, from Nashville, Tennessee, They are the EWC Tag Team Champions of the World...Bobby Rose and Jimmy Lane THE SOUTHERN EXPRESS!!!
Bunny leads the way as the pair reach out and high five with the fans as the walk to the ring, Bunny marches up the steps and steps through the ropes as Bobby and Jimmy climb up onto the apron and step through the ropes, take off the titles and hands them to Bunny and head to opposite corners, Jimmy climbs up to the middle turnbuckle and Bobby stands in the corner as both men toss out bandannas to the crowd as Bunny stands in the middle of the ring holding up both tag team championship belts
Watson:
There they are, the 2020 EWC tag team of the year and a duo that has been doing this for longer than most of us have been alive. Tonight, they face an incredible challenge against the other half of the Love Club.
Sydney:
Let's hope the Love Club doesn't implode here tonight.
DING DING DING
Watson:
There's the bell and here we go, it'll be Xavier Reid starting things off for the challengers and he's facing off Bobby Rose.
Sydney:
For those of you at home, Bobby Rose is the one wearing the diaper in the ring right now.
Watson:
Cid.
Sydney:
What? It's probably true.
Collar and elbow right out of the gate, going old school for the duo, Rose switches right to the side headlock on Reid to show off some of that veteran ring skill. Reid struggles against being dragged around the ring and backs up into the ropes sending Rose into the far side ropes to escape. On the rebound, Reid drops down and Rose leaps over him, Reid gets back up just in time to hit Rose with a hip toss! Rose rolls to a seated position as Reid slings himself off of the ropes..
"SMMMMMMMMACK!"
...connecting with a kick right to the chest of Rose! Rose crumbles from the impact of the move as the crowd collectively clutches their chest and hopes the aged veteran Bobby Rose didn't just die. Reid covers quick...
ONE...
TWO...
TH-- NO!
Sydney:
Lucky for Rose, he's wearing that diaper.
Watson:
Xavier connecting with that vicious snap kick to Rose's chest, and going for the early pin attempt here. Rose took the two and a half and hopefully could get a breather in doing so. Because, I don't think Reid is about to let up.
Indeed, Reid pulls up Bobby Rose and backs him up into the Ravagers corner with a couple of body shots. Reid tags out to Samantha Hamilton, the duo both get in their licks on Rose in the corner but it is Reid to give Rose a headlock takeover flipping Rose onto his back in the ring which allows for Hamilton to connect with a running stomp! Hamilton pulls Rose up by his thinning blonde hair and slings him into the ropes picking him up and slamming him down onto the mat with a spinebuster slam. Rose just groans in pain as he smacks the canvas. Instead of going for the pin, Hamilton instead pulls the veteran back up to his feet connecting with a series of knee strikes and a rough looking elbow strike that rocks Rose up against the ropes. Keeping to strategy, Hamilton tags right out to her Ravagers partner again.
Watson:
Quick tags by the Ravagers, keeping the champions as far apart as possible. They're doing a heck of a number on Bobby Rose right now.
Sydney:
The question is how much more damage can the Ravagers do before Bobby Rose's back just snaps from his osteoporosis.
Watson:
Rose doesn't have osteoporosis.
Sydney:
You didn't see them party in the 80s then.
Reid waits for his partner to scoop up the body of Bobby Rose back up, before he charges in and connects with another running knee strike to the chest of Rose. Rose slumps up into the Ravagers corner once again, as far as possible away from his tag team partner's hand. Xavier Reid picks up Bobby Rose and seats him on top of the turnbuckle, Hamilton helps hold Rose in the corner as Reid climbs up to the top, the crowd begins to buzz since they've all seen Reid wrestle before and know where this one is going. Reid and Rose begin to stand up on the top ropes, Rose wobbles a bit from his age and the damage he's taken in this match. Reid lifts him up…
"SLLLLLLLAMMM!"
…and crushes Bobby Rose head first onto the top rope turnbuckle! CTE, as if Bobby Rose didn't have it already, from Xavier Reid. Rose flops onto the mat hard and lays there in the middle of the ring. Xavier Reid hooks the leg and goes for the cover...
ONE...
TWO!!
THREE!!
FOUR...?
Yes, four. Xavier Reid looks a bit confused, but then he notices that the referee was completely distracted the entire time by the Southern Express' manager Bunny Love who is up on the ring apron talking to the referee about God-knows-what.
Sydney:
What is Bunny Love doing there? She's ruining this match for me.
Watson:
She probably was concerned for Bobby Rose's well being after taking that hellacious fall from Xavier Reid.
Sydney:
What concern?
Watson:
That's a fifty year old plus man who just took a brainbuster across the top turnbuckle and then fell to the mat.
As the Ravagers complain to the referee about the distraction from Bunny Love, Bunny's own father Tommy Love makes his way up onto the ring apron next to his daughter. The two of them begin to start arguing back and forth and to the shock of the entire Orlando, Florida crowd it looks as if Tommy Love is about to hit Bunny, his own daughter, with the Love Stick! That's right, the head of the Love family is raising up that stick to his baby girl!
Watson:
I don't believe…
Sydney:
...what I'm seeing!
Bunny love looks like a deer trapped in headlights, but just as it looks like Tommy Love is about to finish with the deed he thankfully lowers the Love Stick. And for all his troubles, Bunny Love connects with a kick right to Tommy Love's berries!! She just kicked her old man in the dick! The crowd goes nuts as Tommy Love falls off of the ring apron. Xavier Reid looks just as shocked as everyone in the crowd, but as he turns around to get back to the match at hand Bobby Rose connects with a wild right hand. Rose stumbles towards his ring corner, probably from years and years of doing this, and he is able to make the tag out to his partner. Into the ring charges Jimmy Lane who hits a backdrop onto a charging Xavier Reid, and then connects with a right hand that backs Samantha Hamilton into her corner. Reid in one corner, Hamilton in the other and they're both being taken care of the Southern Express! With a duo of whips the Express send the Ravagers crashing into each other with an old school body crash. Reid stumbles into the ropes as does the Titaness on the other side. The SE then go to work as the only way they can, the duo charge and connect with a double drop kick to the chest of the Titaness which sends her out through the ropes! They then turn around to where Xavier Reid is stumbling off of the ropes and the duo leap up…
"SLLLLAMM!"
...connecting with a double snap DDT on Xavier Reid! Jimmy Lane makes the cover as Bobby Rose turns and looks for where the Titaness might have gone. The referee dives and makes the count, the Orlando crowd ready to see this one end.
ONE...
TWO...
THR--KICKOUT!!
Sydney:
Oh thank God.
Watson:
Two and a half there by the Southern Express. Jimmy Lane came in like a house of fire and he nearly got the victory here in front of this Orlando crowd tonight.
Sydney:
Thankfully, and I mean this from the bottom of my heart, there's still a chance that the Express somehow loses this one. Also, just to let everyone know that we've set up a GoFundMe account for Tommy Love's testicles.
Back in the ring, the referee has cleared everything up and we are back to just Jimmy Lane up against Xavier Reid one on one. Lane rears back and unloads with a big right chop right across the chest of the former Undisputed EWC Champion. Lane follows up with another chop, and sure enough continues to serve up the chops until he sends Reid across the ring with a big time Irish whip. Reid ducks the clothesline attempt by Lane, Reid puts on the brakes and connects with a Pele Kick from out of nowhere!! Lane hits the mat hard and that gives Reid the chance to scramble to his corner and tag out to his partner. Now it is the Titaness who comes into the ring like a house of fire, she charges and nearly breaks Jimmy Lane in half with a spear! Then as she gets up, she charges at the corner where Bobby Rose is standing and connects with a superkick right to his jaw! Rose crashes onto the ring apron and falls to the floor. Hamilton turns her attention right back around to Jimmy Lane, the Titaness spins Jimmy Lane around and lifts him high into the air on her back…
"SLLLAMM!"
...slamming Jimmy Lane onto his head and shoulders with her Reversal of Fate! Lane flops down onto the mat nearly lifeless after that vertebreaker. Samantha rolls over and hooks the leg of Lane making sure the referee is paying attention and slides in to make the cover.
Watson:
We might have new tag team champions!
Sydney:
Oh please, please please!
ONE...
TWO...
THR--BROKEN UP
Watson:
Bobby Rose pulling the leg of Samantha Hamilton and breaking up the pin!
Sydney:
Son of a…
Hamilton looks pissed at the fact that Bobby Rose broke up that pin. Xavier Reid comes charging into the ring and immediately grabs Rose by the mullet and tosses him through the ropes to the outside. Reid and Hamilton turn their attention back towards Jimmy Lane. The Ravagers charge across the ring and connect with a double clothesline which sends Lane through the middle and top ropes onto the ring apron and to the outside of the ring. The Ravagers duck through the ropes with a little bit of hesitancy and go after their stablemate on the outside of the ring. The duo quickly slams Lane up against the barricade and begin to go to work with a series of backhands and strikes, however, the duo then turn around which sees Bobby Rose charge across the ring and fly through the middle and top ropes with suicide dive!! And now all hell breaks loose on the outside of the ring as all four begin to throw hands.
Watson:
We might be witnessing the break of the Love Club right in front of our eyes.
Sydney:
As great as that sounds, I think that this is only because of the heat of the moment. I don't think the Love Club is breaking up right before our eyes.
All four continue to brawl on the outside of the ring, after a few moments and encouragement from their respective managers and the referee Jimmy Lane is rolled back into the ring by Samantha Hamilton. The two legal wrestlers in this match. Things begin to calm down as the Titaness pulls Lane back up to his feet, she bounces the legendary tag team wrestler against the ropes and on the rebound she scoops him up and slams him with a spinebuster back down onto the mat. The Titaness gets back up to her feet and makes her way over to her corner tagging in Xavier Reid. Reid and Hamilton each grab one of Jimmy Lane's arms and pull him up to a seated position. The entire Florida crowd sees where this one is going, the Xtreme Ravagers are stealing one of the Southern Express' moves, the In Your Face. Hamilton and Reid point to the roof and then drive their knees right into the chest of Jimmy Lane. Completely ignoring the referee's warning the duo pull Jimmy Lane back up to his feet once again, Samantha Hamilton slowly makes her way back to her corner, but gets in a couple of more shots on Jimmy Lane before leaving. The last of those shots leaves Jimmy Lane laying in the ring and gives Xavier Reid a complete opening as he charges in and connects with a running punt kick to the side of Jimmy Lane's head!!
Watson:
Running punt kick to Jimmy Lane's head! We've seen this vicious side of Xavier Reid so many times in the past, and it's coming out here in the middle of the ring right now.
Sydney:
That shot damn near my Jimmy Lane's eyes go back to normal. That's how hard that kick was!
Reid doesn't go for the pin, opting rather to taunt the aging veteran as he slaps him across the top of the head. Reid picks up Jimmy Lane and plops him onto the top turnbuckle before tagging out to his partner one more time. Reid holds Lane in place as the Titaness climbs up into the corner as well, she climbs up quickly and flips backwards…
"SLLLLLLAMMM!"
...slamming Jimmy Lane onto the mat from the top rope with her Defying the Gods hurricanrana. Lane just lays there in the middle of the mat and the Titaness crawls over to make the cover as the referee slides in.
ONE...
TWO...
THRE--KICKOUT!
Sydney:
New champions! New champions! No wait, dammit!
Watson:
Jimmy Lane got the shoulder up at the last possible second there and this match is going to continue on.
Hamilton doesn't believe the count and the referee has to hold up two fingers to make sure she understands that the match is still going on. Frustrated, the Titaness pulls Jimmy Lane back up to his feet once again and out of nowhere Lane is able to wrap his arms around her waist and quickly hits a belly to back suplex. Both Lane and Hamilton are laid out in the middle of the ring as a result, the crowd begins to get to their feet as Lane and Hamilton slowly begin to crawl back up to their feet and start heading towards their corners. In stereo, the two leap out and tag the hands of their respective partners! Reid flies into the ring, but so does Bobby Rose! Reid swings wildly with a clothesline attempt, but Rose is able to duck under the attempt and springs off the ropes at full speed and connects with a leaping elbow strike! Rose keeps his momentum going and steps through the middle and top ropes to the ring apron. Hamilton gets up in time to stumble towards those ropes where Rose is waiting for her, Jimmy Lane runs over to the ring ropes as well pulling on the top rope flipping Rose over the top..
"SLLLLLLLAMMM!"
...connecting with the Tennessee Destroyer!! The crowd goes nuts as Samantha Hamilton bounces into the corner of the ring after taking that hellacious piledriver shot.
Watson:
What an incredible move by the Southern Express!!
Sydney:
I don't know how the laws of physics allowed for that to be possible, but a fifty year old plus man just pulled off that move.
And now the Southern Express turn their attention to Xavier Reid who is still feeling the effects from that flying elbow strike by Bobby Rose a couple of seconds ago. Bobby Rose rolls to the
other side
of the ring apron as Jimmy Lane picks Xavier Reid into a standing tombstone piledriver position. The Orlando crowd begins to get to their feet as they seemingly know exactly what's about to happen. Rose springboards up onto the top ropes and leaps off as Lane holds Reid upside down.
"SLLLLLLLLLAMM!"
...GOOD NIGHT ORLANDO!!
Watson:
The Southern Express just spiked Xavier Reid in the middle of the ring! There's the cover…
ONE...
TWO...
THREE...
DING DING DING
Starr:
And your winner, via pinfall
AND STILL TAG TEAM CHAMPIONS, THE SOUTHERN EXPRESS!
Watson:
What an incredible victory and another successful defense for the Southern Express. The question now has to be what is the condition of the Love Club after this match. Is it a house divided or will the Love Club survive this?
Sydney:
I think we're about to have our answer in the ring.
A dejected Xtreme Ravagers pull themselves back up to their feet, both covered in sweat and tired from the match they just had against their stablemates in the Love Club. The Southern Express and Ravagers have a moment of hesitation as the two teams stand facing each other… that's when the hands come out, and not to fight on the part of the Ravagers, rather the four shake hands.
Watson:
Incredible show of sportsmanship here tonight.
---
---
The camera cuts to the back where we find Killjoy Ito holding the X-Division Championship belt in his hands, looking down at it as footsteps approach from behind. A hand reaches out and grabs Killjoy's shoulder and as the camera pans back we see 'The Prodigal' Son Bunny Love. Killjoy looks up at his manager, his friend who smiles back at him
Love:
This is the moment you have always wanted Ibuki…
Killjoy blinks, he's caught off guard by Bubby using his real name, sure he uses it when the camera are off but Buddy has always been about the gimmick, kayfabe baby but Killjoy doesn't say anything
Love:
Ever since you were a small boy and went to watch wrestling with your father and uncle, this is the moment you always dreamed about, fighting for the company's highest prize, having the chance to be the company's top champion...the 'ace' if you will and I know first things first, the X-Division Championship. I understand what it means to you and how badly you want to keep it and here's the thing, Ace and Stitches will be so worried about the Undisputed Championship, so focused on that that they aren't really concerning themselves with it. Heck, Stitches barely mentioned it, his attention is on winning back the Undisputed Championship and Ace, come on, he's all caught up on not letting this run as champion slip through his hands just as quickly as the last one did…
Buddy smiles
Love:
In that first fall those two will just be trying to save whatever energy they can for the second fall, they don't care about the X-Division, it's beneath them but not you...it's what we have grown into Ibuki, this is our championship and it shows everyone in the EWC that KILLJOY is the top fighter in all of the company so I want you to go out there and show the rest of the EWC just that, beating the living heck out of Ace King and Stitches and keep this championship over your shoulder and then…
Buddy nods
Love:
We turn our intentions to the second fall and the Undisputed Championship, see we are not desperate like the two of them, we are not living in fear out there like the two of them. For Stitches, it's about revenge, winning back a championship he felt was taken away from him. Putting to rest all those voices inside his head questioning every move he makes, telling him he's not good enough...that he can't beat Ace King...even after Killjoy and Wes soften him up...that it was a fluke...he's fighting his own demons out there Ibuki and his demons will win out in the end…
Killjoy continues to look up at Buddy
Love:
And then there's Ace King, poor poor Ace King, the little man that's lost his confidence because he can't win a match as Undisputed Champion. As impressive as 777 was he's haunted by the number 42, 42 days...after chasing that championship for years, it was over in a blink of an eye and he's afraid that will happen again out there tonight, that all his hard work to win back the Undisputed Championship will be for not, that this run will be over just as fast…
Buddy smiles just thinking about it
Love:
He's going to be out there so afraid of losing that he will be unable to win and that leaves us...it leaves you Ibuki…
Buddy grips tight on Killjoy's shoulder
Love:
To TAKE this moment as your own, to realize your own dreams and become the EWC Undisputed Champion...this is your moment Ibuki...now let's go take it!!!
Killjoy nods and stands up, he grabs his robe and Buddy helps him put it on
---
---
EWC NORTH AMERICAN CHAMPIONSHIP MATCH
Roozilla
Vs Robbie Rayder
We return to ringside where Robbie Rayder is preparing for his North American Championship defense against Roozilla.
Watson:
Up next Cid we have two men who both have a chip on their shoulder and something to prove. Robbie Rayder as of today is the longest reigning EWC North American champion in history at 212 days and if he retains tonight he ties Gladiator and Wes Walker for the most successful defenses of all time. Rayder is also the longest reigning active EWC Singles champion right now, only the Sothern Express has a longer reign. Robbie has made it clear he feels disrespected for not being nominated for any EWC Honors awards, and as he said this week, not being the marquee match tonight.
Sydney:
Meanwhile, Roozilla has turned into a monster the past month or so, out to prove that this is who he has to be in order to be successful in EWC. It's worked so far, but does he have enough to take out the dreadnought?
Starr:
The following match is for one fall. Joining us first, from Rule Breaker University by the way of North Myrtle Beach, South Carolina, weighing in at two hundred and thirty nine pounds ...
ROOZILLA!
I'm a RULE BREAKER!!!
The words flash across the X-Tron and are seemingly yelled out by Roozilla as Meet Me in the Dark by Otherwise begins to play as the lights dim to a dark hue of orange mixed with blue.
Roozilla stands at the entrance ramp with his back turned to the ring. He stands quietly with his arms down to his side as he takes heavy breaths before turning his torso backwards towards the audience and the ring.
He turns and looks out into the crowd surveying his surroundings before rearing backwards arching his shoulders. His arms raise as he howls liked a bewildered beast. With his motions loud growls by Godzilla are heard over his entrance theme.
Directly after his beast roar his valet Jules Cassidy walks up to his side, absent from his side is his manager Babyface Badley. Roo and Jules look towards each other as they begin walking towards the ring.
The jeers of the crowd entices him to mock fans as he walks down the isle. He steps onto the steps and then the ring apron. He turns with his back to the ropes and again makes mocking jesters towards the audience. He turns placing both hands onto the top rope and springs into the ring. His manager and valet both stay on the outside of the ring as his music ends with him acting as though he's going to backhand the referee and then laughs as he backs away towards his corner.
Starr:
And his opponent, from Vancouver, British Columbia, weighing in at two hundred and twenty five pounds ...
THE NORTH AMERICAN CHAMPION ROBBIE RAYDER!
The lights go out in the arena then a fog covers the entrance. The lights slowly come up as Robbie Rayder, wearing long purple tights and black boots, walks out through the fog and kneels down. He points his index fingers to the ceiling then lowers them to his lips.
Rayder taps the North American Championship around his waist then looks out at the crowd. Robbie walks halfway down the ramp towards the ring. He stops to look into the crowd where a group of fans are going crazy for his entrance. A young woman yells out. I LOVE YOU ROBBIE!!
Another young female fan is holding up another sign that reads, I WANT YOUR BABY!! Robbie continues his walk as he reaches steps walking up to the apron. He steps through the ropes then goes to the far side, He leans out through the middle and top ropes, playing to the crowd, looking down at the North American Championship around his waist.
Robbie Rayder takes the championship belt and begins to hand it to the referee. In the midst of him handing the title over Roozilla runs across the ring grabbing the title as he baseball slides under the ropes. The referee and Robbie are both surprised by the move. Roozilla looks closely at the
championship
and then shows it to his girl, Jules Cassidy. He looks back into the ring looking at Rayder before throwing the title over his shoulder and pats it.
Robbie having enough of this dives over the top rope flying towards Roozilla. Roozilla sees him coming and swing the title towards Robbie connecting with his forehead. Rayder crashing to the floor is busted open by the move. Roozilla takes the championship and again slams it down across Robbie's face. The referee having rolled out of the ring shoves Roo backwards and grabs the title from him.
Roozilla pulls Rayder to his feet and begins pummeling him with lefts and right hands. Roozilla grabs him by the back of the hair and leads him towards the ring post. Roo goes to slam Robbie's head into the ring post but his momentum is stopped. Robbie foot pushes off the ring post and he reverse slamming Roozilla's face into the ring post. Roo falls backwards holding his head but stays on his feet. Robbie grabs him and hits a float over fall away suplex onto The Roozy One dropping him on the arena floor.
Rayder is quick to his feet and begins throwing kicks to the ribs of Roozilla. Roo rolls over to his side attempting to get back to his feet but Rayder again kicks him square in the ribs. The kick is so loud that close sitting ringside and even the referee flinch with the sickening sound. Robbie however begins throwing stuff off of the announce table as Roozilla is now convulsing nearly puking due to the kicks he received.
Roozilla pushes himself to his feet but Robbie begins wailing on him again. He lays the challenger across the announce table as he continues beating on him. Rayder then turns and jumps onto the ring apron and then climbs the turnbuckles. He looks down at Roozilla and leaps with a diving elbow.
The table explodes with the impact and Roozilla is entangled in the mess. Robbie is himself shaken but he makes it back to his feet slowly. The referee and ringside officials are quick to run over to check on Roozilla.
Watson:
This match hasn't even officially begun and Roozilla's Championship dreams may have just been destroyed.
Sydney:
He brought it onto himself and Robbie is a bloody mess himself from the shots he took.
Robbie doesn't wait for Roozilla to get to his feet as he grabs him pulling him up to his feet. He guides him to the ring apron and goes to slam Roo's head. This time Roozilla reverses slamming Rayder's head in response. Multiple slams of the Champ's head daze him as Roozilla climbs to the apron and pulls Rayder up with him.
Roozilla leaps over the ropes into the ring as he grabs Rayders head pulling him down over the top rope neck first. Robbie falls backwards from the top rope guillotine as he crashes onto the arena floor. Roozilla attempts to exit the ring but the referee and EWC officials block him from jumping out towards Rayder.
Robbie shoves the officials out of the way and dares Roozilla to come back out at him. Roozilla places both of his hands on the top rope using them to springboard out in a cross body dive. Using Roo's momentum Robbie reverses into a modified scoop powerslam dropping the challenger on the floor yet again.
Watson:
This has gotten out of hand and somebody needs to take control of these two. They need to get this damn match into the ring.
Sydney:
The Champ may be falling into Roozilla's game plan. This is exactly what the challenger wants.
Robbie Rayder is pushed away from Roozilla by the officials who are demanding the Champion gets into the ring. He begins to back away but Roozilla reaches up and grabs his leg before hitting him with a low blow. The Champion bends over from the blow and Roozilla uppercuts him from while his back is still on the ground. The Champion stumbles backwards.
Roozilla begins getting to his feet and turns facing his girl Jules Cassidy. She had somehow gotten the Championship belt and threw it to Roozilla who catches it. In one swift moment he turns back towards Rayder and again lays the gold belt across the champions face.
Rayder is dropped to the arena floor once more and Roozilla drops the title across his chest. Roo quickly climbs the apron before running and jumping off with an elbow onto the belt and Rayder.
The audience in attendance begin chanting as the action outside of the ring has gone over huge for the fans.
THIS IS AWESOME!!!
THIS IS AWESOME!!!
THIS IS AWESOME!!!
Roozilla gets back to his feet and begins laughing as he hears the mounting cheers from the crowd. He steps over towards the front row and jerks a sign out of the hands of a fan, Roozilla<Rayder. The Roozy One spits on it and then rips it in half.
During these few moments Rayder gets to his feet and rolls into the ring. Roo turns around to look towards him realizing that Robbie is now in the ring. Roozilla dares him to come back out to the arena floor but Rayder shakes his head no. Robbie motions as if having the championship around is waist and then points to the center of the ring. Roozilla shrugs before rolling into the ring.
DING DING DING
Robbie immediately hits a spin kick, then a super kick, followed by a sick kick! Shock & Awe!!!
Roozilla is dropped as Rayder goes for the pin.
ONE...
TWO...
NO! KICK OUT!!
Roozilla is able to narrowly get his shoulder off of the canvas. Robbie doesn't waste any time as he pulls Roozilla up and off the mat shoving him back into the turnbuckles. He begins throw knees to Roo's midsection and then three consecutive elbows to the head. He whips Roozilla across the ring towards the opposite ropes, Rayder chases after him.
Roozilla steps up onto the seconds and then third turnbuckle as he comes off with a cutter to Rayder dropping him. Roo goes for the cover.
ONE...
TWO...
KICKOUT!!
Rayder is able to get his shoulder up and Roozilla argues the call with the referee. Robbie rolls to his hands and knees with his arm on the middle rope. Roozilla is quick to his feet dropping both knees down on his arm. Rayder instantly beings rolling holding his arm in agony.
Roozilla holds his hand out in a gun symbol before looking to kick Rayder across the chest. Robbie falls back as he kick goes over the top of him. The Roo turns back around looking for an enziguri as Rayder gets to his feet but Robbie ducks this as well. Robbie then shoves Roozilla backwards before hitting a knee strike as Roo attempts to rush back in.
Watson:
Jesus, is the entire roster on crazy pills here tonight?! Does no one have any sense of care for their well being after tonight?!
Sydney:
Well, you heard the rally cry from Chris Brock to start the show... This is THE night for Paramount wrestling and NO ONE forgot that. This match is absolute bedlam already and I love it!
Rayder hits Roozilla with a European uppercut knocking him backwards into the turnbuckle. He follows up with an elbow and then pulls Roo out of the corner and turning around slamming his head into the second turnbuckle. Rayder backs away before coming in with two knees onto Roozilla back. Rayden backs away again this time to the time and rushes in with a kick across Roos chest.
Roozilla stumbles backwards to the center of the ring. Rayder steps into the corner of the ring running into Roo for a clothesline. The Roo ducks and turns back around towards Robbie.
Blitzkrieg!!!
Rayder drops Roo with his patented Deadlift German Suplex. He goes for the cover.
ONE...
TWO...
THRE- NO!!!
Jules Cassidy pulls Roozilla's foot on the ropes. Rayder comes up and sees her, pissed. He rolls out of the ring and steps towards her as she slaps him… NO, Rayder catches her arm stopping the slap. He picks her up and begins carrying her towards the entrance isle. He then sits her down and kicks her in the rear towards the exit. It's a physical warning that she should leave ringside.
Watson:
Rayder directing traffic here tonight on top of trying to defend the North American championship!
Sydney:
YOU DON'T LAY A HAND ON HER SIR! That is NOT your wife!!!
Rayder turns back towards the ring only to be met with Roozilla's Rule #1. Robbie is temporarily blinded as Roozilla tosses him back into the ring. Roozilla climbs up onto the apron and then springboards back in with a clothesline to Robbie.
Robbie hits the canvas but rolls through coming up on his feet. Roozilla grabs him into a headlock.
Rule #2!
Roozilla goes for his trademark thumb to the throat but Rayder reverses twisting Roo's arm behind him. Robbie shoves Roozilla backwards and as soon as the challenger turns back towards him.
Blackout!!
Robbie drops Roozilla in his patented submission of the Double Arm Trap Crossface.
Roozilla is fighting but he's in the center of the ring. The referee drops to check on Roo but he's refusing to tap out. It's with a few moments that he relents not having a choice.
TAPOUT!!!
DING DING DING
Starr:
And your winner, via submission and
STILL PARAMOUNT NORTH AMERICAN CHAMPION ROBBIE RAYDER!
Rayder releases the hold and rolls backwards coming to a stop in the corner of the ring. His face is a bloody mess and his hair is stained dark red. Sweat is rolling down as it runs red dripping off of him. The referee steps to him raising his arm in victory.
Roozilla sits up in the center of the ring and snarls at Robbie. Getting to his feet The Roozy One quickly steps towards Rayder but is stopped by Jules Cassidy. She can be heard telling him to save it for another time. He reluctantly agrees as he exits the ring with her.
Robbie Rayder is handed his Championship and lives to defend it another day. He basks in victory as his theme music continues to play. Fireworks engulf the Florida Sky as Rayder has made history tonight.
Watson:
Roozilla had to be forced with almost blacking out, but much like he won the FSW Championship at Uprising '19, Robbie Rayder has once again defended the North American Championship and he did it with the blackout.
Sydney:
Roozilla played the mind games so well in this match. He came in with a game plan that almost worked. If he could have gotten Robbie outside one more time before the bell rang, Roozilla would be North American champion right now.
Watson:
Can you believe we still have TWO more titles up for grabs?! That's right TWO! The Main Event Triple Threat match for the EWC X-Division AND Undisputed championships is up next!
Camera cuts to ...
---
---
The Tron bursts to life playing
as the screen fades there is a brief glimpse of a light blue letter 'A' that bursts into flame as the screen fades