Post by PARAMOUNT on May 26, 2021 18:32:14 GMT -6
The Extreme Wrestling Corporation Presents


** The Pinnacle Heats Up The Great North **

EPISODE #06
MAY 26TH, 2021
LIVE!
from TD Station - St. John's, New Brunswick, Canada
---
---
WARNING: This live event contains strong coarse language (L), and intense violence (V) which may be unsuitable for younger viewers. None of the matches you are about to watch have been predetermined. Only some of the thematic story-lines have been discussed beforehand. Accordingly, EWC and it's producers must insist that no one attempt to recreate or re-enact any match or activity performed in this live event.




---
---
"Superstar" by For Squirrels begins to blast over the arena speakers as our feed comes to life...
The scene immediately cuts to a pyro show erupting on the outside of TD Station!
Then a cut to another, equally explosive show on the inside!


The fans packing TD Station tonight all come to their feet. Further explosions rock the very foundation of the arena as a large video screen is lowered from the rafters, stopping 15 feet above the ring! Everyone in St. John knows that the self-proclaimed greatest show on Wednesday night is about to begin and they cheer accordingly! The heavy riffs from 'Superstar' continue to blare over the arena, setting the tone for what is to come later on this evening.




IT'S ALL I WANT, IT'S ALL I NEED

IT'S ALL I SEE, IT'S ALL I BREATHE

IT'S WHAT I AM, IT'S WHAT'S I KNOW

IT'S WHAT I FEEL, IT'S WHAT I BLEED!
On the X-Tron, this episode of Paramount Wrestling begins with its opening video montage detailing many of the historic events that have taken place in the five-year history of Future Stars of Wrestling, setting the tone for the history of the Orange brand. From past champions like Jason Hunter, Dixie Dubois, Amis Shelton, Magdalena Lockheart, and Otaki all standing underneath an old FSW logo to the more current Future Stars Champions like Xavier Reid, Cletus Franklin, Robina Hood, Robbie Rayder, Stitches, Candy, and Wes Walker tearing down that mold, showing the Paramount Wrestling Logo...


As more pyro goes off the the Paramount Wrestling logo appears and flashes of the roster appear on the screen such as Killjoy Ito, Mercenary, Adriana Aquilla, Roozilla, Jake Lumas ,Laura Perelli, Marcu$ $t. John, and El Pablo. Then, the camera cuts to a series of shots of the Paramount Wrestling champions; Stitches with the X-Division Championship, David Miller with the CW Broadcast Championship, The Southern Express & Bunny Love with the Tag Team Championships, and then finally Robbie Rayder and the North American Championship.
The camera pans around the loud and out of control audience. As the fireworks continue to explode, the fans chant and cheer! Cameras pan around the arena to catch some of the signage that many fans have brought to TD Station with them here tonight. The Paramount Wrestling fan-base is as adamant about having their voices heard now as ever:
"SOUTHERN EXPRESS = GTTOAT"
"I'M DOWN WITH THE CLOWN"
"PLEASE DON'T GO MERCENARY"
"I'M HERE FOR MILLER TIME"


"SERIOSULY... WHERE THE HELL IS JFS? I NEED MONEY!!!"
"PAR-A-MOUNT!!!"



"PARA-A-MOUNT!!!"



"PARA-A-MOUNT!!!"



"PAR-A-MOUNT!!!"
The lights come back to full and the fans offer one last rousing cheer at the opening festivities. Tonight's announcers are on standby and ready for the show to begin.
Watson:
We are back in the great white north and for the FIRST TIME EVER we are in St. John, New Brunswick, Canada for another exciting episode of Paramount Wrestling! Welcome everybody, I am Tim Watson and with me as always is Cid Sydney. How are you Cid?
Sydney:
Freaking fantastic Tim! Tonight we have so many amazing matches in store, I can't pick a favorite! That tag team main event with the Texas Angels and the Xtreme Ravagers? That OTHER tag team match with Stitches, Gabriel Ohio, James Keaton and Ryo Freaking Hazama?!
Watson:
Those are two big match ups for sure. Don't forget about the CW Broadcast championship match between David Miller and "La Belicista" Isabella. That will be a HUGE match up. Then there is El Pablo and Wes Walker, Killjoy Ito and Jake Lumas-
Sydney:
Jake Caxide and Jason Hunter, AND Gabi Vee from Brawl against fellow Ruthann Hunter trainee Adriana Aquilla!
Watson:
This is a CAN'T MISS SHOW folks, I can promise you that. I'm sure we will be hearing from many people along the way as well.
Sydney:
But right now, though, we have some bills to pay!Our first match of the night will be coming up right after this quick message from EWCTV. Don't go anywhere .. Paramount Wrestling action will be back in exactly 1 minute
---
---
---
---
WHAT IS EWCTV?


All live EWC Pay-Per-View events (including StrangleMania, Night Of Champions, EWC Rumble & WrestleFest)
All day scheduled & live programming
Plus, hours and hours of on-demand content & never before seen behind-the-scenes footage!
Groundbreaking original series - See new episodes of BRAWL, RAMPAGE, PARAMOUNT WRESTLING, EWC PRIME and more
Live in-ring action, reality shows and documentaries
HOW TO ORDER
Get the award-winning EWC Network through your TV provider. Call your local TV Provider today to subscribe.
Only $7.95/month

WATCH ONLINE
If you are subscribed to EWC Network through your TV Provider you can now enjoy EWC Network on your:
PC, Laptop, Playstation, mobile app, or tablet.



EWCTV for only $7.95 USD per month
Along with being an EWCTV Subscriber, you get:
EVERY Pay-Per-View event included at no extra charge
15% off any and all EWC Merchandise from the EWC Store
20% off all tickets to LIVE EWC Shows
A free EWC Yearly Wall Calendar signed by the entire active EWC Roster
As an added bonus for all those currently subscribed including any new subscriptions
prior to midnight [ENTER DATE]

Receive
a
FREE
copy of
[ENTER PPV NAME]
DVD and Blu-Ray combo when it's released later this year
+ free T-Shirt and Replica EWC World Tag Team Championship belts.
So act now if you aren't already subscribed to EWCTV
---
---
---
SINGLES MATCH
Jake Caxide
VS Jason Hunter
---
We return to ringside where the fans are ready for Paramount to officially begin.
Watson:
Welcome back to Paramount Wrestling! We are about to get underway with out opening bout here, which will be interesting to say the least.
Sydney:
Jason Hunter is about to lay it down against a new upstart to the Orange brand, Jake Caxide. This would be a good one folks! Let's head to the ring and ring announcer Isabella Starr!
Starr:
The following match is scheduled for one fall!. Joining us first, from SANTA MONICA, CALIFORNIA, weighing in at 220 pounds ...
JAKE CAXIDE!
As the descending piano line of "Back in Blood" begins to play. The Lights drop, The beat hits, Flashing White Lights frame Jake Caxide as he comes out from the back exuding energy, he double pumps yelling to the crowd, slapping hands all the way down to the ring, sliding into the ring, doing a three sixty and pointing to the crowd.
Starr:
And his/her opponent, from HILLSBORO, OREGON, weighing in at 170 pounds ...
JASON HUNTER!
"Daechwita" comes over the speaker as Diana and Sara came out first as they stood on the stage with Jason with his back to the crowd and hood over his head. Sara slides the hood off his head as Diana walks ahead of them. Sara and Jason play to the fans a bit dancing to the music while Diana walked down the ramp. Diana holds the rope for them to get in while Sara and Jason get in-ring and she slides his jacket off him before leaving the ring with him glaring at the person warming up in the corner.
DING DING DING
Caxide and Hunter circle each other, each one taking the other's measure, before they meet in the center of the ring, trading taunts and shoving each other. Caxide shoves Hunter, and Hunter shoves back. Caxide swings a right hand that connects. Hunter shrugs it off and swings his own right hand. Caxide. Hunter. Caxide. Hunter. Eventually the fifty pound weight advantage takes effect and Hunter staggers backward. Caxide grabs him and hurls him into the ropes and dropkicks him in the knee. Hunter drops, grimacing in pain, as Caxide immediately grabs him by the neck and picks him up, not giving him a second to rest, and hurls him into the turnbuckle. Caxide charges in. Hunter tries to escape but Caxide slams his knee into Hunter's stomach. Once. Twice. Three times.
Hunter staggers out. Caxide takes a couple steps backward and points to Hunter, letting the crowd know what's coming. He steps forward and launches his body into a rolling wheel kick! It connects, and Hunter flatlines in mid air, and falls to his stomach. Caxide goes for the cover.
ONE...
TWO...
NO! Hunter kicks out, chest heaving, and the crowd pops big. Caxide can't believe it. He pulls at his hair. He turns and looks at the crowd, unable to believe it. Turns back to Hunter but Hunter grabs him and rolls him up into a small package!
ONE...
TWO...
No! Hunter gets to his feet with fire in his eyes and rage on his face. He runs toward the ropes, hits the second, leaps off, grabs Caxide, and hits the X out of nowhere!
Watson:
Caxide has been in control for much of this match so far, but Jason Hunter is not a rookie and is showing why he steals the show every time he's in the ring!
Sydney:
Caxide showing signs of frustration early though, that is the true show of a rookie.
Caxide's head slams into the mat with a resounding thud and Hunter goes for the pin.
ONE...
TWO...
Thr--No! Caxide kicks out, holding his skull, as Hunter gets back to his feet, on fire with energy. He runs to the ropes and steps through and begins to climb the top rope. Caxide rolls out of the ring, groggy, and attempting to create distance. He looks over his shoulder, one way, then the other, looking for Hunter but he can't find him.
Then he looks up!
Hunter flips through the air, from the top rope to Caxide on the outside, nailing Caxide with the Piper's Pit! Both men land in a heap and their bodies slam against the guard rail. Hunter is relentless. But Caxide is up quicker than he expected and the men begin exchanging blows on the outside. Hunter with right hands. Caxide with chops and kicks. Hunter grabs Caxide and slams him into the guardrail. Caxide grimaces from the pain while the crowd cheers on the carnage. Hunter goes for a kick but Caxide grabs it, spins Hunter around, picks him up for an atomic drop, and drops both legs over the guardrail, splitting him in half.
Hunter moans and Caxide heads back into the ring, pointing to the crowd, telling them who is responsible for that.
Meanwhile, Hunter makes his way back into the ring, moving slower, and sneaks up behind Caxide, grabs him around the waist, and suplexes him backward, keeping the hold clamped on. Like a spider, Hunter turns his body, wraps one of his legs around Caxide's leg, and hurls his body away from Caxide's kneecap, trapping the leg in an Indian Deathlock! The referee gets face to face with Caxide, asking him if he wants to quit. Caxide refuses. Instead, on sheer will and body weight alone, using his elbows, he begins dragging himself to the ropes. Hunter shakes his head no but is unable to keep the man in the center of the ring due to the weight difference. Hunter pulls at Caxide's hair to slow him down, and even pulls out a small handful as Caxide grits through the pain to grab the ropes. The ref orders Hunter to release the hold and he does, begrudgingly. Caxide nurses his knee as he gets back to his feet. Hunter sweeps in with a kick but Caxide lifts the knee with ease! A clever feint on the part of the rookie.
Caxide grabs Hunter, lifts him up and hits an atomic drop. Hunter grabs his groin falls over. Caxide flips him over onto his stomach, locks his leg, and executes his own Indian Deathlock! Now Hunter is in the center of the ring, and Caxide cranks it in, loving every minute of it. The ref lowers himself down to check Hunter's face. Hunter screams NO! and slams his fist on the mat. Hunter buries his face in his arm before rising up and pulling himself toward the ropes. Caxide resists and Hunter blasts him with hammerfists to the ribs. Back and forth they go, jockeying for position, until Caxide covers his ribs in pain and turns his leg, releasing the hold, as Hunter gets to the ropes, and Caxide rolls away, nursing his ribs.
Watson:
A little bit of technical wrestling here now from Jason Hunter!
Sydney:
This is like Snoop Dogg mentoring Lil' Dickey! I love this!
Caxide and Hunter return to the center. They tie up and Caxide takes the advantage. Caxide grabs a headlock and grinds down. Hunter reverses and hurls him into the ropes. Hunter goes for a superkick and misses. Caxide bounces off the other ropes, spins, and launches his KO! Elbow smash right into Jason Hunter's face.
Hunter reverses and hurls Caxide into the ropes. Hunter launches a Superkick! and connects, Caxide unable to slow himself in time.
Hunter signals to the crowd as Caxide lies on his back in the center of the ring. Nursing an injured knee, Hunter climbs to the top rope and waits for the crowd to react. He leaps off with a 540 flip, Jason's Score!, that is over as soon as it begins, the crowd popping huge as Hunter collides with Caxide in the center of the ring.
ONE...
TWO...
THREE!!!
DING DING DING
Starr:
And your winner, via pinfall...
JAAASSSON... HUNNNNNTERRR!!!
Hunter runs to the top rope and beats his chest at the crowd.
Watson:
Wow, Jason Hunter with a marquee win here tonight! Jake Caxide had control early and just could not maintain the momentum and Jason made him pay for it!
Sydney:
Caxide has the talent, but he just did not keep that ring awareness that he needed to really make this one happen. Hopefully he learns from this and applies it to the next one!
As Jason Hunter is in the ring taking in the victory on the middle rope, he suddenly is brought down to the mat by a foreign object. The Camera pans out to show NEVEAH with Heaven's Helping over her shoulder.
Watson
: WHAT THE HELL IS NEVEAH DOING HERE?!
Neveah gets right into Jason's face and says something before she cackles in laughter, leaving Jason to roll around the ring after the cheap shot.
Watson
: That was certainly uncalled for. Neveah is not even on the Paramount roster! And what business does she have attacking Jason Hunter?!
Sydney
: Well Tim, Neveah could just be here to watch her man Ryo Hazama in action tonight... Maybe she got bored waiting around? Who knows with that sadistic little tart!
There is a silence for a few seconds.
Watson:
Changing topics just a bit folks, Following his match last week the Mercenary was in the middle of what appeared to be a final heartfelt speech to the fans when he was interrupted by former North American Champion Wes Walker who had some words of his own for the EWC Outlaw:
---
---
Camera cuts to a video clip from Paramount #5 which simultaneously plays on the X-tron for the live audience.
Wes Walker:
Ever since I stepped in an FSW ring, I've had you in my head. You were nothing but a pain in my ass for the first six months I was here. We went down different paths for a little bit, but you are without a doubt one of the most competitive people I've ever seen and I know you won't be happy riding off into any sunset. Don't you worry about Dalilah, don't you worry about FEUD, they were USERS. They needed you. Without you, they're nothing. You're the leader of the pack. You and I may not be friends. You and I may not EVER be friends. But I'll be damned if there's an EWC without Mercenary. You can call us Captain Hook and Peter Pan because goddamn, I wouldn't know what to do without you.
You've been in the North American Title scene for two goddamn years, and you deserve a shot at that title without any bullshit around you. Dalilah and FEUD brought out the worst in you. You deserve better and the EWC deserves better and PARAMOUNT deserves better. So don't you dare say what I think you're going say. Take a deep breath, brush your shoulders off, and go back to kicking some ass like I know you can.
Gesturing again to the ring Walker opens his arms and shrugs with a smile before exiting the stage and leaving the arena for the Mercenary. Looking at the microphone he tosses it aside and rolls out of the ring. He pauses in the aisle to take in the crowd response as several from beyond the barrier holler words of encouragement with the occasional YOU STILL SUCK thrown in for flavor. Some of the fans pat him on the arm and shoulder as he passes by them on his way up the ramp. Stopping on the stage he looks back over his shoulder again to one last decent pop before disappearing beyond the curtain.
Watson:
As of this broadcast there have been no further updates on the state of the Mercenary's mind or his career status, but following Wes Walker's statements on the subject we received the following video from another former opponent of the EWC outlaw, former TV and International title holder Gabrielle Visconty had this to say:
The image jumps around a little before the smirking face of Gabrielle Visconty takes up most of it. It's obvious that she is shooting this off her phone's camera.





Gabi:
Merc, I know it is hard to find your footing when everything goes sideways… trust me, I do. There is a saying that I'd heard many times in my darkest hours: 'It's not how many times you get knocked down that count, it's how many times you get back up.' I think you understand the relevance of this.
Gabi smiles softly as she brushes some hair out of her face.
Gabi:
June seventh of last year, in Tokyo, Japan, you happened upon me in the bar at the Hoshinoya Hotel. We'd never shared anything more than the wrestling ring before this encounter… I half expected to get blindsided by Dalilah, thinking you were a distraction for a sneak attack.
She chuckles slightly.
Gabi:
That night you offered me a drink and some heartfelt advice about my rough road after the loss of my parents. You told me that I shouldn't be ashamed of anything I did to get by after that loss. That I didn't owe anyone an explanation about it. I appreciated that advice… I needed to hear that from a source outside of my group of friends. Now, I return that favor.
She pauses a moment before she continues.
Gabi:
You are at a crossroads… You can choose to walk away from this, or you can fight your way through it, reforge yourself into something better. No matter your choice on the direction - it's your own choice. You don't owe anyone an explanation on the road you choose, you do what you think is best for Mike Mercer. But I back Wes Walker's statements at Para 5 - Take a deep breath, brush your shoulders off, and go back to kicking some ass. The EWC wouldn't be the same without you.
Gabi winks at the camera just before the feed cuts.
Watson:
As the show of support for the Mercenary continues we will keep you posted on any further updates on this situation as they become available.

Sydney:
Now that we're done choking on all that sickly-saccharine syrup about some old adversary from one half of the Sweet Treats, let's see if Gabi Vee can put on an equally convincing performance against up-and-comer Adriana Aquilla in our next match coming up, right after this!
---
---
---
SINGLES MATCH
Gabrielle Visconty
VS Adriana Aquilla
---
We return to ringside where Tim and Cid are standing by!
Watson:
And we are back, folks! Coming up next is a showcase on the teachings of Ruthann Hunter! Two of her students set to go at it, former international champion Gabi Vee is set to take on Adriana Aquilla!
Sydney:
This one will be one to watch,Tim! Gabi is absolutely going to win the big one here in EWC at some point, and Adriana Aquilla has already had a championship opportunity in her brief tenure with Paramount Wrestling!
Starr:
The following match is scheduled for one fall. Joining us first, from Honolulu, Hawaii, weighing in at 126-pounds ...
GABRIELLE VISCONTY!
The lights in the arena dim and slowly pulse to the opening chords of "I Am The Fire" by Halestorm. Gabi Vee walks out to the entrance ramp and smiles out at the crowd as she stops at the top of the ramp. She grins as she looks over the crowd before heading down the ramp and towards the ring. Gabi interacts with the fans before she hops up on the side of the ring, smirking out to the crowd before she springboards herself gracefully into the ring. She paces the ring and works the crowd a bit before she heads to her corner.
Starr:
And her opponent, from San Antonio, Texas, weighing in at 120-pounds ...
ADRIANA "ADDY" AQUILA!
"Iron" by Within Temptation hits the speakers and the crowd comes alive as Adriana Aquilla makes her way down to the ring. She slaps hands with a couple of fans before rolling into the ring, ready for her match.
DING DING DING
The bell has rung and the match has begun! Buckle in, boys and girls! Gabrielle appears to be favoring her right leg as she moves in to lock up with Aquilla. Adriana seems to have noticed this, too, and she sends a few targeted kicks to said appendage, forcing Gabrielle to break the hold. Slingshot Swinging Arm Drag by Gabrielle and Aquilla goes crashing to the mat. With a bit of a huff from the latter, Aquilla slaps the mat before jumping back to her feet and the two women start going back at it. Gabrielle takes a swing at Addy, but Addy ducks. She runs to the ropes, leaps up on them, and proceeds to connect with a Springboard Clothesline on Visconty! Addy with a Dropkick on Gabrielle just as soon as she gets back to her feet. Gabrielle refuses to stay down, again pushing herself up off the mat. Adriana looks to be going for a Super Kick, but Gabrielle catches her foot! Gabi follows up with a Fisherman's Suplex! The leg is hooked!
ONE...
TWO...Kickout! Too soon for a pin! Adriana gets her shoulder up.
Watson:
Gabi tried to catch Addy sleeping, but Lo Dovino is not falling for it. She is here to fight tonight!
Sydney:
But Gabi made Adriana expel energy to kick out. That takes some stamina and can slow Adriana down. When dealing with a high flyer, its all about speed.
Both competitors get back up and lock horns once more. Addy shoves hard against Gabrielle, forcing her to back into the corner. Gabrielle reflects a strike and serves a couple of her own before whipping Adriana across the ring into the opposite corner. Gabi, a little less graceful than we're used to seeing, due in no small part to her bum knee, is somehow still able to hit Aquilla with a Handspring Back Elbow Smash! The fans go WOOO! Adriana stumbles out of the corner, shaking off the haze. Gabrielle holds herself upright via the ropes, and she shoves herself off, looking to charge at Addy. Aquilla sees her coming and brings her to the mat with a Drop Toe Hold. Just so happens to be her right leg Adriana just tripped up! The look of anguish on Gabi's face says that definitely doesn't make her knee feel any better. Addy is quick to get up. Adriana manages to get a few hard kicks in on Gabi's knee before the latter rolls out of the ring. Gabi leans on the barricade for support. Adriana runs off the ropes, straight across the ring, and soars through the middle and top ropes with a Suicide Dive on Gabrielle! Holy shit! We just witnessed Addy turn into a human missile for crying out loud!
Watson:
Gabi Vee might be in trouble here. She is obviously not at 100% with the knee and her attempts to slow down Aquilla are not working.
Sydney:
When Addy is willing to literally throw caution to the wind, you are not going to slow her down!
Addy looks absolutely determined to beat Gabi, not even waiting to get her back inside the ring before planting her with a Snap Suplex. Both women are down, breathing heavily. The referee's started a ten count and for the first few counts, neither Gabi nor Addy move much. At FIVE! they both start to stir. Addy's the first to her feet and she rolls into the ring and then rolls back out to start the count over again. She grabs Gabi by the hair and looks to be pulling her up to her feet. A few stiff shots to the abdomen causes Addy to relinquish her hold. Gabi straight-up slugs Addy, possibly knocking teeth right out of her mouth! Okay, so it wasn't that hard, but it definitely looked painful! With adrenaline coursing through her veins, Gabi positions herself behind Addy, folds Addy's arms across her chest... ITJITBUSTER! Gabrielle with an Idjitbuster on Adriana at ringside! The referee's back up to four now. Both of these women could be counted out soon if they don't bring it back inside the ring. Gabrielle's really having a hard time standing as her knee buckles. She catches herself on the ring apron. It takes her a little while, but by the time the referee makes it to eight, Gabi's back inside the ring. Addy follows her in just before ten. Gabi and Addy trade a few shots, both athletes looking worn out now. Addy with a Legsweep on Gabi! Gabi goes falling to the mat. She rolls over onto her stomach and pushes herself up, but as soon as she puts weight on her right knee, she topples. She pushes herself up again, pure determination in her eyes. BUT THERE'S ADDY WITH A DIVINE WIZARD! Gabi just got kicked right upside the head! Addy's going for Divination! If she gets the Sharpshooter locked in, there's no way Gabi won't tap! She'd have to! But no! Gabi shoves Addy away with her good leg, rolls backward, ducks beneath a Clothesline from Adriana, waits for Aquilla to turn around and with every last ounce of energy she's got left in her, Gabrielle with an ANGELRANA! GABI'S USING ALL HER WEIGHT TO KEEP ADRIANA PINNED TO THE MAT!
ONE...
TWO...
THREE!! ADDY GETS A SHOULDER UP, BUT NO! The referee says she was just a split second too late! GABI WINS!
DING DING DING
Starr:
And your winner, via Pinfall ...
GABRIELLE VISCONTY!
Gabrielle has done it! The fans cheer. The referee offers to help her to her feet, but she refuses assistance. She manages to stand up, but now it's obvious she's having real trouble with her right knee. She almost falls as soon as the referee goes to raise her hand, but he catches her. Gabi looks like she's in a lot of pain!
Watson:
Gabi Vee has one this match by the skin of her teeth, but at what cost? That knee does NOT look good. She can barely put weight on it.
Sydney:
Adriana Aquilla was probably a millisecond late in kicking out there, or this match would have gone a different way. She had Gabi against the ropes for sure and ALMOST Pulled this off!
Watson:
Wes Walker takes on El Pablo in a match you DON'T want to miss! We will be right back folks.
Camera cuts to ...
---
---
---
SINGLES MATCH
Wes Walker
VS El Pablo
---
We return to ringside where Tim and Sid are standing by
Watson:
Welcome back to Paramount Wrestling form St. John, New Brunswick! This next match puts two men who are just about on the opposite spectrum this season.
Sydney:
Wes Walker was riding high coming into the season. FSW Champion, shot at the Undisputed championship, he had it all. And then, as we saw with Jason Hunter earlier tonight, Neveah happened. Since then he has squandered a bit with losses. El Pablo, on the other hand, has had a string of high profile wins, and then he met the clown. That is what these two have in common. Let's see who wants back in that win column tonight!
Starr:
The following match is set for one fall. Joining us first, residing in Puebia City, Mexico, weighing in at 180 pounds he is The Technicolor Tecnico ...
EL PABLO!
A cry of "VIVA LA RAINBOWLUTION!!!" leads to 'Party Hard' by Andrew WK hitting the soundsystem, as the stage and ringside area becomes bathed in flashing, flickering, brightly-coloured lighting. As the main hook hits, El Pablo bursts through the curtain, playing to the fans and chugging Skittles like a Steveweiser. He charges down the ramp and slides under the ropes into the ring, then runs up the turnbuckle and flings a fistful of Skittles into the adoring crowd. After offering a final salute, he hops back down to the canvas, performing a few final stretches as his music fades.
Starr:
And the opponent, from Galway, Ireland, ...
WES WALKER!
Pyros hit and "Perfection Through Silence" by Finch begins to play, Wes Walker comes from behind the curtain He raises his arms above his head and the crowd goes wild. He bows his head and takes in the cheers. Wes walks down the aisle into the ring. He slides under the bottom rope in a quick motion before raising his arm one more time in the middle of the ring.
DING DING DING
El Pablo runs at Walker quickly hitting a Crucifix Driver but Walker rolls out of it onto his knees. El Pablo fires a Roundhouse Kick at the kneeling Walker but Walker catches it, spins El Pablo and shoves him off the ropes before hitting El Pablo with a Bulldog. Walker dumps Pablo into the corner and stomps at his gut before charging at his opponent. El Pablo gets his feet up to block and tries to spin Walker for a Hurricanrana but Walker manages to block it, hitting a Sitout Powerbomb
ONE...
TWO...
TH.. Kick out.
El Pablo kicks out rolling Walker onto his back.
ONE...
TWO...
TH... Kick Out.
Both get to their feet and Walker kicks the back of El Pablo's knee before hitting a DDT.
Watson:
Some good even fighting so far. EP came out guns blazing, but was not catching Wes off guard.
Sydney:
Both men are eyes wide open right now. This one could get interesting
Walker climbs to the top turnbuckle and leaps at El Pablo with a Spinning Flying Elbow. Walker hits nothing but canvas as El Pablo moves at the last second. Walker clutches his elbow as he gets to his feet while El Pablo runs off the ropes hitting a running Code Red. Walker staggers to his feet as El Pablo grabs him hitting a Dragonfishin'.
ONE...
TWO...
TH... KICK OUT!
Walker manages to roll onto his front breaking the count. Pablo lifts Walker to his feet but Walker punches himself free hitting a Spinning Front Kick to the Head of El Pablo. Walker drops onto his opponent as the referee counts.
ONE...
TWO...
TH... KICK OUT!
Watson:
Still so even here. They are going blow for blow and making each. other really work for this one.
Sydney:
It's all about wearing your opponent down. They are both being successful in that
Walker uses the ropes to drag himself to his feet. El Pablo is still down. Walker grabs El Pablo and lifts him to his feet. Walker hits El Pablo with a series of Right Hands before whipping El Pablo into the corner with such force that Walker himself falls to his knees. El Pablo ricochets out of the corner and Walker is easy pickings for a Taste The Rainbow. Pablo rolls Walker over and drapes an arm across Walkers chest
ONE...
TWO...
THREE!!!
DING DING DING
Starr:
And your winner, via pinfall
EL PABLO!
El Pablo rolls out of the ring with his arms in the air. A fan in the crowd offers him a slice of pizza. El Pablo takes it and sprinkles some Skittles over it before taking a bite. He then raises both arms into the air celebrating his victory throwing a handfull of Skittles from the hand without pizza.
Watson:
WOW! That was out of nowhere! El Pablo picking up a big win here tonight.
Sydney:
Yes, but don't discount Wes Walker. He came in and took it right to EP and really could have won this won just as well as Pablo.
After El Pablo's victory, his celebration from the ring is quickly interrupted by "Fast Lane". El Pablo looks towards the ramp confused for a moment.
Watson:
That's M$J's music, why is he about to come out here.
Sydney:
He's not on the card so why is he even in the building tonight.
M$J appears on the X-Tron with a big smile on his face.
---
---
Marcu$ $t. John:
I know everyone thought I was coming down to the ring and gracing $t. John, Canada with my presence but there's no need. I can get my point across from backstage. I have two very important things to tell my guy El Pablo here. For starters, congratulations on the win mi amigo. Now I don't have an issue with people, until I have an issue with people. Me and you? We're cool, at least we were.
El Pablo is still standing in the ring with his hands up in the air still wondering what's going on.
Marcu$ $t. John:
You see, you took something from me and that's not something that a friend should do. I may be a lot of things, but one thing I'm not is a thief and since I'm not a thief, I can't stand to be around thieves. It actually hurts my heart that you would do this to me. I mean at StrangleMania XVI I brought you in to a candy shop so that we could discuss strategy to win and even gave you free product and this is how you treat me?
M$J wipes his eyes as if there was anything in them.
Watson:
What is this guy talking about, El Pablo isn't a thief.
Sydney:
Is he? I'm interested in what he "allegedly" stole now.
Marcu$ $t. John:
You were announced as being number 1 so far out of all contenders for the North American Championship. That's my spot!!! I should be there and you stole it from me.
Sydney:
Oh my goodness there's a Luchador that just slid into the ring.
Watson:
Who the hell is that?
The Luchador turns El Pablo around and hits him with his own move, Taste the Rainbow. El Pablo lays down on the mat in pain. The mystery Luchador pulls off his mask to reveal that it's M$J.
Marcu$ $t. John:
The first important thing is that this message for you was prerecorded. The second and most important thing to tell you and everybody else is that at Paramount 7, it's El Pablo vs Marcu$ $t. John. The winner goes on to be the true number 1 contender to face Robbie Rayder for the North American Championship, and that mi amigo you can take to the bank and cash it.
The X-Tron fades to black.
---
---
---
TAG TEAM SHOWCASE
James Keaton & Ryo Hazama
VS Stitches & Gabriel Ohio
---
Watson:
Welcome back to Paramount Wrestling, folks! If you missed it, a bombshell was dropped before the commercial break and we have confirmed it with General Manager Chris Brock. At Paramount 7 it WILL be M$J taking on El Pablo and the winner will face Robbie Rayder for the North American Championship at the Paramount and Brawl Supershow in July from The T-Mobile Arena in las Vegas! Coming up next, though, we have a tag team match that will be one for the ages, I'm sure. Four men have been paired up for this match, but there is a lot at stake here. Ryo Hazama from Friday night Rampage will pair up with "The Wicked' James Keaton to take on perhaps the even more wicked pair of X-Division Champion Stitches and Gabriel Ohio.
Sydney:
I am so looking forward to this one Tim! These four men are not known for playing well with others and if tempers flare early here, we are going to witness an absolute train wreck that all of us want to see!
Starr:
The following contest is a tag team showcase scheduled for one fall! Introducing first, from Roppongi, Tokyo, Japan, weighing in at 236 pounds… He is the "Devil of Rampage"... RYOOOOOO… HAAAAZAMMAAAAAAA!
"My War" by SHINSEI KAMATTE CHAN goes off like an explosion, drawing the crowd into a hateful frenzy. The camera cannot find where Ryo Hazama is. When he appears, it's because he's hanging off one of the production rafters. The Avaricious One gazes down upon the audience, a clear act from his egocentric mind. Without no warning, he spreads his arms, where bursts of colorful smoke pops from several gebs scattered among the arena--scaring the audience members. With a long cackle, Hazama finds his way down to the stage and he makes his way down the ramp. As he does, he massages his jawline, taking up the camera's attention. He then rises onto the nearest turnbuckle and poses again, soaking into the atmosphere. He furthers this pleasure by laying across the turnbuckle and slinking down to the mat like a snake. He massages the mat before rising up creepily. From there, he eyes the nearest camera, not at all focused on the audience and their baleful noise.
Starr:
And his partner, from London, England, weighing in at 248 pounds.. He is "The Wicked"... JAMES… KKKKKEEEEEAATON!!
The arena lights begin to flash in tune to the drums as "The Wicked and The Cursed" by The Cold Stares plays throughout the arena. As the guitar rhythm plays, James Keaton makes his presence known by appearing at the top of the entrance ramp. Keaton begins cracking his knuckles in a slow and methodical way before walking with purpose to the ring. Keaton takes his time using the steps to enter the ring before leaning against the ropes and testing their strength.
Starr:
And their opponents.. First, residing in Parts Unknown, he weighs in tonight at 284 pounds… GABRIELLLL… OOOOOOOOHHIO!!!
"Pieces of Eden" by Satan's Arrival plays and the lights slowly start to flicker. The tron lights up with a dark figure walking up some stairs. It opens a door and the tron blacks out and the music stops.
A voice is heard.
"
Carpe Noctum!!
"
A Slowed down, more Hard rock version of the theme tune plays.
The announcer escapes with a hasty retreat out the ring.
The top of the ramp is filled with smoke and a 'Moonlight Style' spotlight appears shortly after. A face is zoomed in upon, cocked to the side.
The light goes out, few seconds later it appears again a bit down the ramp. Ohio stares, but he doesn't move. The light goes out. Shortly after the light comes back on and the face of Ohio is pressed against the camera lens, the burn scars on his face there for all to see.
He laughs a maniacal laugh before progressing into the ring at a slow manic pace. He stands centre of the ring as it starts to rain on the ramp way and stage.
Starr:
And his partner, from the carnival of shattered dreams, He is the EWC X-Division champion. He is…. STITCHES!!!!!
'One Missed Call (2008) Theme' plays as the lights go dark. As the beat in the music drops Stitches appears from behind the curtain. Stitches methodically makes his way down the entrance ramp with no care for the audience. Stitches approaches the nearby steel stairs, climbs up onto the apron and begins walking the edge of the apron like a tight rope before reaching the nearby ring post. Stitches climbs up onto the second rope and throws his arms out wide. Stitches enters the ring and sits down in the corner of the ring, waiting for the bell to ring.
Watson
: These men all specialize in violence and this is bound to be a violent affair.
DING DING DING
Ohio and Keaton start off as they go right for the tie up. Ohio quickly uses his size and weight advantage to push Keaton back into a corner, referee Matt Mercer calls for a break but Ohio immediately slams his knee into the midsection of The Wicked, which doubles Keaton over. Ohio backs up before the 5 count, but as soon as James Keaton comes out of the corner, Ohio is right there to throw him into the ropes. On the rebound, Ohio stops Keaton's movement flat by wrapping his hand around the throat of the The Wicked. Ohio lifts him up for a chokeslam, but instead comes down with a back breaker! The crowd audible gasps at the thud of the impact. Keaton almost goes lifeless as Ohio is quick to cover.
ONE…
TWO…
TH-Kickout!
Watson:
That man could have a broken back with that impact! That was a sick display of offense from Gabrel Ohio!
Keaton quickly rolls over to his corner and tags in Hazama. Ryo comes charging in and clubs the back of Ohio with a modified flying forearm strike! Ohio is caught off guard, but has no time to collect himself as Hazam is already back on the attack, hitting the ropes and coming off with a running lariat that brings Ohio to one knee! Hazama hits the ropes again and hits Ohio with another running lariat that sends the big man into the opposite ropes. Hazama gets to his feet and steps to the outside, stalking Ohio as he starts to get up, his back to Hazama unknowingly. Ryo looks directly at Stitches and then points to him before he locks in the tarantula hold!
Watson:
Shades of Neveah there with the tarantula hold!
Sydney:
That point was a direct message to the X-Division champion to say " This could be you"
Referee Mercer gets to 4 before Hazama releases the hold. He quickly enters the ring and tags Keaton back in! Keaton comes in a house of fire with kicks to Ohio before he gets in a snap DDT, he goes for the cover but doesn't even get a one count before Ohio powers him off and into the air a moment. Keaton is first to his feet though and dives at Ohio, barely snagging a diving double axe handle that just barely hits Gabriel in the knee. This does nothing but anger the big man as he gets to his feet and stares down The Wicked. Ohio lets out a yell of "IS THAT ALL YOU GOT?!" Which pisses off Keaton, who runs at his opponent, looking for a lariat, but Ohio ducks and gets around to the back of his opponent and locks the waist, hitting a high angle German Suplex, but Keaton Rolls through it and back to his feet! Ohio gets to a knee quickly and shoves off, trying to get back to his base, but James Keaton is able to grab Ohio's head and hick a rolling DDT that he holds into a necklock!
Watson
: Wicked DDT by James Keaton has Gabriel Ohio on the mat!!
Sydney
: I think the real story here is why Stitches has not even attempted to get into this match yet! He's just letting Ohio do all the work.
Watson
: He said that he would drag Ohio bell to bell, but it seems like Gabriel is doing all the work here!
Ohio struggles to get out of the hold, but finally does after about 30 seconds. He rolls over to his corner as Keaton rolls to his and both men tag their partners at the same time! Hazama and Stitches are not in the same ring across from each other and they waste no time in throwing punches like they are on fire! Trading right hands like there is no tomorrow both men unload on each other! Ryo gets Stitches to uneasy footing first and he capitalizes by climbing up Stitches leg and hitting an enziguri that sends the clown to the mat hard! Hazama follows up with a quick cover.
ONE…
TWO..
Kickout! Hazama gets up and looks to tag out, but is caught by the hands of the X-Division champion as Stitches grabs the leg of the Devil or Rampage and pulls him back before he can make the tag! Hazama is ripped to the mat by the force of Stitches pull and Stitches wastes no time in mounting Ryo and throwing punches down on him for about 5 seconds before he grabs his head and brings him back to his feet, shooting him into the ropes. He waits for Hazma to shoot off and come back before he side steps and hits and inverted cutter! Stitches then runs to the ropes and Hazama gets back to his feet, but on the rebound Stitches goes for a sliding uppercut, but Ryo sees it coming and hits a spinning back heel kick that hits Stitches right in the face! Ryo quickly tags out to Keaton.
Watson
: What a fast and furious exchange between Ryo Hazama and Stitches there. Those two are libel to kill each other if they keep going!
Keaton comes rushing in and grabs the downed clown, picking him up and stalling him in mid air. The crowd appreciates the show of strength and athleticism as Keaton keeps the X-Division champion upside down for almost 10 seconds before dropping him with a Northern Lights Suplex! Keaton with the cover.
ONE…
TWO…
TH-Kickout!
Somehow, Stitches kicked out after landing on his head from that suplex. Keaton shows the slightest bit of frustration before he gets to his feet and gathers himself, but is caught off guard when Stitches slides under him and hits another sliding uppercut! This knocks Keaton back and into the ropes. Stitches gets to his feet quickly and pushes Keaton further into the ropes, then sends him to the opposite side of the ring. On the rebound Stitches kicks James Keaton in the midsection, then locks in the Future Shock DDT hold. THE SOUND OF SILENCE!!!! Stitches with the cover.
ONE…
TWO…
THREE!!!
DING DING DING
Starr
: Here are your winners via pinfall… GABRIEL OHIO and the EWC X-Division Champion… SSSSSTITCHESSSSS!!!!
Watson
: When Stitches wants it over, he makes sure it is over. Wow.. That was an impressive show there.
Sydney
: Perhaps a little bit of tit for tat for Hazama. Showing him that he can just as easily end a match whenever he wants. Ryo Hazama and Stitches WILL share a ring again as opponents, that much I can tell you for certain.
Watson
: The understory of this match though was that James Keaton and Gabriel Ohio really went at each other well here. I think this is not the last time we have seen these two in a ring against each other. What a display by both men.
Stitches is handed his X-Division championship right before he raises Gabriel Ohio's hand. Ohio looks to Stitches, who looks back while clutching his championship. Ohio simply nods his head before he rolls out of the ring. The camera cuts to
---
---
The camera cuts to the back inside the TD Station in St. John, New Brunswick, Canada to find 'The Prodigal Son' Buddy Love looking all confused as he stares at the wall, he looks over at the camera and tilts his head, puzzled
Love:
Remind me again...who is Jake Lumas?
He rubs his hand over his chin as if it's a real mystery
Love:
I mean they way you talked to Killjoy it's as if you have done something around here or are someone…
Buddy tosses up his hands and shrugs as if he doesn't get it
Love:
I mean the Jake Lumas I know is a 3-3 Paramount wrestler that has choked his two chances at Paramount Championship gold away and yet remind me again how many championships Killjoy has won…
Buddy starts counting on his fingers, 1,2,3,4...5
Love:
You crack on my family and yet we have managed our clients to…
Buddy starts counting again, 1,2,3,4,5,6,7,8...9
Love:
9 championships here in the EWC, I mean that's more championships than matches you have in the EWC…
Buddy laughs and then gets all serious
Love:
And you crack on Killjoy because he doesn't speak, maybe he's shy did you ever think of that or maybe he has a learning disability and struggles with langues...that's a real thing you know and the reason I never had to learn Spanish…
Buddy nods
Love:
You criticize the way Killjoy beat Wes at StrangleMania...I mean you realize it was an X-Division match right? Where the only rule is to be creative in how you hurt your opponent...I thought you were a fighter, why do I have to explain this to you...should Paramount order a CT Scan for you?
Buddy shrugs
Love:
I mean listen, it's one thing to question me and my role in Killjoy's career but I did manage him to TWO wins over Ace King and remind me again what your biggest win is...oh that's right Wes Walker, the same Wes Walker you once confused Killjoy with my father…
Buddy shakes his head laughing
Love:
You think you are on the right path just because you beat Wes and James Keaton? Really, that's the bar you set for yourself...that MVP might really be going to your head Jake but let me make one thing clear to you, the only...and I mean ONLY reason I know who you are is because I think 'Old Man' Jeff is funny as heck and I have a soft spot for old men…
Buddy pauses
Love:
Wait that didn't come out right, I like old men...darn it, that's not right...I'm a fan of 'Old Man' Jeff and he's a fan of yours...or maybe he's just a fan of the Lululemon Yoga pants and I mean who isn't...the way they shape the ladies rears but that's the only reason I even know who you are...that's how much of an impact you've made around here...it took a senile old man goofing on your name to make people know who the heck you are while Killjoy...ever person in the EWC knows who he is…
Buddy shakes his head
Love:
But don't worry after tonight people will know who Jeff Lumas is, they will say 'yeah, he's that roadkill Killjoy left behind in Canada on his path to EWC gold once again...as they say in the movies, "we'll make you famous'....
Buddy smiles and gives the camera a shot from his quickly drawn finger gun. Fade out.
---
---
---
SINGLES MATCH
Jake Lumas
VS Killjoy Ito
---
We return to ringside, where Watson and Sydney are already eager to keep the action going.
Watson:
We've got a doozy for you coming up next folks. Two of Paramount's heavy hitters as former X-Division Champion, Killjoy Ito goes one on one with Jake Lumas, a man who's carved a name for himself despite a few setbacks along the way.
Sydney:
Call them what they are, Tim, losses, including a few bad ones, but Lumas has shown he's never the type to back down from a fight, and he's guaranteed to get one from Ito.
Watson:
All we need now is to get those two in the ring, so let's hand it off to Isabella.
The scene switches to a close up of Isabella Starr as she stands in the middle of the ring.
Starr:
The following contest is a singles match scheduled for one fall to a finish. Introducing first, from Cincinnati, Ohio. Weighing in at two-hundred and twenty pounds … JAAAAAKE … LUUUUUMAAAAAS!
The steady bass and hi-hat intro to 'Born to Raise Hell' by Motorhead powers up at 140 beats per minute. The lead guitar crunches and slides as Jake Lumas steps out from behind the curtain. He looks on the crowd and raises his trusty steel chair in the air to let them all know he brought it. He allows the music to pour into his veins. Nods his head to the beat. He summons energy from the crowd into his hands and feet but stands perfectly still. The song itself is like a lightning rod that fills him with explosive energy. He relaxes his body and lowers his head. As the song heads into the chorus, he lifts his head and smiles the peaceful grin of a lunatic on a full moon and bumps his chair against his forehead to wake his body up. A determined jog to the ring turns into a sprint, and chair in hand he slides into the ring, ready to take his pound of flesh.
Sydney:
Hope Lumas knows that chair won't be much help in this one.
Watson:
Knowing Lumas, he'll find a way to get it involved, unless Killjoy or Buddy can keep it away from him.
Starr:
And his opponent, from Daly City by way of Tokyo, Japan … KILLJOOOOOY … IIIIITOOOOO!
'The Prodigal Son' Buddy Love walks out onto the stage and raises his arms into the air as the lights fade out. He jumps up and down as 'Deeper Depper' begins to play. A strobe light circles around the stage as a single white spotlight hits the stage where Killjoy Ito is standing, his back facing the ring, his arms stretched out and his head down. He swings around to face the ring as Buddy Love runs up and stands next to him. After a quick word the pair start to walk towards the ring, Buddy runs ahead and charges up the steps and holds open the ropes for Killjoy to step through. Killjoy walks to the center of the ring, extends his arms and tilts his head back to soak everything in.
Watson:
Ito had a rough go of things back at Uprising, but he's not the Ace of Paramount for nothing. Lumas has a hell of a challenge in front of him, and Killjoy's no doubt looking to make Jake the first rung on his climb back to the top.
DING DING DING




Lumas wastes no time rushing Ito, snapping off a few leg kicks and a palm strike to the jaw that snaps Ito's head to the side. Buddy starts calling from the outside, but Lumas is using a flurry of punches and elbows to drive Ito back into the corner. Blocking a shot, Ito answers with a stiff punch of his own, grabbing Lumas' head and smashing his face into the buckle, before hitting a backdrop suplex as Lumas recoils. Quick to his feet, Ito drives a knee down into Lumas' head, then follows up with a second. Grabbing a handful of hair, he pulls Lumas to his feet and backs him into the ropes, looking to whip him across, but Lumas reverses it into a kitchen sink, sending Ito flipping over onto his back. Jake stomps on Ito's face, then drops an elbow across his throat, before moving into a mount and raining a barrage of hammer fists and 12-to-6 elbows. Buddy continues to call advice from the corner while Ito defends against the assault, eventually catching Lumas' arm and sweeping him over, trying to move into an armbar, but Lumas wrenches loose and rolls away. Both men get to their feet and Ito is the quicker this time, landing a pinpoint dropkick to Lumas' chest and sending him back into the corner. Lumas bounces off the buckles and comes back with a running reverse elbow, but Ito ducks, coming up behind Lumas looking for the Ronguguddonaito! Lumas drives an elbow back into Ito's ribs, then a second, but Ito answers with a forearm to the back of the neck before hooking Lumas' arms and throwing him over backward with a tiger suplex! Ito holds the bridge, but Jake kicks himself loose.
Watson:
These two are bringing the violence tonight! Lumas is looking especially angry here tonight!
Sydney:
This is must win match for both men and it is showing right now!
Undeterred, Ito pulls Lumas to his feet and lands a few low kicks of his own, before thrusting a kick to his gut, doubling Lumas over. Ito hooks him up and lifts him into a suplex, before dropping him down into a neckbreaker across his knee. Lumas clutches at his nape, but Ito is already back into the ropes, coming off with a penalty kick right between Lumas' shoulders. Lumas calls out, but starts laughing after, groaning in pain in between chuckles as he starts to get to his feet. Ito looks at Buddy, who shrugs, before Ito turns and nails Lumas with a right, then a chop across the chest. Lumas seems to absorb it, grinning in Ito's face before grabbing his head with both hands and smashing a headbutt into Ito's nose. Ito reels, and Lumas rushes in with a short clothesline that takes Ito down. Ito tries to get up quick, but Lumas clinches him by the head and starts drilling Ito's ribs with one knee after another, backing Ito into the ropes. Ito doubles after one brutal knee, and Lumas snaps him over with a short suplex, back rolling into another mount, only this time with a top-mounted guillotine applied! Ito kicks at the mat, trying to drag himself backwards to the ropes or lurch to the side, anything to dislodge Lumas, but the veteran fighter keeps his dominant position. Trying a new tactic, Ito plants his feet and bridges, using his core to lift Lumas off the ground, but Lumas slams himself down into Ito's gut, driving him back to the mat. Refusing to quit, Ito tries again, this time shifting Lumas enough to pry himself loose of the man's arm. Still in mount, Lumas immediately drills Ito with a stiff straight punch, then a second, and a third. Ito eventually blocks the fourth, and gets a foot up to kick Lumas away, but blood is already dripping from his nose. Lumas rushes in to catch Ito before he can stand, but Ito side steps and brings a kick up into Lumas' sternum, knocking the wind out of him. Lumas steps in with a forearm, but Ito ducks, hoisting Lumas up into a fireman's carry before dropping him into a gutbuster. Lumas curls in pain as Ito covers him.
Watson:
Ouch, that one had to hurt!
Sydney:
Might have hurt, but Lumas is no stranger to it. Ito needs to capitalize now!
Lumas kicks loose, causing Buddy to argue from the outside. Ito gets to his knees, rising slowly as Lumas crawls to the apron. As the official turns to calm Buddy down, Lumas pulls the apron skirt away to reveal yet another chair! As he goes to grab it, though, Ito sees it and stomps on Lumas' hand. Rolling away, Lumas shakes the limb out and grimaces, but Ito just reaches down to grab him and pull him up. Seeing the official still with Buddy, Lumas hits a low blow, driving his arm up between Ito's legs, then tossing him overhead with a back body drop over the ropes. Ito hits the apron hard before landing on the floor with a thud, cradling his groin. Seeing Ito outside, Buddy immediately comes to check on him, trying to help him up, but Lumas suddenly launches himself over the ropes with a suicide flip, catching Ito flush and knocking Buddy aside as all three of them collapse to the floor. The ringside fans crowd the barrier, slapping the rail and cheering as both Ito and Lumas lie flat, catching their breath. Buddy gets to his hands and knees, then uses the rail to pull himself up, reaching up to cradle his skull, still dazed. Lumas sits up next, panting, but grinning from ear to ear. Turning, he grabs Ito and pulls him up as well, only to run him back spine first into the rail, then turning him around to do the same against the apron. Ito grits his teeth in pain, but Lumas just grabs him around the head and kicks off the steps, looking for a Goodnight Sally on the floor, but Ito shoves him off, letting him slap face first to the floor. Bouncing up onto his knees, Lumas clutches his ribs as Ito rolls into the ring to break the count. Lumas staggers to his feet and dives beneath the rope as well, but Ito immediately catches him with a basement dropkick. As Lumas lies dazed on the mat, Ito slowly moves to the corner and hoists himself to the middle rope, before stepping to the third. Measuring the distance, he comes off with a diving foot stomp, but Lumas rolls towards the corner, leaving Ito to jam his knee on impact. Ito staggers as his leg nearly buckles, but turns to face Lumas, who steps in and scoops him up with a sidewalk slam. Keeping hold of Ito's leg, Lumas leans back for a cover.
ONE...
TWO...
THR-
Buddy grabs for Ito's foot and pulls it under the bottom rope, calling for the official to look and see. The ref glares at Buddy, immediately asking if he put it there, but Buddy backs up and pleads his innocence. He even asks a few of the ringside fans, most of whom rat him out, but a couple back him up. Lumas gets to his feet and turns to look at Buddy, not really glaring, just staring, enough to make Buddy fidget uncomfortably. Behind Lumas, Ito is rolling to his knees, so Lumas backs up and aims a Bangkok Battering Ram for Ito's face, but Ito catches the leg and rises, quickly twisting into a dragon screw that tears at Lumas' knee. Grabbing hold, Ito quickly lifts Lumas up and tries to spin him out into a falcon arrow, but Lumas lands on his good leg and plants the other into Ito's gut, tossing him over with a reaping hip throw. Ito rolls with the impact, coming up just as Lumas gets to a knee, and turns around right into the Kettei-Da! Lumas snaps backward, hitting the mat hard as Ito quickly hooks both legs and rolls into a cover.
ONE...
TWO...
THREE!!!
DING DING DING
Starr:
And your winner, via pinfall … KILLJOOOOOY … IIIIITOOOOO!
Watson: Well it wasn't pretty, but it got the job done. Killjoy Ito is back in the win column
Sydney: This match could have EASILY gone Lumas' way. I have to say that Jake Lumas is finding his groove and he is a dangerous man when in it. He will adjust and look for vengeance in his next match!
---
---
---
The camera pans over the crowd. A dark haired female in glasses and a Paramount hoodie threatens to lift it up and flash. The camera stops and centres on the fan who unzips her hoodie and pulls at her hair revealing.....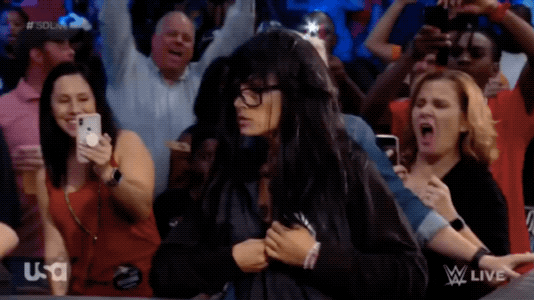 Emma Louise:
I said I'd be here. I thought I would take the time and sit here tonight and take in the action from the front row. It's one thing to watch on a monitor in the back or the TV in my home. But it's another to watch live. I wanted to here the roars of the crowd, the chants. I wanted to hear and see everything that goes into Paramount. See, I spent the best part of the last two years on the other side of the curtain and I got used to understanding the show based on what I saw.
But sooner or later, maybe even at the next Paramount, I'm going to be back in the ring. So I decided to use the opportunity to take in this amazing show. So bring on the main event and I will see you all soon as I WILL be at the next show.
The camera switches angle and pans over the crowd again.
---
CW BROADCAST CHAMPIONSHIP MATCH
"La Belicista" Isabella
VS David Miller
---
We return to ringside where Tim and Sid are standing by.
Watson:
Emma Louise ladies and gentleman! Welcome back to Paramount Wrestling! Now its time for the title fight of the night, folks! The CW Broadcast championship will be on the line as we see a rematch from Brawl last season. Isabella is back and has carved her way right back to David Miller, but this time Miller is a champion and seemingly bulletproof on Paramount.
Sydney:
His only loss this season is to Ace King this past Friday on Rampage. Can he get back on the horse and keep his title?
Starr:
The following match, set for one fall, is for the CW Broadcast Championship! Introducing first, the challenger, from Tijuana, Mexico weighing in at one hundred and sixty-four pounds, she is 'LA BELICISTA' ...
ISABELLA!
As Our Last Night's "Same Old War" blasts over the PA, a large red plume of smoke conceals the top of the ramp. The Mexican flag appears on the X-Tron as a shadow appears in the lingering fog. Red pyros shoot off into the air as we see "La Belicista" Isabella's silhouette.
Isabella strides confidently down towards the ramp, giving high-fives to the fans and audience along the way. When "La Belicista" Isabella arrives in front of the ring, she slips in between the middle and uppermost set of ropes.
She then stands atop the same ropes she slid through. She clenches her right fist and raises it high up in the air. Her left, meanwhile, raises as she salutes to the EWC audience. After soaking in the reaction and atmosphere, "La Belicista" jumps off the ropes, lands gracefully on her feet, and turns to wait against the turnbuckle whilst waiting for her opponent to arrive.
The lights of the TD Station fall low without warning. Seconds pass in silence, before a single tone bleeds through the speakers, leading into a hard, pounding cadence that echoes throughout the arena. Black and white video-clips begin to play in time with the beat, showing Miller shadow boxing in an empty ring, competing in past matches, or glaring into the camera from various angles. As the music reaches a raucous crescendo, becoming the metal chords of Damnation Plan's "Judgement Day," the lights return in violent, pulsating strobes, driving the crowd into a frenzy as video clips of Miller play in a smash cut montage on the X-Tron. David Miller marches out from behind the curtain with his head bowed, and fists clenched, the CW Broadcast Championship strapped around his waist. Coming to a stop at the center of the stage, he lifts his head and stares down at the ring with an intense, singular focus. Giving a sudden twist to pop the bones in his neck, he starts down the ramp at a slow, methodical pace.
Starr:
And the opponent, now making his way to the ring, hailing from Long Beach, California. Weighing in at two hundred, thirty-five pounds. He is the current, reigning, and defending CW Broadcast Champion ...
DAVID MILLER!
Reaching the floor, Miller stalks the inside of the guardrail and slowly circles around to the ring steps, pausing and rolling the joints in his shoulders loose while bouncing from one foot to the other in mental preparation. Suddenly exploding into movement, he charges up the steps onto the apron and ducks between the ropes, immediately crossing to the far corner and pulling himself up onto the second buckle, staring down into the ravenous fans below. Miller slowly unstraps the title and raises it overhead with a calm finality, a cold smile forming beneath his hood before he roars out into the crowd and pounds his free hand against his chest. Stepping down to the canvas, he turns and folds the straps beneath the plate before handing the belt to the official. Reaching back, he peels off his jacket and casts it aside, locking Isabella with a hard stare as he waits for the bell to ring.
DING DING DING
Isabella starts with kicks to Miller's thigh. As he reaches for his thigh, Isabella hits an Elbow to the back of the head and a Knee to the jaw staggering Miller into the corner. She charges. He raises a boot. Isabella is able to push Miller over the top rope and onto the apron. A Clothesline knocks him down onto the apron but Miller rolls back into the ring. Isabella tries to lift Miller onto her shoulders but she's unable and Miller pushes Isabella off the ropes and catches her with a Knife Edge Chop that knocks her to the canvas. Miller lifts Isabella to her feet and positions her hitting a Pump Handle Slam. Miller quickly grabs her left arm applying an Armbar. Isabella powers back to her feet quickly but Miller knocks her back to the mat after pulling the Armbar into a Short Arm Clothesline. Miller lifts Isabella to her feet and then up for a Suplex but Isabella is able to slip out of it knocking Miller down with a Big Boot.
Isabella climbs to the middle turnbuckle as Miller picks himself up. Isabella jumps, twisting 180 degrees and hits Miller with a Back Elbow. Isabella stands behind Miller as he gets to his feet before grabbing him and hitting a German Suplex. Isabella bridges it as the referee counts.
ONE...
TWO...
TH... KICK OUT!
Miller gets a shoulder up breaking the count. Both get to their feet and Isabella runs at Miller. She runs into a Knife Edge Chop. It doesn't knock her down this time but it takes her breath away for a moment allowing Miller to hit a Gutwrench Suplex. He hooks the leg.
ONE...
TWO...
TH... KICK OUT!
This time Isabella gets a shoulder up.
Watson:
This match could end at any minute folks. Both fighters are absolutely swinging for the fences with every blow and it's already taking a toll on them.
Sydney:
This will be about who can absorb more punishment. Isabella is former Military, Miller has known nothing other than fighting.
Miller is on his feet and again lifting Isabella to hers. Miller quickly spins Isabella hitting her with a Hangman's Neckbreaker. He hooks the leg.
ONE...
TWO...
TH...NO! KICK OUT!
Miller looks stunned by Isabella's kick out even if it was raising her shoulder an inch off the mat. Miller again lifts Isabella to her feet but she shoves him away hitting a series of Elbows and Right Hands. Isabella Irish Whips Miller into the corner. He lifts his feet to block but Isabella grabs Miller's legs and puts them on her shoulders. Isabella staggers out of the corner with the added weight of Miller on her shoulders before dropping Miller with a Fubu. She hooks grabs his legs as the referee counts
ONE...
TWO...
TH... NO! KICK OUT!
Watson:
Good God someone may not wake up after this match!
Sydney:
Isabella is taking Miller further than maybe anyone else has been able to for the CW championship all season long.
Both are on their feet and Isabella strikes with a Back Elbow to the face that staggers Miller. Isabella Irish Whips Miller into the corner and charges. Miller knows what's coming and moves out of the way at the last second and Isabella runs into the corner herself. Before Miller is able to capitalise, Isabella kicks Miller's left knee from under him and Miller drops to his knees. Isabella lashes out with a Fugazi but Miller ducks it quickly hitting Isabella with a Hard Goodbye he bridges into a cover.
ONE...
TWO...
THREE!!!
DING DING DING
Starr:
And your winner, via pinfall and STILL CW Broadcast Champion
DAVID MILLER!
The referee hands Miller the championship and he leaps to the middle turnbuckle holding his championship in the air to the cheer of supporters. He then steps out of the ring onto the apron again holding the championship in the air for all to see.
Watson:
My God! What a match. Somehow David Miller keeps finding ways to win!
Sydney:
But do NOT take a single iota away from Isabella here. She came within mere moments of winning her first Championship in EWC and we very may well be seeing Miller again for this championship!
Watson:
STAFF WILL SETUP WHAT COMES NEXT / MATCH OR SEGMENT
Camera cuts to ...
---
---
---
TAG TEAM SHOWCASE
The Texas Angels
VS The Xtreme Ravagers
---
We return to ringside where Tim and Cid are ready for the Main Event!
Watson:
Here we are folks, it is time for our Main event! The Tag Team division runs through Paramount right now as the Southern Express, fresh off their win at World Wide 3, call Paramount Wrestling their home! Tonight we have the Texas Angels taking on The Xtreme Ravagers!
Sydney:
The Texas Angels are looking for a big win here tonight and this certainly would do it. Can the Ravagers prove that Texas, is NOT in fact, forever?
Starr:
The following match is a tag team match scheduled for one fall. Joining us first, from the great state of Texas, at a combined weight of three-hundred eighty six pounds ... Alexander Samson, Orion Wentworth, they are ...
TEXAAAAS AAAAANGEELS!
"Folsom Prison Blues" by Home Free blares over the sound system as Alexander Samson and Orion Wentworth makes their way out onto the stage. They lift their arms into the air before marching down the ramp. They slide into the ring and pose on the turnbuckles while singing along with the song.
Starr:
And their opponents, weighing in at three-hundred sixty five pounds ... Samantha Hamilton and Xavier Reid are
THE XTREEEEEEME RAVAGERS!
As Heavenly's 'Bravery In The Field' plays over the PA system, we see the figures of Samantha "The Titaness" Hamilton and Joseph "Orion" Hunter standing next to each other. Not too far away, "The Memphis Mouthpiece" Tommy Love is beside Xavier Reid.
Each manager walks alongside their respective clients.
When everyone arrives at the ring, Tommy and Joseph pull the ropes open, allowing Sam and Xavier to step inside. The two wrestlers stand in the center and form an X with their arms. They stay in the center for a few moments before going to a corner.
Watson:
Four big time wrestlers are about to do battle. Texas Angels, Xtreme Ravagers. It's the Main Event of Paramount Wrestling!
DING DING DING
Wentworth tries to catch Hamilton off guard and gets planted down with a spinebuster. Sam keeps her target down on the canvas with several body kicks. Reid calls for the tag, so Hamilton grabs Orion by the throat and begins to lift her up. Wentworth gets a few wild kicks off as she is pulled to a vertical base. Orion breaks free of Samantha's grasp and lunges to her own corner. Hot tag to Alexander Samson and Hamilton is furious. Samson slyly rolls underneath a clothesline and brings even the Titaness to new heights with a back body drop. She's up and clutching her back. Samson clothesline to the canvas! He isn't giving Hamilton even a second to breathe or regain control, grabbing her by the hair and bringing her over to his partner Orion. Samantha has other plans, though, as she plants a stiff elbow to the midsection just as the two were about to tag and follows up with a shiranui. Samson is planted onto the canvas hard and both partners are rallying for their corner to get the next tag.
Watson
They tried to get at Samantha Hamilton early, but failed. This match is is just starting though!
Sydney:
The Angels of Texas need too really bring the heat if they want to win this one!
The Texas Angels get another tag off, Orion quickly rushing to Samantha to grab her boot before she gets close enough to Reid. Wentworth is just in time to have the fingers of The Xtreme Ravagers mere inches from one another. Hamilton begins hopping on one foot before connecting with a dropkick on Orion. Then another dropkick on Alexander Samson. Then a second one back on Orion Wentworth before Samantha Hamilton can finally tag Xavier Reid into the match. The Texas Angels have slid out of the ring and attempted to collect their bearings together to turn the tide back around. Xavier smiles as he paces back and forth, waiting through the referee's count for them to return. Samson slides in first and the referee doesn't even have time to correct it as Alexander stands right into an Xavier Reid ranhaim maker. Reid doesn't stop there, grabbing both hands of his opponent to pull them up at he mudhole stomps Alexander Samson's face into the canvas.
Watson:
F You Stomp from Xavier Reid to Alexander Samson, but Orion is is 'legal man' here.
Sydney:
Orion might be looking for the Cosmo Smash big boot here.
Orion Wentworth connects with the big boot to the back of Xavier Reid's head, sending him face first into a nearby second turnbuckle. She swiftly connects with another to the face of Samantha Hamilton. This sends the Titaness into the arms of her manager and husband. They share a moment before he promptly helps her to her feet on the outside. Meanwhile, Wentworth has continued her assault on Reid in the corner with hard left forearms, right elbows, and now her foot stretched outwardly against his throat as the referee counted to five. She would then maneuver him over and get herself seated on the top rope. Samantha Hamilton was up on her corner again and wanted nothing to do with whatever Orion's plans were, but as she rushes over on the ring apron Alexander Samson connects with a spear that takes them both to the thinly-padded concrete.
Watson:
Alexander Samson hit the Tampa Lightning on Samantha, taking them both outside the ring!
Sydney:
Orion is about to do perhaps a tornado DDT but Xavier Reid is putting up a fight!
Wentworth has Reid's head clutched under her arm as he relents with right hand after right hand to her midsection. He begins to ascend the ropes himself, forcing Orion to the top rope. She tries to keep him in place with hard left forearms but he breaks out of her hold. Reid connects with a STIFF right hand to Orion's face hard enough to stun her up there. Alexander Samson is barely getting to his feet outside the ring when Reid hits Wentworth with his brainbuster suplex onto the top turnbuckle. The crowd groans at the sight as Reid rushes for the pinfall attempt.
ONE...
Tommy Love is pleading with Hamilton to get up, bothering Samson enough on the way into the ring to catch a back elbow to the mouth.
TWO...
Samson slides into the ring after the pot shot on the manager. Tommy grabs Alex's wrestling boot to try to stop him and gets shove kicked hard into the stumbling Samantha Hamilton.
Orion Wentworth kicks out just before 3!
Watson:
Orion has the wherewithal to kickout regardless of their partner not getting there.
Sydney:
Samantha is getting up outside the ring, Alexander is in the ring, things are getting crazy folks!
Reid is surprised by the kick out. Then he's more surprised when Samson pulls him off Orion late. The referee tries to get between the two men and is inadvertently trampled into the corner as both men exchange right hands. Samantha Hamilton slowly slides into the ring as Reid ducks under a right hand and shoves Samson right into the 'Fall of Man' submission by Hamilton. Reid turns and checks on the referee, who is flustered and stunned but breathing, before stalking Orion Wentworth looking for his own triangle choke submission right next to his partner. The Texas Angels are just too far away from each other or the ropes to get a handle on turning this around. They have no other choice but to tap out simultaneously on the canvas.
DING DING DING
Starr:
And your winner, via double submission...
THE XTREME RAVAGERS!!!
Reid and Samantha release the holds and allow the referee to raise their hands as the Texas Angels check on each other to make sure neither is injured
Watson:
The Angles gave it a great fight, but the violence of Samantha Hamilton and Xavier Reid was just too much!
Sydney:
It was a hell of a match nonetheless Tim! What a great way to end the show!
---
---
The superstars have headed to the back after the main event, however the lights in the arena do not go back up. Instead they go down lower, in a deep orange and pulse very slowly between orange and blue. Any fans that had stood up already decided to sit back down, curious. A low hum echoes over the arena from the speakers before a logo appears on the X-Tron.
Watson
: Folks, I have no idea what is going on here, but someone seems to be messing around in the production truck
It hovers there for a moment on the screen before it drops the 'W' from the logo.
...................
Again, it lingers for a moment, the crowd murmurs before the 'FS' logo slides to the right, and in front of it, a J appears!
Watson:
WHAT THE HELL IS GOING ON HERE?! Is this come kind of sick joke?!
The New Brunswick crowd ERUPTS as Jordan Sharpe's theme music plays. It plays for a few seconds before lo and behold, JFS himself appears on the stage. With a beard!
Watson:
OH MY GOD IT'S HIM! HE'S BEEN MISSING SINCE STRANGLEMANIA, BUT IN HIS HOME PROVINCE OF NEW BRUNSWICK, JORDAN FREAKING SHARPE IS LIVE ON PARAMOUNT, AND THIS CROWD LOOKS LIKE IT'S SEEN A GHOST OF SOMEONE LONG DEAD!!!
Jordan smiles as he stands on the stage, soaking it in as the crowd gets worked into a frenzy. He starts walking down the ramp, high fiving everyone in the first rows as he grabs a microphone and slides into the ring. He jumps up onto the top turnbuckle and throws his arms up to the crowd as they chant
JFS!

JFS!

JFS!

JFS!
He steps back into the ring, running his fingers through his facial hair as he looks around at the crowd. He raises the microphone to his mouth, but the roar of the crowd is now almost defeating. He waits a few seconds for them to calm down. He looks very emotional as he addressed the EWC Nation.
JFS:
Did you miss me?
They explode again and he laughs, looking around at the EWC crowd.
JFS:
I'm sure you're all wondering where I was …. I'll get to that... sometime soon. However THIS is about YOU! I am standing here, in front of you all right now, because I have some things I need to say. Many years ago, when this place was still called 'Harbour Station' …
That gets another pop from the crowd.
JFS:
I attended my very first ever professional wrestling event. In those very seats up there I sat and I watched the sport that I knew I was destined to become a part of. I fell in love with this from the moment I saw it. But how could I do it? Nobody famous ever comes from New Brunswick, eh? The tiny province in a big country on a big planet that most people probably don't even know exists. But I was determined. So I SCRATCHED and I CLAWED and I FOUGHT my way through this crazy and insane world of pro wrestling until I got to the one and only EWC. I poured my heart and my soul into this. There have been good times, and there have been bad times just like anything else but I LIVE for this! I LIVE to entertain each and every one of you in those seats right now! Now whether or not pro wrestling is your thing, that doesn't matter. It could be dancing, it could be stand-up comedy, it could be art, it could be being a chef .. whatever your thing is, don't EVER let ANYONE tell you that you can't do it because of who you are or where you come from. Never let anyone stop you. You've always got at least one person in your corner.
He points at himself and laughs as he continues.
JFS:
In my soul searching, I truly believe I found myself. Wait a minute … that means ..
I
FOUND JFS! I believe that means I am owed one million dollars? Victor Price, you can auto-deposit that bad boy in my account or I can show up on PRIME and get the cheque in person, up to you playboy!
The crowd pops for him again and he continues on.
JFS:
I refuse to let losing the Indy Championship at StrangleMania define who I am. I have a lot to be thankful for, I have a badass woman who loves me. I am part of the greatest faction in EWC with my friends. Did you guys see the 'Xtreme Ravagers' out here? Yikes. And I have you guys, the support of the greatest fans in THIS BUSINESS! I thought for a moment that was the end of JFS. I was ready to call it quits, or worse. But in my darkest hour, I looked way … and I mean, WAY down deep into myself and you know what I came up with, guys? I figured out that I'm ……….
He keeps them on the edge of their seat for a moment.
JFS:
NOT DONE YET! I am Jordan FREAKING Sharpe, I am from good old New Brunswick, Canada, I am not just Simply The BEST, I AM professional wrestling, hell, I AM the EWC and now...
I. AM. PARAMOUNT.
He tosses the mic up in the air and throws up three fingers as they chant JFS again.
Watson:
NO WAY?!! JFS is now a member of Paramount Wrestling?!
Sydney:
Well Brock did say he may not be done bringing talent to the Orange brand... I have to give it to him, the man can make a splash!
A huge pyro display goes off as we fade to black.
..................................................................................................................

MATCH WRITERS
MATCH ONE
WRITER:

Jake Lumas
MATCH TWO
WRITER: @daviddunham
MATCH THREE
WRITER:

Emma Louise
MATCH FOUR
WRITER:

PARAMOUNT
MATCH FIVE
WRITER:

David Miller
MATCH SIX
WRITER:

Emma Louise
MATCH SEVEN| MAIN EVENT
WRITER:

The Mad King
..................................................................................................................
RECAP OF WINNERS
SINGLES MATCH
Jake Caxide Vs Jason Hunter
WINNER: Jason Hunter
...

SINGLES MATCH
Gabrielle Visctony Vs Adriana Aquilla
WINNER: Gabrielle Visctony
...

SINGLES MATCH
El Pablo Vs Wes Walker
WINNER: El Pablo
...

TAG TEAM SHOWCASE
Ryo Hazama & James Keaton Vs Gabriel Ohio & Stitches
WINNERS: Gabriel Ohio & Stitches
...

CW BROADCAST CHAMPIONSHIP MATCH
Isabella Vs David Miller
WINNER: and STILL CW Broadcast Champion: David Miller
...

TAG TEAM SHOWCASE
Texas Angels Vs Xtreme Ravagers
WINNERS: Xtreme Ravagers

...


...............................................................................................................…
MVP OF THE NIGHT:

David Miller


MATCH OF THE NIGHT:

"La Belicista" Isabella

Vs

David Miller



© THE EXTREME WRESTLING CORPORATION 2021