Post by PARAMOUNT on May 25, 2022 21:06:53 GMT -6
The Extreme Wrestling Corporation Presents


** The Parabellum Preview **
EPISODE #20
MAY 25TH, 2022
LIVE!
from the Wembley Stadium - London, UK
---
---
WARNING: This live event contains strong coarse language (L), and intense violence (V) which may be unsuitable for younger viewers. None of the matches you are about to watch have been predetermined. Only some of the thematic story-lines have been discussed beforehand. Accordingly, EWC and it's producers must insist that no one attempt to recreate or re-enact any match or activity performed in this live event.




---
---
"Superstar" by For Squirrels begins to blast over the arena speakers as our feed comes to life...
The scene immediately cuts to a pyro show erupting on the outside of Wembley Stadium!
Then a cut to another, equally explosive show on the inside!


The fans packing Wembley Stadium tonight all come to their feet. Further explosions rock the very foundation of the arena as a large video screen is lowered from the rafters, stopping 15 feet above the ring! Everyone in London knows that the self-proclaimed greatest show on Wednesday night is about to begin and they cheer accordingly! The heavy riffs from 'Superstar' continue to blare over the arena, setting the tone for what is to come later on this evening.




IT'S ALL I WANT, IT'S ALL I NEED

IT'S ALL I SEE, IT'S ALL I BREATHE

IT'S WHAT I AM, IT'S WHAT'S I KNOW

IT'S WHAT I FEEL, IT'S WHAT I BLEED!
On the X-Tron, this episode of Paramount Wrestling begins with its opening video montage detailing many of the historic events that have taken place in the five-year history of Future Stars of Wrestling, setting the tone for the history of the Orange brand. From past champions like Jason Hunter, Dixie Dubois, Amis Shelton, Magdalena Lockheart, and Otaki all standing underneath an old FSW logo to the more current Future Stars Champions like Xavier Reid, Cletus Franklin, Robina Hood, Robbie Rayder, Stitches, Candy, and Wes Walker tearing down that mold, showing the Paramount Wrestling Logo...


As more pyro goes off the the Paramount Wrestling logo appears and flashes of the roster appear on the screen such as Marcu$ $t. John, Emma Louise, Robbie Rayder, Asriel Buzzard, Adriana Aquilla, Nevaeh, Faith Rivers, Shaker Jones, Jordan Freakin' Sharpe, The Hawaiian Hunters, and the Halo Syndicate. . The final images shown is a montage of "The Miracle" Johnny Maelstrom, the CW Broadcast Championship around his waist, "The Wicked" James Keaton and the EWC North American championship high over his shoulder, The Southern Express with Bunny Love, the EWC World Tag Team Championships over each of her shoulders, El-Pablo swimming in a pool of Skittles, the EWC X-Division championship diagonal across his chest, and then Killjoy Ito with Buddy Love, the EWC Undisputed championship proudly around his waist.
The camera pans around the loud and out of control audience. As the fireworks continue to explode, the fans chant and cheer! Cameras pan around the arena to catch some of the signage that many fans have brought to Wembley Stadium with them here tonight. The Paramount Wrestling fan-base is as adamant about having their voices heard now as ever:
"LONDON IS WICKED COUNTRY"
"LO DOVINO WILL HUMBLE CALLIE CLARK"
"THE DREADNOUGHT IS GOING TO SEE THAT MIRACLES DO EXIST!"
"KU'S GONNA KILL YOU!!!"


"AEON IS ABOUT TO JOIN THE RAINBOWLUTION!"
"PAR-A-MOUNT!!!"



"PARA-A-MOUNT!!!"



"PARA-A-MOUNT!!!"



"PAR-A-MOUNT!!!"
The lights come back to full and the fans offer one last rousing cheer at the opening festivities. Tonight's announcers are on standby and ready for the show to begin.
Watson:
Good Evening from across the pond in London, UK. We are here in front of a SOLD OUT ninety-one THOUSAND members of EWC Nation as we get ready to bring you the greatest show on Wednesday night, Paramount Wrestling! I am Tim Watson, with me of course as always is the ever prothetic Cid Sydney. How are you Sid?!
Sydney:
It's bloody great to be back in the UK and this crowd here in London is ON FIRE already! Wembley Stadium may never be the same after tonight, because we have FIVE absolutely insane matches for you this evening as we kick off the road to the EWC Pay-Per-View Event known as Parabellum!
Watson:
That's right Cid! We start the night off with Prime's Callie Clark making her Paramount debut against our very own "Lo Dovino" Adriana Aquilla! Then we have a big tag team match up featuring a reuniting team of sorts as one half of Eleos Affect, KU, teams up with EWC North American champion "The Wicked" James Keaton to take on the EWC World Tag Team Champions, The Southern Express in non-title action!
Sydney:
Then we have another Prime star coming in to the reigning back to back Brand of the year as the Timelord herself, Prime's Aeon Khronos takes on the EWC X-Division champion El Pablo in a non-title encounter.
Watson:
The EWC Undisputed champion Killjoy Ito will be in action tonight as he takes on his rival, BRAWL superstar Sour Candy in a rematch from FSW#100! and then in our Main Event of the evening, newly minted CW Broadcast Champion "The Miracle" Johnny Maelstrom takes on former FSW champion, longest reigning EWC North American champion of all time, "The Dreadnought" Robbie Rayder! Can Robbie become the first person to have ever held the FSW, North American, and CW Broadcast championships? We will find out tonight!
Sydney:
We have all this and SO MUCH MORE! Our first match of the night will be coming up right after this quick message from EWCTV. Don't go anywhere .. Paramount Wrestling action will be back in exactly 1 minute
---
---
The camera cuts backstage where Paramount correspondent Lisa Goldrush is standing by with Marcu$ $t. John.
Lisa Goldrush:
Marcu$ you seem to be in a great mood because last time we talked you were 5 tables lighter as you lost to KU who won a war that you both went through. How are you feeling after being put through not 1 but 5 tables?
M$J looks down at Lisa and smiles. His ribs were taped up under the shirt that he was wearing. The smile was masking pain that he had experienced from a hellacious battle that he had at Paramount 19. But as usual, nothing would keep him from the brand that he held special to his heart.
M$J:
Lisa, Lisa, Lisa! You ask these questions that you already know the answer to. I'm sore as hell, I'm banged up, battered, bruised and even though all of that is going on, I'm feeling pretty damn good. I may have lost but it was another Match of the Night proving that I bring the fight every single time I step foot in that ring. That's 4 MOTN's so far this year because I not only bring out the best in myself, but I bring out the best in my opponents too. But ask me why I'm wearing this shirt because this interview isn't just about me.
Lisa Goldrush:
Well, I see that isn't one of your shirts. So, Marcu$, why are you wearing a "The Miracle" shirt?
M$J:
See, now that's a thought-provoking question isn't it. Why am I wearing a Johnny Maelstrom shirt? You see, while "The Miracle" may be new to the EWC, he's a 20-year vet in this business and currently reigns as our CW Broadcast Champion. While he had success in capturing the title, he has an even bigger task keeping it tonight as he goes up against Robbie Rayder. I remember coming into that locker room of FSW and not being accepted and I never want someone to feel like I felt coming into this locker room. I'm wearing his shirt because regardless of where you come from, how much experience you have, anyone that's brave enough to step foot in that ring and represent Paramount is family. Regardless of what differences I might have with them or even if I believe in the principles that they stand for, I'll stand for them.
Lisa Goldrush:
Well that seems nice of you, so is this something you plan on doing going forward.
Marcu$ looks down at Lisa once again then up at the camera.
M$J:
I'm not just here to highlight myself, but I'm here to shine a spotlight on others on this brand. You see, I'm always a forward-thinking person and there's something coming up on July 25th called Parabellum. So many amazing stars represent their brands in that match, but I'm the first person to come out and say that Paramount will be the brand that comes out on top in 2022. Could the person that leads us be M$J? You never know. Or maybe, maybe, it could be someone unexpected like "The Miracle" Johnny Maelstrom. Maybe it could be someone else, you never know, but I have the confidence that this brand is the best and we'll show that just like Adriana Aquilla will show Callie Clark tonight, just like El Pablo will show Aeon Khronos tonight. Just like Killjoy Ito will show Sour Candy. In Paramount we stand, and in Paramount we trust! Now excuse me, I have a contract signing to get to.
M$J walks out of the frame as Lisa Goldrush shrugs to the camera. Fade out...
---
---
---
---
WHAT IS EWCTV?


All live EWC Pay-Per-View events (including StrangleMania, Night Of Champions, EWC Rumble & WrestleFest)
All day scheduled & live programming
Plus, hours and hours of on-demand content & never before seen behind-the-scenes footage!
Groundbreaking original series - See new episodes of BRAWL, RAMPAGE, PARAMOUNT WRESTLING, EWC PRIME and more
Live in-ring action, reality shows and documentaries
HOW TO ORDER
Get the award-winning EWC Network through your TV provider. Call your local TV Provider today to subscribe.
Only $7.95/month

WATCH ONLINE
If you are subscribed to EWC Network through your TV Provider you can now enjoy EWC Network on your:
PC, Laptop, Playstation, mobile app, or tablet.



EWCTV for only $7.95 USD per month
Along with being an EWCTV Subscriber, you get:
EVERY Pay-Per-View event included at no extra charge
15% off any and all EWC Merchandise from the EWC Store
20% off all tickets to LIVE EWC Shows
A free EWC Yearly Wall Calendar signed by the entire active EWC Roster
As an added bonus for all those currently subscribed including any new subscriptions
prior to midnight June 6TH

Receive
a
FREE
copy of
Brawl Presents: Hardcore Revolution '22
DVD and Blu-Ray combo when it's released later this year
+ free T-Shirt and Replica EWC International Championship belt.
So act now if you aren't already subscribed to EWCTV
---
---
---
The camera cuts backstage inside Wembley Stadium and inside The Love Club locker room where we find Bunny Love sitting in a chair looking at her phone as the EWC Tag Team Champions of the World, Bobby Rose and Jimmy Lane, The Southern Express get ready for their final match here in London, England. Bobby reaches into his locker and pulls out a small bag, he reaches in and pulls out a Union Jack bandana and smacks Jimmy in the arm. Lane looks over at his tag team partner and smiles.
Lane
:
Well I guess it won't hurt right…
Jimmy takes the bandana and starts to tie it around his boot with the other bandana and Bobby starts to do the same as Bunny looks up and shakes her head.
Love:
I still can't believe these fans never turned on you, this is blatant pandering to the crowd…
Bobby smiles and laughs at Bunny and he finishes tying the bandana to his boot.
Rose:
It's not pandering to the crowd Bunny, it's our way of saying thank you to the people of London for always being behind us, for cheering us on and for being fans of The Southern Express for all these years…even when there might have been a 'cooler' option when it came to tag teams out there we knew we could always count on them to cheer us on and tonight, as we say goodbye to London we want the fans to know we appreciate them and even though James Keaton is from here, tonight…for one night only they can think of us…
Bobby points to him and Jimmy
Rose:
As the London Express…
Bunny looks at Bobby, then to Jimmy who nods in approval and then back to Bobby
Love:
Nice speech, how long have you been working on that?
Rose:
All day if I'm being honest with you and come on, these Union Jack bandanas are going to go over HUGE with the fans…
Lane:
But it's NOT pandering at all…
Jimmy smiles and Bobby gives him a wink as there is a knock at the door. All three look at the door as Lisa Goldrush pokes her head in, her eyes closed and her hand over them
Goldrush:
Everyone clothed and decent in here?
Jimmy looks down to make sure he's wearing pants as Bunny shakes her head
Love:
Come in, there are no dongs out
Lisa removes her hand and opens her eyes as she smiles at the trio as she comes into The Love Club locker room
Goldrush:
Gentleman, tonight you…
But Bobby jumps up and puts his arm around Lisa to finish her sentence…
Rose:
Face stiff opposition in the likes of KU and the current EWC North American Champion of the World in James Keaton…
Not to be out down or cock-blocked by his tag team partner, Jimmy Lane springs to his feet and puts his arm around Lisa as well…
Lane:
And being as this match is in Europe the North American Champion is out of his jurisdiction…
Lisa looks oddly at Jimmy
Goldrush:
James Keaton is from here Jimmy, born and bred in London so tonight is a homecoming for him if you will and KU is undefeated against the two of you, 2-0 with Antoni Malietoa and Jordan Sharpe as partners and looks to pull off the hat trick here tonight with a 3rd different partner…
Bobby smiles as he removes his arm and walks back to the bench
Rose:
Yeah, you can say the deck is stacked against us here tonight…that our backs are up against the walls…
Lane:
It's 2 am and only the fatties are left at the bar and we don't have a condom…
Lisa looks at Jimmy and wiggles free of him as Bobby laughs
Rose:
What he's trying to say is we know, things look dim for us but what did they say in Batman…
Love:
It's always darkest before the dawn…
Bobby snaps his fingers and points at their manager
Rose:
Exactly, people are looking at our record against KU and ignoring our record right here in Paramount…
Lane:
He may be 2-0 against us but we are 17-0 on Paramount/Uprising shows, so we are both putting perfection on the line here tonight…
Rose:
And a lot of people are impressed with James Keaton's North American Championship win but we have wins over 2 Undisputed Champions on Paramount shows, 2 International Champions on Paramount shows and 3 X-Division Champions on Paramount shows…
Lane:
We are no strangers to knocking off singles champions you know…
Rose:
Add it all of that, tonight we are making our final appearance in front of this sold out Wembley Stadium crowd as The Southern Express Farewell Tour says goodbye to London for the last time…
Goldrush:
Well best of luck gentleman…
Bobby and Jimmy give her a thumbs up as they point to the Union Jack around their legs As the camera cuts too...
---
---
SINGLES MATCH
Parabellum Preview
Callie Clark
VS Adriana Aquilla
We return to ringside where the crowd is unruly indeed, already dueling chants and throwing out Mexican waves like they were here for the World Cup final. Ah, London!
Watson:
Welcome back to Paramount Wrestling folks! We heard from North American Champion challenger M$J before the break, and from the EWC World Tag Team Champions just now. So much is going on here tonight and we haven't even had our first match!
Sydney
: Let's change that Tim! It's about time we saw two people beat the shit out of each other.
Watson
: Apologies to those watching on the CW Network.
Starr:
The following match is for one fall! Joining us first, from San Antonio, Texas, weighing in at one hundred and twenty pounds ...
ADRIANA AQUILA!
"Iron" by Within Temptation hits the speakers and the crowd comes alive as Adriana Aquilla makes her way down to the ring, she slaps hands with a couple of fans before rolling into the ring ready for her match as she removes her jacket.
Starr:
And her opponent, from New York, New York, weighing in at one hundred and fifteen pounds ...
CALLIE CLARK!
A red carpet is rolled out going from the stage to the bottom of the ramp, and Bad Reputation hits. Callie comes out with Tori walking out behind her, and strikes a pose showing off the creaking red leathers and black-tipped nails of her Scarlet Witch costume as pyro goes off behind her. Callie's paparazzi takes pictures of her as she walks down the ramp, taunting the fans as she goes. As she reaches ringside, Tori goes ahead of Callie, holding open the ropes so Callie can step through, and walk to the middle of the ring, where she strikes a pose again while winking at the camera. She then goes to her corner as the music cuts.
DING DING DING
Keen to take care of business, Callie Clark rockets out of the gate with a running knee that sends Adriana Aquila crashing to the canvas! "
Come on!
" Roars the resident Witch of Sabotage, darting forward as Lo Divino handsprings to her feet, dazed and breathless from the initial assault. Clark tries to follow up, but the luchadora whirls around her, leaps onto the ropes, and springboards off with a spectacular sling blade! Immediately afterwards, she spins to her feet, glances behind her, and goes for a moonsault that finds an empty pool as Callie rolls clear.
Both women rise simultaneously, but Aquila is clutching at her ribs. With her guard down, Clark jams a finger into her eye, punches her in the throat, and hits a Pelé Kick, ignoring the official's protests as she starts to work Addy on the ground, isolating her fingers to pour on the punishment...
Not keen to have her digits broken, Aquila fights back, showing off her flexibility as she whips her torso around and grinds an elbow into Callie Clark's temple. She doesn't get all of it - it's more of a scrape - but it's enough to both annoy her opponent and extricate herself, stumbling to her feet where she narrowly ducks an irritable snug clothesline from the Witch. Clark turns her whiff into a run off the ropes, but walks right into a superkick from Lo Divino-- who follows up, going behind to hit a snap DDT and then pulling herself up on the ropes to remedy the missed moonsault off the top!
Watson:
What a moonsault by Addy! She looked to be reeling there for a moment to start, but Aquilla is starting to take over this match!
Sydney:
She needs to be careful though, Tim. The damage to her ribs is going to slow her down and even bring her to a halt if she's not careful.
Both women are on their feet and trading blows, escalating from forearms and low kicks to a big spinning back fist from Callie! Adriana is stung, but lands on a knee and an extended arm, thrusting herself back up to score a spinning leg lariat before she collapses! Both are down, but this only turns the fight into a battle on the ground, going hold-for-hold until Aquila emerges on top, using the upper hand to recklessly go for another early finish - attempting to lock in her Divination sharpshooter. The setup takes too long; Clark twists out, right back to her feet!
Adriana is sent stumbling, hitting the ropes, sprinting back toward her opponent as the crowd rallies behind her. She barely slides under a kick to the gut, clearing Clark's legs and popping up to hit the opposite side of the ring. Seeing her coming, Callie drops low and forces Aquila to leapfrog her, hitting the ropes a third time right into a sling blade! Lo Divino isn't just left to lie; Clark stalks her on the canvas, grinding her face into the mat against the strings of her boots, raking at her eyes too before the official intervenes. Laughing it off, Callie steps to the corner and leaps up, barely bothering to measure her opponent before hitting a beautiful spiral tap!
Clark goes for the cover, still chuckling to herself.
Adriana doesn't get her shoulder up before Clark is shifting out of the pin, smirking cruelly, seeing her opponent's expression and reaching to push her face down with a hand as she stands, stepping away with her arms out to soak in the jeers of the crowd. "
I don't NEED to pin her
," protests Callie, "I'm going to BREAK her!" Braying another schoolyard bully laugh, she turns right into a violent comeback from Aquila, who hits her dead-center with a spear, driving her into the corner where she lays it on thick with forearms and kicks. Then, she grabs two handfuls of hair and messily biels Clark out of the corner, staring her down with her chest heaving...
Measuring her, for the Divine Wizard! POW! Clark is down!
Watson:
Callie Clark's cockiness may have just cost her this match!
Sydney:
That may have been universally stupid on Callie Clark right there. She practically had the match won! This might cost her!
Aquila hasn't even bothered making the cover, stalking Clark this time, barely holding herself back from laying in the punishment to the grounded woman. Motioning for her to stand, she's determined to end it the right way - and the crowd love her for it, all four corners of the arena chanting her name. She's easy to love, and Clark easy to loathe, as she clambers slowly to her feet, wiping her mouth and fixing her hair, gurning smugly at the other woman.
Lo Divino gives her the time she needs, then steps forward, feigning a grapple that Clark ducks under, emerging on her flank-- right into a superkick from Aquila! The fakeout is beautiful, and Callie almost falls clean to the canvas, spinning around dazed. She's up just long enough for the lightning-quick luchadora to hit the ropes, coming in hot with a crossbody then tumbling back to vertical base in the corner. She springs up, catlike, balancing there as London salutes her, then corkscrewing into a picture-perfect shooting star press. DIVINE GRACE!
Aquila hooks the leg, but punches the air in time with the count, and the chant of the crowd!
Callie Clark kicks out at 2.999, the referee's hand quivering against the canvas. Lo Divino is distraught, grabbing at her hair, tears prickling in her eyes as she reaches deep, spinning to her feet in the same instant as her opponent. Clark looks out of it, her gaze unfocused, but she at least has the wherewithal to
cheat
. She stumbles, falls to a knee, and then lances her elbow up right into the crotch! The crowd are INCENSED by this, and the disqualification is threatened in short order, but Callie plays innocent, explaining that she slipped and fell...
Then, when the official looks away, throwing a jaunty wink and a shit-eating grin to the crowd. She bundles Lo Divino up, and hits her with the LIGHTS OUT! Driven into the canvas, Addy is
indeed
out, and Callie covers her with a hand pushing her face disdainfully into the mat.
DING DING DING
Starr:
And your winner, via pinfall ...
CALLIE CLARK!
Clark surges to her feet, snorting with laughter, throwing out her arms to posture for the crowd like a conquering hero. She even takes the time to mount the corner, so London can get a better look at her. Obviously they're not particularly into it. In fact, they respond exactly how she expects them to - with bitter, seething hatred, and chants of:
YOU FUCKED UP! YOU FUCKED UP!
"
You wot, mate?
" Counters Clark, cupping her ear and waving for them to keep it coming. She points at the downed Lo Divino, then brings up her painted nails and puts on a hex on both her and the crowd, amusing herself inordinately as she hops down from the turnbuckle, gives Adriana a parting kick to the ribs and makes her way up the ramp preening amidst a shower of trash and insults that are too hot for TV.
Watson:
A display of true grit and fighting spirit from "Lo Divino" just wasn't quite enough to keep Callie Clark in her place tonight. One thing's for sure, Aquila is going to want a rematch, and perhaps she should have someone in her corner, Cid? Ms. Clark made it positively ugly out there. With a little less outrageous behavior going unchecked, Adriana would have had this.
Sydney:
Hey, you gotta love it. She's got the crowd in the palm of her hand, and she gave Addy just enough hope that she thought she was gonna do it. She might have, too! There's no reward without risk, and I think both these women know that. We are starting off HOT tonight, Tim!
Watson: And it's about to get even hotter. The ring is cleared and I am being told that right now we are about to see the contract signing between Marcu$ $t. John and The EWC North American Champion, James Keaton!



---
---
M$J makes his way to the ring first, with a huge crowd response (and a surprisingly strong pro-M$J one) almost carrying him across the distance. M$J acknowledges the fans in attendance, the large security team around the ring and Chris Brock before keeping his eyes squarely on the entrance ramp. James Keaton is next out, with a typical anti-Keaton crowd response interspersed with some pro-Keaton cheering (we are in the UK, after all). James isn't one for playing to the crowd though, so he makes his way straight to the ring and immediately gets in the face of M$J trying to psyche him out. Something is
definitely
said between the two but it's not caught on camera as James and M$J stand in the ring for this contract signing, refusing to take the seat that has been left out for them. The North American title draped over the large right shoulder of The Wicked as he stood hovering over his opponent at Paramount 21, Marcu$. You could cut the tension in the air as Chris Brock takes the mic.
Brock
: Let remind you that on THIS show, I do not let the inmates run the asylum. Take that shit to Prime where Price lets anyone roll right over him just to put an extra nickel up his ass at night.
Brock ushers in some of the Paramount security force to remind
both
men and ensure nothing untoward will happen at this signing. Marcu$ reaches for the microphone and pen that are sitting on the table.
M$J:
Big man, congratulations on winning that championship but you only have about 2 weeks left to carry that extra weight around. I've watched you bully the competition on your way to a decent CW Broadcast Title reign and I watched you snatch that title out of Jordan Sharpe's hand. Every step of the way some would say you've been impressive since you stepped foot in this ring but for as impressive and intimidating as they say you've been, color me apathetic. I've been in the ring with impressive and you James, are not it!
The mere mention of this sends James wide-eyed as he grabs the nearest microphone and interjects M$J.
James Keaton:
You wanna talk impressive? Is that what this is, I need to
impress you?
I'm the one with the New Freakin' Title here, not you!
M$J:
Yeah you beat Sharpe and that's something that I can't say I've done but I was the one who was North American Champion before you. While I won that title, I didn't represent the very best champion I could be, just like
you
. Paramount deserves someone who it can be proud of, who will show up each and every week and not because you're contractually obligated to but because you love to. Someone who will not only elevate themselves but elevate the brand overall and that definitely isn't you. So while you stand there brooding, I'm telling you to your face that I'm going to recapture that title and I'm going to do it the right way this time. I'm going to be the champion that this brand deserves, that these people deserve because the height and size doesn't matter, the mettle of the man does. I'm going to pin you in the middle of this ring and when I do, you'll realize that I'm just that much better than you.
Marcu$ clicks the pen and signs the contract without taking his eyes off of Keaton. Chris Brock holds his hands up as to say to both competitors not to try anything. Keaton shakes his head as he is unphased by his challenger as he picks his microphone up.
James Keaton:
Paramount deserves someone it can be proud of, that's what you said?
M$J nods to the affirmative.
James Keaton:
So what you're saying is Paramount is in dire need of a hero and you're here to take up the cause? I've said all along that there are no heroes left in wrestling, and as much as I want to be proven wrong NOBODY has been able to do it! It's not about whether someone can beat me, that's been done by the dictionary definition of dirty old gits like the Southern Express. But if you
can't
beat me then you're never going to be anywhere near what a hero needs to be. Look at what I've done since last year and you can see I've been THE measuring stick for Paramount and a whole hell of a lot of you have been found coming up
short.
M$J takes that dig in his stride.
James Keaton:
All of you pushing and prodding your way, denying me what I came here for. It goes both ways, I hold this North American Championship because you don't have the
bollocks
to do what I did to Sharpe. You talk a big game about elevating the brand when I've been dragging people closer to their best than anyone else in the ENTIRE company. Adriana Aquilla could smell the gold when she was near me, look at her now. The Halos have finally figured out what they need to do to win because I BEAT IT into them. You want to punch upwards? Go ahead, but very soon you're going to understand exactly why the pound is stronger than the dollar and why there's No Rest for The Wicked!
Strong words come from the reigning champ. James looks to the contract and back to M$J as M$J smirks at the words as to show that they weren't getting to him either. He sticks his hand out to shake Keaton's hand. Keaton looks down at his hand and slaps it out of the way. Marcu$ takes exception to it and punches The Wicked in the jaw, sending James Keaton reeling from the impact. Security swarms Marcu$ $t. John, immediately pulling him back but this gives Keaton the exact opportunity he needs to deliver an unguarded strike. James lands a vicious (possibly even wicked) headbutt that sends M$J staggering and busts him open. Security is all over both men and Keaton shows his strength by freeing his arms as the security continue a hold of his torso, it takes another show of strength for James to free himself fully. Marcu$ has now been pushed to the outside apron but flips over all the security guards around him. He lunges onto Keaton and starts hammering him with blows to the head. He steps back and aims for a big punch but before he can land Chris Brock steps in the way to stop both competitors from brawling. Keaton takes advantage of the opportunity and grabs M$J,
stabbing
him with the pen. Keaton laughs at the damage he caused and lines M$J up for a Gutwrench Powerbomb, elbowing some of the security in a frenzy before he lifts M$J up and throws him out of the ring! With the bloodstained pen, James Keaton signs his name on the contract in a mixture of black ink and red blood. He menacingly looks over at Chris Brock and throws the contract on Marcu$' body as he lays there writhing in pain. Keaton goes to walk off, but is stopped short by Brock's word coming through the microphone again.
Brock
: Goddammit I told you both not to try this shit.
Watson
: Apologies to those watching on the CW Network.
Brock
: You want to ignore the rules, fine... Have it your way. June 8th, In Stockholm Sweden it's going to be The Young Mogul, versus the The Wicked... And to make sure you BOTH follow the rules, I'm now making this a LUMBERJACK MATCH!!!
Keaton is furious. He tries to jaw jack at Brock, who just stares him right back and doesn't back down. After a moment of anger, he decides it best not to attack the GM and goes to walk away.
Brock
: I wasn't done. James, if you try anything in this match to make it not end in a pinfall or submission... I will strip you of the North American championship! Now go get ready for your match! Go one, get out of here!
The crowd lets out a roar at that news, most are cheering, but some in the hometown crowd boo the news, clearly in favor of their champion James Keaton. The camera cuts back to Tim and Cid.
Watson
: WHAT AN ANNOUNCEMENT! He warned them not to go too far. He told them he wouldn't allow it, and now this North American Championship match is a lumberjack match!!! We HAVE to take a break folks, we will be right back. Don't go anywhere!!!
The camera cuts to...
---
---
---
---

TAG TEAM SHOWCASE
Non-Title
KU & "The Wicked" James Keaton
VS The Southern Express
We return to ringside where the arena remains a noisome din of stomping and clapping.
Watson:
Well chaos reigned for a moment during that North American championship match signing, but now its time to see what "The Wicked" and KU have for the EWC Word Tag team champions!!!
Starr:
The following match is for one fall, and is a non-title match! Joining us first, from Sapporo, Hokkaido, Japan, weighing in at two hundred and thirty pounds ...
KU!
KU bursts out onto the apron, the picture of intensity as he chugs from a plastic bottle held in one hand before dousing his toned frame in the remaining fluid. He's all business as he strides to the ring, his chest rising and falling evenly, stare fixated upon his corner. He marches there in short order, pausing only to throw a scintillating combination of kicks and whip his water bottle out into the crowd - they're rowdy, and cheer obligingly.
Starr:
And his partner, from London, England, weighing in at two hundred and forty eight pounds ...
"THE WICKED" JAMES KEATON!
The arena lights begin to flash in tune to the drums as "The Wicked and The Cursed" by The Cold Stares plays throughout the arena. As the guitar rhythm plays, James Keaton makes his presence known by appearing at the top of the entrance ramp. Despite the champion's salty demeanor, he's playing at home, and the crowd let him know it! Unmoved, Keaton begins cracking his knuckles in a slow and methodical way before walking with purpose to the ring. Keaton takes his time using the steps to enter the ring before leaning against the ropes and testing their strength.
Starr:
And their opponents...
The electric guitar kicks in to 'Stranglehold' as the crowd gets to their feet, some of the older females in the crowd start to scream like they did when they were younger as Bunny Love walks out onto the stage and is quickly followed by Bobby Rose and Jimmy Lane.
Starr:
Being accompanied to the ring by Bunny Love, from Nashville, Tennessee, they are the EWC Tag Team Champions of the World ... Bobby Rose and Jimmy Lane ...
THE SOUTHERN EXPRESS!!!
Bunny leads the way as the pair reach out and high five with the fans as the walk to the ring, Bunny marches up the steps and steps through the ropes as Bobby and Jimmy climb up onto the apron and step through the ropes, take off the titles and hands them to Bunny and head to opposite corners, Jimmy climbs up to the middle turnbuckle and Bobby stands in the corner as both men toss out bandannas to the crowd as Bunny stands in the middle of the ring holding up both tag team championship belts
DING DING DING
There's no argument between Keaton and KU; the Black Tree of Sapporo starts the match out, looking lively and dangerous as he dances across the ring toward a wide-eyed Bobby Rose, who audibly nopes out and passes the tag to Jimmy Lane. Lane ducks in right into a snap front kick from the Japanese superstar, who follows up with a lunging long-armed punch that bounces the veteran off the ropes and right into an hellacious German Suplex! KU tries to cling on for the trifecta, but Lane wriggles free and manages to catch his opponent in a snug headlock as he transitions back to vertical base, working the rest hold and the crowd as he oversells with his facials.
London loves it, cheering on the old timers to Lane's visible delight. He calls his shot, nodding his head to the ropes, and then releases KU only to immediately whip him in the other direction. KU bounces back toward him, stalling the momentum by crashing to a knee, and tries to sweep Lane from his feet, but the vet shows off his hops by clearing the kick with a vertical leap, then crashing down with a basement dropkick. KU is flung back toward his corner, wide-eyed, warily tagging out as Lane laughs and struts his way back toward Rose before also making the tag.
Watson:
KU was caught off guard there after trading shots with Lane, but this match has been extremely tag centric so far. You love to see the Tag team scene in EWC alive and well!
Sydney:
KU even doing a bit of catch as catch can there for a moment, not something we normally see from him!
Spurred on by his partner's performance, Bobby comes in hot on Keaton and immediately pays for it - eating a stiff knife-edge chop then a Wicked Backbreaker that about snaps him in half! The crowd broadly 'ooh' in sympathy as many of them remain behind their hometown boy, split 60/40 as Rose tries to recover only to be scooped up again and flung into the opposing corner. Keaton tags KU back in, and scoops Rose up for a stalling fisherman suplex punctuated by two sharp kicks from KU - the first to the spine, and the second to the back of the head, before he bundles the stunned Rose up and over for a cover. Keaton grins across at Lane as he takes his place on the apron.
ONE...
TWO...
KICKOUT!
Rose gets the shoulder up, then keeps going, yelling to his partner to get in the ring as he clears Keaton off the apron with a flying forearm and turns to shoulder tackle KU into his own corner. Despite the protests of the official, who begins a count on him, Lane has his game face on and closes intently on the Black Tree of Sapporo, hauling him up for a suuuuuuperplex! KU crashes down, and Rose joins him a moment later, launching from the top rope into a profoundly meaty splash!
Rather than go for the cover, Rose picks KU up and hits him with a short-arm clothesline to keep him rattled as Lane rolls out of the ring and drags in Keaton. Each of them drag their opponents into opposite corners and slingshot them into the center, where they collide in a tangle of limbs! As the Southern Express work to separate their opponents, both come alive and counter, Keaton pulling Lane into position for his Wicked DDT as KU goes tit for tat by rocking Rose with his Sacred Nightmares lariat, yanking on his precious hair in the process!
Rose is down, but Lane counters, rolling through the DDT by Keaton and right back to his feet, responding with a belly-to-belly that launches the North American Champion into the corner, his skull bouncing painfully off the post before he flips and crashes once more to the outside!
Watson:
Lane is still standing, but KU and Keaton are showing that they can pick up right where they left off from the last time they tagged together! There is definitely some chemistry between these two!
Sydney:
Wicked recognize Wicked Tim!
KU and Jimmy Lane stare one another down, the Black Tree breaking a momentary stalemate by charging across the ring, seizing an arm and whirling around to whip Jimmy off the ropes. As he rebounds, KU catches him with his own
incredible
vertical leap into a high-angle dropkick. THE END! Lane is folded inside out, crashing down as all the breath leaves his body in a pronounced 'OOF!' Bobby Rose stumbles to his feet and plays spoiler, catching his fellow legal man with a simple right straight across the jaw that sends a violent pop across the arena!
KU drops to a knee, and Rose psyches himself up, hitting the ropes to score a follow-up running knee before he dives to help his partner to his feet. James Keaton slides into the ring in that moment, hitting Rose in the flank and scooping him into a gutwrench powerbomb. Lane is there to intercept in the wake of it, pulling Keaton to his feet and stiffing him with a couple of uppercuts before pulling him down into position for a DDT, which he lands onto KU as the Japanese man struggles to stand!
The official has lost control completely, but the veteran team know what they're about. Keaton is bundled out of the ring a third time, before Jimmy and Bobby turn their attention back to KU, pulling him to his knees with his wrists held, throwing their arms up before driving their knees forward! IN YOUR FACE! Rose tries to go for the cover, but Lane pulls him back, shaking his head and moving to scoop KU into the piledriver position. The crowd knows what's coming, and begins to pop--
--but Keaton cuts Rose off as he steps out onto the apron, whipping his leg out from under him, then turning to smash him backfirst into the edge of the ring. Rose screams in pain, as Keaton dives over him through the middle rope and fires off a dropkick into KU's raised center-mass, sacrificing his own partner to topple Lane! KU is tough, and takes it like a champ, crashing down atop Lane and then rolling off, ducking through into his corner so he can tag Keaton in.
The Wicked throws him a savage grin, making the tag with a fist-bump then hopping onto the turnbuckle, turning to face Bobby Rose as he struggles to his feet on the outside. His back is to Keaton, and a beat later Keaton's arm is slamming into the back of his neck, driving him face-first to the floor. Acting quickly, Keaton pulls his opponent up and bundles him under the bottom rope, where he's immediately helped up by the recovering Lane! KU cuts him off, leaping off the top rope and catching both hands behind his head, driving him throat-first INTO HIS KNEES!
Jimmy Lane makes an awful choking noise as he collapses atop KU, and Keaton slides into the ring, taking Rose off his feet with a beautiful sweeping leg kick, then rolling toward the opposite side. He gets out onto the apron while KU pulls Rose to his feet, holding him in place with a hammerlock--
--as Keaton springboards into the PSYCHO CRUSHER! The European uppercut connects to a tremendous swell of noise from the capacity crowd, and KU releases Bobby Rose before bundling Lane up to the outside, as James Keaton makes the cover on his KO'd partner...
ONE...
TWO...
THREE!!!
DING DING DING
Starr:
And your winners, via pinfall ...
KU AND "THE WICKED" JAMES KEATON!
Keaton surges to his feet, pointing emphatically down at Rose and yelling vitriolic words that are lost in the din as the crowd - split firmly down the middle at this point - reacts dramatically to his victory. On the outside, a fan tries to get in KU's face, but the Black Tree of Sapporo doesn't engage, rolling back into the ring to join his partner, their arms raised by the official before they bump fists and start making their businesslike way to the back.
Watson:
We saw a tag team
clinic
tonight as the very best in the business, the Southern Express,
astonishingly
fall to the wily tactics and unrelenting brutality of James Keaton and KU, who have proven themselves once more to be an unstoppable force in the EWC!
Sydney:
Jimmy and Bobby have been doing it longer than anyone, Tim, but brains is brains. KU is a violent mechanic, and "The Wicked" is our North American Champion for a reason. They kept a very game Southern Express on the back foot, and plain outwitted them for this one. KU has had Bobby and Jimmy's number a few times now. He is now three for three with three different partners against the EWC World Tag Team Champions.
THIS WAS AWESOME!

clap-clap-clapclapclap

THIS WAS AWESOME!
The crowd let their appreciation swell as Bobby and Jimmy get shakily to their feet, supporting one another, looking beaten but far from done in their inimitable careers as they take a bow. Rose is managing to smile, but Lane simply clutches at his throat, looking queasy. Keaton and KU don't turn around, don't look back, make their way triumphant to the back as the Southern Express steal their moment in the spotlight in spite of their defeat.
Watson:
A small nod of respect there for the Southern Express as they get their curtain call here in London! WE still have so much more to come, incluiding the EWC X-Division AND Undisputed champions in action. We'll be right back, after this!
Camera cuts to ...
---
---
---
---

SINGLES MATCH
NON-TITLE
Parabellum Preview
Aeon Khronos
VS El Pablo
We return to ringside where Tim and Cid are standing by.
Watson:
If you're just tuning in folks, you have missed so much and we can only say that if you are not subscribed to EWC TV Then you need to so you can see on demand broadcast of tonight's show as early as tomorrow! Up next, its time for Aeon Khronos to meet the Rainbowlution!
Starr: The following match is set for one fall. Joining us first, hailing from the edge of time itself and weighing in at 114 pounds ... AEON KHRONOS!
The chiming of clocks and gears fills the arena as the crowd begins booing the arrival of Aeon Khronos, paying them no mind as the beat kicks in on "Time" by Pink Floyd. She approaches the ring with a smirk on her face, enjoying what she's about to do as she slides into the ring and prepares herself for the match.
Starr:
And the opponent, residing in Puebla City, Mexico and weighing in at 180 pounds, he is the EWC X-Division Champion ...
EL PABLO!
A cry of "VIVA LA RAINBOWLUTION!!!" leads to 'Party Hard' by Andrew WK hitting the soundsystem, as the stage and ringside area becomes bathed in flashing, flickering, brightly-coloured lighting. As the main hook hits, El Pablo bursts through the curtain, playing to the fans and chugging Skittles like a Steveweiser while the X-Division Championship belt glistens around his waist. He charges down the ramp and slides under the ropes into the ring, then runs up the turnbuckle and holds the title belt high above his head to another pop from the adoring crowd. After offering a final salute, he hops back down to the canvas, handing his belt to the referee and performing a few final stretches as his music fades.
DING DING DING
Both lock up in a collar and elbow tie up. Aeon quickly grabs Pablo and turns him with a hammerlock. Aeon wrenches on it Pablo fires a back elbow in an attempt to break the hold. Aeon ducks it and Pablo spins around where Aeon catches him with a DDT. Aeon lifts Pablo to his feet and whips him off the ropes. Pablo ducks a clothesline and drives Aeon to the mat with a crucifix driver. Pablo grabs at Aeon's arm and holds it in an armbar. He then pushes the arm to the mat and legdrops it. Aeon clutches her arm as Pablo runs at her. He hits a code red that sends Aeon crashing to the corner. Pablo runs hitting Aeon with a monkey flip before making the cover.
Aeon gets a shoulder up to break the count. Pablo lifts Aeon to her feet but she catches him on the jaw with a left jab that spins Pablo allowing Aeon to hit a dragon suplex that brings Pablo crashing face first to the canvas. Aeon rolls him over.
Pablo gets a shoulder up breaking the count.
Sydney:
Both have had early chances in this contest but someone needs to turn those chances into a victory. But who will it be?
Aeon is on her feet first and she grabs Pablo hitting a Quantum Driver. She makes the cover.
Pablo shoves Aeon off him before instinctively laying on his front. Aeon punches the canvas in frustration. Aeon lifts Pablo to his feet and whips him to the corner. Pablo reverses it sending Aeon crashing to the buckles. Pablo climbs the turnbuckles of the next corner and runs across the top rope hitting Aeon with a Five Star Express. He covers
Aeon just manages to roll onto her side breaking the count.
Watson:
Two and seven eights there. Any closer and the bell is ringing.
Sydney:
Yet it isn't. Both are still in this one.
Pablo climbs to the top turnbuckle and leaps for an RPM. At the last second, Aeon rolls to the side and Pablo crashes to the mat. Aeon drags Pablo to his feet and lifts him for a Time Warp. Pablo counters hitting a Taste The Rainbow that drives Aeon into the canvas. Pablo rolls her onto her back and hooks the leg.
DING DING DING
Starr: And your winner, via pinfall... EL PABLO!
Pablo's music hits the soundsystem as the official hands him his X-Division Championship belt and raises his hand in victory. However, as Khronos slowly makes her exit from the ring, EP marches to the ropes and requests a microphone from a member of the ring crew. Once he has the stick in his hand, he heads to the centre of the ring, draping the belt over his shoulder and pausing to collect his breath as his music fades.
PABLO! PABLO! PABLO!
The raucous Wembley crowd remains on their feet in applause for their adopted son. As the camera slowly closes in on his masked face, Pablo flashes a smile; at first typically warm and light-hearted, yet ultimately morphing into something far more steely; something almost...sinister?
El Pablo:
Mata ne
, Headhuntress…I'll see you soon.
With that short and sweet address complete, EP drops the microphone to the mat and raises the X-Division Championship belt above his head as 'Party Hard' bursts back onto the sound system. The Technicolour Tecnico stands stoic for a few moments, his defiant stare fixed upon the camera lens before, finally, he takes his leave, dropping and rolling under the ropes and making his way up the ramp.
Watson:
The X-Division Champion sending, if not a message, at least a note of acknowledgement to his new Number One Contender here tonight!
Sydney:
The careers of Pablo and Aiya have been seemingly intertwined from the moment the 'Technicolour Tecnico' won that championship at last year's Rumble! After months of waiting, and a couple of multi-person opportunities, the 'Headhuntress' has now finally cemented her status as the undisputed Number One Contender, and you've gotta figure that she won't keep the champ waiting long before calling her shot!
The camera lingers on EP as he pauses on the stage, holding his belt aloft again as he soaks up another swell of adulation from the crowd before turning and heading through the curtain as the screen cuts too...
---
---
---
---
---
The camera cuts backstage inside Wembley Stadium where 'The Prodigal Son' Buddy Love is standing in front of the craft service table looking down at all the 'sweet treats' in front of him. For a moment he reaches out towards the cupcakes and then has second thoughts as he looks at his reflection in the mirror. He tabs the flab under his chin and exhales loudly. He looks at the left side of the table and moves towards an apple or a banana but…yuck. His head goes back and forth like a curious cat as he looks from the fruit to the candy and then shrugs and reaches out and grabs a double chocolate chip muffin and starts to unwrap the paper wrapping as Paramount's Lisa Goldrush walks over towards him.

Goldrush: Brave man…

Buddy jumps, a bit startled by Lisa being behind him as he looks down at the muffin in his hand.

Love: Well the way I look at it I'll be pretty active out there ringside tonight, jumping up and down rooting on Killjoy so I'll burn this off no sweat, so I might as well enjoy the perks right?

Buddy smiles and breaks off a bit of the muffin and pops it into his mouth as Lisa smiles.

Goldrush: You don't have to justify anything to me Buddy, you are the manager of the Undisputed Champion and having an incredible year, you of all people should enjoy the finer things in life…

Buddy smiles.

Love: Right…could you call my mother and…

But Buddy stops short and shakes his head.

Love: Forget it, she'll even make you feel bad about yourself and I can't do that to you Lisa…I like you too much…as a friend of course…

Buddy quickly covers his tracks as he smiles at Lisa, who seems to move right past the last part.

Goldrush: I have to ask this up front, how is Killjoy Ito feeling after that brutal X-Division battle against 'The Headhuntress' Aiya at Prime #097, which resulted in his first loss of the season…

Buddy is a little taken aback as his eyes widen but he tries to play it cool as he pops another chunk of muffin into his mouth, buying him more time to think on how he wants to handle this line of questioning. He chews and nods at Lisa and when he's ready swallows the muffin and smiles.

Love: I'm not going to lie Lisa, he is still a bit sore and how could he not be right, that was in fact a brutal match and hats off to Aiya on the win and we wish her the best of luck against El Pablo but we have moved on. Losses in this business happen and it's part of life right, even the best have lost this season so we need to learn from what happened and make sure we don't make the same mistake twice. In hindsight was it the best idea to go chase an X-Division Championship match when we have a Undisputed Championship match against AT LEAST Melody Malone on the horizon, probably not so this can become a blessing in disguise and allow us to focus 100% on Scars & Stripes and making sure we keep the BIGGEST prize in the EWC…

Buddy smiles, proud of the way he handled this line of questioning as he rips off another chunk of muffin and tosses it into his mouth as he looks at Lisa.

Goldrush: Nice spin there Buddy…

Love: No spin, just the reality of the situation Lisa, when we decided to join this Japan Tour Killjoy made it clear he wanted to takepart in ALL of it and honestly I should have put my foot down there and told him we can't do it all but the kid was excited to be coming home and I didn't want to take that away from him but on our flight from Japan to London we had a long talk about things, Scars & Stripes has to be our main focus moving forward and that starts tonight right here inside Wembley Stadium at Paramount #020…

Goldrush: And that focus moves to Sour Candy here tonight…

Buddy nods as he looks further down the table at the candies and other sweeter treats.

Love: Yes yes, look that the cat drug back into Paramount, sweet…I mean Sour Candy has returned to Paramount…the brand she left in the rearview mirror when she went out to seek greener pastures on Brawl…how is that working out for her by the way Lisa?

Buddy pauses for a brief second and before Lisa can answer…

Love: I'll tell you how she's doing…terrible, two wins this season…two meaningless wins over Stitches and Mark Storm, and I say meaningless because every meaningful match she's had this season she's lost…the chance to fight for the International Championship at StrangleMania against Iggy Swango…LOST, a chance to beat the X-Division Champion and make herself a real challenger for that championship…LOST, a chance to win a future X-Division Championship match against Dio at Hardcore Revolution…LOST and yet she will tell you that she thinks that she deserves a chance at the Undisputed Championship…what has she done to deserve this consideration Lisa? Seriously I'm asking you…

Goldrush: Well…

Love: NOTHING!!! And yet she is, with a match against the Undisputed Champion and a chance to put herself in the conversation and it's our job here tonight to remind the people of the EWC that Candy is Sour and no longer important here in the EWC or here in Paramount…

Buddy lets out a fake laugh.

Love: The funny thing is they are calling this match a Parabellum Preview, like Sour Candy would be on Team Brawl at this point, she has fallen so far down the rankings that she might nor make the C-Team of Brawl let alone the team they take to Parabellum…this match might be the closest chance she gets to a show with Parabellum in its name…

Goldrush: Please tell me you are not overlooking Sour Candy…

Buddy waves this off with his free hand.

Love: Oh no Lisa, we know Candy will be hyped up for this match, this is her dream come true, her ONE shot and making her case so we know she will be bringing her A-Game against us tonight but Killjoy Ito has his own score to settle with the former Sweet Treat…she is the one that beat him at FSW #100 and his loss to Aiya opened up those wounds…it set his mind right about how he felt that night when Candy beat him to retain the FSW Championship…she took away a lot of hope he had that night and now…he gets to return the favor…

Buddy smiles and he puts the rest of the muffin into his mouth and chews.

Love: See after Killjoy beats Sour Candy and sends her butt packing back to Brawl she will no longer get to make the case to why she deserves to be talked about as a Undisputed Championship contender…we get to end that discussion here tonight and Killjoy is salivating at the chance to end it and END HER…see after tonight she'll need to start calling herself EXPIRED CANDY because nobody will have any use for her…

Buddy winks as he picks up an apple…

Love: A little something for the champ…have a lovely night Lisa…

Buddy smiles as he walks away and the camera fades out.



---
---

SINGLES MATCH
Non-Title
Parabellum Preview
Sour Candy
VS Killjoy Ito
---
We return to ringside where Isabella Star is standing in the ring, ready for our next match.
Watson:
Well folks, we continue rolling with the action here on Paramount Wrestling, and we've got a huge one on one match! It's the EWC Undisputed Champion Killjoy Ito in non-title action against a former Undisputed Champion in the form of Sour Candy! It's sure to be a barn burner!
Sydney: This is a rematch of FSW #100 where in Killjoy's hometown and country, Candy ruined his homecoming In front of his own family! That has to be on Ito's mind going into this one!
Starr:
The following match is a singles match, scheduled for ONE FALL! Joining us first, straight from The Sour Patch…
SOURRRRRRRRR CANDYYYYYYY!
Moments after "I Want Candy" by Aaron Carter begins to play throughout Wembley Stadium, it suddenly switches into a more metal version of the song done by Risen From Shadows. Despite the boos coming from the crowd, Sour Candy seems unfazed as she walks out with a huge grin. She gives them a sarcastic wave and walks down the aisle. As soon as a fan reaches out to touch her, SC jerks her arm out of the way and circles the ring before slipping under the bottom ropes. She stays on her knees and looks toward the entrance with the deadliest of stares as she waits for the match to begin.
As Sour Candy stands with an evil smirk on her face, the opportunity to defeat Killjoy right in front of her, her music ends and is not followed by Ito's but instead 'You Ain't Ready' plays over the arena speakers!!!!
Jordan Freakin' Sharpe emerges onto the stage as the Paramount crowd gives him a raucous ovation! Sour Candy's smirk disappears and is replaced by disgust.
Watson:
It's Jordan Freakin' Sharpe! We haven't seen or heard from Sharpe since Uprising! "Simply the Best" is back on Paramount and he is making a beeline towards Sour Candy RIGHT NOW!
Jordan smiles as he slaps the hands of a couple fans along the way, soaking in a great reaction from Wembley Stadium. He slides under the bottom rope and walks right on by Sour Candy, reaching for a microphone as Sour Candy keeps her eyes locked onto him. He paces back and forth for a second in the ring, paying no attention to SC as he points out to the fans.
JFS! JFS! JFS! JFS!
Finally, he turns around. SC still looks disgusted at the sight of him.
JFS:
Oh! Hey, Candy! Didn't see you there.
He chuckles to himself as SC has her own microphone now and raises it.
SC:
You haven't been around in a while. They probably thought you went off to kill yourself again.
A collective 'OHHHHHHHH!' erupts from the crowd as Jordan bites his lip and shakes his head, chuckling again.
JFS:
Good one! That's a good one, I must admit. Nah, I've been spending the last few weeks at a resort in Cancun soaking up the sun with Carley. You and Robbie could have come with us if you weren't both such dickheads. It would have been fun.
SC:
What do you want, Jordan? Come to cry about your little Nicolas Cage head? It was ugly anyways, I did you a favor. Looks like the cuts healed up fine, though.
She smirks as Jordan leans against the ropes and shakes his head again.
JFS:
Ohhhh no no no, Candy.
JFS:
When I saw you, Candy, were going to be on the card right back here on MY show .. I am Paramount by the way … I knew this was my chance. See, you can ignore and push away Saidie and Gabi and everyone else, but not me. No, I'm much more annoying and I don't go away. So I've been wondering ever since that glass collided with my face and our little 3C world was turned upside down …
JFS:
Candy,
what the fuck is your problem?
Watson: Apologies to those watching on the CW Network, folks.
Sour Candy's eyes narrow, and then the evil smile reemerges before she laughs in Jordan's face.
SC:
What's my problem? I don't have a problem, you idiot! It sounds like YOU are the one with the problem, Jordan! You always want to be the hero, don't you. Always have to be the center of attention. You act like you're such a good friend, but where were you when I needed you most? That's right. Nowhere to be found. Now the real me, the me that has been locked away for far too long has been set free and you hate the fact that it's not all about you anymore.
JFS:
Enough of this bullshit! This isn't you, it's never been you! You owe it to Gabi, to Saidie, to Carley, to these FANS! TO ME! To explain what the hell is going on! We know you, and this ISN'T YOU!
SC:
I owe you? How about you owe ME. Without me you would still be nothing. You were a Candy fan that I took pity on and gave my friendship to! You would still be a puppy dog begging for my attention on Fighter Talk if not for me! I gave you a group of friends and lifted you up, and you did nothing but make 3C about yourself. You had it coming.
Jordan's nostrils flare as he looks furious, but he backs away.
JFS:
Maybe you did deserve a thank you, Candy. Maybe you did deserve the red carpet treatment. I guess that one's on me. The next time we meet I'll make sure you get that.
SC:
Stay out of my way, Jordan. It's what's best for you.
JFS: I'm not staying out of your way, I'm going to be in your face from here on out until this is settled. And now I'll let you focus on your big match with Ito, I wouldn't want it to turn out like your last few.
Jordan throws the mic up in the air as the crowd cheers for him, Sour Candy glaring at him as his music hits and he heads up the ramp.
Sydney: Jordan Sharpe finally grew some balls while in Cancun, I see. That a boy Jordan!
Watson: And now back to our scheduled match. Take it away, Isabella Starr!
Starr: And her opponent, from Daly City, California, weighing in at 235 pounds ... KILLLLLLJOYYYYYYY IIIIIITOOOOOOOO!
'The Prodigal Son' Buddy Love walks out onto the stage and raises his arms into the air as the lights fade out. He jumps up and down as 'Deeper Depper' begins to play. A strobe light circles around the stage as a single white spotlight hits the stage where Killjoy Ito is standing, his back facing the ring, his arms stretched out and his head down. He swings around to face the ring as Buddy Love runs up and stands next to him. After a quick word the pair start to walk towards the ring, Buddy runs ahead and charges up the steps and holds open the ropes for Killjoy to step through. Killjoy walks to the center of the ring, extends his arms and tilts his head back to soak everything in.
DING DING DING
The bell sounds and Sour Candy wastes no time going after the head of Killjoy as she hits a front dropkick that backs him into the corner. She runs forward and connects with double running knees to the sternum of the champion in the corner! She goes for more offense with a sinister smile, but as she runs forward, Killjoy gets the boot up and knocks her down. He comes around to pick her up and connects with a forearm strike to soften her up, before lifting her over his shoulders and bringing her down hard on his knee.
Watson:
Candy with the opening salvo, but the Ace of EWC quickly takes over and shows the former Undisputed champion what he's learned in the last year plus since they have scrapped.
Sydney: He's the EWC Undisputed champion for a reason, Tim. When you face a guy like Ace King so many times as Ito has, you are going to have to learn some things to be able to put The Gambler down!
Killjoy looks to do some damage as he stomps on the limbs of Sour Candy, before getting down and locking in a chinlock to keep her grounded. The referee is asking her if she wants to quit, but she shakes her head vigorously. Killjoy takes his knee and lifts it back, before hitting Candy square in the back with it. After a few moments, Candy finally gets to her feet, but Killjoy still has the hold on. She grabs the back of his head and jaw jacks him by sitting down. He stumbles back a bit and Sour Candy runs at him, leaping up at the ropes and hitting him with a springboard enzuigiri! Killjoy is ROCKED! Sour Candy looks for a hurricanarana, but Killjoy hangs on! He has her in a powerbomb position, and is running towards the ropes!
Watson: Oh big buckle bomb from the champ!
Sydney:
NOT SO FAST, TIM!
Killjoy lifts Sour Candy up for a last powerbomb, but she manages to hang on and turn it into a rope-hung crucifix submission! She laughs like a maniac as the fans clap for the crafty former champion! The referee starts to count, causing Sour Candy to let go of the hold. She stands on the apron now, but Killjoy hits her in the face with a big boot! He gets on the apron and the two exchange strikes! Sour Candy hooks the arm and is looking for a dangerous version of The Unsweetened Ending! BUT KILLJOY LIFTS HER UP ON HIS SHOULDERS! Death Valley Driver on the apron! A "
holy shit
" chant breaks out as he pushes Sour Candy in the ring! Sour Candy is loopy as she's on her knees! KETTATI-DA! THE KILLSHOT! THE KNEE CONNECTS! Killjoy with the cover!
DING DING DING
Starr:
And your winner, via pinfall
THE EWC UNIDISPUTED CHAMPIOOOOON, KILLLLLLJOYYYYYY IIIIITOOOOOOO!
Killjoy rises to his feet and is handed his Undisputed Championship, and begins posing with tired breath as he's victorious. The referee is checking on Sour Candy after that hellacious knee, and the fans give it up for these two gladiators.
Watson:
What a contest! If Parabellum is anything like this, then we're in for one heck of a pay-per-view! Sour Candy came in fast and hit Killjoy with a lot of offense, but in the end, the crafty champion came out on top!
Sydney:
Sour Candy definitely had this match in the bag earlier, but once the death valley driver on the apron came into play, it was just a matter of time before the champion would retain. This isn't the end for Sour Candy though, you know she'll want to get back at the champion by any means!
Killjoy nods along as the fans chant his name. He walks out of the ring and raises the title over his head as he walks towards the back with confidence.
Watson:
We still have our big Main event to come. The CW Broadcast championship is on the line and speaking of Johnny Maelstrom, I am being told we are going to the back to hear from him!
---
---
Cameras transition to the backstage area where the always lovely Paramount Wrestling correspondent Lisa Goldrush stands in front of CW Broadcast Champion "The Miracle" Johnny Maelstrom's locker room, microphone in hand. She smiles bright and wide as she addresses the millions watching at home.
Goldrush: Hello, everyone! Lisa again, and right now I'm standing in front of the locker room of one of the absolute hottest stars' locker room… not only Paramount or the EWC but the entire sport! I'm talking about the one and only "Miracle", the brand spanking new CW Broadcast Champion JOHNNY MAELSTROM!
The crowd inside the jam packed arena pop for the mention of the champ, clearly audible to the television viewing audience. On queue, Johnny opens the door and steps out, fully dressed in his gear and ready to go right to work with his first title defense. The huge, gorgeous title belt sprawled out across his shoulder as he displays it proudly. Johnny looks startled by Lisa's surprise presence in front of his private locker room, but he's always happy to see his favorite backstage correspondent.
Maelstrom: LISA! Good to see you of course. As always.
Lisa blushes, flattered by Johnny's charms once again. She chuckles before responding.
Goldrush: Oh Johnny… you're too kind. And congratulations on your title win! I don't think I could name a more deserving member of the Paramount Wrestling roster.
Maelstrom: Thanks, Lisa. I've gotta give it up for Shaker Jones, though. That man lives up to the "Badass" moniker, that's for damn sure. He took me to the limit. Gave me everything he had! Now, he may not be standing in front of you as an EWC champion right now, but I guarantee you that day is not too far away. He's one of the many men and women on this roster that represent Paramount to the fullest, and he's a great example of why Paramount Wrestling is the place to be and the show to tune in to! And we keep adding more every day after this last burst of talent signings Chris Brock made. Definitely not going to be any time to rest for the Miracle as long as I'm carrying this baby around in my luggage.
Johnny proudly pats his new title belt, using his breath and his forearm to shine it up as Lisa responds.
Goldrush: Yes indeed, Johnny! And speaking of impressive Paramount Wrestling talent, there's no shortage of it and as soon as you've won the title you're right back to work as tonight in our main event you're making your first defense against a man most would say is an even bigger challenge for you than Shaker was in Robbie Rayder, one of the most tenured members of the Paramount roster!
Maelstrom: You know, Lisa… this is surely starting to sound a little bit… exaggerated but it's really the truth. I've only been here… what? Four months almost?
Goldrush: That sounds about right.
Maelstrom: Yeah, and in those short four months I've had a lot of big moments. A lot of marquee matches against some of the greatest talent to ever step into a wrestling ring. And, as the EWC does best, they continue to up the ante on me. I've got all the respect in the world for Robbie Rayder. He's been holding it down on Paramount and being a key piece of the puzzle here for many years now! … BUT… if he thinks he's taking this belt away from me so soon?
Maelstrom laughs as he rolls his eyes.
Maelstrom: He has another thing coming. Ole' Johnny's gonna be walking around representing the channel that brought you such fine entertainment as "Dawson's Creek", "One Tree Hill", "Riverdale" and "Smallville" for a long… LONG time to come, baby!
Johnny lifts his CW title off of his shoulder and gives it a huge kiss as production fades to black.
---
---
---
---
---

SINGLES MATCH
FOR THE CW BROADCAST CHAMPIONSHIP
"The Dreadnought" Robbie Rayder
VS "The Miracle" Johnny Maelstrom
We return to ringside where Tim Watson and Cid Sydney are ready to hand us off to the MAIN EVENT!
Watson:
Fans, it has been yet another amazing night of Paramount action. Several memorable matches and now… now we bring you what should be the most memorable of them all! Since arriving at the beginning of the season, Johnny Maelstrom has turned heads and made waves throughout the entire EWC, culminating at Paramount 19 in Canada when he defeated Shaker Jones to become the new CW Broadcast Champion. Now, however, he must defend that new title against his biggest challenge yet in former FSW & North American champion Robbie Rayder! Can he prevail or will the tables be turned and this time Johnny play the role of transitional champ? Enough talking, let's take it to the ring and FIND OUT!!
Starr:
The following match is a singles match set for one fall and is for the CW BROADCAST CHAMPIONSHIP!! Joining us first, from ALAMO, CALIFORNIA, weighing in at 225 pounds ...
THE DREADNOUGHT… ROBBIE… RAAAAAAYYYYYYYYYYYYYDER!!!
The lights go out in the arena then a fog covers the entrance. The lights slowly come up as Robbie Rayder, wearing long purple tights and black boots, walks out through the fog and kneels down. He holds his hands out as if he's wanting to take everything he can. Rayder looks out at the crowd as he walks half way down towards the ring, then methodically climbs up on the apron. He climbs into the ring and sits in the corner, never taking his eyes off the ramp.
Starr:
And his opponent, from PLEIADES, weighing in at 210 pounds ...
HE IS THE CW BROADCAST CHAMPION… THE ONE… THE ONLY… THE MIRACLE…. JOHNNY MAEEEELLLLLLLLLLLLLSTROM!!!
The lights in the arena dim as the crowd quietens in anticipation of who is about to step through the curtain, immediately erupting in cheers when they hear "My Name Is Human" by Highly Suspect hit the speaker system. Fog machines and blue, orange and white strobe lights are in overdrive as "The Miracle" Johnny Maelstrom steps through the curtains, waving through the smoke and placing his right hand over his eyes, mask covering his mouth and hoodie over his head. Scoping the crowd out as they show approval for The One and Only. He spans from left to right… up and down and then shows love right back, patting his heart, kissing his hand and then pointing out towards the sea of EWC fans in the area, sealing it off with a big thumbs up and a round of applause from him to the fans.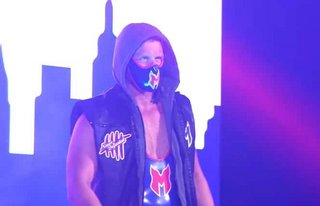 Johnny then makes his way down the ramp slowly and confidently, bumping fists with each fan that throws their hands out along the way. He reaches the ring steps and gingerly makes his way to the apron, wiping the bottom of his shoes on it. He looks back at the hard cam as the crowd on that side pops! Then he points in front of him, prompting a pop from that side! He raises his right hand up to his ear and the right side of the building responds followed finally by the left. Maelstrom steps into the ring as Highly Suspect continues to rock everyone's ears off and starts hitting the ropes! Back and forth, back and forth with speed and precision as the crowd follows along, building in steam as they cheer Maelstrom along. He finally stops, sliding on his knees to the very center of the ring as he takes his hoodie off, rips the mask off of his face and raises his arms high, his index fingers extended and pointing to the heavens as fans throw out blue, orange and white streamers everywhere, covering Johnny Maelstrom, the ring and everyone else in it!!
Watson:
Wow! Can you feel the electricity! This sold out legendary stadium is rocking, they can't wait for the bell and neither can the competitors! The ref has read the rules to the illustrious CW Broadcast Championship has been held high in the air for all to see, one of the sport's biggest prizes up for grabs!
DING DING DING
The rowdy sold out London crowd explodes and so do both Johnny Maelstrom and Robbie Rayder, charging to the middle of the ring like bulls, meeting in the center to violently exchange closed fists to the forehead back and forth! Neither man backs down, back and forth, as the crowd cheers on with each vicious punch. Both men eventually stand in the ring dazed and stumbling, Maelstrom backing up to the ropes to steady himself. The pitbull that is Robbie Rayder sees opportunity, shakes it off, and charges towards Johnny with a big clothesline - but the champ ducks and sends Rayder tumbling over the top ropes and out to the mat head first! The crowd is going crazy as Maelstroms signals for it… he hits the ropes…. PLANCHA OVER THE TOP TO THE OUTSIDE! HE TAKES RAYDER OUT!
Watspm:
TOPE SUICIDA from The Champion!!!!
Sydney:
I don't think Rayder thought that Maelstrom had that in him! Does Robbie Rayder
believe
in miracles now?!
The spot does almost as much damage to Johnny as it does Robbie, the champion slow to make it to his feet. When he eventually does he reaches down beside him and pulls Robbie back to his feet. He's not wasting any time either, he signals for the Out of Body Experience, but Robbie reverses, pulling him in and putting him down with a stiff clothesline! Maelstrom's skull hits the concrete with a sickening thud.
Watson:
Rayder showing how one maneuver can turn the tides that quickly.
Sydney:
No matter how many years in the business you have in, the EWC is a whole other ball game and Robbie Rayder is a proven commodity in EWC.
Meanwhile, inside the ring the ref counts both competitors out.
Rayder is mounted on top of Maelstrom, his hands firmly around The Miracle's neck and quickly choking the life out of him. Johnny's face turns a light shade of purple as he gasps and reaches towards the guardrailing, looking for a brave fan to help him.
Watson:
Maelstrom might be passing out here!
Sydney:
No winning on a count out, Rayder needs to get them both back in the ring!
The referee, now nearing the end of his count, raises his voice to assess the seriousness of the situation.
Rayder, disgusted that he was unsuccessful in murdering his opponent, scoffs as he rolls off Johnny Maelstrom and drags him by the hair to the ring apron. He then lifts him up and rolls him into the ring, following shortly behind. Rayder is quick to his feet, smiling sadistically as he begs Maelstrom to get back up to his feet… Johnny is slow to recover, but he eventually makes it up to his knees — ONLY TO HAVE RAYDER TAKE HIM BACK DOWN! SHOCK AND AWE! Rayder rolls Johnny up…
TH-
NO!! Maelstrom with the kickout! Rayder is beside himself! He pops up and gets in the ref's face, pointing his finger at him and complaining the count was slow! While Rayder is pleading his case, Johnny uses the ropes to pull himself up. Staggering, he is waiting for Rayder when he turns around. SUPERKICK! Johnny with a pin of his own…
TH-
NO!! This time it's Robbie Rayder kicking out! Johnny's eyes rolls into the back of his head as it hits the mat, the champion's body exhausted and lungs heaving for air. He raises his hands up to his forehead and uses them to wipe the sweat off his brow, fans clapping along with a "THIS IS AWESOME!" chant.
Watson:
I agree! This is indeed awesome!
Sydney:
These men are leaving it all out there in that ring Tim!
Both competitors, visibly battered from this brutal war for the CW Broadcast Championship, are at their feet and once again in a test of might, this time seeing who can withstand the most backhand chops as the fans answer along with a "WOOOO!" to each one. Robbie backs Johnny up to a corner, and has him reeling. He lifts him up, and sits him down on the top rope, setting up for what looks like a Suplex and nails it! Johnny's neck snaps back on impact, ouch! Rayder kips up, grabs Johnny by the hair and pulls him up… TOMB RAYDER!!! the buckle bomb/curb stomp combo lands perfectly and Rayder throws himself over his battered opponent with the last ounce of energy that he has left...
DING DING DING
Starr:
And your winner, via pinfall.... annnnnd NEW CW Broadcast Champion....
"THE DREADNOUGHT"..... RRRRROBBIE RRRRRRAYDER!
Robbie slowly rolls off of Johnny, neither man unable to move as referee Matt Mercer is handed the CW Broadcast championship belt. He walks over to the downed Rayder, raises his hand briefly before it is ripped away, Rayder not wanting his hand raised. Mercer shrugs and then lays the Broadcast championship across the new champions chest.
Watson:
WOW...Those are the only words that I have right now folks. These two men just went through an all out WAR for the CW Broadcast championship. I thought that Maelstrom had this match won, but even twenty years of experience wasn't enough to over come the experience that Rayder has from being FSW and North American champion... And now he is the fist of what he is calling the "Paramount Triple Crown" champions. That is the first ever person to hold the FSW, North American and now CW Broadcast championships.
Sydney:
You are selling short the absolute herculean effort that Johnny Maelstrom put in here tonight. He took the most dominant North American champion in EWC history to the absolute limit here tonight and damn near retained that championship!

In the ring, Robbie Rayder is now to his knees, clutching the CW Broadcast championship. The camera cuts to Johnny Maelstrom, walking slowly back up the ramp, his hand over his head, but staring absolute daggers at Rayder in the ring.


Watson:
Indeed Cid. Johnny Maelstrom can walk out of London here tonight knowing that he left everything in that ring and I can say with almost 100 percent certainty that we have not seen the last of these two men in that ring fighting each other! Folks, we are totally out of time! Join us next time as we will come to you live from Stockholm, Sweden as the Paramount Stadium tour continues! For Cid Sydney, I am Tim Watson saying good night for jolly old England!

Instead of fading the black, the camera cuts to...

---
---
A graphic showing the Main Event of Paramount #21 pitting Marcu$ $t. John and James Keaton against each other takes over the screen for a moment before the camera quickly cuts to Marcu$ $t. John, who is stumbling around somewhere backstage. He is struggling to walk under his own power from the attack that he received. He pushes away everyone that is trying to help him and give medical attention. He makes his way outside. Clutching his ribs, he slowly makes his way to the production truck. M$J starts giving orders and telling them what to do as everyone looks on shocked that a wrestler has breached their work stations. He has them post the graphic of him vs Keaton on the screen before he grabs a headset.

M$J:
Keaton, listen to my voice and I want you to listen well, regardless of where you're at in the building. I know you can hear me. I know you see that graphic on the screen. That's the last time you'll have that graphic show you as the North American Champion. You can knock me down, you can make me bleed, you can even break my bones, but you will NEVER beat me in that ring. You will NEVER make me submit. You will NEVER break my spirit. At Paramount 21 I'm going to show you that heroes truly do still exist because I'm going to save this brand from your warped perception. I'm going to leave Wembley Stadium and London as the first ever 2-time North American Champion, but most importantly I'm going to leave as Paramount's Champion. The entire roster will be out there to witness it. Then, just like I once had to do, I'm going to send you packing to the back of the line when I humble your big ass. Everything that you've done to me will heal, I promise you that. But after our match, your ego will be damaged forever. See you in London, bitch!!!
M$J snatches the headset off his head and hobbles out of the production truck and gingerly down the steps as he leaves with the screen once again showing Marcu$ $t. John vs "The Wicked" James Keaton at Paramount 21 before fading to black.
..................................................................................................................

MATCH WRITERS
MATCH ONE
WRITER:

Calamity Nguyen
MATCH TWO
WRITER:

Calamity Nguyen
MATCH THREE
WRITER:

EWC Staff Assistant: Em
MATCH FOUR
WRITER:

Karver
MATCH FIVE/ MAIN EVENT
WRITER: @themiracle
..................................................................................................................
RECAP OF WINNERS
SINGLES MATCH
Callie Clark Vs Adriana Aquilla
WINNER: Callie Clark
...

TAG TEAM SHOWCASE
Non-Title
KU & James Keaton Vs The Southern Express
WINNERS: KU & James Keaton

...

SINGLES MATCH
Non-Title
Aeon Khronos (N/S) Vs El Pablo
WINNER: El Pablo
...

SINGLES MATCH
Non-Title
Sour Candy Vs Killjoy Ito
WINNER: Killjoy Ito
...

SINGLES MATCH
FOR THE CW BROADCAST CHAMPIONSHIP
Robbie Rayder Vs Johnny Maelstrom
WINNER: and NEW CW Broadcast Champion: Robbie Rayder
...

...............................................................................................................…
MVP OF THE NIGHT:

Ibuki Ito


MATCH OF THE NIGHT:

House Hunters

&

James Keaton/Jocelyn Gage

Vs

TheSouthernExpress




© THE EXTREME WRESTLING CORPORATION 2022