Post by PARAMOUNT on Jun 8, 2022 20:41:38 GMT -6
The Extreme Wrestling Corporation Presents


** The Swiss Invasion **
EPISODE #21
JUNE 8TH, 2021
LIVE!
from the Friends Arena - Stockholm, Sweden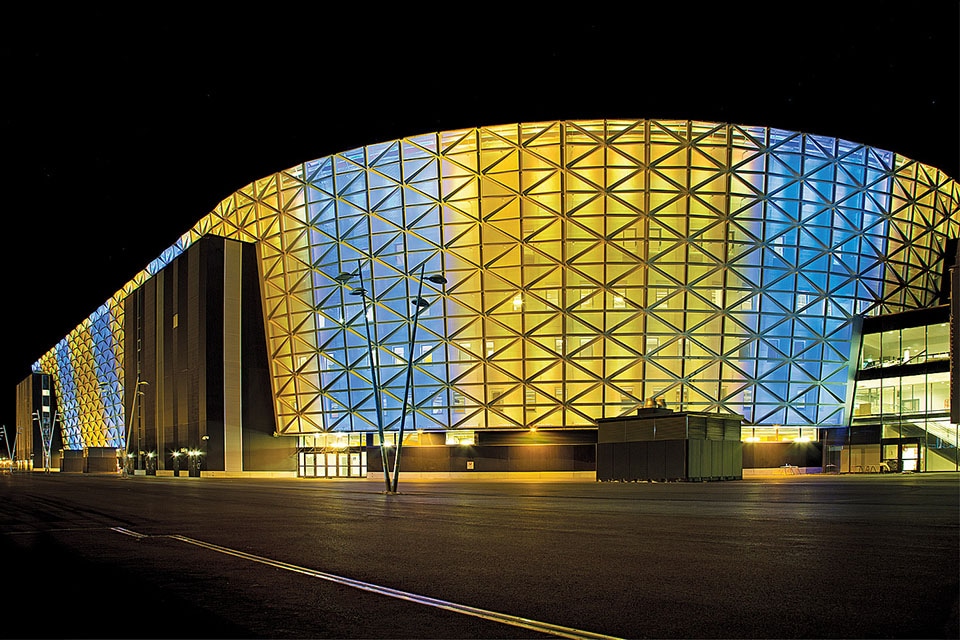 ---
---
WARNING: This live event contains strong coarse language (L), and intense violence (V) which may be unsuitable for younger viewers. None of the matches you are about to watch have been predetermined. Only some of the thematic story-lines have been discussed beforehand. Accordingly, EWC and it's producers must insist that no one attempt to recreate or re-enact any match or activity performed in this live event.




---
---
"Superstar" by For Squirrels begins to blast over the arena speakers as our feed comes to life...
The scene immediately cuts to a pyro show erupting on the outside of Friends Arena!
Then a cut to another, equally explosive show on the inside!


The fans packing Friends Arena tonight all come to their feet. Further explosions rock the very foundation of the arena as a large video screen is lowered from the rafters, stopping 15 feet above the ring! Everyone in Stockholm knows that the self-proclaimed greatest show on Wednesday night is about to begin and they cheer accordingly! The heavy riffs from 'Superstar' continue to blare over the arena, setting the tone for what is to come later on this evening.




IT'S ALL I WANT, IT'S ALL I NEED

IT'S ALL I SEE, IT'S ALL I BREATHE

IT'S WHAT I AM, IT'S WHAT'S I KNOW

IT'S WHAT I FEEL, IT'S WHAT I BLEED!
On the X-Tron, this episode of Paramount Wrestling begins with its opening video montage detailing many of the historic events that have taken place in the five-year history of Future Stars of Wrestling, setting the tone for the history of the Orange brand. From past champions like Jason Hunter, Dixie Dubois, Amis Shelton, Magdalena Lockheart, and Otaki all standing underneath an old FSW logo to the more current Future Stars Champions like Xavier Reid, Cletus Franklin, Robina Hood, Robbie Rayder, Stitches, Candy, and Wes Walker tearing down that mold, showing the Paramount Wrestling Logo...


As more pyro goes off the Paramount Wrestling logo appears and flashes of the roster appear on the screen such as Marcu$ $t. John, Emma Louise, Asriel Buzzard, Adriana Aquilla, , Shaker Jones, Jordan Freakin' Sharpe, Sally Talfourd, Ezio DeLuca, Extreme Eugene and The Hawaiian Hunters. The final images shown is a montage of Robbie Rayder, the CW Broadcast Championship around his waist, "The Wicked" James Keaton and the EWC North American championship high over his shoulder, The Southern Express with Bunny Love, the EWC World Tag Team Championships over each of her shoulders, El-Pablo swimming in a pool of Skittles, the EWC X-Division championship diagonal across his chest, and then Killjoy Ito with Buddy Love, the EWC Undisputed championship proudly around his waist.
The camera pans around the loud and out of control audience. As the fireworks continue to explode, the fans chant and cheer! Cameras pan around the arena to catch some of the signage that many fans have brought to Friends Arena with them here tonight. The Paramount Wrestling fan-base is as adamant about having their voices heard now as ever:
"THE PINNACLE ANLANDER TILL SVERIGE"
"M$J ÄR STORT"
"NFT= NY FREAKIN' CHAMPION"
"JAG ÄR HÄR FÖR SAIDIE!!!"


"VICTOR PRICE BLÖTER SÄNGEN"
"PAR-A-MOUNT!!!"



"PARA-A-MOUNT!!!"



"PARA-A-MOUNT!!!"



"PAR-A-MOUNT!!!"
The lights come back to full and the fans offer one last rousing cheer at the opening festivities. Tonight's announcers are on standby and ready for the show to begin.
Watson:
God Dag from Stockholm, Sweden and welcome to the twenty first episode of Paramount Wrestling! We are coming to you live from Friends Arena in Stockholm! My name is Tim Watson and with my as always is Cid Sydney.
Sydney:
It's great to be back with another episode of Paramount Wrestling! We have five absolutely insane matches here tonight for you on Paramount! Up first, Chris Brock is starting the Invasion series early as we have TWO Invasion preview matches for you! First, Brawl's Sour Candy invades Paramount to take on "Lo Dovino" Adriana Aquilla!
Watson:
After that we have a CW Broadcast Championship contenders match when two Paramount new comers battle it out. Jaxon Realm takes on Sally Talfourd!
Sydney:
Then former CW Broadcast Champion "The Miracle" Johnny Maelstrom takes on former HBO Broadcast and EWC United States champion Asriel Buzzard!
Watson:
The second Invasion match pits Prime's Saidie Sharpe takes on EWC Undisputed champion Killjoy Ito. And then in our Main Event, the EWC North American championship is on the line in a LUMBERJACK match as Marcu$ $t. John takes on "The Wicked" James Keaton!
Sydney:
We have all this and SO MUCH MORE! Our first match of the night will be coming up right after this quick message from EWCTV. Don't go anywhere .. Paramount Wrestling action will be back in exactly 1 minute
---
---
---
---
WHAT IS EWCTV?


All live EWC Pay-Per-View events (including StrangleMania, Night Of Champions, EWC Rumble & WrestleFest)
All day scheduled & live programming
Plus, hours and hours of on-demand content & never before seen behind-the-scenes footage!
Groundbreaking original series - See new episodes of BRAWL, RAMPAGE, PARAMOUNT WRESTLING, EWC PRIME and more
Live in-ring action, reality shows and documentaries
HOW TO ORDER
Get the award-winning EWC Network through your TV provider. Call your local TV Provider today to subscribe.
Only $7.95/month

WATCH ONLINE
If you are subscribed to EWC Network through your TV Provider you can now enjoy EWC Network on your:
PC, Laptop, Playstation, mobile app, or tablet.



EWCTV for only $7.95 USD per month
Along with being an EWCTV Subscriber, you get:
EVERY Pay-Per-View event included at no extra charge
15% off any and all EWC Merchandise from the EWC Store
20% off all tickets to LIVE EWC Shows
A free EWC Yearly Wall Calendar signed by the entire active EWC Roster
As an added bonus for all those currently subscribed including any new subscriptions
prior to midnight JUNE 12TH

Receive
a
FREE
copy of
PRIME PRESENTS: WORLD WIDE IV
DVD and Blu-Ray combo when it's released later this year
+ free T-Shirt and Replica EWC Indy Championship belt.
So act now if you aren't already subscribed to EWCTV
---
---
---
Marcu$ $t. John finds himself walking through the backstage hallways, on his way to his locker room as he encounters none other than Jordan Sharpe.
M$J:
So you're here to talk shit? Look, I don't have time for your Sharpisms or whatever you're calling your little quirky sayings right now. I have one of the biggest matches of my career and I need absolute focus to ensure I come out of this match on top. So please, leave me be so I can concentrate.
JFS:
Ahh that's not why I'm here, Marcu$. I was hoping to run into you.
JFS:
Because I never got the chance to pass my message along to you. You see, it was always supposed to be you, Marcu$. You were the one that was supposed to beat me. Now, I messed that up when I lost to Keaton. That's on me. But you still have a chance to fix all of this. You have a chance to claim back that championship, and I know you can do it. And when you go out there, don't do it for the guys in the back. Don't even do it for those fans. You do it for your girls. Do it for yourself, Marcu$. Go out there and be what I and a whole lot of other people KNOW you to be! Because you, MarcuS St. John, YOU are Paramount!
With that, Jordan offers his hand for a handshake to Marcu$' surprise. M$J extends his hand out and shakes Jordan's hand back in a show of respect.
M$J:
I appreciate the kind words, I really do. I agree with a lot of things that you said. My twins, I am doing it for them. But for me? That's not really important. I want to take this brand to the next level, to new heights. When I say I am Paramount, most people think I'm saying I'm the best that this brand has to offer, and while I want that to be true by what I do in that ring, what I really mean is I want to be the embodiment of what the former FSW has to offer. I want this to be a place where everyone can thrive and prosper. Former indy star? Doesn't matter. No prior experience? Doesn't matter. Former champ trying to find their path back to success? Doesn't matter. Me being Paramount isn't just a catchphrase, it's a belief that anyone can walk through those doors and find themselves as well as what they are looking for because this brand is truly the opportunity. The opportunity to find who you truly are and blossom into the vision you see your true self as. So I am Paramount, but tonight we celebrate after I win because WE are Paramount Wrestling! The best damn brand in the business. Thank you for the kind words.
Jordan slaps him on the back.
JFS:
Now THAT is what I like to hear. Go get 'em big dog.
The camera fades to...
---
---

SINGLES MATCH
INVASION MONTH PREVIEW
Sour Candy
VS "Lo Dovino" Adriana Aquilla
We return to ringside where Tim and Cid are standing by!
Watson:
Some respect there from Jordan Sharpe for M$J ahead of that big EWC North American title match later tonight! Right now though, it's time for our first match! Take it away Isabella Starr!
Starr:
The following match is set for one fall. Joining us first, residing in San Antonio Texas and weighing in at 120 pounds ...
ADRIANA AQUILLA!
Iron by Within Temptation hits the speakers and the crowd comes alive as Adriana Aquilla makes her way down to the ring, she slaps hands with a couple of fans before rolling into the ring ready for her match as she removes her jacket.
Moments after "I Want Candy" by Aaron Carter begins to play throughout the (add venue here), it suddenly switches into a more metal version of the song done by Risen From Shadows. Despite the boos coming from the crowd, Sour Candy seems unfazed as she walks out with a huge grin. She gives them a sarcastic wave and walks down the aisle.
Starr: And the opponent, making her way to the ring straight from the Sour Patch.......SOUR CANDY!!!
As soon as a fan reaches out to touch her, SC jerks her arm out of the way and circles the ring before slipping under the bottom ropes. She stays on her knees and looks toward the entrance (or at her opponent) with the deadliest of stares as she waits for the match to begin.
DING DING DING
Candy runs at Addy for a spear but runs into a dropkick. Addy hits a right hand and whips Candy off the ropes. Candy reverses sending Addy off the ropes. However, Candy drops her head too low and is taken to the mat with a snap suplex. Addy lifts Candy to her feet but Candy blasts her with a forearm smash. Addy clutches her jaw allowing Candy to grab her and hit a snap swinging neckbreaker. Addy rolls into the corner to rest but Candy charges hitting a meteora in the corner. She rolls Addy out of the corner and makes a cover
Addy easily gets a shoulder up. Addy rolls to the apron as Candy argues about slow counts with the referee. Addy throws herself at Candy with a springboard clothesline. She hooks the leg.
Like Addy, Candy makes a quick kick out. Candy gets to her feet quickly and runs at Addy. She lifts Candy into the air in an attempt to block her opponent. All it does is allow Candy to hit a hurricanrana. Addy gets to her feet as Candy runs. Addy jumps and hits Candy with a hurricanrana of her own.
Watson: Both women seem to be playing a game of anything you can do, I can do better after that.
Sydney:
I thought they were playing
dueling
hurricanranas myself.
Both are on their feet. Addy charges at Candy who ducks. She hits Addy with a kick to the gut and right hands before whipping Addy off the ropes. Addy kicks off the middle rope and flies at Candy hitting a Mexican Destroyer. She folds Candy in half as the referee counts.
Candy manages to push her way free breaking the count. Both are on their feet. Candy looks groggy but makes up for it by lashing out with right hands. Candy runs at Addy looking for a spear. Addy leap frogs over Candy but turns around and eats a Bitter Truth. Addy lays spread eagled on the mat as Candy makes the cover.
Addy just manages to get a shoulder up.
Watson:
Two and nine tenths there.
Sydney:
Just and no more but how much does Addy have left? How much does Sour Candy have for that matter?
Addy staggers to her feet but is wiped out by a spear from Candy. She picks Addy off the mat and positions her for an Unsweetened Ending. Addy grabs Candy and drives her into the mat with a downward spiral. Candy staggers to her feet where Addy lifts her for Divine Judgement. Candy rolls out of it and plants Addy with an Unsweetened Ending. She hooks the leg.
DING DING DING
Starr:
And your winner, via pinfall
SOUR CANDY!
Candy kneels in the ring and scowls at the crowd. She holds a hand in the air in victory before rolling under the rope and heading up the ramp.
Watson:
A big win for Candy there. Adriana almost took the win here but Candy found an inch and she took it.
Sydney:
As you said, Aquilla came close with the downward spiral and I believe this would be different music had she hit Divine Judgement.
Addy rolls out of the ring and slowly heads up the ramp. She clutches at her nose as blood drips from it.
Watson:
I'm sure a trip to the medical room is in store for Addy, but we still have so much more to come, including that CW Broadcast championship contenders match which is coming up next! Don't go anywhere folks!
---
---
---
The camera comes in backstage, Lisa Goldrush mic in hand at the ready.
Lisa:
Ladies and gentlemen, at this time I'd like to welcome to EWC and Paramount … Sally Talfourd.
Lisa gestures to her guest who walks into shot. Sally Talfourd, dressed and ready to step in the ring, beams a smile. The nerves and the jitters are there to see, Sally hardly able to contain her excitement as she steps on the spot.
Sally:
Lisa, thanks for having me. And EWC. And Paramount! So many thanks, so little time. I mean, just meeting everyone has kept me busy! And then there's the match preparation; getting ring-fit has been … well, it's a work in progress. And training. Remembering. There's so much that's needed doing. And … wait … what was your question?
Lisa lets out a laugh while Sally furrows her brow, somewhat confused.
Lisa:
There's plenty of time for all that. And no, there wasn't a question yet. I can see you're, well, a little amped. I suppose it's exciting getting back in the ring again?
Sally:
Exciting, yes. Daunting too. I think I've probably felt every emotion one way or another this past fortnight. But, yes – I'm excited as anything and everything right now, and I hope that carries me through my match tonight.
Lisa:
Speaking of your match, Jaxon Realm and yourself are not only debuting by vying for a future CW Broadcast Championship match. Does it change anything that so quickly into your return, the word 'championship' is being thrown around?
Sally:
Not really, no. I mean, it's great – don't get me wrong. But right now, I'm taking everything slow; one day at a time and all that. What's going to happen, it will happen. For tonight? That's about as far as I'm planning: A match, and then a 1-2-3.
Lisa:
Well, thank-you for joining us. Good luck out in the ring, and: Welcome back!
Sally, still beaming, wraps one arm around the shoulders of Lisa before she turns to leave … and comes face-to-face with Saidie Sharpe, who nearly slams into her.
Saidie:
AHHHH! I'm so sorry! I never watch where I'm going I'm a mess!
Saidie looks Sally up and down for a second.
Saidie:
Wait a minute… I know you! You're Sally Talfourd! I watched your Gambit match the other day! Good to see you get back at it in the ring! I am Saidie Sharpe by the way, I'm sure you probably have like, never heard of me.
She sheepishly rubs the back of her head.
Saidie:
Excited for your big Paramount debut tonight?
Sally:
Hmmm … yes? Maybe? I don't know. There's a bit of everything floating around my head at the moment. Anyway, Sadie - don't think I've not done my homework and all that. I know who you are - and who you're not.
There's some silent commotion out of shot, enough to catch Sally's attention. Time's up for her. She waves an apologetic wave and starts to move on.
Sally:
Hey, it was great meeting you! If I survive tonight, let's, uhhh, finish this over coffee? Or tea? I hear tea is the new coffee. But I also heard scented candles are the new tea, so maybe coffee is still in.
Again, out of shot, someone is all but imploring Sally to move on.
Sally:
Ok, Ok. Sadie, it's been a pleasure.
Sadie:
It has been! Good luck - not that you'll need it.
There's an embrace between Sally and Sadie, before the shot comes in on Lisa.
Lisa:
That was … something. Wait, I mean, that was Sally Talfourd and Sadie Sharpe - just two of the many superstars lining up for Paramount tonight. Sally up against Jaxon Realm and Sadie going to-to-toe with the EWC Undisputed Champion Killjoy Ito, we have the makings of a great night here in Stockholm! Don't go anywhere!
The shot fades out on a smiling Lisa Goldrush.
---
---
SINGLES MATCH
WINNER GETS A FUTURE CW BROADCAST CHAMPIONSHIP OPPORTUNITY
Jaxon Realm
VS Sally Talfourd
We return to ringside where Isabella Starr stands in the center of the ring ready to call the match. Off to the side of the announce table, Robbie Rayder sits on a steel chair with his CW Broadcast Championship displayed over his shoulder.
Starr: The following match is a one-on-one match to determine the next contender for the CW Broadcast Championship! Joining us first, from Phoenix, AZ, weighing in at 255 pounds ... JAXON REALM!
Pantera plays and Jaxon rushes to the ring ready to cause mayhem.
Starr:
And his opponent, making her way to the ring this evening, weighing in at a sublime one-hundred and forty pounds, standing in at five feet and ten inches of perfection, this is 'The Last Magician'...
SALLY TALFOURD!
The lights turn blue and red. 'TroubleMaker' hits the speakers. The song bursts to life, out races Sally to the front of the stage. Raising her hands to the crowd, she kicks her leg and heads towards the ring, slapping hands with the crowd.
Sally stands at the base of the steps to the ring, waving to the crowd, then dashes up the steps, hoists herself over the top and strides to the centre of the ring.
DING DING DING


Jaxon challenges Sally to a test of strength, raising his left arm into the air and pointing toward it with his right hand. Sally doesn't seem keen at first, but she accepts and moves forward. Just as she's about to clench hands with Realm he blasts her in the face with a stiff right hand. Talfourd stumbles backward and Realm continues the onslaught with a second, third, and fourth right hand until Sally hits the canvas back first. She swiftly rolls back to her feet and ducks a fifth right hand attempt. Talfourd hits the ropes and bounces back against the assault with a leg lariat. It doesn't take Realm off his feet, however, it just pushes him back a fair amount. Talfourd tries again with a flurry of forearm strikes that takes Realm into the ropes, then grasps his arm for an arm wrench. Sally pulls him into a short-arm clothesline just as Jaxon appears to be willing himself out of the lock with his superior strength. Yet Jaxon still stands. She ducks another right hand and catches Realm's boot as he goes for a superkick. He bounces on one foot, pleading with her to let go just before she throws it away leaving him to spin around right into a standing headscissors. Realm bounces off the canvas and quickly tries to shake the cobwebs loose.
Watson:
Bit of back and forth form both competitors to start off here, but Sally Talfourd with the head scissors has her in control early on here!
Sydney:
Realm looks like he might be in La La land early here, that bodes well for the Last Magician and not well for the guy who looks like he should be hunting bounties!
Sally rushes at Jaxon and gets hoisted up as he stands. Stiff body slam! Talfourd rolls out of the ring and grasps at her lower back. Realm poses in the ring for a moment, showing off his muscles as Sally stumbles over to Robbie Rayder seemingly by accident. He stares menacingly at her as she smiles and waves. Realm slides out of the ring and is about to snag Sally up when she drills him in the midsection with an elbow. She follows up with a stiff forearm to the face and snaps him into the steel steps with a picture perfect dropkick.
The referee begins counting as the two continue the fight outside the ring. Sally goes to lift Jaxon up and he breaks her hold on him.
Realm unloads a flurry of blows he likes to call Not the Eyes! An aggressive combination of rights and lefts followed by an eye rake. He clotheslines Talfourd over the guardrail.
Jaxon points at Robbie Rayder and then motions around his waist before rolling into the ring.
Sally slowly gets to her feet, hears the count, and springs into action. She springs onto the guardrail and leaps off onto the ring apron.
She grabs the top rope and bounds over them into her signature neckbreaker, catching Jaxon mid-pose. Lights out!
Watson:
What a display of agility by Sally Talfourd there!
Sydney:
Jaxom Realm I think is going to pay for that bit of show boating if Sally can capitalize on this opportunity here!
Sally slowly goes for the pin.
Realm kicks out with authority, nearly throwing Sally Talfourd out of the ring entirely. She catches herself against the ropes and uses them to hoist herself up. Jaxon just gets to one knee as Sally comes rushing at him. Fireman's carry. Talfourd bounces off the canvas and rolls to her feet. Superkick! Talfourd drops to the ground and Realm hoists both of her legs in the air for the pin.
Sally gets her hand underneath the ropes initiating a rope break. Jaxon slams his hands on the canvas and starts yelling at the referee about the count. He holds up three fingers but the referee holds strong and shows him two fingers in response. Jaxon slaps away the fingers and continues to yell at him as Sally slowly gets to one knee. Jaxon turns right into another signature move from Sally. The Either Or! Double knee facebreaker takes Realm to the canvas. She jumps over him toward the ropes for the finisher. High Hopes! Talfourd nails Realm with the springboard moonsault. She goes for the pin.
DING DING DING
Starr:
And your winner, via pinfall...
SALLY TALFOURD!!!
Talfourd beams with pride as her hand is held high in the air by the referee. Robbie Rayder is seen outside the ring, clapping and nodding for a moment. He then drops the applause to raise his CW Broadcast Championship into the air with a stern look toward his next contender.
Watson:
Well Jaxom Realm put up a valiant effort here and nearly got the win but Talfourd had one more trick up her sleeve still! Welcome back to World of Professional wrestling Sally Talfourd!
Sydney:
This was a great fight all around, both fighters showed that they will have very good careers here in EWC, but Sally just punched her first shot at EWC gold and her next opponent? "The Dread Nought" Robbie Rayder! I am looking forward to that one!
Sally stands tall and does not look intimidated at first glance as she acknowledges the fight ahead of her.


Watson:
That fight will be for another day, we have up next two FORMER Broadcast champions as Johnny Maelstrom takes on Asriel Buzzard! Don't go anywhere folks!
---
---
---

SINGLES MATCH
"The Miracle" Johnny Maelstrom
VS Asriel Buzzard
Watson: Welcome back to Paramount Wrestling! If you're just tuning in you missed two GREAT matches already and we have another that will start right...NOW!
Starr: The following match is for one fall. Joining us first, from Birmingham, Alabama, weighing in at 210 pounds ... "The Miracle"...JOHNNY MAELSTROM!
The lights in the arena dim as the crowd quietens in anticipation of who is about to step through the curtain, immediately erupting in cheers when they hear "My Name Is Human" by Highly Suspect hit the speaker system. Fog machines and blue, orange and white strobe lights are in overdrive as "The Miracle" Johnny Maelstrom steps through the curtains, waving through the smoke and placing his right hand over his eyes, mask covering his mouth and hoodie over his head. Scoping the crowd out as they show approval for The One and Only. Johnny makes his way down the ramp slowly and confidently, bumping fists with each fan that throws their hands out.
Starr: And his opponent, from Hill City, Kansas, weighing in at 196 pounds ... ASRIEL BUZZARD!
The first few notes of a piece of orchestral music start to play around the arena, with the harps giving way to violins after a few seconds and an image appearing on the screen as the house lights lower. As the guitars of 'Animals' by Architects begins to pound around the arena, strobe lights flash as the image on the screen fades to flashing images of a familiar face. Slowly, Asriel Buzzard emerges from the curtain and stands atop the stage staring out into the crowd to a mixed response.
He walks down the ramp and circles the ring before rolling under the bottom rope and climbing the turnbuckle to stare into the crowd again, holding a closed umbrella aloft, his expression blank.
DING DING DING
As the referee calls for the bell, Johnny Maelstrom and Asriel Buzzard circle each other for a few seconds before Buzzard smirks and scoffs at Johnny. Johnny, fired up by the lack of respect, charges at Buzzard who side steps him and backs into the corner of the ring, grinning. Johnny charges in and the two trade blows. As Johnny gets the upper hand, Asriel leans his head and torso back through the ropes and the referee pushes in to force Johnny to break up their scuffle. As he pushes him away from Buzzard, Asriel reaches out and slaps him. Johnny throws the referee aside and charges in to attack Asriel again but is met with a knee strike, sending him stumbling backwards. Buzzard attempts the Redeemer but Johnny ducks out of the way and lands a snap DDT as Asriel turns back to him.
Watson: Both men really fired up here tonight to start things off.
Sydney: The Adrenaline is running into their souls right now and it's going to come down to who can harness that energy to get the little bit extra needed to win this one.
He pops up to his feet to celebrate and build on the momentum but Buzzard has rolled out of the ring. Johnny plays to the crowd a little before climbing through the ropes to the outside and following Asriel round the ring who is now wandering holding his head. Buzzard rolls back into the ring and Johnny rushes round to slide in after him, keen to continue his momentum. As he slides into the ring, he's met with a hellacious stomp to the head from Asriel who was waiting for his chance! He drags Johnny to his feet and hits the Redeemer and covers Maelstrom.
THRE-
Johnny kicks out at the last second!
Buzzard looks furious and drags him back to his feet. The two trade blows before Johnny brings him down with a lariat. As he springs back to his feet, Johnny locks him in position for the OBE! Asriel counters and the two tumble to the floor, they continue brawling until they are backed into the corner and referee separates them. This time, as the referee separated them Asriel cynically rakes Johnny's eyes before pushing them both away. He hits the Redeemer again on the partially sighted Maelstrom before propping him up to sitting and nailing him with the Release.
DING DING DING
Starr: And your winner, via pinfall ASRIEL BUZZARD!
Asriel sneers at the referee as he raises his hand in victory and stares wildly around the arena, glaring at the Swedish crowd who are giving his victory a mixed response.
Watson:
Johnny Maelstrom came out fighting tonight and brought the energy but it seems that Asriel Buzzard just had an answer for everything, even if he had to cut some corners…
Sydney: No matter how he did it, and whether these fans like it or not, he got the win and that's what matters here. Hang on, what's he doing?
Asriel has dropped to his knees next to the still dazed Johnny Maelstrom. He has pulled Johnny to sitting again and is holding him upright by the hair. Asriel stares at the blood which has gushed from a cut above Johnny's eye and runs his fingers through it before dropping Maelstrom back to the mat.
He stands up, draws his finger down his chest and draws another line in blood, staring into the crowd for a few, long moments before making his way to the back.
Watson: Asriel Buzzard looks to be taking trophies from his opponents. What kind of message is he trying to send here? We will keep you updated folks, but up next is the second invasion preview match featuring the EWC Undisputed champion! Don't go anywhere!
---
---
---
The camera cuts backstage inside the Friends Arena where we see 'The Prodigal Son' Buddy Love walking down the hallway looking down at his phone and shaking his head. He turns the corner and runs right into Paramount's Lisa Goldrush. She stumbles back and Buddy drops his phone.

Love: Oh…I'm sorry Lisa…

Lisa smiles and reaches down to pick up Buddy's phone and sees he is watching Saidie Sharpe's promo for tonight's match. She hits pause and hands the phone back to Buddy.

Goldrush: Doing a little last min match prep?

But Buddy shakes his head no.

Love: No…it's just…I can't get over the disrespect people are showing towards Killjoy…take Saidie for example…

Buddy holds up his phone of Saidie.

Love: I mean where does she get off right, she's a ONE time TV Champion here in the EWC and she's pooping on everything Killjoy has done in the EWC…who does she think she is? Really, I mean she's here because Prime did Jordan a favor and gave his niece a shot…

Goldrush: Now I'm not sure that's fair…

Love: Really, if she was Saidie Taylor would anyone care or would Prime even have offered her a contract?

Goldrush: Well if you weren't Tommy's son and have the last name of Love would YOU be here?

Buddy smiles at Lisa.

Love: Yeah but I have proven my worth right, I mean Saidie was TV Champion for what, 14 days…I mean good for her but I have proven myself time and time again…much more than just 14 days. I took Killjoy to TWO X-Division Championships, ending Ace King's reign BOTH times, helped him become one of the winners of the Rumble and we went on to once again end another one of Ace King's championship reigns when we won the Undisputed Championship, now…

Buddy looks at Lisa.

Love: I heard Saidie MOCK our Rumble win, belittled the fact that we 'fell out of the ring at the same time as everyone else' but I get it, we did something no Sharpe has ever done so there is bound to be hurt feeling but to go as far as to say we didn't really 'beat Ace' come on now Saidie…

Buddy shakes his head.

Love: We successfully retrieved the championship per the rules of the match, I mean would you rather us pinned Ace while nobody counted…come on now and to act like our draw at StrangleMania was nothing well…remind me again what you did that night…oh yeah, that's right, NOTHING!!! That draw was 'embarrassing', Killjoy and Ace nearly killed themselves that night, would you mock Ace for not being able to beat Killjoy…no, but you know what is 'embarrassing', you not even being on the show…and this little 'tough girl' act you got going. Acting like you could care less about anything when the fact is you care so much Saidie. You make cracks about The Love Club but it's because 3C was a failure…Candy left you, Jordan is championship-less and Gabi got hurt…heck even your new friend Aiya doesn't want to hang out with you so I get that you're bitter but don't disrespect Killjoy like that, it makes you look ridiculous…

Buddy smiles as he tilts his head.

Love: The fact is Killjoy is making EWC history while you…you are just spinning your wheels, being a lost soul and now you come back to the ring, after nearly a two month break and think what Saidie…that you're going to step into that ring and beat The ACE of the EWC, after barely showing up this season, no…no Saidie, tonight Killjoy finished his Scars & Stripes prep by stepping into the ring with you and showing the wrestling world that Saidie Sharpe is not ready for Paramount, he will show the wrestling world why you were not ready to become the Indy Champion…and that she…is not her uncle…

Buddy gives Lisa a little wink and heads off down the hallway as the camera fades out to...

---
---

SINGLES MATCH
INVASION MONTH PREVIEW
NON-TITLE
Saidie Sharpe
VS Killjoy Ito
We return to ringside where Tim and Cid are standing by!
Watson:
We are firing on all cylinders here tonight folks and we have seen so much go down already. We just heard from Buddy Love and we are bout to see his client in action...RIGHT NOW!
Starr:
The following match is set for one fall. Joining us first, residing in Toronto, Ontario, Canada and weighing in at 120 pounds ...
SAIDIE SHARPE!
Pyros hit and "Greatest" by Sia begins to play. Saidie makes her way out to the ring and usually passes out some merch for a couple fans. She'll give them a thumbs up or a high five and then run the ropes waiting for her opponent.
Starr:
And the opponent, residing in Daly City, California and 235 pounds he is the EWC Undisputed Champion ...
KILLJOY ITO!
'The Prodigal Son' Buddy Love walks out onto the stage and raises his arms into the air as the lights fade out. He jumps up and down as 'Deeper Deeper' begins to play. A strobe light circles around the stage as a single white spotlight hits the stage where Killjoy Ito is standing, his back facing the ring, his arms stretched out and his head down. He swings around to face the ring as Buddy Love runs up and stands next to him. After a quick word the pair start to walk towards the ring, Buddy runs ahead and charges up the steps and holds open the ropes for Killjoy to step through. Killjoy walks to the center of the ring, extends his arms and tilts his head back to soak everything in.
DING DING DING
Ito lashes out with a clothesline that Saidie ducks. She smacks Ito with a chop across the chest that echoes through the arena. Saidie lashes out with a superkick that Ito catches. Saidie turns that into an enziguri. Saidie runs off the ropes but runs into a dropkick. Ito picks Saidie up onto his shoulders and drops her across his knee with a gutbuster. Saidie clutches her gut as Ito drags her to her feet and hits a falcon arrow. He hooks the leg.
Saidie gets a shoulder up breaking the count. Ito positions Saidie for a powerbomb but she counters it with a spinebuster. She runs off the ropes and hits a snap legdrop. She makes a cover.
Ito powers a shoulder off the mat to break the count.
Watson:
Close but no cigar. You aren't going to catch the EWC Undisputed champion sleeping on the job like that!
Sydney: Exactly. We all know it will take more than that to beat Killjoy Ito.
Saidie runs off the ropes and throws herself at Ito spinning him around for a tornado DDT. Saidie grabs Ito for a chinlock but Ito powers to his feet and hits a belly to belly suplex which breaks him free. Ito is on his feet first and he cracks a kneeling Saidie with a Konbabwa. She drops like a stone. Ito rolls her over and makes a cover.
Saidie manages to roll onto her front braking the count. Ito stands in the corner and prepares to run. He runs looking for a Kettei-Da but instead runs into Saidie who throw herself at Ito hitting a BSPT. Saidie drops onto Ito as the referee counts.
Ito rolls a shoulder off the mat to stop the count.
Watson:
Saidie Sharpe has gone from needing more to beat Ito to she almost did.
Sydney:
'Almost' being the key word there. Both are still in this right now.
Ito continues to roll to the outside to get a breather for a moment as Buddy Love is trying to give his client some advice, but he quickly dives out of the way as Saidie Sharpe comes off the TOP ROPE with a Saidie Spiral!!!! That is a move typically done from the middle rope and never to the outside! The fans are going wild at this display in front of them as both fighters are down now! The referee begins their mandatory ten count.

1....2

Neither fighter is moving.

3...4

Saidie is first to move as she rolls off of the EWC Undisputed champion, but Killjoy is still not moving.

4...6

Killjoy coughs a few times to prove to Buddy Love that he is alive. Buddy nearly fainted, thinking the worst. Killjoy slowly rolls to a side then starts to get to his knees.

7...8

Killjoy realizes what the count is at and leaps up and stretches for the apron, grabbing it by a hand and trying to pull him self up.

9...

Killjoy goes to pull himself up by the bottom rope to break the count, but is caught by a lunging Saidie Sharpe who slams his head onto the ring apron, sending them both back to the floor.

10...



DING DING DING
Starr:
Ladies and gentlemen, neither competitor was able to answer the mandatory ten count, there for this match is being ruled a
DRAW!!!
No one can believe it. The crowd is almost silent as Buddy Love grabs his chest and falls to the mat. Killjoy gets to his feet and looks around for Saidie, but
immediately
sees Buddy on the floor and rushes to his aid. Saidie rolled back into the ring and is grabbing her head, trying to catch her breath.
Watson:
Now that is something that I think NO ONE expected. Saidie Sharpe has drawn a stalemate out of the jaws of defeat here and kept Killjoy Ito from claiming a win against a Sharpe!
Sydney:
This easily could have gone the other way too. If Killjoy could have maybe gotten in one more attack on the younger Sharpe, he might have been able to claim victory here. Either way, very good effort by both fighters here tonight. You only see this level of competition on Paramount Wrestling folks!

Killjoy has gotten Buddy up to his feet and they both make their way up the ramp.


Mere moments after her hard fought battle with Killjoy Ito, Saidie Sharpe is doing her best to shake the cobwebs clear in the ring. She's just about to her feet when Sour Candy slides into the ring behind her. The crowd tries to warn her but it's already too late as SC clotheslines her from behind.

Watson:
Sour Candy! She has come through the crowd and just laid out Saidie Sharpe here!

Sydney:
Maybe Saidie shouldn't have been running her mouth in her promo then, Tim!
As soon as Saidie falls face first into the mat, SC starts stomping away at her body. Boos rain down upon her as she continues to kick at Saidie repeatedly. Once SC is satisfied that Saidie isn't going anywhere, she picks up her limp head in her hands.
Sour Candy
: Where's your uncle now, huh? Bet you're hoping he comes to save the day!
SC slams her head off the mat for good measure before taunting the already riled up crowd. She's asking them where their hero is now.
JFS!
JFS!
JFS!
Even as the chants continue, JFS is nowhere in sight. At least not until the X-tron comes to life and shows him trying to get out of his locker room. But he can't. He's barricaded in by a half dozen crates with heavy materials inside. Sitting atop them is Robbie Rayder with the CW Broadcast Championship proudly on display. The boo's only get louder as SC laughs wickedly.

Watson:
This is despicable, JFS is barricaded in the locker room while Sour Candy unleashes this heinous assault!
Sydney:
May I remind you it was Jordan who started this.
She blows Robbie a kiss before turning her attention back to Saidie, who hasn't really moved. She's had a rough night. First Killjoy, now this. And things are about to get a whole lot worse. SC picks Saidie off the mat and puts her in position. Jordan is doing everything he can to get out, but to no avail. All he can do is watch as SC kisses Saidie's forehead and drops her with the Unsweetened Ending. The younger Sharpe is looking pretty out of it as SC stands over her, reaching to her pocket. She pulls out the blood-stained glass piece from Nicholas Cage. The very glass she used to bust open JFS. She holds it up for all to see.
Watson:
Someone needs to get out here and stop this. Don't do this!
SC gets down and holds Saidie's head in her lap. She screams in pain as SC runs the glass down her cheek, slicing it open. SC shoves Saidie's face aside as she gets up and marches over to put hers right in front of the camera.
Sour Candy: Now look at what you made me do, Jordan. It's only going to get worse from here on out as I continue to make your life a TOTAL LIVING HELL!

Sydney:
If I were Jordan Sharpe, I'd skip what's left of my retirement tour and get the hell out of dodge.
Watson
: Sour Candy may be out for blood, but I don't see Jordan walking away from this fight! Especially not after what happened to his niece here tonight.
SC gives the camera a menacing look as she slips the bloody glass piece back in her pocket before taking her leave. Once the coast is clear, medics rush to the ring to tend to the now bleeding Saidie Sharpe. From his locker room, an angry Jordan puts his foot through the television knocking it from the stand as we head to commercial.
---
---
---

LUMBERJACK MATCH
FOR THE EWC NORTH AMERICAN CHAMPIONSHIP
"The Young Mogul" Marcu$ $t. John
VS "The Wicked" James Keaton
We return to ringside where Tim and Cid are standing by.
Watson
: This is folks, it is time for our MAIN EVENT of the evening!
The camera pans to a wide shot of Friends Arena to show the lumberjacks for tonight's match making their way to the ring. Noticeably absent, however, are the EWC World Tag Team Champions The Southern Express.
Sydney:
This match is not an easy one for a competitor Tim. You have to not only be responsible for yourself and your opponent, but also everyone else out there as well. It cuts off the ENTIRE ringside area for you. That is a big adjustment to make and I have to wonder how both the champion and the challenger adapt here tonight.
Watson:
Well we are about to find out, because our Main Event starts…NOW!!!
Starr
: The following contest is scheduled for one fall and is a LUMBERJACK MATCH! It is also your Paramount Wrestling MAIN EVENT OF THE ENVENING for the EWC North American Championship!!
The crowd in Stockholm cheers loudly.
Starr: Introducing first...Coming to the ring at 6'1" and weighing 210 lbs, it's The Young Mogul, Marcu$ $t. John!
"Fast Lane" blasts through the arena by Bad Meets Evil. A Maybach drives up through the entrance ramp. A chauffeur gets out of the vehicle and opens the back door. Marcu$ $t. John gets out on the entrance stage and money starts falling down from the sky with his face on 100 dollar bills as green laser lights illuminate the arena. As the money shower stops, Marcus walks down the ramp with a confident look on his face.
He stops right before he gets to the ring and listens as he hears mostly boos and a few cheers that he is getting from the crowd. He walks around the ring and high fives people who are cheering and stares a hole in the head of people who boo. He jumps up on the apron and wipes his feet before he enters the ring and poses in the middle of the squared circle as a light shines a hundred dollar bill in the center of the ring with his face on it.
Pyros hits as "Fast Lane" by Bad Meets Evil ends.
Starr
: And his opponent... weighing in at 248lbs... He is the EWC North American CHAMPION..... "THE WIIIIIIIIICKED"..... JAMES..... KEEEEEEAAAAATON!!!!
The arena lights begin to flash in tune to the drums as "The Wicked and The Cursed" by The Cold Stares plays throughout the arena. As the guitar rhythm plays, James Keaton makes his presence known by appearing at the top of the entrance ramp. Keaton begins cracking his knuckles in a slow and methodical way before walking with purpose to the ring. Keaton takes his time using the steps to enter the ring before leaning against the ropes and testing their strength.
DING DING DING
The lumberjacks all swarm to the apron, Killjoy Ito and Asriel Buzzard specifically are across the ring from each other, the tension between them still evident from their match at Uprising. In the ring however, Keaton and $t. John circle each other. The champion with the slight height and weight advantage engages first, shooting for one of the challengers legs, but M$J is quick to side step, hook Keaton's head and look to drop the champion with a DDT, but on the upswing, Keaton is able to wrap his arms around the waist of the Young Mogul and stop all momentum just long enough to try for an overhead belly to belly suplex that - NO! M$J is able to somehow FLIP Out of the belly to belly attempt and lands on his feet! Marcu$ quickly turns to see that Keaton is already face to face with him!
Watson
: We may be in the land known for neutrality, but we have a good old fashioned stand off here in Stockholm!
Sydney
: This was a great opening salvo from both men there. They have scouted each other so well and neither wanted to be the first to give up the opening for their opponent. Let's see what happens next!
Keaton and $t. John lock up now and Keaton pushes his opponent into the ropes, grabs an arm and slings him across the ring with an irish whip. The former North American champion comes off the ropes looking for a spinning heel kick, but Keaton ducks hitting the ropes his challenger just came off of while on the other side M$J comes off the near side ropes both men go for a cross body at the same time and collide mid ring! Both men are down and instinctively roll to the outside. Keaton falls onto Extreme Eugene, knocking him over in the process. The rest of the Lumberjacks back away, but EWC Undisputed champion Killjoy Ito rushes in and picks Keaton up, getting him to his feet and then helping him into the ring, but not before EWC X-Division champion El Pablo stops munching on his bag of skittles long enough to offer some to the North American champion who slaps the bag out of his hand, throwing skittles everywhere!
On the other side of the ring, M$J falls to the mat and Paramount newcomer Sally Talfourd extends a helping hand to get him back up. M$J is hesitant and almost bats the hand away, but at the last minute he takes her as she gets him to his feet so he can get back into the ring.
Watson
: Well that was rather tame from out lumberjacks, but its not a good thing piss off the X-Division champion!
Sydney
: The Rainbowlution may have just gotten a rude awakening right here tonight, but the Wicked is the champion for a reason. That is a match I DEFINITELY want to see in the future!
Back in the ring both men immediately go at each other, throwing punches left and right as business is picking up now! Keaton is the first to break the cycle with a European Uppercut that sends M$J to the mat quickly. He pops up, but Keaton is right there with the waist lock and a snap German Suplex that sends Marcu$ clear across the ring, landing with a loud THUD! Keaton follows that up by going to the corner and getting to the second rope, coming off and connecting with a second rope elbow drop that connects! Keaton with the cover now…
ONE…
TWO…
T-kickout!
Watson:
Keaton taking over this match now, displaying that power that he is known for, but M$J able to kick out at two and a quarter there.
Sydney
: If Keaton can keep smothering Marcu$ and control the pace, he is going to be able to neutralize him very easily.
Keaton picks M$J up and goes for a DDT himself this time, but M$J again is able to roll out of it at the height of the maneuver! He lands on his feet quickly and then pivots and lands a no-look super kick! The crowds cheers hard for the Young Mogul on that one and he quickly follows it up by getting Keaton to his feet and shooting him into the ropes, but he doesn't even let The Wicked breathe as he comes in at full speed with a clothesline that sends Keaton over the top rope to the outside! Marcus screams and pumps himself up as the lumberjacks are trying to get the North American champion to his feet, which they do, but here comes Extreme Eugene with a chair, running at the champ! Keaton is quick to kick it right into Eugene's face! That allowed all the distraction needed for M$J to run to the opposite ropes, back toward Keaton, hit the top rope and spring board off to connect with a MONEY STOMP!!!! M$J lands oddly though on the chest of Keaton, his ankle twists harshly!
Watson
: Oh that can't be good. M$J may have sprained his ankle right there!
On the outside, the lumberjacks get Keaton up and roll him into the ring, but M$J is still on the ground. The Lumberjacks from the other side of the ring are coming over now, and a meeting of the minds so to speak is happening, but next to M$J is El Pablo. M$J is holding his ankle, visibly in pain. EP reaches into his tights and pulls out a small fabric pouch. He quickly pulls the drawstring open, then looks to M$J and opens his mouth, pouring the contents into his mouth. It's skittles! M$J almost chokes on them (they are intrusive after all) but then quickly starts to chew them. He quickly swallows the surgery treat and after about two seconds, M$J tenses up, lets go of his ankle and kips up to his feet!
Sydney
: WHAT THE FUCK IS IN THOSE SKITTLES?!
Watson
: Once again, apologies to those watching on the CW Network.
The Young Mogul slides under the bottom rope and back into the ring where James Keaton is waiting. M$J pops up, only to be met with a kick to the midsection, followed by a gut wrench powerbomb from the champ! He doesn't go for the cover, however, instead walking to the corner and climbing to the top rope. He looks around at the packed crowd inside the Friends Arena before jumping off for The Story So Far double knee drop, but M$J rolls out of the way at the last second!!!!! Keaton lands straight onto his knees, immediately rolling to his back, but Marcus $t John is right there and waiting to lock in the Million Dollar Dream!!!!! He cinches the hold in tightly as James Keaton flails wildly around, looking for the ropes, but to no luck as he's got him almost in the center of the ring. Keaton continues to flail round, but Marcu$ lets out a guttural roar and begins to whip the hold around along with The Wicked, making it even more painful for the champion. Referee Matt Mercer checks on James Keaton, who effectively tells him to piss off. Keaton falls to his back, looking to cause enough impact to force M$J to break the hold, but it doesn't work. The hold is locked in and he is going nowhere. In a last ditch effort, Keaton tries to bridge up, putting all of his weight onto his opponent, but it does not phase M$J. Keaton quickly abandons his plans and taps out!!
DING DING DING
Starr:
Here is your winner, via submission… and NEW EWC North American Champion…. MARCU$ $t. JOHN!!!
Watson:
M$J DID IT!!! He called his shot, said he would win with the Million Dollar Dream and it happened! Marcu$ $t. John becomes the TWENTIETH North American champion in EWC history and the ONLY fighter to hold thr championship twice!!!
Sydney
: That is a great achievement, but let's not forget that for a good portion of this match, James Keaton was able to keep M$J grounded. Hats off to The Wicked for a hell of a game plan.
Fireworks go off inside of Friends Arena as Marcu$ $t. John is handed the EWC North American championship. He immediately springs to the nearest corner and climbs to the top rope, lifting the championship belt in the air as a giant smile comes across his face! James Keaton is finally catching his breath in the ring as he pounds his fist into the mat from a kneeling position. He looks over to M$J for a moment, almost as if contemplating an attack, but instead he rolls out and walks up the ramp.
Sydney
: You have to give M$J credit, he knew when to pick his moments and when to be patient and let the opportunity come to him. We have seen this man go from a trust fund baby to to a two time EWC champion in the span of three years. Paramount Wrestling, acknowledge your North American champion!
M$J is thanking the crowd now as the celebration continues. Marcu$ puts the title over his shoulder before jumping down from the top rope, landing very carefully on the injured ankle. Paramount Wrestling goes off the air with a shot of the new North American Champion in the ring and the voice of Tim Watson.
Watson
: Ladies and gentlemen we are TOTALLY out of time. Join us again in 2 weeks as Paramount #22 comes to you live from Frankfurt Germany! Until then on behalf of Cid Sydney, I am Tim Watson saying thanks for watching the Pinnacle of Professional Wrestling!
Fade to black.
---
..................................................................................................................

MATCH WRITERS
MATCH ONE
WRITER:

EWC Staff Assistant: Em
MATCH TWO
WRITER:

The Mad King
MATCH THREE
WRITER:

Asriel Buzzard
MATCH FOUR
WRITER:

EWC Staff Assistant: Em
MATCH FIVE
WRITER:

PARAMOUNT
..................................................................................................................
RECAP OF WINNERS
SINGLES MATCH
Sour Candy Vs Adriana Aquilla
WINNER: Sour Candy
...

SINGLES MATCH
FOR A FUTURE CW BROADCAST CHAMPIONSHIP OPPORTUNITY
Jaxon Realm(N/S) Vs Sally Talfourd
WINNER: Sally Talfourd

...

SINGLES MATCH
Johnny Maelstrom(N/S) Vs Asriel Buzzard
WINNER: Asriel Buzzard

...

SINGLES MATCH
NON-TITLE
Saidie Sharpe Vs Killjoy Ito
WINNER: DRAW (Via Double Countout)

...

LUMBERJACK MATCH
FOR THE EWC NORTH AMERICAN CHAMPIONSHIP
Marcu$ $t. John Vs James Keaton
WINNER: and NEW EWC North American Champion: Marcu$ $t. John
...

...............................................................................................................…
MVP OF THE NIGHT:

Saidie Sharpe

,

Ibuki Ito

, &

Marcu$ $t. John


MATCH OF THE NIGHT:

Saidie Sharpe

Vs

Ibuki Ito




© THE EXTREME WRESTLING CORPORATION 2022