Post by PARAMOUNT on Aug 10, 2022 21:12:26 GMT -6
The Extreme Wrestling Corporation Presents


** Parabellum Fallout**

EPISODE #23
AUGUST 10TH, 202
LIVE!
from the Stadium National Singapura - Kallang, Singapore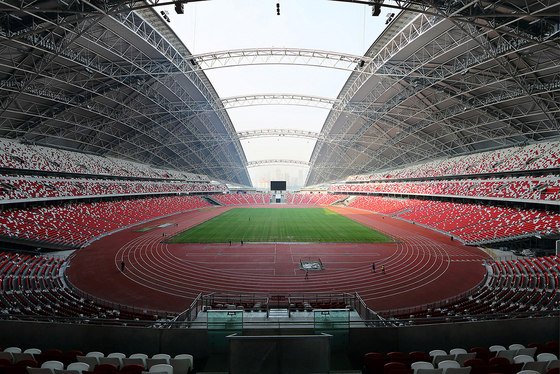 ---
---
WARNING: This live event contains strong coarse language (L), and intense violence (V) which may be unsuitable for younger viewers. None of the matches you are about to watch have been predetermined. Only some of the thematic story-lines have been discussed beforehand. Accordingly, EWC and it's producers must insist that no one attempt to recreate or re-enact any match or activity performed in this live event.




---
---
"Superstar" by For Squirrels begins to blast over the arena speakers as our feed comes to life...
The scene immediately cuts to a pyro show erupting on the outside of the Stadium National!
Then a cut to another, equally explosive show on the inside!


The fans packing the Stadium National Singapura tonight all come to their feet. Further explosions rock the very foundation of the arena as a large video screen is lowered from the rafters, stopping 15 feet above the ring! Everyone in Kallang knows that the self-proclaimed greatest show on Wednesday night is about to begin and they cheer accordingly! The heavy riffs from 'Superstar' continue to blare over the arena, setting the tone for what is to come later on this evening.




IT'S ALL I WANT, IT'S ALL I NEED

IT'S ALL I SEE, IT'S ALL I BREATHE

IT'S WHAT I AM, IT'S WHAT'S I KNOW

IT'S WHAT I FEEL, IT'S WHAT I BLEED!
On the X-Tron, this episode of Paramount Wrestling begins with its opening video montage detailing many of the historic events that have taken place in the five-year history of Future Stars of Wrestling, setting the tone for the history of the Orange brand. From past champions like Jason Hunter, Dixie Dubois, Amis Shelton, Magdalena Lockheart, and Otaki all standing underneath an old FSW logo to the more current Future Stars Champions like Xavier Reid, Cletus Franklin, Robina Hood, Robbie Rayder, Stitches, Candy, and Wes Walker tearing down that mold, showing the Paramount Wrestling Logo...


As more pyro goes off the Paramount Wrestling logo appears and flashes of the roster appear on the screen such as "The Wicked" James Keaton, Emma Louise, Asriel Buzzard, Adriana Aquilla, , Shaker Jones, Jordan Freakin' Sharpe, Ezio DeLuca, Sonya, Malcolm "Glory" Blades and The Hawaiian Hunters. The final images shown is a montage of Sally Talfourd, the CW Broadcast Championship around her waist, Marcu$ $t. John and the EWC North American championship high over his shoulder, and El-Pablo swimming in a pool of Skittles, the EWC X-Division championship diagonal across his chest.
The camera pans around the loud and out of control audience. As the fireworks continue to explode, the fans chant and cheer! Cameras pan around the arena to catch some of the signage that many fans have brought to Stadium National Singapura with them here tonight. The Paramount Wrestling fan-base is as adamant about having their voices heard now as ever:
"PARAMOUNT IS THE NEW RAMPAGE"
"I CAME TO SEE KILLJOY-SAN"
"THE CW NETWORK BETTER NOT CANCEL PARAMOUNT WRESTLING! I'M TALKING TO YOU ZASLAV!!"
"BOBBY & JIMMY: I AM YOUR SON! "


"EL PABLO: WE WANT SKITTLES! "
"PAR-A-MOUNT!!!"



"PARA-A-MOUNT!!!"



"PARA-A-MOUNT!!!"



"PAR-A-MOUNT!!!"
The lights come back to full and the fans offer one last rousing cheer at the opening festivities. Tonight's announcers are on standby and ready for the show to begin.
Watson:
Xīnjiāpō wǎnshàng hǎo! Welcome one and all to the Pinnacle of Professional Wrestling.. Welcome... to PARAMOUNT WRESTLING! The home of the 2022 Parabellum winners! we are live tonight in Kallang, Singapore! We are in Stadium National Singapura as we kick off the back end of this EWC season and what a show we have for you this evening! With me as always is my partner in crime, Cid Sydney! How are yours sir?!
Sydney: ALL HAIL THE ORANGE BRAND TIM! Up against all of the odds, our General Manager put together the team that finally brought home a victory from Phuket island! This caps off an amazing run that we are on. The sky is the limit on what this roster can achieve!
Watson:
Indeed Cid! Tonight we have some great matches for you all to witness, starting off with a triple threat match that pits Lo Dovino against the Canadian Badass and Glory as Adriana Aquilla, Shaker Jones and Malcolm Blades!
Sydney:
Then we have some X-Divsion action that could have contender implications as Sour Candy takes on El Pablo!
Watson: Then we see two fighters that both need to get some mentum going go at it when The former North American champion James Keaton takes on former EWC Undisputed Champion Killjoy!
Sydney:
Then we see The Omega Commandos take on The Southern Express!
Watson:
And in the main event we see the two exclusive champions of Paramount go at it when CW Broadcast Champion Sally Talfourd, takes on EWC North American Champion Marcu$ $t. John.
Sydney:
We have all this and SO MUCH MORE! Our first match of the night -
---
---
Tim and Sid are cut off by the orchestral intro to "Remember the name" by Fort Minor. The crowd in Kellang is on their feet instantly as Paramount Wrestling General Manager Chris Brock comes through the curtain with a giant grin on his face. He thanks the crowd for the reaction as he greets the fans on his way to the ring.
Watson:
We knew that we would hear from Brock at some point, but it looks like our GM wants to get this party started early!
As Brock steps through the ropes, ring announcer Isabella Starr is there to hand him a microphone.
Brock
: Singapore, are you ready?!
The fans go wild for the cheap name drop.
Brock:
Paramount Wrestling is continuing our stadium tour and I am so happy to bring the Pinnacle of Professional Wrestling to the Lion City! Tonight we have so much going on, but I would be remiss in my duties as General Manager to not brag a little bit…Unless you've been living under a rock you know that recently we held a little pay per view event called Parabellum about 1300 kilometers from here on Phuket Island, in Thailand. In the Main Event of that show, there was a brand warfare match and for the first time ever, PARAMOUNT WRESTLING came out as the winner!
The crowd cheers again.


---
---
Brock:
What the hell was that?! ...Moving on then! Not only did we make history there, Team Paramount also stopped Team Rampage from becoming the '93 Bulls and three-peating as the reigning winners of Brand Warfare. When FSW turned the page and became a Main Roster brand, I had a list of accomplishments that I wanted to achieve. Having a roster member as Undisputed champion, which has happened twice now, collecting every quad branded title belong to a member of Paramount Wrestling, which has also happened. Win brand of the year, which has happened twice now. Then there was the final piece, which was to have Team Paramount win Brad Warfare! My bucket list is now complete here in EWC. So now it's time to start a new one. And the first thing on that list is getting the Undisputed championship back on Paramount! Luckily, we have that opportunity. Killjoy is owed a rematch and I am told that very soon we will know when he is going to cash that rematch in…Speaking of the Undisputed Championship, I believe that someone wants to address the fans here tonight and the Paramount roster. Ladies and gentleman, The EWC Undisputed champion… Please welcome back to the orange brand QUEEN…Melody. MALONE!!!
'"You Should See Me In A Crown" (IIZI Remix) by Billie Elish begins to play throughout Stadium National Singapura as the crowd has a bit of mixed reaction for the EWC Undisputed champion. Melody Malone walks out onto the stage, championship around her waist and Rory Hyland at her side. She almost chuckles at the fans ringside as she makes her way to the ring, stepping between the ropes and giving a polite incline of her head toward Chris Brock. Rory hovers not far behind her as she motions for a microphone from Isabella Starr, who has one at the ready for the Queen of EWC.
Malone:
It's a shame we couldn't do tours like this when I was on Paramount….
She quips with a sly grin, holding up one hand to quell any rebuttal just yet.
Malone:
But I am a woman of my word, and I said I would come out here to congratulate the winning team from this year's Parabellum. I think it's only appropriate, as the last woman standing from the two prior years. So Mr Brock? From me to your Paramount team? Congratulations.
She pauses for effect, the crowd lapping up the rare praise from the Queen.
Malone:
Although… you probably really should be passing a thank you to Ace King for your performance at Parabellum. Had it not been for him cashing in his rematch clause from Stranglemania, it's highly probable that I would've been on that team for Rampage and just like all of your hand picked representatives were so kind to point out? It would've been a whole different ballgame had I been out there for Team Rampage. Might've had to change my last name to Jordan.
There is an audible "ohhh" from the audience as the sting of the Champions words take effect.
Brock:
Be that as it may, thank you Melody for coming to Paramount and honoring your word. I do think that there are three others who you might want to worry about though as Paramount still has three fighters who will be in the Insantiy cage at Night of Champions! Should one of them win, you might be staring one of them down come Wrestlefest.
That is…IF you can survive Narumi Tsutsumi AND win the Rumble to still be Undiluted champion by the time WrestleFest comes around. Oh, and then there is Killjoy's rematch. So there is a lot of opportunity to put some orange back into the Undisputed championship scene.
Malone:
I'm not worried about Narumi - and if anyone's going to three-peat the Rumble too? You're looking at her. Shame we couldn't work out a deal to get me back on Paramount, isn't it?
Brock:
My door is always open to EWC Royalty. Come talk to me in the off-season.
VIVA LA RAINBOWLUTION!!!


Just as Brock is about to continue, "Party Hard" by Andrew WK hits the soundsystem, sending the crowd wild with excitement and surprise as El Pablo bursts out through the curtain, a Skittles-eating grin on his masked face and the X-Division Championship belt hanging proudly around his waist.
Sydney:
Looks like the X-Division Champion has come to join in the festivities!
Watson:
That or look to send a message to the Undisputed Champion ahead of the Insanity Cage!
As EP makes his way down the ramp, he pulls a packet of Skittles out of his tights and tears it open. When he gets to ringside, he pauses for a moment before pouring out a fistful and tossing them into the air - but, before he can catch them in his mouth, he suddenly finds himself blindsided by Sour Candy, who springs from out of the crowd by the aisle way to attach the Technicolour Tecnico from behind! Candy jumps on EPs back, who quickly tries to roll forward to avoid a submission being locked in by the former FSW champion. Sour Candy, though, holds on to the grip around EP's neck and lands a modified stunner/neckbreaker on the X-Division champion! EP falls to the ramp instantly as SC gets back to her knees to stalk her prey some more ahead of their collision later tonight.
Watson:
What in the hell is going on here?! This is a celebration!!!
Sydney:
When the competition is this fierce, the only appropriate celebration Tim, is more violence! Sour Candy is trying to soften up the X-Division champion before their match tonight!
Security has gotten to Candy and EP and broken them out, leaving EP rubbing his neck a bit as he gets to his feet. He sees Sour Candy and simply plucks the packet of Skittles up from off the floor, offering a helping to the once sweet treat. She spits on his mask, which gets a nonchalant shrug from the leader of the Rainbowlution as he downs the rest of the packet himself.
Brock:
Now that that is all out of the way, maybe we can get everyone from Team Paramount down here to actually participate in this celebration?
"Fast Lane" by Bad Meets Evil blasts over the arena as Marcu$ $t. John walks out to loud cheers from the crowd. He surveys everyone in the ring with a big grin on his face while wearing a Sally Talfourd t-shirt. Instead of walking down the entrance ramp though, he confuses everyone by turning around and leaving.
Sydney:
I guess Marcu$ decided not to come out and play with everyone.
Watson:
Guess so, looks like the North American Champion doesn….
Before Tim Watson can finish his sentence, an unfamiliar sound plays throughout the stadium. Drums and other instruments fill everyone's ears, as 2 drum majors march out followed by their band and flag girls waving around Paramount banners. They are playing "Heart of a Champion" by Nelly as M$J emerges once more from the back waving a humongous Paramount flag to a thunderous ovation.
He goes from one side of the stage to the other waving the flag around before going back to the middle of the entrance ramp. He slams the pole of the banner down into the ground and pyro erupts all around the stadium as the fans begin to chant
"M$J", "M$J", "M$J", "M$J"
.
Watson:
What an entrance! Marcu$ $t. John pulling out all the stops and I can't blame him.
He makes his way into the ring then goes to each turnbuckle without making eye contact with anyone in the ring. Once he gets done celebrating with the crowd, he walks up to Melody Malone, looks at her then looks at her Undisputed Championship, looks back at her then back at the title. He motions for someone to throw him a microphone.
M$J:
I think that's enough celebration, now it's back to business. Seems like the Paramount brand has a lot going on now doesn't it. We have a Champion vs Champion match here tonight while in the presence of THE Champion. We have a number 1 contender's match at Night of Champions for my North American Title between The Buzzard and The Sour One, and Sally Talfourd, El Pablo, and myself step inside the Insanity Cage for a chance to go to WrestleFest XX to vie for that EWC Undisputed Championship that Malone holds…
The Undisputed Champion glares at M$J and grips her championship.
M$J:
As far as Sally and El Pablo go, I have nothing but respect for you both, but this isn't personal, it's just business. I don't care who I have to throw off that cage to get that shot but I told everyone that this is the Year of $t. John and I plan on continuing down that path to get to that title. I don't care if it's Malone, Narumi, Killjoy Ito, President Mac, or even Jesus himself who holds it, I will be the EWC Undisputed Champion one day and you can take that to the bank and cash it!
The crowd erupts in cheers.
M$J:
Now I'm not one to get ahead of myself as I have business to take care of tonight, but I can't wait to defend my title, I need to defend my title. Buzzard and Sour Candy, I don't care who comes out of that match victorious, I don't care if you have a draw and both get a shot, you're stepping into the ring with a man who is hungry for success, starving for more, so good luck to you both…


"Animals" by Architects erupts through the arena, cutting Marcu$ $t John off as Asriel Buzzard slowly makes his way out to the stage. The crowd gives him a mixed reaction but there's a sense of excitement as he's carrying a steel chair to the ring.
Sydney:
Looks like Buzzard isn't here to talk…
Asriel Buzzard marches down to the ring as Marcu$ $t John leans against the ropes, ready for Buzzard to attack. But he doesn't.
Buzzard sets up the chair at the bottom of the ramp and sits down, staring blankly at everyone standing in the ring. M$J yells at Buzzard to get in the ring but he simply slides his sunglasses down his nose, smiles at him and taps his wrist.
Sydney:
All in good time, Buzzard is saying…
He breaks eye contact with M$J to stare at Melody Malone, who glares back at him, remembering their battles from 2021 but Buzzard smirks and returns to looking at M$J and his North American Championship.
'Deeper Deeper' plays out and the fans come to their feet as 'The Prodigal Son' Buddy Love walks out onto the stage in a full length gray fur coat, sunglasses and is carrying a briefcase. As the camera zooms in the briefcase is graffiti sprayed with "Undisputed Championship Rematch."
Watson:
You have to be kidding me, is he really carrying around a 'Undisputed Championship Rematch' briefcase…does it even have the contract in it?
Sydney:
Rumor has it he carries around his lunch in there but that's just a rumor…
He lifts the briefcase and holds it up in front of the camera as he smiles. From behind him Killjoy walks out onto the stage to a pop as he marches right past his manager and heads towards the ring. Buddy sees this and runs after his client trying to catch up.
Watson:
Well Killjoy doesn't seem to be in a joking mood or want to wait for his manager
Sydney:
Maybe he's afraid if he waits too long Buddy will sign another 'buddy' for this 'buddies'
Killjoy pauses and looks at Asriel, who's sitting in his chair before climbing into the ring and takes a look around at all the people in the ring with his eyes stopping on Melody Malone and the Undisputed Championship. Buddy climbs into the ring and pulls a microphone out of his jacket and smiles.
Love
: Golly gee Mr. Brock, what a way to kick off Paramount…an appearance by royalty, a little contract tampering, a Parabellum CELEBRATION, showing these fine people here in Singapore that our brand unity ended the moment our hands were raised after Marcu$ here pinned Dio…we had an assault by sweet now Sour Candy, Marcu$ here giving us gambling advice to bet on him and now Asriel comes out to just stand around and remind people he's still part of Paramount…
Buddy looks down at the floor and smiles at Asriel, giving him a wink, who rolls his eyes in return.
Love:
I know it's that time of year where all the champions of the EWC get a little 'aggressive' as they prepare for INSANITY inside the cage and sure the EWC changed the rules this season the winner doesn't become the Undisputed Champion but will face…
Buddy looks at Melody and smiles.
Love:
Whoever that might be when WrestleFest rolls around and Paramount has the most participants inside the Insanity Cage, with our North American Champion Marcu$ $t. John…
Buddy motions towards Marcu$.
Love:
The CW Broadcast Champion Sally Talfourd…
Buddy motions towards Sally Talfourd who has made her way out and is standing on the ramp top.
Love:
And the X-Division Champion El Pablo…if Sour Candy doesn't kill him before Night of Champions but my point is Paramount has three horses in the cage and the best chance to claim that spot…but if that fails we still have the Rumble right…
Buddy turns to face Chris Brock and smiles.
Love:
And Mr. Brock we have one of the winners from last year's Rumble right here in the ring in Killjoy…and I'd like to take this moment to toss our hat in the Rumble ring and declare that WE want in the Rumble, as a defending Rumble winner I think our spot should be a lock but just in case there is a question about that I'll state it loud right now…WE WANT IN THE RUMBLE…
Buddy smirks as he turns back to Melody.
Love:
I know you have been Ms Rumble, a two time winner of the event but Killjoy has been a presence each and every Rumble he's been in, 9th, 3rd, 2nd and the winner…I could make the claim he's the Mr. Rumble to your Ms. Rumble…
Buddy shrugs as he looks at Killjoy, who hasn't taken his eyes off Melody.
Love:
See Paramount is THE BRAND here in the EWC and they deserve to Main Event WrestleFest and this right here…
Buddy pats the briefcase.
Love:
Will make dang sure we do…I have talked to my buddy Killjoy and as we all know he's granted a rematch for that Undisputed Championship, sure he could have cashed it in at Parabellum and could have cashed it in at Night of Champions but Mr. Brock we are saving it…to make dang sure Paramount is in the Main Event of WrestleFest, so…
Buddy looks around at Marcu$, Sally and outside the ring at Asriel.
Love:
WHEN we cash this is in up to you guys I guess…Marcu$, Sally and El Pablo…you three have the chance to lock in Paramount to the Main Event of WrestleFest at Night of Champions, Asriel…I guess you will be in the Rumble and could become the Undisputed Champion…as do people like Candy, Keaton, Aquila and anyone else lucky enough to fight in the Rumble but Mr. Brock…
Buddy once again looks at Chris Brock.
Love:
Killjoy wants you to know that if everyone else on the Paramount roster fails you still have an ACE in the hole in Killjoy…
Buddy smiles as Killjoy nods at Melody, turns and exits the ring as Buddy puts his microphone back in his pocket and follows his client out of the ring. Killjoy stops in front of Asriel who gets to his feet. The two men are face to face before Paramount security comes rushing down, not wanting another El Pablo/Candy moment and separate the two men. Killjoy is ushered up the ramp as Asriel sits back down.
Watson: AND WE'RE JUST...GETTING...STARTED FOLKS! Our first match is coming up right after this message from EWCTV!
The camera fades to commercial.
---
---
---
---
WHAT IS EWCTV?


All live EWC Pay-Per-View events (including StrangleMania, Night Of Champions, EWC Rumble & WrestleFest)
All day scheduled & live programming
Plus, hours and hours of on-demand content & never before seen behind-the-scenes footage!
Groundbreaking original series - See new episodes of BRAWL, RAMPAGE, PARAMOUNT WRESTLING, EWC PRIME and more
Live in-ring action, reality shows and documentaries
HOW TO ORDER
Get the award-winning EWC Network through your TV provider. Call your local TV Provider today to subscribe.
Only $7.95/month

WATCH ONLINE
If you are subscribed to EWC Network through your TV Provider you can now enjoy EWC Network on your:
PC, Laptop, Playstation, mobile app, or tablet.



EWCTV for only $7.95 USD per month
Along with being an EWCTV Subscriber, you get:
EVERY Pay-Per-View event included at no extra charge
15% off any and all EWC Merchandise from the EWC Store
20% off all tickets to LIVE EWC Shows
A free EWC Yearly Wall Calendar signed by the entire active EWC Roster
As an added bonus for all those currently subscribed including any new subscriptions
prior to midnight August 26th

Receive
a
FREE
copy of the
Parabellum '22
DVD and Blu-Ray combo when it's released later this year
+ free T-Shirt and Replica EWC X-Division Championship.
So act now if you aren't already subscribed to EWCTV
---
---
---

TRIPLE THREAT MATCH
Shaker Jones
VS Adriana Aquilla
VS Malcolm "Glory" Blades
We return to ringside where Tim and Cid are standing by.
Watson:
Welcome back to Paramount Wrestling! We are live in Kellang, Singapore and if you missed our opening segment then you missed an absolute blast off to our show! We were graced by the Queen of EWC herself, Undisputed Champion Melody Malone! Right now though, it is time for our first match of the evening and for that, we go to the ring!
Starr:
The following match is set for one fall. Joining us first, from Philadelphia, Pennsylvania, weighing in at 220 pounds ...
MALCOLM "GLORY" BLADES!
The lights dim to near complete darkness as the deep, pulsating bass of "The Plan" by Travis Scott reverberates throughout the arena. Dark purple strobes pulse with each thump of the bass. The repetitive bassline drops and a dark purple spotlight marks the top of the entrance ramp, where the hooded Malcolm Blades now stands with his arms crossed and head down. He erupts, and raises his arms to the sky as the bass returns, before he slides off the hood of his dark purple "Blades" sweatshirt and saunters towards the ring. Malcolm never breaks gaze with the ring on his way to it and then slides under the bottom rope. In one swift motion he rolls, pops up, and raises his arms to his sides arrogantly as he yells "GLORY!".
Starr:
And his opponent, from Boston, Massachusetts, weighing in at 230 pounds ...
SHAKER JONES!
As 'Locked and Loaded' by Jackyl starts to play, Shaker Jones emerges through the entrance curtains and struts his way down to the ring with the utmost confidence and swagger.
Starr:
And their opponent, from San Antonio, Texas, weighing in at 120 pounds ...
ADRIANA AQUILLA!
"Iron" by Within Temptation hits the speakers and the crowd comes alive as Adriana Aquilla makes her way down to the ring, she slaps hands with a couple of fans before rolling into the ring ready for her match as she removes her jacket.
DING DING DING
The match starts with all three competitors trying to get the upper hand, circling around the ring as they sporadically step forward and throw hands to find an opportunity. Eventually, Malcolm Blades steps back and ushers for Shaker Jones and Adriana Aquilla to take the first move against one another. The two of them stare at one another and then Malcolm Blades before they both attack Malcolm Blades. Both Shaker Jones and Adriana Aquilla stomp Malcolm Blades into the mat for a bit before Adriana Aquilla picks up Malcolm Blades and slings him to the corner. Shaker Jones charges into the corner and delivers a corner clothesline. Shaker Jones turns around right into a super kick from Adriana Aquilla. Pleased with herself, Adriana Aquilla steps over Shaker Jones and grabs Malcolm Blades, lifting him to his feet and trying to go for a Snap Suplex but Malcolm Blades holds himself in place. Adriana Aquilla tries again but Malcolm Blades shoves Adriana Aquilla backward right into Shaker Jones who has managed to get back to his feet after the super kick and connects with a German Suplex to Adriana Aquilla. Shaker Jones scrambles back to his feet right into the path of a clothesline from Malcolm Blades. Malcolm Blades covers Shaker Jones but only gets a one count. Malcolm Blades then covers Adriana Aquilla but also only gets a one count.
Watson:
That was a risky strategy there by Malcolm, but it did not pay off as Lo Dovino and The Canadian Badass immediately made him pay for it
Sydney:
You fight, no matter what in EWC, Tim. Either do it willingly or you will get your ass kicked!
Malcolm Blades drags Shaker Jones over to Adriana Aquilla and stacks them both in the middle of the ring. Climbing to the top rope, Malcolm Blades attempts to connect with a splash from the top rope but Shaker Jones rolls one way and Adriana Aquilla rolls the other and Malcolm Blades connects nothing but mat. Shaker Jones is first to his feet and quickly covers Malcolm Blades. Adriana Aquilla catches this and rolls up Shaker Jones for the pinfall. Shaker Jones rolls through her pinfall into a pinfall of his own but Adriana Aquilla then rolls through into another pinfall. The two trade roll-ups until Malcolm Blades manages to get back to his feet and connects with a super kick to the face of Shaker Jones. Shaker Jones crumbles to the mat and Malcolm Blades tries to grab Adriana Aquilla but she is quick to shove Malcolm Blades away. Adriana Aquilla is quick to get back to her feet, ducks under a spinning heel kick from Malcolm Blades and manages to sweep at his feet. Adriana Aquilla targets the downed Malcolm Blades with a flurry of strikes before Malcolm Blades manages to shove her off. Adriana Aquilla rolls to her feet and charges at Malcolm Blades, trying to connect with the Divine Wizard (Shining Wizard) to Malcolm Blades but he ducks under it, shoots to his feet in one fluid motion and delivers a back kick to Adriana Aquilla. Malcolm Blades lifts up Adriana Aquilla for a Gutbuster but out of nowhere Shaker Jones spears Malcolm Blades. Malcolm Blades crumbles to the mat, Adriana Aquilla lands awkwardly after being upside down for the attempted Gutbuster and Shaker Jones is slow to get back to his feet.
Watson:
That was what, SEVEN pin attempts and not a single one of them reached a one count?
Sydney:
I don't think i've ever seen anything like that Tim!
Shaker Jones looks at Adriana Aquilla, and then Malcolm Blades, trying to figure out who would be better to capitalise on. Shaker Jones chooses Adriana Aquilla, knowing she had fallen awkwardly off of the attempted Gutbuster. Shaker Jones lifts Adriana Aquilla to her feet and connects with a spinning back elbow which sends Adriana Aquilla stumbling backwards into the ropes. Shaker Jones charges towards Adriana Aquilla but she is quick to move out of the way. Shaker Jones springs off of the ropes and throws a wild arm at the nearby Adriana Aquilla but she ducks under it. Turning around in place, Shaker Jones steps right into a Slingblade from Adriana Aquilla. She goes for the cover on Shaker Jones but it is broken up by Malcolm Blades. Malcolm Blades and Adriana Aquilla trade strikes until they are both backed up into a corner of the ring. Malcolm Blades manages to gain the upper hand and takes a few steps out from the corner of the ring before charging in and connecting with a high knee to Adriana Aquilla's jaw. Turning around, both of them are met by Shaker Jones who connects with a Stinger Splash. Shaker Jones throws Malcolm Blades away from the corner of the ring and focuses on him, lifting him up in the centre of the ring and connecting with a Gonzo Bomb (Last Ride Powerbomb). Shaker Jones goes for the cover but only gets a two count. Shaker Jones stands back to his feet and is met by a clothesline to the back of the head by Adriana Aquilla. She tries to capitalise but Malcolm Blades shoves her away and drives Shaker Jones down with a Spinebuster. He turns his attention back towards Adriana Aquilla and throws a wild arm but she ducks under his advances. Adriana Aquilla loops under Malcolm Blades and attempts to connect with the Divine Judgement (Fisherman's Brainbuster) but Shaker Jones intervenes. Shaker Jones charges Adriana Aquilla shoulder-first into the ropes and then hits Malcolm Blades with the Rocksteady (Lifting DDT) before covering him...
ONE...
TWO...
THREE!!!
DING DING DING
Starr:
And your winner, via pinfall...
SHAKER JONES!
Shaker raises his fists in the air as he celebrates his victory. Adriana Aquilla cannot believe that she was so close to winning, but could not seal the deal. Malcolm rolls out of the ring to regroup on the floor.
Watson:
This was a fantastic match Cid. All three fighters gave it their all, despite the odd opening.
Sydney:
Any of them could have won this. Shaker Jones picks up the win, but neither Addy nor Malcolm should feel bad about their performance here.
Watson:
We still have so much left to go tonight, we will be right back!!
Camera cuts to ...
---
---
---

NON-TITLE SINGLES MATCH
X-DIVISION RULES
Sour Candy
VS El Pablo
We return to ringside where the opening match just finished up. We cut to commentary, who fills us in on what's about to happen next.
Watson:
Welcome back, folks! Our very first match of the evening witnessed a Triple Threat between our own Shaker Jones, Adrianna Aquilla, and Malcolm Blades! Now we move onward and upward to what will no doubt be a brutal X-Division bout between Sour Candy and El Pablo. The last time we saw them, blood was shed. With this being an X-Division fight, we can be certain this fight won't disappoint any of us. Take us away, Starr!
Moments after "I Want Candy" by Aaron Carter begins to play throughout the Stadium National Singapura, it suddenly switches into a more metal version of the song done by Risen From Shadows. Despite the boos coming from the crowd, Sour Candy seems unfazed as she walks out with a huge grin. She gives them a sarcastic wave and walks down the aisle.
Starr:
The following match is an X-Division non-title match, and it is for one fall! Joining us first, Making her way to the ring straight from the Sour Patch...
SOUR CANDY!
As soon as a fan reaches out to touch her, SC jerks her arm out of the way and circles the ring before slipping under the bottom ropes. She stays on her knees and looks toward the entrance with the deadliest of stares as she waits for the match to begin.
Starr:
And her opponent, from Puebla City, Mexico, weighing in at 180 pounds, he is THE EWC X-DIVISION CHAMPION ...
EL PABLO!
A cry of "VIVA LA RAINBOWLUTION!!!" leads to 'Party Hard' by Andrew WK hitting the soundsystem, as the stage and ringside area becomes bathed in flashing, flickering, brightly-coloured lighting. As the main hook hits, El Pablo bursts through the curtain, playing to the fans and chugging Skittles like a Steveweiser while the X-Division Championship belt glistens around his waist. He charges down the ramp and slides under the ropes into the ring, then runs up the turnbuckle and holds the title belt high above his head to another pop from the adoring crowd. After offering a final salute, he hops back down to the canvas, handing his belt to the referee and performing a few final stretches as his music fades.
DING DING DING
Sour Candy dashes forward, charging straight at the X-Division Champion. As if he were a Matador, El Pablo gracefully side steps out of the way, earning a brief glare from Sour Candy … before it turns into a sadistic smirk. Sour Candy closes in on El Pablo, getting rid of any distance between the two, and starts throwing Elbow strikes straight at the X-Division Champion. He manages to dodge the first three attacks, using his height advantage to keep himself safe. That's when Candy rushes back against the ropes, using them to spring herself forward as she slams her forearm hard into El Pablo's head courtesy of a Springboard Forearm Smash!
El Pablo shakes the pain away, but definitely takes note of Candy's determination. Nodding to acknowledge that, he turns to see about returning the favor of hitting her in the head, but … she's not in the ring?
Sour Candy pops up, revealing she'd slid out of the ring after injuring El Pablo. And given the box in her hands? It's easy enough to guess she dug around for a weapon. After getting back inside the ring, Sour Candy sets the box down, reaches into it, and reveals what she retrieved; numerous fluorescent light tubes! She throws one down and El Pablo starts to move out of the way, but notices she's not yet aiming for him.
No, she's littering the canvas, covering it in multiple shards of shattered glass. The crowd cheers at this, knowing fully well they'll definitely get an entertaining and bloody fight tonight!
Watson:
Shades of the infamous Wondercrush match here! The entire ring is covered in Light tube debris!!
Sydney:
This match has been mostly Sour Candy so far Tim. She is really out for vengeance here in Kellang!
El Pablo briefly watches Sour Candy, smiling while wearing an odd, amused grin. But … he also has zero intentions of simply handing this match over. So after allowing Sour Candy to have at least five of the tubes shatter, he takes his turn to charge forward, leaping over the mess littering the canvas and lands right in Sour Candy's face. Sour Candy tries to shatter the tube still in her hand right against El Pablo's mask, but he isn't having any of that!
He manages to smack it away, sacrificing his shoulder taking the glass instead as they embed deep enough into his skin to draw blood. Despite this, El Pablo keeps his cool and reaches into his tights, producing a packet of Skittles!
He hastily tears the bag open, grabbing a large handful of the candies. FACEPAINTER!!! But he's not done!
El Pablo proceeds to hoist Sour Candy up, clearly intending to throw her against the glass. As she lands on the canvas though, she doesn't let go! If anything, Sour Candy just seems determined to force the Champion to join her in this world of hurt!
Ignoring the agony no doubt surging through her body, Sour Candy sneaks in a low blow that the referee doesn't see, using that to help pull El Pablo into The Bitter Truth (Codebreaker)!
She rolls El Pablo onto his back and covers,
T-
Kickout! Sour Candy is looking visibly frustrated, but trying to keep her cool so she can secure a win tonight. She glares down at The Technicolor Tecnico, who merely smirks back in response.
Watson:
The X-Division champion is showing why he is the longest reigning champion of all time in this division! He can take the
punishment's
of the X-Division like no one i've ever seen before!
Sydney:
Whatever he is lacing those Skittles with can't be legal. SOMONE DRUG TEST THIS MAN!!!
The two wrestlers roll around in the glass, switching who is on top of the other. After a bit of struggling, Candy shakily manages to get up, forcing El Pablo onto his stomach. The camera zooms in and allows us to see shards decorating both of their backs, arms, legs, and now even their midsections. Definitely El Pablo's as Sour Candy gets him in position. He tries to stand up, but she kicks some of the shards deeper into his back, the pain aiding in causing him to lose his concentration and fall back onto the canvas.
Then, without any warning … Sour Candy starts locking in Liquorice Twist (Octopus Stretch)! As if that by itself weren't bad enough, Sour Candy starts slamming the Champion's head against the glass, moving it violently from side to side, forcing more and more blood to pool onto the canvas!
El Pablo struggles and tries to simply power his way out. But with all of the glass doing its work, his efforts begin to weaken. He eventually goes stationary, and the referee carefully kneels beside the prone wrestler. Mercer lifts El Pablo's arm once … no response. Twice. And as it lands a third time, the bell is called for!
DING DING DING
Starr:
And your winner, via TKO,
SOUR CANDY!
Sour Candy maniacally laughs as she jumps up and down on El Pablo's back a few times. Just because she can. She rolls her eyes, but heeds Mercer demanding she step off of the champion and moves instead to the center of the ring. Medics rush over and begin getting El Pablo out of the ring and onto a stretcher, hastily taking him backstage. The camera lingers on Sour Candy for a few more moments before we cut to commentary.
Watson:
Holy crap, Sydney! I mean, I figured we'd get a brutal war here but ….I'm almost legitimately speechless. What an upset Sour Candy just pulled off!
Sydney:
You gotta wonder how El Pablo will handle this with Night Of Champions not too far away. No matter what you think of her methods, Sour Candy did indeed get a win tonight. No one can take that away from her, regardless of how dubious some may try to say her victory was.
Watson:
Our crew will get this canvas replaced, but we still have several matches to come. DO NOT GO ANYWHERE!
---
---
---

SINGLES MATCH
"The Wicked" James Keaton
VS Killjoy
We return to ringside where the glass and blood is getting cleaned up as best as possible. With how brutal the last fight that took place was, it's taking a bit longer than usual for the EWC crew to finish its cleaning up. We cut over to commentary while the canvas continues being worked on.
Watson:
Good evening, folks. If you weren't there when the war between Sour Candy and El Pablo aired … you absolutely need to watch it when it's available on EWCTV. It was quite the treat to watch, even if a very violent one. The outcome there will most certainly have contendership repercussions But now we're going into our third fight of the night where two former champions will face one another. James Keaton versus Killjoy and … it looks like the ring is ready. So, without further ado, take us away, Starr!
Starr:
The following match is for one fall! Joining us first, from London, England, weighing in at 248 pounds ...
"THE WICKED" JAMES KEATON!
The arena lights begin to flash in tune to the drums as "The Wicked and The Cursed" by The Cold Stares plays throughout the arena. As the guitar rhythm plays, James Keaton makes his presence known by appearing at the top of the entrance ramp. Keaton begins cracking his knuckles in a slow and methodical way before walking with purpose to the ring. Keaton takes his time using the steps to enter the ring before leaning against the ropes and testing their strength.
Starr:
And his opponent, from Daly City, California, weighing in at 235 pounds ...
KILLJOY!
'The Prodigal Son' Buddy Love walks out onto the stage and raises his arms into the air as the lights fade out. He jumps up and down as 'Deeper Depper' begins to play. A strobe light circles around the stage as a single white spotlight hits the stage where Killjoy is standing, his back facing the ring, his arms stretched out and his head down. He swings around to face the ring as Buddy Love runs up and stands next to him. After a quick word the pair start to walk towards the ring, Buddy runs ahead and charges up the steps and holds open the ropes for Killjoy to step through. Killjoy walks to the center of the ring, extends his arms and tilts his head back to soak everything in.
DING DING DING


Keaton is the first to grab one of Killjoy's arms and tries to Irish Whip him. This would probably work with just about any other opponent. However, with there being very little weight difference between the two, the former Undisputed Champion is able to hold his ground better than others. Just to help prove a point, Killjoy tries to do the exact same thing … but Keaton also stays firmly in place.
Upon seeing this, Keaton lets go, realizing that won't do nearly as much for him as he originally assumed. He darts behind Killjoy and starts wrapping his arms around Killjoy's waist, going for a German Suplex.
Killjoy slams an elbow back in retaliation and catches Keaton's sternum. When "The Wicked" refuses to let go, Killjoy, he gets a second and even a third elbow slammed hard into his already sore midsection. Finally, Keaton releases the hold, snarling angrily as he moves in front of Killjoy and begins circling around him.
The crowd cheers as the two look for an opening, not wanting to give the other that opportunity if they can help it.
Watson:
This is so evenly matched here. Both competitors have a strong foundation of pure wrestling. Keaton in the catch style, Killjoy in pure strong style.
Sydney:
All this match will take is one single opening. That's all that will be needed.
Keaton manages to sweep Killjoy off his feet with a fast Sweeping Leg Kick. Killjoy gets up to a knee before getting a European Uppercut straight to his jaw! The crowd lets out an audible "Oooooohhhh!" as Killjoy looks dazed from the assault.
Looking smug and satisfied with his work, Keaton drags Killjoy to his feet. James starts getting Killjoy set up for The Wicked Backbreaker (Spinning Sidewalk Slam to Backbreaker). Right before he can lift Killjoy up, however, an elbow finds its way straight into the side of Keaton's neck. His eyes widen as he not only lets go, but gasps and coughs a bit, having quite a bit of wind literally knocked out of him.
Killjoy backs up against the ropes, using them to launch himself forward … and delivers another elbow to Keaton! This time, though, he uses his Kushu (Air Raid) technique!
Killjoy goes for a cover,
ONE!
- kickout! Keaton
shoves
the ex-champion off, making him fall atop the canvas.
Both men slowly start getting up to their feet, determination flashing in their eyes. They're ready to end this; it's just a matter of seeing who will succeed and who will fail in this endeavor.
Watson:
That might have been the opening there!
Sydney:
No who will capitalize on it!
The two wrestlers stop circling around one another and meet in the center, locking up. Just as they'd seen earlier, neither have much of a height or weight advantage to give the other a major lead. Now, they're simply using adrenaline and sheer willpower. Keaton is finally the first to hoist Killjoy up, turning him hastily upside down.
Killjoy tries to fight out of the hold, but is slammed down onto the mat with a Burning Hammer!
At what must have been 2.99, Killjoy gets a shoulder up! The second he gets up to his feet, he slams his knees straight into Keaton's, forcing him to kneel! Keaton tries to get back to a vertical base, but adrenaline aids Killjoy in swiftly delivering his finisher, The Kettei-Da!
Killjoy hooks both of the legs as the referee slaps his hand down on the mat!
DING DING DING
Starr:
And your winner, via pinfall,
KILLJOY!
Keaton angrily shoves Killjoy away, just out of spite. He glares a hole through the former Undisputed Champion, but ultimately leaves the ring. Buddy crawls inside and jumps excitedly up and down, raising Killjoy's arm up in victory. Killjoy frowns and tugs his arm away, not quite looking completely satisfied. Indeed, when Mercer tries to raise Killjoy's arm, he moves out of the way, and eventually leaves the ring completely. A confused and baffled Buddy hurries behind, following Killjoy to the backstage area. We cut back to commentary as both superstars eventually vanish from view.
Watson:
That was a damn close match. Keaton was clearly irked at the outcome, but I don't doubt he won't find a way to come back better and stronger. For now, it was Killjoy's evening, plain and simple.
Sydney:
Indeed, this was by far one of the closest matches this entire season. Nothing should be taken away from either wrestler. I certainly wouldn't mind seeing this fight again in the future! Until then, congrats to Killjoy for a well-deserved win tonight!
Watson:
WE still have the tag match and our main event to come folks. Paramount Wrestling will be right back!
---
---
---
The camera cuts backstage inside the Stadium National Singapura where we find Bobby Rose and Jimmy Lane of The Southern Express looking at their manager Bunny Love as she adjusts the bandage on her head covering her stitches. Jimmy nodges Bobby who stands up and walks over to Bunny.
Bobby puts his hands on her shoulders as she looks at him in the reflection of the mirror.
Rose:
Jimmy and I have been thinking…
Love:
That's never good for anyone…I have some Tylenol in my purse, take two with some water…
Lane:
No, it's not that kind of thinking…trust is, we learned our lesson…it's about tonight…
Love:
Cool, I have some ideas about these two Commandos, first off…
Rose:
First off I want you to know we have thought long and hard about this…
Lane:
Yeah, for most of our flight here…minus the time Bobby spent in the bathroom joining the All Nippon Airways Mile High Club…what's that make it now, 30 different airlines…
Bobby shrugs as he smiles…
Rose:
Well let's see there's United, Delta, American Airlines, Southwest, British Airways, Air France, Korean Air, Spirit…are we counting the airlines that went out of business?
Lane:
I mean yeah…I still count the ladies that died on my official roster count…
Rose:
Ok then, well there was US Airways…
But Bunny turns around and grabs Bobby by the face stopping him from talking…
Love:
We get ok, you've fucked on a lot of airplanes…let's get back to the original topic…you two were thinning and GO…
She takes her hands off Bobby's cheeks and claps her hands together to signal a restart…
Rose:
As Jimmy was saying we were thinking and given what happened at Prime #099 we wouldn't think any less of you if you want to stay in the back this week…honestly it might be best for all of us…
Lane:
Yeah, I mean you might have some PTSD about getting blasted in the face with that chair and we might be a little too protective of you and spend too much time looking around to make sure you are fine…
Rose:
Maybe it's best if you…
Bunny shakes her head as she looks at her tag team with a mixture of annoyance and pissed off about the subject they are breaching moments before their match here tonight at Paramount #023…
Love:
Did I suggest to you Bobby that you stay in the back last season while you were wearing that boot…or to you Jimmy after you were tossed off the Scaffold…NO, so fuck you both for suggesting I roll over and play dead because two assholes decided to crown me with that chair…I'm not going to give them the satisfaction of THINKING thet got to me…
Bunny's rapidly expands and falls as she looks at Bobby and Jimmy…
Love:
DON'T WORRY ABOUT ME OUT THERE…worry about yourselves and these GI Joe's who think you should be in a retirement home…it was fucking insalting what they said about the two of you…
Bobby smiles as Jimmy laughs…
Rose:
What about the hookers and coke…
Lane:
We aren't embarrassed about that…hell we're proud of that…
Bobby and Jimmy high five…
Rose:
What got under my skin is this 'trying to relive our glory days'...
Lane:
Yeah, we ain't 'reliving' shit…we are living in our glory days because they never stopped baby…
Love:
I'm talking about Operation Forced Retirement…
Rose:
Please…Sabotage pulled the same crap with a retirement home to boot, these guys are using the same tied playbook our opponents have used since we walked into the EWC and how's that worked out…
Lane:
Most of them washed out while we became the 'Record Breaking…History Making…First Ballot LOCKS…' greatest tag team to grace the EWC…
Rose:
And honestly Bunny how foolish are Kobra and Duke going to look when these 'STD ridden, cocaine snorting…
Lane:
Hooker fucking…lady loven…
Rose:
Too 'corrupt for professional wrestling' senior citizens beat their asses here tonight on Paramount #023…
Lane:
They will be the laughingstock of the tag team division…
Love:
AND I'M GOING TO BE OUT THERE RINGSIDE WHEN IT HAPPENS!!!
Bobby and Jimmy look at one another and nod in agreement…
Rose:
Ok then, Operation Kick Ass is a go…
Lane:
Let's storm that ring like it's our Normandy…or like we storm the stage when that hottie Ashby hit the stage at the Velvet Rabbit…
Bobby and Jimmy once again high five as Bunny points to the door and leads the former EWC Tag Team Champions out of the locker room…
---
---

TAG TEAM SHOWCASE
The Omega Commandos
VS The Southern Express
We return to ringside where TIm and Sid are standing by.
Watson:
Welcome back to ringside folks, we have had so much happen tonight and we have even more in store. You never know what's going to happen here on Paramount! Up nxt though, we have the longest reigning EWC World Tag Team Champions of all time, now FORMER tag team champions, going up against a new team to EWC, The Omega Commandos.
Sydney:
The Southern Express have been taken off their pedestal a bit as of late, losing twice to Eleos Affect, losing the tag team championships to fellow Love Club members The Bastards, and then getting viciously attacked on Prime by newcomers the Heat Packers… I think they are going to be out for blood tonight.
Watson:
In there way though is the very bully team of Kobro and Duke, the Omegae Commandos. Let's see how this one turns out!
Starr:
The following contest is scheduled for one fall and is a Tag Team Showcase! Introducing first, at a combined weight of 477 pounds… Kobro and Duke… The Omega Commandos!!!!
The low, muted thumping from the rotor blades of an AH-64 Apache helicopter can be heard, on the Xtron, the helicopter flies towards the screen as the thumping gets louder. The attack chopper rises up out of sight as the thumping is really loud now. Two ladders lower in front of the Xtron, Duke Commando is hanging on with one hand and leg. Kobro is on the other ladder with a cigar hanging out of his mouth. They touch down on the stage and the ladders retract. The loud thumping of the helicopter fades off into the distance as The Omega Commandos stand at the top of the ramp, staring menacingly at the ring. They slowly look left and right, watching the fans cheer them. They take one step forward and loud drums start banging with military horns and bass instruments complimenting the drums. They make their way to the ring. Duke runs and slides under the bottom ropes while Kobro takes his time to climb the steel steps then enters through the ropes. They both take off their vests and stretch, getting ready to engage in combat.
Starr:
And their opponents..
The electric guitar kicks in to 'Stranglehold' as the crowd gets to their feet, some of the older females in the crowd start to scream like they did when they were younger as Bunny Love walks out onto the stage and is quickly followed by Bobby Rose and Jimmy Lane.
Starr:
Being accompanied to the ring by Bunny Love, from Nashville, Tennesse,...Bobby Rose and Jimmy Lane THE SOUTHERN EXPRESS!!!
Bunny leads the way as the pair reach out and high five with the fans as the walk to the ring, Bunny marches up the steps and steps through the ropes as Bobby and Jimmy climb up onto the apron and step through the ropes, take off the titles and hands them to Bunny and head to opposite corners, Jimmy climbs up to the middle turnbuckle and Bobby stands in the corner as both men toss out bandannas to the crowd as Bunny stands in the middle of the ring.
DING DING DING
As soon as the bell rings, Bobby and Kobro decide to start things off and Bobby immediately catches Kobro off guard with a kick to the midsection that doubles Kobro over. Jimmy immediately lays in a knuckle first punch to the forehead of Kobro that is precisely targeted. Jimmy is looking to bust Kobro open! This angers the Commando, who grabs his head quickly checking for blood before he grabs Bobby by the shirt and delivers a massive body slam that reverberates the entire ring. Kobro then quickly tags Duke, who jumps to the top rope and delivers a massive elbow drop to Bobby! Duke with a cover.
ONE…
TW- Kickout!
Watson:
Duke and Kobro seem to be learning some tag team chemistry here. That was a decent exchange between the two.
Sydney:
Yes, but Bobby set the tone here. This match is going to be anything but traditional!
Bobby rolls over to tag in Jimmy, who runs in and grabs Duke as he is getting up to lay in a few shots to the ribs, then lifts him up into a suplex position, but stalls. Bobby is quick to get to the middle rope and jump off with a cross body block! Bobby stays on top of his opponent and starts laying into his forehead with knuckle punches. Bobby gets to seven of them before the referee reaches a 5 count and forces him to break or risk disqualification. Jimmy comes in and lays the boots to Duke, who gets bailed out by Kobro rushing in and sending Jimmy to the mat with a double ax handle. Duke rolls out of the ring, wiping the small trickle of blood from his forehead, as Kobro lifts Jimmy into the air by the neck. Duke comes off the top rope with a roundhouse kick that Kobro turns into a chokeslam..
Watson:
GET TO THE DA CHOPPAH by the Commandos! Kobro with the cover now!!!
ONE…
TWO…
THR- kickout!
Bobby breaks up the pin with front flip that ends with a leg drop to the head of Kobro! Bobby immediately runs at Duke to make sure he is sent to the floor as Jimmy gets to his feet and lays in four hard shots to the head that bust open Kobro. The anger welling up inside of him distracts Kobro long enough for Jimmy to lift him into a piledriver position as Bobby jumps from top rope…
Sydney:
GOOD NIGHT KELLANG!!!!! This has to be over!!
Jimmy with the cover…
ONE…
TWO…
THREE!!!
DING DING DING
Starr:
Here are your winners, via pinfall,
THE SOUTHERN EXPRESS!!!
Bobby and Jimmy are quick to celebrate as they raise their hands. Bunny slides into the ring to join in on the celebration as the Omega Commandos regroup on the outside.
Watson:
The Commandos showed massive improvements from their match at Parabellum, but were still not able to take on a veteran tag team like the Express.
Sydney:
This match could have gone either way. The Commandos have a great career ahead of them in EWC, and I know they will see success soon. The Express however -
Cid is cut off as two bodies rush the ring, looking to attack The former tag team champions. It's Antoni Malietoa and KU, The Eleos Affect!!!
Watson:
WOAH! What the hell is this?! Eleos Affect are in Singapore, and by the looks of it, they are out for HAIR. Look at those giant shears Antoni has!
Bobby, Jimmy, and Bunny bail out of the ring and scurry up the ramp before Antoni and KU can reach them. Antoni has giant shear in his hand and KU has what looks to be a switchblade knife.
Sydney:
This thing between The Eleos Affect and The Southern Express is definitely not over! Toni and KU want the scalps they were promised!
Watson:
Indeed Cid, but for now it looks like the infamous hair of the Express survives for another day. We still have our massive main event to come folks, DO NOT GO ANYWHERE! We will be right back!
The camera fades to commercial...
---
---
---

SINGLES MATCH
CHAMP Vs CHAMP
NON-TITLE
Sally Talfourd
VS Marcu$ $t. John
We return to ringside where (add content here)
Watson:
Address whatever transition just happened and then opening Match Hype Comments
A the buzz of the crowd falls as the lights fade down and everyone finds themselves in darkness. After a moment of nothing, there's the crackling of an old recording, and then a voice:
"Ladies and Gentlemen!"
"Your act at this time!"
The stage screens begin to flick to life with an old reel of film showing various clips of magicians performing, shots of crowds smiling and laughing, point and wondering. All, of course, in silence.
"Sights of wonder and amazement!"
"A spectacle that will confound and amuse your mind!"
The stage screens continue to flicker with the images of an era bygone. The final clip comes to focus on a figure standing alone on a stage, the back to the screen, obscured by the shadows.
"Ladies and Gentlemen!"
"The Last Magician!"
There's a pause, and then the beginning of 'Troublemaker' by Troublemaker comes across the PA, the whistling first cutting through the silence then drowned out by the fans' cheers. The screens up the stage area still show the silhouette of a lone person standing in the shadows.
Then, mirroring that shot, a sole spotlight fades in at the top of the ramp, and we find 'The Last Magician' Sally Talfourd with her back to the arena. The crowd gets louder and then, as the music kicks in, Sally turns to face the crowd, her arms outstretched and her head bowed to everyone.
Starr:
Ladies and gentlemen, making her way to the ring, 'the CW Broadcast Champion, The Last Magician' ..........
SALLY TALFOURD!
Sally lowers her arms, raises her head, and makes her way down the ramp. Fans rush to the railings. She makes a direct line to the ring, pulling herself up to apron, looks around to the fans before she steps in, coming through the ropes loosening her wrists. Sally laps the ring as the arena returns to normal, then takes up position across the ring, stretching her legs on the ropes and readying herself for the ring.
Starr:
And her opponent, coming to the ring at 6'1" and weighing 210 lbs, the EWC North American Champion, it's The Young Mogul...
MARCU$ $T JOHN!
"Fast Lane" blasts through the arena by Bad Meets Evil. M$J slowly walks out onto the entrance ramp and soaks in the cheers. He pumps up the crowd more before posing on the center of the entrance ramp. He walks down to the ring slapping fans hands with a huge smile on his face.
He stops right before he gets to the ring and listens as he hears cheers that he is getting from the crowd. He walks around the ring and high fives anyone who has their hands out. He jumps up on the apron and wipes his feet before he enters the ring and poses in the middle of the squared circle as a light shines a hundred dollar bill in the center of the ring with his face on it.
Pyros hits as "Fast Lane" by Bad Meets Evil ends.
DING DING DING
Marcus$ stands in the middle of the ring and offers his hand to Sally. She looks at his hand and then to the crowd. She shakes his hand before bpth step back to their respective corners. A moment passes before Sally runs at Marcu$ and grabs his right arm in an attempt at a half nelson. Marcu$ tries to counter with a back elbow that Sally grabs and twists into a hammerlock. She places a foot on the back of Marcu$' knee dropping him to one knee. Marcu$ powers back to his feet and twists his way out of the hold pressing Sally against the ropes. He pushes Sally off the ropes and hits her with a clothesline. Marcu$ hits a knee drop and makes a cover.
Sally rolls her shoulder off the mat to break the count. Both get to their feet Marcu$ superkicks Sally sending her back into the corner. Marcu$ charges hitting her with a corner clothesline. He shoves Sally out of the corner and runs at her. Sally stops his run with a superkick of her own. Marcu$ blocks it and throws her foot away. She spins on her foot and smacks him with a dragon whip. He drops to the mat as she makes a cover.
Marcu$ lifts his left arm high off the mat breaking the count.
Watson:
Near falls for both already.
Sydney:
I worry that both being champion may cancel each other out.
Sally grabs the raised left arm, pushes it to the mat and legdrops it. Marcu$ clutches his arm in pain. Sally grabs at the arm and slams it down onto the mat. Again Marcu$ clutches the arm as he rolls into the corner. He gets to his feet in the corner as Sally charges. He leaps over her and ducks a clothesline attempt. He runs at Sally but she knocks him to the mat with a spinning heel kick. She covers.
Marcu$ rolls to his side to break the count. Sally lifts him to his feet and whips Marcu$ off the ropes. He reverses it sending Sally to the ropes. He spins her around with a powerslam. Marcu$ climbs the turnbuckles and leaps from the heavens with a frog splash. At the last second, Sally rolls out of harms way and Marcu$ crashes to the mat. Sally lifts Marcu$ to his feet but he grabs her hitting a brainbuster. He makes a cover.
Sally's right foot under the bottom rope stops the count.
Watson:
So close to a three count.
Sydney:
If she was 5' 10" this match would be over.
Marcu$ lifts Sally to her feet but, before he can apply anything, she kicks him in the gut and hits a Lights Out. She makes a cover.
Marcu$ rolls to his side and the match continues. Sally pulls Marcu$ to his feet and Irish whips him. Marcu$ counters pulling Sally toward him for an Eat Defeat, He covers Sally.
Sally rolls onto her stomach breaking the count. Marcu$ punches the mat in anger.
Watson:
With rights like that the mat's staying down.
Sydney:
With an Eat Defeat like that I thought Sally Talfourd was staying down. Yet, somehow, this match is still in progress.
Marcu$ pulls Sally to her feet and underhooks her arms hitting a Wing Clipper. He roll over her with her leg on his shoulder as he makes the cover.
Sally breaks the pin attempt by headbutting Marcu$ in the jaw. As Marcu$ clutches his jaw, Sally grabs him hitting an Either Or. He flies back crashing on the canvas as Sally covers him.
Marcu$ grabs the bottom rope stopping the count.
Watson:
Both with kick outs. Both with rope breaks.
Sydney:
I'm beginning to think they are going to cancel out each other. Ether that or we'll be here all night.
Marcu$ lifts Sally for a suplex but she punches him in the ribs to block and lifts him for one of her own. He slips over her shoulders and applies a Million $ Dream. Sally frantically tries to reach a rope or break the hold. As her energy plummets, Sally drops to her knees. Matt Mercer checks her arms. He lifts it into the air and it drops.
The ref lifts her hand again and again it drops like a stone.
Once again the ref lifts Sally's arm and once again it falls limp.
DING DING DING
Starr:
And your winner, via submission
MARCU$ $T JOHN!
Marcu$ grabs his championship and holds it in the air as he stands over Sally. He reaches down and shakes the hand of Sally as she comes to. He then exits the ring and heads up the ramp with the championship held high.
Watson:
A big BIG win for the North American Champion over the CW Broadcast Champion. That will put a lot of people on notice.
Sydney: That it will, but Sally Talfourd gave a good showing of her own self too. If it wasn't for a hand on the bottom rope earlier, this could easily have been a Talfourd win.

Watson: That is all the time we have for tonight folks, we will be back for Night Of Champions XIX in Barcelona, Spain on August 29th! Until then, I am Tim Watson for Cid Sydney saying thanks for tuning in and good night!
---