Post by PARAMOUNT on Oct 5, 2022 21:24:15 GMT -6
The Extreme Wrestling Corporation Presents


** THE YOUNGBLOOD RISES **

EPISODE #25
OCTOBER 5TH, 2022
LIVE!
from Salt Lake Stadium - Kolkata, India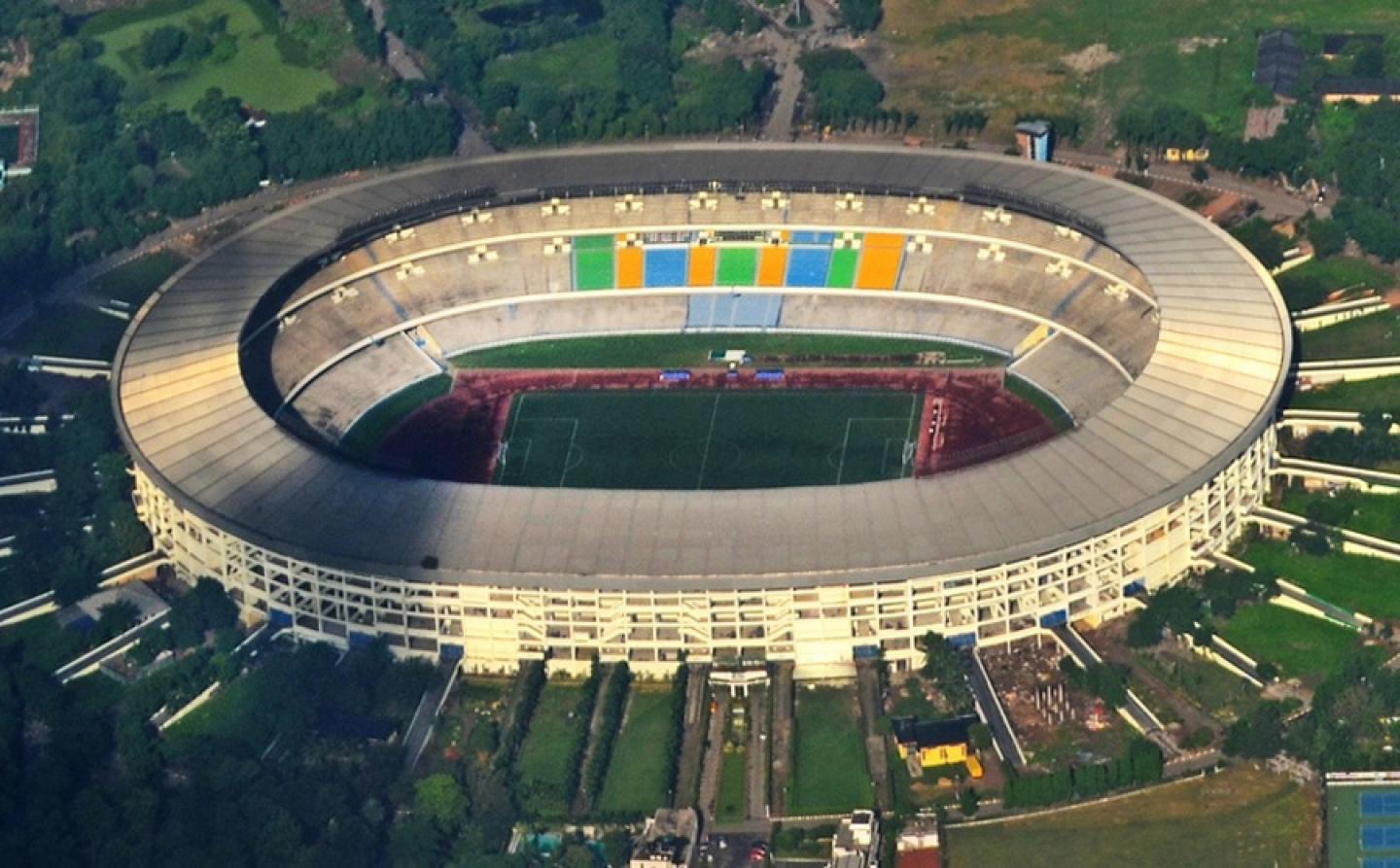 ---
---
WARNING: This live event contains strong coarse language (L), and intense violence (V) which may be unsuitable for younger viewers. None of the matches you are about to watch have been predetermined. Only some of the thematic story-lines have been discussed beforehand. Accordingly, EWC and it's producers must insist that no one attempt to recreate or re-enact any match or activity performed in this live event.




---
---
"Superstar" by For Squirrels begins to blast over the arena speakers as our feed comes to life...
The scene immediately cuts to a pyro show erupting on the outside of the Salt Lake Stadium!
Then a cut to another, equally explosive show on the inside!


The fans packing the Salt Lake Stadium tonight all come to their feet. Further explosions rock the very foundation of the arena as a large video screen is lowered from the rafters, stopping 15 feet above the ring! Everyone in Kolkata knows that the self-proclaimed greatest show on Wednesday night is about to begin and they cheer accordingly! The heavy riffs from 'Superstar' continue to blare over the arena, setting the tone for what is to come later on this evening.




IT'S ALL I WANT, IT'S ALL I NEED

IT'S ALL I SEE, IT'S ALL I BREATHE

IT'S WHAT I AM, IT'S WHAT'S I KNOW

IT'S WHAT I FEEL, IT'S WHAT I BLEED!
On the X-Tron, this episode of Paramount Wrestling begins with its opening video montage detailing many of the historic events that have taken place in the five-year history of Future Stars of Wrestling, setting the tone for the history of the Orange brand. From past champions like Jason Hunter, Dixie Dubois, Amis Shelton, Magdalena Lockheart, and Otaki all standing underneath an old FSW logo to the more current Future Stars Champions like Xavier Reid, Cletus Franklin, Robina Hood, Robbie Rayder, Stitches, Candy, and Wes Walker tearing down that mold, showing the Paramount Wrestling Logo...


As more pyro goes off the Paramount Wrestling logo appears and flashes of the roster appear on the screen such as Emma Louise, "The Last Magician" Sally Talfourd, Adriana Aquilla , Killjoy, "The Wicked" James Keaton, Jordan Freakin' Sharpe, Sour Candy, Ezio DeLuca, "The Beautiful Battleship" Sonya, Jadyn Keep, Reginald Dampshaw III, Maledetto, Salvador Serenity, "Jack of Hearts" Jack

Hart, "The

Canadian Badass" Shaker Jones, Next Level, and finally The Southern Express with Bunny Love. The final images shown is a montage of Asriel Buzzard, the CW Broadcast Championship around his waist, Marcu$ $t. John and the EWC North American championship high over his shoulder, and then El-Pablo swimming in a pool of Skittles, the EWC X-Division championship diagonal across his chest
The camera pans around the loud and out of control audience. As the fireworks continue to explode, the fans chant and cheer! Cameras pan around the arena to catch some of the signage that many fans have brought to Salt Lake Stadium with them here tonight. The Paramount Wrestling fan-base is as adamant about having their voices heard now as ever:
"The Queen of EWC Lives! Long live the Queen!"
"The Southern Express are about to take it to the NEXT LEVEL!"
"Sour Candy takes her rightful title tonight! "
"The Buzzard will feast tonight! "


"The Rainbowlution has arrived in India!"
"PAR-A-MOUNT!!!"



"PARA-A-MOUNT!!!"



"PARA-A-MOUNT!!!"



"PAR-A-MOUNT!!!"
The lights come back to full and the fans offer one last rousing cheer at the opening festivities. The cameras take on last long shot of the crowd, an ominous steel cage hanging over the ring.






Tonight's announcers are on standby and ready for the show to begin.
Watson:
Good evening and welcome to Kolkata, India! We are live here at Salt Lake Stadium for an absolutely action packed episode of Paramount Wrestling! I am Tim Watson, and with me as always is Cid Sydney. How are you Cid?
Sydney:
It's great to be back with another episode of Paramount Wrestling! I've been packing my gut full of curry and tikka masala all week and I am ready to watch people tear each other apart here tonight! The theme of tonights show is young blood rising, and we have young blood all throughout this show! It starts with two new comers in Jack Hart and Jadyn Keem going one on one before Asriel Buzzard puts the CW Broadcast championship against Adriana Aquilla!
Watson:
Then we have two more new comers to Paramount going at it as the returning Reginald Dampshaw III takes on Salvador Serenity! King Flip is here in India from Monday Night Brawl to take on Killjoy in what will surely be an absolute war between those two.
Sydney:
Paramount newcomer Maledetto, fresh off his win at The rumble in that newbies ladder match, takes on the Longest reigning champion currently in EWC, El Pablo, in a non-title matchup! And new tag team on the scene Next Level take on The Southern Express. Can the Express beat a carbon copy of themselves from 30 years ago?
Watson:
And then there is that main event, which you all saw in the intro.... The Steel cage is up high here tonight, and in our main event it will be lowered as the EWC North American championship will be on the line. There will be no pinfalls, no submissions, only escaping the cage as Marcu$ $t. John takes on Sour Candy!
Sydney:
We have all this and SO MUCH MORE! Our first match of the night will be coming up right after this quick message from EWCTV. Don't go anywhere .. Paramount Wrestling action will be back in exactly 1 minute
---
---
---
---
WHAT IS EWCTV?


All live EWC Pay-Per-View events (including StrangleMania, Night Of Champions, EWC Rumble & WrestleFest)
All day scheduled & live programming
Plus, hours and hours of on-demand content & never before seen behind-the-scenes footage!
Groundbreaking original series - See new episodes of BRAWL, RAMPAGE, PARAMOUNT WRESTLING, EWC PRIME and more
Live in-ring action, reality shows and documentaries
HOW TO ORDER
Get the award-winning EWC Network through your TV provider. Call your local TV Provider today to subscribe.
Only $7.95/month

WATCH ONLINE
If you are subscribed to EWC Network through your TV Provider you can now enjoy EWC Network on your:
PC, Laptop, Playstation, mobile app, or tablet.



EWCTV for only $7.95 USD per month
Along with being an EWCTV Subscriber, you get:
EVERY Pay-Per-View event included at no extra charge
15% off any and all EWC Merchandise from the EWC Store
20% off all tickets to LIVE EWC Shows
A free EWC Yearly Wall Calendar signed by the entire active EWC Roster
As an added bonus for all those currently subscribed including any new subscriptions
prior to midnight [ENTER DATE]

Receive
a
FREE
copy of
[ENTER PPV NAME]
DVD and Blu-Ray combo when it's released later this year
+ free T-Shirt and Replica EWC World Tag Team Championship belts.
So act now if you aren't already subscribed to EWCTV
---
---
---

SINGLES MATCH
BATTLE OF THE YOUNG BLOOD
"The Jack of Hearts" Jack Hart
VS Jadyn Keem
We return to ringside where Kolkata is running wild for Paramount!
Watson:
What a reception! The fans are right to be excited, as in our opening bout we witness some of the finest young talent we've seen in quite some time. Two men fresh off not only Gambit, but the nineteenth Rumble, where 'The Jack of Hearts' came up only a little short against an outstanding crop of other young talent, and Jadyn Keem made his own EWC Pay-per-View debut in the Rumble itself, running from number three to number fourteen against the very best in this company.
Starr:
The following match is for one fall! Joining us first, from Hurricane, West Virginia, weighing in at two hundred and thirty two pounds ... THE JACK OF HEARTS ...
JACK HART!
The thumping of 'Old Yellow Bricks' begins to play and as the words start, through the curtain emerges 'The Jack of Hearts' Jack Hart with a black T shirt reading 'The Jack of Hearts' and a heart symbol beneath the text. With minimal fuss, he marches down the ramp and to ringside, slapping the hands of the fans as he does a circle around the ring before climbing the steel steps and entering the ring through the middle rope. Arms aloft he gees up the crowd by bouncing off the ropes closest to the camera in this stance and climb up to the middle turnbuckle to raise one arm aloft with his index finger pointing to the sky.
Starr:
And his opponent, from Santa Monica, California, weighing in at two hundred and ten pounds ...
JADYN KEEM!
The lights go dark for a moment as the intro to 'Let The Smokers Shine The Coupes' is heard playing overhead– the fans inside of the arena are on their feet and cheering as the text upon the tron reads three simple words.
KEEM DON'T MISS.
And just as the lyrics are heard coming through the overhead speakers, the lights come back to life to show Jadyn Keem standing at the top of the stage with his arms outstretched wide. The fans inside of the arena showered The Top Draw with the cheers that he deserves– just as he drops the arms and begins his slow walk down to the ring. Keem makes it to the ringside area and heads around the ring, sliding across the ring apron and looking out to the crowd with a large smile along his face all before he leaps over the ropes and enters the ring.
DING DING DING
Soaking in the atmosphere, Keem can't resist a little showboating, and pays for it as Hart abruptly darts across the ring in a deep amateur stance, seizing a waistlock and instantly dropping the other man with a belly-to-back suplex! The ring shudders, but Keem athletically arches through the impact, popping to his feet rattled but defiant, roaring and beckoning his opponent on! Jack smirks, flicks out his wrist, and goes for a lock-up, only to eat a twisting axe kick, a sole butt, and a running shiranui that Keem calls the SANTA MONICA MASSACRE!
Hart eats the canvas, but as the pin is attempted he rolls into a ball, effortlessly tossing the flashy Californian with a modified monkey flip that transitions smoothly into an armbar. They're close to the corner, though; Keem is able to walk his way up the post, weakening the hold and turning the submission into that aborted pin attempt!
ONE
KICKOUT!
Hart shifts his hips again, this time getting both legs around Keem's neck and SLAMMING him into the canvas, locking his ankles to tighten his thighs around the throat. The official asks for the surrender, but Keem denies it fiercely, thrashing out an upkick that narrowly connects with the temple, then flipping up and over into a gymnastic handstand. With a gasp he pops his head out, whirling to his feet-- but Hart is on him, sliding to his own feet directly into a stiff blow to the midsection, subsequently hauling Keem up and over his shoulders into a buttery-smooth Ushigoroshi! The crowd pops huge!
Watson:
Textbook technique from the Jack of Hearts, who is simply not allowing this man to breathe.
Sydney:
Hey, he's a milksop, but you can't fault the strategy. Keem's out there trying to win the world over with style, and he has
that
; but Jacky boy just came here to fight, and keep fighting.
Jadyn won't be held down, kicking out immediately from another pin, then popping straight up into a handspring roundhouse as Hart tries to slow the pace down. The Virginian stumbles, but doesn't go down, and Keem slides behind him, applying a boisterous Dragon Suplex, trying to hold on for the sleeper only to be fought off and shoved to one knee. Hart sucks in a breath, then rattles his opponent with a sliding clothesline, surging onto his knees only to deadlift Keem directly into a massive German suplex, hurling him against the opposite corner!
The showboat almost flips straight over the turnbuckle, catching himself and dropping back into the ring, but immediately dropping to his own knees as the pace catches up to him. Hart yields another smirk, and pauses to rally the crowd behind him momentarily, before driving Keem's head against the post a second time with a bicycle kick! Jadyn rebounds, right into a belly-to-belly, then scrambles up top, looking out to the cheering fans, then going for a risky moonsault...
Right into an empty pool! Jadyn Keen rolls aside, pulls himself up on the ropes, then goes for the STARBREAKER, launching a thrust kick in the second that Jack finds his feet! It lands flush, and Keem immediately spins into the rolling elbow, smashing the other man down by the back of the skull, before finishing the combination with a nasty-looking curb stomp!
Rather than dive in for the cover, Keem goes back to showing off, breaking into a strut and swagger, laughing as he taunts over the fallen form of the Jack of Hearts. The crowd are split - a few appreciating the work Jadyn's putting in, but the majority getting behind the more work-minded ring warrior, as he shakes off the cobwebs and takes Keem down with a scissor-leg, then dives into full mount and begins raining down crisp forearms! With his foe adequately stunned, he transitions flawlessly into a crossface chickenwing, turning Keem over into serious trouble!
Watson:
This modern-day Robin Hood is certainly tenacious, and he's got this hold locked in. Could be all she wrote for Keem Sheisty!
Sydney:
Nah, he's too good to go out this early. Man like this comes along once in a generation, Tim. Jadyn Keem's got a whole other gear that Hart can't
touch
.
Indeed, the New Era stalwartly refuses to tap, digging his fingers in beneath Hart's rippling forearm, slowly, painfully pulling it away-- and then sinking his teeth into it! Hart swears, and lets go, and Jadyn rolls to his feet with a strained chuckle, coughing to clear his airways but taking care to remind the crowd that he's fine - this ain't no thang. There's a duelling chant, as some continue to clearly appreciate the attention he's paying them, and this gives Jack some involuntary hesitation. With a wry shake of his head, he automatically goes for the lock-up again...
And again, Keem fakes taking it, before erupting into an explosive hook kick! Hart, seemingly off-guard, manages to weave aside at the instant it should land, going for another waist lock only to eat a diving mule kick instead. This bounces him off the ropes, and he stumbles forward-- right into a massive superkick! Keem starts to strut once more, then grins and shakes his head, vaulting over the ropes and turning, stamping his feet impatiently...
Then springboarding into an hellacious flying clothesline! NO LIMITATION II!
Hart hits the canvas, and Keem spins to his feet,
backhandspringing
over the opposing ropes back into the springboard position, looking for the BACK IN BLOOD to seal the deal on the match! Hart stumbles most of the way upright, massaging his neck, and seems not to see Jadyn as he turns, the Californian athletically surging into the air, whipping out his leg--
AND HART CATCHES HIM! Spinning Keem by one leg, he catches the other and drapes him across his back, leaping...
And hitting his knees as he delivers his belly-to-back piledriver! THE HEARTSTOPPER! Keem looks completely out, the crowd exploding in appreciation as Hart throws them a wink and a finger-gun, then turns to bundle his opponent up for the pin!
ONE...
TWO...
THREE!!!
DING DING DING
Starr:
And your winner, via pinfall,
'THE JACK OF HEARTS' JACK HART!
Hart bounds to his feet with a heartfelt yell, fists pumping the air as he soaks in the cheers. He throws himself to the ropes, leaning out over them with another roar, then a genuine laugh as the crowd exude all the louder for his victorious Paramount debut. The cameras swoop to ringside as Jack blows a kiss in that direction, focusing momentarily on his wife, Lily, who's beaming radiantly, pushing both hands to her breast and then throwing them out to her man. Grinning, Hart has his arm raised, then steps over to pull the downed Keem to his feet, offering him a handshake. Jadyn takes a moment to focus, then shakes his head, and offers a fistbump instead, raising Hart's other arm... Until the man turns away to continue celebrating, when he pulls up a hand and aims his own finger-gun at the back of Jack's head.
Watson:
A strong technical showing from our winner, but let's take nothing away from Jadyn Keem, who proved he has the heart and ambition to go with anyone on Paramount. How about those kicks, Cid? We have not seen the last of that man.
Sydney:
I sure as hell hope not; he just made a promise to us all, that next time he sees Hart, that's one dead-ass cowboy. I for one believe him. Keem had a hard night at the Rumble, and he was off his game tonight. He missed this one, but Jadyn Keem
never
misses twice.
Watson:
The future certainly seems bright for the orange brand, but we still have so many more debuts to come! The action continues right after this! DO NOT GO ANYWHERE!
Camera cuts to ...
---
---
---
The X-Tron flickers into life, as we find El Pablo sitting Indian-style (fittingly) upon a throne of splintered wood, twisted steel and barbed wire, set inside a dark and derelict Medieval-style 'grand hall.' The X-Division Championship belt hangs over the back of the chair behind him, its golden faceplate gleaming in the light of nearby flames that flicker from ornate stone torches carved in tribute to those that have unsuccessfully challenged the 'Technicolour Tecnico' across his reign so far. It's all very grandiose, very theatrical - and, as always, rather undermined by Pablo's vibrant attire and the packet of Skittles from which he snacks as the camera closes in upon him.
El Pablo:
When you've been on the throne for as long as I have, your thoughts inevitably turn to the idea of 'succession' - the search for the person who, ultimately, ends up taking up the mantle of ruling over this Kingdom of Chaos in the event that you -
I
- end up moving on to greener, more Undisputed pastures.
He smirks, anticipating the timely ruffling of a few 'regal' feathers at the thought.
El Pablo:
Now, obviously, I know that the wise man and his demons are currently biding their time in the wings, waiting for the perfect opportunity to take a second stab at me but, whether it's the Tecnico or the
sabio
who winds up closing this season out as the X-Division Champion, the question still remains:
Who's next?
Pablo casts a momentary eye over the torches on either side of him, before he reaches back and plucks his belt from off the back of the throne. He lays it lovingly across his lap, faceplate tilted up towards the ceiling.
El Pablo:
There've been many over the past three-hundred-and-seventy-four days that've tried to take this away from me; Jamie Love, Nevaeh, King Flip, Aiya, Darius, Aiya again, Dio, King Flip again…
All have failed
- but I'm not naive; I know that, one day, this incredible journey of mine's gonna end. After all, even 777 didn't last forever!
So, who's gonna be the one to do it? Who's gonna be the one to make a name for themselves, or add another chapter to an already-storied history, by bringing to an end the Greatest X-Division Championship Reign of All Time™? Or, who's gonna be the one to
beat
the one who brought an end to the Greatest X-Division Championship Reign of All Time™, assuming Dio
does
get it done the second time around?
Is it gonna be one of those names mentioned already, as the carousel comes back around again?
Is it gonna be a former champ; say Killjoy, Xavier or maybe even Ace, looking to make their name stand out alone as the first and only
three time
X-Division Champion?
Maybe it'll be Sour Candy, given that she's one of the few to get a victory over me during this run. Heck, given my own standing in the North American Championship stakes, that'd be one doozy of a marquee match in the making should she topple Marcu$ here tonight!
Or, just maybe, a whole new player will enter the game. I've heard Caleb Scott talking up his own X-Division aspirations this season, we've all seen how much the likes of Darna Dare and Phoenix Winterborn revel and thrive in this kind of environment, and don't think for one second that I'm discounting the possibility there might've been more to Tanja Devereaux's little cameo at the Rumble than meets the eye!
EP flashes a wink at the camera, another smirk spreading across his face as he dips into the Skittles packet once again.
El Pablo:
I guess what I'm trying to say is; whoever it ends up being - and whoever's watching this right now while feeling sick at the sight of this synesthetic son-of-a-business bogarting this blood-spattered corner of the EWC's championship corridors - now's the perfect time to put your mettle where your mouth is, buy yourself a ticket and get in line!
Fair warning, though; you'd best make sure you're good and hungry when than opportunity comes a-knockin' - because, if not?
You'll be fixin' to be nothing more than just another unsatisfied customer to the Ristorante de la Rainbowlution; force-fed a most vile, violent and deliciously-vicious Taste of the Rainbow.
I'll be waiting,
mis damas y caballeros
…
Viva La Rainbowlution
.
With that, a sudden ~WHOOSH!~ of flames engulfs the screen, as the scene cuts away to...
---

SINGLES MATCH
FOR THE CW BROADCAST CHAMPIONSHIP
"Lo Dovino" Adriana Aquilla
VS Asriel Buzzard
Watson: What a message by the X-Division champion! We will keep you all updated on the happenings of the X-Division championship as we steer closer to WrestleFest! But from one strap of gold to the other, it's time for the CW Broadcast championship! Let's get to the ring. Take it away Isabella Starr!
Starr:
Introducing first, from San Antonio, Texas… Adriana "Addy" Aquilla
Iron by Within Temptation hits the speakers and the crowd comes alive as Adriana Aquilla makes her way down to the ring, she slaps hands with a couple of fans before rolling into the ring ready for her match as she removes her jacket.
Starr
: And her opponent… from Hill City, Kansas. He is The CW Broadcast Champion…..Asriel Buzzard!
The first few notes of a piece of orchestral music start to play around the arena, with the harps giving way to violins after a few seconds and an image appearing on the screen as the house lights lower.
As the guitars of 'Animals' by Architects begins to pound around the arena, strobe lights flash as the image on the screen fades to flashing images of a familiar face.
Slowly, Asriel Buzzard emerges from the curtain and stands atop the stage staring out into the crowd to a mixed response.
He walks down the ramp and circles the ring before rolling under the bottom rope and climbing the turnbuckle to stare into the crowd again, holding a closed umbrella aloft, his expression blank.
DING DING DING
As soon as the bell rings, Asriel charges, going for a Clothesline, ducked by "Addy." Asriel turns into a kick to ther gut followed by a standing Dropkick. The next moment sees Addy connect with a standing Moonsault and a cover.
ONE…
Watson
: Immediate kickout from the Champion
Sydney
: Addy with the first strike. She wants that gold for her and her Latin community.
Addy lines up a Superkick as Asriel gets to his feet, but he evades the blow. This time Addy turns and is met with a kick to the gut, then Asriel follows this with a Tornado DDT. It takes a few seconds for Adriana to get to a kneeling position, as she does, Asriel charges in and delivers a Knee Smash to the kneeling Adriana. Seeing she is down, Asriel heads to the corner, climbs to the top, set up for Anybody Out There, but Addy notices, pushes herself to her feet, rushing into the ropes nearest to Asriel, causing him to lose his balance, and drop junk first into the turnbuckle.
Watson
: Asriel thought he could end this one quickly. Lucky for Addy, she has fight left in her.
Sydney
: Nine months of work won't be put to rest that easy.
Addy again runs off the far ropes, then jumps onto and off the rope closest to Asriel, bringing him to the mat with Hoja de Honda. She quickly goes for the cover.
One...
Two...
KICKOUT by Asriel!
Sydney:
That move has quite the impact. But this CW Broadcast Champion will not go gently into that good night.
Asriel is still on the mat, Addy is quick to her feet, then the corner, then atop the top turnbuckle. She leaps, attempting the Addy Star Press, but hits the mat as Asriel rolls away just in time. Asriel holds onto the ropes, catching his breath. As Adriana gets to her feet, Asriel sneaks up behind, applying the Rear Naked Chokehold.
Watson
: This is not a great position for Adriana Aquilla.
Sydney
: At least take her out to dinner first. Setup a safety word.
After struggling for a bit, "Addy" is able to get her hands on the ropes. The ref, yells at Asriel to release the hold. He refuses, so the ref threatens to ring the bell if he gets to three.
ONE...
Two...
Asriel finally releases the Choke Hold. But "Addy" is only given temporary reprieve. Asriel connects with The Redeemer. He grabs Adriana by the hair. Dragging her to her feet, setting up, lifts, and drives her down with The Survival. He goes for the cover..
ONE...
TWO...
THREE!!!
DING DING DING
Starr:
Here is your winner…and STILL CW Broadcast Champion….
Asriel Buzzard!


Addy rolls to the outside and lands on one knee to catch her breath. She looks into the ring to see Asriel getting to his feet as the referee hands him the CW Broadcast Championship. Asriel raises the belt into the air.

Watson:
"Addy" put on a hell of a show. Unfortunately for her, Asriel Buzzard was on top of his game tonight.
Sydney
: Asriel Buzzard is an undeniable talent. It will be hard for anyone to pry that Broadcast Title from his grip if history is any indication. Our next young blood showcase is up next folks, you don't want to miss it!
The camera fades to...
---
---
---
The camera cuts backstage inside the Salt Lake Stadium and outside the office of Paramount GM Chris Brock. Lisa Goldrush, who is standing by with her camera crew, smiles as she addresses the Kolkata crowd as well as all the people watching on the CW.

Goldrush: Ladies and gentlemen, I have just been informed that behind this door…

Lisa reaches out and touched the door with her free hand.

Goldrush:At this very moment Paramount's GM Chris Brock is meeting with the former Undisputed Champion Killjoy, along with his associate 'The Prodigal Son' Bunny Love about the terms his rematch he had earned by defending the championship TWICE while champion and it's been leaked to me that they are signing the contract TONIGHT with the intended date of that rematch.

Lisa pulls her hand away from the door and jumps back as the door opens and she comes face to face with the former Undisputed Champion Killjoy.

Goldrush: Um…hello Killjoy…I…I…

But while Lisa stumbles, clearly being caught off guard a smiling Buddy Love pops his head out from behind Killjoy and gives her a wink.

Love: Well hello there love, how are we doing here tonight?

Lisa tries to compose herself as she looks from Killjoy to Buddy.

Goldrush: I am doing fine Buddy…but the real question our audience wants to know is…

Love: How I'm doing? Aww that's so nice of them…well my neck is a bit sore from the plane ride over him, let me tell you, that flight from London to India is no joke…maybe that's because these Indians still are upset at 'Those With Crooked Teeth' colonized them and a rough and bumpy ride is their way of payback which if that's the case, JOB WELL DONE…I'm going to been cracked when we get back home for sure…

Goldrush: Buddy, the fans aren't' concerned with the plane right from the Rumble to Paramount #025, they want to know…

Love: How Gabrielle is feeling ahead of her FX Broadcast Championship match, well let me tell you, she's feeling great…I just saw her and she is locked in and ready to show 'Bullet' Alex Carbajal who's boss…

Goldrush: That's great and all but it's Alex 'Bullet' Carbajal…

Love: Really…

Buddy shrugs having been corrected.

Love: Well that's ok, because after Monday night we can just call her 'the former FX Broadcast Champion'...let's be honest Lisa, Alex isn't in Gabi's world, Gabi is a former International Champion, a former TV Champion and from what I've heard, Dominic Sanders' favorite active wrestler in the EWC…

Buddy looks down the hallway and then down the other side to make sure nobody is listening.

Love: I heard that if his next child is a girl he's going to name her Gabrielle Anna Sanders…or GAS for short…like he did with little JFS, Jordan Frank Sanders…because he loves Gabi as much as he loved Jordan…it's a real honor…

Killjoy raises an eyebrow as Lisa shakes her head, wondering where to even start in that statement of wrongness but she collects herself and figures it's best just to leave it alone and move on.

Goldrush: Buddy, this is Paramount, our fans don't care what is happening on Brawl or about their FX Broadcast Championship…I'm sure Gabi and Alex will have a nice match but the CW doesn't want us hyping a FX match on their airwaves…

Love: Really…it's all the same company…

Goldrush: What our fans want to know is what was going on behind those doors Buddy. We've heard the rumors and reports, you two were meeting with Chris Brock about Killjoy's rematch for the Undisputed Championship and we wanted to know if you could break some news right here and now…

Buddy smiles as he looks back at Killjoy, who remains like a statue.

Love: WELL…I was asked not to say anything you know, heck we don't even know who the Undisputed Champion will be when we challenge them, you know Melody has a championship defense at Rampage #507 and since the CW doesn't want us talking about the other brands I can't give my views on THAT match but…

Lisa moves her microphone closer to Buddy's mouth.

Love: I can tell you that Mr. Brock, Killjoy and myself talked about the options in front of us…I mean we could cash that rematch in at the Season Finale of Paramount and give these fans maybe the match of the year to close out this season…I mean think about the ratings we would give the CW with that one…or…we could really stack the deck against her like Rampage did to Killjoy last season and cash that rematch in at Wrestlefest and give Paramount TWO wrestlers in the Main Event bettering our odds at bringing the Undisputed Championship back to Paramount to end the 2022 Season…

Buddy smiles and then tosses his hands into the air.

Love: Or we could just buck the system and ask for that match to take place at Youngblood IV or maybe even at One Night Encounter, you know on one of the last two ppvs and really drive up the interest…or maybe we get really crazy and cash it in on Brawl, heaven knows they could use the excitement but I will say this…a date has been agreed upon and…

Lisa moves the microphone close.

Love: We will tell the EWC next week on Paramount #026 when we come to you live from the Adelaide Oval in Adelaide, Australia…

There is a groan from the sold out crowd inside the Salt Lake Stadium as Lisa pulls her microphone back away from Buddy, clearly annoyed about the tease.

Love: Tonight we are focused on the International Champion King Flip, who is making his 2022 Paramount debut and how pumped are our fans going to be when one of Paramount's own beats the BOB…Best of Brawl right here on the CW, I mean the old BOB Xavier Reid did beat our CW Broadcast Champion at Brawl #587 and then our North American Champion at Paramount #024 and the King in King Dong is supposed to be the best Brawl has to offer so it would be next to exact some revenge for our brand and send their champion back to Brawl a beaten man and a win over King Flip would make Killjoy a de facto King and the best International wrestler in the EWC…so we have THAT going for us…

Buddy smirks as he gives Lisa another wink.

Love: Tonight we welcome King Flip to Paramount and show him just why Paramount was the 2021 Brand of the Year and send him back to Brawl understanding that Paramount will never bend the knee to foreign royalty!!!

Buddy motions with his head to leave but grabs his sore neck as he jerked it a little to hard, Killjoy shrugs his shoulders at Lisa.

Love: Oh and tune in for that MAJOR ANNOUNCEMENT on Paramount #026!!!

Buddy gives the camera a thumbs up as the cameras cut away from his fat face.

---
---

SINGLES MATCH
BATTLE OF THE YOUNG BLOOD II
Reginald Dampshaw III
VS Salvador Serenity
We return to ringside where Tim and Cid are standing by!
Watson:
oh man, Killjoy is playing the long game here. We will know soon when he will be cashing in his rematch for the EWC Undisputed championship! Right now though, its time to see which one of these up and comers on Paramount are about to get a Dub tonight!
Starr:
The following match is set for one fall. Joining us first, from the Isle Of Wight in England and weighing in at 225 pounds ...
REGNALD DAMPSHAW III!
The lights go out and soon, a blinding white light showers the audience. The lights go out once more before the dark, technical music kicks in. Dampshaw slowly comes out, shooting his eyes to the ring and begins walking down the ramp. He notices the camera and stares directly into it as he is walking. He climbs the turnbuckle and laughs manically at the audience before him.
Starr:
And the opponent, from the Mystic River and weighing in at 285 pounds ...
SALVADOR SERENITY!!
Salvador Serenity smiles wide, waving to the crowd as he makes his way out. He gives "Spock Signs" to the crowd with one hand, raising his walking stick with the other, then starts to jog down the aisle, high-fiving fans. He makes a loop around the ring, exchanging fist bumps and high-fives before sliding under the ropes and into the ring. He bounces off the ropes and few times before heading to his corner, handing over his walking stick, then starts stretching.
DING DING DING
Dampshaw runs at Salvation who scoops him up and hits a side slam. Dampshaw gets to his feet and Salvation grabs him in a headlock. Salvation wrenches the hold, but Dampshaw pushes Salvation off the ropes and hits a clothesline. A European uppercut from Dampshaw spins Salvation and he hoists him with a German suplex. The referee counts.
Salvation gets a shoulder up off the mat. Dampshaw pulls Salvation to his feet, but Salvation takes Dampshaw to the mat with an arm drag that he transitions to an arm bar. Dampshaw yells in pain as Salvation pulls on his arm but Dampshaw soon gets to his feet. He pushes Salvation against the ropes to break the hold before pushing Salvation toward the opposite ropes. Dampshaw ducks for a backdrop a little too long and Salvation is able to hit a snap suplex that he floats over into a pin attempt.
Dampshaw gets a shoulder off the mat breaking the count.
Watson:
A close call there. Almost a three count.
Sydney:
You and I both know it's going to take more than a suplex to keep either of these men down.
Dampshaw gets to his feet and lashes out with a right hand. Salvation ducks it and smacks Dampshaw with a forearm to the kidneys before grabbing him and driving Dampshaw to the mat with a Malpractice. Salvation makes the cover.
Dampshaw rolls to his side breaking the count. Both get to their feet and Salvation lashes out with a right hand. Dampshaw ducks a second and pushes Salvation off the ropes for an O'Connor roll that he transitions into a Queen's Rebuke. Dampshaw bridges into a pin attempt. The referee counts.
Salvation rolls a shoulder off the mat to break.
Watson:
He's getting closer.
Sydney:
Both men are but they may need to use bricks to keep the other down.
Dampshaw lifts Salvation off the mat. He holds Salvation in a reverse DDT position and lifts him for a Family Name. Salvation grabs Dampshaw's arm dragging him to the mat. Salvation quickly wraps Dampshaw's arms in a Foxhole. Salvation pulls and wrenches on the hold. Dampshaw tries to wriggle free but can't. He has to tap out.
DING DING DING
Starr:
And your winner, via submission
SALVADOR SERENTIY!!!
Salvation stands in the middle of the ring and raises an arm in victory before heading up the ramp.
Watson:
That is a big win for a relative newcomer here in EWC. He took his opponent to the mat and gave him two choices 'Tap' or 'I'll rip your limbs out the sockets'
Sydney:
Reginald Dampshaw looked impressive tonight even in defeat. He could well be a top contender in the near future.
Dampshaw sits on the ring apron holding his left upper arm clearly in pain.
Watson:
Staff to add final commentary and transition to next scene
---
---
---
We return from a commercial break and the camera opens on Tim Watson and Cid Sydney at ringside.

Watson: Folks, we are only a few weeks away from EWC Youngblood, coming to you live from Bucharest, Romania.

Sydney: Youngblood gives the EWC's fresh new talent an opportunity to show that they're the next big thing… Or at least try to.

Watson: The card is filled top to bottom with Wrestlers in their 1st and 2nd Seasons with the EWC. It is also a chance for Brawl, Rampage, Paramount and PRIME to showcase their newest Superstars!

Sydney: As if those other brands have anyone worthwhile showcasing…

Watson: And you can watch it live on EWCTV folks! If you subscribe now, you will…

The camera flickers and the commentators are replaced on the screen.



Sydney: Oh, what the hell is this now?

Watson: I don't know Cid, some sort of Fighter Talk or Twitter thing…? Anyway, as I was saying, for just $7.95 per month, subscribe to EWCTV to see events like Youngblood later this month! Right now though its time to see two veterans go at it! Take it away Starr!

---

SINGLES MATCH
NON-TITLE
King Flip
VS Killjoy
K I N G F L I P zooms from right to left across the X-Tron and is followed swiftly by a small pyro. 'Machinegun' begins to play as the man in the hooded vest, head low, emerges from the curtain. He gets to the edge of the rampway when he lifts his hood to reveal that arrogant half smile.
Starr:
The following match is set for one fall. Joining us first, making his way to the ring, hailing from the land of money and fame, weighing in at 220 pounds...
KIIIIING FLIP!
The lyrics chime in as he walks slowly down the ramp with his eyes locked in on the ring. He slides into the ring and leans against the turnbuckle with arms agape as his theme plays. He turns to the stage / his opponent ready for the action to start as his theme fades.
Starr:
And the opponent, residing in Daly City, California and weighing in at 235 pounds ...
KILLJOY!
'The Prodigal Son' Buddy Love walks out onto the stage and raises his arms into the air as the lights fade out. He jumps up and down as 'Deeper Deeper' begins to play. A strobe light circles around the stage as a single white spotlight hits the stage where Killjoy is standing, his back facing the ring, his arms stretched out and his head down. He swings around to face the ring as Buddy Love runs up and stands next to him. After a quick word the pair start to walk towards the ring, Buddy runs ahead and charges up the steps and holds open the ropes for Killjoy to step through. Killjoy walks to the center of the ring, extends his arms and tilts his head back to soak everything in.
DING DING DING
Flip runs at Killjoy for a clothesline but Killjoy ducks. Flip then grabs Killjoy around the waist and lifts him for a German suplex. Killjoy counters taking Flip to the mat with a headlock takedown. Flip rolls to his feet and hits Killjoy with a clothesline followed by driving a knee into Killjoy's ribs as Killjoy got to his feet. Flip hits a roundhouse kick to Killjoy's ribs and a double underhook DDT. He rolls Killjoy for a cover.
Killjoy gets a shoulder up to break the count. Flip pulls Killjoy to his feet and whips Killjoy off the ropes. Flip ducks too early and this allows Killjoy to hit a sitout last ride. He uses his feet to hold the shoulders down.
Watson:
Nearly, very nearly.
Sydney:
It'll take more for both to keep them down.
Flip slowly gets to his feet but Killjoy cracks him across the back of the head with a Konbanwa. Flip drops to the mat and Killjoy rolls him over
Flip just gets an arm off the mat to break the count. Killjoy lifts him to his feet but Flip counters with a backdrop that sends both men to the mat. Flip rolls to his feet and runs off the ropes. He crashes down on Killjoy's ribs with a Dethronement. He turns and hooks the leg.
Killjoy pushes his way breaking the count.
Watson:
Again, very close! Killjoy looks in pain with those ribs.
Sydney:
So would I be if someone like King Flip thundered down on my ribcage.
Flip lifts Killjoy to his feet. He spins Killjoy around and grabs his arms. Flip twists Killjoy into position for a Beheading. Before he can hit the move, Killjoy shoves him away and runs off the ropes. He smacks Flip with a Kettei-Da. Killjoy grabs both legs as he covers Flip
DING DING DING
Starr:
And your winner, via pinfall...
KILLJOY!
Buddy Love slides into the ring and raises Killjoy's hand in victory. He doesn't hold it up for long as Killjoy clutches at his ribs.
Watson:
A big win here for Killjoy! As we get to the nitty gritty of the season, that's some big momentum.
Sydney:
King Flip gave a good showing here too. He took the attack to Killjoy and to his ribs. On a few occasions, he came a half count away from that being a successful plan.
In the ring, Flip clutches at his jaw before rolling out the ring and heading up the ramp. A few fans pat him on the shoulder as he passes.
Watson:
Killjoy is gaining all the momentum that he can leading up to whenever he cashes in his rematch. what an exctiting time it is to be on Paramount folks, We'll be right back after this!
---
---
---
The camera cuts backstage inside The Love Club locker room where we find Bobby Rose and Jimmy Lane of The Southern Express wearing their new t-shirt, The Southern Express Farewell Tour: Kolkata, India with the phrase, Hindu…We All Do for The Southern Express. Bunny shakes her head at the phrase and looks at a smiling Bobby and Jimmy

Love: Really, you had to add a phrase to the shirts…

Rose: Funny right…

Lane: Because the people of India are Hindu…

Love: YEAH I GET IT…

Jimmy looks over at Bobby and shrugs

Lane: I mean if she gets it then why's she questioning it…

Bunny rubs her head with he left hand as she looks at the former EWC Tag Team Champions of the World

Rose: Well if she doesn't like the front I'm guessing she'll hate the back…

Lane: Most girls do…Ba-Dum-Ch!

Jimmy gives her a wink as Bobby pulls Jimmy around so Bunny can read the back. She shakes her head as she reads We Are The Masters of 10,000 Positions…Jimmy turns his head around to look at their manager

Lane: Because they study Kama Sutra over here and Bobby and I are Masters in the Big OH…as in OOOHHHHH!!!

Jimmy smiles and nods as he spins around and high fives his tag team partner

Rose: And I have to say all that cardio you made us do in our break is paying off like gang-busters, I had an EIGHT-WAY last night…

Lane: True story, though he tagged me in at one point to make it a Six-Way and a Three-way for me…

Rose: Teamwork man…

Love: And you decided to waste all that energy for no good reason…I mean you could have saved it for the ring…

Bobby and Jimmy look taken aback at that statement

Rose: Bunny, you know we have to bust one before wrestling, I mean we can't step into the ring having not done so…that could be dangerous…

Lane: I mean we could poke an eye out or something…pretty reckless behavior on our part NOT to do so…I mean sure, we don't care or even really know the boys of Next Level but we aren't cruel…

Rose: We don't want to end their careers before they even get started…we just want to bury them by beating them…

Lane: Yeah, to show them they might walk, talk and wrestle like us but they are not ready to fill our roles as the Record Breaking…

Rose: History Making…

Lane: GREATEST Tag Team that the EWC has ever seen!!!

Bunny looks at the two men who flash her a smile but she shakes her head

Love: Are you guys ready to get serious…Mark and Brian have come here tonight to make a name off YOUR names, the quickest way for the Next Level to become relevant here in the EWC is to beat The Southern Express in their main brand debut match…nobody could talk shit about how stupid they look if they can knock you two off night one…

Bobby puts his arm around Bunny

Rose: Bunny we are taking the Next Level serious, listen, we know we are in a MUST WIN situation the rest of the way out, there is no other option for us, if we lose we might as well kiss that shot at the tag team championships goodbye once and for all…

Jimmy follows suit and puts his arm around Bunny as well

Lane: Yeah, it's do or might as well die for us so we need to knock these kids down a level or two…

Rose: Listen, they can pop off about knowing what to watch for with our moves because they've been doing them for the past 7 years but that's a two way street…you don't think we know our own moves after 40 years of doing them…

Lane: Hell we've forgotten more moves than those boys know how to do…

Rose: The point is Bunny they think they have an advantage over us because they wrestle like us but the truth is it's us that has the advantage…because who knows us better than we know us…

Lane: All we have to do is think, 'what would we do here' and just do the opposite of that…they won't know what hit them…

Jimmy gives her a thumbs up as she wrestles herself free

Love: I just don't want you two to end your careers with regret…wondering what could have been if only…

But Bobby shakes his head

Rose: Kid we have zero regrets…ok, maybe I regret not hitting that cougar in Jacksonville in 1983, she was a smoke show and could tie a cherry stem in a triple knot with her tongue but I was married back then and faithful

Lane: Yeah until you met that cougar in Richmond that was a smoke show and could tie a cherry stem in a quadruple knot with her tongue…but she was a brunette and the one in Jacksonville was a redhead and you know that they say about fire crotches…

Love: NO…no no, we don't need to know what they say about them…I want you two to stay focused on the Next Level and show them that when it come to tag teams here on Paramount that The Southern Express are still the HIGHEST LEVEL!!!

Bobby and Jimmy nod at Bunny as the cameras fade out.
---
---

SINGLES MATCH
NON-TITLE
Maledetto
VS El Pablo
Watson: Strong words from the Southern Express, who will be in action later tonight! Right now though, its time to see two master of the lucha libre style battle it out! Take it away Starr!

Starr: The following contest is scheduled for one fall... Introducing first! From Green Bay, Wisconsin, weighing in at 198 lbs... Maledetto!!!

Witchy Woman comes on as the lights dim. On the Xtron, bones are dropping down then turn to dust as Maledetto walks out to the ramp. He casually walks down to the ring, giving the occasional high five to fans who reach out to him. He slides in the ring then climbs the turnbuckle, he stares at the crowd then does a fist pump before jumping back down to begin the match.

Starr: And his opponent, he is the longest raining EWC X-Division Champion in history, and the leader of the Rainbowlution... The EWC X-Division champion... EL PABLOO!!!!
A cry of "VIVA LA RAINBOWLUTION!!!" leads to 'Party Hard' by Andrew WK hitting the soundsystem, as the stage and ringside area becomes bathed in flashing, flickering, brightly-coloured lighting. As the main hook hits, El Pablo bursts through the curtain, playing to the fans and chugging Skittles like a Steveweiser while the X-Division Championship belt glistens around his waist. He charges down the ramp and slides under the ropes into the ring, then runs up the turnbuckle and holds the title belt high above his head to another pop from the adoring crowd. After offering a final salute, he hops back down to the canvas, handing his belt to the referee and performing a few final stretches as his music fades.
DING DING DING
As the bell rings, Maledetto quickly rushes the X-
Division
champion as he takes three steps and hits a standing dropkick that sends Pablo to the mat quickly. Maledetto doing a bit of posturing as he lands on his feet, to the excitement of the crowd! Pablo gets to his feet quickly though and hits the ropes, diving off and catching Maledetto with a cross body block that takes him to the mat. EP holds on for the pinning attempt
Maledetto kicks out with force, sending EP a few inches into the air. Both men scurry to their feet and Pablo rushes this time, but it caught with a deep arm drag from the opposing Luchador that sends the technico to the other side of the ropes. Maledetto looks to take advantage and remain engadged with his opponent, but Pablo now catches him with an arm drag of his own! both men to their feet simultaneously now and they catch each other in a stalemate as the crowd cheers!
Watson: Been a while since we've seen a good old fashion stalemate! Maledetto really keeping up with EP here Cid!
Sydney: Maledetto seems to be using this 'curse' business of his to his advantage tonight for sure!
Both men circle each other a few times before we get a collar and elbow. Maledetto quickly transitions to an arm ringer that he turns several times as El Pablo fights to get out, but to no avail. Maledetto now toward the ropes as he keeps the hold on the arm. Maledetto springs to the top rope, pivots and lands a tornado DDT, the sound of which resonates throughout Salk Lake Stadium! He holds onto the head of El Pablo for a small cradle pin attemt!
Pablo kicks out with authority as he grabs the shoulder that his opponent was just working on. He quickly sends a well placed boot to the midsection that doubles Maledetto over. EP uses the brief moment to get fully
vertical, then sends Maledetto into the ropes. Pablo grabs a handful of skittles from his tights, looking for the facepainter, but Maledetto trips over his own feet on the way back from the ropes, right into El Pablo and they both get a face full of skittles! The crowd
erupts
at the misstep, but Pablo is able to eat his way quickly through the rainbow flavored confections and get to his feet, waiting for Maledetto. Maledetto clumsily gets to his feet and falls back toward the ropes. EP jumps to the middle turnbuckle, then jumps off.. TASTE THE RAINBOW!! the Frankenstiener facebuster connects and EP holds the legs for the pining attempt.
TWO...
DING DING DING
Starr: Here is your winner via pinfall... The Technicolor Technico... EL PABLO!!!!!

Watson: Taste The Tainbow out of nowhere and the curse may actually be a thing after all Cid! Maledetto had control of this match, but that one miss step cost him this match!

Sydney: That's day one stuff right there Tim. You have to know how to run the ropes without falling on your face! Maledetto put up one hell of a fight though early on and I think if he can get a handle on whatever just happened, he will be a force here on Paramount!

Pablo is handed the EWC X-Division championship as he reaches out and offers his hand to his opponent, who thought a bit dejected, takes it in a show of respect. El Pablo then turns to the crowd and celebrates as we fade to commercial...
---
---
---

TAG TEAM SHOWCASE
Next Level
VS The Southern Express
We return to ringside where the crowd is already chanting for the Southern Express!
Watson:
Tag team action up next, as we present a fascinating contest between the old dogs and the new pups! The leadup to this match has seen both teams in full recognition of the other, and on paper this one couldn't be closer. Next Level are veterans in their own right, and say the days are numbered for the Southern Express; who say there's no comparison worth making. They're older, wiser, better, than these cocky upstarts could hope to be at this point in their careers.
Starr:
The following match is a tag team showcase, and is for one fall! Joining us first, from Santa Clarita, California, weighing in at at combined weight of four hundred and fifteen pounds ... they are ...
NEXT LEVEL!
Lights begin to pulsate over the crowd as the voices of both members of Next Level come over the PA system "We are.. The NEXT LEVEL!"
The sound of a guitar riff begins over the PA before "FIGHT!" is yelled out and '2nd Sucks' by A Day to Remember begins to play. Both members of Next Level come out onto the stage, giving each other a fist bump as they cross paths and motion out to the crowd before they make their way down the ramp.
Starr:
And their opponents...
The electric guitar kicks in to 'Stranglehold' as the crowd gets to their feet, some of the older females in the crowd start to scream like they did when they were younger as Bunny Love walks out onto the stage and is quickly followed by Bobby Rose and Jimmy Lane.
Starr:
Being accompanied to the ring by Bunny Love, from Nashville, Tennessee, at a combined weight of younger and fitter than they've ever been ... Bobby Rose and Jimmy Lane ...
THE SOUTHERN EXPRESS!!!
Bunny leads the way as the pair reach out and high five with the fans as the walk to the ring, Bunny marches up the steps and steps through the ropes as Bobby and Jimmy climb up onto the apron and step through the ropes, take off the titles and hands them to Bunny and head to opposite corners, Jimmy climbs up to the middle turnbuckle and Bobby stands in the corner as both men toss out bandannas to the crowd as Bunny stands in the middle of the ring posin' sexy.
DING DING DING
Nobody can say Next Level aren't excited to be here, pausing to trade a sequence of high-fives, and a jumping chest-bump, as their older, wiser opponents look on absolutely perplexed. The young guns turn around, grinning, right into a pair of clotheslines from the Southern Express! Bobby and Jimmy turn to face one another, the crowd urging them on as they go for a double high-five of their own, then leap - or in Jimmy's case - kneel, into their respective attacks on the downed pair. Bobby's standing moonsault is impressive, and Jimmy's knee drop at least gets the job done!
The official tries to get some order, commanding one member of each team to get out of the ring, and Bobby starts to argue; only to be pulled away and ejected by Jimmy, who pulls Brian Knight to his feet and hits a delayed vertical suplex, floating over for the cover... only to be immediately dropkicked in the flank by Mark Paulson! The younger man rolls to one knee, beckoning Jimmy on as he comes stumbling off the ropes-- right into a sharp cutter!
Paulson rolls out of the ring, leaving Brian to work the downed Jimmy Lane with a few stiff punches, before pulling him up into a standing knee strike that knocks him for six! Bobby swears and tries to intervene as the pin is attempted, but he's swept off the apron by a roundhouse kick from Paulson! They begin brawling around the outside as the ref drops for the count...
ONE...
TWO...
KICKOUT!
Watson:
An early lead by Next Level, who prove they're every bit the functional unit that we know the Southern Express to be, keeping the other team separated so they can work.
Sydney:
What match are you watching? Bobby and Jimmy opened proceedings, showing they're faster than these kids could dream of being! Also, their units are WAY bigger, I'm just saying.
Bunny Love darts out of the way as Bobby Rose hurls Paulson into the chair she had her perky butt parked on, sending the younger man for a ride that ends with him sandwiched between chair, barricade, and a basement dropkick from Rose! Inside the ring, Lane is keeping Knight grounded with a series of holds and counter-holds, keeping his striking muffled as he shifts from a half-sunk armbar to a tight headlock, rising to his knees then dropping his opponent with a solid bulldog before going for a cover of his own.
ONE...
TW-- KICKOUT!
"Weaksauce!" Insists Brian Knight, shaking his head and stretching out one leg as he seizes a headlock of his own, then runs into the corner with Lane firmly in hold, kicking off the turnbuckle to hit a levelled-up bulldog of his own, emphatically twisting through the air to plant Bobby with authority! The crowd rally behind the veteran, and Knight flips them the double duke as he goes for a cocky pin, not even getting the count of one, before he's grabbed by the leg and introduced back into the turnbuckle face-first! The crowd loves it, and Bobby is smiling as he grabs his younger counterpart by the waist and rears back into a bridging back suplex!
ONE...
TWO...
KICKOUT!
On the outside, Mark Paulson fights his way back into contention against Bobby Rose, driving a heel into his knee, and then hitting a beautiful corkscrew kick to the midsection that blasts the more youthful Express member into the edge of the apron. He rebounds with a nasty crack, and is immediately dropped with a leaping DDT, before Paulson dives under the bottom rope into the ring, intercepting the re-risen Lane before he can mount fresh offense against his partner.
Jimmy hits a reactive uppercut, but doesn't get all of it, and Paulson is able to dive down low, tackling Lane over the ready back of Knight, who springs up to grab his fallen opponent by the legs and start swinging him around! Round and around they go, and in spite of themselves many of the crowd count along on principle, getting to five before Next Level interrupt them with an insistent, "SIXTY!" At which point, Mark lunges into a knee strike that splits poor Lane clean open! They're ripe for the cover, but the whippersnappers decide to cajole the crowd instead, chopping their crotches at their bloodied foe and laughing.
Watson:
Questionable stratagem from Next Level here; Bobby Rose is still working his way back into this match, and Jimmy Lane is seriously hurt. They should be going for the cover, but they're playing mind games?
Sydney:
You love to see it, Tim. Win or lose, they're gonna be living rent free in the heads of their opponents - and every other team they're set to come up against. They're looking dominant out there!
Knight isn't feeling so dominant, as Bobby Rose comes flipping over the top rope into a thudding clothesline, before dancing to his feet, stomping and stamping as he faces down a similarly-energized Paulson. Both men go for dropkicks at once, and cut each other off in mid-air, each landing and spinning around face-to-face to a delighted outburst from the crowd. They agree to disagree, backing off to their respective corners, where they wait to make the tag; and both come back in as the legal man, trading strikes to 'oohs' and 'ahhs' from the crowd!
Paulson explodes into a spinning heel kick that almost drops his opoonent, and Jimmy Lane barks at Bobby to let him back in. Rose shakes his head and goes for the same move-- landing it with enough force that Next Level end up occupying their corner together, Brian helping Mark shake off the cobwebs, and tagging himself back in in the process, as Lane makes the tag to Bobby and ducks through the ropes. It's two on two once more, as the Southern Express come in hard and fast with a MIC DROP! Both superkicks land, and both members of Next Level go down. Trading sarcastic high-fives, SE pull them in for a double pin.
ONE...
TWO...
KICKOUT!!
"Hell NAH!" Bark Paulson and Knight, as they kick out simultaneously, getting to their feet with an intense shared stare, and stomping rapidly before they erupt into a pair of identical kicks on SE! It's a superkick party, as the veterans go down this time, but rather than copy them with the cover, Next Level opt to yank Lane to his feet and bait him into attempting a lock-up with them both; before swatting his sweaty arms aside and breaking out into a combination of kicks, culminating in a double dropkick to the doubled-over Jimmy's skull!
Bobby gets to his feet, and drops into a hard spear against Knight, only to be hauled up into a half-nelson suplex by Paulson! They go for the belated cover on Lane, but he's already reaching for the ropes; and they're forced to break, both of them arguing vehemently with the official as he forces them away from Jimmy. Paulson looks like he's about to go for a retaliatory superkick, and Brian stops him-- only to be seized by Lane, who batters him with forearms, and hurls him against the ropes, where he slumps over. Rose manages to sweep Mark Paulson from his feet, then keep him grounded with a beefy senton, before Lane directs traffic and sends him to the outside, slingshotting him up and over the doubled-over Knight...
THE TENNESSEE DESTROYER! It's slow, it's ugly, and it gets the job done. Knight stumbles to his feet, but he looks out!
Jimmy dives toward him, grabbing him into a too-familiar tombstone piledriver position! Unfortunately, it's all too familiar to
Next Level
! Knight wriggles his legs, fighting back, pulling Lane off-balance, as Mark Paulson intercepts Bobby Rose halfway through the ropes to the outside, tying him up and nailing a superkick to the skull!
Knight manages to reverse position, flipping Lane end-over-end with a titanic effort to pull HIM into the tombstone position, and Paulson is ready, using the stunned Rose to dive over the rope onto the apron--
--and then HE'S yanked off the apron! By Bunny Love! Paulson sneers, and punches her right in the face! Bunny goes down, but it buys Rose the moment he needs to extricate himself and hit a stumbling crossbody to the outside!
Paulson is down, and Rose looks like he's about to have a heart attack - and he probably is - as he scrambles back onto the apron, and springboards off into the GOODNIGHT, KOLKATA! Knight's head impacts the canvas, and both men make the cover.
ONE...
TWO...
TH-REE!
DING DING DING
Starr:
And your winner, pinfall,
THE SOUTHERN EXPRESS!
The crowd positively erupts as Bobby and Jimmy help each other up with visible delight, grinning down at the senseless Knight then taking a glance at Bunny - seemingly questioning if they should help her - but deciding it's more important to celebrate just now! The fans agree, and SE do their best Next Level impersonation, putting on playfully-odious expressions and trading high-fives, uncertain fist bumps and then a chest bump that forces them both to take a knee and catch their breath, to a renewed outburst of appreciation from those in attendance!
Watson:
The Southern Express have never, ever disappointed the fans, and they put on a clinic tonight against a pair of younger men who came painfully close to proving themselves their betters! Next Level even took out Bunny Love, but these old dogs know all the tricks - and their careers are very far from over!
Sydney:
Look, these young guns gotta keep their eyes on the prize. Bunny got what she deserved for trying to interfere, but she wasn't the threat. Paulson and Knight are damn good at what they do, but you can't ever count out Rose or Lane.
The two veterans have made their way out of the ring, and Bunny has been leaned carefully up against the barricade to recover before they move off to start kissing babies and - far more importantly - signing their mothers' breasts, receiving another ovation from the crowd as they finally make their way up the ramp, glared at all the way by Next Level.
Watson:
Bobby and Jimmy are certainly going to live it up tonight! Our main event is up next folks, DO NOT GO ANYWHERE!
Camera cuts to ...
---
---
---
STEEL CAGE MATCH
FOR THE EWC NORTH AMERICAN CHAMPIONSHIP

Sour Candy


VS Marcu$ $t. John
We return to ringside where The cage has begun its slow decent for our main event!
Watson:
IT...IS...TIME! Ladies and gentlemen, the wait is over. We are going to decide who will leave India as the EWC North American champion! Will the young mogul get that coveted successful defense, or will the candy castle reign supreme on Wednesday nights once again?! We are going to find out... right now!
Starr:
The following match is a Steel Cage Match and it is for the EWC North American Championship! In this match there are not count outs, no submissions, and no pinfalls. The ONLY way to win is to escape the cage by climbing over the top and landing with both feet touching the ground on the outside!
Moments after "I Want Candy" by Aaron Carter begins to play throughout the (add venue here), it suddenly switches into a more metal version of the song done by Risen From Shadows. Despite the boos coming from the crowd, Sour Candy seems unfazed as she walks out with a huge grin. She gives them a sarcastic wave and walks down the aisle.
Starr:
Making her way to the ring straight from the Sour Patch.......
SOUR CANDY!!!
As soon as a fan reaches out to touch her, SC jerks her arm out of the way and circles the ring before slipping under the bottom ropes. She stays on her knees and looks toward the entrance (or at her opponent) with the deadliest of stares as she waits for the match to begin.
Starr:
And her opponent, coming to the ring at 6'1" and weighing 210 lbs, he IS the EWC North American Champion, it's The Young Mogul ...
MARCU$ $T JOHN!
"Fast Lane" blasts through the arena by Bad Meets Evil. M$J slowly walks out onto the entrance ramp and soaks in the cheers. He pumps up the crowd more before posing on the center of the entrance ramp. He walks down to the ring slapping fans hands with a huge smile on his face.
He stops right before he gets to the ring and listens as he hears cheers that he is getting from the crowd. He walks around the ring and high fives anyone who has their hands out. He jumps up on the apron and wipes his feet before he enters the ring and poses in the middle of the squared circle as a light shines a hundred dollar bill in the center of the ring with his face on it.
Pyros hits as "Fast Lane" by Bad Meets Evil ends.
DING DING DING
Both watch the cage as it settles around them. Marcu$ watches a little too long as Candy grabs the back of his head and throws him into the cage wall. He bounces off the cage and lands on the canvas. Candy puts the boots to him. Marcu$ slides to the corner where Candy continues stomping. She takes a few steps back and runs at Marcu$ ramming her knees into his face. Candy runs off the ropes as Marcu$ gets to his feet. She drives him to the mat with a DDT and starts to climb the cage.
Watson: Candy taking full advantage of Marcu$ being a little too aware of the cage still lowering and she might be able to win this on early!
When she gets above the ropes, Marcu$ grabs her in an electric chair and drops back sending both to the mat. Marcu$ runs off the ropes as Candy gets to her feet. He crashes into Candy with a spinning heel kick. Candy rolls to the side of the ring where Marcu$ grabs Candy and rams her repeatedly into the cage wall. Marcu$ then drags Candy's face across the chain. Candy falls to the mat but picks herself up. She walks right into a superkick that drops her to the mat. Marcu$ yells at the crowd as a now bleeding Candy pulls herself to her feet. Marcu$ grabs Candy and whips her to the corner and follows with a clothesline. He grabs Candy applying a Million Dollar Dream. Candy's arms flail as she tries to break free. Marcu$ tightens the hold and Candy slowly becomes limp. Marcu$ yells at the referee to '
ask her
' and to '
check the arms
'. When he
realizes
the referee is not coming to ask or check anyone, he releases the hold, Candy lays on the mat as Marcu$ yells at the referee on the outside of the cage before starting to climb the cage.
Watson:
Marcu$ $t John starting to climb the cage now. It was almost as if he wanted to prove that he could put her to sleep whenever he wanted!
Sydney:
Sour Candy looks like she's experiencing a sugar crash, but we know she's not. She is absolutely on dream street right now and once again this match could be over already!
As Marcu$ gets closer and closer to the top, Candy rises from her slumber and looks up to see the North American champion almost to the top of the cage. She gets to her feet and climbs the cage as Marcu$ reaches the top. She grabs him and tries to pull him back into the ring. After a quick tug of war, Candy brings him back to the mat with a suplex from the top of the cage! Both crash to the mat below. seconds go by... first five, then five more... Both fighters slowly get to their feet. Candy dives at Marcu$ out of instinct, hitting him with a spear. She starts to climb the cage again. Marcu$ is slow to get to his feet, but once vertical he jumps to the top rope and then grabs Candy by the hair. He pulls candy down and she springs off the ropes and into a powerslam! . Both lay on the mat for a few moments. Marcu$ gets to his feet first, but Candy catches him with a drop toe hold and Marcu$ goes face first into the cage.
Watson:
Candy giving M$J a little payback for the face full of cage earlier. Marcu$ hit with so much force I think he almost shook the cage loose!
Sydney:
It definitely sounded painful. Glad it's not me in there Tim!
Marcu$ is bleeding from the bridge of the nose as he gets to his feet. He turns to face Candy and she smacks him with forearms right to the chin! After a few hard hits, Candy whips him off the ropes and she catches him with a flapjack into the cage. Marcu$ flies back as Candy slips to the second rope. She throws herself at Marcu$, hitting a front dropkick. Marcu$ is sent flying to the other side of the ring. He quickly uses the ropes to pull himself to his feet. but walks right into a Bitter Truth from the challenger! Marcu$ drops to the mat as Candy begins to climb the cage. As she climbs, Marcu$ tosses an elbow pad at her. She turns and Marcu$ grabs at her ankle pulling her to the canvas. The impact echoes through the stadium.
Watson:
She clattered there with a mighty crash landing!
Sydney:
But at the end of this, who will be last one standing?
Candy gets to her feet, wiping sweat and blood from her eye. Marcu$ grabs, her hitting a Wing Clipper. Candy drops to the mat. Marcu$ pulls himself up the ropes and up the cage. Candy is right behind him. Halfway up the cage wall, Candy jumps at Marcu$, twisting into a sunset flip. Both crash to the canvas below. Candy starts to head for the door, dragging herself across the mat. She calls for the door, but it does not open. She steps through the ropes and… Marcu$ Candy by the back of the head and throws her into the cage door! She stumbles back where Marcu$ grabs her and whips her to the corner. He charges at her looking for a meteora. At the last second, Candy dives to the side. Marcu$ crashes into the corner knees first and falls to the mat where Candy is already laying.
Watson:
If anyone can move now, they may win this thing. Both of these competitors have given it their all here tonight!
Sydney:
If this could be won by pinfall all they need to do is stretch an arm. I'm not sure if they have the strength left to climb the cage.
Proving Sydney wrong, Marcu$ begins to pull himself up the cage. As does Candy. Almost side by side they climb the cage. As they do, they lash out with kicks and punches in an attempt to knock the other off the cage and to the mat. At the top, they straddle the cage and exchange punches. Marcu$ ducks one and he grabs Candy lifting her onto his shoulders. He throws her over his shoulders with a Bread And Butter that sends both crashing to the mat below! The impact of the reverse death valley driver is so much that the bottom rope of the ring snaps loose! Candy smashes face down and Marcu$ lands on his back. Both fighters scream in pain from the high risk maneuver, then lay motionless for a few moments. Marcu$ eventually pulls himself to his feet using the ropes and slowly climbs to the top rope. Candy is not moving.
Watson: OH MY GOD! I thought for sure, neither of them was going to get back up after that Bread and Butter from the of the cage! I don't think I have ever seen Marcu$ hit that move with so much force!
Sydney
: He wants it Tim! He's got that eye of the tiger in him tonight, but Candy is finally starting to stir.. Who's got what it takes to escape the cage?!
M$J is halfway up the cage now, moving slowly with
labored
movements. He is breathing very heavily. Candy is starting to get up to the top rope now. She reaches for M$Js foot, but Marcu$ has this scouted and pushes off the cage, jumping up at grabbing the top of the cage. This infuriated Sour Candy, who lunges further up the cage. Marcu$ is
straddling
the top of the cage now.
Watson:
THE CHAMPION IS AT THE TOP OF THE CAGE!
Sydney
: Is he going to win this thing, or does he want to take another risk?!
Marcu$ looks down from the top of the cage, realizing how high he really is, before seeing Candy on his heels. He makes the turn and starts to to descend down the cage. When he gets about a quarter of the way down, Candy gets a boot up to smash the champions fingers, which causing Marcu$ to yell out as he releases the cage with that hand. He holds on with his other hand though as he stares at his challenger. He thinks about retaliating for a moment, but decides it's not worth as Candy is now in the top of the cage. He looks up and waves at Sour Candy before
letting
go of the cage and dropping to the floor, both of his feet touching the floor.
DING DING DING
Starr:
Here is your winner, and STILL EWC North American Champion...
MARCU$ $T JOHN!
Marcu$ is handed his championship and he holds it high in victory as medical personnel rush to him and Candy, who has now climbed back down and into the ring.
Watson:
What an absolute war that was. Blood everywhere, most likely some broken bones. However, we have a winner and a champion, and it is Marcu$ $t John!
Sydney:
You know you've seen a fight when the winner can't stand up and needs medical help. Sour Candy came to this match looking to tear Marcu$ apart and she came so damn close!. She has nothing to feel bad about here despite the result.

M$J is clutching the North American championship as fireworks begin to go off all around Salt Lake Stadium. The importance of this moment is not lost on the champion as he tries to catch his breath from the fight he just endured. He looks into the ring at Sour Candy and nods, a show of respect. In response, Sour Candy is enraged instead. She screams as she shoves off the medics, refusing medical attention.


Watson:
Marcu$ showing respect, but it is not received in kind. Sour Candy not happy with the result. I have a feeling we have not seen the last of M$J and Sour Candy fighting each other. We are 100% out of time folks so for Cid Sydney, I am Tim Watson saying we will see you all next time!
The final scene of Paramount #25 closes on Marcu$ $t. John limping around ring side, greeting fans , the EWC North American Championship over his shoulder.
---