Post by PARAMOUNT on Nov 2, 2022 21:14:45 GMT -6
The Extreme Wrestling Corporation Presents


** The One Where the Season Ends! **

EPISODE #27
NOVEMBER 3ND, 2022
LIVE!
from the Barclay's Center - Brooklyn, New York
---
---
WARNING: This live event contains strong coarse language (L), and intense violence (V) which may be unsuitable for younger viewers. None of the matches you are about to watch have been predetermined. Only some of the thematic story-lines have been discussed beforehand. Accordingly, EWC and it's producers must insist that no one attempt to recreate or re-enact any match or activity performed in this live event.




---
---
"Superstar" by For Squirrels begins to blast over the arena speakers as our feed comes to life...
The scene immediately cuts to a pyro show erupting on the outside of the Barclay's Center!
Then a cut to another, equally explosive show on the inside!


The fans packing the Barclay's Center tonight all come to their feet. Further explosions rock the very foundation of the arena as a large video screen is lowered from the rafters, stopping 15 feet above the ring! Everyone in Brooklyn knows that the self-proclaimed greatest show on Wednesday night is about to begin and they cheer accordingly! The heavy riffs from 'Superstar' continue to blare over the arena, setting the tone for what is to come later on this evening.




IT'S ALL I WANT, IT'S ALL I NEED

IT'S ALL I SEE, IT'S ALL I BREATHE

IT'S WHAT I AM, IT'S WHAT'S I KNOW

IT'S WHAT I FEEL, IT'S WHAT I BLEED!
On the X-Tron, this episode of Paramount Wrestling begins with its opening video montage detailing many of the historic events that have taken place in the five-year history of Future Stars of Wrestling, setting the tone for the history of the Orange brand. From past champions like Jason Hunter, Dixie Dubois, Amis Shelton, Magdalena Lockheart, and Otaki all standing underneath an old FSW logo to the more current Future Stars Champions like Xavier Reid, Cletus Franklin, Robina Hood, Robbie Rayder, Stitches, Candy, and Wes Walker tearing down that mold, showing the Paramount Wrestling Logo...


As more pyro goes off the Paramount Wrestling logo appears and flashes of the roster appear on the screen such as Emma Louise, "The Last Magician" Sally Talfourd, Adriana Aquilla , Killjoy, "The Wicked" James Keaton, Jordan Freakin' Sharpe, Sour Candy, Ezio DeLuca, "The Beautiful Battleship" Sonya, Jadyn Keem, Reginald Dampshaw III, Asriel Buzzard, "Jack of Hearts" Jack Hart, "The Canadian Badass" Shaker Jones, Next Level, and finally The Southern Express with Bunny Love. The final images shown is a montage of Salvador Serenity, the CW Broadcast Championship around his waist, Marcu$ $t. John and the EWC North American championship high over his shoulder, and then El-Pablo swimming in a pool of Skittles, the EWC X-Division championship diagonal across his chest
The camera pans around the loud and out of control audience. As the fireworks continue to explode, the fans chant and cheer! Cameras pan around the arena to catch some of the signage that many fans have brought to Barclay's Center with them here tonight. The Paramount Wrestling fan-base is as adamant about having their voices heard now as ever:
"JFS FEARS SOUR CANDY"
"DEAN JUDAS IS BUTTCHEEKS..BET!"
"SALVATION IS DRESSED IN GOLD!"
"Ito Ibushi: You're no KILLJOY""
"PAR-A-MOUNT!!!"



"PARA-A-MOUNT!!!"



"PARA-A-MOUNT!!!"



"PAR-A-MOUNT!!!"
The lights come back to full and the fans offer one last rousing cheer at the opening festivities. Tonight's announcers are on standby and ready for the show to begin.
Watson:
WE ARE IN A NEW YORK STATE OF MIND TONIGHT FOLKS! Welcome to Brooklyn and the SEASONE FINALE... Of Paramount Wrestling! I am Tim Watson... THIS is Cid Sydney... How the hell are you Cid?!
Sydney:
THE BIG APPLE IS NOT READY TIM! Our GM Chris Brock, Love him or Hate him, has created perhaps THE biggest card in the history of Paramount Wrestling! We have X-Division Insanity when the Headhuntress, Aiya, comes over from Prime to take on Lo Dovino, Adrianna Aquilla! Can Addy get lucky in the ring like she has on the dating scene recently? Then we move on to some three way action as Brawl's Dean Judas comes over to the Orange side to take on Jack Hart and Tanja Devereaux!
Watson:
Marcu$ $t. john is in non-title action against another member of Shinjoshi, The Beautiful Battleship Sonya! Then its time for some more sure fire hot three way action, this time in the TAG division as The Bastards take on The Southern Express and Next Level in what could be the Southern Express' FINAL MATCH in EWC! The retirement tour comes to a conclusion here in Brooklyn for them express boys.
Sydney:
An old rivalry is renewed as Sour Candy takes on Killjoy, and then newly crowned champion Salvador Serenity puts the CW Broadcast championship on the line again the man he won the belt from, Asriel Buzzard!
Watson:
Then in our Main Event, it is finally here folks. The long awaited rematch of Dio and El Pablo for the EWC X-Division championship, this time in a DEPTHS OF HELL Match! Both men suspended in the rafters, the only way to win is to throw your opponent off of the rafters! This one WILL be an instant classic folks, I promise you!
Sydney:
We have all this and SO MUCH MORE! Our first match of the night will be coming up right after this quick message from EWCTV. Don't go anywhere .. Paramount Wrestling action will be back in exactly 1 minute
---
---
---
---
WHAT IS EWCTV?


All live EWC Pay-Per-View events (including StrangleMania, Night Of Champions, EWC Rumble & WrestleFest)
All day scheduled & live programming
Plus, hours and hours of on-demand content & never before seen behind-the-scenes footage!
Groundbreaking original series - See new episodes of BRAWL, RAMPAGE, PARAMOUNT WRESTLING, EWC PRIME and more
Live in-ring action, reality shows and documentaries
HOW TO ORDER
Get the award-winning EWC Network through your TV provider. Call your local TV Provider today to subscribe.
Only $7.95/month

WATCH ONLINE
If you are subscribed to EWC Network through your TV Provider you can now enjoy EWC Network on your:
PC, Laptop, Playstation, mobile app, or tablet.



EWCTV for only $7.95 USD per month
Along with being an EWCTV Subscriber, you get:
EVERY Pay-Per-View event included at no extra charge
15% off any and all EWC Merchandise from the EWC Store
20% off all tickets to LIVE EWC Shows
A free EWC Yearly Wall Calendar signed by the entire active EWC Roster
As an added bonus for all those currently subscribed including any new subscriptions
prior to midnight 11/4/2022

Receive
a
FREE
copy of
Youngblood IV
DVD and Blu-Ray combo when it's released later this year
+ free T-Shirt and Replica EWC North American Championship belt!
So act now if you aren't already subscribed to EWCTV
---
---
---
Sienna Wolf smiles at the security guard, switching the gift basket from her right arm to her left arm as she approaches her destination. She knocks hard four times on Sour Candy's locker room door. Sienna moves the gift basket from her left to her right. Impatiently wanting to get return to Salvation's locker room, she shifts the basket again, about knock,
Sienna: Hey Sour Candy. Big fan. Love the new you. These aren't from me though.
She goes to hand Sour Candy the gift basket, but Sour Candy steps back, causing Sienna to kinda lunge forward and almost drop the basket.
Sour Candy:
Don't touch me!
Sienna: Right. I'll get to the point. My boss wanted me to give these to you.
Sour Candy:
And who's that?
Even as she asks the question, it's clear she doesn't really care.
Sienna: You know him, and he's coming back to EWC soon. He doesn't know if you'll enjoy these special treats. Maybe he wants to be friends.
Sour Candy: I don't need any friends!
Sienna pushes the basket into Sour Candy's arms, she begrudgingly takes the gift basket. Sienna Wolf turns and walk away, Sour Candy pulls off the ribbon, opens the plastic to find a Golden Dispensaries logo sticker. She tosses that aside, opens the rest of the plastic to reveal an assortment of chocolates, shaped in weapons. Bats, chairs, a mini ladder.
Sour
Candy
: Who needs chocolate weapons when I can use the real thing?!
SC tosses the basket in the trash and walks off to prepare for her match as cameras go to...
---
---
SINGLES MATCH
X-DIVISION INSANITY
"Headhuntress" Aiya
VS "Lo Dovino" Adriana Aquilla
We return to ringside where referee Matt Mercer is getting ready for a wild match between two very game competitors.
Watson:
Welcome back to ringside folks. Who is this person that Sienna was talking about? coming BACK to EWC? And what connection does this person have to Sour Candy? We will keep you all updated as we know more, but boy, do we have a treat for the Season Finale. Aiya versus Addy is going to be one for the ages.
Starr:
The following match is an X-Division match, And now, coming to the ring from Kyoto, Japan, weighing in at 137 pounds, she is one of the Shinijoshi ....
"HEADHUNTRESS" AIYA
As "Killer" by JJ Lin plays over the PA system, a fog appears near the curtains. As it slowly fades away, we see the form of "Headhuntress" Aiya standing at the top of the ramp. She saunters down, entering the ring through the middle and top ropes. Aiya then leans against the ring, already looking as if she's making a game plan in her head whilst waiting for her opponent to enter the ring.
Starr:
And her opponent, from San Antonio, Texas, weighing in at 120 pounds ...
ADRIANA AQUILLA!
Iron by Within Temptation hits the speakers and the crowd comes alive as Adriana Aquilla makes her way down to the ring, she slaps hands with a couple of fans before rolling into the ring ready for her match as she removes her jacket.
DING DING DING

Once the bell sounds, Addy comes sprinting across the ring looking to catch Aiya off guard. The moment Addy leaves her feet, Aiya moves to the side as Addy lands chest first on the turnbuckle. As Addy is draped over the turnbuckle, Aiya lands multiple kicks into the lower part of her back. After the final kick, Aiya lifts Addy up onto the second turnbuckle before hooking her hands under the arms. Aiya looks to hit her with a reverse Razor's Edge but Addy counters with a hurricanrana sending Aiya halfway across the ring. Addy follows it up with a baseball slide which catches Aiya square in her upper thoracic spine. Aiya grunts as Addy continues to kick her in that area. Aiya does manage to roll over and lands a hard right into the knee of Addy. Addy buckles a little as Aiya kips up to her feet and connects with Lights Out.
Watson:
Both of these women coming out with agression here tonight!
Sydney:
Everyone loves a good fight Tim, but these two I think are about to get BRUTAL.
As Addy is slowly getting to her feet, Aiya is outside of the ring and looking underneath it. Aiya's head cocks to the side as she pulls out a plain black box. As she stands back up, Addy comes flying over the top rope and strikes with a rope flip which knocks Aiya down to the ground. The black box lands beside Aiya as Addy picks it up. She goes to slide it into the ring as Aiya slowly gets up and lands a hard right into the back of Addy. She then pulls out an orange painted hockey stick which she uses to crack Addy in the back of her knee.
Addy falls to one knee as Aiya strikes with a running elbow to the back of her head. Aiya lifts the ring apron and pulls out a table. She picks the table up and slides into the ring. As she slides into the ring, she catches Addy with a swift kick to her face. Addy drops for a second as Aiya picks the table up and places it in the corner. As she turns around, Addy spears Aiya through the table.
Watson:
That islanders hockey stick saved Aiya from potentially losing all momentum there.
Sydney:
Gotta support the home town team Tim!
Addy is the first one up to her feet as she is grasping around her midsection. She slowly makes her way towards the black box when Aiya slowly gets up to her feet. Addy kneels down to open the box as Aiya runs toward her and slams her face into the same box. Addy's nose bounces off the metal handle as she quickly grips it. A slight grin comes across Aiya as she opens the box up.
Aiya cocks her head as she sees nothing but Legos inside the box. She pours them out before using the box to slam across Addy's face. Addy seems a little dazed as Aiya lifts her up onto her shoulders. She goes to flip Addy over only to have Addy hook her arm around Aiya's neck and counter with a DDT into the Legos. Without much hesitation, Addy bounces off the ropes and catches Aiya with a shining wizard. Aiya falls backward as Addy quickly goes up to the top rope. Addy leaps off looking for a corkscrew moonsault but Aiya moves at the last second.
Addy lands chest first onto Legos as Aiya is just getting back up to her fight. Addy gets up to a kneeling position as Aiya comes flying over Addy and drives her face first into the Legos. Before Addy can come too, Aiya picks Addy up and drops her with a downward spiral. Aiya quickly rolls Addy over and hooks her leg.
One...
Two...
Three!!!
DING DING DING
Starr:
And your winner, via pin fall
"HEADHUNTRESS" AIYA!
Aiya slowly rises to her feet as the bell sounds. She looks down at Addy before bowing towards her. Aiya then rolls out of the ring as medical personnel are checking on Addy's condition.
Watson:
Addy managed to counter the burning hammer from Aiya but Aiya comes back with a downward spiral to seal the win.
Sydney:
Addy tried her best but Aiya proved to be just to much for her on this night. Hopefully this will drive Addy to do better next season.
Aiya saunters up the ramp as the doctor is holding a towel up to Addy's face as to stop her nose from bleeding.
Watson:
Well, we always say that stepping on Legos may be one of the most painful things you can do, but Adrianna Aquilla lived it here tonight. We have so much more show to come folks, DO NOT GO ANYWHERE!
---
---
Lisa Goldrush is in the back waiting on her interview as the North American Champion comes into the frame flashing a big smile while wearing a vintage Southern Express shirt. He winks at the camera and awaits Lisa to start the questions.

Lisa Goldrush: Marcu$, you requested this interview so I would like to start by simply asking you what's on your mind?

M$J: For starters, thank you for obliging me. But to get to business, why wouldn't I want a little time on the mic before my match tonight. I've got a new opponent in the great Barclay's Center. It's time to see what the Beautiful Battleship has. I'm always looking at the new talent that walks through those doors so anytime I actually get to face off against them, I get so amped up.

Lisa Goldrush: Normally you go into a lot of your matches as the underdog but as the champ, you're expected to win. Totally different situation than you're normally in. How do you approach a match you're a favorite in differently?

M$J: I don't look at myself as a favorite. Most people say this is a trap fight before WrestleFest, hell maybe I end up at One Night Encounter, who knows. What I do know is that no matter who I go up against I give it my all. My opponent tonight has everything to gain, if she loses, of she was expected to but if she wins it's a humongous upset. That's what everyone will say right?

Lisa Goldrush: Well yeah.

M$J: Right, so I have everything to lose here. Does that sound like a favorite to you? I walk into every match with a chip on my shoulder. Trying to prove something. It doesn't matter if its against a person in their first year here or their fifth, the mindset remains the same, and that's to win. I won't stop until I am recognized as not only the best on Paramount but the best in all of EWC. This isn't a trap fight, it's just a fight. Time to rock the Barclay's. Sonya, get ready. I won't be taking it easy on you and you can take that to the bank and cash it!

Lisa Goldrush: Well one more question for you Marcu$. Who do you hope to face next?

He looks at her with a kind of annoyed look about the question but laughs it off.

M$J: Does it really matter? I don't care. It's not my job to pick opponents. I don't politic, I don't hang in the GM's office and beg for things, and I don't angle for opponents. What I do is simply come out here every single show and bust my ass. Chris Brock's job is to pick the opponents, my job is to give the fans a show that warrants the money they paid. Whoever gets pick, is the next person I knock back down. I'm ready to defend this title again though. I plan on having a long reign AND be a fighting champion. So to the locker room, I have an open door policy. Come see me. I promise I don't bite.

Marcu$ $t. John winks at the camera one more time before he leaves to get ready for his match as Lisa watches him walk off into the distance

Camera cuts to...
---
---
---

TRIPLE THREAT MATCH
Dean Judas
VS "The Jack of Hearts" Jack Hart
VS Tanja Devereaux
We return to ringside where Tim and Cid are standing by!
Watson:
Before the break we heard from EWC North American Champion Marcu$ $t. John ahead of his big match tonight against Sonya, but this next match is going to be big for whomever wins it! Lots of momentum and pride riding on the line!
Starr:
The following match, set for one fall, is a Triple Threat Match. Joining us first, hailing from Los Angeles California, weighing in at 245lbs, his photos are saved in your girlfriend's phone, he is God's Gift ...
DEAN JUDAS!
The lights along the entrance tunnel pulsate while the arena is engulfed in darkness. Each time the bass hits the lights flash on around the tunnel.
Judas is announced as the song hammers with every pulse being felt throughout the arena, a series of bright blinding white lights strobe. The chorus bangs.
Out walks Judas grinning. Strolling down the ramp as the music continues to overpower the crowd's attempts to boo Dean into submission. Pounding his chest like a beast, Judas cracks his trademark smile flashing his pearly whites. Hopping down off of the turnbuckle Judas appears primed.
Starr:
And the opponents. First coming to the ring hailing from New Orleans, Louisina; she is the Cajun Queen ...
TANJA DEVEREAUX!
Pyros hit as Videos of bustling crowds in various locations of New Orleans appear on the tron as "Daughters of Darkness" by Halestorm blasts on the P.A. system. Tanja comes out onto the top of the ramp in a style compared to Gail Kim during her early time in TNA before heading down the ramp with some of her black leather coat flows at her feet while the mix of boos and jeers and cheers from the crowd fills the arena. She slaps hands with a few fans at ringside before she reaches the bottom of the ramp.
Tanja walks towards the ring and enters via under the bottom rope and jumps onto the middle turnbuckle. She poses as she does her usual taunt with a hand and arm in the air as "Daughters of Darkness" continues to play. Tanja steps off the turnbuckle as she removes the leather coat and throws it into a random corner.
Starr:
Finally, from Hurricane, West Virginia and weighing in at 232 pounds he is the Jack Of Hearts ...
JACK HART!
The thumping of 'Old Yellow Bricks' begins to play and as the words start, through the curtain emerges 'The Jack of Hearts' Jack Hart with a black T shirt reading 'The Jack of Hearts' and a heart symbol beneath the text. With minimal fuss, he marches down the ramp and to ringside, slapping the hands of the fans as he does a circle around the ring before climbing the steel steps and entering the ring through the middle rope. Arms aloft he gees up the crowd by bouncing off the ropes closest to the camera in this stance and climb up to the middle turnbuckle to raise one arm aloft with his index finger pointing to the sky.
DING DING DING
Tanja runs at Hart who lifts her into the air hitting a European uppercut. A standing dropkick from Hart sends Tanja rolling to the outside. Before Hart can get back to his feet, Judas dives at him with an axe handle and smacks Hart in the face and the side of the head with forearm smashes. He lifts Hart to his feet and then up for a fallaway slam. Hart lands on his feet but Judas turns and takes him to the mat with a spinebuster. Hart slowly gets to his feet. Judas spins on the balls of his feet smacking Hart with a discus forearm smash. Hart goes down. Before Judas can make a cover, Tanja slides into the ring, shoves Judas from the ring and makes the cover herself.
ONE…
TWO…
THR… NO! KICK OUT!
Hart gets a shoulder off the mat. Tanja lifts Hart and leads him to the ropes. She peppers him with rights and forearms to the gut. She whips Hart off the ropes but he reverses it sending Tanja off the ropes. She runs back hitting a tornado DDT. She pulls Hart to his feet and lifts him to her shoulders as she looks for a Death Valley driver. Hart slips off her shoulders and lands on his feet. He grabs her around the waist and shoots her back with a German suplex. Hart rolls Tanja to her feet and rives her to the mat with a belly to belly suplex. He hooks the leg.
ONE…
TWO…
THR…
NO! KICK OUT!
Tanja gets a shoulder off the mat to break. Judas slides into the ring and smacks Hart with a roundhouse kick knocking him down. Judas then runs at Tanja hitting her with a running knee. Judas then climbs to the top turnbuckle and throws himself at Hart with a diving moosault. The referee counts.
ONE…
TWO…
THR… NO! KICK OUT!
Tanja dives in to break the count.
Watson:
So close there!
Sydney:
It's that extra person again. We've spoken frequently about that. It can totally change the course of an entire match.
Tanja pulls Judas to his feet and grabs his arms twisting him round for a Hoodoo. She brings him crashing to the mat before rolling over and hooking the leg.
ONE…
TWO…
THR… NO! KICK OUT!
Judas gets a shoulder off the mat breaking the count. Tanja gets to her feet but Hart grabs her and spins her around. He lifts her onto his shoulders and slams her to the mat with an Ushigoroshi ramming his knee into her neck. He covers her.
ONE…
TWO…
THR… NO! KICK OUT!
Sonja rolls to her side breaking the count. Hart gets to his feet he runs off the ropes ad he leaps. Judas catches him. Judus flips and slams Hart to the mat with The Ballad Of Nina Brown. He hooks the leg.
ONE…
TWO…
THR… NO! KICK OUT!
Tanja dives in breaking the count.
Watson:
Everyone coming close but not close enough for the bell to ring!
Sydney:
It's like a hitter being the last one up on a potential no hitter in baseball. NO ONE wants to be that person!
All three lay in the ring gasping for air. Judas gets to his feet and whips Hart off the ropes. He runs of the opposite ropes and sends Hart crashing into the corner with the Money Train. Tanja rolls Judas with a school boy. He rolls right out off it but Tanja dropkicks him in the face knocking him through the ropes and out of the ring. She drags Hart out of the corner and makes a cover.
ONE…
TWO…
THREE!!!
DING DING DING
Starr:
And your winner, via pinfall
TANJA DEVEREAUX!
Tanja gets to her feet and raises her arms for her usual taunt before leaning over the top rope and rolling to the outside. She taunts again before heading up the ramp.
Watson:
A huge win here for Tanja Devereaux here at the Paramount season finale.
Sydney:
That it is. Dean Judas and Jack Hart put up a hell of a fight and I'd love to see more from them. I also feel we will see a rematch of this one somewhere down the line. Hopefully in the new season.
Watson:
WE shall see. Right now we have to pay some bills we will be right back -
---
---
A graphic appears on the screen as the crowd looks confused. Suddenly, letters appear on the graphic as the subtle sounds of whispers fill the arena.
Kolby Kreel:
The time is almost here. The days have been numbered. The world will soon roll the toll.
Daphne Kreel:
Gambit is only the beginning. Soon, we will be the next tag team champions. No one is safe.
The voices of Kolby and Daphne suddenly die down as the letters on the graphic stop. The camera pans over toward the screen as THE DUNGEON MASTERS COMETH to PARAMOUNT. More whispers fill the arena as the graphic vanishes off the screen and the entire arena goes black.
Watson:
Next season is going to be wild.
Sydney:
You're not kidding.
Camera cuts to ...
---
---
---
The camera cuts backstage inside the Barclays Center to Paramount's Lisa Goldrush who is standing by
Goldrush:
Ladies and Gentlemen, please welcome at this time…for the LAST TIME…the former Two-Time EWC Tag Team Champions of the World, 2020 and 2021 EWC Tag Team of the Year and the 2021 Champions of the Year…the New York Time Best Selling Authors and Co-Executive Producers of the CW's hit show The Express…if you have a mother that was a fan of wrestling in the 1980's then they probably nailed her and if you don't know who your father is there is a good chance they might be him…they are The Record Breaking, History Making Tag Team that redefined tag team wrestling here in the EWC…BOBBY ROSE AND JIMMY LANE…THE SOUTHERN EXPRESS!!!!
There is a huge cheer inside the Barclays Center as the camera pulls back to show Bobby Rose and Jimmy Lane standing on either side of Lisa
Goldrush:
And joining them is the 2021 EWC Manager of the Year, BUNNY LOVE!!!
There is another huge cheer from the Paramount crowd as the camera pulls back even further to show Bunny standing next to Jimmy Lane
Goldrush:
We've known since EWC Honors that this would be your last season and we watched as The Southern Express Farewell Tour that started in Daly City, California and rolled across 13 Cities, 10 Countries and 4 Continents, giving your fans that final chance to say goodbye and pulls into Brooklyn, New York for it's final stop and I for one can't believe we are at the end…
Lisa pauses for a moment as she looks at Bobby and Jimmy and starts to get a little emotional before Bobby puts his hand on her shoulder to try and help
Rose:
It's ok Lisa, listen all good things must come to an end, it's the circle of life thought, we must step aside so others can thrive…
Jimmy, who is also trying to help slides his hand on Lisa's butt which causes her eyes to pop wide up, shocked by this move
Lane:
We have been at this for forty years, that's a lot of strange cities, odd hotels and amazing arenas but we are ready to settle down, live a quiet life and maybe find a pretty little thing and make a honest woman out of her…
Jimmy looks at Lisa and raises his eyebrows but Bunny smacks him, seeing where his hand is placed
Love:
GET YOUR HAND OFF HER ASS JIMMY…she's old enough to be your granddaughter…I'm sorry…
Jimmy smiles as he takes his hand off Lisa's butt and shrugs
Lane:
Hey, you can't blame a guy for trying to 'shoot his shot' on his last night in hopes she took pity…but here you go…
Jimmy reaches into his pocket and pulls out $20 bucks and hands it to Bobby who smiles
Rose:
What, I bet him $20 he'd strike out and not add Lisa Goldrush to his roster…
Bunny shakes her head at the two who are not missing a beat here tonight on their final night in Paramount
Love:
Well I know HR isn't going to shed a tear when these two walk out the door, their days are going to be a lot easier…
Bobby and Jimmy nod in agreement before Lisa collects herself
Goldrush:
We all know you two were hoping to get that last chance at the EWC Tag Team Championships at WrestleFest but that fell short after your loss to Damage Inc at Prime #102 but tonight you get one last match against the team you were hoping to face…be it in a non-title match and the chance to end your Paramount careers with a win over the tag team champions and a team that could very well be the next 'great tag team' in the EWC…
Bobby and Jimmy nod at Lisa
Rose:
Let's start with the Next Level shall we, Mark Paulson and Brian Knight…
Lane:
Or as well like to call them, Bobby and Jimmy 2.0…
Rose:
That's true, it's like looking into a mirror and seeing our younger selves when we look at the Next Level and we get it…
Lane:
We understand them and their need to find acceptance in the tag team world…
Rose:
We were there once…hell we were right there in their shoes back in 2020 when we stepped through those EWC doors for one last run…
Lane:
We understand that people make certain assumptions about you based on how you look…
Rose:
People looked at us and saw two 'washed up old fossils' and they look at the two of you and see nothing more than two 'carbon copies of The Southern Express'...
Lane:
Listen it was a smart move on Paramount's part to sign those guys to an exclusive Paramount deal just like they did with us when Paramount was just getting off the ground, it's smart to have a team like them ready to go when we walk out the door…I'm sure the CW is hoping they found a diamond in the ruff with the Next Level but…
Rose:
It's not easy filling our shoes and being the next US…they found that out first hand at Paramount #025…see it's one thing to say all the right things but it's another thing to back that up inside that ring and they fell victim to thinking that our best days were behind us…now they took last week off…something that old Jimmy and I don't do but I get it, this generation like to take a time out when things don't go their way and they licked their wounds and their bruised egos and are back tonight to take yet another swing at us and the EWC Tag Team Champions in hopes of finishing the year off on a high note but here's the thing kids, while you're looking to end your year on a positive WE ARE LOOKING TO END A CAREER ON ONE!!!
There is a another loud cheer from the Paramount fans
Lane:
We aren't looking to build for next year…there is no next year for us, this is it…the last time we will walk out to that Paramount ring so we will leave it all out there tonight, it's now or never for us and while you might be the team of the future that future doesn't start while we are here!!!
Rose:
And then there's The Bastards…and I'll admit, Xavier Reid and Jamie Love as a TEAM have had our numbers, 0-2 against those 'could have been stains on the hotel room sheets' but I'll give them their due, we haven't beaten them and this is our last shot to get a win…
Lane:
And while they have had past success against us they are facing two pissed off 'uncles' this week…
Rose:
You two promised us you'd continue the work that we have done in the division and you haven't…you set aside your responsibilities as tag team champions to chase singles goals and breaking that promise to us has consequences…
Lane:
Yeah it does, it gets this here boot shoved up your asses out there tonight…
Rose:
See we have made a career out of beating other champions inside that ring in tag team matches and tonight we add The Bastard's name to that list…I know the two of them want to end our Paramount careers with a loss and have that to hold over us…
Lane:
The way we hold over the fact we helped your fathers get your mothers naked…
Bobby and Jimmy smile and high five as Bunny drops her and shakes it
Rose:
But tonight we rain on that parade boys, tonight we end our run here in Paramount by beating The Bastards and the Next Level and show why, for the last two years, WE have been the tag team to beat here in the EWC…
Lane:
So, for the last time on Paramount, Bobby and I…along with the lovely Bunny Love will 'walk that aisle' and when it's all said and done will be the ones standing in that ring with our hands raised high and all of you cheering our names!!!
Bobby and Jimmy nod as Lisa lowers the microphone and gives them each a hug as the camera fades out
---
---
SINGLES MATCH
NON-TITLE
"The Beautiful Battleship" Sonya
VS Marcu$ $t. John
---
We return to ringside where Tim and Cid
Watson:
That may be the last time we hear The Southern Express hit on Lisa Goldrush.. Im sure out HR department will be thrilled to not have to work so hard anymore! Up next Sonya battles M$J! Take it away Starr!
Starr:
The following match is set for one fall. Joining us first, residing in Honolulu, Hawaii and weighing in at 150 pounds ...
SONYA!
As the first few notes of "Rusalka" play over the loudspeakers, Sonya stands just a few feet away from the entrance way, the cameras picking up her peaceful expression and smile. The song kicks into high gear and she makes her way to the ring with determined eyes and calm demeanor, stepping into the ring and performing her signature pose in the corner.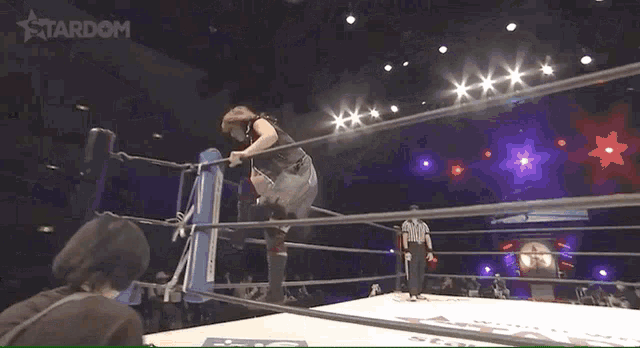 Starr:
And the opponent, coming to the ring at 6'1" and weighing 210 lbs, He is the EWC North American Champion ...
MARCU$ $T JOHN!



"Fast Lane" blasts through the arena by Bad Meets Evil. M$J slowly walks out onto the entrance ramp and soaks in the cheers. He pumps up the crowd more before posing on the center of the entrance ramp. He walks down to the ring slapping fans hands with a huge smile on his face.
He stops right before he gets to the ring and listens as he hears cheers that he is getting from the crowd. He walks around the ring and high fives anyone who has their hands out. He jumps up on the apron and wipes his feet before he enters the ring and poses in the middle of the squared circle as a light shines a hundred dollar bill in the center of the ring with his face on it.
Pyros hits as "Fast Lane" by Bad Meets Evil ends.
DING DING DING
Marcu$ charges at Sonya. She ducks him and runs off the ropes. She smashes into Marcu$ taking him down with a running lariat. Marcu$ staggers to his feet and falls into the corner. Sonya runs hitting a running big boot. Marcu$ spins on his feet and Sonya takes him down with a German suplex that she bridges into a pin attempt. The referee counts.
Marcu$ gets a shoulder up to break the count. Sonya lifts him to his feet and whips him off the ropes. He comes back and hits him with a spinning heel kick. Marcu$ climbs to the second rope and dives with an elbow drop. Both get to their feet but a superkick knocks Sonya back down. He makes a cover.
Sonya rolls to her side to break the count.
Watson:
A close one there!
Sydney:
That superkick caught her flush and still somehow Sonya kicked out!
Marcu$ gets to his feet and waits as Sonya slowly gets to her feet. He grabs her and drives her to the mat with a Death Valley Driver. The sound of the impact echoes through the arena as Marcu$ makes a cover.
Sonya just gets a shoulder up to break the count. Marcu$ gets to his feet and has a discussion over three counts and how fast they should be. Soya gets to her feet and grabs a distracted Marcu$ and hoists him into the air with a Belly To Back Suplex that drives him face first to the mat. She rolls him over and hooks a leg.
Marcu$ raises a shoulder an inch off the mat to break the count.
Watson:
I thought that was it! I thought he was out!
Sydney:
So did everybody in this arena not named Marcu$ $t John
Both lay on the mat for a few moments before slowly getting to their feet. The lean on each other as they drag themselves upright. Marcu$ is first to grab an opponent when he takes hold of Sonya's arm and hits Bankrupt. She falls face first onto the mat. Marcu$ rolls her over. He grabs a leg and stretches an arm across Sonya as the referee counts.
DING DING DING
Starr:
And your winner, via pinfall
MARCU$ $T JOHN!
Marcu$ uses the ropes to pull himself to his feet. He goes through the ropes to ringside where he high fives the fans at ringside as he slowly heads up the ramp.
Watson:
Championship on the line or not, Marcu$ $t John picks up another win here on Paramount.
Sydney:
Sonya came really close to the win here tonight. I believe that if she had hit something before $t John hit that Bankrupt, we would have had much different theme music blaring across the arena
Watson:
Sonya is impressing a lot of eyes here in EWC so far. I can't wait to see what next season brings for her. I understand though that the EWC World Tag Team Champions are demanding some time, so let's head to the back!
---
---
The camera cuts backstage and inside The Love Club's Locker Room as Paramount #027 comes back from commercial to find 'The Memphis Mouthpiece' Tommy Love standing in front of a TV watching the CW on delay…thanks to Justin exploding Janet's boob…as the CW promotes the Season Premiere of The Express that will follow tonight's Paramount show. Before the TV catches up to real time Tommy turns the TV off as he turns to Xavier Reid and 'The Love Child' Jamie Love, who have been ignoring Tommy's commentary about the sneak preview of tonight's episode.
Tommy Love
: First those fuckers cast Pee-Wee GOD DAMN Herman to play me, then that fucker gets caught beating it again in a movie theater…
Tommy's ex wife and Jamie's other manager Maria Love laughs.
Maria Love
: He told TMZ he was just 'trying to get into character and understand the whole, #SEEDING thing…
Tommy Love:
THEN…they cut his role back…THEY CUT ME BACK…I was right there, shoulder to shoulder with Bobby Rose and Jimmy Lane the entire time but NOW, they speed up the break up because Pee-Wee can't keep it in his pants…
Maria Love:
That was the main problem in our marriage as well…
Xavier starts to laugh but holds it back as Jamie shakes his head at his managers fighting like the old married couple they once were.
Tommy Love:
This is BULL SHIT!!!
Jamie Love:
You're just pissed because that means you don't get paid by the CW but we have BIGGER issues to deal with tonight…
Tommy points at Jamie.
Tommy Love: YES WE DO, finally someone gets it…we have to win out there tonight…I have a lot riding on this…
Xavier looks up, hearing a tone in Tommy's voice that he doesn't like.
Xavier Reid:
What the fuck did you do…
Tommy smiles as he looks at The Bastards…
Tommy Love:
I might have made a little side bet with Bobby and Jimmy…
Jamie shakes his head as he looks at his father but it's Maria that speaks up.
Maria Love
: He bet the boys that whoever loses out there tonight has to pay for the booze and strippers tonight…
Jamie Love
: And what happens if it's the Next Level that wins…
Tommy Love:
Then we all get drunk and kill ourselves…seriously, we should all quit if those bitch boys win out there tonight…
Xavier Reid:
Do you understand how important this match is tonight Tommy…
Jamie Love:
We are the fucking EWC Tag Team Champions…champions that are coming off a loss the last time we were in the ring…
Xavier Reid:
This is our chance to get things back on track PLUS…we have a chance to end The Southern Express's career here on Paramount with a loss…do you know how good that's going to feel to be able to hold that over them for the years to come…
Xavier smiles as he looks over at Jamie.
Jamie Love:
It would make up for those two pulling that 'heart attack' rib…
Xavier Reid:
They wanted to go out on top but we took those championships, they wanted to go out with one last shot at the belts…but they lost to Damage Inc so now…this is all they got, one last match here on THEIR brand, Paramount to go out on top, to go out by beating us, the EWC Tag Team Champions but we have the chance to be the bastards that we are by going 3-0 against The Southern Express and sending them into retirement having never beaten The Bastards…
Jamie smiles
Jamie Love:
All we've ever heard, from day one is teams talking about 'retiring' Bobby and Jimmy…sending them to a home and ending them but we have THAT chance here tonight, we get to be the team that ended The Southern Express…and show the Next Level they aren't on our level…
Xavier Reid:
They want to be right where we are, the top tag team in this business, the tag team champs…they thought they could walk in here and just take over the division and they got a reality check at Paramount #025…
Jamie Love:
They saw Bobby and Jimmy as dinosaurs and thought they could just knock them off their pedestal and got a hard dose of reality…
Xavier Reid:
That here in the EWC you have to work your ass off to get to the top…
Jamie Love
: And tonight we will show them how far they still have to come to get to where we are…
Tommy Love
: And when our hands our raised I'll be getting 5 strippers at once on Bobby and Jimmy's dime…come on, let's go end their legacy…and maybe the fucking CW will write that into the script of The Express!!!
Tommy holds his hand up but both Xavier and Jamie ignore him and head towards the door.
---
---
---
The camera cuts backstage inside the Barclays Center where we find Lisa Goldrush outside The Love Club's locker room. She reaches out and knocks twice and waits for the door to be open. After a few shorts seconds she reaches out to knock again but before he can make contact with the door it creeps open and she's met with a stare from 'The Prodigal Son' Buddy Love, who seeing it's Lisa flings open the door and greets her as if they are lifelong friends.

Love: LISA!!!

Buddy grabs her and gives her an unwanted hug but she pats him on the back and wiggles free.

Goldrush: Buddy…

Love: I can't tell you how excited I am to see you…

Goldrush: Buddy, we do this for each and every Paramount show…

Love: I know but still, you are the brightspot of my day each and every time I'm here on Paramount and do a WAY better of a job than that guy on Brawl…you know he never comes knocking on my door to get my views on Gabi's matches and she's the FX Broadcast Champion…but you, you never miss a chance to come get my opinions on Killjoy's matches…

Lisa pauses for a second, giving Buddy a chance to correct himself but when he doesn't she says…

Love: You mean Ibuki right?

Buddy smiles and waves her off.

Love: Oh we have to clear all that up with legal and stuff…I tried to tell him there is more to a name change than just announcing it in a promo by signing a book. There is marketing and contracts…a lot of red tape you have to go through but you don't want to hear about that…no, you want to talk about our match against the EVIL and NASTY Sour Candy right?

Buddy looks at Lisa to make sure she's correct and she nods.

Love: Of course you do, you know the first thing I do after Halloween is go through all my candy and toss out all the disgusting kinds, Almond Joy, Mounds, Bit-O-Honey, Raisinets and Dots because well GROSS right, nobody wants that stuff and it's something I believe our fearless and brilliant GM Brock should do today, he should look at this roster and 'toss out' all the crappy Candy, listen, we saw her leave Paramount and go to Brawl so she's not loyal to our brand, she only care about Candy…we all see that…

Buddy nods at Lisa who doesn't speak up.

Love: She goes there and is a complete waste, can't win matches and doesn't draw and becomes a huge financial burden to Mr. Connors to the point he just let's her come back to Paramount without ANY return compensation on Paramount's part because let's be honest, he was happy to wash his hands of her…sure she once was a real asset but those days are behind her…now that's she's all SOUR and stuff…

Buddy shrugs

Love: She comes back here and she's average at best, 4-5-1 under our banner and sure she won the right to challenge for the North American Championship but she proved she wasn't able to be the head of a brand again on Paramount #025 when she lost to Marcu$ $t. John and now what…she thinks she's going to derail Killjoy on the eve of him challenging for the EWC Undisputed Championship…come on now…she's a jealous hag, she's mad when she looks at Killjoy and sees what his career has come to when her own has spiraled down to the point where nobody wants her around…heck Gabi can't stand her, Saidie hates her…if Jordan could get his hands on her it would be game over for the ruler of The Candy Castle…so I know tonight she's going to try to go out there and ruin Killjoy's night, try and get the win so she can say 'she's back' but the truth is she is so far from the Candy we once loved…she's rotten to the core and maybe that's because of all the candy but tonight, for me…this is about payback, and not the crappy candy bar called payback, see at Brawl #586: Brawl v. Paramount Candy beat Gabi and that still doesn't sit well with me SO, tonight…

Buddy looks around and finds the hard camera and looks right into it.

Love: Gabi, I dedicate this win to you…we will beat that no good, nasty…sour…

But before he can finish the door opens again and out steps Killjoy…dressed in a plan brown robe…he looks at his manager who smiles

Love: Just doing our lead up segment pal, telling the people of Paramount how much this match means to us and what we are going to do to…

But Killjoy shakes his head and reaches out and covers his mouth.

Killjoy: No more talking…

Lisa's eyes widen as Buddy nods and Killjoy removes his hand and the pair walk off camera.

---
---

TRIPLE THREAT TAG TEAM MAYHEM
NON-TITLE
Next Level
VS The Southern Express
VS The Bastards
We return to ringside where Tim and Cid are standing by!
Watson: OH MY GOD... Did.. Killjoy, just speak?! What in the hell is going on here tonight?!

The camera sharply cuts to the ring.
Starr:
The following match, set for one fall, is a Triple Threat Tag Team Match. Joining us first, weighing in at 415 pounds, Mark Paulson & Brian Knight ...
NEXT LEVEL!
Lights begin to pulsate over the crowd as the voices of both members of Next Level come over the PA system "We are.. The NEXT LEVEL!"
The sound of a guitar riff begins over the PA before "FIGHT!" is yelled out and '2nd Sucks' by A Day to Remember begins to play. Both members of Next Level come out onto the stage, giving each other a fist bump as they cross paths and motion out to the crowd before they make their way down the ramp.
The electric guitar kicks in to 'Stranglehold' as the crowd gets to their feet, some of the older females in the crowd start to scream like they did when they were younger as Bunny Love walks out onto the stage and is quickly followed by Bobby Rose and Jimmy Lane
Starr:
And the opponents, first, being accompanied to the ring by Bunny Love, from Nashville, Tennessee, They are ...Bobby Rose and Jimmy Lane
THE SOUTHERN EXPRESS!!!
Bunny leads the way as the pair reach out and high five with the fans as the walk to the ring, Bunny marches up the steps and steps through the ropes as Bobby and Jimmy climb up onto the apron and step through the ropes, they head to opposite corners, Jimmy climbs up to the middle turnbuckle and Bobby stands in the corner as both men toss out bandannas to the crowd as Bunny stands in the middle of the ring holding up her arms.
Starr: And finally, weighing in at 340 pounds, They are the EWC World Tag Team Champions...Xavier Reid and Jamie Love ... THE BASTARDS!
As 'For The Glory' plays out as 'The Memphis Mouthpiece' Tommy Love walks out onto the stage first, he turns and points 'The Love Stick' back as his son Jamie Love walks out and then Xavier Reid. The three men stand there for a moment looking at each other but all three turn as Maria Love comes walking out, she ignores Tommy and motions for Jamie and Xavier to follow her as she leads the two towards the ring as Tommy runs to catch up with 'his' team.
DING DING DING
Jamie and Brian start. Brian runs at Jamie who ducks a clothesline. Jamie hits Brian with roundhouse kicks to the hamstring of Brian before smacking Brian with a forearm smash. Jamie grabs Brian for a DDT but Brian counters with a back drop. Brian runs off the ropes but Jamie takes him over with a monkey flip. Brian gets back to his feet and knocks Jamie down with a clothesline. Brian tags in Bobby. He hits Jamie with an elbow drop. He goes for another but misses when Jamie rolls to the side. Jamie runs off the ropes and hits Bobby with a dropkick before tagging in Reid. He hits Bobby with a roundhouse kick before hitting a snapmare. Reid runs off the ropes and boots Bobby in the face. Reid lifts Bobby for a suplex but Bobby blocks. Bobby tries to lift Reid for a suplex. Jimmy slides in and lifts Reid allowing Bobby to suplex him. Jimmy tags in. Jimmy and Bobby hit Reid with dual dropkicks. Reid gets to his feet. Bobby grabs him for a DDT. Reid pulls himself free but gets rolled up with a school boy by Jimmy.
Reid rolls out of the pin and boots Jimmy in the face before tagging in Mark. He springs over the ropes and hits Jimmy with a DDT. He lashes out with a superkick but Jimmy catches it. Mark tries to transition into an enziguri but Jimmy ducks and Mark hits the mat and nothing else. He crawls to his corner and tags Brian. Brian runs at Jimmy for a clothesline. Jimmy ducks, Brian misses. Brian runs again while Mark runs too. Total elimination! Brian covers Jimmy.
Jamie dives in from the top turnbuckle breaking the count. Mark is in the ring and he attacks Jamie. Bobby and Reid get into the ring as well and a six way brawl breaks out.
Sydney:
Sweet! Part of me wanted to have a battle royal tonight.
Brian and Jamie remain in the ring while the rest brawl at ringside. Brian throws Jamie into the corner. He lifts Jamie to the top turnbuckle. Brian jumps and brings Jamie down with a Backstabber before Mark leaps from the fight at ringside to to the top turnbuckle and down on Jamie with a High Latency. Brian makes a cover.
Reid dives into the ring to break the count. He grabs Mark and tosses him out of the ring before following him out. Brian turns to face Jamie but Jimmy slides into the ring. He boots Brian in the gut before slingshotting Bobby very slowly into the ring for a Tennessee Destroyer. The referee counts.
Jamie dives to break the count. Reid rolls into the ring and grabs Bobby. Reid Powerbombs Bobby into the corner. Bobby staggers out of the corner where Jamie hits an Ace Cutter. He's Not Going To Remember Tomorrow. Jamie covers Bobby.
From outside the ring, Mark pulls Jamie's ankle breaking the count.
Watson:
All three coming close to victory.
Sydney:
I'm beginning to think this IS a battle royal.
Everybody gets into the ring. Brian runs at Reid with a cross body and both tumble over the rope to the floor. Jamie grabs Mark locking him into a Love Attachment. Bobby and Jimmy dive on both in a bid to break the hold. Bobby manages to roll up Brian while Jimmy grabs Reid and tosses him through the ropes. The referee counts.
DING DING DING
Starr:
And your winners, via pinfall
THE SOUTHERN EXPRESS!
Bunny dives in to the ring an hugs both Jimmy and Bobby. She ten holds the ropes open for them as they hobble out of the ring and up the ramp. At the top of the ramp, they turn and blow kisses and wave to the fans in attendance.
Watson:
A big win for The Southern Express here on Paramount for what will
certainly
be the last time we see them compete in a Paramount ring! What a show they just put on! Smart strategy too. They saw an opportunity and took it. They even used Jimmy as a blocker to combat that other opponent problem we see a lot in tag team wrestling.
Sydney:
Next Level and The Bastards shouldn't feel bad. Bastards still have the titles and I'm sure Next Level will bounce back next season. Both teams had some good opportunities in this match that they can build on too.
In the ring, Bobby and Jimmy are both on their knees, sucking wind like they have absolutely nothing left in the tank. Bunny Love quickly checks on her man and her half-brother, while the crowd here in Brooklyn show their appreciation for the culmination of an amazing career.
THANK YOU EX-PRESS!!
clap, clap, clap clap clap
THANK YOU EX-PRESS!!
clap, clap, clap clap clap
THANK YOU EX-PRESS!!
clap, clap, clap clap clap
Watson: Thank you Express indeed.. What a career these two have had and what a final match!

Bobby and Jimmy both shed a tear as they hug it out in the center of the ring. Bunny Love slides under the bottom rope and rushes her clients to join in on the hug. Xavier Reid and Jamie Love both look at each other before they slide into the ring as well, getting to their feet, but staying out of the center to give The Express their moment. Bobby, Jimmy and Bunny finally get to their feet as the crowd has not died down one bit. They turn to see the EWC World Tag Team Champions staring at them. Tommy and Maria Love, followed by Killjoy and Buddy Love, had all come out onto the entrance ramp now. Xavier Reid, in an extremely rare show of respect, extends his hand out to Bobby and Jimmy. They shake and both Jamie and Xavier raise Bobby and Jimmy's hands, much to the crowds enjoyment.
Watson: Now that is something you don't see everyday! The Love Club showing some rare comradery instead of beating each other senseless in the ring! What a classy display here in Brooklyn... We have so much left to come including TWO championship matches, don't got anywhere folks!
---
---
"You Ain't Ready" hits the speakers and the crowd gets on their feet as JFS emerges onto the stage, cutting the celebration of The Love Club short. They all make their way backstage as Jordan Sharpe makes his way down to the ring in street clothes.
Starr:
Ladies and gentlemen, please welcome .. Jordan Freaking Sharpe!
He does not seem like his usual self, as he doesn't do his usual pandering to the crowd, instead heading down the ramp straight for the ring, microphone in hand.
Watson: I am being told that Chris Brock has given Jordan the time to speak here tonight, He's got that microphone ready to drop a pipe bomb as he heads to the ring.
Sydney: I'm wondering if he's finally got the balls to do what needs to be done!
Jordan slides through the ropes and he does give a nod to acknowledge the fans as they give him a big applause. He waves as he smiles briefly but he's all business.
JFS: Thanks for that. Listen, I know the last few months have been rough if you're a Jordan Sharpe fan. I get that. I was supposed to have my big retirement tour .. that got derailed. I was supposed to have an epic last title run .. that got derailed. 3C itself was supposed to have its best year ever … that got derailed. All because of Candy.
They all boo as Jordan nods to himself.
JFS: Yes, Candy and her wicked betrayal. At first, I was confused. I was hurt. Physically, emotionally. I came out here a few months ago on Paramount, I got in Candy's face and I told her I would be everywhere she looked. I thought it would make her back down. I thought it would make it stop. I thought the threat of myself would be enough. I was very wrong. Instead, the more violent Candy became. So I covered my ears and I looked away and I tried to ignore it. Against her opponents is one thing, but look at what she's done to those she is closest to. I would have never dreamt of what happened between Candy and Gabi, but look at this past summer. Candy put her in an ambulance, and they were like sisters. I thought that was maybe the end of it, but no. Wrong again. I told everyone to leave it be, let her go. But no, then Saidie decided to take things into her own hands.
Jordan looks at the ground for a moment as his voice shakes a little bit. A 'Saidie' chant comes from the crowd, as he lifts his head to look directly at the camera.
JFS: Candy, if there was a line, you crossed it. Saidie is a grown woman, she can have matches with whoever she wants and she can handle herself against anyone but what you did after that bell rang … AFTER YOU ALREADY WON .. was disgusting. You are grotesque. Deranged. This is someone who LOOKED UP TO YOU. You rode in planes and cars across the country, across this planet with her! SHE CRIED ON YOUR SHOULDER WHEN I WENT MISSING! And you brutalised her. You went too fucking far this time. And if you're so fucking dangerous …. Come out here and face me right now.
It only takes seconds for 'I Want Candy' to wash over the arena as a chill falls over the crowd with the boos to match as Sour Candy appears on the stage, a grin on her face as she begins to skip down the aisle.
Watson: This is what we have been waiting for all season, ladies and gentlemen, Sour Candy and Jordan Sharpe, face to face for the first time in months!
Sydney: Finally, JFS is going to get what he deserves!
Sour Candy steps through the ropes as Jordan's eyes are locked onto her, his face looks furious. She rolls her painted eyes at him before going to get her own mic.
Sour Candy: So are you going to give me my match or what?
She questions while staring him down.
JFS: Well now that I've seen what happens when I ignore you, Candy.
Sour Candy: It's Sour Candy. The name you gave me, remember? Now you have a problem using it!
JFS: I didn't think it would end up like this .... So I'm here, right now in front of everyone, to tell you that this chapter is about to be closed. After everything you have said and done, you have nothing to threaten me with. You've already done your worst. You played your cards and you've lost, Candy. I'm done. It's my pleasure to tell you that I will NEVER and I mean EVER have a match with you. I will not fight you, understand? You tried your best to rattle me but I will never give you the satisfaction of giving you what you want. You and me, WE'RE OVER. Stay the FUCK out of my life and Goodbye.
Sydney: What?!
Jordan throws the mic up in the air as it lands with a crack and he pushes right by Sour Candy to leave the ring.
Sour Candy: Take a look at your hero hightailing it out of here, everyone. He seems to think this is over because he says it is. Well, I say not by a long shot!
Watson: Wow, strong words by Jordan here tonight as he seemingly has closed the book on his saga with Sour Candy!
Sydney: I don't think that book is fully closed, Tim. Not with Sour Candy prying it back open!
In the ring, a wicked smile adorns the face of Sour Candy as she begins to giggle to herself before screaming, not needing the microphone for everyone in Brooklyn to hear her:
Sour Candy: GIVE ME WHAT I WANT!!!!
and we go to commercial ……….
---
---
---

SINGLES MATCH
Sour Candy
VS Killjoy
We return to ringside where Tim and Cid are standing by!
Watson:
We have seen so much action already here tonight and we still have a few more matches to come. Let's get right back to it!
Starr:
The following match is set for one fall.
Moments after "I Want Candy" by Aaron Carter begins to play throughout the Barclay's Center, it suddenly switches into a more metal version of the song done by Risen From Shadows. Despite the boos coming from the crowd, Sour Candy seems unfazed as she smiles
wickedly
to all those in attendance tonight.
Starr: Already in the ring, from the Sour Patch.......SOUR CANDY!!!
As soon as a fan reaches out to touch her, SC jerks her arm out of the way and circles the ring before slipping under the bottom ropes. She stays on her knees and looks toward the entrance with the deadliest of stares as she waits for the match to begin.
Starr: And her opponent, residing in Daly City, California and weighing in at 235 pounds ... KILLJOY!
'The Prodigal Son' Buddy Love walks out onto the stage and raises his arms into the air as the lights fade out. He jumps up and down as 'Deeper Depper' begins to play. A strobe light circles around the stage as a single white spotlight hits the stage where Killjoy is standing, his back facing the ring, his arms stretched out and his head down. He swings around to face the ring as Buddy Love runs up and stands next to him. After a quick word the pair start to walk towards the ring, Buddy runs ahead and charges up the steps and holds open the ropes for Killjoy to step through. Killjoy walks to the center of the ring, extends his arms and tilts his head back to soak everything in.
DING DING DING
Both meet in the middle of the ring. Killjoy makes a move, but his hand is slapped away by Candy. The same happens to her when she makes a move on Killjoy. Killjoy lashes out with a roundhouse kick, but Candy ducks and lashes out with a series of forearms that back Killjoy to the ropes. Killjoy fires back with a forearm smash of his own to Candy's jaw before running off the ropes. Candy runs at Killjoy taking him to the mat with a spear. He gets to his feet but Candy shoves Killjoy into the corner. She hits a roundhouse kick to his ribs before climbing to the second rope and battering Killjoy with ten punches. Candy looks out to the crowd before falling over the top rope with Killjoy caught in a triangle choke. Killjoy struggles to free himself as the referee forces a break. Killjoy drops to the mat as Candy drops to the floor. She smiles at the camera before rolling into the ring. She hits a legdrop to the back of Killjoy's neck and makes a cover.
Killjoy raises a shoulder off the mat to break the count. Candy lifts Killjoy off the mat but he quickly counters her with a back body drop before falling onto the ropes. Candy gets to her feet and charges at Killjoy, but she charges into a dropkick from Killjoy. Candy pulls herself to her feet, but Killjoy grabs her hitting her with a last ride into a sitout powerbomb. He puts his feet onto Candy's shoulders as the referee counts.
Candy rolls to the side to break the count.
Watson:
Hell of a comeback from Killjoy. He went from being down and nearly out to almost putting Candy through the ring.
Sydney:
I love the will to win on display from the entire EWC roster and especially Killjoy and Candy. That powerbomb we just seen would spell the end for a lot of matches but not Candy. She continues to fight.
Killjoy gets to his feet as Candy makes it to her hands and knees. Killjoy cracks Candy with a Konbanwa to the back of her head. Candy drops to the mat. Killjoy rolls her over and makes a cover.
Candy gets a hand on the bottom rope to break the count. Killjoy stomps on Candy before pulling Candy to her feet. She pushes him away and blasts him with a Bitter Truth. Killjoy springs back and crumples to the mat. Candy rolls on top of him and hooks a leg.
Killjoy rolls onto his front to break the count.
Watson:
She was out! He was out! How don't they stay out?
Sydney:
Something, something will to win?
Candy pulls Killjoy to his feet. She whips him to the corner, but he reverses it sending Candy to the corner. Killjoy charges but Candy moves out of the way and Killjoy collides with the corner. Candy grabs him and runs up the turnbuckles for a Sugar Free Candy. Killjoy shoves her away to counter and connects with a Kettei-Da. He makes a cover.
DING DING DING
Starr:
And your winner, via pinfall
KILLJOY!
Buddy Love rolls into the ring and raises Killjoy's hand in victory. Killjoy turns and looks down at Candy for a moment before turning and heading up the ramp with Buddy.
Watson:
Was that respect or disrespect? All I know is that as Killjoy walks away, he walks away with a big win here on Paramount. Some much wanted momentum here from one of the men that will challenge for the Undisputed Championship at WrestleFest!
Sydney:
Sour Candy will be even more sour with that loss, but she came inches from victory and Buddy Love and Killjoy walk away knowing how close she came.

As if on cue, Sour Candy begins to screech again in the middle of the ring.

Sour Candy: GIVE ME WHAT I WANT!!!!


Watson:
Apparently Sour Candy really wants that match with Jordan Sharpe. Is she going to get it? We will find out! We still have TWO title matches to come, one of them involving the OTHER man challenging for the Undisputed Championship at WrestleFest. Depths of Hell Match in the main event! We will be right back!
---
---
---
Backstage, we find El Pablo standing alongside Lisa Goldrush; the X-Division Championship belt around his waist, an open packet of Skittles in his hand and a stoic - if typically light-hearted - expression upon his masked face.
Goldrush:
El Pablo, the Paramount season finale is finally here; the last stop before One Night Encounter and WrestleFest XX and, more importantly, another opportunity to defend the X-Division Championship - the championship you've now held for an incredible four-hundred-and-two days! We've heard what you and Dio have both had to say in the build-up to tonight, earlier in the week; anything further you'd like to say here now, having been subjected to the wisdom of the Warrior Poet?
Pablo chuckles at the phrasing, dipping into the packet and tossing a fistful of Skittles into his mouth as he mulls the question over for a moment.
El Pablo:
'Subjected' may well be the word…
like frickin' water torture
.
The Tecnico casts a glance sideways, just long enough to catch the raising of Goldrush's eyebrow.
El Pablo:
I think we've heard quite enough talking - from Dio
and
from me - and, look, I get it; that's his 'schtick,' as you so alluded to, but…I dunno…to hear a man who likes to tout himself around as this great thinker; a pro-wrestling philosopher on an intellectual plane far higher than simpletons like you or I-
Goldrush:
Speak for yourself…
El Pablo:
-reduce himself to such brazen 'cherry-picking' of data; such elaborate empirical gymnastics to try and build any kind of case that his standing…his accomplishments this season make him, in any way, the 'true uncrowned king' of the X-Division, or of X-Division-esque wrestling, in general, is just…
disappointing
.
He wants to diminish my victory inside the Insanity Cage because neither Narumi nor Malone were involved in it, while simultaneously offering no concession to the fact that I still
did
win, whereas he not only failed to do the same the year before; it was he who took the definitive tumble from atop that third tier.
He wants to belittle my victories over the likes of Maledetto, Shaker Jones and Reginald Dampshaw while conveniently covering up the fact that his introduction to the opportunity of X-Division contendership as a concept came via victory over Ruby frickin' Clifton.
He wants to frame this Depths of Hell match here tonight as my chance to fulfil some desperate need to 'make a statement'...
forgetting that I've already made every single statement I could possibly need to make
.
Tucking the Skittles packet into the back of his tights for a moment, EP unsnaps the X-Division Championship belt from around his waist and places it across his shoulder, the faceplate glistening beneath the sterile strip lighting above them.
El Pablo:
Like you said, Lisa; I've been X-Division Champion for four-hundred-and-two days.
Four-hundred-and-two!
Do you know how many champions, in the entire long, storied history of the EWC have been able to maintain their reign for as long as I have?
Three
.
The Southern Express.
Griffin Hawkins.
…and Ace King.
From the ashes of those thousand days of anonymity and ignominy after losing the Indy Championship, I have now amassed the fourth-longest championship reign in EWC history!
I have
surpassed
Stitches' FSW Title reign…Scorpio's Broadcast Championship reign…Robbie Rayder's North American Championship reign, Xavier Reid's International Championship reign and
Jaden Hunter's Undisputed Championship reign!
For all the fanfare that Narumi Ttsutsumi's received about breaking Jordan Sharpe's record with the Indy Championship this season, I'm still an entire
month
ahead of her - and that's not a shot at the Onihime, by the way; I have so much respect and admiration and professional-wrestling
love
for everything she is and everything she's been able to accomplish - but, the fact is, when it comes to how I've defined myself with this belt; how this belt has come to define my EWC career…
I have nothing to prove to anybody. Least of all to Dio.
All I have to do - just as I said a few days ago - is the exact same thing I've been doing since last year's Rumble; write the next chapter in the tale of the Greatest X-Division Champion of All Time™.
As for the Warrior Poet?
Well…he's either gonna be the final footnote before this story moves towards its epic conclusion…
or he's gonna be the man tasked with making sure the sequel measures up to the original.
Best of luck,
Sabio.Viva La Rainbowlution
.
With that, a fired-up and defiant X-Division Champion takes his leave, leaving Lisa Goldrush on screen alone to digest those latest developments before the camera cuts to the next segment.
---
---
SINGLES MATCH
FOR THE CW BROADCAST CHAMPIONSHIP
Asriel Buzzard
VS "Salvation" Salvador Serenity
---
We return to ringside where Tim and Cid are standing by!
Watson:
El Pablo is ready to take care of business tonight it seems. We will find out who walks out EWC X-Division champion in a bit, but first we need to know who's gonna be CW Broadcast champion!
Starr: The following contest is set for one fall and is for the CW Broadcast Championship! Introducing first, the opponent, from Hill City, Kansas and weighing in at 196 pounds ... AZRIEL BUZZARD!
The first few notes of a piece of orchestral music start to play around the arena, with the harps giving way to violins after a few seconds and an image appearing on the screen as the house lights lower.
As the guitars of 'Animals' by Architects begins to pound around the arena, strobe lights flash as the image on the screen fades to flashing images of a familiar face.
Slowly, Asriel Buzzard emerges from the curtain and stands atop the stage staring out into the crowd to a mixed response.
He walks down the ramp and circles the ring before rolling under the bottom rope and climbing the turnbuckle to stare into the crowd again, holding a closed umbrella aloft, his expression blank.
Starr:
And his opponent,
from the Mystic River...weighing in at 285 pounds, he is the CW Broadcast Champion... He is....
SALVATION!
Falling Away from Me by Korn erupts throughout the speakers as Salvation walks onto the stage. Salvation smiles wide, waving to the crowd as he makes his way out. Stopping halfway onto the stage, and turning, pointing with his Walking stick to Sienna Wolf making her way onto the stage. Salvation turns back to the fans throwing "Spock Signs" to the crowd with one hand, raising his walking stick with the other, then starts to jog down the aisle, high-fiving fans. Sienna follows down the ramp, also exchanging high fives and fist bumps along the barricade then stops at the ring. Salvation makes a loop around the ring, exchanging fist bumps and high-fives before sliding under the ropes and into the ring. He bounces off the ropes and few times before heading to his corner, handing over his walking stick to Sienna Wolf, then starts stretching.
DING DING DING
Both slowly circle each other before locking up. Salvation grabs
Azrael's
arm and twists it in an arm wringer before bending it into a hammerlock.
Asriel
struggles to free himself but manages to push Salvation against the ropes.
Asriel
whips Salvation off the opposite ropes but bends to far and allows Salvation to grab him by the head and throw
Asriel
to the mat. Salvation drops an elbow to
Asriel's
chest. Salvation locks
Asriel
in a chinlock.
Asriel
manages to get to his feet and lift Salvation onto his back.
Asriel
drops back crashing down on Salvation.
Asriel
gets to his feet and runs at Salvation. He counters by scooping
Asriel
up and driving him to the mat with a sideslam. Salvation hooks the leg.
Asriel
gets a shoulder off the mat to break the count.
Asriel
stands up and cracks Salvation with a European uppercut. Salvation staggers and
Asriel
grabs him hitting a snap suplex. Salvation is slow to his feet while
Asriel
grabs him driving him to the mat with a piledriver. He makes a cover.
Salvation rolls to his side with his arm raised high.
Watson:
Strong kick out there.
Sydney:
Obviously sending a message of 'you need a lot more to beat me'.
Azriel climbs to the top rope. He throws himself at Salvation with Anybody Out There. At the last second, Salvation rolls out of the way and
Asriel
smacks on the canvas. Salvation pulls him to his feet and brings him crashing down with a Malpractice. He grabs the legs.
Azriel rolls to his side breaking the count. Both slowly get to their feet. Salvation runs at
Asriel
who ducks and smacks Salvation with The Redeemer. Salvation spins on his feet and drops to the mat.
Asriel
lands atop him and hooks a leg.
Salvation just manages to lift a shoulder off the mat.
Watson:
So close to a new champion there!
Sydney:
Salvation with the wherewithal to kick out there.
Asriel gets to his feet, but Salvation grabs his arm and drags Asriel to the mat. He quickly applies a Foxhole. Salvation wrenches on the arms as Asriel yells in pain. The referee checks if Asriel wants to submit. Asriel rolls Salvation. The referee counts.
Salvation rolls out of the hold and gets to his feet. Asriel grabs him and spins Salvation with The Survival. He covers.
DING DING DING
Starr:
And your winner, via pinfall and NEW CW Broadcast Champion
ASRIEL BUZZARD!
Asriel climbs to the middle turnbuckle and raises his
required
championship with an expressionless look on his face.
Watson:
I'm sure he's smiling inside. A big championship win for Asriel Buzzard to become the first TWO TIME CW Broadcast Champion! What a way to close out the season on Paramount for Asriel Buzzard!
Sydney:
Salvation came close and had a few near falls. He may not have gotten the all important successful defense, but Salvation will be back here next season in this championship opportunity spot. Nothing but pride should be on Savation's face tonight.
Watson:
Staff to add final commentary and transition to next scene
---
---
---

DEPTHS OF HELL MATCH
FOR THE EWC X-DIVISION CHAMPIONSHIP
Dio
VS El Pablo
We return to ringside where Tim and Cid are standing by, the atmosphere in the Barclay's center is absolutely electric!
Watson:
IT'S TIME! The wait is over, it is time to put up or shut up. This ladies and gentlemen.. Is a Depths of hell match. This will not be fought in the ring, no.. It will be fought high above the ring in the rafters of the Barclay's center. There is no countouts, no pinfalls, no submissions. The ONLY way to win this match is to THROW your opponent off the rafters and down to the ring. The winner leaves this arena with the EWC X-Division championship... Take it away Isabella Starr!
Starr:
The following match, set for one big fall, is a Depths Of Hell Match and it is for the X-Division Title. Joining us first, the challenger, residing in Seattle, Washington and weighing in at 205 pounds he is your crux ...
DIO!
The lights dim down, and a voice comes over the PA system.
"I am your Crux."
The phrase kicks off the sounds of "Change (in the house of flies)" by the Deftones as Dio emerges from a curtain and stands atop the rafters. He surveys the crowd, tugging at the collar of his leather jacket as his harness is attached and he is hoisted up into the rafters.
Starr:
And the opponent, residing in Puebla City, Mexico and weighing in at 180 pounds ...
EL PABLO!
A cry of "VIVA LA RAINBOWLUTION!!!" leads to 'Party Hard' by Andrew WK hitting the soundsystem, as the stage and ringside area becomes bathed in flashing, flickering, brightly-coloured lighting. As the main hook hits, El Pablo bursts through a curtain, playing to the fans and chugging Skittles like a Steveweiser while the X-Division Championship belt glistens around his waist. He pours Skittles over the rail as he holds the title belt high above his head to another pop from the adoring crowd. After offering a final salute, he hands his belt to the referee and performs a few final stretches as his music fades and he applies his harness. El Pablo is then hoisted up into the rafters, onto a metal platform where these two warriors will do battle.
DING DING DING
Pablo runs at Dio who outstretches his arm to counter. Pablo spins around Dio's arm and lands on his feet but Dio grabs Pablo taking him down to the metallic floor with an STO. Dio grabs Pablo and rams the back of his head into the barrier surrounding the platform. Dio pulls Pablo to his feet and rams him, chest first, into the barrier. Pablo staggers but Dio grabs him to do the same again. Pablo elbows Dio in the gut and hits Dio with a Russian leg sweep that drives him spine first into the barrier. As Dio sits on the ground, Pablo hits him with forearms smashes and elbows to the skull. Pablo takes a few steps back and runs at Dio hitting a low dropkick. Pablo pulls Dio to his feet and heaves him over the barrier. Dio tries to keep his feet on the ground as Pablo shoves. Dio jams an elbow to Pablo's gut and both drop, Pablo to the metallic ground and Dio is now hanging on by a hand from the rafter above the Barclay's Center!
Watson:
That is a long drop down and Dio did well to avoid that drop for now, but if he cannot recover he will fall to the mat!
Sydney:
Dio started well but those elbows wore him down. If he's going to win here, he needs to mount a better attack.
Pablo holds his gut as he gets to his feet. Dio powers his way up with core muscles that must never quit as he is back onto platform! EP hits Dio with a sit-out jawbreaker and climbs to the top of the barrier and drops onto Dio with an elbow drop. Pablo pulls a bar of the barrier free and lunges at Dio with it. Dio ducks it and wraps the harness around Pablo and lays into him with a series of right hands. Dio yanks at the harness and pulls Pablo to the ground. Dio grabs Pablo's legs and leans back slingshotting Pablo over the barrier. Pablo grips the barrier to avoid going over. Dio grabs at Pablo's legs and tries to heave him over the barrier. Pablo spins taking Dio to the metallic floor with a headscissors. Pablo grabs the bar and cracks Dio on the back of the knee with it. Dio drops to the ground clutching his knee. Pablo takes a few steps back and runs. He swings out like Tarzan and crashes down on Dio with a legdrop. Pablo pulls Dio to his feet and rolls him hitting a Dragonfishin' that crashes him to the metallic ground. Pablo scrapes Dio from the ground and drags him to the barrier. Pablo lifts Dio and tries to bodyslam him over the barrier. Dio puts a hand out to block before twisting and hitting Pablo with a DDT on the metal floor.
Watson:
What a counter!
Sydney:
Dio was inches at most from the drop. You can see the unease creeping into Dio's face everytime he almost falls. Shades of that Insanity Cage match last year creeping back into his head. It has to be absolutely terrifying to be Dio right now.
Dio is first to his feet. He grabs the metal bar and smacks it across Pablo's spine. He leans the bar against the barrier. Pablo starts to move on the ground. Dio drags him to his feet and drives him to the metal with a Tranquility. Dio pulls a limp Pablo to his feet and drags him to the barrier before dropping him onto it. Dio heaves him over. Pablo tries to block. Dio punches at Pablo's shoulders and even uses the bar a bit to crowbar Pablo over the barrier. Still Pablo manages to hang on until both fall to the metal ground of the rafters.
Watson:
Out like a light and still Pablo fights his way free.
Sydney:
Nobody wants to take the drop. Nobody wants to see the other walk away with the X-Division Title either.
Dio grabs Pablo and smacks his back and shoulders off the metallic flooring. Dio gets to his feet and stomps on Pablo's arm before pulling him to his feet. Dio drives Pablo to the metal with an uranage. Dio quickly applies an anaconda vice but Pablo breaks free by driving his fists to the side of Dio. Both get to their feet but Pablo punches Dio in the knee. Dio clutches his leg as Pablo gets to his feet. Pablo springs off the barrier and cracks Dio with a Furry Ninja Strike to the back of the head. Pablo lifts Dio off the round and, again, tries to bodyslam Dio over the barrier. Dio slips over Pablo's shoulder and drives Pablo to the flooring with Inevitable. Both lay on the metal. They slowly get to their feet. Pablo runs at Dio hitting a clothesline that sends both over the rail. Dio and Pablo both hang on to the barrier with one hand. Each one lashes out at the other with punches and kicks in an effort to dislodge the other.
Watson:
If one loses their grip, this is all over!
Sydney:
I've never felt so tense.
Both manage to pull themselves over the rail to safety. Both lay on the metal before getting to their feet. A fist fight breaks out as both exchange right hands. Dio ducks a right from Pablo and smacks Pablo with a roundhouse kick that staggers Pablo back. Dio runs and hits Pablo with a clothesline that almost knocks Pablo over the rail. Dio runs and leaps for a Laertius Effect. Pablo pushes Dio away. He flies over the barrier and falls through the air until the tension in his harness leaves him hanging in mid air. Dio goes limp.
DING DING DING
Starr:
And your winner of the Depths Of Hell Match and STILL EWC X-Division Champion
EL PABLO!
Pablo holds up his championship in celebration. It gleams as the arena lights hit off it. Pablo reaches into his gear and pulls out a packet of Skittles. He rips the pack open and swallows a mouthful. He looks over the rail and pours some over. They fall and rattle down on Dio.
Watson:
A tense match but Pablo wins the Depths Of Hell Match and continues his championship reign.
Sydney:
Dio gave it his absolute all tonight, but he is now not moving even as he is lowered onto the mat of the ring. That fall had to have awoken some bad memories for him.
Watson:
The medical team will take a look at him, but right now the fans here at the Barclay's Center are looking up into the sky at STILL the EWC X-Division champion!
El Pablo is double-fisting packets of Skittles as the crowd is going wild. HE stops for a moment to look down at his challenger, who is just starting to stir. EP has a somber look on his face as he nods his head in a small show of respect. The final image of the season closes on El Pablo resuming his feast of skittles.
Watson:
WE ARE TOATALLY OUT OF TIME! THANKS FOR JOINING US AND WE WILL BE BACK IN FEBRUARY FOR SEASON 3 OF PARAMOUNT WRESTLING!!! THE MID-SEASON FINALE OF THE HIT SHOW THE SOUTHERN EXPRESS IS UP NEXT!
---