Post by PARAMOUNT on Nov 11, 2020 16:31:26 GMT -6
Static fills the screen briefly before the logo for
FSW
GAMBIT
fills the screen. After about five seconds, the camera cuts to Tim Watson standing in what is obviously a TV Production studio, a green screen behind him shows the FSW logo.
Watson: Ladies and Gentlemen, welcome to Wednesday night Gambit! In what may be our final evening here in the Cow Palace in Daly City, We have three matches for you tonight with three new PARAMOUNT superstars debut. Yes, tonight we are FSW but after tonight we officially become the pinnacle of professional wrestling! We have the long awaited debut of Roozilla tonight as well as Laura Perelli and Addy Aquilla! It's always great to see more strong women join EWC! Let's head right into the action. Adriana Aquilla and Yaya banana are already in the ring!
The camera quickly cuts to ringside where Adriana Aquilla and YaYa Banana are both already win the ring with Referee Matt Mercer.
---
---
DING DING DING
As the bell rings YaYa comes running at Adriana attempting an axe kick but barely misses as Adriana is able to move out of the way and then hits a dropkick knocking YaYa to the mat. Addy is quickly back to her feet and hits a standing moonsault and then going for the pin. YaYa kicks out before the ref is able to get into position. Lo Divino, the young rookie, kicks Banana in the stomach and get's YaYa into a cross arm breaker causing him to yell out in pain. The referee gets into position in the event that YaYa taps. Banana is able to reach out for the ropes causing Addy to have to break the hold. Yaya rolls out of the ring. Without hesitation the rookie Lo Divino runs and bounces off the ropes and baseball slides under the bottom rope connecting with YaYa knocking him into the outside railing. Addy follows up with a kick to the midsection and then a forearm smash over the back of his head knocking him back towards the ring apron.
Watson:
This girl called Lo Divino is quick! She's maintaining control of this match with her quickness.
Sydney:
It's not over yet the rook better watch out if she wants to win this match.
Addy grabs Yaya and pulls him over to assist him back into the ring but is met with a stiff elbow to the mid section. Banana throws another elbow and another causing Lo Divino to let go and YaYa rolls back into the ring. Addy rolls in and is caught by YaYa again with a Harlem Kick. Addy goes down to the mat as YaYa climbs up to the second turnbuckle and attempts a splash but catches a foot to the chin via Addy Aquilla. YaYa falls back and the rookie rolls backwards in a headroll and gets to her feet before Banana can react. Hoja de Honda. Lawson hits the canvas and rolls over to his side. Lo Divino quickly climbs up to the top turnbuckle and motions to the crowd. Addy Star Press. She hits one of her signature moves and covers YaYa for the pin as the referee begins the count.
DING DING DING

Matt Mercer raises Addy's hand in victory as we cut back to the FSW control tower with Tim Watson.
---
---
Watson:
What a match! Addy Aquilla impressive in her EWC debut! I'm hearing that Babyface Badley has requested some airtime, so we are going to go to the back before out next match.
---
---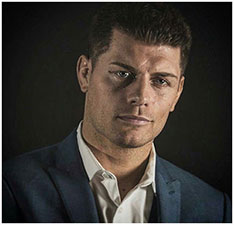 The camera fades to the backstage area where Babyface Badley sits in the corner of the locker room slumped over visibly shaken and frustrated. A few people walk in and out of the room and completely ignore the defeated wrestler without speaking a single word. After a few moments the opponent that Badley had faced that night and lost via count out walks into the room. Babyface looks up at him and simply scoffs.
Babyface Badley:
And of course you would walk in here.
The Roozy One looks side to side and then behind him. Not seeing anybody else he points to himself.
Roozilla:
Me?
Babyface Badley:
Yeah. You. Mr. Wrist Lock. Mr. I only know one move.
The Roo doesn't realize that Badley is being sarcastic and smiles.
Roozilla:
Thank you! It's my favorite move.
Babyface Badley:
A wrist lock? Is your favorite move?
This seems to upset the defeated wrestler even more. The Roo still not realizing that Babyface is actually upset smiles and appears overly happy.
Roozilla:
Yeah. I practiced a lot. My trainer even said that I'd never be able to perform another move. Look at me now. I'm in the EWC.
Babyface Badley:
Wait. You really only know one move?
Roozilla:
No, I know other moves. Niffty ones. I just really like the wrist lock.
This seems to upset the defeated wrestler even more. The Roo still not realizing that Babyface is actually upset smiles and appears overly happy.
Babyface Badley:
What, are you some kind of Wrist Lock Legend or something?
Roozilla:
Legend? I'm a legend!? Yippee.
Babyface Badley:
That's not what I meant. I'm was trying to be mean.
Roozilla:
Mean? Gee whiz. I wonder what you would say if you didn't like somebody. That was the nicest thing anyone has ever said to me.
Badley shakes his head and stands up to his feet. He tosses the Roozy One a towel.
Babyface Badley:
Take a shower kid. Good match.
Roozilla:
Thank you!
Roozilla smiles widely as he catches the towel and heads to the showers as the camera fades repeating what Badley had said to him.
Roozilla:
The Wrist Lock Legend. Yeah. Legend. Wow.
---
---
DING DING DING
Perelli and Lawson are in the ring looking at each other ready to lock up. They circle around each other and Laura gets the advantage with two forearm smashes and then a European uppercut. Lawson stumbles back wobbling him for a moment. He quickly shakes it off and charges with an attempted clothesline. Perelli ducks and rebounds with a tornado ddt and then rolls over getting to her feet and stomping down on his chest with both feet. She turns and raises both arms towards the cheering crowd and then yells, "Shut you're faces." She then turns and wipes her forehead and acts as though she's throwing her sweat on her fallen foe. She motions for her opponent to get to his feet. He finally is able to stand and Perelli slaps him across the face. Anger instantly appears on his face as he begins breathing heavily. She again attempts to slap the man as he ducks and then grabs her by the throat tossing her into the corner. He begins throwing punches hitting her over and over. He then turns a three sixty with one last punch sending her to slump to her rear in the corner.
Watson:
Looks like Laura Perelli awakened her opponent with those slaps.
Sydney:
He's a buffoon and she's going to win.
Lawson grabs Laura and pulls her to the center of the ring. He wraps his arm around her neck and signals a ddt but she grabs his arm and goes to whip him into the ropes but he reverse it and tosses her into the ropes and hits a clothesline sending her to the canvas. She quickly bounces back up and he attempts another clothesline that she reserves into Dead Money. The referee quickly beings the count but Lawson kicks out at the count of two. Lawson looks at the referee and begins clapping her hands together signaling that it should have been a three count. She then stands to her feet, looks down at her downed opponent waiting to make her move. Lawson begins getting to his knees. Break Even.
DING DING DING
The referee raises Laura Perelli's hand as we cut back to the FSW Control tower.
---
---
Watson:
Wow, not many people get a submission victory in their first match! Way to go Laura Perelli! Up next is our final match of the evening here on Gambit.. The much anticipated debut or The Roozy Doozy one himself, Roozilla! Let's head down to the ring!
---
---
As soon as the bell rings Babyface Badley runs towards Roozilla who quickly ducks and runs behind the referee and Babyface chases after him. The two men run around the referee several times as Roozilla attempts to hide from his opponent. Roozilla quickly stops running and grabs Badley by the arm putting him into a wrist lock. Roozilla tightens the wrist lock causing Badley to wince in pain. Babyface Badley then knees Roo in the stomach breaking the hold and then bounces off the ropes to attempt a clothesline but Roozilla converts into another wrist lock. Badley is able to grab the top rope forcing the Roozy One to break the hold. Badley shakes his arm trying to get feeling back into it. The two men lockup and the Roo grabs another wrist lock physically causing Babyface to get upset at getting placed into the move yet again. Badley is again able to grab the top rope forcing Roozilla to break the move again.
Watson:
Babyface Badley can't get away from the Roozilla.
Sydney:
Look at that wrestling technique by the Roozy One.
Badley rolls out of the ring and begins slamming his hands on the ring apron in frustration and then kicks the ring steps. The referee begins counting Badley out of the match and Roozilla turns his back on his opponent to mock the crowd. Babyface attempts to take advantage and rolls back into the ring and shoves Roozilla in the back pushing him into the ropes. Roozilla bounces off the ropes as Badley grabs the Roo's arm and is again reversed into a wrist lock. Badley yells in frustration and grabs the Roo's wrestling tights pulling him forward into the turnbuckle. Badley then begins arguing with the referee and get's distracted only to be put into a wrist lock again and again Babyface grabs the top rope. As the Roozilla releases the move Badley rolls out of the ring and throws both arms out towards the ring saying he's done. The referee begins the count as Babyface Badley walks towards the backstage.Once he reaches 10, Mercer calls for the bell!
DING DING DING
---
---
Watson: Did he seriously.... Yes, he did. Roozilla wins that one by way of WRIST LOCK folks! You never know what you are going to see here on Gambit, or on the best show on Wednesday night! Our FINAL FSW show ever is coming up later tonight on the CW folks, you do not want to miss it! For now though, I am Tim Watson signing off for Wednesday Night Gambit for this season. See you all in 2021 folks!
MATCH WRITERS
MATCH ONE
WRITER:

Roozilla
MATCH TWO
WRITER:

Roozilla
MATCH THREE
WRITER:

Roozilla
.................................................................................................................
RECAP OF WINNERS
SINGLES MATCH
YaYa Bananna Vs Addy Aquilla
WINNER: Addy Aquilla
...
SINGLES MATCH
Steve Lawson Vs Laura Perelli
WINNER: Laura Perelli

...
SINGLES MATCH
Cotton Badley Vs Roozilla
WINNER:
Roozilla
© THE EXTREME WRESTLING CORPORATION 2020