Post by PARAMOUNT on Feb 3, 2021 20:53:49 GMT -6
The Extreme Wrestling Corporation Presents


** EWC Reaches the Pinnacle of Professional Wrestling! **

EPISODE #001
February 3RD, 2020
LIVE!
from the Cow Palace - Daly City, California
---
---
WARNING: This live event contains strong coarse language (L), and intense violence (V) which may be unsuitable for younger viewers. None of the matches you are about to watch have been predetermined. Only some of the thematic story-lines have been discussed beforehand. Accordingly, EWC and it's producers must insist that no one attempt to recreate or re-enact any match or activity performed in this live event.




---
---
"Superstar" by For Squirrels begins to blast over the arena speakers as our feed comes to life...
The scene immediately cuts to a pyro show erupting on the outside of the Cow Palace!
Then a cut to another, equally explosive show on the inside!


The fans packing the Cow Palace tonight all come to their feet. Further explosions rock the very foundation of the arena as a large video screen is lowered from the rafters, stopping 15 feet above the ring! Everyone in Daly City knows that the self-proclaimed greatest show on Wednesday night is about to begin and they cheer accordingly! The heavy riffs from 'Superstar' continue to blare over the arena, setting the tone for what is to come later on this evening.




IT'S ALL I WANT, IT'S ALL I NEED

IT'S ALL I SEE, IT'S ALL I BREATHE

IT'S WHAT I AM, IT'S WHAT'S I KNOW

IT'S WHAT I FEEL, IT'S WHAT I BLEED!
On the X-Tron, this episode of Paramount Wrestling begins with its opening video montage detailing many of the historic events that have taken place in the five-year history of Future Stars of Wrestling, setting the tone for the history of the Orange brand. From past champions like Jason Hunter, Dixie Dubois, Amis Shelton, Magdalena Lockheart, and Otaki all standing underneath an old FSW logo to the more current Future Stars Champions like Xavier Reid, Cletus Franklin, Robina Hood, Robbie Rayder, Stitches, Candy, and Wes Walker tearing down that mold...


As more pyro goes off the the Paramount Wrestling logo appears and flashes of the roster appear on the screen such as Killjoy Ito, Mercenary, Kuroiki, Allen Anderson, Marcu$ $t. John, and El Pablo. Then, the camera cuts to a shot from StangleMania XVIII of Wes Walker winning the FSW championship before fading into a shot of Robbie Rayder standing tall over Mercenary after after their epic match at WrestleFest XVIII, the North American championship in the air...
The camera pans around the loud and out of control audience. As the fireworks continue to explode, the fans chant and cheer! Cameras pan around the arena to catch some of the signage that many fans have brought to the Cow Palace with them here tonight. The FSW fan-base is as adamant about having their voices heard now as ever:
"Welcome to the Pinnacle of Professional Wrestling!!!"
"Candy for Undisputed Champion"
"Tonight belongs to Wes Effing Walker! "
"Are you down with the clown? #StitchesIsUndisputed"


"I'm here for Robbie Rayder! #AireRayder"
"PAR-A-MOUNT!!!"



"PARA-A-MOUNT!!!"



"PARA-A-MOUNT!!!"



"PAR-A-MOUNT!!!"
The lights come back to full and the fans offer one last rousing cheer at the opening festivities. Tonight's announcers are on standby and ready for the show to begin.
Watson:
Tonight, professional wrestling reaches its Pinnacle as Paramount Wrestling is on the air!!!! I am so excited to be here tonight bringing you this debut episode of Paramount Wrestling. Who am I? Well I am the human wrestling encyclopedia, Tim Watson. The man beside me is the every annoying but never wavering Cid Sydney. Welcome to Paramount Wrestling Sid!
Sydney:
It is a sad day in EWC tonight... We are officially no longer under the guidance and tenure of the greatest leader this World has ever known. The 46th President of the United States.... President Scorpio. A moment of silence please for our fallen leader.
Watson:
Get out of here with that garbage Sid! Unless you all at home have been living under a rock, you know that Scorpio was defeated by the man in charge, President MAC... And no longer has a job! Good Riddance I say! Now, let's focus on tonight shall we?! We have such a packed card for our first show tonight, starting off with Roozilla taking on Jason Hunter which will be an extension of they encounter at Legends of the cage a few weeks ago. Killjoy Ito will take on the self proclaimed "Devil of the X-Division" in Jason Rayne, Smith Jones returns to EWC after a long time away to face the North American champion Robbie Rayder! Then we turn our attention to two newcomers to Paramount as Former Brawl star David Miller takes on former Prime star El Pablo in one on one action.
Sydney:
Speaking of newcomers to Paramount Wrestling, in case you missed the livestream on EWCTV, we had our two newest signees debut last night. Joe Kane defeated Windsor Middleton IV in an impressive display of aggression, and Jake Lumis was unrelenting in his victory over Steve Lawson. I look forward to seeing these to industry veterans get their shot here on Paramount Wrestling!
Watson:
Indeed, new blood is always welcomed around here! The back half of our card will feature lots of action as we have a three way dance with Former Undisputed and FSW champion Candy, taking on the returning King Flip, who is a former International champions and Kyle Gautier a former North American champion! Then we have Adriana Aquilla taking on Marcu$ $t. John in a match that should prove to be excellent. And then there is our main event....oh boy, folks you do NOT want to miss this one. FSW champion Wes Walker. Undisputed champion Stitches the Clown... UNIFICATION MATCH folks... That's right, we are merging these two titles as of tonight and whomever walks out winner in best 2 out of 3 falls tonight will be the Unified Undisputed champion! We also have appearances from so many others on the Paramount roster so don't -
Watson is cut off as "Remember The Name" by Fort Minor begins to echo throughout the Cow Palace. The crowd is already at a 9 as Chris Brock walks out of the curtain, looking ever the business man in a nice looking charcoal grey suit. He smiles wide as he makes his way to the ring.
Sydney:
Well is looks like its that time again. General Manager Chris Brock is here to get this party started and usher in PARAMOUNT WRESTLING!
Brock is in the ring now and Isabella Starr is seen handing him a microphone.
Brock
: DALY CITY!
The crowd erupts for the home town mention.
Brock:
Oh man, have I missed that sound! Daly City, tonight is THE night. No longer is this brand simply "Those developmental people in Daly City". No longer are we walking the EWC halls as rookies or superstars that aren't "ready" for the main roster. Tonight, we ARE the main roster! We took all of the insults, the put downs, and we bottled it up. We then injected it straight into our veins and used it as fuel to prove every one of you wrong!!! You see, tonight we are the PINNACLE of Professional Wrestling!!
The crowd erupts again as a chant breaks out
PAR-A-MOUNT!!!PAR-A-MOUNT!!!PAR-A-MOUNT!!!
Brock
: Tonight will be an amazing evening from top to bottom, but I wanted to start it off with an announcement. As we have already announced, we are retiring the FSW title after tonight's main event. That is leaving a pretty big hole on the Orange brand as we now have one championship exclusive to Paramount, with the largest roster in the company. With that in mind, I started thinking during the off season on what to do about this. I met with President Mac, I met with representatives from our amazing network partner the CW, and we came to a decision on what we are going to do... I would like to introduce to to you all to the newest EWC Championship in our lineup.. The EWC CW Network Television Championship!!!!
Brock points to the X-Tron.
Watson:
Wow, that is a GORGEOUS championship belt!
Brock:
We all felt that it was important for Paramount to have two exclusive championships as our roster has been robust for a while now. So going forward, Paramount will have TWO exclusive titles. The EWC North American Championship, currently held by Robbie Rayder!
The crowd cheers for their North American champion.
Brock:
Yea, give it up for the Robbie, he's definitely busted his ass to keep that belt...So obviously, the other title will be this CW Network Television championship. This title will be defended at EVERY Episode of Paramount wrestling, starting at Paramount 003! Why episode three you ask? Because next week here on Paramount we crown our very FIRST CW Network Champion! Who will wrestle for it? Great question! At WrestleFest, we held two President Mac invitationals. One of them was won by new Paramount roster member David Miller. He earned a bonus for that win, and a prize to be named later.... That prize folks, is that David Miller will wrestler at Paramount 002 in the Main Event for the EWC CW Network Television Championship! His opponent will be -
Brock is cut off by the thundering sound of "War Machine" by KISS coming out of the sound system in the Cow Palace.
Sydney:
It's soon to be EWC Hall of Famer Dominic Sanders!!!!
Watson:
Let's not forget that he is also the creative consultant for EWC this season as well!
Dominic Sanders steps out of the curtain, microphone in hand.
Sanders
: Daly City!! As I said last night for Gambit, tonight's show is going to be phenomenal! I was supposed to wait for another minute before coming out, l but I was so excited i couldn't help myself. As part of an ongoing effort to bring you all the best show possible, we have a change to tonight's card for you.
Sydney
: What could this change be?!
Sanders:
Killjoy Ito Versus Jason Rayne is now an X-Division rules match!!!
The crowd goes wild at this announcement.
Watson:
Well that will certainly spice things up! Folks we are way beyond our first break, so we have to go but DO NOT GO ANYWHERE.
Sydney:
Paramount Wrestling will be right back in 60 seconds.
[DON'T MISS THE SEASON PREMIERE OF MONDAY NIGHT BRAWL FROM LONG BEACH, CALIFORNIA FEBRUARY 8TH, LIVE ON FX]








---
---
---
---
WHAT IS EWCTV?




All live EWC Pay-Per-View events (including StrangleMania, Night Of Champions, Rumble in the Bronx & WrestleFest)
All day scheduled & live programming
Plus, hours and hours of on-demand content & never before seen behind-the-scenes footage!
Groundbreaking original series - See new episodes of BRAWL, RAMPAGE, Paramount Wrestling, PRIME and more
Live in-ring action, reality shows and documentaries
HOW TO ORDER
Get the award-winning EWC Network through your TV provider. Call your local TV Provider today to subscribe.

Only $7.95/month


WATCH ONLINE
If you are subscribed to EWC Network through your TV Provider you can now enjoy EWC Network on your:

PC, Laptop,PS4,PS5, X-Box, iOS, MacOS, and Windows tablet.



EWCTV for only $7.95 USD per month
Along with being an EWCTV Subscriber, you get:
EVERY Pay-Per-View event included at no extra charge
15% off any and all EWC Merchandise from the EWC Store
20% off all tickets to LIVE EWC Shows
A free EWC Yearly Wall Calendar signed by the entire active EWC Roster
As an added bonus for all those currently subscribed including any new subscriptions
Enter code
"PINNACLE"
and receive
a
FREE
copy of The Best Matches in FSW History
DVD and Blu-Ray combo when it's released later this year
+ free T-Shirt and Replica North American Championship belt.
So act now if you aren't already subscribed to EWCTV
---
---
We open up backstage, where Lisa Goldberg is wandering through the halls, likely looking for someone. She frowns slightly as music blares relatively loudly from behind a certain door. Lisa knocks, alerting the person behind the door of her presence.
Goldberg:
Mind if you turn that down a bit?
?:
Sorry. Sure, give me a sec.
When Lisa can't immediately recognize the voice, she opens the door. Inside is Samantha "The Titaness" Hamilton, which causes her to do a bit of a double take. Her head tilts and Lisa has a clearly taken aback expression on her face.
Goldberg:
So umm
…
you need anything?
Sam offers a swift nod then tilts her hand.
Hamilton:
Well, from Brock namely. He's got big news he's gonna announce and
…
Hamilton:
What can I say? I'm curious.
Goldberg:
You
…
fight for Rampage though. So .. ??
Samantha scoffs, rolling her eyes.
Hamilton:
Good god, do you really think I've forgotten that? I know I do! But I also come over here every now and again to fight against some of the members of Paramount. Also
…
there's some specific fights I have my eyes on tonight. Not just Stitches versus Wes Walker, before you ask, but that is one. And I fully intend to watch them all very closely.
When Lisa continues to stand there and gawk at Sam, she sighs and gets up to her feet.
Hamilton:
Okay, you're being rude. Weird too, but definitely rude. I'm not doing anything wrong, so just
…
enough of this. Let me do my things, you do yours. Okay? Thanks.
Before Lisa can respond, the door is shut once again. A click indicates Sam has now locked the door. Goldberg elicits a frustrated huff before wandering away. The camera fades to
---
---
SINGLES MATCH
Roozilla
VS Jason Hunter
---
We return to ringside after the break with Tim Watson and Cid Sydney standing by.
Watson:
That was definitely a unique interaction, but we were bound to have some company from other brands tonight! Welcome back to Paramount Wrestling's debut episode ladies and gentlemen! Things boiled over at Legends of the Cage between Jason Hunter and Roozilla and we are about to see them settle this in the ring tonight!
Sydney:
Jason Hunter was seen backstage and it's obvious that Roozilla's attack with the briefcase did some damage.
Watson:
One hundred percent or not these two are bound to fight it out until the final bell tonight.
Starr:
The following contest is scheduled for ONE FALL. Joining us first, from San Franscio, CA weighing in at one hundred and seventy pounds...
JASON HUNTER!
"Daechwita" by AUGT D comes over the loud speaker as Diana and Sara came out first. They stand on the stage with Jason as he has his back to the crowd and hood over his head. Jason Hunter hand is clasped around the suitcase used to injure his leg by Roozilla.
Sara slides the hood off his head as Diana walks ahead of them. Sara and Jason play to the fans a bit dancing to the music while Diana walks down the ramp.
Diana holds the rope for them to get in while Sara and Jason get in-ring and she slides his jacket off him before leaving the ring with him glaring towards the entrance. Jason holds onto the suitcase as he awaits his opponent.
Starr:
And his opponent, from San Francisco, CA weighing in at two hundred and thirty nine pounds...
ROOZILLA!
Orange Pyros begin to explode around the area stage as the song "I'm So Humble" – The Lonely Island begins to play. As Roozilla walks out from behind the stage orange lasers being to swirl around the area. The letters FSDub begin to flash on the X-Tron and "The Roo" begins his walk down the ramp towards the ring. He carries the steel chair upon which the letters FSW had been spray painted. As he arrives ring side the lasers all come to a stop and the letters FSDub shine center ring.
Roozilla pulls off his orange FSW t-shirt and throws it into the crowd as he walks up the steel steps. He climbs up the outside ropes and stops with one foot on the second turnbuckle and his other foot resting on the top turn buckle. He lifts his head and then raises his hand to his ear as he takes in the crowd chanting the three letters that have become legend, "FSDub FSDub."
Roozilla leans down and grabs the top turnbuckle and uses the momentum to jump feet first into the ring. He raises his arms out wide and stops in the center of the ring and with a closed fist bends down and pounds the center of the ring where the letters of the legacy are still flashing. He then steps back into his corner and awaits the ring of the bell. Referee Matt Mercer checks both men quickly, then calls for the bell.
DING DING DING
Watson:
And we are officially underway! The very first fight in Paramount Wrestling history is about to begin!
The two competitors appear to still be recovering from Legends of the Cage. Roozilla still has the steel chair within his grasp as he glares across the ring towards Jason Hunter. Jason still holding onto the suitcase that he brought to the ring. The referee is demanding both men to drop their weapons. Jason does as requested by the referee and drops the suitcase over the top rope. Within the second that he releases his potential weapon Roozilla charges across the ring with the chair aimed at Jason Hunter's head. It's within the last moment that Hunter ducks the chair shot as it hits the top rope and rebounds back hitting Roozilla above his right eye. Instantly the chair is dropped and he stumbles backwards as he raises his hand and realizes that he's smeared blood across his face. Jason Hunter runs towards Roozilla putting his knee in the middle of The Roo's back sending him into the turnbuckles. Jason begins hitting punches to Roozilla's kidneys as he quickly ducks between the ropes begging the referee to make Jason break the action. The referee pushes Jason backwards as Roozilla turns around and Hunter runs towards Roo again. He again ducks between the ropes holding his hand out towards Jason Hunter as he hollers, "NO!!!"
Watson:
Well if it's not obvious already, these two men do NOT Like each other! Roozilla almost got himself disqualified right off the bat. Matt Mercer is struggling to get a handle on these two men here.
Sydney:
This is what I want. GIVE ME MOAR!!!!
Jason ignores Roozilla's pleas and reaches over the top rope and pulls the back of Roo's head forward as he begins hitting and elbowing Roo's open wound. The referee is finally able to push Jason backwards allowing Roozilla to escape the ring. Roozilla's manager has come running out towards the ring with a white towel and as the referee makes the count out he attempts to help stop the gushing wound. With the two men distracted on the outside of the ring. Jason Hunter climbs to the top turnbuckle and leaps up hitting one of his signature moves Piper Pit taking both me down on the outside. He then pulls Roozilla to his feet and assist rolling him back into the ring. The Hunter kid climbs back into the ring and reaches down for The Roozy One who quickly responds with his signature finisher, Coward's Way Out, as the referee drops for the unexpected count.
1…
2…
NO!!
Jason Hunter kicks out of the unpredicted move. Jason is quick to his feet and begins kicking Roo in the head. It appears as if Jason tweaks his leg with his last kick as he limps momentarily before backing away as he reaches down and begins rubbing his knee.
Watson:
Neither man is giving an inch here. It's back and forth the entire way. What a way to kick things off tonight!
Sydney:
This is what Paramount Wrestling is all about Tim. THIS is the Pinnacle of the sport!
Not giving an inch The Roozy One charges towards his opponent. He dives for a spear but Jason Hunter quickly responds by dodging the attack. The Roo goes flying between the ropes to the outside floor. Jason Hunter rolls out of the ring and kicks Roozilla in the back of the head when he attempts to get back to his feet. Jason wipes the sweat from his forehead and shakes it towards his down opponent. Roozilla looks upwards from the floor and kicks Hunters injured knee causing him to go down to one knee on the floor. Reaching upwards The Roo grabs a handful of Jason's hair but he is able to knock The Roo from getting a good grasp.
4…
5…
The referee's count continues as both Roozilla and Jason Hunter are fighting back and forth with hits to each others head. Jason is able to pull himself up to his feet and stumbles backwards before catching himself. He grabs the suitcase that he had brought to the ring. Roozilla is able to grab the steel chair that he brought to the ring as he begins stalking Jason Hunter who meets him face to face both men holding weapons.
7…
8…
Jason Hunter and Roozilla both rear back with their weapons of choice and in the same instant crash down upon each other knocking both me to the floor.
The bell begins to ring as both men lay on the floor.
The referee jumps out of the ring and checks on both men. Roozilla is able to roll away from Jason as both men attempt to stand.
DING DING DING
Starr:
Ladies and Gentlemen, Senior official Matt Mercer has called this match at 12:48 and is ruling a double disqualification for the simultaneous use of weapons.
Roozilla is able to make his way up the ramp with Jason starring up towards him. Roozilla has blood coming down from his forehead and Jason is holding the side of his head.
Watson:
These two been have an apparent hate for each other. Where does this go from here? I don't think it's over between these two competitors.
Sydney:
I thought both me had been counted out but it ends in a disqualification. I see a stipulation match between these two coming up at some point.
Watson:
We are definitely going to find out i'm sure! Next up we have that X-division rules match that EWC Creative Director Dominic Sanders made official earlier. Killjoy Ito and Jason Rayne are going to tear this place down i'm sure!
Camera cuts to ...
---
We cut away as a monochrome video package begins to play, showing the efforts of two wrestlers trying to defeat each other. It is clear that these are not EWC natives as the video continues, showing one of the wrestlers gaining dominance before swiftly losing it. Any victory within their fight is fleeting as a voice cuts through the action.
Voice:
I used to believe in the story. The idea that there were heroes in our lifetime, people who were able to commit great deeds and fight for concepts and dreams worth fighting for. I used to believe that maybe I could be that person, the patron of something worthwhile. Then I saw the story for what it was.
The monochrome video has now shifted away from the nameless wrestlers and into full color, now showing moments from prior matches at the end of 2020. Dominic Sanders delivers a Riptide to Wes Walker cutting to Killjoy Ito bouncing off the ropes and hitting Kettei-Da against Sanders, once again cutting to Wes Walker hitting WBE with the Irish Hammer. The voice returns...
Voice:
A cycle of violence serving selfish needs. And I was one of the selfish ones believing that I was doing this for a meaningful cause. The patron that I was delivered victory and defeat just like the rest of us. Time passed me by and the cycle kept going, even if some of us can savor those moments of fleeting victory.
The video shows the closing moments of Kyle Gautier vs Candy, with the Candy Crusher making the difference between a two-count and the decisive three. The three count immediately transitions the video to near-black as a silhouette of a man can be seen. Once again the voice returns, providing the knife to cut through the moment of tension.
Voice:
The story is the cycle, the cycle is the story we've been telling all along. Do the desperate and grotesque things you feel you have to, just to serve some supposed higher cause. I went to that ring once with the idea that I would represent Professional Wrestling and bring it to a new level. In time, I saw the cracks and now I just want to break that cycle by breaking everyone involved in it. There are no heroes in the ring and there are no Saints among us. I should know, I used to be one.
A flash of a spotlight, a reveal of the face of a man who looks drastically different to what some would remember him by. The light colours in the shape and the contours, filling in the silhouette of the man with the message.
James Keaton:
I am James Keaton, and there is no rest for The Wicked.
James Keaton's final words illuminate the screen as we fade to black.
---
[TUNE IN TO THE SEASON PREMIERE OF RAMPAGE FROM LONG BEACH, CALIFORNIA ON FEBRUARY 12TH LIVE ON ESPN & HBO.]
---
---
---
The camera cuts backstage to find Killjoy Ito, along with 'The Prodigal Son' Buddy Love as they are surrounded by Paramount staff members. One by one they congratulate Killjoy for his outstanding 3rd place finish at Legends of the Cage, the best finish by a Paramount roster member. Killjoy politely nods but seems annoyed...while Buddy smiles and is excited for all the attention they are receiving. From off camera we hear someone clear their throat, which gets the attention of both Killjoy and Buddy. The camera pulls back to show Lisa Goldrush…
Buddy starts to turn red as Lisa looks at the pair
Goldrush:
Welcome back to Daly City and congratulations on an AMAZING run at Legends of the Cage, you made Paramount very proud Killjoy…
Killjoy starts to shake his head but Buddy jumps in
Love:
Well people want to talk about the match Ace King had with David Miller but Killjoy had the toughest road to the semi-finals for sure, Samantha Hamilton is incredible and I don't think I can stress the emotional toll place on Killjoy by having to face TWO members of The Love Club in his first two matches...I mean how do you fight against FAMILY…
Killjoy opens his mouth to say something but Buddy picks right back up
Love:
I mean to be that close the Main Event of StrangleMania and a shot at the Undisputed Championship...after coming up 2nd at the Rumble...I mean Lisa, we are on the cusp of kicking the door down and getting that Undisputed Championship match, so damn close…
Buddy shakes his head in frustration
Love:
I mean last season we beat BOTH men in tonight's EWC Unification Match between the FSW Champion and Undisputed Champion...Killjoy beat Stitches and Wes Walker last season and yet he's fighting for his footing here in 2021…
Buddy tosses his hands into the air
Love:
I mean he beat Ace King in a championship match last season...how many people around here have taken a championship off Ace King in a straight up match?
This time it's Lisa who's about to speak and answer the question but Buddy starts back up
Love:
And now here tonight we kick off Paramount, the roster is no longer considered 'developmental' but are now main brand superstars and everyone on tonight's card is hoping to hit the ground running but I'd like to remind everyone that Killjoy has already had 'main brand success'...he went to Brawl last season and picked up a win...see Killjoy never saw himself as 'developmental'...no sir, he knew he was a SUPERSTAR in the EWC and he gives Paramount a proven star Day One!!!
Love:
So tonight, we kick off Paramount by putting Robbie Rayder on notice...that North American Championship that you are carrying around puts you in the same conversation as the International and US Champions in the EWC and we need a champion we can be proud of...Killjoy will be coming for that championship in 2021...but tonight are focus is on one Jason Rayne…
Love:
The self-proclaimed X-Division star that's SO extreme that he skipped out of Legends of the Cage...the one event where someone like him SHOULD have been a wrecking machine so my question is why...why would he not go out there, step into the cage and beat the best of the EWC to a bloody pulp...I mean he bragged about going toe to toe with then X-Division Champion Xavier Reid...by his own logic he would have been a shoe in to win the event...why would he skip it…
Buddy pauses and before Lisa can answer
Love:
BECAUSE HE'S A FRAUD!!!! He wouldn't have advanced past round one Lisa...see everything Jason wanted out of a career Killjoy went out and did...Killjoy was the man that brought the X-Division Championship to the FSW last season...heck the FSW sent TWO men out there to challenge for that championship and NEITHER were Jason Rayne...Mr. Chris Brock looked at his roster and TWICE passed over Jason Rayne for consideration, that means he picked FOUR men over Jason...that should tell you what our GM thinks of Jason Rayne and maybe that's why he went home and sat on his butt for the later half of 2020...while Killjoy was winning the X-Division Championship, while Stitches was winning the Rumble, while Wes Walker was winning the FSW Championship...while Stitches was winning the Undisputed Championship...see the majority of this roster should be lining up and thanking the top tier talent around here because it was the Stitches, the Candy, the Killjoy's of the FSW that allowed this brand to graduate to the main brand we are right now...if it was up to the Jason Rayne's of the world we would still be the FSW…
Love:
So tonight we walk out to that ring and show Jason Rayne what it means to be a Paramount Superstar, to remind everyone in the back that Killjoy Ito is the benchmark around here...and to put EVERYONE in the EWC on notice...that 2021 will be the year of Killjoy...and it starts here tonight...come on buddy…
Buddy smacks Killjoy on the chest and he nods at Lisa as to say 'yeah...what he said' and the pair walk off camera
---
---
---
X-DIVISION RULES MATCH
Jason Rayne
VS Killjoy Ito
---
Watson:
Welcome back folks, it's time for our next match which was originally going to be just a traditional singles match but was turned into an X-Division rules match by EWC Creative director Dominic Sanders!
Sydney:
This will be an intriguing match here Tim. Former X-Division champion in Killjoy taking on the man who from day one has told everyone that he is the future of the X-Division. Both of these men have proven how vicious they can be and with X-Division rules in place I don't think anyone knows what to expect here!
'The Devil Inside' by Blues Saraceno plays and the crowd begins to boo as Jason Rayne comes through the entrance. Jason stops for a few seconds to bask in the jeers from the crowd, letting a cold smirk come across his face.
Starr:
The following contest is scheduled for ONE FALL... Introducing first from Miami, Florida... weighing in at 250 pounds... JASON RAYNE!
Jason then makes his way methodically to the ring. Jason lifts the top rope slightly and nonchalantly ducks under it and steps into the ring. Jason proceeds to casually remove his leather jacket and shades, handing them to the referee, who removes them from the ring.
'The Prodigal Son' Buddy Love walks out onto the stage and raises his arms into the air as the lights fade out. He jumps up and down as 'Deeper Depper' begins to play. A strobe light circles around the stage as a single white spotlight hits the stage where Killjoy Ito is standing, his back facing the ring, his arms stretched out and his head down. He swings around to face the ring as Buddy Love runs up and stands next to him.
Starr:
And his opponent from Daly City, California... weighing in at 235 pounds... KILLJOY ITO!
After a quick word the pair start to walk towards the ring, Buddy runs ahead and charges up the steps and holds open the ropes for Killjoy to step through. Killjoy walks to the center of the ring, extends his arms and tilts his head back to soak everything in.
DING DING DING
Rayne charges Ito and squashes him with his size in the corner. Ito drops to the mat holding his chest. Now being an X-Division match, Rayne exits the ring immediately and starts pulling items out from underneath the ring. He grabs two steel chairs and slides them into the ring. He reaches underneath and grabs a table, sliding it into the ring, as well. Finally, Rayne grabs a ladder out from under the ring. But before he can put it in the ring, Ito is out and grabs Rayne by the head. He drives Raynes head hard into the ring apron. He climbs up onto the apron and pulls Rayne up to the apron with him. Ito picks Rayne up, looking for the Death Valley Driver onto the apron! Rayne wiggles free. Rayne is behind Ito. He is going for a German Suplex on the apron. Ito drives a back elbow into the side of Rayne's head. Ito grabs him in a headlock and runs along the apron. He leaps off and delivers a bulldog to Rayne on the floor outside!
Ito picks up the top half of the ring steps and drives them down hard into Rayne's ribs. Rayne crawls away as Ito picks them up into the air again. Rayne jumps up and dropkicks Ito, the steps flying out of his hands and tumbling away. Ito runs at Rayne for a clothesline. Rayne ducks. Ito turns around. Rayne kicks Ito in the gut. He lifts Ito up and drives him down with the Viper's Fangs on the metal ladder! For a moment, Rayne struggles to pick Ito's dead weight up off of the ladder to roll him into the ring. Rayne covers Ito.
ONE!
.
.
.
TWO!!
.
.
.
Buddy Love pulls Jason Rayne out of the ring to break up the count! Jason Rayne looks at Love, who just robbed him of a win. As he is about to hit Love, Ito is outside with one of the steel chairs. He cracks Rayne in the back with the chair and tosses it aside. Ito grabs Rayne by the head and rolls him into the ring. Killjoy rolls into the ring and lifts Rayne up to his knees. He walks over and grabs the other chair. He sets the 2nd chair up right in front of Rayne. Ito bounces off of the ropes and returns, drilling Rayne with the Kettei-Da, forcing Rayne's head right into the seat of the steel chair. Rayne slumps off to the side and Ito walks over and covers Rayne.
ONE!
.
.
.
TWO!!
.
.
.
THREE!!!
DING DING DING
Starr:
Here is your winner via pinball at 7:26... KILLJOY ITO!
Watson:
WOW.... That was... BRUTAL!!!! The X-Division is never an easy anything, but when you get two men who know it well like we just witnessed, they will give you a show!
Sydney: Both men looked really strong here. I don't think we've seen the last of either of them in the X-Division. Kudos to Killjoy and Jason.
Watson: Coming up next is a match you won't want to miss folks. Smith Jones returns to the EWC after five years away and he takes on the current EWC North American Champion, Robbie Rayder! Stick around that match is coming up next!
Watson:
What is this? What is he doing here?
Cid:
I guess he just invited himself.
Remarkable Mark Keaton walks down the ramp, fully clad in leather. His signature leather jacket with the red stitched RMK on the back, his leather pants with a sparkling RMK on the rear section, sunglasses and a cigarette hanging out of his mouth. He rips a microphone off of a nearby staff member and climbs the steel steps. He looks back at the crowd and soaks in the boos for a moment before jumping in the ring. He walks to the center of the ring and flicks his cigarette then raises the microphone to his mouth.
RMK:
Listen, you bunch of wankers! Show me a little more respect than that, I am Canadian afterall. We know Canadian's are far superior to you jackasses. Plus I'm on Prime! The superior brand! Be thankful I took the time to come down to this level!
He lowers the mic as boos reign down.
RMK:
I'm going to keep this short and sweet, unlike those really long, boring as fuck Love segments that you people are subjected to every show, eh? I can only imagine how many are on this show alone, I'll find out someday when I watch this on VHS. Fast forwarding through it. Anyway! The reason I'm here is to challenge anyone on The Paramount roster to a fight, right now!
Mark looks at the top of the ramp, so does the capacity crowd.
Watson:
Mark Keaton bravely offering an open challenge here on Paramount.
Cid:
He better watch out, there is some serious firepower here tonight.
RMK:
Well? I can wait here all night?
Mark stares at the Mactron, nothing changes from the Paramount Logo.
RMK:
Just as I thought, the Paramount roster is STACKED with pussies! Everyone is in the back, climbing over each other to get to the exit! Terrified at a Prime Superstar challenging them! The Paramount GM is probably sitting in his office right now, his head buried in his hands, crying in absolute, fucking embarrassment at his roster. I don't blame him, I'd be embarrassed too! Bunch of slack jawed hillbillies!
Mark looks again and everyone waits, nobody comes out. Mark drops the mic and smiles at the fans. He gives a kid holding a - David Miller is awesome- sign the finger before putting his leg though the rope to exit…
Watson:
Oh look out! It's "Classic" Smith Jones!!!!
Every spotlight in the joint floods the stage with bright light as the soothing strings of "Bitter Sweet Symphony" by The Verve fade in. As the beat kicks in, Smith Jones appears on stage dressed in patent white leather boots, white knee pads, and white trunks with a large red maple leaf on the left side, trimmed with silver. He locks his eyes on RMK as he strides confidently down to ringside. Without a word, Smith mounts the steel ring steps, wiping his feet respectfully on the apron before parting the ropes and stepping into the ring. WHAM!!! Keaton attacks with a running clothesline that drops Smith Jones onto his back immediately. Smitty scrambles to get up as Keaton goes for a running forearm smash!
Smith Jones ducks the forearm and runs the ropes. He returns, ducking a clothesline on the way by. As he runs the far ropes, Jones comes back to be met by RMK's signature Walking Big Boot! But, no! Jones catches Keaton and secures him for a sick overhead gargoyle suplex! They both get up at the same time. Smith connects with a textbook standing dropkick. Both men hit the mat. Both get up again. Jones connects with his signature spinning back elbow called
The Unexpected
! RMK tumbles awkwardly through the ropes to ringside!
Crowd:
PAR-A-MOUNT!!!
PAR-A-MOUNT!!!
PAR-A-MOUNT!!!
Smith Jones grabs the microphone.
Smitty:
RMK. You look like a badass. Are you a badass, Mark? You think you can just waltz in here on the premiere episode of EWC Paramount, call everyone a bunch of vulgar names, and just walk out unscathed?!? Nuh-uh! You think you're the only six-foot-two, two hundred twenty-nine pound badass Torontonian around here?! Think again. We've got a whole lot in common, Mark. And if you're truly in search of a fight…
Jones steps right up and leans out through the ropes to where RMK is standing at ringside. Smith speaks in a low growl.
Smitty:
I'm... right... here.
Mark gives him the finger and backs up the ramp as nearby fans boo him. Fade to black.
---
[JOIN US IN ITALY FOR A VALENTINE'S DAY PRIME. PRIME LIVE ON SHOWTIME, FEB. 14TH. NIGHT ONE OF THE 2021 G1 TOURNAMENT]
---
Upon return from commercial, the first-ever PARAMOUNT crowd is buzzing as the feed goes backstage to the Cow Palace parking lot. The parking lot is almost completely jammed, but there's just enough room for a Lyft driver in a silver Honda Accord to drive through and pull up to the back entrance.
After a few seconds, the crowd cheers as Legends of the Cage winner Ace King emerges from the back seat in a vintage 'PX' t-shirt with tie-dyed lettering, slinging the X-Division Championship over his shoulder before striding purposefully toward the door. Upon entry, he's almost immediately ambushed by the clicking heels of PARAMOUNT interviewer Lisa Goldrush
Goldrush: Ace, obviously a lot at stake here tonight, particularly as you'll find out who you're challenging for the Undisputed Championship between either Stitches or Wes Walker-
Ace puts a hand over the microphone for a moment, a soft, albeit dismissive, smile on his face.
Ace King: Tonight isn't just about that… Tonight is the start of something big, perhaps a revolution… No… A Rainbow-lution.
The crowd cheers as Ace looks down at his t-shirt.
Ace King: Tonight, the world will see my Day 1 dude El Pablo make his debut as an official member of the PARAMOUNT roster, and I couldn't be happier to see him back given how many of the same roads we've travelled together through more than a decade of competition, not to mention some of the sights we've seen-
Ace freezes for a moment, shuddering at whatever vision he has in his head before turning his attention back to Goldrush.
Ace King: At any rate, there was no way I was going to miss that match. Chris Brock has something special going here, and it's been crazy every time I've come here.
The crowd starts to buzz again as Ace takes a breath before focusing on Goldrush again.
Ace King
: Now, as for the significance of what's going on later tonight… From experience, I can tell you that Two out of Three Falls is a
bitch
, and whoever emerges victorious will have earned it.
However
… In the end, they're both on borrowed time. While much has been made of my Undisputed Championship failures in the past, this time really is different. Now, more than ever, I know what I'm capable of, and no matter whose eyes I'm staring into when the bell rings at StrangleMania… They'll know it too, and they'll know that I will stop at
nothing
to become a two-time EWC Undisputed Champion. Bet On It.
With that, Ace purposefully strides away as we cut to…
---
---
SINGLES MATCH
NON-TITLE MATCH
Smith Jones
VS Robbie Rayder
---
Watson: ACE KING ladies and gentlemen! Wow, you never know who will pop up on Paramount Wrestling next? Ace of course as he alluded to will be facing the winner of Wes Walker Vs. Stitches at StrangleMania for the Undisputed championship. That was the opportunity Ace earned for winning Legends of the Cage a few weeks ago.
Sydeny: Whoever it is, I am here for it! This will be one hell of a road to StrangleMania! Right now though, Isabella Starr is standing by!
Starr:
The following contest is scheduled for ONE FALL and is a non-title match! Introducing first…Already in the ring From Toronta, Ontario, Canada… He is The Image of Excellence… "Classic" SMMMMMMMIIIIIIITHHH….. JJJJJJJJJJJJJJOOOOOOOOOONNNNEEEESSSS!!!
Smith Jones, still in the ring from his interaction with RMK before the break, raises his hand as the crowd gives him a cheer.
Starr
: And his opponent...
"Fear" by Disturbed begins to blare throughout the Cow Palace.
Starr:
From Vancuver, British Columbia… He is the EWC North American champion…. "THE DREADNOUGHT".... RRRRROOOOBBBBBIIIIEE…. RRRRRRAAAAAAAAYYYYYYYYYDDDEERRR!!
The lights go out in the arena then a fog covers the entrance. The lights slowly come up as Robbie Rayder, wearing long purple tights and black boots, walks out through the fog and kneels down. He points his index fingers to the ceiling then lowers them to his lips. Rayder looks out at the crowd as he walks half way down towards the ring, then runs towards the ring, sliding in under the bottom rope. He gets to a knee then gets to his feet, leaning out through the middle and top ropes, playing to the crowd.
Watson:
Here he is Cid, Paramount Wrestling's lone title holder right now. The Undisputed champion, of course, is and will be a member of Paramount even after this evening's main event, but until we crown an inaugural CW Network Television champion, Robbie is the sole Paramount exclusive title holder. Don't forget though folks that the Undisputed, X-Division, and Tag Team titles are all quad brand! Killjoy Ito last season was X-Division champion while a member of the FSW, now Paramount Wrestling, roster.
Sydney: Like him or hate him, you cannot deny that the Dreadnought has proven that he can get up for the big matches. Former FSW champion, current North American champion and he successfully defended the title at WrestleFest. Robbie has a 4-year career with EWC and it looks like he may be just getting started.
Paramount referee Jesse Lizarraga quickly checks both competitors, before taking the North American title from the champion. She quickly hands it off to the time keeper and calls for the bell.
DING DING DING
Both men immediately close in on each other. Smith goes for a collar and elbow, but the North American champion looks to throw his opponent off guard by coming in with a flying knee strike, but Jones has it scouted and quickly slaps the knee away, sending Rayder into the corner, but not completely. Rayder quickly stabilizes himself, pivots and throws an elbow that catches Smith off guard! Jones stumbles back a few steps, but quickly regains his composure and then re-engages, this time both men go for the collar and elbow. Smith uses his height advantage to get Robbie into a waistlock, but the dreadnought is able to quickly break and reverse, grabbing Smith by the head and putting him into a headlock. Jones pushes back, lifting Robbie into the nearest corner, setting him atop the nearest turnbuckle. Robbie quickly throws a punch to the side of his opponent and then jumps,, taking Smith with him for a tilt-a-whirl DDT! Jones lands with a loud THUD! That keeps him upright for just a split second before he falls to his back. Rayder doesn't go for the cover, though, and grabs Jones up by his head, sending him into ropes. Jones rebounds, but stops short, then spins quickly catching the North American champion with The Unexpected! (spinning backfist) Robbie crumbles to the mat, Jones quickly with the cover.
ONE…..
TWO…….
KICKOUT! Rayder powers out before the 3!
Watson:
The early goings have this match pretty dead even. Both men showing that neither Canadian is intimidated by the other.
Sydney:
Smith Jones has been crisp so far Tim. If you didn't know that he's taken 5 years away from EWC, then it doesn't show here at all!
Both men back to their feet now and running at each other, but Robbie out of nowhere leaps and is able to land a running Hunacanrana! The crowd is losing their minds now as the action just picked up. Jones is quickly back to his feet and as Rayder is charging in now, but Jones is able to throw a toe kick the champions midsection, then quickly drops him with a DDT. Robbie is able to quickly recover, though, and he catches Jones from behind, quickly throwing SMith overhead with a belly to back suplex. Rayder quickly follows up, bringing Jones to his feet as the champ looks to go for a deadlift German suplex, but Smith is able to move a leg in time and turn it into a side ruissian leg sweep! Jones quickly races to the top rope and jumps off with a perfect moonsault, tucking his legs on impact top drive them into the chest of Robbie Rayder!
Sydney:
He calls that The Crestfall!
Watson:
I think this one might be over Sid. That was probably the most brutal moonsault I have ever seen.
Jones covers the North American champion…
ONE…..
TWO……
THRE- KICKOUT!!!!!
Rayder kicked out at the LAST possible moment to keep himself alive!!! The north American champion is not looking his best right now as he is struggling to get up. Smith Jones cannot believe that he didn't just win the match there. The look of disbelief on his face fades quickly though as he goes right back to the corner and hopes to the second rope, sizing up his opponent. As Robbie gets to his hands and knees, Smith jumps from the middle turnbuckle looking for Gravitas, but Robbie has it scouted and rolls out of the way!!!! Jones grabbing his knee now as Robbie gets to the ropes and to his feet. His is first up, but Jones it not too far behind, just favoring the knee a bit. Robbie comes at Jones with a Spin kick, then a Superkick that sends Smith stumbling back. Robbie takes the moment to hit the nearest rope. He bounces off and hits Jones with a sick kick that sends Jones to the mat hard!
Watson:
He calls that combination Shock and Awe!
Rayder follows up with a pin…
ONE…
TWO….
KICKOUT!!!
The crowd is just as surprised as Robbie that Jones kicked out of that. The noise in the Cow Palace has the building almost shaking as Rayder pounds the mat, then grabs his opponent by the head and brings him to a doubled over position. Rayder attempts to move his opponent into position for his next move, but Jones deadweights himself. Robbie throws a hard forearm to the back and gets Smith Jones head between his legs He lifts with every bit of muscle he has, runs and hits the Star Destroyer! The crowd is going insane as Rayder follows up with the pin.
ONE….
TWO…
THREE!!!!!
DING DING DING
Starr:
Here is your winner at an official time of 14:26 via pinfall. The EWC North American Champion… RRRRROOOOBBBBBIIIIEE…. RRRRRRAAAAAAAAYYYYYYYYYDDDEERRR!!
Watson:
My God what a performance by both of these men here tonight.
Sydney:
I don't think Robbie Rayder expected this kind of a challenge to start off the season, but we could have just as easily seen Smith Jones return from five years away and beat the North American champion just now. WOW….
Watson:
Wow indeed. Smith Jones wrestled with an absolute purpose here tonight, but the lesson learned here is NEVER count out the Dreadnought… He goes into Season 22 as the man to beat here on Paramount. That is if your sights aren't set on the Undisputed championship! Coming up next folks, we have two newcomers to Paramount Wrestling, one will be fighting for the newly announces CW Television championship next week, the other is bringing the Rainbowlution to Parmount. David Miller versus El Pablo is next, don't go anywhere!
As Robbie Rayder makes his way up to the locker room his music is interrupted by the opening riffs of Five Finger Death Punch's "Meet the Monster." Striding with strong purpose from beyond the curtain comes the Mercenary headed towards the ring.
Sydney:
I don't see Mercenary on our run down sheet.
Watson:
He indeed is not scheduled. In fact we haven't even seen him since the war at Wrestlefest and there were some who wondered if we'd ever see him again in an EWC ring.
Sydney:
There was a few who hoped we'd never see him again Tim, but here he is back like a bad penny.
Mercenary pauses as he walks past Rayder on the ramp. The two men stare at each other for a tense moment before he nods stiffly at the champ and resumes his intended path to the ring where he motions the ring attendant to hand him a microphone. Holding the mic in a loose grip he looks out at the crowd with a distant expression as he seems to be gathering his thoughts before slowly speaking in a low and even tone.
Mercenary:
If there's one thing I've figured out from all my time between these ropes is that if your really smart about the business you can take as much away from your defeats as you get from your victories. When I went into Wrestlefest there was only one thing that I wanted to take back with me and that was The North American title but, yet again, I just couldn't make that go my way. I went tooth and claw with Robbie Rayder, back and forth to the blood and bone. We tried our best to destroy each other in one of the worst fights of my whole entire career. We, the both of us, left everything we had out here in the ring and we set the stage for the whole damn weekend. I hate like hell to admit it out loud but I think that I'm more proud of that loss than any win I've ever had in my life.
You know when I came here, I came intending to relive a past life. I came here to dominate the roster and prove that everyone else's place in line was two steps right behind me. I came here a hard man with some hard lessons to hand out to anyone that got in my way, but in the years that I've been here I turned out to be the guy that had a lot to learn. I think it's safe to say that since I came here to the EWC that I've been more than a little humbled by the experience.
The crowd who have been mostly silent and indifferent since he started now offered an almost hesitant ovation. Mercenary half-smiled and chuckled at the response.
Mercenary:
Yeah. That's fair. You're waitin' for the other boot to hit the floor. I hear ya. I get it. Since I've been here I haven't had a lot of nice things to say when I hold this mic in my hand. I've said some pretty messed up shit to you people over the years. I've berated the people who boo me and insulted the people who like me. I've basically told all of you that you were useless trash that I had no time for. But then during that battle at Wrestlefest a funny thing happened. As Robbie and I were bleeding all over each other and doing our best to beat each other into oblivion I actually heard the crowd for the first time. I heard them shout. I heard them cheer and I heard them cheering for the both of us. I heard that sound and for the first time in a long time it started to lift me up when all that I wanted was to just stay down.
The fans responded again a little louder this time.

Mercenary:
You know they say that it takes a big man to admit when he was wrong. It takes an even bigger man to apologize for being wrong and if you all can't tell by lookin' I've always been a pretty big kinda fella. I guess... what I mean is… what I'm trying to say…
Mercenary is abruptly interrupted by the loud sound of Sixx A.M.'s "This is Gonna Hurt" blasting over the arena speakers. At the top of the stage Lacey Savage appears, standing with a strange smile on her face before she is flanked by the members of Damage Inc.
Watson:
It seems we are being joined by other members of The FEUD. Damage Inc has been M.I.A. since the big tag tournament on Brawl last year and rumour has it that they have been traveling the world.
Sydney:
But they did take a pit stop at Wrestlefest when Malice and Mayhem attempted to help Mercenary win his match, an offer that he stupidly declined by the way, when he sent them packing with some harsh words.
Watson:
Yes, he surprisingly did the honorable thing Cid, I don't see anything at all wrong with that.
Sydney:
His choice made him an honorable loser Tim and I wonder what his stable mates think about that?
Mercenary stares with a wary expression as the three make their way down to the ring. Malice holds the middle rope down so Lacey can climb in where she greets the Mercenary with a bright expression and open arms before she calls for her own microphone.
Savage:
KEVIN!
It's so lovely to see you again after all this time and in such good spirits! How wonderful.
Michael cringes at her use of his proper first name. His father's name. A name that he hated. Lacey was the only one that ever called him that and it was part of the reason that he had never been able to like or trust her.
Savage:
Now Malice, Mayhem and I just wanted you to know how sorry we are about your loss at WrestleFest. You put up one hell of a fight and We understand why you wanted to do the thing yourself. We just hope that there is no hard feelings. It's like our credo goes: Family First. Family Forever. The Family has always will always back you and that is all we were trying to do, have your back. But you… YOU… You always were the independent type. You're the kind of guy who always needs to go it alone like some kind of wild lone wolf. For good or bad you're the guy, and that just makes Us feel so… PROUD.
Malice and Mayhem nod their agreement and start to applaud over their heads to get the crowd going. The audience responds with a very respectable pop.
Savage:
When you came to this company over two years ago you were a broken man in search of the person he had lost. You carried the weight of the world on your shoulders. You wore your past sins on your sleeve. You had lost your whole identity. Since then you've struggled so hard to find yourself again and every time you get knocked down you forced yourself back up to your feet and you kept on moving forward. You may not have been able to recapture your status as a champion, but you sure as sin have recaptured your fighting spirit and your will to persevere. And we're not the only ones who wanted to come out here to congratulate you. Someone from your past also has something they wanted to say.
Lacey points up to the X-Tron where a face very familiar to the Mercenary flashes ten feet tall on the big screen.
Watson:
That, I believe, is Mister Maxxwell, the man who originally called himself Mayhem before he bestowed that name of his protégé and current member of Damage Inc.
Sydney:
Just like Mercenary he and his partners were big time players on the small scene in a team called The Terror Squad, a team that has huge history where Merc is concerned. In fact I would call them the EWC Outlaw's biggest albatross because they are a part of his past that he just can't seem to escape.
Watson:
They have proved to be a heavy weight indeed Cid.
Mr. Maxxwell:
Hello Michael. Try to fight that surprise. I'm sure I'm almost the last person you thought you'd be talking to tonight but I ask you to please just hear me out. Now it's no secret that Mayhem was my student before he became a member of Damage Incorporated. It is also no secret that I was the one who loaned Lacey the substantial funds to get that team back up and running, even though the OG team were some of the biggest rivals from my wrestling past. When asked about my reasons for doing this, I would just say that it was good business. Malice is a very talented veteran that I knew could help elevate Mayhem's career and Lacey is possessed of the kind of cunning financial mind that I was certain would gain me a serious return on my investments. But as we all came to find out for ourselves the EWC is a very different world from the ones that we were used to.
In the past Michael WE were KINGS! We were all champions. We were on top of the heap. But the same has not proven to be true for any of us on this roster. Damage Inc found early success in the tag team division but, very much like you Merc, they just couldn't seem to win with a title on the line. That was why I orchestrated the creation of The FEUD. I was certain that reunited and with the help of Mayhem our union would give us the advantage that we were missing by fighting alone.
It's strange I know, that an enemy would want to bring you in as an ally. But if you think about it it's not all that weird at all. My friends, Mercenary, my allies… they are all out of the business. So what do you do when all of your friends are gone? Who is left that has any idea about who you were or where you've been? Sometimes the enemies are the only people left who really know you… the only ones who really understand.
I know why you don't want the help Michael. I know what it is that you are trying to prove. I get it. I know your story as well as anyone bro. I know why it's so hard for you to trust people. But take a second, if you would, to look around you. Take stock of your situation. In that ring with you are a group of people who are willing to take your side. They are willing to back you up in any situation or struggle. With all the people who have walked out on you, even though you constantly push them away, THESE are the people who are still there, standing by your side. I really think that should count for something, don't you?
Mercenary looks around the ring to see that he is surrounded by nothing but smiling and supportive faces. His guard begins to lower as his tension starts to relax. Malice slaps his former best friend on the shoulder in a brotherly way and Lacey presses her chest up against his large arm in an awkward kind of hug.
Mr. Maxxwell:
It's true. This crew sticks with you. Though everything. Through loss after loss. Through every missed opportunity for a title. They stayed true. These are the people that you owe an apology. Not the people. Not the fair weather fans. The FEUD is your true family. They are the ones who care.
The fans start to turn on the scene after Maxxwell's remarks. In the ring the love fest continues as Mayhem stretches out his arms wide in an open gesture of friendship. Malice shoves Mercenary playfully towards his partner and Mercenary nods as he shakes he outstretched hand. Mayhem doesn't break contact with him right away, tightening his grip and holding Mercenary in place until it becomes awkward and intense for everyone involved. The two men stare at each other and Mercenary's half smile fades from his face mere seconds before Mayhem pulls him hard into a short arm clothesline that slams the bigger man down to the mat. Malice looks at Mayhem with an expression of mock shock before the two jackals attack to fallen Mercenary with kicks to the head and stomps to the body until the blood begins to flow. From the corner Lacey laughs and shouts encouragement. From the big screen Maxxwell looms with a God's eye view over the scene with a sinister smile on his concrete features. After Mercenary is subdued and doesn't struggle anymore the two turn him towards the screen, picking his head up by the hair so that he is forced to look up at Maxxwell.
Mr. Maxxwell:
Through every FAILURE I waited. I was so sure that eventually you would luck out and win one. I was certain that you would find the top of that heap and become something of the man I knew… Something of that man who threw my partner Curtis Monroe through a table and broke his damn neck just to take home a title. I waited for you to regain that killer instinct, that attitude you used to live by. I waited for years, but all I got was disappointment and failure. Until I realized something. I finally understood. I understood that THAT guy. That champion caliber fighter, he's gone. DEAD! And you are just the sad shade of what he used to be. I REALLY wanted you to win at Wrestlefest. I really did. It would have made this moment so much sweeter for me. Did you really think that I could ever forgive you Mike? YOU RUINED MY LIFE! It was like dominoes falling. You put Curtis out and the Terror Squad was never the same again. Dread got depressed. He got angry. He got himself locked up and then I was all on my own. Then I got injured and that was it, career over. I was erased like I had never existed at all and all I had was my hate to keep me company. And then one night I'm flipping the channels and there you are, The Mercenary, sitting in the crowd at Uprising and talking trash about how he's set to take over the wrestling world all over again. It was in that exact moment that I knew what I needed to do. I had to take care of unfinished business.
The fans are booing loudly now
Mr. Maxxwell:
What? What!? You don't like it? You feel bad for him now? You feel bad for this fatherless son of a bitch who is so damn worthless his own junkie mother went and died so she could be rid of him? You fickle fuckers make me sick.
Watson:
Oh come on! Disgusting! Somebody get this guy off the screen. Shut him off.
Sydney:
Telling the truth doesn't get you any friends Tim, but that doesn't mean it doesn't need to be told.
Watson:
This is ridiculous.
Mr. Maxxwell:
You are the last of my unfinished business Mikey. I'm the past come back to haunt you. You ruined my life. You crippled my partner. You abandoned Malice. You left Lacey high and dry. You are a cancer that spreads to everyone you leave in your diseased wake but We are going to cut you out. We're gonna save the EWC from your sickness for its own good and whether anyone likes it or not. But don't worry Mike, we'll let you finish your apology, but we're gonna make damn sure that you mean it when you do.
Dropping him to the mat Malice and Lacey leave the ring and make their way up the ramp. Mayhem pauses to give the injured man one last boot before he follows after his teammates leaving the Mercenary a bloody mess in the middle of the ring. They stop to pose beneath the grinning visage of Mr. Maxxwell before the screen goes black and back to the Paramount logo.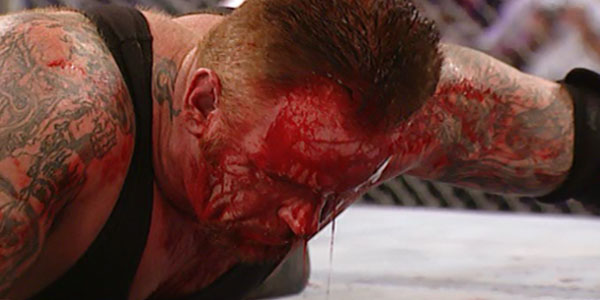 Watson:
I'm not sure what we just witnessed by I think it's safe to say that we just witnessed the end of the FEUD.

Sydney:
But what we're getting may prove to be that much worse Tim.
Watson:
That's true Cid, but only time will tell. We'll be right back folks.
---
[THE PINNACLE ARRIVES IN ONTARIO AS PARAMOUNT WRESTLING AIRS NEXT ON FEB. 17TH FROM THE GREAT NORTH]
---
As the scene switches backstage, a smiling Candy waves at the camera.





Candy: Hey everyone. Just thought I'd welcome you to the premiere episode of Paramount. I hear it's going to be a sweet one. And I don't just mean because I'm here.
She giggles before going on.
Candy: While I may not be competing for the Undisputed Championship, I still have a chance to leave my mark on tonight's show by not only defeating a former North American Champion, but a former International Champion as well. Which is exactly what I plan to do once this three way dance gets underway.
Candy: Neither the Jester or the King will make the easy for me. And that's okay. Because I'm ready to prove I can overcome whatever they have to throw at me. For the Candy Queen is going to dominate this new third brand!
With that, Candy goes walking off down the hall as we fade.
---
---
SINGLES MATCH
David Miller
VS El Pablo
---
We return to ringside where Tim Watson and Cid Sydney are standing by.
Watson:
Great to hear from the queen of Candy castle...What a night we have had here folks! If you are just tuning in you missed some amazing moments including an absolute clinic put on by Robbie Rayder and Smith Jones.
Sydney:
Indeed, and we still have a few more matches left for you tonight! David Miller, who will be fighting for the newly announced EWC CW Network Television Championship next week is set to take on the former Prime star, El Pablo!
Watson:
This is a bit of a big deal folks. El Pablo beat Stitches for the Indy championship in 2017 when they were both on Prime. Pablo held that title for 111 days before Stitches captured it back. Stitches is now the Undisputed champion in EWC, so if he retains that title tonight, Pablo could be coming for it.
Starr:
The following match is for one fall! Joining us first, from Long Beach, California weighing in at 235 pounds ...
DAVID MILLLEERRR!
"Judgement Day" by Damnation Plan plays as David Miller makes his way to the ring.
Starr:
And his opponent, from Las Vegas, Nevada weighing in at 180 pounds ...
The Technicolour Tecnico, ELLLL PAAABLOOO!!!
"Party Hard" by Andrew WK plays as El Pablo makes his way to the ring. Referee Jesse Lizarraga checks both men briefly, then calls for the bell.
DING DING DING


David wipes his hands on his tights and circles the center of the ring ready to go, El Pablo does the same as both men lock up in a collar and elbow tie up, Miller throws Pablo to the mat instantly but the leader of the Rainbowlution quickly kips up and resets. They go to tie up again but Pablo quickly drops to a knee and gets Miller's back, El Pablo gives Miller's back a double palm slap followed by a quick dropkick sending the bigger man flying to his knees and draping his chest across the second ropes. El Pablo springboards over the top ropes and catches Miller with an elbow to the back of the head before landing on the padded mats and quickly sliding back into the ring. He splashes Miller and goes for the cover...
ONE...
TWO...
Miller kicks out but keeps El Pablo grasped in a power slam position as he stands up with the Luchadore in his arms. Miller repositions Pablo into a belly to belly and sends him flying across the ring. Miller walks over and grabs Pablo's arm, he roughly hauls him to his feet and plows over him immediately with a hard clothesline causing Pablo to do a quick backflip! Miller with the cover
ONE...
TWO
THRE-....Pablo just kicks out!
Watson:
Very quick to the action from these two hardened veterans of the ring. Miller using the power to his advantage, but El Pablo is using that speed to control the pace. Interesting strategy by both here.
Sydney:
One of them is going to make a mistake though... It will be what lets the other win this.
Miller drops an elbow on El Pablo then locks in a hard headlock, he squeezes it and bats his head off of the canvas, eventually Pablo fights his way up to a standing position. Pablo throws Miller off of the ropes, he does a monkey flip over a running Miller then bounces off the far ropes himself, he hits Miller with a fast frankensteiner that sends Miller sliding feet first out of the ring and stumbling into the barricade. El Pablo runs and springboards off of the top ropes to nail Miller with an incredible shooting star press! The crowds pop hard for that move as Pablo makes it to his feet, he does a fist pump to get nearby fans going. He throws Miller back into the ring and climbs the turnbuckle to the top rope. Pablo jumps then spins around to a big springboard moonsault but Miller is on his feet! He catches Pablo and scoops him into a lightning quick powerslam! Miller with the cover
ONE...
TWO...
Pablo kicks out! Miller gets to his feet, he waits for Pablo to get to his base then runs with a hard head butt that Pablo counters with a quick knee! He jumps and nails Taste the Rainbow! The quick frankensteiner face plants Miller! Pablo keeps the grip and covers!
ONE....
TWO.....Miller gets his boot on the bottom rope at the last second!
Watson:
This is what two seasoned warriors looks like folks. They know where they are at all times and David Miller just cheated death as it were by getting that boot up on the rope!
Sydney:
The pace here is going to favor Pablo, but David Miller is showing exceptional stamina here as well. These two men definitely do NOT skip cardio day!
Pablo is stomping his boot and clapping to get the fans going, he runs the ropes and hits Miller with a dropkick, Miller gets to his feet but is dropped again with another quick dropkick, Pablo kips up and claps some more, he runs off of the ropes as Miller gets to his feet, he jumps with a headscissors take down but Miller grabs his legs and turns it into a giant swing! He does five rotations before throwing Pablo into the turnbuckles! Miller sees Pablo struggling to crawl up the corner and runs fast across the ring and bodychecks him in the corner! Before Pablo can fall Miller grabs his head and smashes him with a headbutt and spins him around, he locks in a rear naked choke! Pablo's feet aren't touching the canvas as Miller squeezes hard while swinging him back and forth! The referee is close by...Pablo fights it but eventually has to tap before passing out!
DING DING DING
Starr:
And your winner, via submission at 14:58...
DAVID MILLLEEER!
Miller raises his hand and has a towel handed to him, he wipes his face and wraps the towel around his neck, he rolls out of the ring and walks back up the ramp with his arm held high.
Watson:
And just like THAT David Miller is able to come away with the win.
Sydney:
I said that one mistake was all that would be needed, and I was right. Pablo slipped for just a second and David Miller was able to capitalize. Both men put up a hell of a fight. Looking forward to see how David Miller will face for the CW championship next week!
Watson:
Hopefully we will find out before the end of the night! We still have three more amazing matches left, and up next Paramount's own Candy and Kyle Gautier takes on Monday Night Brawl's King Flip! Stick around folks, more Paramount wrestling action coming right up!
Camera cuts to ...
---
---
THREE WAY DANCE
ELIMINATION STYLE MATCH
Candy
VS King Flip
VS Kyle Gautier
---
Starr:
The Following contest is a Three Way Dance elimination match! Introducing first, from Mobile, Alabama, weighing in at 215 pounds… KYYYYYLLLLEEEEE…. GAAAAAAUUUUUTTTIIIIEERRRRRR!!!!
Purple lights bathe the entrance ramp. As 'The Man' by the Killers starts to play, a bit of fog billows out from backstage. Gautier follows it out and waves at it with his hands. He sees the crowd and starts for the ring with a smirky look on his face, giving a bunch of high-fives but missing out on the down-lows, mostly because he's too slow. Walking directly to the ring, he enters it by walking up the ring steps. As he gets in, he points to the crowd and covers his heart to show that's where they live.
Watson:
Kyle Gautier, a much different version of himself than we may be used to seeing here on the Orange brand. Former North American Champion, He's not the quirky, goofy person that he once was. He has proclaimed himself the next Scorpio -
Sydney:
Nothing wrong with that. The 46th President was the leader this company needed! Everyone should aspire to be that great!
An ominous boom hits the PA as the arena goes a dark hue of steel blue. A lovely violin solo begins to play as the tron depicts the image of a massive pile of money under several spotlights. After fifteen seconds, the solo peaks into a frightful tone dragged on as the money bursts into flame. 'Machinegun' begins to play as the man in the hooded vest, head low, emerges from the curtain. He gets to the edge of the rampway when he lifts his hood to reveal that arrogant half smile.
Starr:
Next, from the land of Money and Fame.. KIIIIIIIING FLIPPPPPP!!!!
Watson:
King Flip, of course a former International Champion in his own right, making his EWC return tonight as well. Flip a member of the Monday Night Brawl roster. It will be interesting to see how that shoulder has healed up.
Just as "I Want Candy" by Aaron Carter starts to play throughout the arena, fans immediately start to cheer as Candy emerges from the back all smiles as she does a little dance at the top of the stage.
Starr:
And making her way to the ring from Candyland, please welcome "The Sweet Treat"... CCCCCCAAAANNNNNNDDDDDYYYYY!!!!
Watson:
And here is the former Indy champion, Undisputed champion, and FSW champion… Candy. Candy won the Undisputed champion while a member of the Prime roster and then after her reign was over, she moved to the Orange brand where she has continued to be a major player. Many thought that this was going to be Candy and Stitches again tonight, but this time for the Undisputed championship, but it just was not in the cards as Wes Walker was able to show that he still has the solution for Candy and Wes got himself the FSW championship.
Sydney:
Yea yea yea, trot out the banner holder. Everyone knows that corporate favors Candy. They have since she won the Undisputed title and ever since, she has been the one that gets the spotlight. This is why Kyle is out to change all that. We need systemic change in EWC and tonight when Kyle Gautier wins this match, you will all see what the future will be here in EWC.
Referee Matt Mercer has finished checking all three competitors now, he's given his instructions and he is now calling for the bell…
Candy and Flip immediately engage each other as Kyle Gautier stays in his corner and just posts up with his elbow on the top turnbuckle. Candy wants to tie up, but Flip immediately throws a toe kick at the sweet treat that lands on the inner thigh, sending Candy to one knee instantly. Flip uses this advantageous position to plant and land a step up Enziguri that connects right to the side of Candy's face! Candy grabs her face and and rolls out of the way. Flip takes one step toward her, then pauses. His face goes wide eyed and he smiles as he stretches out his arms, turns and points directly at Kyle Gautier who is still in the corner. The crowd is laughing at the comical nature of this stare down. Kyle is unfazed though as Flip takes a step toward him. Kyle nods his head to indicate that Flip should turn around. Flip does just in time to see Candy rushing at him… SPEAR! Candy quickly hooks the leg, but Kyle Gautier instantly puts himself into the match by putting the boots to Candy, breaking up the pin!
Watson:
Kyle sure did take his time getting involved here tonight!
Sydney:
Matches like this all all about endurance. We saw a similar approach from Kyle at Legends of the Cage. Let's see how it plays out here tonight.
Kyle grabs Candy by the hair, locks in the half nelson and then transitions into a slam he calls downtown! Flip doesn't let Kyle take a single breath though before he comes from behind the former North American champion and plants him with a big bulldog! Candy rolls out of the ring now, looking to recover a bit as Flip follows up by picking Kyle upa nd landing a short arm lariat that looks to turn Kyle inside out, but Kyle lands on his feet! The crowd is shocked and Flip is unaware as Kyle locks in a sleeper hold. Flip will have none of it and is quick to drop all his weight down, into an almost stunner type move that sends Kyle stumbling back a few paces. This gives Flip the chance to get to his feet. Flip now ducks a clothesline attempt from Gautier, spins and hooks the arms of his opponent THE CURE!!!!!
Sydney:
There is that devastating driver move he calls The Cure!
Watson:
King Flip with the pin now..
ONE….
TWO….
THREE!!!!!
Starr:
Kyle Gauther has been eliminated!!!
Watson:
and just like that the first fall is over! King Flip takes out the former North American champion and now its down to him and Candy!
Candy slides back in the ring as Flip pops to his feet. Flip calls for a test of strength, but the wiser Candy sees right through it and instead does the splits and punches Flip right under the jaw! The crowd is cheering on their sweet treat as she pops up, wraps her leg and hits Foxy buster she calls the Candy blast! Candy with the cover now…
ONE….
TWO…..
THR-KICKOUT!
Watson:
And it was almost all over just that quickly. Candy showing why she is ALWAYS a threat anytime she steps in the ring.
Flip gets to his knees as Candy is back to her feet. Flip quickly pivots and sweeps the leg on Candy then from the crouching position, he pops up, flips and lands a leg drop on the downed Candy! He goes for a cover, but only gets a one count as Candy is able to power out. Candy is quick to roll out of the way, run to the opposite ropes and catch Flip off guard with a spinning, springboard enzuigiri! The crowd is firmly behind the former FSW champion as she quickly grabs the left leg of her opponent and locks in the Candy Wrapper! Flip starts flailing and screaming as Candy struggles to keep the submission locked in on the much larger King Flip. Flip is able to get to the ropes and Candy quickly breaks the hold as Flip is grabbing his knee. The ref goes to check on him as Candy looks to not let him breathe as she closes in. Flip was playing possum it seems though as he rolls Candy up in a small cradle… He grabs the tights for more leverage...
ONE…
TWO…
THRE-KICKOUT!
Watson:
Flip was trying to catch Candy sleeping, but the former Undisputed champion was able to kick out at 2 and about 7/8ths there.
Sydney:
Flip is looking mighty impressive here tonight! He may prove to be too much for Candy.
Both competitors back on their feet now and Candy rushes Flip looking for another spear, but Flip is able to pick the lighter Candy up, Candy however is able to swing her weight and turn it into a Tornado DDT that plants the king right in the middle of the ring. Candy scurries back up and runs to the corner, sensing that she has the momentum. She climbs to the top rope, raises both arms, takes a deep breath and jumps…. SUGAR HIGH!!!!! The 450 splash lands! Both wrestlers take damage on the collision, but Candy is able to hook the leg for the pinning combination…
ONE….
TWO….
THREE!!!!!!
DING DING DING
Starr:
Here is your winner via pinfall at 10:37 seconds….. CCCCCCCCAAAANNDYYY!!!!!!!
Watson:
She does it again! Candy pulls out the win out of nowhere!
Sydney:
Jesus, can she get any more disgusting… King Flip clearly had that match won and I am willing to bet that just like our election, there was some fraud here… I demand a recount!!!
Watson:
Oh we are not going down that rabbit hole Sid.. This match was won by Candy fair and square. She is very clearly making a statement that she is not taking a step back! Candy is moving full steam ahead and I would not be surprised if we see her competing for the Undisputed title again very soon. We still have Adriana Aquilla versus Marcu$ $t. John to come and then our big main event that will decide who walks out of this show as the Unified Undisputed champion! Do NOT turn that dial folks.
---
---
SINGLES MATCH
Adriana Aquilla
VS Marcu$ $t. John
---
We return to ringside where last minute preparation for the upcoming match is being made. The atmosphere is electric. The crowd has been excited since the beginning for the new Paramount's episode to debut and thus far, have loved everything they've seen. With the main event drawing closer and closer, the cheers are getting louder, threatening to drown out the voices from the commentary table even.
Watson:
Hell yeah! I'm with these amazing folks! It is
great
to be back, and even better than ever. Ladies and gents, hopefully you were able to witness the Three Way Dance Elimination we just saw mere moments ago, but now it's singles time! Adriana Aquilla versus Marcu$ $t. John!
Sydney:
Both of these two superstars were eliminated from the first round of Legends of the Cage, so there is little to no doubt they're looking to redeem themselves. Who wants it more, though? We're gonna find out soon! Take us away, Starr!
Starr:
The following match is for one fall! Joining us first, from Mexico City, Mexico, weighing in at 120 pounds ...
ADRIANA AQUILLA!
'Iron' by Within Temptation hits the speakers and the crowd comes alive as Adriana Aquilla makes her way down to the ring, she slaps hands with a couple of fans before rolling into the ring ready for her match
Starr:
And her opponent, from San Jose, California, weighing in at 220 pounds ... it's The Young Mogul ....
MARCU$ $T. JOHN!
"Fast Lane" blasts through the arena by Bad Meets Evil. A Maybach drives up through the entrance ramp. A chauffeur gets out of the vehicle and opens the back door. Marcu$ McGarrett gets out on the entrance stage and money starts falling down from the sky with his face on 100 dollar bills as green laser lights illuminate the arena. As the money shower stops, Marcus walks down the ramp with a smug look on his face.
He stops right before he gets to the ring and basks in the boos that he is getting from the crowd and waves his hands around as to tell them to keep it going and get louder. He jumps up on the apron and wipes his feet before he enters the ring and poses in the middle of the ring as a light shines a hundred dollar bill in the center of the ring with his face on it.
Pyros hits as "Fast Lane" by Bad Meets Evil ends.
Before the bell can ring, "Remember the Name" begins to play over the PA again as General Manager Chris Brock walks out onto the stage, microphone in hand.
Brock: Sorry to interrupt ladies and gentlemen. I promise we will get this match underway in just a moment. Earlier tonight I got distracted by the amazing announcement Dominic Sanders had. What I was GOING to say is that we need to determine who faces David Miller next week for the CW Network Television championship. So without further ado... The winner of this match will go one to face David Miller next week for the CW Network championship in the main event of Paramount Wrestling 002!
Watson:
Wow!!! There's a twist for you! Either Adriana Aquilla or Marcu$ $t. John will go on to face David Miller next week for the CW title!
Sydney: LET'S GO!!!!!!
Senior Official Matt Mercer is ready to get started and calls for the bell.
DING DING DING
Adriana decides to literally kick this match off with a quick, flashy start. She throws a Superkick swiftly out, but it's not quite fast enough. Marcu$ is able to see her attack coming well enough to move slightly out of range. Damage is still taken, though; something we can better see as he hastily rubs his midsection. Once he's done healing up, though, his attention goes to Addy as he retaliates with a Spinning Heel Kick. He then takes advantage of Adriana still being dazed and stunned to kick her into the nearest corner and charges forward, going for a Corner Clothesline.
She ... dodges? Not quite. Poor Adriana just slumps down on her rear, causing Marcu$ to miss his real target, and furthermore causing his arm to slam into the turnbuckle. Marcu$ winces in pain as he backs away, giving both himself and Addy room to recover. He soon realizes that while his idea was good in theory, it bites him in the butt. Addy recovers faster than anyone - especially Marcu$ - expects and dives off the top ropes. He turns in time to see her flying right towards her with a Moonsault. The Young Mogul tries to step away, but his feet refuse to cooperate, resulting in them both collapsing on the canvas. Addy attempts to sneak in a quick cover, but barely gets a one count before being shovedoff by Marcu$.
Watson:
Addy is so dann fast. M$J is not slow by any means, but rarely do we see someone who is faster than he is and Aquilla almost literally ran circles around him there.
Sydney:
Marcu$ is just toying with her. He is the superior athlete here and he is just lulling her into a false sense of security.
The stakes of this match have hit both competitors hard. Both narrow their eyes at one another, now cautiously circling around one another. They want to make a move
without
offering their opponent any easy openings. Marcu$ is the first in finding and achieving his goal. He gets up close and begins raining down elbow strikes upon Addy's forehead. She manages to cover her head after the fourth or so punch, but that doesn't make The Young Mogul stop. If anything, he finishes his assault with a brutal Superkick to Addy's own midsection.He then places her against the nearest set of ropes, making sure she doesn't stray away from the area while climbing up the ropes. Money Stomp, right on Adriana's already sore abdomen! Worse off, with her being so close to the ropes, she stumbles to the outside of the ring. Marcu$ manages to land safely. He turns around to some louder than usual booing, and sees Peggy and Christopher Carter in the crowd and waves to them, despite the two cheering for Addy. Peggy rolls her eyes and nods to Christopher, who throws his cup of Coca-Cola straight into Marcu$' eyes! Peggy then proceeds to get up close and personal and slaps Marcu$
hard
across the face.
A quick "Keep kicking his ass!" is heard from Peggy as we see Adriana has gotten back up to her feet once again. In fact, she's on the top ropes now! Divine Grace (Corkscrew Shooting Star Press)! She barely manages to drag Marcu$ back into the ring and, this time, hooks his leg!
ONE....
TWO...
THR- He shakily kicks out at two and a half. Adriana lets out a bit of a huff upon seeing how difficult it is becoming to keep The Young Mogul down, but she nods firmly to herself, still determined not to give up.
Watson:
The crowd is getting involved in this one! M$J's past is coming full circle to haunt him tonight!
Sydney:
THAT WOMAN SHOULD BE ARRESTED FOR ASSAULT! You can't attack a man like Marcu$ $t. John like that and get away with it. The wealthy have rights you know!
Watson:
I have a feeling #EatTheRich will be trending on Twitter later after that comment Cid.
The cheering from the audience is helping Addy block out any and all pain surging through her body. Her body is shaking every now and again, but she refuses to stumble and lose her balance. Instead, she gets back on top of the ropes. If Marcu$ is conscious, he's not immediately showing signs of life. She takes a breath, staring downward at the seemingly prone Young Mogul ... before leaping off, going for her Divine Wrath (Top Rope Divine Judgment) technique. But NO! Just barely in the nick of time, Marcu$ stands up and
catches
Addy, holding her in a tight fireman's carry. He then shifts her so she's in position for his own finisher, Bread and Butter. The reversal attack connects, and now it's Marcu$' turn to try to secure the W for himself!
ONE....
TWO...
THREE...
DING DING DING
Starr:
And your winner at 12:36, via pinfall
MARCU$ $T. JOHN!
Marcu$ shakily remains standing as his arm gets raised. Addy elicits a defeated sigh as she stares up at the ceiling, trying to figure out what exactly went wrong, as well as what he could have done differently. She very slowly begins trying to get himself back to his feet while Marcu$ remains in the ring, basking in the spotlight.
Watson:
Hot damn! What a match we just watched play out! I dare say this was some of the best we've seen from both Aquilla and $t. John tonight!
Sydney:
Agreed. They really gave it their all, but in the end, it was $t. John's night. But if Adriana keeps fighting like that? I don't have many doubts she'll be able to come back, and do so even stronger than tonight.
Watson:
The Young Mogul has punches his ticket to a championship opportunity next week, but who is going to walk away as the Unified Undisputed champion tonight? Stitches versus Wes Walker is our Main event coming up NEXT!
Marcu$ gets to his feet in the center of the ring as the referee raises his hand in victory. A smug grin sprawls across his face as he turns to face the other side of the arena, but the grin is quickly wiped off his face as a figure suddenly lunges into the ring and spears Marcu$, driving him into one of the corners!
Watson
: What the hell!? Who is that?!
Sydney
: I don't have a clue! They're covered from head to toe!
The figure stands tall over Marcu$, a black motorcycle helmet and a long, thick, leather trench coat conceals their identity. They face away from the main camera, pulling the helmet away from their head …
Watson
: That's Darius! The former International champion from Monday Night Brawl!
Sydney
: What is he doing here?!
Darius looks down at Marcu$ as he brings himself up to a knee, looking up at Darius with a look of confusion. Darius grabs Marcu$ by the head with both hands, knees him in the gut, and then plants him back down to the mat with the Gray Matter impaler DDT!
Watson
: Someone stop this sociopath! Call security!
Sydney
: He doesn't even work here!
Darius gets back to his feet once again, chuckling to himself as he drops his trench coat to the mat. He then slowly unzips his hoodie, then tosses it off to the side, revealing a PARAMOUNT WRESTLING shirt underneath!
Watson
: Wait, what!?
Sydney
: Has Darius joined us on Paramount!?
Darius extends his arms outward and soaks in the mixed reaction from the crowd, more cheers than boos oddly enough. A loud PAR-A-MOUNT! PAR-A-MOUNT! chant erupts through the arena as Darius points to the logo on his shirt, his chuckle turning into audible laughter.
Watson
: Well I think that confirms it!
Sydney
: Haha! Eat it, Brawl! We just took one of your top guys! Welcome to Paramount, Darius!
---
---
The scene opens up backstage. The camera looks at the door it says "Wes Walker" on it. The camera goes inside the room and Wes is sitting on a couch, his assistant Rosa is sitting next to him, Mark Mania is pacing, making himself a drink.
Mark Mania:
Alright kid, how're you feeling?
Wes looks up at Mark with a smile on his face.
Wes Walker:
Better than ever, certainly not at all stressed out with you pacing back and forth like a crazy person.
Mark stops in his tracks, he looks down at the Jack Daniels he just poured himself.
Mark Mania:
Right, right, here you go, you have this.
Mark goes to pass Wes the drink but Rosa slaps his hand.
Rosa Martinez:
What are you nuts? He can't have a drink. Biggest match of his life and everything.
Mark looks down and shakes his head.
Mark Mania:
Yeah, of course, what was I thinking?
Mark takes a sip of his drink.
Rosa Martinez:
Alright Wes, let's go over the plan again.
Wes Walker: Stay ahead of him. Keep the fight technical, not focus on emotion. The more emotional I get, the more mistakes I make. Stitches is an emotional guy, he has highs and lows. Don't play into his highs and capitalize on his lows. Look for opportunities but don't take one just because I haven't seen one in a while. I've been focusing on my endurance, so the longer the match, the better off I am.
Wes Walker:
Don't let him lock in the Carnival Pretzel.
Wes Walker:
What is this, improv class?
Wes Walker:
Don't let the referee play into the match. I can't complain about the referee after this one. It's best two out of three falls. Win two decisively and there'll be no question of the winner.
Mark Mania:
That's right. And obviously, the key is to get that first fall. If you get the first one, Stitches will start to get desperate and that's when you can strike. After that, you can get the Tiger Choke from so many different positions.
Wes Walker:
I've gotcha, I've gotcha.
Just then, Lisa Goldrush knocks on the open door and walks in.
Wes Walker:
Lisa! So good to see you.
Lisa Goldrush:
Thanks for taking the time! I wasn't sure you'd say yes with so much on your plate.
Wes Walker:
For you, anything.
Lisa Goldrush:
Thanks Wes, so first of all, obviously the biggest match of your life, how are you feeling going into it?
Wes Walker:
Oddly enough, we were just talking about that. You know, I've got to treat this like any other match. If you spend too much time thinking about the stakes, you stop focusing on the match and that spells trouble.
Lisa Goldrush:
Stitches the Clown has been able to beat you twice already, why do you think this will be any different?
Wes Walker:
I've talked about this before Lisa, but we all remember the first match between the two of us, I had him beat and the ref missed it. The second match, I'll admit, he was the better wrestler. After he won the Rumble, he was just about impossible to beat. And I'm okay with that. A lot of time has passed between then and now. Stitches knows better than all what the motivation of the Undisputed Title can do to a person.
Lisa Goldrush:
Stitches made a point that he doesn't really think you'll be remembered after this match and that it's just a stepping stone for him.
Wes Walker:
You know, for a guy who talks about how forgettable I am, he really seems to remember quite a bit about me. Talking about my match on the USS Kidd like that person and me are anywhere close to the same person. Yes, that was my first match, yes, I came away victorious, but at that point I never even thought about title aspirations, I was just happy to be there. That was a year and a half ago, I think living in the past like that is a very dangerous proposition. I think a pretty important part of the world is normalizing growth. As you continue to grow and learn new things, you're allowed to change your opinion on things and you're allowed to treat things differently. So, as much as I'm flattered that Stitches remembers my debut so well, I'm not really going to put too much weight on that.
Lisa Goldrush:
Stitches also talked about how in a situation like this, it's common for someone to choke, any feelings like that's possible?
Wes looks at Lisa and smiles.
Wes Walker:
Haha, I don't think I'd be here if I had any feelings like that. In wrestling, like any sport, you need to have a short memory. Wins and losses are important, but losing doesn't stop you from winning your next match. Just like winning doesn't guarantee another victory. People are saying this is the most important match of my career, and you know what, they're right? But after tonight, the most important match of my career will be my next one. I'm not worried about choking, I'm worried about choking OUT Stitches.
Lisa Goldrush:
Thanks so much Wes.
Wes Walker:
No, thank you.
Wes and Lisa bump fists and Lisa exits the room. Wes smiles and turns around to sit back with Mark and Rosa waiting for his time to come.
---
---
EWC UNDISPUTED CHAMPIONSHIP
CHAMPION VS CHAMPION - UNIFICATION MATCH
BEST 2 OUT OF 3 FALLS
Wes Walker
VS Stitches
---
We return to ringside where Tim and Cid are standing by.
Watson:
Here it is folks... The moment we have all been waiting for has finally arrived. This is a match that was made in NOVEMBER that we are now finally about to see happen. Wes Walker, former North American champion, stormed the Candy castle and won the FSW championship from Candy at WrestleFest in December. Stitches, former two time Indy champion, former two time FSW champion, lost his bid to become a THREE TIME FSW champion at The Rumble in South Africa, and then went on to beat 39 other competitors to win the Rumble Match and punch his ticket to WrestleFest to fight for the Undisputed championship
Sydney:
At WrestleFest he was greeted by Jordan Sharpe, the current Indy champion, and Xavier Reid the former FSW champion, former two time X-Division champion, and former Undisputed champion. Those three mean beat the ever loving shi-
Watson:
Cid! We are on network television, you can't say that anymore! Needless to say folks, they beat the tar out of each other and in the end Stitches the Clown captured the EWC Undisputed championship. Wes and Stitches are no strangers to each other, they have fought one on one twice before, both times won by Stitches. Tonight... It's best two out of three falls. Let's go to Isaballa Starr for the introductions.
Starr:
The following match is a 2-Out-Of-3 Falls Match and is for the EWC Undisputed Championship. Joining us first, from Galway, Ireland, weighing in at 185 pounds, he is the FSW Champion ...
WES WALKER!
Pyros hit and "Perfection Through Silence" by Finch begins to play, Wes Walker comes from behind the curtain with the FSW Championship over his shoulder. He raises it up above his head with one hand and the crowd goes wild. He bows his head and takes in the cheers. Wes puts the title back over his shoulder and walks down the aisle into the ring. He and the title slide under the bottom rope in a quick motion. He passes the title off to Paramount Senior Official Matt Mercer after raising it one more time in the middle of the ring.
Starr:
And his opponent, from the Carnival Of Shattered Dreams, weighing in at 260 pounds, he is the EWC Undisputed Champion ...
STITCHES!
'One Missed Call (2008) Theme' plays as the lights go dark. As the beat drops at around the thirty seven second mark the curtains are brushed to the side, smoke spewing out from behind the curtains, and out walks Stitches with the EWC Undisputed Championship over his right shoulder. A wide, red-painted Chelsea-esque grin is across the face of Stitches as he stares out at the crowd of people before him.
Stitches methodically makes his way down the ramp, staring down the crowd members who dare lean too far over the crowd barricade. As he reaches the bottom of the ramp he stops and once again looks out at the crowd of people before him. Stitches approaches the nearby steel stairs, climbs up onto the apron and begins walking the edge of the apron like a tight rope before reaching the nearby ring post. Stitches climbs up onto the second rope, removes the EWC Undisputed Championship off of his shoulder and throws his arms out wide for the crowd to embrace him. As expected, the crowd does not embrace a sinister-looking clown.
Stitches hops down from the rope and enters into the ring before approaching the nearby corner of the ring. Stitches turns around, facing the center of the ring and sits down in the corner of the ring and places the EWC Undisputed Championship in his lap, waiting for the bell to ring. The referee approaches Stitches and asks him to hand over the EWC Undisputed Championship, Stitches is reluctant but eventually does so.
Watson:
Two champions enter, only one walks out still champion.
Sydney:
LET'S GO TIM!
Matt Mercer hands off both titles to the time keeper and then calls for the bell.
DING DING DING

The two competitors circle around the ring, trying to pick their best opportunity to strike. Each man throws a hand forward, trying to grab the other. Eventually, the both of them take their opportunity to strike and the two of them lock up with a collar and elbow, testing each other's strength. Stitches larger size and deceptive strength out-powers Wes Walker and he shoves Wes Walker down to the mat. Wes Walker stands to his feet as Stitches glares at him. Wes backs into the corner and shakes his head slightly to psyche himself up. Stitches charges at Wes Walker in the corner but at the last minute Wes Walker moves out of the way. Stitches stops himself before he collides with the corner but turns around right into a high knee by Wes Walker. Wes Walker grabs Stitches by the head and sends him over with a Snapmare Suplex before locking in a headlock on the carnival clown. Stitches is relatively quick to fight out of the hold, not relying on the fans for a verbal helping hand. Once to his feet, Stitches drives a few stiff elbows into the abdomen of Wes Walker before finally the hold is broken. Wes Walker doubles over, Stitches drives a double-axe handle into the small of the spine of Wes Walker and he collapses to his hands and knees. Surprisingly, Stitches elevates himself into the air and comes down hard on Wes Walker's back with a Senton. Stitches is quick to make the cover
ONE...
KICKOUT!
Watspm:
Some good back and Forth here to start, but Stitches using that weight advantage to his favor.
Sydney:
Stitches may be bigger, but don't let that fool you. He is agile as we just saw with that improvised senton!
Stitches gets back to his feet, a hand placed on his lower spine. Stitches then grabs Wes Walker and lifts him to his feet. Stitches shoves Wes Walker in the chest and Wes Walker bounces back into the ropes. Wes Walker charges towards Stitches, the carnival clown ducks under, Wes Walker stops dead in his tracks to grab the carnival clown but walks right into a Lethal Lariat from Stitches. Wes Walker crumbles to the canvas and Stitches goes for another cover,
ONE...
Wes Walker is quick to count out again. Stitches gets back to his feet and starts stomping away at Wes Walker's body. Eventually, Wes Walker grabs Stitches by the ankle and holds on tight. Stitches tries to free his ankle but Wes Walker has it locked in tight. Stitches pleads with Wes Walker to let his ankle go but Wes Walker refuses to. Wes Walker drives Stitches down with a Dragon Screw, sending the carnival clown careening across the ring. Wes Walker gets back to his feet and is quick to pounce on the carnival clown who is slowly getting back to his feet. Wes Walker delivers a stiff boot to the abdomen of Stitches before he starts to kick at Stitches legs, wearing them down a little. Stitches crawls to the corner of the ring to try to escape Wes Walker's advances. Wes Walker approaches the carnival clown but Stitches is coniiving, grabs Wes Walker by the tights and drives him head-first into the turnbuckle. This is just enough time for a brief distraction in which Stitches capitalises, lifting Wes Walker up and connecting with the Crimson Arrow (modified Falcon Arrow). Stitches goes for the cover,
ONE...
TWO...
THR- Wes kicks out at two and a half.
Watson:
Wes is hanging in there, but this match has been mostly all Stitches thus far. How much more can Wes take before he is completely overwhelmed?!
Sydney:
We thought this match would be a massive put 'em up type match, but so far this looks like it might be an early night for Stitches and Wes.
Stitches, convinced he had the three, argues with the referee for a brief moment before returning his attention back towards Wes Walker. Stitches lifts Wes Walker to his feet and starts deliver strikes to his forhead, backing Wes Walker up into the ropes. Stitches shoves Wes Walker off of the ropes and towards the opposite ropes. Wes Walker bounces off of the ropes and charges back at Stitches who is in the middle of the ring. Stitches goes to deliver a Back Body Drop but Wes Walker leapfrogs over him. Stitches goes for a back-hand but Wes Walker ducks under it. Stitches turns around right into a cross body from Wes Walker. Wes Walker rolls off of Stitches and gets back to his feet, the carnival clown gets back to his feet also. Wes Walker delivers a dropkick, and then another one, and another one, before he grabs Stitches around the head and attempts a Bulldog. Stitches powers out of the move, shoving Wes Walker across the ring. Stitches charges at Wes Walker and attempts to deliver the Beautiful Disasterpiece, Wes Walker ducks under it. Stitches quickly turns around and takes Wes Walker's head off with a Discus Clothesline. Stitches goes for the cover but Wes Walker manages to break out at one. A 'Brodie Lee' chant breaks out in the arena as the carnival clown grows increasingly frustrated. Stitches goes to grab Wes Walker but he shoves the carnival clown away. Stitches attempts to grab Wes Walker again but he charges at Stitches and delivers a stiff elbow. The carnival clown stumbles back ever-so-slightly. Wes Walker uses this opportunity to grab Stitches, hooks him in, hoists him up and connects with the Irish Hammer. Wes Walker covers Stitches...
ONE...
TWO...
THREE!!!!!
Wes Walker picks up the first fall of the match.
Starr:
The winner of the first fall goes to
WES WALKER!
Watson:
WOW, WOW, WOW! Wes has been putting in some work at the Gym in the off season. That Irish Hammer had way more power behind it than we are used to seeing! And just like that, the FSW Champion gets the first fall!
Sydney:
Stitches knows he can afford to lose one here. This is 2 out of 3 falls. Nothing to worry about. GET UP STITCHES YOU FILTHY CLOWN!
Wes Walker gets back to his feet, elated that he picked up the first fall of the match. He pumps his fist into the air in a celebratory fashion before realising that he can't let up, he needs to keep his attention on Stitches. The match is not over yet. Wes Walker grabs Stitches by the scruff of the neck and lifts his limp body with a bit of effort. Stitches, still a bit groggy, grabs Wes Walker by the hair and slams him down onto his knee with a Backbreaker. Wes Walker screams out in pain as Stitches stumbles back to his feet and starts stomping at as many different areas of Wes Walker's body as he can manage. Stitches quickly jumps at one of Wes Walker's arms and holds onto it tight. Wes Walker tries to break the hold but Stitches stomps his boot into the sternum of Wes Walker and places it down firm. Stitches then contorts the arm of Wes Walker that he has a hold of and bends it at an awkward angle. Wes Walker screams out in pain, a wicked smile cross the carnival clown's face as he drops backward, smashing Wes Walker's arm into the mat at an awkward angle. Before Wes Walker can let out another scream Stitches picks him back up, lifts him up and drives him down with a Sit-Out Powerbomb followed by a pinfall..
ONE...
TWO...
THRE-KICKOUT!
Wes Walker kicks out. Stitches lifts Wes Walker back up to his feet but Wes Walker drives a spinning back fist into the side of the carnival clown's head with his healthy arm. Wes Walker shakes out his injured arm and moves his fingers around to get some feeling back into his hand. Wes Walker hunts down Stitches as he is slowly getting back to his feet. Wes Walker grabs Stitches by the scruff of the neck and connects with a Belly To Belly Suplex. Seeing his opportunity, Wes Walker starts to climb to the top rope, Stitches, playing possum, springs to his feet and, without really thinking, catches Wes Walker off guard and tosses him off of the top rope and right into the path of the referee, who is knocked down and out upon impact.
Watson:
INCOMING! Matt Mercer did NOT see that one coming!!
Sydney:
No ref time, my favorite!
Stitches steps back a little but his leg gives out on him from the strikes Wes Walker delivered earlier. The carnival clown topples backward into a seated position in the corner of the ring. Stitches sits there for a brief moment and nurses his injured leg before realising that the referee had been laid out. A sinister smile crosses the face of the carnival clown as he realises the opportunity. Stitches slips out of the ring and looks underneath the for a weapon, he pulls out a kendo stick. Sliding back into the ring the carnival clown is met by Wes Walker who had the same idea and had also slid into the ring with a kendo stick. The two stare each other down for a second before they meet in the middle of the ring and start striking each other with the kendo sticks. Some hits connect, others meet with the opposing kendo stick. Eventually, Wes Walker outwits Stitches, ducks under one of his shots, goes behind the carnival clown and takes him down with a kendo-assisted Russian Leg Sweep (ie. the White Russian Leg Sweep). Wes Walker gets back to his feet and attempts to grab Stitches, but the carnival clown is resilient and endured the previous move from Wes Walker. Stitches swiftly slips Wes Walker into the Carnival Pretzel (Death Star Choke), Wes Walker tries to fight it but eventually he has to tap out. However, the referee is still down and doesn't see the tap out. Frustrated, Stitches springs to his feet and grabs the referee and attempts to revive him, but the referee doesn't move. After a few seconds of doing this the carnival clown grows frustrated and rag-dolls the referee across the ring. This distraction gives Wes Walker enough time to get back to his feet. Wes Walker kicks the carnival clown in the gut as he turns around and lifts him up for the Irish Hammer, Stitches, however, shifts his weight mid-air and drops back down, hooking Wes Walker into a butterfly lock and connecting with the Sound Of Silence (Future Shock DDT). The time the carnival clown had spent trying to revive the referee, and especially the rag-dolling, had done the job because the referee slowly crawls to the cover...
ONE...
TWO...
THREE!!!!
Starr:
The winner of the second fall goes to
STITCHES!
Watson:
And the score is now TIED! Matt Mercer was able to come to just in time to count that pin, but I think Wes took a page out of Stitches playbook there tapping out knowing that the ref was out of it?!
Sydney:
A broken clock is right twice a day Tim. Wes may learn yet.
Stitches quickly attempts another cover, realising Wes Walker is still down, but Wes Walker kicks out at two this time. A third attempt at a cover from the carnival clown and Wes Walker again kicks out at two. The carnival clown rolls onto his knees and starts laying in heavy-fisted strikes into any part of Wes Walker's body that he can reach. Stitches stands to his feet and lays in a few stiff boots to the ribs of Wes Walker. Stitches charges towards the ropes, bounces off of the ropes and charges back, throwing his entire body weight into the air to connect with a Senton, Wes Walker moves out of the way and Stitches crashes into the canvas. Wes Walker, seeing this, springs back to his feet, grabs the carnival clown by the head and connects with the Irish Hammer again, this time with a little less force than the last. Wes Walker goes for the cover
ONE...
TWO...
THRE-no, Stitches kicks out right before the three count. Wes Walker lifts Stitches to his feet and throws a barrage of strikes and kicks, the kicks especially connecting with Stitches injured leg. Stitches leg gives out under the pressure and he buckles, Wes Walker uses this opportunity to connect with a running knee strike. Rather than knocking the carnival clown down it sends him stumbling backward into the ropes. Wes Walker sees this and grabs the carnival clown, locking him up into the ropes. The referee backs Wes Walker away from Stitches and attempts to free the carnival clown from the ropes. Wes Walker refuses to let up on the carnival clown and charges forward, the referee frees Stitches just in time for him to move out of the way, however, the referee takes a kick to the mid section from Wes Walker and topples out of the ring.
Watson:
AND AGAIN Matt Mercer has been taken out of this match, this time by Wes Walker!!
Sydney:
I live for this, Tim! YES!
The two competitors look at each other and then down at the fallen referee on the outside. Realising this, the two of them clammer for the kendo sticks they used earlier which had been cast to one side. Neither man ends up getting a hold of the kendo sticks, however, and they instead brawl in the center of the ring as the crowd cheers them on. Wes Walker gains the upper hand due to the carnival clown's injured leg and manages to double Stitches over with a strike to the abdomen. Wes Walker charges towards the ropes, bounces off of the ropes and charges back and connects with a clothesline, at the same time Stitches throws a Lethal Lariat that connects and the two of them crumble to the mat. As the two of them lie motionless on the may, spent from their encounter so far, a mysterious figure dressed in all black jumps over the barricade from the crowd, walks the steel stairs and steps onto the apron before entering the ring. The mysterious figure stands in the middle of the ring holding a disguised weapon in one hand. The two competitors slowly get to their feet as the mysterious figure stares at one, then the other. The two competitors realise there is a third in the ring now and cautiously stand to their feet. The mysterious figure grabs the disguised weapon and unveils it to reveal Heaven's Helper. Stitches, seeing this, starts to back away from the mysterious figure. Wes Walker, seeing this, screams 'No! Let me do this on my own'. The mysterious figure starts to stalk Stitches as the carnival clown is almost stepping through the middle rope by now. Suddenly, the mysterious figure turns around and clobbers Wes Walker with Heaven's Helper. Bewildered, Stitches cautiously passes by the mysterious figure before grabbing Wes Walker, lifting him to his feet and connecting with the Sound Of Silence to put the final nail in the coffin. The mysterious figure steps out of the ring, grabs the referee and shoves him into the ring. The referee crawls towards the pinfall and makes the cover.
ONE...
TWO...
THREE!!!!
DING DING DING
Starr:
And your winner, via pinfall at 22:12 and STILL the EWC Undisputed Champion,
STITCHES!
Stitches eyes remain fixed on the mysterious figure as the referee hands him the EWC Undisputed Championship and the FSW Championship. Stitches throws the FSW Championship over his shoulder whilst the EWC Undisputed Championship dangles from his hand. The mysterious figure enters back into the ring, stands in the corner of the ring and removes their hood. Under the garb is none other than Nevaeh, the person least expected to be helping out the carnival clown. Nevaeh steps towards Stitches as the carnival clown stares back at her. 'If you can't beat 'em, join 'em' she says to Stitches. A sinister smile crosses the face of Stitches as he holds up the EWC Undisputed Championship victorious, the FSW Championship over his shoulder, as Nevaeh stands by his side, pointing in his direction with a smile across her face, Heaven's Helper resting on her shoulder.
Watson:
WHAT IN THE HELL DID WE JUST WITNESS?!?!?!? Neveah just potentially cost Wes Walker the Undisputed championship!!!!
Sydney:
No Time, you're wrong... Nevaeh just proved a point to Wes Walker... That he wasn't ready for that level of competition just yet. You have to be able to step in and neutralize situations like this. You can't beg and plead, you have to act and Wes failed to act here, which caused him to to get worked by the team of Stitches... and NEVAEH?! WHO in a million years would have guessed that these two would EVER work together?!
"THE ACE OF SPADES! THE ACE OF SPADES!"
The signature Motorhead anthem rips through the Cow Palace, and the crowd starts cheering. As the drums kick in, pyro goes off up and down the ramp. Once the guitars hit, a plume of fire goes up on either side of the ramp as Ace King rises to the stage from a platform, looking out at the crowd and nodding in appreciation.
Watson:
Now hold up a second folks, I think business hasn't concluded for the evening. We were just about to hang up the closed sign and instead got another customer!! ACE KING IS HERE...
Sydney: Get this bum out of here! No one wants to see this crap!
Stitches is looking at the ramps, waiting for the X-Division champion. He waits for ten seconds, then lazily puts his arms over the tope rope, as if he is getting impatient. The crowd starts to cheer again as the camera pans out and standing behind Stitches and Nevaeh is Ace King!!!! The Stitches lowers his head, realizing that he has been had and slowly turns, looking at his StrangleMania dance partner. both men firm up and stare daggers into the other. Stitches goes to take a step toward Ace, but Ace quickly closes the gap and put his forehead directly onto Stitches forehead. The intensity and tension can be felt all around Daly City for a brief moment before Stitches smiles his wide, Cheshire-red grin as he lets both titles fall off his shoulder. He raises them both up into the air as if to show off to the Gambler as the crowd reigns down boo's onto him... Ace remains stoic as he unfastens the X-Division title from around his waist, then slowly raises it into the air. The boos turn into immense cheers as the fans show their adoration for King. Stitches stakes a small step back, still smiling, then lowers and raises both the FSW title and the Undisputed title into the air and again the crowd reigns down a chorus of boos onto him. Ace lowers his arm, smiles, let's out a guttural yell and then raises the X-division title higher into the air this time as the crowd explodes in cheers for him.
Watson:
It is clear that Ace and Stitches have no love for each other. What a lead up this match is going to have. MARCH 29TH cannot come soon enough. Folks, we are COMPLETELY out of time. For Cid Sydney, I am Tim Watson. We will see you in two weeks in Ontario!!!!!
The scene fades on the image of Stitches and Ace King, continuing to state each other down, all three championships in the air...
..................................................................................................................

MATCH WRITERS
MATCH ONE
WRITER:

Roozilla
MATCH TWO
WRITER:

Dominic Sanders
MATCH THREE
WRITER:

PARAMOUNT
MATCH FOUR
WRITER:

Remarkable Mark Keaton
MATCH FIVE
WRITER:

PARAMOUNT
MATCH SIX
WRITER:

Samantha "Titaness" Hamilton
MATCH SEVEN| MAIN EVENT
WRITER:

Stitches
..................................................................................................................
RECAP OF WINNERS
SINGLES MATCH
Roozilla Vs Jason Hunter
WINNER: Double DQ
...

SINGLES MATCH
Jason Rayne Vs Killjoy Ito
WINNER: Killjoy Ito

...

SINGLES MATCH / NON-TITLE MATCH
Smith Jones Vs Robbie Rayder
WINNER: Robbie Rayder

...

SINGLES MATCH
David Miller Vs El Pablo
WINNER: David Miller

...

THREE WAY DANCE
Candy Vs King Flip Vs Kyle Gautier(N/S)(PINNED)
WINNER: Candy

...

SINGLES MATCH
CONTNDERSHIP MATCH FOR CW TITLE
Adriana Aquilla Vs Marcu$ $t. John
WINNER: Marcu$ $t. John

...

EWC UNDISPUTED TTLE MATCH / UNIFICATION MATCH
BEST 2 OUT OF 3 FALLS
Wes Walker Vs Stitches
WINNER: and STILL EWC Undisputed Champion: Stitches

...

...............................................................................................................…
MVP OF THE NIGHT:

Stitches


MATCH OF THE NIGHT:

Wes Walker

Vs

Stitches




© THE EXTREME WRESTLING CORPORATION 2021