Post by PARAMOUNT on Feb 17, 2021 17:12:52 GMT -6
The Extreme Wrestling Corporation Presents


** The Pinnacle Reaches The Great North! **

EPISODE #002
FEBRUARY 17TH, 2021
LIVE!
from the Paramount Fine Foods Center - Mississagua,Ontario, Canada
---
---
WARNING: This live event contains Adult themes, language (L), and intense violence (V) which may be unsuitable for younger viewers. None of the matches you are about to watch have been predetermined. Only some of the thematic story-lines have been discussed beforehand. Accordingly, EWC and it's producers must insist that no one attempt to recreate or re-enact any match or activity performed in this live event.




---
---
"Superstar" by For Squirrels begins to blast over the arena speakers as our feed comes to life...
The scene immediately cuts to a pyro show erupting on the outside of the arena!
Then a cut to another, equally explosive show on the inside!


The fans packing the Paramount Fine Foods Centre tonight all come to their feet. Further explosions rock the very foundation of the arena as a large video screen is lowered from the rafters, stopping 15 feet above the ring! Everyone in Ontario knows that the self-proclaimed greatest show on Wednesday night is about to begin and they cheer accordingly! The heavy riffs from 'Superstar' continue to blare over the arena, setting the tone for what is to come later on this evening.
IT'S ALL I WANT, IT'S ALL I NEED

IT'S ALL I SEE, IT'S ALL I BREATHE

IT'S WHAT I AM, IT'S WHAT'S I KNOW

IT'S WHAT I FEEL, IT'S WHAT I BLEED!
On the X-Tron, this episode of Paramount Wrestling begins with its opening video montage detailing many of the historic events that have taken place in the five-year history of Future Stars of Wrestling, setting the tone for the history of the Orange brand. The montage then shifts to showcase the current Paramount Roster. Candy, Mercenary, Marcu$ $t. John, Roozilla, Jason Hunter, and Kuroiki are all shown in various action sequences before the camera fades to posed shots of Robbie Rayder with the North American Championship around his waist, and then Stitches with the EWC Undisputed Championship over his shoulder.


Back in the arena, more pyro goes off as the Paramount Wrestling logo appears, scrolling from the bottom of the screen to the top.
The camera pans around the loud and out of control audience. As the fireworks continue to explode, the fans chant and cheer! Cameras pan around the arena to catch some of the signage that many fans have brought to the Paramount Fine Foods Centre with them here tonight. The Paramount Wrestling fan-base is as adamant about having their voices heard now as ever:
"3C4LYFE!!!"
"Tommy Love is my daddy too!"
"Can I lick Heaven's Helper?!"
"Robbie Rayder=THE champ on Paramount! "


"Damn that Orange Championship Looks Pretty!"
"PAR-A-MOUNT!!!"



"PARA-A-MOUNT!!!"



"PARA-A-MOUNT!!!"



"PAR-A-MOUNT!!!"
The lights come back to full and the fans offer one last rousing cheer at the opening festivities. Tonight's announcers are on standby and ready for the show to begin.
Watson:
Good evening and welcome to the great north!!!! We are coming to you live from the Paramount Fine Fooods Centre in Mississauga, Ontario, Canada for episode 2! of Paramount Wrestling! My name is Tim Watson and with my as always is Cid Sydney
Sydney:
It's great to be back on the air Tim. It's cold as hell throughout most of North America right now, but the action is about to heat up here tonight at Paramount Wrestling is absolutely PACKED with talent!
Watson:
You are not wrong my friend. We have talent from all over EWC here tonight. You want Rampage stars? Our opening match is rematch between Rampage star Samantha Hamilton and Wes Walker! Killjoy Ito and Smith Jones are also going to go at it and after the match Smith had last week, i can only imagine what he and Killjoy are going to accomplish tonight!
Sydney:
You want Prime superstars? JAMIE LOVE and Jason Hunter team up to take on the makeshift team of Laura Perrellii and Adriana Aquilla! Then we get the sweetest match on earth as El Pablo squares off against the Sweet Treat herself Candy!
Watson:
Mercenary is going to go one on one with his former brother in arms Mayhem in what is bound to be a brutal contest. Then we have The Unholy Alliance of Undisputed champion Stitches the Clown and Nevaeh, yes I said that correctly! They will be TEAMING UP against the Tag team champions The Southern Express in a non-title match. And then in our Main Event of the evening, we crown our inaugural CW BroadcastChampion as Marcu$ $t. John and David Miller are going toe to toe to see who becomes the new workhorse of Paramount Wrestling!
Sydney:
We have all this and SO MUCH MORE! Our first match of the night will be coming up right after this quick message from EWCTV. Don't go anywhere .. Paramount Wrestling action will be back in exactly 1 minute
---
---
---
---
WHAT IS EWCTV?




All live EWC Pay-Per-View events (including StrangleMania, Night Of Champions, Rumble in the Bronx & WrestleFest)
All day scheduled & live programming
Plus, hours and hours of on-demand content & never before seen behind-the-scenes footage!
Groundbreaking original series - See new episodes of BRAWL, RAMPAGE, Paramount Wrestling, PRIME and more
Live in-ring action, reality shows and documentaries
HOW TO ORDER
Get the award-winning EWC Network through your TV provider. Call your local TV Provider today to subscribe.

Only $7.95/month


WATCH ONLINE
If you are subscribed to EWC Network through your TV Provider you can now enjoy EWC Network on your:

PC, Laptop,PS4,PS5, X-Box, iOS, MacOS, Android, and Windows tablet.


EWCTV for only $7.95 USD per month
Along with being an EWCTV Subscriber, you get:
EVERY Pay-Per-View event included at no extra charge
15% off any and all EWC Merchandise from the EWC Store
20% off all tickets to LIVE EWC Shows
A free EWC Yearly Wall Calendar signed by the entire active EWC Roster
As an added bonus for all those currently subscribed including any new subscriptions
Enter code
"PINNACLE"
and receive
a
FREE
copy of The Best Matches in FSW History
DVD and Blu-Ray combo when it's released later this year
+ free T-Shirt and Replica North American Championship belt.
So act now if you aren't already subscribed to EWCTV
---
---
We return from commercial break to the orchestral sounds of "Remember the Name" by Fort Minor blaring throughout the Paramount Fine Foods Centre. The fans in attendance are on their feet and cheering for Paramount Wrestling General Manager Chris Brock who is standing by in the ring.
Brock:
Ladies
and Gentlemen, welcome back to Paramount Wrestling
episode
TWO! Now, I don't typically come out here every week to address you all and I promise not to make a habit of it, but I do have an announcement to make.
The fans Cheer.
Brock: You see, later on tonight we will crown our first ever CW Network Television champion, and as stated previously on EWC Total Access, which if you are not subscribed too please check it out. You can find it just about anywhere get your podcasts from... Anyway, I announced that this title will be defended EVERY episode of Paramount Wrestling. So I want to make a new tradition here on Paramount of announcing the next challenger for that championship on the show before. So I am pleased to announce that at Paramount Wrestling number three, the person who will be challenging for the CW
Network
Championship is....



---
Suddenly the lights go out.
There is no Audio from the commentary team.

The Cameras that have the luxury of battery packs catch vague audio from ringside workers, possibly even the commentary team themselves, fans in the crowd discussing what is happening.
The confusion is apparent.
Watson: What's going on?
Sydney: Is it a power cut?
"Darkness. Let it into your hearts. Accept it and you will be free from the blindness.
Let your eyes adjust to the dark and soon you will see.
For the sands of time are running out.
The safety that these walls provide, are no longer sanctuary.
Your Safety is no longer...Paramount.
Soon you...they...will all see."
The voice goes silent and all the power is restored. Audio is back and workers look at each other dumbfounded and fans silently ponder what just happened as an image appears on the X-TRON:
Gabriel Ohio



---
---
SINGLES MATCH
X-DIVISION RULES MATCH
Samantha Hamilton
VS Wes Walker
---
We return to ringside where our first match of the night is about to kick off another fantastic episode of Paramount Wrestling.
Watson:
Gabriel Ohio?! Why would Gabriel Ohio be getting a CW Network Championship match?!
Sydney:
I think it's got to be the obvious Tim: Gabriel Ohio Welcome to Paramount Wrestling! As a winner of the Mac Invitational, if he is now a member of the Paramount roster, that would give him a shot at the CW Network Championship. Chris Brock said he wasn't done procuring the best roster for Paramount... Damn, this was a great pickup for Paramount Wrestling!
Watson:
We are going to find out I guess, but for now it's time to buckle up folks! Our opening match is X-Division Rules as Samantha Hamilton and Wes Walker go face-to-face for only the second time in their careers here in the EWC. What many are interested in finding out is if Hamilton can beat Wes again, or will Wes foil her attempt at a 2-and-oh? It's been made abundantly clear that Wes is getting frustrated having just lost the FSW Championship, so he's most-definitely looking to chalk up some victories moving forward. Perhaps we'll see him start to make his way back to the top here tonight. Syd?
Sydney:
Samantha's got a lot to push through as well. The start of Season 22 hasn't exactly gone the way she'd have liked, and she's been very forthcoming about her intent to set things right. She's come out and admitted that she'll do whatever she has to do here tonight to make sure she leaves victorious. All we know for certain is that neither one of these athletes will go down without a fight! We're in for a treat, no doubt about it!
Starr:
The following match is under X-Division Rules. Joining us first, from Fort Lauderdale, Florida, weighing in at 145-pounds …
SAMANTHA "THE TITANESS" HAMILTON!
"Indestructible" by Disturbed starts to play as Samantha Hamilton makes her way to the ring.
Starr:
And her opponent, from Galway, Ireland, weighing in at 185-pounds …
WES WALKER!
"Perfection Through Silence" by Finch starts to play as Wes Walker makes his way to the ring.
Watson:
Both athletes look focused and ready. This is gonna be one for the record books!
DING DING DING
Not failing to deliver on the hype surrounding this match, Samantha and Wes kick things off with gusto. They trade hands back and forth. Samantha charges in with a Spear, but as she's about to connect, Wes turns it into a Belly-to-Belly Suplex. Both are quick to their feet and immediately pursue their weapons of choice. Samantha grabs her chain, Wes grabs a chair. Samantha charges in and shoves Wes into the corner, pressing the chain into Wes' throat, forcing him to relinquish the chair. Wes responds quickly with a tremendous shove that sends Samantha backward, and follows it up with a Flying Spinning Elbow. Samantha goes down, but she's still got the chain in her hand. She rolls on to her stomach and pushes herself up, but then ducks beneath a Flying Knee. She wraps the chain around Wes' leg in mid-air, and he goes down. Samantha goes for a leg lock, but Wes rolls out of it. Both competitors are back on their feet. Hamilton wraps the chain around her hand and looks to be going for a punch, but Wes ducks. Hamilton stops and spins back around. She unleashes a flurry of assaults via her legs, hitting Wes with an impressive series of knees and kicks. Walker does his damnedest to block what he can and hold Hamilton at bay.
Watson:
This rematch is NOT disappointing folks! Both Sam and Wes want that win tonight and they are showing us just what they are willing to do to get it!
Sydney:
SO far the weapon use has been minimal, but that's OK The X-Division simply just allows you to use whatever you feel necessary!
Walker grabs hold of Samantha's leg and spins her around so her back is to him. Bulldog! Walker drops down on top of Hamilton, grabs the chain and tries to pull it out of Samantha's hand, but it's wrapped up tight. Samantha shoves Wes off her and gets back on her feet. Using the chain like a whip, Samantha connects right upside Wes' head. That had to hurt! Wes shakes it off, though he's probably seeing double right about now. A cut near his temple reddens. He lunges at Samantha, grabs a hold of her by the arms and flips her into the corner. A series of leg kicks to follow.
Watson:
Well that looked to piss Wes smooth off..
Sydney:
What are you, 16 again? Sam got a good shot in, lets she if she can follow up?
Wes grabs the chair he had earlier, raises it high above his head, brings it back down, and Samantha is just barely able to get her hands up in time to try to soften the blow. Still, the chair connects, driving the chain wrapped around her arm into her forehead. A gash over her eye trickles blood down her face as the camera zooms in to get a closer look before Wes throws her to the mat. He drops down on top of Hamilton and hooks the leg....
ONE...
TWO..
THR-KICKOUT!
Watson:
Both competitors are bloody now and Wes damn near won this match just now!
Sydney:
Hamilton is still feeling Wes out here.
Wes is clearly getting frustrated now as he looks around the ring for another weapon; the steel chair is noticably... dented up. He spots a baseball bat and grabs it. Samantha stumbles a little bit, but she's able to get back to her feet. Wes swings the bat like Babe Ruth, aiming for her head, but Hamilton ducks. Wes grabs both ends of the bat and charges toward Samantha, using the bat to try to pin her against the turnbuckle. Samantha uses her own hands to push back, and a few kicks to the abdomen sends her assailant backward. She throws the chain away and as Wes swings the bat again, Samantha grabs a hold of it and in one fluid motion she has it pressed tightly to his throat as she locks in Exiled To Tartarus! Wes is struggling to keep himself upright. He knows if he goes down with Samantha's Sleeper Hold applied it could very well be over! He flails around briefly, but reacts quickly. A few elbows to the midsection and Samantha's forced to relinquish the hold. Wes with a Spinning Front Kick to the head! Hamilton goes down! Walker makes the cover...
ONE...
TWO....
TH-KICKOUT!
Watson:
Sam almost had this match won, but Wes is not out of this one yet! He almost sealed the win here as well!
Sydney:
They've both gotten pretty creative with the weapon use tonight and they are inflicting PAIN on each other!
Both Hamilton and Wes are slow on the uptake as they've all but destroyed each other in this match. Eventually they're back on their feet and going at it again. Samantha with an unbelievable combination of Elbow and Knee Strikes. Walker catches Samantha's boot when she goes for the big one, and he spins her around. Another Bulldog? No! Samantha ducks. She shoves Walker forward with all the strength she can muster, but it's looking like she's getting a little woozy from losing too much blood. Wes bounces off the turnbuckle chest-first and stumbles back. Reversal of Fate from Samantha to Wes! It could be over! Samantha falls on top of Wes and the referee begins the count!
ONE....
TWO....
THR-KICKOUT!
No! Wes Walker with a kick out! Unbelievable! How are these guys still going?! The fans are loud with excitement, cheering on both of these fantastic athletes. What a show they're putting on! Samantha couldn't get the pin, so why not try a submission? She grabs Walker's arm and looks to lock in the Kimura Lock, but Wes rolls into her and pulls his arm free. With a little bit of maneuvering, Wes goes for the Tiger Choke and he gets it locked in! Samantha's fighting it with everything she has! Seconds that must feel like hours pass, but Samantha refuses to tap! Wes strengthens the hold tighter and tighter, but Samantha's still trying to fight it. Her eyes are fluttering, she may lose consciousness soon! The referee picks up on this and goes to check on her. She's still trying to fight out of it, but the more she struggles, the tighter the hold. The fans are going crazy. A full minute has gone by and for some reason Samantha just refuses to tap! Her movements are slowing down, however, and Wes knows it's only a matter of time now. At long last, all movement on Samantha Hamilton's part ceases to be and the referee calls for the bell.
DING DING DING
Starr:
Here is your winner at 14:37 via TKO...…
WES WALKER!
Wes immediately releases the hold, but does not celebrate the win. He rolls to the outside and immediately walks back up the ramp.
Watson:
Man, the match really could have gone either way. At so many times it seemed like this match could be over, but in the end Wes Walker picked up the victory.
Sydney:
You can't count out the effort that Samantha Hamilton put in tonight. She may not have won this match, but Sam is showing that she is just as fierce as she was last season. She just had not had the best luck so far in season 22.
Watson:
Well She is definitely getting there that is for sure. I for one cannot wait to see what Sam does this season! Right now, we have some bills to pay though, so stick around we will be right back!
Camera fades...
---
---
As cameras go backstage, Candy is seen getting ready for her match with El Pablo when Gabi Vee comes walking into the locker room.

Gabi:
All set for your match?

Candy:
Sure am. No doubt El Pablo and I are going to put on quite the show tonight. Our sugary battles never seem to disappoint. That's why Chris Brock didn't wait long to book it.

Gabi:
Speaking of Chris Brock, I'm just getting back from speaking with him after I ran into him backstage.

Candy:
Oh?
The Sweet Treat arches an eyebrow with interest.

Gabi:
Since I've been hanging around at Paramount events, I told him I'd be willing to compete if he had a spot for me.

Candy:
So what you're saying is, we could see the reunion of the Heavenly Treats?!
She was smiling even as she said it.

Gabi:
It's definitely a possibility, I'm sure.

Candy:
SWEET!
Candy lets out a small squeal as Gabi speaks up again.

Gabi:
You might want to hold off on your excitement for a while. You still have a match to focus on.

Candy:
Oh right.
Candy puts on a straight face that lasts for about three seconds before going back to her excited state.

Candy:
Don't worry, I can handle being excited and winning another one for 3C all on the same night!
Gabi just shakes her head and chuckles as they camera cuts to...
---
---
---
The camera opens to the backstage area where we see Roozilla walking through the hallway with his manager. The Roozy One pauses as the camera pans over to where Jason Hunter is talking with Diana and Sara. Roozilla's manager Babyface Badley raises his hand and puts it onto the shoulder of The Roo as if telling him to back away.
Within an instant Roozilla shoves away the hand as he runs towards Jason Hunter and nails him with a forearm to the back of his neck. The blow knocks Jason Hunter into the cement block wall. Roozilla begins throwing lefts and rights as Jason grabs him and spins him putting Roozilla's back to the wall.
Jason knees Roozilla in the midsection and connects with a European uppercut. Roozilla is knocked backwards as he reaches out and grabs a metal tray off of a table from the side. Roozilla swings the tray towards Jason as it connects with the side of his head it slices him above his eyebrow causing him to bleed.
Before connecting for a second time Roozilla and Jason Hunter are pulled a part by backstage officials. Each man begins fighting with the officials as they attempt to get to each other once again. This causes even more officials to come out and break the two men apart.
Roozilla and Jason are seen attempting to break free as they lunge towards each other. The blood from Hunter's forehead is running down his face and smeared across his shirt.
Roozilla:
Let me GO!! I'm gonna rip out his heart! Roar!
Babyface Badley shoves Roozilla backwards as the officials hold him by his arms. Sara and Diana are pulling on Jason's arms as he loses his cool.
The camera fades as both men are seen yelling towards each other as the officials are finally able to get control of the scene.
---
---
Still backstage inside the Fine Food Center we find 'The Prodigal Son' Buddy Love with Killjoy Ito, he sees the camera and smiles
Love:
Well hello there Paramount Wrestling Fans, it is I, Buddy Love coming to you from cold and snowy Mississippi…
Killjoy nudges him with an elbow
Love:
I'm sorry, I did it again, I mean cold and snowy Mississauga, Ontario, Canada…the host city for Paramount #002 and I have been given this time here tonight to talk about our opponent here tonight, Ontario's own 'Classic' Smith Jones…
Even from in the back of the Fine Food Center you can hear the pop from the Mississauga fans
Love:
Yes, yes yes…vert exciting for Smith Jones to back here in Canada and you are not alone in that excitement, some here in the EWC were equally as excited to see the return of the 'Classic' one after being away for SIX LONG YEARS but we tip our cap to you Smith…
Buddy reaches up and tips his imaginary hat to Smith Jones with a smile
Love:
You really did make up for lost time at Paramount #001, first we saw you come out to the ring and answer the challenge of Prime's very own 'Remarkable' Mark Keaton and kicked him from our ring before putting on a 'classic'…no pun intended with our North American Champion Robbie Rayder, pushing the champion to the limits…so much so he's not wrestling here tonight...only to come up just a bit short…like you always do when facing a EWC Champion but you had spunk, I'll give you that but tonight is a completely different ballgame for you, because tonight you are stepping into the ring with a man that very easily could be the new face of Paramount in Killjoy Ito!!!
Buddy looks at Killjoy
Love:
A man that is everything you could have been Smith, had you stuck it out when the tough got going and not high tailed it back to 'Oh Canada' the moment things didn't go your way. You are stepping into the ring with a man that's beaten Robbie Rayder now…what, three time…
Killjoy nods and holds up three fingers
Love:
Three times when you couldn't even beat him one times…a man that finished 3rd in the Legends of the Cage, a former TWO TIME TV Champion, former Indy Champion, winner of the FIRST Prime G1 and former X-Division Champion, and beat Ace King for that championship, before finishing 2nd in the Rumble Match…I know impressive right but that's who you are facing Smith and I need you and all these fans here tonight to understand this isn't a Smith Jones Homecoming as much as it's a Smith Jones being lead to slaughter night…
The fans boo hear this but Buddy tries to calm them down
Love:
I know, it's sad, nobody ever wants to see the hometown kid lose but I need to ready all of you for this, because it's going to happen and there isn't anything Smith Jones or you people can do to stop it…Killjoy Ito is just simply better than Smith Jones but fear not…fear not, you will all be seeing a lot more of Smith Jones after tonight because it's highly likely that Smith will pull a 2015 out of his hat and not return to the US when Paramount backs up and rolls back across the border to the good old US of A, instead electing to stay here again like the failure he is…but that's his cross to bear, we have more pressing matter to disgust here tonight and that's STRANGLEMANIA…
There are a few pops at hearing StrangleMania
Love:
Last year Killjoy was on a roll, 10th in the Elite 15 in February, had beaten the then FSW and now Undisputed Campion Stitches and yet there was no room on the StrangleMania Main Card for Killjoy, he was regulated to the Pre-Show and frankly it was a slap in the face…we aren't going to allow that this year, to quote TikTok, 'Oh no, oh no, oh no no no no no…'
The fans inside the Fine Food Center play along or should I say sing along with 'Oh no, oh no, oh no no no no no…' which brings a smile to Buddy's face
Love:
Well I guess it's true what they say about Canadians, you do have a sense of humor and I guess you would have to, I mean you choice to live in the North Pole that is Canada when America is right there but anyways back to my point, Killjoy isn't going to settle for a Pre-Show match this year, no siree Bob, so I speak directly to you Mr. Chris Brock, you have this wrecking ball that is Killjoy Ito and this new third brand that is Paramount so what are you going to do? On one hand you could pick up the phone and call over to Rampage and let GM Duggan know you would like to have the trilogy, Ace King verses Killjoy Ito for the X-Division Championship and…
Buddy smiles and whispers into the microphone
Love:
oh by the way, allow us to soften up old Ace before his Undisputed Championship match against Paramount's own Stitches…
And then goes back to his normal voice
Love:
And increase your chances of having BOTH championship's on the Paramount brand…seeing as Killjoy is one of the few in ALL OF THE EWC that has beaten Ace for a championship OR you realize that the North American Champion is now on par with the International and US Championships and you get yourself a champion deserving of that billing. Killjoy beat Robby at FSW #105 in a Champion verses Champion match so it's not that hard to justify booking that match but it's really up to you, either option works for us and tonight we will take care of the 'Smith Jones Problem' for you and free up a roster spot for someone more deserving, we scratch your back you scratch ours right…
Buddy winks into the camera
Love:
StrangleMania is right around the corner and we can't wait to hit South Beach!!!
Buddy smiles and the camera fades to black
---
---
SINGLES MATCH
Killjoy Ito
VS "Classic" Smith Jones
---
We return to ringside where Tim and Cid are standing by.
Watson:
Wow, Jason Hunter and Roozilla do NOT like each other! This is far from over between the two!
Sydney:
Not by a long shot Tim, I can see these two continuing this beef for a while. It's time to get to the next match though, let's head to Isabella Starr!
Starr:
The following match is set for one fall. Coming down the aisle first, from Toronto, Ontario, Canada, weighing in at two hundred twenty-nine pounds, he is The Image of Excellence ... "CLASSIC" SMITH JONES!!!
"Bitter Sweet Symphony" by The Verve begins to play as Smith Jones steps out onto the stage dressed in a shiny white robe. The robe is adorned with jagged shards of a broken mirror that reflect the spotlights in every direction. Smith strides confidently down to ringside. Smith mounts the steel steps, wiping his feet respectfully on the apron before parting the ropes and taking centre.
Starr:
And his opponent, from Tokyo, Japan, weighing in at two hundred and thirty-five pounds, he is The Ace of Paramount ...
KILLJOY ITO!
'The Prodigal Son' Buddy Love walks out onto the stage and raises his arms into the air as the lights fade out. He jumps up and down as 'Deeper Depper' begins to play. A strobe light circles around the stage as a single white spotlight hits the stage where Killjoy Ito is standing, his back facing the ring, his arms stretched out and his head down. He swings around to face the ring as Buddy Love runs up and stands next to him. After a quick word the pair start to walk towards the ring, Buddy runs ahead and charges up the steps and holds open the ropes for Killjoy to step through. Killjoy walks to the center of the ring, extends his arms and tilts his head back to soak everything in.
DING DING DING
As the bell rings both Killjoy Ito and Smith Jones are quick to jump onto each other in an aggressive fashion, locking up with a traditional collar and elbow tie up. The two try to gain the upper hand by forcing the collar and elbow tie up but Smith Jones manages to work Killjoy Ito into the corner of the ring. The referee calls for Smith Jones to back up and he does so. Killjoy Ito steps out of the corner of the ring but Smith Jones is quick to jump on him again, kicking with a swift kick to the abdomen. Killjoy Ito doubles over as Smith Jones grabs him in a headlock. Smith Jones swiftly floats his hands from around Killjoy Ito's neck to around his waist and throws him over with a
Gut wrench
Suplex. Killjoy Ito lands hard but is quick to get back to his feet on the opposite end of the ring. Smith Jones charges towards Killjoy Ito, Killjoy Ito charges towards Smith Jones. Smith Jones goes for a clothesline but Killjoy Ito ducks under, grabs Smith Jones by the head and connects with a
neck breaker
. Killjoy Ito lifts Smith Jones to his knees and backs into the corner of the ring and goes for the Kettei-Da (Kill-Shot), Smith Jones ducks under it and rolls Killjoy Ito up Small Package.
With Killjoy Ito on his hands and knees Smith Jones rolls Killjoy Ito up with a Magistral Cradle. Two count again. Both men get to their feet, fists raised and
clenched
, and stare at each other across the ring.
Watson:
Smith Jones looking to put the former X-Division champion away early here with a pair of pinfall attempts, but Killjoy Ito is ready for it. Buddy Love sure did have some harsh words for Smith before this match though, you think that had anything to do with this display we are seeing here?

Sydney:
Killjoy is the Ace of Paramount for a reason Tim! Killjoy Ito is ready for anything that anyone can throw at him right now!
Without haste, Smith Jones charges at Killjoy Ito who isn't prepared and Smith Jones shoulder tackles Killjoy Ito into the corner of the ring. Smith Jones delivers a few stiff shoulder shots to Killjoy Ito's abdomen before backing up. Smith Jones charges back into the corner for another shoulder tackle but Killjoy Ito moves out of the way and Smith Jones drives his shoulder into the turnbuckle. Killjoy Ito grabs Smith Jones by the arm, delivers a knee into the back of his injured shoulder and delivers a unique Backstabber to the injured shoulder. Smith Jones screams out in pain and tries to kick Killjoy Ito away as Killjoy Ito drags him to the center of the ring. Killjoy Ito starts driving his knee into the injured shoulder of Smith Jones, over and over again but eventually, out of desperation, Smith Jones grabs Killjoy Ito by the head and rolls him up for a Small Package. One count, but the damaging of the shoulder had ceased. Killjoy Ito is quick to his feet, Smith Jones is slower. Killjoy Ito attempts to grab Smith Jones but Smith Jones shoves him away. Killjoy Ito charges in again to grab Smith Jones but Smith Jones grabs Killjoy Ito and attempts to lift Killjoy Ito up for a Backbreaker. Killjoy Ito slips out of his grasp and drives his boot into Smith Jones knee. Killjoy Ito attempts a Death Valley Driver into a Gutbuster but as Smith Jones is thrown off of Killjoy Ito's shoulders he lands on his feet and elbows Killjoy Ito in the abdomen. Floating behind Killjoy Ito, Smith Jones connects with a Fall away Slam which sends Killjoy Ito out of the ring. Buddy Love checks on his fallen client.
Watson:
Smith Jones is persistent if he is anything. He will NOT take no for an answer here tonight. That shoulder might be done though
Sydney:
Killjoy is like a stalker playing with his prey right now. Jones is done.
Buddy Love hypes Killjoy Ito up before sending him back into the ring. Killjoy Ito slides back into the ring but Smith Jones is right on him with aggressive stomps before he can get to his feet. Eventually, Killjoy Ito grabs Smith Jones by the boot, stopping the barrage of stomps. Killjoy Ito gets to his feet, holding Smith Jones foot whilst Smith Jones tries to swipe at Killjoy Ito. Killjoy Ito floats over, connecting with a Dragon Screw before delivering a few stomps of his own to Smith Jones. Killjoy Ito then climbs to the top rope and dives off, looking to deliver a Double Foot Stomp but Smith Jones rolls out of the way. As Killjoy Ito tends to his legs Smith Jones goes behind him, grabs him around the waist and connects with a German Suplex, slamming the back of Killjoy Ito's head into the bottom turnbuckle. Smith Jones slides Killjoy Ito into the center of the ring and goes for the cover. Two and a half, but not a three. Smith Jones lifts Killjoy Ito to his feet and connects with a fury of strikes, ending with the Heart Punch. Smith Jones charges towards the ropes and back towards Killjoy Ito. Killjoy Ito ducks under another clothesline attempt from Smith Jones. Smith Jones continues to charge towards the ropes opposing ropes. As he does so Buddy Love is there and grabs Smith Jones by the ankles, distracting him for a brief moment. This gives Killjoy Ito enough time to grab Smith Jones and connect with the Burakkuauto (Blackout). Killjoy Ito shakes his head at Buddy Love in a disgruntled manner as Buddy Love implores him to get on Smith Jones. As Smith Jones gets to his feet Killjoy Ito backs into a corner of the ring, charges at Smith Jones and connects with the Kettei-Da (Kill-Shot) followed by the cover and the three count.
DING DING DING
Starr:
And your winner, via pinfall at 10:56......
KILLJOY ITO!
Killjoy Ito gets to his feet as 'Deeper Depper' begins to play. Buddy Love enters the ring, applauding Killjoy Ito for his victory. Killjoy Ito looks at Buddy Love for a second, clearly annoyed by his interference, before brushing it off. The referee tries to hold Killjoy Ito's hand up in victory but Buddy Love ushers him away, instead holding Killjoy Ito's arm up in victory himself.
Watson:
Killjoy Ito asserting dominiance here tonight, but you cannot underestimate what Smith Jones did here. He forced Killjoy to have to rely on his manager for the win. That does not happen very often Sid.
Sydney:
Indeed, but a win is a win and Killjoy Ito is now 2-0 in the Paramount Wrestling era.
Watson:
I understand we are going to hear from someone in the back now, but fans we have so much more in store for you tonight. DO NOT GO ANYWHERE!
---
---
The camera cuts backstage, where we find El Pablo casually wheeling Phyllis, the old woman seen during his adventures in Celebration Square, along one of the backstage corridors. After a moment or two, the pair are approached by a smiling Lisa Goldrush.
Lisa Goldrush: Hey guys...what a lovely surprise this is!
El Pablo: Yeah, well...turns out somebody is a pretty big fan of a certain Southern Express.
Phyllis: Oh, I'm more than a fan, honey! I taught those boys a thing or two, let me tell you!
El Pablo: I bet you did, you rascal!
The two continue on their journey, with Lisa now following alongside.
Lisa Goldrush: So, Pablo, obviously your attentions are gonna be directed, at least in part, towards another spunky young lady here tonight. Did you hear what Candy had to say during the build-up to tonight? How are you feeling, with the opening bell now just minutes away?
El Pablo: I did. Candy's Candy, you know? She doesn't change...she's always sweet - obviously - she's always ready to throw down...and hey, a King's ransom's worth of Skittles from the Confectionery Queen is always welcome! But, all that being said, this is gonna be a very different battle to the ones she's breezed through before. She may have had my number up 'til now, but if I have my way tonight, the leader of the Candy Castle Crew's gonna end the evening facing a very different kind of 3C...one that ends in O-U-N-T.
Viva La R-
Phyllis: Come on, enough yakking already! I wanna show Jim 'n' Bobby I can still pull off the Hamilton Howdy-Doody!
Lisa cocks an eyebrow at EP, who appears about ready to Taste The Rainbow in reverse.
El Pablo: Alrighty, well...can't wait to see the EWC.com exclusive on that. I'll see you around, Lisa.
With that, EP wheels Phyllis away and out of sight, leaving Lisa to show one final shudder as the camera cuts away.


---
---
---
TAG TEAM SHOWCASE
Jamie Love & Jason Hunter
VS Adriana Aquilla & Laura Perrelli
---
Watson:
Welcome back to Paramount Wrestling folks! We are about to get our next match underway here as we bring you some tag team action!
Sydney:
Yes we are! Jason Hunter and Jamie Love are teaming up to take on two bad ass women in the form of Laura Perrelli and Addy Aquilla! I wonder though how Jason is doing after that altercation in the back?

Starr:
The following contest is a Tag Team Showcase! Introducing first.. From Trenton, New Jersey weighing in at 132 pounds…. This is LAURAAAAAA PERRELLIIIIIIII!!!!!
The arena darkens as Voodoo Johnson's "United Divided" plays through the PA. Blue and yellow lights start to swirl through the arena as Laura Perrelli comes through the curtain, pausing at the head of the ramp to stretch her arms out wide. She smirks at the audience before sauntering down to the ring at her own pace, only occasionally glancing to the fans--with a dismissive smirk--before climbing the ring steps and wiping her boots off on the apron. Laura swings herself through the ropes, spinning to face the other side of the audience. She stretches both arms out again, before shrugging her jacket off and dumping it out of the ring, and backing into her corner to prepare for the match.
Starr:
And her partner, from San Antionio, Texas… She is… "Lo Divino" Adrianaaaaaaa… AQQQQUIILLLAAAAA!!!!
"Iron" by Within Temptation hits the speakers and the crowd comes alive as Adriana Aquilla makes her way down to the ring, she slaps hands with a couple of fans before rolling into the ring ready for her match.
Starr:
And their opponents, Introducing first, weighing in at 120 lbs… "The Love Child" JJJJJAAAMIIIEEEEEEE… LOOOOOOOOOVEEEEEE!
"You're gonna go far kid" by The Offspring plays as Jamie steps out onto the stage with Lorenzo and Maria off to the side. As Jamie stands there he touches his wrists together in the shape of an X. As the music starts the name Love comes down from the ceiling in giant spinning pyro as more pyro ignites on both sides of the ramp and follows him as he walks down to the ring. The fans boo Jamie as he walks silently to the ring with both Maria and Lorenzo at his side. Once he gets to the ring he stands in the corner and listens to some last minute advice from his best friend and his manager.
Starr:
And finally, His partner, from San Fransico, California… Weighing in at 170 lbs, he is the Prince of Wrestling…. JJJJJJAASSSSSONNNN… HUUUUNNNNNTTEEERRRR!!!
"Daechwita" comes over the speaker as Diana and Sara came out first as they stood on the stage with Jason with his back to the crowd and hood over his head. Sara slides the hood off his head as Diana walks ahead of them. Jason has a noticeable large patch on his head, presumably where he was busted open earlier in the night. Sara and Jason play to the fans a bit dancing to the music while Diana walked down the ramp. Diana holds the rope for them to get in while Sara and Jason get in-ring and she slides his jacket off him before leaving the ring with him glaring at the person warming up in the corner.
Watson:
This match kind of coming from a feud that started on FighterTalk. Jamie Love just does not know when to say nothing and opened his mouth Adriana Aquilla and well now we are about to see if he and Jason can put these two newcomers to Paramount Wrestling to rest tonight.
DING DING DING
Jamie and Laura Perrelli start off as Perrelli quickly rushes in to shoot the knee, but Jamie is able to see it coming and quickly scurries out of the way much like a squirrel caught munching on a telephone cable. Jamie is in the neutral corner as Perrelli is already visibly pissed off. She turns to see Jason Hunter on the apron and throws a forearm his way that turns his head, but does not move him from his standing position. Jason quickly places a hand over where the strike landed, stoically checking for damage before turning his head by toward La Principessa. Jason nods his head one time before Jamie Love is now scrambling back and attempts to roll Perrelli up, but she is able to roll through and to her feet. Jamie quickly gets a basement drop kick into the knees of Laura, which brings her down to her knees. Jamie hits the ropes and on the rebound is looking for a DDT, but The Jersey Devil quickly is able to counter and grab the arms of Love, turning it into a Floatover butterfly suplex that she calls "Gone Bust"!
Sydney:
Looks like Love has already gone bust!
Watson:
Laura Perrelli looks like she is just playing with Love and this match JUST started.
Back in the ring, Perrelli does not go for a cover and instead grabs Jamie by the hair and walks him to her corner, tagging in Adrianna Aquilla. Lo Divino is eager to get into the ring and extract some revenge on the Love Child. She quickly hops over the top rope and grabs Jamie from her partner for the night, quickly hitting pay dirt with a snap suplex that can be heard in the rafters! The crows cheers as Addy is quick to her feet now as she sees Love still on the mat. She hits the ropes, does a cartwheel to spin herself around 180 degrees then lands a standing moonsault!
Watson:
WOW! Look at the athleticism of Adriana Aquilla!
Addy with the cover now…
ONE….
TWO…
THR-Jason Hunter breaks the pin up!
Jason lands a quick elbow to break the pin up and then drags Love to the corner as the ref counts to signal Jason to his corner. Jason yells at Love to get up and as soon as Jamie is to his knees, Jason tags in! Addy charges in but is met with hard clothesline, This causes Laura Perrelli to enter and charge Jason, but she is also met with a clothesline. Both women roll to the outside to regroup now as the crowd cheers!
Watson:
Jason hunter has 8 inches of height and 50 pounds on everyone else in the ring. He very easily just took over this match with a clothesline!
Addy slides back under the bottom rope to break Matt Mercer's 10 count and re-enter the match. Jason lets her get to her feet before he goes to lock up. Addy locks up, but is quickly sent to the ropes. On the rebound Jason looks to hit a superkick, but Addy ducks, hits the opposite ropes and comes back with the Divine Wizard! (shining wizard kick) Jason is caught off guard and stumbles back, but does not leave his feet. Addy now runs past Jason to the opposite ropes, springboards off and hits the Hoja de Honda (Slingblade) Jason is on his back now, Addy goes to cover but only gets a one before Jason kicks out. Addy looks a little frustrated and decides to tag ou, allowing Laura Perrelli back into this match! Perrelli wastes no time and before throwing forearm after forearm into the back of Jason, who is trying to get to his feet. Jason is on his hands and knees now, Perrelli takes off for the ropes as Jason gets up onto one leg just in time for a tilt-a-whirl headscissor takedown! Instead of going for a cover, Perrelli looks to lock in an armbar on the Prince of wrestling. Jason winces just a little, but looks around, checks the hold, then looks for a way out. He quickly flips over, usin the momentum to flip Laura over and into the ropes. Jason is to his feet instantly and catches Perrelli with a toe kick on the rebound, doubling her over and stopping her moment…. DROP ZONE!!! Jason hits the pedigree out of nowhere!
Sydney:
Somewhere, X is looking down at his son with pride tonight! That was Xplode's trademark Drop Zone finisher, this match is over!
Jason with the cover…
ONE…..
TWO…
THRE- NO!
Adriana Aquilla breaks it up with a Addy star press that lands and causes the pin to be interrupted!!! Jamie Love enters the ring now and starts throwing stiff kicks to Aquilla, while Jason is getting to his feet, but Laura Perrelli is not moving. Love and Hunter see this opportunity and rush at Addy who is against the ropes, but she ducks and sends Love flying over the tope rope! Jason is able to stop just short of going over himself. Matt Mercer immediately gets to Addy and gets her back to her corner as she is not the legal person in the match. Outside, jamie Love gets to his feet, albeit gingerly, and gets to the corner. Laura Perrelli is slowly to one knee now, Matt Mercer is checking on Jamie Love and Perrelli uses that moment to low blow Jason Hunter! The crowd is stunned as Jason falls to the mat, kicking his legs in agony as he rolls toward his corner. Laura just looks over to Addy, who doesn't look happy at that, and shrugs as if to say "What?" Jamie is heated now and tags in, wanting a piece of Laura Perrelli, but instead is met with a superkick from Addy Aquilla who has entered the ring again. The CRACK of her boot hitting Jamie Love echoes throughout the Paramount Fine Foods Centre, but Aquilla is quick to get back to her corner now.
Watson:
I think Jamie Love just went to La-La-Land folks, My GOD!
Sydney:
I think I like her Tim!
Laura Perrelli is all smiles as she picks up an almost lifeless Jamie Love, walks to the corner and tags Addy in. Jason Hunter has rolled out of the ring and is on the floor now still trying to get his wits about him after the low blow. Laura Perrelli walks back to the center of the ring as Addy Aquilla climbs the turnbuckles. Perrelli grapples Jamie Love and hits the Royal Flush! (Swinging Fisherman's Suplex) She quickly rolls out of the way though as Adriana comes off the top rope with Divine Grace! (Corkscrew Shooting Star Press) Adriana Aquilla with the cover now…
ONE…
TWO…
THREE!!!!
DING DING DING
Starr:
Here are your winners via pinfall at 14:22… The team of Laura Perrelli and Adriana Aquilla!!!!!
Watson:
Wow, that makeshift team worked tonight. Laura Perrelli and Adriana Aquilla were able to get it done with their speed and a combination of high flying and smash mouth offense… well that and the low blow to Jason Hunter!
Sydney:
Any port in a storm Tim. It worked, they got the W and the Love club is going to have to go back to the locker room and regroup.
Jamie Love is escorted to the back as Laura Perrelli and Adriana Aquilla are talking on the floor outside the ring. Suddenly, the crowd all looks to the ramp at the same time.
Watson:
What the hell is going on here?!
Ursus comes out with a microphone, passing the two victors as they are walking up the ramp.
Ursus:
I was promised a match against a member of the Paramount Roster last night at Gambit, and Instead I got that no good bastard Scrappy CoCo…. Well I'm not leaving Ontario without a match against a Paramount superstar, so Jason Hunter I'm challenging YOU to a match!
Sydney:
That is a bold strategy Tim… Let's see how it plays out.
Matt Mercer looks at Ursus like he's got three heads, but then looks to Jason Hunter who is back on his feet now in the ring. Jason nods to say he wants the match. Mercer says Ok and calls for the bell.
DING DING DING
Immediately Jason dives at Ursus and hits a flying forearm smash to the head that sends the old vet tumbling backwards. Jason quickly follows up by kicking Ursus in the gut, then lifting his doubled over body into a powerbomb position. He turns and runs three steps then drops Ursus onto his knees… Prince Stomp! The crowd is buzzing now as Jason yells, getting out the frustration of his recent loss. Jason picks Ursus up, drags him over to the corner and then lifts Ursus up onto his shoulders. Jason then climbs the ropes one at at time to get to the middle turnbuckle before jumping off, lifting Ursus up then releasing him to then fall right onto Jason's outstretched knee on the mat!
Watson:
Jason calls that the Jones Drop! It ain't pretty, but it's effective I would say!
Ursus lands on his face and just sits there still, possibly not conscience. Jason looks at this and takes advantage, grabbign the legs of his opponent and stepping on each calf, then reaching forward and hooking a chinlock before pulling back, almost bending Ursus in half!
Sydney:
And that is the Rude Awaken! First it was shades of his father and now Jason Hunter is paying homage to his mother here with HER finisher.
Urus immediately taps out from the pain.
DING DING DING
Starr:
The winner if this match via submission at 3:36…. JJJJJJJJJASSSON…. HHHHHHHHUNNNNNNTTTTERRRRR!!!
Watson:
Jason Hunter was looking to get out some aggression here tonight and Ursus was just stupid enough to oblige.
Sydney:
Some would call what Jason just did ruthless, but I call it his birthright. That is the Hunter way right there ladies and gentlemen and Jason is nothing if not a Hunter.
Watson:
We still have SO MUCH More action tonight folks. Candy and El Pablo bring their friendly rivalry from Prime a few years back to Paramount… coming up next!
---
---
The camera cuts to the backstage area where Darius is seen looking into a full length mirror as he adjusts his beanie on his head. He looks over his reflection's shoulder to face the camera, curling his face into a sadistic smile as he does.
Darius:
I know why you're here, you want answers. Everyone wants answers. People want to know why I left Brawl and why I attacked Marcu$. I personally thought it was obvious as to why I left Brawl, but I'll explain it to those who are having trouble understanding …
Darius turns from the mirror and faces the camera directly, his smile now deformed into a look of frustration.
Darius:
I left because there was NOTHING left … I did everything I could do on Brawl. I was on the poster, I beat their top dogs, and I was the only champion Brawl had to offer at the season finale. I was the BEST Brawl had to offer … Why would I stay?
I don't need to be a Brawl superstar to chase the X-Division or Undisputed championship. I have zero reasons to stay. I have plenty of reasons to join Paramount; New talent to face, new rivalries to make … new gold to chase.
Darius lets a quiet chuckle slip from his lips.
Darius:
CW Network Broadcast Championship … what a mouthful. You know, when I signed my Paramount contract, I had already set my sights onto Marcu$. I was going to put him down either way … now he gets to be in a match for the new strap? That's just icing on the cake.
You see, I don't like Marcu$. He will forever have a silver spoon hanging from his mouth, and this title opportunity proves that. What did he do to deserve it? He lost in the first round of Legends while I was getting praise for the best round one performance of the night … but then he beat Aquilla, the same woman I destroyed at Legends. Apparently that's enough for a shot at the new strap?
Darius scoffs loudly as he picks up his bag from the floor.
Darius:
Since you'll be busy, Marcu$, I need to occupy my time. I'm not done with you, kid. If you win that strap tonight, I'll be there to take it from you soon enough. If you lose, I'll be there to kick you while you're down … There will be more to this story, but for now I will focus on someone else … someone who keeps running their lips about me.
Darius' face twists into an expression of anger.
Darius:
Aquilla … Are you dumb? I destroyed you at Legends, yet you keep yapping about "my words getting to you" and "proving me wrong" … so do it. I challenge you to a match at the next Paramount. Just you, me, and that ring. No other opponents, no cages, just a wrestling match. Take this challenge and use it as an opportunity to prove me wrong … prove us all wrong and show us just how good you think you are ...
I'm ready to laugh my ass off when you're lying in a pool of tears after I crush your sorry ass dreams yet again.
Darius spits on the floor and pushes the camera to the side, opens a door, and exits the room as the camera fades to black.
---
---
---
SINGLES MATCH
El Pablo
VS Candy
---
We return to ringside where Tim and Sid are standing by...
Watson:
Strong words from Darius there before the break Sydney, but we've got a great match coming up next. It's Candy vs the masked man El Pablo.
Sydney:
The former FSW Champion is going to have her hands full tonight and it makes for an interesting possibility if Pablo can pull one out tonight.
Starr:
The following match is scheduled for one fall. Joining us first, from Puebla City, Mexico, weighing in at one hundred and eighty pounds...
EL PABLO!
A cry of "VIVA LA RAINBOWLUTION!!!" leads to 'Party Hard' by Andrew WK hitting the soundsystem, as the stage and ringside area becomes bathed in flashing, flickering, brightly-coloured lighting. As the main hook hits, El Pablo bursts through the curtain, playing to the fans and chugging Skittles like a Steveweiser. He charges down the ramp and slides under the ropes into the ring, then runs up the turnbuckle and flings a fistful of Skittles into the adoring crowd. After offering a final salute, he hops back down to the canvas, performing a few final stretches as his music fades.
Just as "I Want Candy" by Aaron Carter starts to play throughout the arena, fans immediately start to cheer as Candy emerges from the back all smiles as she does a little dance at the top of the stage.
Starr:
And his opponent, from Candyland, weighing in at one hundred and six pounds...
'The Sweet Treat'...CAAAAAANDYYYYYY!!
After her name is announced, Candy begins skipping her way down the aisle as she tags the outstretched hands along the way. She circles half the ring before climbing up on the apron. As she takes a seat on it, Candy blows a kiss into the crowd. She then lays back and rolls into the ring under the bottom rope. Once she's on her feet again, Candy taunts the crowd until her music subsides.
Watson:
Candy is looking good like always here tonight.
Sydney:
Looks aren't going to help her win this match unfortunately.
Watson:
I'd let her pin me Sydney.
Sydney:
You'd let a two dollar… never mind...
DING DING DING
El Pablo is quick to capitalize within the instant that the bell rings utilizing his Five Star Express catching Candy by surprise. The maneuver forces her backwards into the turnbuckles with force that causes her head to whip backwards fiercely. She stumbles forward slightly as El Pablo is again upon her instantly with a flurry of kicks to her legs. Pablo again relies upon a signature maneuver as he comes up with a modified standing spinning wheel kick that resembles his Ninja Strike. The Sweet Treat is able to counter by ducking the move causing Pablo to crash onto the canvas. Pablo is quick to his feet but is again caught by surprise by a drop toe hold from Candy. Again Pablo is quick to his feet but is again caught by Candy with a Springboard Enziguri.
The Technicolor Tecnico is on the canvas clutching the back of his head as Candy quickly grabs his leg hooking it for a pinning attempt.
ONE...
Kickout!
The referee quickly motions that Pablo has gotten his shoulder off of the canvas. Candy gets to her feet and attempts a kick to her opponents ribs but Pablo catches her foot and kicks her other leg out from under her. He kips up to his feet as he's clenching his fist shaking it as he's firing up as he motions for Candy to get back on her feet.
Watspm:
This is a completely different El Pablo than you might be used to seeing on Prime folks! This El Pablo is ready to THROW DOWN tonight!
Sydney:
He's rising to the occasion here Tim. He lost to David Miller last week and knows that a win over a former FSW champion would put him right back into the hunt for a championship here on Paramount should he be able to pull it off here tonight!
The Sweet Treat rolls backwards and is able to raise her arm blocking the incoming punch by El Pablo. She responds with one of her own which is blocked by El Pablo. She responds with a kick to his mid section causing him to to moan with a breathless grunt. She responds with a forearm smash to the back of his neck before grabbing him and dropping him with a DDT bringing his head down onto the canvas. She raises to her feet and leaps onto the top turnbuckle. Her balance is slightly off as she places her hand on the top rope before finally leaping with a frog splash but her timing is slightly off as El Pablo is narrowly able to roll out of the way. Candy lands with a thud knocking the air from her lungs as she rolls to her back clutching her midsection. She brings her legs upwards into the fetal position attempting to gasp for air.
El Pablo slams his fist into the mat attempting to regain composure to capitalize on the moment. The crowd begins to chat for the masked man.
PABLO!!
PABLO!!
Opposing fans begin a chant of their own for The Sweet Treat.
CANDY!!
CANDY!!
Watson:
Both of these competitors are beloved by the fans, there is no doubt about that.
Sydney:
Yea yea, take your daily feeding you sheep! I hate pandering to the crowd.
El Pablo is the first to his feet as he staggers over towards Candy as he grabs her legs and steps between them. He twist her legs and rolls her over onto her stomach and he clenches her into a Texas Cloverleaf submission. Candy screams out in agony as she reaches out towards the ropes but her fingers are mere inches short of escape. The referee comes around and checks on Candy but before he can ask if she's wanting to concede the match she places both arms onto the canvas lifting herself up and pulls herself forward slightly. She's able to touch the ropes with the tip of her index finger which is enough for the referee for El Pablo to release the maneuver. The Technicolor Tecnico superstar stands to his feet and turns towards Candy but she avoids any conflict by rolling out of the ring upon the floor. She's standing with one hand on the apron as she's still gasping for air. She's shaken from the moment as El Pablo is leaning through the ropes and grabbing her by the arm attempting to pull her upwards onto the ring apron. Candy comes up onto the apron with one knee as she grabs Pablo by the back of his neck with both hands and then drops down unto the floor bringing his neck down across the ropes. With feet hitting the floor she instantly releases the hold causing Pablo to fling backwards with back onto the canvas. Clutching his throat he is now gasping for breath himself.
Watson:
Pablo will be feeling that one for a while!
Sydney:
Candy is digging deep into her arsenal here tonight. I have to admit I kind of like it!
The Sweet Treat climbs back onto the apron and again ascents to the top turnbuckle as she momentarily pauses as El Pablo rises to his feet. Bringing her hands together she jumps off the turnbuckle with an ax hand onto the head of Pablo. He staggers backwards slightly as Candy raises her boot for a kick to the midsection. Pablo raises his knee blocking the kick and countering with a standing Frankensteiner. He lands sitting on Candy's chest as he reaches back and secures her leg for the pinning attempt.
ONE...
TWO...
KICKOUT!
The Candy Princess is able to roll back as she raises to her feet where El Pablo meets her as the two stand face to face where Candy slaps him hard across the face physically challenging him to come at her. El Pablo raises his hand to return the slap but stops short refusing to slap his opponent.
WHAM!!
Again Candy brings her hand across his face and this time without pauses El Pablo slaps her across the face in return. Candy's head is whipped to the side and she slowly begins to turn back towards the man who slapped her across the face. She brings her hand towards her face and with her thumb smears a small splatter of blood across her lips. She looks down to the blood upon her hand and a crazed look comes upon her face.
El Pablo attempts to apologize which momentarily causes Candy to pause before El Pablo again slaps her across the face as she turns with the move he grabs her arms and places his knee into her back. Candy drops to her knees as he holds her arms pulling backwards forcing his knee into her back. She screams out in pain but finds herself putting her knee into the canvas and forcing herself back onto her feet.
Watson:
Candy is not looking so sweet after that exchange there. Pablo drew blood on the Sweet Treat!
Sydney:
El Pablo is not here to mess around tonight. He is on another level, but then again so is Candy! They are both just on fire right now!
She lunges forward towards the turnbuckles ducking causing El Pablo to release the move as he is forced towards the turnbuckles. He reaches out with both hands catching himself before crashing into the turnbuckle. He turns back towards Candy who is rushing towards him.
Taste the Rainbow!!!
El Pablo hits his finish out of no where as he covers Candy for the pin.
ONE...
TWO...
THREE!!!
DING DING DING
Starr:
And your winner, via pin fall at 12:34
'The Technicolor Tecnico'...EL PABBBLLLOOOOO!!
As the bell rings signally the end of the match both competitors are worn as they are breathing heavily. Candy pulls herself to her feet as does El Pablo. They are standing across from each other as El Pablo gives her a thumbs up. She slightly smiles as she staggers across to him and the two shake hands.
Watson:
Sydney these two put on a back and forth battle and now their showing each other a sign of respect. That's something we don't always see and it's a nice added touch.
Sydney:
I didn't think these two would be showing such a sign of respect after that slapping incident. I guess they both realize it's in the moment of competition.
As Candy goes to exit the ring she is ambushed by the team of Stitches and Nevaeh, Candy tries to fight them back but the two on one is no match for her. Realising the predicament, El Pablo rushes over to help Candy who has been dumped outside of the ring but both Stitches and Nevaeh flock into the ring and attack El Pablo. As El Pablo's focus is on fending off Stitches, Nevaeh lays El Pablo out with a clothesline to the back of the head and Stitches stomps away at El Pablo as he is on the ground.
Watson:
What the hell are these two doing?
Sydney:
Marking their territory.
Watson:
But why now, after such a grueling match?
Sydney:
The Undisputed Champion can make his presence known when he damn well pleases.
Stitches demands Nevaeh to keep El Pablo grounded as he orders the ring announcer to hand him a microphone.
Stitches:
Ace King is not someone you take lightly, there is no playing nice with the Gambler. Ace King is someone you break to the point of no return. Do you really think Scorpio ended 777 by playing nice? Hell no, because 'playing nice' is the reason why Ace King held onto that championship for so long.
Stitches looks down at El Pablo squirming beneath Nevaeh's boot.
Stitches:
I know this masked man, squirming around like a worm beneath Nevaeh's boot, means something to you, Ace. I know that yourself and El Pablo share a special bond that you share with no one else. And that is why we are here, because in order for me to break you at Stranglemania I have to not only beat you inside this ring, I have to beat you mentally, psychologically, I have to fracture that fragile mind of yours.
Watson:
This man is sick!
Sydney:
Sure, but being sick and twisted is the reason why he is the champion.
All of a sudden Tim Watson breaks his thought process.
Watson:
Wait, what is that?
Suddenly Candy is back to her feet on the outside of the ring and slides back into the ring to help save El Pablo from the onslaught from Stitches and Nevaeh
Watson:
Candy is back to her feet to save El Pablo.
Sydney:
This is no business of hers.
Watson:
Stitches and Nevaeh attacked the both of them, this is her business
Stitches is the first to attempt to strike Candy, throwing a Lethal Lariat, but Candy ducks under it. Candy turns around and starts throwing a few strikes at the Undisputed Champion. Stitches tries to fend Candy off, eventually shoving her away. As Candy charges back at Stitches he moves out of the way and Candy charges right into the boot of Nevaeh who kicks Candy directly in the face. Candy slides back out of the ring.
Sydney:
Some help Candy was.
El Pablo has made it back to his feet now and tries to assist Candy as Nevaeh lays into her but Stitches stops him with the Lethal Lariat. Nevaeh, seeing Stitches standing nearby, sends Candy in the direction of Stitches who connects with the Beautiful Disasterpiece kick to Candy. Candy collapses to the mat and rolls out of the ring.
Watson:
Someone needs to stop this madness!
Stitches picks up the nearly lifeless El Pablo and sends him in the direction of Nevaeh who connects with the Cast Out Of Heaven. Stitches picks up the microphone he dropped earlier and lifts El Pablo's face up off of the mat.
Stitches:
That is really the best you can do? Candy playing interference? I thought this man meant something to you, Ace King, perhaps I was wrong.
As Stitches is holding up El Pablo, Nevaeh is outside the ring fumbling underneath the ring. From underneath the ring she produces Heaven's Helper which she tosses inside the ring. Once she gets back inside the ring Nevaeh picks up Heaven's Helper and places it against the side of El Pablo's head like she was readying to tee up El Pablo's head like a golf ball.
Watson:
No, NO! Please don't do it
Sydney:
Ace King better get out here if El Pablo truly means something to him.
Watson:
We don't even know if Ace King is in the building tonight.
Stitches:
Last chance, Ace. How much does this man
really
mean to you...
"THE ACE OF SPADES! THE ACE OF SPADES!!!"
Watson:
FINALLY!
Sydney:
Took him long enough.
The crowd erupts as Ace King rushes out at full flight, scattering Stitches and Nevaeh before Ace can get his hands on either of them. The crowd is chanting feverishly for Ace, but 'The Gambler' is oblivious to it all as he tends to El Pablo in the ring; Stitches and Nevaeh smile wickedly as Ace locks eyes with them from the ring.
Watson:
Such a callous act from those two here, but thankfully Ace was there for his friend of over a decade.
Sydney:
They probably thought he wouldn't be here. I certainly hope he wouldn't be.
Watson:
Really, Cid?
Once he's certain El Pablo will be alright and helps him to his feet, he asks for a microphone from ringside, fury burning in his eyes as his focus never leaves the ramp.
Ace King:
*breathing heavily*
... Everybody knows you have all the scars, Stitches… But I didn't know you had a death wish, too.
The crowd erupts again as Ace slowly rises and steps toward the ropes nearest to the ramp, leaving over the top rope with his jaw clenched while Stitches smirks and points to his temple.
Ace King:
I know fear can make people do crazy things, and this is yet more proof. We both know there's one person who carved through your mind games like a hot knife through butter… and he's after your Undisputed Championship.
Again, the crowd is frenzied as Ace points to it, prompting Stitches to raise it high to a crescendo of booing. Ace narrows his eyes, then shakes his head before a thin smirk crosses his face.
Ace King:
Deep down, you know that's the conundrum I pose to you:
Nobody else here thinks the way we do.
I've said before that we're not overly different, and this proves it… Well, almost. See, because we think similarly, you probably fancy yourself having the mental edge right now, and that it'll be all sunshine in Miami… but all you've done now is made this personal.
The crowd is firmly behind Ace still as he pushes his tongue into his bottom lip, his eyes now wide as he stares down the Carnival Clown.
Sydney:
He really does think he's EWC's Michael Jordan.
Watson:
As if he needed another bit of motivation.
After a minute, Ace finally calms himself enough to look Stitches in the eyes.
Ace King:
Life isn't a fucking merry-go-round, so enjoy your last few weeks with that championship… because I'm not stopping until there's no doubt in
your
mind that I'll always have something you don't, and in turn, I'll walk out with something you won't: The Undisputed Championship.
Ace spikes the microphone into the mat as he looks out to Stitches and Nevaeh, who stand their ground still looking pleased with themselves.
Watson:
I dare say those are fighting words from the challenger.
Sydney:
Yeah, his words fought my interest and lost.
Watson:
It's clear Ace King wants the Undisputed Championship back, and he may not be willing to wait another six weeks. I have a feeling this is just getting started.
As 'Ace of Spades' reprises, Ace finally turns his focus to El Pablo, with whom he bumps fists in the ring. After a bit of small talk, they roll out to check on Candy. As soon as the trio make their way backstage, they are all swarmed by 3C members. Robbie is seen thanking Ace. Gabi is asking if she's alright. Jordan and company are looking all sorts of concerned.
JFS:
Fucking clown.
Candy winces probably both in pain and at the language.
Candy:
I promise I'm fine.
None of them seem to believe that though. As they gather around her, she can see Ace and El Pablo backing away. Her eyes meet Ace's as she mouths 'Thank you' before returning to reassure everyone she was just fine. The cameras then cuts to...
---
---
The camera cuts backstage outside the offices of Paramount GM Chris Brock. Lisa Goldrush is walking down the hallway as the door opens and out steps The Southern Express along with Bunny Love. The EWC Tag Team Champions are all smiles as they see Lisa, she quickly makes her way towards Bobby, Jimmy and Bunny.
Goldrush:
Ladies and gentlemen, please welcome to Paramount the EWC Tag Team Champions…The Southern Express!!!
Rose:
And it's great to be here Lisa, along with our fellow Love Club members Samantha Hamilton, Jamie Love, Jason Hunter and Killjoy Ito and making history here tonight in Paramount as tag team wrestling officially takes center stage here on the 2nd episode of Paramount.
Goldrush:
Yes, tonight we will see TWO tag team matches in total. Eerlier tonight your Love Club stablemates Jamie Love and Jason Hunter kicked things off against Adriana Aquilla and Laura Perelli coming up still tonight, The Southern Express make their 2021 debut against the Undisputed Champion Stitches and his foe turned friend Nevaeh.
Lane:
I for one didn't see that unholy alliance coming last week Lisa but here we are, I guess enemies can be friends when one enemy has nothing else going on in her life and her old boy toy split and left a lucrative career in the EWC just to get away from her.
Goldrush:
I do have to ask Bobby, how is the ankle doing?
The camera pans down to Bobby's feet, the grey boot is still on the right foot of one half of the tag team champions.
Rose:
It's doing great Lisa, the boot is just precautionary and one of the stipulations my doctor made me agree to before clearing me to return to the ring…
But Bunny jumps in
Love:
Are you allowed to ask him about his medical issues, isn't that a HIPPA violation?
But Bobby looks at Bunny
Rose:
It's ok Bunny, she's just doing her job, Bunny here is very protective after our attack but yes, the ankle is ready to go as are we.
Lane:
Last year we came in #8 in the Top 100 of the EWC and we didn't debut until after StrangleMania, this season we are looking to jump up those rankings and make history.
Rose:
And speaking of history, Lisa how would you like a little Breaking News scoop right here, right now on Paramount #002?
Goldrush:
I would love some.
Lane:
Then cue up the Breaking News logo...
Rose:
We are thrilled to announce that we just came to terms with General Manager Chris Brock and signed a deal to make Paramount Wrestling the NEW official home of The Southern Express!!!
Lane:
We are cashing in on the big Paramount money and now Paramount Wrestling can add the EWC Tag Team Championships to their stable of championship gold!
Rose:
Now we will still make our rounds to the other brands from time to time but the tag team division now runs through Paramount and tonight we kick off this partnership by heading out to that ring and putting down the Undisputed Champion once again and his former TV Champion partner…now we had the misfortune of sitting through that snooze fest of a promo of yours and if we are being honest had to go back and re-watch it about five time…
Lane:
Because we fell asleep during the first four attempts…
Love:
On the fifth try we jacked ourselves up on coffee and we barely made it through it…
Rose:
But made it through we did and sadly we are all depressed for it, honestly guys, a few smiles, a new chipper tone can go a long way…why is it that your 'go to' move is always the 'misunderstood' care, I mean sure, yes, I don't know what posses a full grown man to dress up as a clown but we don't judge…
Lane:
No judgment…
Love:
FREAK…what I judge…
Rose:
But it's hard for us to take this 'you don't understand us' claim seriously when you CLEARLY don't understand us, we have faced off against strange bedfellows before, on all accounts Faith Rivers shouldn't have wanted to team up with Jordan Sharpe, she should have wanted to BEAT Jordan Sharpe but she took the easy way out like Nevaeh is doing…
Lane:
The 'if I can't beat em, join em' defeatist attitude approach to life…
Rose:
On paper Melody and Iggy make no sense yet they were dominate tag team champions as well as two of the top singles draws in the EWC…until we came along they ran roughshod as the tag team champions but we beat them…replaced them as the top dogs, we've seen terrifying before, we once faces two men who made a career on the 'Donkey Punch' and we beat them right here in Canada-Land…
Lane:
Nevaeh spotted off the same tire old shtick about leaving us broken and beaten…how many times do we have to show the EWC that we always get back up for them to understand we don't need Life-Alert…which we just signed as a sponsor by the way…seems are fans might need that little button but not us, Blue Phoenix beat us with everything they had in them at the end of Thunder and yet here we are so that crap might work in Prime but this is the Big Leagues honey…
Rose:
You think you have what it takes to officially end us in your first match EVER as a team, well someone thinks very highly of themselves don't they…the truth is we will be back here next week and the week after because Stitches and Nevaeh aren't going to be the ones that ends The Southern Express…
Love:
Yeah, that will be heart attacks or strokes job…
Rose:
Stitches I get it, you are playing the recast role of Jordan Sharpe, you see these belts and want nothing more than to be a double champion…
Goldrush:
Well he said to add to his 'two belts'…
Lane:
Who's going to break it to him that the FSW Championship merged with the Undisputed Championship at the last Paramount…I mean he's not a double champion, he's just the Undisputed Champion…poor guy and they think WE are confused by everyday life…
Rose:
The point is these championships aren't going anywhere and tonight we are going to teach Stitches and Nevaeh a very important lesson…you two need to stay in your own lane and leave the tag team stuff to the professionals…
Bobby smiles and he high fives Jimmy and the pair walk off followed closely by Bunny Love. Fade out.
---
---
---
SINGLES MATCH
Mayhem
VS Mercenary
---
Watson:
Ladies and gentlemen, welcome back to Paramount Wrestling! If you are just tuning in then you missed out on a BIG piece of breaking news. The Southern Express, the EWC Tag Team Champions of the World, have signed to the orange bran and are now calling Paramount Wrestling there home! More on that later, but right now our next match is nothing short of personal as former FEUD member the Mercenary, coming off a tough and disappointing contest at Wrestlefest was unceremoniously booted from the now apparently defunct group by the rest of his so-called
family
with a bloody beat down last week on the premiere episode of Paramount.
Sydney:
If you ask me Tim, and even though you didn't, I'll tell you that Damage Inc finally got tired of propping up the dead weight of a man who is past his prime and incapable of winning the big matches. Mercenary blew it one too many times and became bad for business. It was time to cut that bad investment loose and lighten the load. It was a necessary decision.
Watson:
True or not it was executed in a very callous and almost cowardly fashion Cid and I don't think that Mayhem will catch Mercenary looking this time around.
Starr:
Introducing first hailing from West Oakland California He's the monster that you all have helped create. He is the EWC Outlaw. He is: The MERCENARY
Meet The Monster by Five Finger Death Punch blasts throughout the building. All business and without the usual pyro Mercenary stalks towards the ring at a steady pace filled with menace and a deadly purpose. Stepping between the ropes he walks to the corner and throws a few shadow punch combos at the turnbuckle before turning with his back to the corner, his arms crossed across his chest to glower up the ramp.
Starr:
And his opponent, from Chicago Illinois, representing Damage Incorporated this is : MAYHEM!
Pyro explodes across the stage. The light pulses like lightning and Lacey Savage appears wearing a skull bandanna that covers her lower face. When the lightning pulses again a thick smoke rolls in, and from the smoke come two huge figures dressed in matching leather jackets that reach all the way to their matching boots. The two men are wearing full face masks that look like skulls. Each skull face is partially covered by a bandanna, outlaw style. The two men flank Lacey and they all come to stand in the center of the stage.
Removing their masks the group marches in lock step down the ramp to the ring where they are met halfway by an impatient Mercenary who bowls into the pair at full speed before Mayhem can even shed his ring jacket. Taking them by surprise only gains him the upper hand for a moment however as he is quickly overcome by the superior numbers. Malice and Mayhem pummel the taller man with punches, kicks and chops back down to ringside. A stiff front kick to Malice's gut and a face punch to Mayhem provide him the separation he needs to regain his place in the ring where referee Matt Mercer prevents the outside influences from following him. Mayhem stalks up the ring steps where Mercenary meets him coming through the ropes with a stiff shot to the side of the head as the bell rings to start the match.
DING DING DING
Mercenary drags Mayhem to the center of the ring by his hair and the two lock up collar and elbow. Mayhem snaps a kick to create space but Mercenary traps the ankle and throws him with a dragon screw leg whip. Mayhem hits the mat but gains his knees quickly and takes the standing man down to his level with a single leg trip into a knee bar for the attempted submission. Mercenary struggles out of the hold by triangling his legs and flipping Mayhem to he back where he mounts the man and rains hell on his head with a barrage of hammer fists and elbow strikes causing Mayhem to protect his face with his forearms. The fury of Mercenary's assault puts him off balance and allows Mayhem to use his hips and knees to roll his body weight allowing him a much needed escape. Mayhem uses his superior speed to quickly roll away and regain his feet while the Mercenary is still on his knees. He hits the ropes and uses the added momentum to deliver a vicious basement dropkick that rocks Mercenary back down to the mat. Mayhem goes for the quick pin
ONE...
TWO...
KICKOUT!
Watson:
What a brutal start to this contest! Neither man is holding back.
Sydney:
Certainly no love lost between these former partners here. I love it!
Mayhem presses his advantage with a series of kicks and stomps but Mercenary catches his foot and uses his upper body strength to push him back off balance. Merc gets up and pursues his opponent, whipping him across the ring where he sweeps him up into a side slam. Mercenary drops the guillotine leg across his throat before regaining a vertical and hauling the dazed Mayhem into the setup for a Gotch-style Piledriver. Spiking the top of his head off the mat Mercenary allows Mayhem's dead weight to crumple over in a heap at his feet before his follows up with a series of heavy boots to the head and kneck. Picking him up again he puts him back down quick with an Evenflow DDT. Getting up he glares down at his fallen foe and uses his thumb to cut his own throat as his signals for the Gravebreaker.
Watson:
This one could be over right here!
Sydney:
I think I have to agree with you!
He stoops to pick the man up for the double Powerbomb, bringing him up to shoulder level and slamming him back down again with a loud crash. Maintaining the waist lock he picks him up again and launches his bulk across the ring where the man missile is caught by the encroaching Malice before he can land on the mat. Malice uses his brute strength to toss his partner back at the Mercenary where Mayhem has the ring awareness left to take his surprised opponent down with a tilt-a-whirl DDT. Malice grabs the Mercenary in a Full Nelson stretch, holding him out so that Mayhem can deliver a bicycle kick square to his jaw. As Mercenary goes down the gang beating begins again as the ref signals for the disqualification.
DING DING DING
Damage Inc ignores the ringing bell as Malice picks Mercenary up for the Buckle Bomb which Mayhem follows up with a standing dropkick and Malice follows up with a running knee strike. Mayhem finishes off the combination move with a baseball slide dropkick that crushes the now half conscious Mercenary into the padded steel of the bottom turnbuckle and leaves him bleeding on his back.
Watson:
Damage Inc delivers Shock and Awe! It's another cowardly assault! Mercenary had that match won until Malice got involved.
Sydney:
It's his own fault for not having eyes in the back of his head and expecting a fair fight. He knew Malice was at ringside and he should have been ready for the threat and now it looks like the damage has been done so it's time for the fun.
Watson:
Even though he's out it looks like they mean to make a Sacrifice out of the man. Hasn't he had enough?
Sydney:
It's never enough Tim and it's like the song says: This is gonna hurt!
Malice picks Mercenary up in a wheelbarrow position as Mayhem heads up top to drop the guillotine. The crowd boos the move as no one seems to support this beating. Mayhem plays this up to the crowd as they shout louder. During this pause in the action a figure streaks down the ramp and slides into the ring. Dalilah lays on the mat beneath the Mercenary with her hands stretched out over her. She is distraught and it looks like that she has been crying. She begs Malice and Mayhem to stop the assault. Mayhem sits down on the top turnbuckle with a look of confusion and Malice just stares down at the cowering woman with an annoyed expression. From the apron Lacey Savage screams at Dalilah to get out of harm's way but she refuses to move. Reluctantly Malice slams Mercenary down beside her where she crawls on top of him to protect his body from further harm. Lacey is now in the ring and furious. She yells down at Dalilah who refuses to move away from her boyfriend's fallen form. Realizing that her words will not be heeded a frustrated Lacey signals her goon squad to abandon their attack. The three of them make their way up the ramp to a chorus of boos as several officials and a very concerned Dalilah Ashe check on the Mercenary who has again been busted open and left laying by Damage Inc.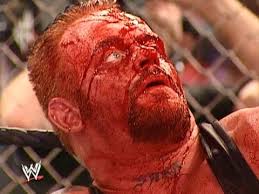 Watson:
How much more punishment is Mercenary going to have to suffer at the hands of Damage, Inc? Folks we will be right back...
Camera fades...
---
---
---
TAG TEAM SHOWCASE
NON-TITLE MATCH
Stitches & Nevaeh
VS The Southern Express
---
Watson:
Up next folks we have a match that I never thought I would ever be calling... Stitches and Nevaeh, the Unholly Alliance that they are, will be teaming up to take on the EWC Tag Team Champions The Southern Express!
Sydney:
Odd or not, I am here for it. Let's go!!
"One Missed Call (2008) Theme" plays as the lights go dark. As the beat drops at around the thirty seven second mark, "Gasoline" by Porcelain And The Tramps is mashed into the music at a more slow, methodical pace than usual. The curtains are brushed to the side, smoke spewing out from behind the curtains, and out walks Stitches with Nevaeh following close behind. A wide, red-painted Chelsea-esque grin is across the face of Stitches as he stares out at the crowd of people before him. Nevaeh has a similar smirk painted across her face.
Starr:
The following tag team contest is scheduled for one fall! Introducing first... NEVAEH and the EWC Undisputed Champion STITCHES!
Stitches methodically makes his way down the ramp, Nevaeh close behind him as she does her best not to let anyone touch her along the way. Stitches approaches the nearby steel stairs, climbs up onto the apron and begins walking the edge of the apron like a tight rope before reaching the nearby ring post. Nevaeh stands on the apron near Stitches and gives her backside a little shake before stepping between the ropes. Stitches climbs up onto the second rope and throws his arms out wide for the crowd to embrace him. Nevaeh strikes a pose of her own. As expected, the crowd does not embrace the two. Stitches steps down from the ropes and the two of them wait for the Southern Express.
The electric guitar kicks in to 'Stranglehold' as the crowd gets to their feet. Some of the older females in the crowd start to scream like they did when they were younger as Bunny Love walks out onto the stage and is quickly followed by Bobby Rose, who is still in his grey walking boot, and Jimmy Lane.
Starr:
Their opponents... Being accompanied to the ring by Bunny Love... from Nashville, Tennessee... they are the EWC Tag Team Champions of the World... Bobby Rose and Jimmy Lane... THE SOUTHERN EXPRESS!!!
Bunny leads the way as the pair reach out and high five with the fans as they walk to the ring. Bunny marches up the steps and steps through the ropes as Bobby and Jimmy climb up onto the apron and step through the ropes. They take off the Tag Team Championships and hand them to Bunny and head to opposite corners. Jimmy climbs up to the middle turnbuckle and Bobby stands in the corner as both men toss out bandannas to the crowd. Bunny stands in the middle of the ring holding up both Tag Team Championships.
DING DING DING
Nevaeh and Rose start this one off. Rose is still in his walking boot as he hobbles towards Nevaeh. Immediately, Nevaeh kicks him square in the walking boot. Rose leans over in pain and grabs at his ankle. Nevaeh grabs him by the hair, but she yanks him backwards hard, slamming his head into the mat. She picks up his bad ankle and drags him towards the ropes. She then drapes it on the bottom rope. Nevaeh stands over his leg and steps up onto the bottom rope with both feet. She bounces up and down on the rope for a second before she finally jumps off and drops down with her rear right onto his walking boot. Rose screams in pain for a moment as he rolls around on the mat grabbing his ankle. Nevaeh reaches over and tags in the Undisputed Champion.
Stitches comes into the ring and grabs Rose by the boot. He flips over and puts Rose into a single-leg Boston Crab. He yanks back hard, putting a lot of torque on the boot and ankle. Jimmy Lane steps into the ring, runs, and boots Stitches in the side of the head. Stitches releases the hold and shakes his head for a second. He turns and sees Lane exiting the ring. Doesn't matter to Stitches. Stitches runs and drills Lane in the side of the head with an elbow. Lane falls off of the apron and to the floor. Bunny comes over to check on Jimmy as Stitches goes back to Bobby Rose. Stitches reaches down and pulls Rose up from the mat. Rose throws a hard right into Stitches' stomach. Stitches releases his grip on Rose. Rose grabs Stitches and snaps him down with a DDT. He rolls up to his feet and punts the point of his walking boot into the side of Stitches' head. Stitches rolls over and crawls to his corner fast enough to beat Rose and tag Nevaeh back in. Bobby Rose hobbles over to Jimmy Lane, who is back on the apron. He tags her in.
Lane hops over the top rope and runs at Nevaeh. Nevaeh ducks a clothesline attempt. She turns and leaps up into a Lou Thesz Press. She grabs Lane's head and starts ramming it into the mat over and over. Lane rolls over on top of Nevaeh and drives a forearm into her cheek. He gets up and lifts her off of the ground and delivers a fisherman's buster in the middle of the ring. He covers.
ONE!
.
.
.
TWO!!
.
.
Kickout by Nevaeh.
Stitches is finally back to his feet on the ring apron. He is reaching out for a tag but Nevaeh is too far away. Lane pulls Nevaeh up to her feet and drags her over to the Southern Express corner. He tags Rose back into the match. Rose steps back through and the two of them deliver a double knife-edge chop into Nevaeh's chest. Lane runs over and says some words to Stitches, who tries to get into the ring. But the referee stops Stitches and the two members of Southern Express re-focus their attention on Nevaeh. They double hip-toss Nevaeh into the center of the ring. Lane exits briefly and Rose re-tags out. Lane climbs to the top turnbuckle and leaps off, looking for an elbow drop. Nevaeh, however, rolls away and Lane lands hard on the mat. Nevaeh crawls over and tags Stitches back in.
Stitches runs into the ring and grabs Lane by the head. He picks him up and then lifts him high into the air. He leaves his feet and drives Lane down with the Crimson Arrow. He rolls on top for a cover.
ONE!
.
.
.
TWO!!
.
.
.
JUST BARELY BROKEN UP BY ROSE!
Rose was able to climb through the ropes and lunge forward to break up the pin. Stitches gets up to his feet and stomps on Lane, then Rose, then Lane, then Rose. Stitches is angry and he picks both men up and grabs them by the hair. He drives their heads together hard. Rose falls to the mat and rolls over to the side of the ring. Stitches grabs Lane and goes for the Sound of Silence. Lane fights out of it. He shoves Stitches back into his corner. Nevaeh tags herself back in and Lane doesn't see it. Stitches runs at Lane, but Lane drops to his face. Stitches jumps over Lane and to the ropes and Rose reaches up and pulls the top rope down. Stitches goes tumbling up and over to the floor. Nevaeh lays Lane out with a clothesline to the back of his head. She walks over to Rose. She picks him up and Rose breaks her grip. He drives a hard right into Nevaeh's jaw. Rose yells "SWEEP THE LEG!" Lane goes low and Rose hits a spinning heel kick to Nevaeh! Early Onset Dementia! Lane covers Nevaeh!
ONE!
.
.
.
TWO!!
.
.
.
THREE!!!
DING DING DING
Starr:
Here are your winners... THE SOUTHERN EXPRESS!
Watson:
The Southern Express have done it again!!!! They continue their dominance by beating ANOTHER team consisting of the current Undisputed champion. And this time they did it down half a man with the foot of Bobby Rose obviously still not 100%
Sydney:
All I know is this: The Southern Express are now part of the Paramount roster and I could not be more excited! Maybe we will finally find out what happened that night in Albuquerque?!
Watson
: We still have our main event to come folks, where we crown our FIRST CW Network Television Champion! Do NOT go anywhere!
---
---
---
SINGLES MATCH
FOR THE CW NETOWRK TELEVISION CHAMPIONSHIP
Maru$ $t. John
VS David Miller
---
We return to ringside where the crazy tag team match between The Southern Express versus Nevaeh and Stitches has just ended! The crew is making sure the ring is ready to go for the main event. While they're still working, we cut to the commentary table.
Watson:
We have had an amazing evening so far. I hope you're all staying cool ladies and gents, because it's definitely gonna get hotter here when the main event starts up! Marcu$ $t. John versus David Miller for the CW Championship, which Chris Brock revealed to us on the first show!
Sydney:
Both of these competitors have really grown since last season. It's hard to call who will emerge as the winner tonight. So, Ms. Starr, take us away so we can get this fight going!
Starr:
The following match is for one fall, and is for the CW Championship! Joining us first, at 6'1" and weighing in at 210 pounds, it's The Young Mogul ...
MARCU$ $T. JOHN!
"Fast Lane" blasts through the arena by Bad Meets Evil. A Maybach drives up through the entrance ramp. A chauffeur gets out of the vehicle and opens the back door. Marcu$ McGarrett gets out on the entrance stage and money starts falling down from the sky with his face on 100 dollar bills as green laser lights illuminate the arena. As the money shower stops, Marcus walks down the ramp with a smug look on his face.
He stops right before he gets to the ring and basks in the boos that he is getting from the crowd and waves his hands around as to tell them to keep it going and get louder. He jumps up on the apron and wipes his feet before he enters the ring and poses in the middle of the ring as a light shines a hundred dollar bill in the center of the ring with his face on it.
Pyros hits as "Fast Lane" by Bad Meets Evil ends.
As cameras pan across the capacity crowd, the lights begin to lower. Seconds pass in silence, before a single tone bleeds through the speakers, leading into a hard, pounding cadence that echoes throughout the arena. Black and white video-clips begin to play in time with the beat, showing Miller shadow boxing in an empty ring, or glaring into the camera from various angles. As the music hits a raucous crescendo, becoming the metal chords of Damnation Plan's "Judgement Day," the lights return in violent, pulsating strobes, driving the crowd into a frenzy as video clips of Miller play in a smash cut montage on the MacTron. A hooded figure marches out from behind the curtain, head bowed, and fists clenched, drawing even more fervor from the fans at the sight of the man himself. Coming to a stop at the center of the stage, Miller lifts his head and stares down at the ring with an intense, singular focus. Giving a sudden twist to pop the bones in his neck, he starts down the ramp, completely ignoring both the mix of palms straining to reach him and the middle fingers shoved towards his face.
Starr:
Approaching the ring, from Long Beach, California. Weighing two hundred, thirty-five pounds ...
DAVID MILLER!
Reaching the floor, Miller stalks the inside of the guardrail and slowly circles around to the ring steps, pausing and rolling the joints in his shoulders loose as well as shaking out his arms. Suddenly exploding into movement, he charges up the steps to the apron and ducks between the ropes, immediately crossing to the far corner and pulling himself up onto the second rope, staring down into the ravenous fans below. Snapping his hands up, Miller tears the hood back to expose his stony expression, prompting an even louder reaction from the crowd in equal measures of love and hate. All of it serves to earn a smirk from Miller, but little else, as he defiantly crosses his arms and stares out into the sea of humanity. Dropping to the mat, he turns and crosses to the far side, once again mounting the second rope and peering down into the faces below, that same smirk cracking his otherwise stony visage. Stepping down to the canvas, he turns and reaches back to peel off the jacket, casually balling it in one fist before tossing it aside to a crewman and turning to face the stage, waiting.
Watson:
We're going to have a new champion soon! Let's see who wants this win more!


DING DING DING
Miller is the first to charge forward, seeming eager to prove himself in this fray. Marcu$ keeps a calm approach despite being charged by a very determined opponent and lifts him up with a DDT. Before Miller can kiss the mat, however, he retaliates by slamming his elbow right into the temple of Marcu$' head!
The impact causes Marcu$ to let go.
Now that he has an opportunity, Miller resumes taking the offense like he was aiming for in the beginning. He swings his right foot forward, launching a powerful Yakuza Kick! WHAM, it connects! Not only that, it appears as if Marcu$ has little to no idea where he is!
Miller starts getting The Young Mogul into a Snap Suplex, but Marcu$ reveals he isn't too far gone! Marcu$ takes a step back and sets David up for his signature, The Death Valley Driver!
Miller does
not
get out of this technique. However, when Marcu$ tries to go for an early win, he
does
get a shoulder up even before the referee can count to one, showing he's nowhere near done fighting.
Watson:
Both men coming in fast and hard tonight! Miller is trying to Take M$J to school, but Marcu$ is showing that he is very much a student of the game himself!
Sydney:
This is the kind of grit and aggression that Paramount Wrestling will be known for!
Both men are quick to get back up to their feet. Miller is just a bit faster, though; enough that he slips behind Marcu$ and throws him over with a German Suplex. Marcu$ shakes his head, leaning agains the ropes for support.
David sees his chance ... but it's a trap!
The Young Mogul uses the ropes and leaps up, catching Miller in his Money Stomp technique! Marcu$ knows this time not to go for an early cover, so he resumes working on furthing assaulting David, launching a series of chops to his opponent.
At least five land straight onto Miller. Before the sixth can find its mark, David fights back with a stiff - and very up close - lariat, damn well nearly beheading Marcu$ in the process.
Both men are beginning to breathe heavily, with Miller still standing while Marcu$ lays on his back, massaging his neck. David takes advantage of The Young Mogul showing signs he's still in a world of hurt, forces him back up to his feet ... only to slam his head forward hard, delivering one hell of a Headbutt!
The Young Mogul looks like he's seeing stars as David allows him to plop back down. He hooks the legs!
ONE...
TWO...
TH -- NO!
David shakes his head, but smirks all the same upon seeing Marcu$ isn't done fighting either.
Watson:
Was that a bit of respect from the veteran there? Acknowledging that he sees something in the young mogul.
Sydney:
You don't see this very often in a match like this. No matter what happens here tonight, I have a feeling this is not the last time we will see Miller and M$J go at it.
Marcu$ is still hurting. But even as he gets back up, he also understands it's do or die time. Knowing he can't afford to make anymore mistakes, $t. John grabs tightly onto David's arm and throws him into the corner. Marcu$ clotheslines David, causing
him
to take his turn to collapse onto the canvas. This time, though, The Young Mogul doesn't allow Miller any chances to recover as quickly as he usually would.
A Superkick from nowhere is delivered straight to Miller's head!
Upon noting David still reeling from his attacks, The Young Mogul stalks behind Miller, hoping to finally turn this match around in his favor. He locks The Million Dollar Dream in! David's eyes open and come to life as he quickly registers the danger he's in.
The referee begins asking if Miller wants to submit, but he adamntly shakes his head from side to side!
David forces himself up to his feet, if not a bit shakily. All the while, a determined Marcu$ contines to keep his hold locked tightly in. Three elbow smashes to his ribs, however, force Marcu$ to let go of Miller.
The two back away from one another while the crowd cheers, absolutely adoring the fight and display these two superstars are giving them!
Watson:
And we have reached a stalemate here as both men look for a quick breather!
Sydney:
This has a "fight forever" feel to it Tim. KEEP GOING!!!!
Both wrestlers begin circling one another. No rushing this time. Neither wants to give the other any easy opportunities. They also both want the win for themselves, something that can be seen via the look of determination in both Marcu$ and David's eyes.
By now, the crowd has begun to chant loudly:
THIS IS AWESOME!
THIS IS AWESOME!
THIS IS AWESOME!
David puts his left foot forward. Marcu$ instinctively darts forward, while Miller smirks. It was a feint, and he catches The Young Mogul off guard with a brutal Soccer Knee to the Spine!
Marcu$ is hoisted up to his feet. Miller starts to go for The Hard Goodbye, but NO! The Young Mogul, despite having been wounded quite a bit,
still
has more strength and energy than anyone would have guessed!
Instead of Miller getting his technique off, Marcu$ reverses with his Bankrupt technique!
$t. John goes for a cover!
ONE...
TWO...
A shoulder goes up, causing Marcu$ to slap the mat angrily. Miller takes advantage of Marcu$' frustration and goes for his finisher once more! IT CONNECTS! THE YOUNG MOGUL IS HIT WITH THE HARD GOODBYE!
Miller hooks both of Marcu$' legs!
ONE...
TWO...
THRE -- NO?!?!
David is shocked, as is the audience. Through nothing less than sheer will power, The Young Mogul kicks out of The Hard Goodbye! Miller glares a hole through Marcu$, looking just as frustrated as his opponent was mere moments ago. Miller briefly looks ready to deliver another Headbutt to Marcu$, but decides against it.
Instead, the two back away from one another, attempting to formulate their own battle plans while simultaneously regaining lost energy and strength.
Watson:
MY GOD! What a battle this has been. Neither man is willing to give in to the other.
Sydney:
INJECT THIS INTO MY VEINS TIM!
Both men are trembling, no doubt from pain, as they begin advancing towards one another. Miller is the first to begin making a move, but before he can have his Knee Blast technique hit, music makes him
and
Marcu$ turn and look towards the ramp.
"Burn It Down" blares over the PA system. Yes! It's Darius, with Elissa Bradley beside him!
David glares angrily, as if daring Darius to come over. Darius smirks and then points behind Miller, but Miller is a few seconds too late! He turns right into a quick eye poke that the referee doesn't see!
Despite his ambush, David is not done! He lifts The Young Mogul up and goes for another Hard Goodbye! Marcu$ tries to frantically get out of the move, but he can't, and is slammed back onto the mat! Miller goes for the pin!
ONE...
TWO...
THREE...
DING DING DING
Starr:
And your winner, via pinfall at 17:36, AND
NEWWWWWW
CW NETWORK TELEVISION CHAMPION,
DAVID MILLER!
Neither Marcu$ nor David are in any real mood to celebrate - or remain in the ring for any rhyme or reason. But before either can exit the ring, both Darius and Elissa are out of sight, but certainly not out of mind.
Miller continues to glare in the direction the two ran before looking just as angrily at Marcu$. Even though it's obvious he
wants
to throw an attack, he refrains from doing so. Instead, he accepts the CW Championship. He shakily holds that high up in the air, while the ref raises his left arm into the air!
Marcu$, meanwhile, hurries off backstage, looking absolutely livid.
Watson:
Goddamn! We got the fight we were hoping for, but at a cost! Darius just
had
to come in and ruin this awesome fight. I hope someone kicks his ass later!
Sydney:
What do you mean? He just came out to enjoy the fight. He didn't get involved.
Before anything else can happen or be said, the lights go out in the arena. Every.Single.Light. The crowd is immediately silenced for a moment before the lights come back on and Gabriel Ohio is now standing behind the new champion. The crowd goes wild trying to alert Miller of his next challengers prescence but it seems he already knows as he slowly turns and gets face to face with the man, staring daggers into his eyes. The newest member of the Paramount roster remains stoic, however, as his eyes slowly move to the CW Network Championship that is now over the shoulder of David Miller. The camera begins to fade as the final words from Tim Watson are heard...
Watson:
Folks we are totally out of time, but we will update you on anything that happens after we go off the air on our website and social media. Good Night and we will see you in Mexico for Paramount #003!
..................................................................................................................

MATCH WRITERS
MATCH ONE
WRITER: @daviddunham
MATCH TWO
WRITER:

Stitches
MATCH THREE
WRITER:

PARAMOUNT
MATCH FOUR
WRITER:

Roozilla
MATCH FIVE
WRITER:

MERCENARY
MATCH SIX
WRITER:

Dominic Sanders
MATCH SEVEN| MAIN EVENT
WRITER:

Samantha "Titaness" Hamilton
..................................................................................................................
RECAP OF WINNERS
SINGLES MATCH/ X-DIVISION RULES MATCH
Samantha Hamilton Vs Wes Walker
WINNER: Wes Walker
...
SINGLES MATCH
Killjoy Ito Vs Smith Jones (N/S)
WINNER: Killjoy Ito
...
TAG TEAM SHOWCASE
Jamie Love (N/S)(PINNED) & Jason Hunter Vs Adriana Aquilla & Laura Perelli
WINNERS: Adriana Aquilla & Laura Perelli
...
SINGLES MATCH
Jason Hunter Vs Ursus
WINNER: Jason Hunter

...
SINGLES MATCH
El Pablo Vs Candy
WINNER: El Pablo
...
SINGLES MATCH
Mercenary Vs Mayhem
WINNER(S): Mercenary (Via DQ)
...
TAG TEAM SHOWCASE
NON-TITLE MATCH
Stitches & Nevaeh Vs The Southern Express
WINNERS: The Southern Express
...
SINGLES MATCH / FOR THE CW NETWORK BROADCAST CHAMPIONSHIP
Marcu$ St. John Vs David Miller
WINNER and NEW CW NETWORK TELEVISION CHAMPION: David Miller
...
...............................................................................................................…
MVP OF THE NIGHT:

TheSouthernExpress


MATCH OF THE NIGHT:

Stitches

&

NEVAEH

Vs

TheSouthernExpress



© THE EXTREME WRESTLING CORPORATION 2021