Post by House Hunters on Apr 12, 2021 21:47:04 GMT -6
OFFICIAL MONDAY NIGHT BRAWL CONTRACT
KU
PERSONAL INFORMATION
Birth Name: Itsuki Kuromiya
Wrestling Name: KU
Nicknames: Formally "The Black Tree Of Sapporo".
Picture Base: Katsuyori Shibata
Date of Birth: November 30th, 1982
Height: 6', 0"
Weight: 230 Lbs
Place of Birth: Sapporo, Hokkaido, Japan
Billed From (if different from POB): EDIT HERE
CHARACTER INFORMATION
Character Disposition / Alignment: Lawful Evil
[CLICK HERE FOR IDEAS ON DISPOSITION]
Fighting Style: Strong Style
[CLICK HERE FOR IDEAS ON FIGHTING STYLE]
Brief Explanation of Character's Gimmick: KU is a former street fighter turned professional wrestler. He had a successful first stint in the EWC, but following the death of his longtime girlfriend Cherry is is now unhinged and purely wants to hurt people. He is also a recovering drug and sex addict.
In-Ring Strengths: Hits hard, and hits fast. Very intelligent in the ring and knows how to break an opponent down to finish them off. Primarily focuses on the head to go for a knock out.
In-Ring Flaws: Years of street fighting and being stabbed have taken their toll, his torso is the weakest part of his body. He can sometimes be baited into striking competitions and will lose sight of the end goal.
Ring Attire: Black trunks, black boots with black knee high kick pads.
Backstage Attire: Usually wearing a suit backstage if not in his ring attire.
THEME SONG & ENTRANCE
Theme Music: 'Fuck It' – Seether
SHORT ENTRANCE:
Used for Non MAIN EVENT / Non PPV Matches. Should be very short (no more than 100 words), present tense, no full lyrics and minimal to no images.
MAIN EVENT / PPV ENTRANCE:
Write it exactly how you want it to be posted, in
present tense
to fit the show format. If you don't want a fuller/longer entrance, feel free to skip this.
PERFORMANCE INFORMATIONTendency to Cheat (Delete ALL that do NOT apply):
- [x] Often
- [x] Sometimes
Motivation to Compete (Delete ALL that do NOT apply):
- [x] Punishment; they fight as a way to unleash their frustrations. They just want to hurt people.
Favorite Match Types: Singles Matches
Least Favorite Match Types: Battle Royals
[OPTIONAL] Favorite Weapon: Reinforced rebar pipe. Has a handle and is wrapped in barbed wire.
WRESTLING INFORMATION
Pro Debut: July 8th, 2020
PARAMOUNT
#100
..Signature Moves: Minimum of two (2), maximum of five (5)
1. The Ultimatum
Rip-Cord Slap

2. Final Bullet
Corner shotgun dropkick

3. Sacred Nightmares
Hair-pull lariat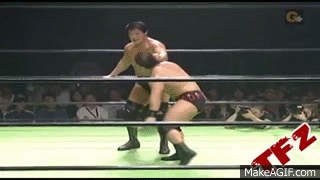 4. The End
High Angle dropkick to rebounding opponent

5. Name of Move Here
Description of Move here
..Finishing Moves: Maximum three (3) and one (1) optional Super Finisher (SF)
1. Get Out Of My Ring
Done after The Final Bullet. KU drags his opponent up and powerbomb stunguns them before kicking them under the bottom rope to the outside. (KU WILL NOT PIN AFTER THIS MOVE. KU ONLY WANTS COUNT OUT VICTORIES. ONLY FOLLOWED BY PINFALL IF NO COUNT OUTS. Example of powerbomb stun gun.)

2. Rude Exit
Apron Piledriver. KU will then slide into the ring and let his opponent be counted out. (KU WILL NOT PIN AFTER THIS MOVE. KU ONLY WANTS COUNT OUT VICTORIES. ONLY FOLLOWED BY PINFALL IF NO COUNT OUTS.)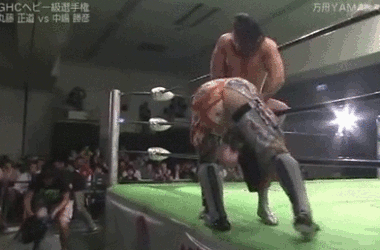 3.
Name of Move Here
Description of Move here
SF
.
Last Resort
Avalanche Emerald Flowsion (Basically a powerslam piledriver) to the outside. (KU WILL NOT PIN AFTER THIS MOVE. KU ONLY WANTS COUNT OUT VICTORIES. ONLY FOLLOWED BY PINFALL IF NO COUNT OUTS. Example of Avalanche Flowsion into ring.)

..
Common Moves Minimum Five (5) | Max Twenty (20)
1. Forearm Strikes
2. Closed Fist Punches
3. Open Handed Slaps
4. Vertical Suplex Brainbuster
5. Cobra Clutch
6. Rear Naked Choke
7. Punt Kick To Jaw
8. Triple German Suplex
9. Powerbomb (Sit-Out, Standard or BuckleBomb to set up Final Bullet)
10. Forearm Chops To Throat (Like Tomohiro Ishii. Chops with his forearm, not with his hand. Directly into the throat or jaw)
11. European Uppercuts (Standard, Springboard Twisting & Pop-Up Very European Style)
MINI BIOGRAPHY
Itsuki Kuromiya was born in 1982 in Sapporo, Hokkaido, Japan. He was a happy child and loved to watch wrestling on the TV. In High School he was a varsity amateur wrestler and hailed as a prodigy... but tragedy would strike as his father murdered his mother before taking his own life. Itsuki dropped out of school and turned to street fights for money, here he developed a sense of brutality and lost his shine. He turned to drugs to alleviate pain, both emotional and physical, and drowned any remaining feelings with a new woman every night. Itsuki means tree and Kuromiya means black shire, so Itsuki took up a new name... Kuroiki, "The Black Tree". And the Black Tree Of Sapporo would dominate the underground fighting scene for years amassing an incredible 70-5 record. After being stabbed by a furious gambler, Kuroiki found himself bleeding out in the middle of the street. This near death experience drove Kuroiki to turn his life around, leaving the drugs and woman for other men. While in rehab he met a woman named Cherry. They started dating and formed a strong bond. A poster for the upcoming EWC Japanese Tour brought him to The EWC's Doorstep.
Kuroiki made his wrestling debut at FSW#100, debuting on the pre-show GAMBIT against Stevie Von Wilde. Kuroiki defeated Stevie and the future seemed bright. Kuroiki made his PRIME debut at PRIME#69 in a triple threat with Iggy Swango and Elliot Bowman IV, he pinned Iggy after Elliot ran away... This match and the pre-match promos seemed to signal a budding rivalry between Kuroiki and EB4. Kuroiki would suffer his first EWC loss to The Mercenary on FSW Episode 101, bringing his record to 2-1. Post-match Kuroiki was attacked by a masked man and left bruised and bloodied. At PRIME#70 Kuroiki defeated EB4 via count-out after Elliot's bodyguard Max interfered. Post-match Kuroiki was attacked by Max and left in a bad way.
After Prime#70, Kuroiki was attacked outside Monti Fitness by the same masked man from FSW#101, EB4 claimed the attacks were not of his doing... Kuroiki may have a second blood rival brewing. At PRIME 71 Kuroiki defeated EB4 & his bodyguard Max in a handicap match to end that feud. Kuroiki was again attacked by the masked man, who this time unmasked to show himself to be Stitches The Clown. Kuroiki and Stitches clashed at PRIME 72, and Kuroiki was defeated. Kuroiki would skate along, picking up a few wins and a loss before starting a mini-feud with Marcu$ #t. John that saw them both pick up one win. At Thunder VI, Kuroiki teamed with former Undisputed Champion Jordan Sharpe to defeat Tag Champions Southern Express. Making Kuroiki's debut season record 10-5.
Kuroiki disappeared after Thunder VI, a rumor of strong debts owed to a yakuza branch began to spread. In March 2021 a burnt car was discovered with two dead bodies inside. One of the bodies was confirmed to belong to Kanako "Cherry" Watanabe, Kuroiki's girlfriend. The second body could not be identified but police assumed it was Kuroiki. At PRIME 79 Kuroiki made his return, now going by KU. He attacked Saidie Sharpe and blamed Cherry's death on Jordan Sharpe... He is set to make his PRIME Re-debut at PRIME 80s GAMBIT.
KU went 3-0 heading into a PPV match with Saidie Sharpe. Saidie would be his first loss of the season and following that defeat KU was moved to Monday Night BRAWL after it was revealed he had joined forces with Frankie Romono and The Romono Family. The Romono Family eventually lead to KU joining forces with Antoni Malietoa for the Eleos Affect tag team, and forming a stable known as Eleos United.
NOTES / ACHIEVEMENTS

Any Championships, tournaments, winning streaks, or notable achievements in the EWC go here.
• Won his FSW Debut, Won his Prime Debut. 10-5 Record for Season 21, including 1 MVP award, 2 Main Event Appearances and 3 MOTN Awards.
•
•
OOC: ABOUT YOU THE HANDLER
Your First Name: Darren
e-Fed Experience: Started in Mid 2016
e-fed Staff Experience: Duh
Are you willing to opt-in & write matches from time to time?: Duh
Would you like to be considered for helping with creative writing (e.g. EWC Magazine)? Duh
How did you find us?: Duh