Post by PARAMOUNT on May 11, 2022 19:32:09 GMT -6
The Extreme Wrestling Corporation Presents


** THE FALLOUT FROM UPRISING XXII **

EPISODE #19
MAY 11TH, 2022
LIVE!
from the BC Place - Vancouver, British Columbia
---
---
WARNING: This live event contains strong coarse language (L), and intense violence (V) which may be unsuitable for younger viewers. None of the matches you are about to watch have been predetermined. Only some of the thematic story-lines have been discussed beforehand. Accordingly, EWC and it's producers must insist that no one attempt to recreate or re-enact any match or activity performed in this live event.




---
---
"Superstar" by For Squirrels begins to blast over the arena speakers as our feed comes to life...
The scene immediately cuts to a pyro show erupting on the outside of the BC Place!
Then a cut to another, equally explosive show on the inside!


The fans packing the BC Place tonight all come to their feet. Further explosions rock the very foundation of the arena as a large video screen is lowered from the rafters, stopping 15 feet above the ring! Everyone in Vancouver knows that the self-proclaimed greatest show on Wednesday night is about to begin and they cheer accordingly! The heavy riffs from 'Superstar' continue to blare over the arena, setting the tone for what is to come later on this evening.




IT'S ALL I WANT, IT'S ALL I NEED

IT'S ALL I SEE, IT'S ALL I BREATHE

IT'S WHAT I AM, IT'S WHAT'S I KNOW

IT'S WHAT I FEEL, IT'S WHAT I BLEED!
On the X-Tron, this episode of Paramount Wrestling begins with its opening video montage detailing many of the historic events that have taken place in the five-year history of Future Stars of Wrestling, setting the tone for the history of the Orange brand. From past champions like Jason Hunter, Dixie Dubois, Amis Shelton, Magdalena Lockheart, and Otaki all standing underneath an old FSW logo to the more current Future Stars Champions like Xavier Reid, Cletus Franklin, Robina Hood, Robbie Rayder, Stitches, Candy, and Wes Walker tearing down that mold, showing the Paramount Wrestling Logo...


As more pyro goes off the the Paramount Wrestling logo appears and flashes of the roster appear on the screen such as Marcu$ $t. John, Emma Louise, Robbie Rayder, Asriel Buzzard, Adriana Aquilla, Nevaeh, Faith Rivers, Shaker Jones, Johnny Maelstrom, Jordan Freakin' Sharpe, The Hawaiian Hunters, and the Halo Syndicate. . The final images shown is a montage of James Keaton, the CW Broadcast Championship around his waist and the EWC North American championship high over his shoulder, The Southern Express with Bunny Love, the EWC World Tag Team Championships over each of her shoulders, El-Pablo swimming in a pool of Skittles, the EWC X-Division championship diagonal across his chest, and then Killjoy Ito with the Buddy Love, the EWC Undisputed championship proudly around his waist.
The camera pans around the loud and out of control audience. As the fireworks continue to explode, the fans chant and cheer! Cameras pan around the arena to catch some of the signage that many fans have brought to BC Place with them here tonight. The Paramount Wrestling fan-base is as adamant about having their voices heard now as ever:
"PARAMOUNT WRESTLING: WHERE ORANGE IS THE NEW GOLD!"
"KILLJOY ITO: THE UNDISPUTED ACE OF EWC!"
"THE CW GETS A NEW CHAMPION TONIGHT"
"THE WICKED GOT WEASELED OVER HIS NFT!"


"WHY ROBBIE, WHY?!"
"PAR-A-MOUNT!!!"



"PARA-A-MOUNT!!!"



"PARA-A-MOUNT!!!"



"PAR-A-MOUNT!!!"
The lights come back to full and the fans offer one last rousing cheer at the opening festivities. Tonight's announcers are on standby and ready for the show to begin.
Watson:
Good evening from the Great White North! Vancouver, British Columbia is where it goes down tonight on Paramount Wrestling! I am Tim Watson, and with me as always is Cid Sydney. Cid, how the hell are you!?
Sydney:
It's great to be back with another episode of Paramount Wrestling, Tim! The Raptors may not be in the NBA playoffs any more thanks to the 76'ers, but tonight this crowd is white hot in anticipation for the slate of fights ahead, and that's exactly what it will be because we have an absolutely incendiary line up for you all here at BC Place! Robbie Rayder, the former FSW and North American Champion, makes his return to Paramount Wrestling as he takes on Adriana Aquilla, for the right to be the first to challenge the NEW CW Broadcast champion that will be crowned later tonight when Shaker Jones takes on Johnny Maelstrom!
Watson:
We have X-Division action as well as X-Division champion El Pablo takes on "The Headhunters" Aiya and "The Love Child" Jamie Love in some interbrand X-Division insanity! We then revise an old rivalry as the next chapter in the Marcu$ $t. John Vs. KU feud takes place, only this time in order to win, you gotta put your opponent through FIVE, yes, FIVE tables! It's the return of the five tables match to EWC!
Sydney:
Then we have the man himself, the EWC Undisputed champion Killjoy Ito in action against former North American Champion and FSW superstar, now Prime star Kyle Gautier!
Watson:
And then in our Main event, its the last of the fallout from our brand exclusive Pay-Per-View UPRISING XXII, as The Halo Syndicate gets their shot at immortality when they take on the seemingly gargantuan task of defeating the EWC World Tag Team champions, the record breaking, HISTORY making Southern Express! It's going to be on hell of a night folks!
Sydney:
We have all this and SO MUCH MORE! Our first match of the night will be coming up right after this quick message from EWCTV. Don't go anywhere .. Paramount Wrestling action will be back in exactly 1 minute
---
---
---
---
WHAT IS EWCTV?


All live EWC Pay-Per-View events (including StrangleMania, Night Of Champions, EWC Rumble & WrestleFest)
All day scheduled & live programming
Plus, hours and hours of on-demand content & never before seen behind-the-scenes footage!
Groundbreaking original series - See new episodes of BRAWL, RAMPAGE, PARAMOUNT WRESTLING, EWC PRIME and more
Live in-ring action, reality shows and documentaries
HOW TO ORDER
Get the award-winning EWC Network through your TV provider. Call your local TV Provider today to subscribe.
Only $7.95/month

WATCH ONLINE
If you are subscribed to EWC Network through your TV Provider you can now enjoy EWC Network on your:
PC, Laptop, Playstation, mobile app, or tablet.



EWCTV for only $7.95 USD per month
Along with being an EWCTV Subscriber, you get:
EVERY Pay-Per-View event included at no extra charge
15% off any and all EWC Merchandise from the EWC Store
20% off all tickets to LIVE EWC Shows
A free EWC Yearly Wall Calendar signed by the entire active EWC Roster
As an added bonus for all those currently subscribed including any new subscriptions
prior to midnight MAY 14TH

Receive
a
FREE
copy of
UPRISING XXII
DVD and Blu-Ray combo when it's released later this year
+ free T-Shirt and Replica EWC X-Division Championship belt.
So act now if you aren't already subscribed to EWCTV
---
---
---
Singles Match
Winner Faces CW Champion at Paramount 20
Adriana Aquilla
VS Robbie Rayder
We return from commercial as we go to ringside where Tim Watson and Cid Sydney are ready to throw us to in-ring action for the first time tonight.
Watson: Welcome back to Paramount Wrestling! We are here in Vancouver, British Columbia inside the beautiful BC Place and man oh man, if you are just tuning in, what a show we have for everyone tonight! In the MAIN EVENT, we are going to witness what should be a knock down, drag out tag team war as the EWC tag team champions The Southern Express defend against The Halo Syndicate! Also tonight we crown a new CW Broadcast Champion as the so far extremely impressive "The Miracle" Johnny Maelstrom meets "The Canadian Badass" Shaker Jones who has homefield advantage for this huge matchup. That and so much more on what is sure to be another historic edition of Paramount Wrestling! Let's kick things off with a bang, huh? This one is a singles match with a shot at the CW champion at Paramount 20, whether that be against Maelstrom or Jones! Two of the scrappiest competitors in the EWC, Addy Aquilla and Robbie Rayder face off to determine the #1 contender, here's Isabella Starr with the introductions. Take it away, Ms. Starr!
Starr:
The following match is a singles match to determine the number one contender to the CW Broadcast Championship! Joining us first, from MEXICO CITY, MEXICO, weighing in at 120 pounds ...
ADRIANA AQUILLA
!
Iron by Within Temptation hits the speakers and the crowd comes alive as Adriana Aquilla makes her way down to the ring, she slaps hands with a couple of fans before rolling into the ring ready for her match as she removes her jacket.
Starr:
And her opponent, from ALAMO, CALIFORNIA, weighing in at 225 pounds ...
ROBBIE RAYDER!
The lights go out in the arena then a fog covers the entrance. The lights slowly come up as Robbie Rayder, wearing long purple tights and black boots, walks out through the fog and kneels down. He holds his hands out as if he's wanting to take everything he can. Rayder looks out at the crowd as he walks half way down towards the ring, then methodically climbs up on the apron. He climbs into the ring and sits in the corner, never taking his eyes off his opponent.
DING DING DING
Both competitors start off slow, feeling each other out until Rayder goes in for the lock up looking to take advantage of his rather large size advantage. He gains the edge and mounts Aquilla from behind, looking to take her down with a Suplex. She uses the ropes to block Rayder's attempts, causing him to grab his back in pain. In an amazing show of athleticism, Addy leaps off her feet, grabs Rayder with her legs, and brings him crashing down with a standing Hurricanrana! The fans erupt, they love it and they love her! Rayder is quick to get up, pounding the mat in frustration. Addy puts her guard up, bracing herself for Rayder but the size and sheer force he comes careening her way with takes her down swiftly, knocking all of the wind (and sense) out of her with a running Elbow Smash to the forehead! Aquilla is down on the mat in the middle of the ring as Rayder jumps on top and begins to lay in with hard left and rights to the jaw.
Watson:
This is certainly not the Robbie Rayder we are used to seeing here folks.
Sydney:
Gone is "Aire" Rayder, gone is the Dreadnought... .This is just a beast of a man taking out all his frustrations on whomever is directly in front of him!
Rayder hops to his feet and showboats as the fans show their dissatisfaction for his utter lack of taste, finding joy in inflicting pain onto those much smaller than him. He quickly goes back to work, dissecting poor Addy Aquilla with stomps to the head BEFORE LOCKING IN THE BLACKOUT CROSSFACE SUBMISSION! Addy is wincing and screaming in pain, her arms extended and flailing wildly as she fights to find the ropes and get this madman off of her. She's fading fast when she finally makes it! The ref forces Robbie Rayder off and he is livid! He was sure he was going to make Addy tap there! He begins to argue with the ref, but the EWC official holds steadfast that Addy made it to the ropes before tapping. While Robbie has his back to Addy, she shakes off the cobwebs and rolls him up for the pin! The ref quickly slides down for the count!
TH
-NO!! KICKOUT FROM ROBBIE RAYDER AT TWO AND A HALF!
Robbie Rayder is now incensed and hits the ropes hard… he comes back looking for a Lariat… Addy ducks it, Robbie bounces off the next set of ropes and comes back in towards Addy for another go at it but she hits the ropes herself… AND COLLIDES WITH RAYDER LANDING A MEXICAN DESTROYER!! She hooks the leg for another pin attempt.
THRE
-NO, ANOTHER KICKOUT FROM ROBBIE RAYDER! ADRIANA AQUILLA CAN'T BELIEVE IT!
Watson: Lo Dovinio getting creative here! First the roll up and now that mexican destroyer.. She almost had Rayder there!
Sydney: Almost only counts in horse shoes, hand grenades, nuclear warfare, and STDs Tim!
Unlike Robbie, Adriana doesn't bother arguing with an EWC official. She isn't one to question authority and it wouldn't do any good to try anyways, right? Right? She instead looks to the crowd for inspiration, to which they cheer loudly to fuel her on in this quest for the CW championship. She takes to the top rope and signals for it. Is she? YES! Addy Star Press off the top rope, but Rayder rolls out of the way in the nick of time! She lands flat on her face and grabs her mouth that's now busted wide open and spewing blood all over the fresh new ring mat everyone else has to wrestle on tonight! He drags Aquilla to the center of the ring and locks it in again - BLACKOUT! She's not making it out this time, you can see her face turning purple as every last bit of life is choked out of her… she passes out and the ref has no choice but to stop it! Robbie Rayder spits on the referee as he asks him to remove the hold, he's not letting go. He's ready to kill this young girl tonight just to prove a point! With Addy fully unconscious and permanent damage surely done to her brain, Rayder finally releases the hold and makes it to his feet, smiling with his arms high in victory!
DING DING DING
Starr:
And your winner, via submission....
ROBBIE RAYDER!!!
The ref tries to raise Robbie's hand in victory, but he jerks his arm away, throwing both arms up to celebrate in his own way. He looks over to the fallen Aquilla, who is just starting to stir, a look of pure disgust on his face.
Watson: Well like it or not folks, Robbie Rayder picks up his first win of the season and now has a date with the CW Broadcast champion at Paramount 20, whomever that may be!
Sydney: Adriana Aquilla did so well in this match though, knowing she was the smaller person she adapted and came with in a millisecond of getting a big upset here tonight!
Aquilla is finally to her feet in the ring, but Rayder is long gone by now as he could no stomach being around the fans another second.
Watson: We are just getting started here tonight folks, there is so much more to come. Don't go anywhere!
---
---
---
We're ringside as the opening notes of "The Wicked and The Cursed" by The Cold Stares signal the imminent arrival of James Keaton. James enters to a full-blown anti-Keaton reaction as he is adorned with his newly-gained North American Championship as well as another variant on his NFT T-shirt. This one has The Wicked holding aloft his new (freakin') title in a manner akin to that famous scene from The Lion King. James makes his way to ring with a spring in his step, talking trash with some of the crowd and motioning that the t-shirt isn't for sale. He enters the ring, soaking in the atmosphere and grabs a microphone from his pocket.
Keaton:
…You insufficient pricks brought this ALL on yourselves! Forget crypto scams and bored apes, the only NFT that matters here or anywhere in the world is MY New. Freakin'. Title!
The mere mention of anything related to Jordan Sharpe sends the crowd into a cacophony of noise, booing The Wicked as he laps up the attention.
Keaton:
I told you all what I was doing. I said I'd win at Uprising just like I did last year and I went and did it! None of you can take that away from me, and now I get to tell you all how good it felt to TAKE this away from that footnote in the history books. All that
Sharppreciation
really helped him go out with a whimper, didn't it? All of you thinking I wasn't going to go in there and TAKE the opportunity laid before me? I think you've all forgotten just how important it is that there's NO REST for The Wicked!
James takes his time and makes a lap of the ring, pacing himself for what comes next. The crowd are still raucous, possibly hoping someone will put an end to the speech of the new champion.
Keaton:
I came here searching for an answer to a very important question, and when the road I took didn't give me that answer I had to do something else. I wasn't here to dismantle your supposed heroes, because there are no true heroes left in Wrestling. Yet here we are… I'm holding a title I wouldn't have been anywhere near if it wasn't for you people. Jordan Sharpe would've still been North American Champion if I had my answers, so it's YOUR fault for not sympathising enough with my plight. I wanted something GOOD to come out of what I did in Wrestling, but all YOU people want is to see anyone against anyone else as long as they slap the absolute five senses out of each other. I aspired… I still aspire to something greater than you realise and this North American Championship isn't the only evidence.
James ends his sentence on a strange note, leaving the crowd confused even though they're still against him. He looks to them, then back to the ring before continuing.
Keaton:
It's not just about me, but my very existence in the EWC has already forced some changes. Sharpe's out and two people I have no stock in are about to fight over the title I'll never EVER have to be the first to lose. But look at M$J, back in the frame for an opportunity at this title. That's all my doing. Look at the Halo Syndicate, a team who couldn't tell right from left until I personally beat the ever-loving crap out of them on multiple occasions. Now look at them, CHALLENGING for the Tag Team Championships. THAT'S all my doing.
James mocks the response from the crowd who are now back in full anti-Keaton mode. The gloating and unwarranted attempt at claiming the success of others has pushed them further into their noisy jeering and booing.
Keaton:
There are no heroes left in Wrestling. But there
can
be new ones, all it takes is for someone with enough bollocks to realise what needs to be done. This ring, this brand and this company need scorching and there will be NO REST until I've dragged everyone through that trial by fire. I'm already doing this as a free service to you ungrateful cockroaches, even though you don't appreciate the scale of the task at hand. You don't appreciate me now, but eventually you'll all be thanking me. That's the
decree
of James Keaton.
James leaves the ring on that note as his entrance theme plays him out. The crowd are still cursing his presence but there's a sense that the mood may have shifted somewhat. It's a slight change, but a hurricane starts with a gust of wind.
---
---

X-Division Interbrand Insanity
Non-Title Match
"The Love Child" Jamie Love
VS "Headhuntress" Aiya
VS El Pablo
The camera follows The North American champion up the ramp a bit, before cutting to Tim and Cid, who are standing by...
Watson:
Interesting words there by James Keaton, we will have to see what he means by "New Heroes" in wrestling, but right now we have an X-Division melee on our hands! Take it a way Isabella Starr!
Starr:
The following match is the X-Division Interbrand Insanity Match! Joining us first from Takayama, Japan , weighing in at 120 pounds ... "THE LOVE CHILD" JAMIE LOVE!
The opening instrumental of "Never Die" by All Good Things plays as the lights go dim leaving only the stage lit. As the lyrics start Jamie comes out and center stage with his father on his left and Maria on his right. He looks at both of them before walking down the ramp with them behind him with his father jeering at the people in the front row and Maria giving him last minute advice. When he gets into the ring he does some last minute warm ups as he waits for his opponents.
Starr: And introducing his first opponent, from Kyoto, Japan. Weighing in at 137 pounds ... "HEADHUNTRESS" AIYA!
As "Killer" by JJ Lin plays over the PA system, a fog appears near the curtains. As it slowly fades away, we see the form of "Headhuntress" Aiya standing at the top of the ramp. She saunters down, entering the ring through the middle and top ropes. Aiya then leans against the ring, already looking as if she's making a game plan in her head whilst staring down Jamie Love and waiting for El Pablo to make his appearance.
Starr: And their next opponent, from Puebla City, Mexico weighing in at 180 pounds … He is the reigning X-Division Champion! "THE TECHNICOLOR TECNICO" EL PABLO!
A cry of "VIVA LA RAINBOWLUTION!!!" leads to 'Party Hard' by Andrew WK hitting the soundsystem, as the stage and ringside area becomes bathed in flashing, flickering, brightly-coloured lighting. As the main hook hits, El Pablo bursts through the curtain, playing to the fans and chugging Skittles like a Steveweiser while the X-Division Championship belt glistens around his waist. He charges down the ramp and slides under the ropes into the ring, then runs up the turnbuckle and holds the title belt high above his head to another pop from the adoring crowd. After offering a final salute, he hops back down to the canvas, handing his belt to the referee and performing a few final stretches as his music fades.
The three combatants each take a corner for themselves as they observe each other for signs of weakness before the bell rings. The referee hands over El Pablo's X-Division to the outside ring crew before going over some final words with each wrestler. Aiya tests her shoulder, Jamie Love appears twitchy and raring to go and it is El Pablo who seems to be the most collected of the trio. There is a roar from the crowd as they await the…
DING DING DING
…And it's an immediate descent into chaos as all sides take on each other with Aiya charging into El Pablo before Jamie Love offers a pincer attack from behind. Pablo takes the initial brunt of the attack but smartly avoids further punishment by kicking away at Aiya and swiftly delivering a Sitout Jawbreaker to the diminutive Love Child. Jamie Love staggers backwards and there's a moment of acknowledgement between Aiya and El Pablo as they both appreciate the difficulty of settling their differences in a triple threat match. What follows is Aiya breaking focus from Pablo and instead going hard on Jamie Love with a string of attacks and flurry of strikes. Eventually, and with Pablo smartly watching on, Aiya sends Jamie crashing out of the ring. With eyes in the back of her head, Aiya dodges an attack from El Pablo before staring him down and aggressively talking trash. Aiya and the Technicolor Tecnico continue their focus on each other as Jamie recovers on the outside.
Watson: IT'S CHAOS OUT OF THE GATE HERE IN THIS ONE!
Sydney: Vancouver might not be ready for this one Tim, but I sure as hell am! GET THE TABLES!!!!

Watson: No Cid, that's the other X-Division match tonight.

Sydney: Right, sorry Tim... BEAT THE SHIT OUT OF EACH OTHER!!!!

Watson: Apologies to our viewers tuning in on the CW Network.
Aiya and El Pablo go right back into what made their last encounter so interesting. It's a fairly even match until Aiya makes a critical mistake of instinctively trying to protect her shoulder from a direct hit. El Pablo adjusts himself and his initial jumping attack into a superb Headscissor Takedown. Aiya's pride is scorned by this and she backs down slightly to observe and regroup.
Jamie Love enters the ring WITH a golf club (perhaps the fabled "Love" club). As he practises his swing with a keen eye on El Pablo, he eventually goes charging in and swings the club in what seems to be a wild manner. El Pablo has a tough time trying to react from the inevitable attack, but he realises his mistake all too late as Jamie Love DOESN'T swing for the champ at all! Instead, Jamie uses the club as a mini pole vault aiding his ascent over a guarding El Pablo. It takes a second for the Technicolor Tecnico to realise he's been had as Jamie uses the momentum from his vault to launch into a modified Leg Sleeper. El Pablo's speed and agility is rendered moot from the surprising offence, so he succumbs to the submission faster than he would expect.
Aiya uses this chance to hop right back into the action. As El Pablo fights against the tight submission hold, Aiya is faced with a choice and chooses immediately to apply her own submission to the unguarded upper body of Jamie Love. Jamie realises this a bit too late as he's concentrating on applying his hold to El Pablo. So when he's now forced to try and defend against a Kimura attempt, he loosens his death grip on El Pablo who takes a moment to unseal himself from the Leg Sleeper. A groggy Pablo unseals his emergency ration of Tropical Skittles and is immediately revived into action.
Pablo's revival shocks Jamie who is still fighting off the Kimura and in a moment of shock enables Aiya to start the process of getting the Kimura applied. Aiya's moment of success is met with the springboarding El Pablo landing a HUGE Elbow Drop with extra Tropical flavor. Aiya takes the full force of the attack on her face and neck. Aiya is stunned, letting go of the hold on Jamie and wobbling on the mat. El Pablo stands up, celebrating his impressive move but then the sugar rush comes to an abrupt ending and he is also left face-first in the mat.
Jamie Love has a moment of indecisiveness after realizing he's in the middle of the ring with both of his opponents out of sorts. He spends what feels like a few moments too long trying to figure out who to pin before attempting to get one over the reigning champ.
Love's attempt ends with a TWO count so he quickly tries to pin Aiya.
Another TWO count leaves Jamie Love wondering if he should've taken the other road, but his thoughts about the situation are halted when El Pablo socks him hard with a small sack containing a mystery object. The crowd begin to rise in unison to see what happens next as El Pablo unveils the contents of the sack, it's hundreds (possibly thousands) of exquisitely hardened Sour Skittles ready to serve as the impact zone for the next big attack.
Watson: Someone call Demois, because El Pablo might be going sour!!!!! Perhaps taking a page out of Candy's playbook?!
Sydney: I have to say here Tim, Jamie Love is doing an amazing job out there tonight, but his indecisiveness might have cost him a potential victory!
Aiya rises to her feet to see the scene laid before her as El Pablo points towards the danger zone of Sour Skittle Madness. Aiya scoffs at this, almost ashamed that the apex of the X-Division is treating this candy with the same reverence as a minefield. Aiya offers a glance to El Pablo and the recovering Jamie Love as if to say she can go one better. Aiya leaves the ring and unpacks a bag in her original corner. She unveils the very dangerous sight of hundreds and hundreds of sharp tacks and showers them over the existing danger zone. A stray tack bounces off a Skittle and lands square in Jamie Love's cheek, prompting him to grunt in shock and anger. El Pablo cocks his head at the devastating mixture of sharp points and hard candy before offering his attention to the now-recovered Jamie Love, tack-in-cheek and all.
Jamie Love shakes his head as if to say he can't believe he's about to do this… Before unveiling his OWN addition to the Skittle-Tack danger zone. He opens up a small bag (emblazoned with Lil' Bastard) and reveals a solitary Lego piece. He flicks the piece as if it were a match to ignite the blaze, and as Aiya and El Pablo offer a glance to the object mid-air Jamie is first to attack both sides. He deftly knees El Pablo in the gut before rebounding off the ropes and sending the Tecnico right into Aiya with an Assisted Spear! Aiya wasn't expecting that move from El Pablo, but Jamie Love has got his thinking cap on tonight!
Aiya and El Pablo recover from the effects of the move, but are caught again by Jamie Love who continues his unending assault on the pair. It's Aiya who breaks away first however as she lands a precision strike on the tack STILL stuck in Jamie's cheek! Jamie Love is sent REELING from this as he had almost forgotten the tack was wedged in there! Aiya aims to continue her attack but El Pablo stops her with a swift Frankensteiner towards to edge of the danger zone. Aiya rolls away from the tacks (and Skittles and Lego), rebounding off the ropes before a Palm Thrust strikes El Pablo. Aiya runs to the other ropes, but Jamie Love is there to open a trap of sorts and catches her between the top and middle ropes, using the momentum to swing Aiya into something that's both trapped around her neck and the bad shoulder!
Jamie takes a moment too long to celebrate his rope trap before he walks right into a waiting El Pablo. El Pablo delivers a set of strikes before sweeping the leg and gathering up a handful of the mess that is the Skittle-Lego-Tack danger zone. El Pablo lines up the strike, knowing that this could seal the deal. FACEPAINTER! Jamie Love tastes the HARD rainbow! El Pablo goes for the cover, but before he can get down to his knees, he sees Aiya almost free. he pivots and runs at the headhuntress just as she is free, TASTE THE RAINBOW OUTTA NOWHERE!!!! EP holds on for the pin...
DING DING DING
Starr: And your winner, via pinfall..."THE TECHNICOLOR TECNICO" EL PABLO!
El Pablo takes a moment to realize the enormity of the victory in relation to their own progress and the interbrand insanity itself. The weapons used weren't many, but when each of the combatants considered themselves walking weapons it was only a matter of time until one of them proved they couldn't beat the arms race
.
Watson: A strong effort from all involved, but there can be only one winner tonight in this insane match. Lots of big words spoken before the match, a lot of action inside it as they tried to get one over the other but there must be a winner!
Sydney: Aiya getting caught in the ropes was the key moment! Forget the dangers of the Skittles and look at how that moment changed the trajectory of the match. Everyone involved knew that was their moment to strike for the win. What was interesting to me though was that Pablo could have covered Jamie Love there. He CHOSE to go after Aiya.

Watson: That is a keen observation... With Aiya having a number one contenders match on the horizon at Prime 97, was this the champion sending a message?


The X-Division champion takes his time to celebrate, offering a glance to both of his opponents with the knowledge that they absolutely could go again right now if needed. There's a silent sense of acknowledgement from all sides as they endeavour to rectify their mistakes tonight, or to further their own victories in the future.
Watson: Up next, its the return of the FIVE TABLES match to EWC television. Don't go anywhere folks!
Camera cuts to...
---
---
---
M$J is seen stretching getting ready for his 5 Tables Match with KU. Intensity is the expression that he wears on his face as he is now mere moments from his music hitting before he is stopped by Lisa Goldrush.
Goldrush:
Marcu$ may I get a word? You recently earned another opportunity at the North American Championship; do you think that will cause you to look past your opponent who's undefeated in action here in 2022?
M$J stands straight up and looks over at Lisa before cracking his knuckles and stretching his shoulders back.
M$J:
Look past KU? Lisa, I've never looked past a single opponent since my time here in EWC. I remember being looked down on by the roster and having to prove that I belonged in this business so I'll never do the same because I know the feeling. Especially to someone like him. I know how dangerous this man can be, I know how bad he wants to win. So far, we're 1-1 in our endeavors over the last few years. Our last match, I was the Last Man Standing as I put him through 3 tables. So, this isn't about Keaton or the North American Title, this is about KU vs Marcu$ $t. John.
Goldrush:
I see. You're a man that seems to always show up night in and night out here on Paramount where others pick their spots. What keeps your drive going to keep getting out here and putting your body through this to keep it going.
M$J:
I want to be the best in this business. I said I was here to make history and I meant every word I said. I'm a show stealer regardless of where you put me on the card. Taking shows off isn't my style. People keep saying the same things about me. I'm spoiled, I'm selfish, I never earned anything in my life, and that I'm a rich brat just like KU did. Same shit, different day. What they don't see is the hustle, hard work, and effort to make it in a business that shunned me. I didn't cry about it or get down and expect pity. I got better. You see, victory if the best payback and each win I rack up, is the sound of revenge. I'm going to keep showing up week after week because who else is going to? The way I see it, it might as well be me. After all I am Paramount Border Patrol.
Goldrush:
You sound very motivated. Any last words for your opponent tonight?
M$J:
KU, you said something that pissed me off. You said my daughters were a publicity stunt. Listen here bitch, I'm not the one who faked my death. I may not be perfect but what I'm not is a publicity stunt and neither are my daughters. Your mouth is going to get you messed up and after I put your limp body through 5 tables tonight, you're going to wish your death wasn't faked and that it was the real thing.
The camera slowly fades out as we head too ringside...
---
---

SINGLES MATCH
5-TABLES MATCH
KU
VS Marcu$ $t. John
We return to ringside where ring crew is currently setting up ten tables around the ring for the following match.
Watson:
There is certainly no love lost here between KU and Marcu$ $t. John. This should be one hell of a match!
Starr:
The following match is a FIVE TABLES MATCH! The only way to win this match is to put your opponent through five different tables. Joining us first and representing Monday Night BRAWL, from Sapporo, Hokkaido, Japan, weighing in at 230 pounds ...
KU!


"Fuck It" sounds off through the loudspeakers. KU walks out in his usual attire and heads down towards the ring. He rolls into the ring under the bottom rope and sits while waiting for M$J.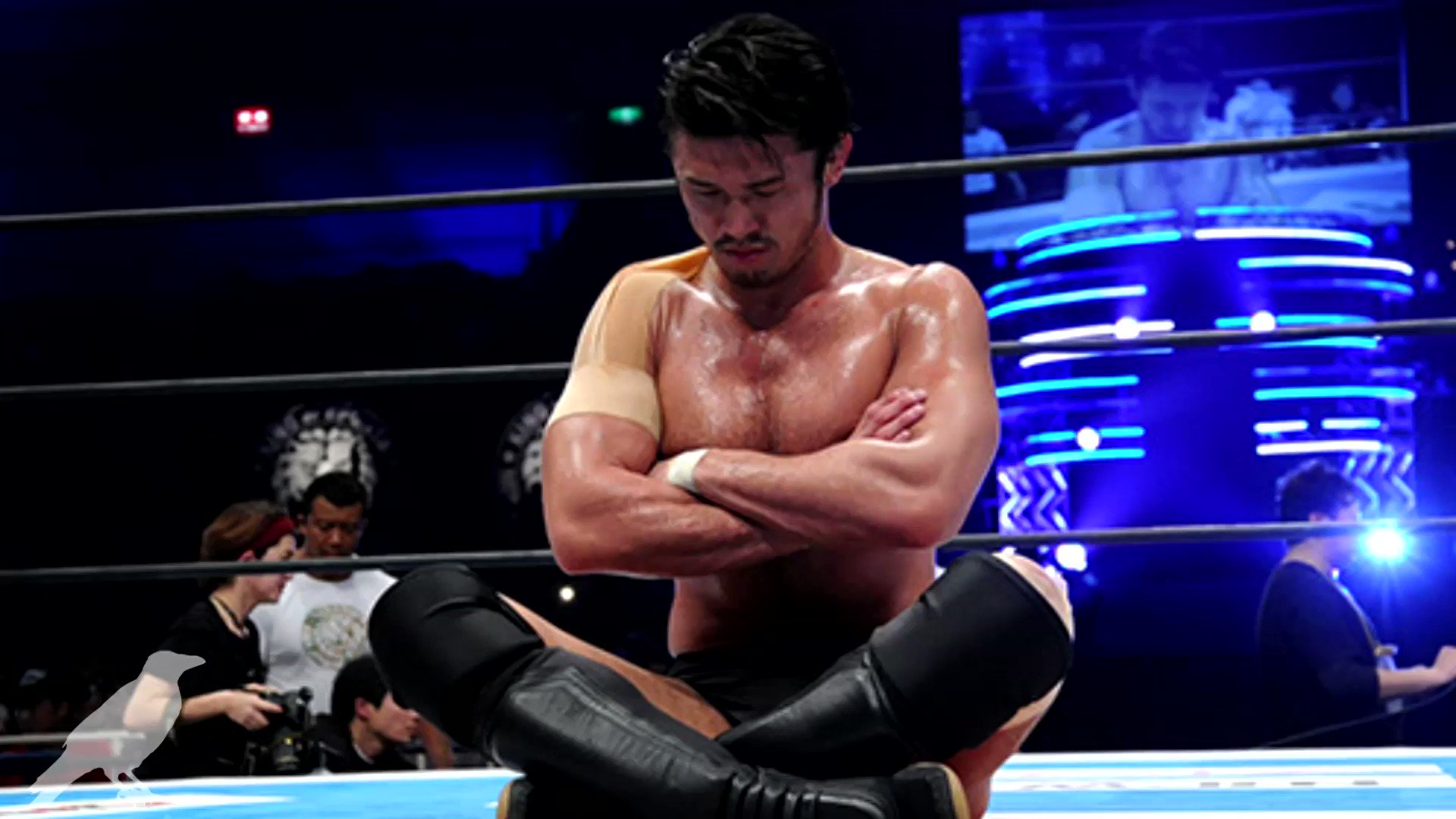 Starr:
And his opponent, from Silicon Valley, California, weighing in at 220 pounds ...
MARCU$ $T. JOHN!


"Fast Lane" blasts through the arena by Bad Meets Evil. A Maybach drives up through the entrance ramp. A chauffeur gets out of the vehicle and opens the back door. Marcu$ $t. John gets out on the entrance stage and money starts falling down from the sky with his face on 100 dollar bills as green laser lights illuminate the arena. As the money shower stops, Marcus walks down the ramp with a confident look on his face.
He stops right before he gets to the ring and listens as he hears mostly boos and a few cheers that he is getting from the crowd. He walks around the ring and high fives people who are cheering and stares a hole in the head of people who boo. He jumps up on the apron and wipes his feet before he enters the ring and poses in the middle of the squared circle as a light shines a hundred dollar bill in the center of the ring with his face on it.
Pyros hits as "Fast Lane" by Bad Meets Evil ends.
Watson:
KU & M$J, they are so similar. About the same height, about the same build. They both can be ruthless in that ring. This will truly be a coin-flip as we head into KU Vs M$J Chapter III.
DING DING DING
The bell sounds and KU wastes no time rushing M$J, KU jumps from about halfway in the ring into a dropkick that connects directly with M$Js face! It's the Final Bullet dropkick! KU drags M$J up by his ear and holds him against the rope while he swings wildly into a lariat! Sacred Nightmares! The impact of KU's lariat sends both he and M$J over the top rope to the padded concrete. KU gets to his feet first, John is on his hand's and knees, KU kicks him in the top of the head. KU drags John up by his ear, John stomps KU's shin and then with his index & middle finger, pokes KU in the eyes! KU grabs at his eyes and stumbles backwards into a table set up by the ring crew pre-match. M$J closes the distance and jumps into a MONEY STOMP! KU explodes through the table! M$J has gotten the first table break!
Watson:
The money stomp, it puts all of your weight into the opponents sternum. And the added impact of the table breaking against your back, if this was a normal match KU would be out for the count.
Sydney:
M$J's eye poke was on the line, but that line is blurred in a no DQ match. Now he's got the advantage in this one.
John drags KU up to his knees, and then plants him with a DDT. M$J rolls KU to his belly, then he mounts him and starts punching and slapping the back of his head. M$J drags KU up by his head and sends him face first into the ring-post. KU's head bounces with a sick thud, and he stumbles backwards. The camera zooms in on his now bloody face.
HOLY SHIT HOLY SHIT HOLY SHIT
M$J rushes KU, but KU punches him in the mouth! KU progresses forward as he swaps between punches, slaps and forearms and M$J keeps backing up. M$J loses his footing tripping over a broken piece of table and falls into a seated position, KU jumps into anther Final Bullet Dropkick but M$J moves! KU gets to his feet, and DDT from M$J onto the a piece of broken table! The cut on KU's head is bleeding like a stuck pig now. M$J drags a table over to he and KU, and then he drags KU up in a Million Dollar Dream! KU is trying to fight out of it, but M$J has it locked on tight and then OH MY GOD. COBRA CLUTCH SUPLEX THROUGH THE DAMN TABLE! M$J gets onto the apron and wipes some dust of his shoulder. He climbs back into the ring and sits in the middle of the ring like KU to mock KU.
HOLY SHIT HOLY SHIT HOLY SHIT


Watson:
That may be the end for KU, John doesn't even need the other three tables. There's no coming back from this. He can't!
Sydney:
If KU knew what was good for him, he'd throw in the towel right now while he can. He's bleeding heavily and is no doubt concussed.
Outside of the ring, KU crawls to the barricade and pulls himself up. He stumbles backwards, but finds his footing. He looks into the ring and sees Marcu$ sitting and smiling at him. KU smiles back and then he stumbles over to a table, he drags that table to another table. He hoists the first table up, and sets it on the second. KU turns back to M$J and then he rolls into the ring. M$J gets to his feet, and approaches KU, but KU goes low with a Final Bullet into M$J's thigh! The impact sends M$J face first into the canvas. KU drags M$J up into a rear-naked choke! He drops the choke and spins M$J around into a gut-wrench powerbomb! M$J sits up and coughs as he tries to catch his breath, and KU slams his foot into M$Js chin with a PK. M$J rolls out of the ring to his feet, he grabs his jaw and rubs it. KU rushes the ropes and TOP CON HILO INTO M$J!!! KU drags M$J up into his own Cobra Clutch... AND COBRA CLUTCH SUPLEX INTO THE CROWD!!!
WHAT THE FUCK WHAT THE FUCK WHAT THE FUCK
Watson:
KU literally throwing M$J into the crowd of paying fans! He has lost his mind!
Sydney:
I don't know if he'll get fined for that, but that was uncalled for.
A fan helps M$J up, while KU jumps the barricade. KU grabs a steel chair and BENDS IT OVER M$J's head! M$J is busted open! KU grabs M$J and shoves him over the barricade. KU joins M$J ringside and drags a table over. KU drags M$J up, M$J with the forearm smash into KU's jaw! KU stumbles backwards, M$J jumps into a superkick! KU spins around on impact and lands laying over the table. M$J steps up onto the apron and MONEY STOMP INTO KU'S BACK THROUGH THE TABLE!!! M$J pulls himself up and using the apron as an aid walks over to KU's stacked tables. M$J turns back to KU, still a mess on the floor, and decides to set up another table on the stack of two. M$J drags over a fourth table and begins to set it up but KU from behind, KU FROM BEHIND! KU grabs M$J into a torture rack and then BREAD & BUTTER THROUGH THE TABLE!!!
Watson:
OH MY GOD. KU said he was going to hit M$J with that inverted death valley driver through a table, and he did!
Sydney:
That's M$Js strongest move being used against him. KU may have gone from 0 to victory in this one.
KU drags M$J up by his head, and then gives him a forearm chop into the throat. M$J falls to the ground and gasps for air, he starts dry heaving and choking. forearm chop to the base of M$Js skull! M$J goes limp, KU drags him up and headbutts him in the back of the head. KU grabs on a waist-lock before M$J can fall down. KU transitions from the waist-lock into grabbing M$Js arm and RIPCORD into a BITCH SLAP. THE ULTIMATUM! M$J falls into a limp heap on the floor, blood still dripping from the back of his head. KU's adrenaline wears out and he too falls, catching himself against the apron. KU yells out as he drags himself onto the apron in a seated position. Catching his own breath and trying to ignore the pain.
Watson:
Both these men, they've gone through so much in this match and will never be the same!
Sydney:
They hate each other, and here in their 3rd match they might just kill each other.
KU gets off the apron, he grabs M$J up by his head and shoves him towards the apron. KU uses the ropes to climb up and then pull M$J up. KU gives M$J another forearm chop to the throat. M$J falls limp against the top rope. KU jumps down off the apron while grabbing M$J's waist and pulling him down into A GERMAN SUPLEX INTO THE TABLES!!! The third table falls away, but M$J crashes through the bottom two layers!
Watson:
KU & M$J are now tied at three tables each, my god!
Sydney:
There's still two more tables to go for both, this match could go another hour!
KU pulls himself up to his hands and knees and he crawls over to the table that fell, he sets it up right and then goes back to M$J. KU drags M$J up, John gives KU a forearm to the throat and is quickly at KU's back lifting him up and BREAD & BUTTER THROUGH THE TABLE! OH MY GOD! M$J gets to his feet, rushes into the ring and lets out a scream of victory before falling limp and crashing as his adrenaline burns out.
Watson:
This match has taken so much out of both men, they will never forget this match.
Sydney:
M$J is just one table away, but he's a bloody mess in the ring. KU is two away, but he's a bloody mess on the outside. I don't know how this will go Watson.
Watson:
The only thing I do know is that these fans are getting their monies worth out of this war.
M$J gets to his hands and knees, he drags himself to the ropes and pulls himself up to his feet. He drags himself to the center of the ring, fighting back against gravity with everything he has. He yells at KU to get his ass in the ring and face him like a man! KU drags himself up on the outside with the barricade. KU grabs two un-opened bottles of water from a random fan and limps to the ring. KU rolls inside, and tosses M$J a bottle. They both chug the glorious liquid and then immediately are at each other's throats with punches! M$J punch, KU punch, M$J punch, KU punch, M$J punch, KU punch. Punches after punches after punches. KU shoves M$J back and catches with him an ungodly slap. M$J fires back with his own slap. KU slap, M$J slap, KU, M$J, KU, M$J, now both at the same time, both, both, M$J, M$J, BIG SLAP FROM KU.
FIGHT FOREVER FIGHT FOREVER FIGHT FOREVER
M$J goes for the punch, KU stomps down into his shin! KU with the double eye poke! M$J explodes forward into a Sacred Nightmares Lariat! KU is turned inside out and lands on his stomach! KU pops up to his feet, flexing and yelling at the top of his lungs. M$J goes for another lariat, but KU scoops him onto into a fireman's carry, KU rushes the ropes and tosses M$J down through a table! KU stumbles backwards and collapses in the center of the ring.
Watson:
They are all tied up again, they are all tied up again!
Sydney:
Just one more table wins this match, just one table!
KU crawls on the ground to the side of the ring, and rolls out of the ring to the padded concrete. KU grabs the ring apron and drags himself up but he gets two steps before falling back down. M$J sees KU coming and he uses a piece of broken table to stand, but he too falls down. M$J and KU crawl to each other and then use the other man to drag himself up, and then they start trading headbutts while standing and holding each other for support. M$J headbutt, KU headbutt, both at the same time, both collapse down into a seated position. KU reaches forward and slaps M$J, M$J slaps KU, KU slap, M$J slap. KU, M$J, KU, M$J. The slapping seems to wake something up as both get to their feet! KU slams his head into John's head, blood and sweat goes flying upon impact. M$J fires back with a slap. KU headbutt, the sick thud echoes through the arena. M$J slaps KU, and there is a crunch as either M$Js hand or KU's jaw is audible fractured. But neither man stop, another headbutt from KU, another slap from M$J. FOREARM TO THE THROAT BY KU! M$J gasps for air and rolls into the ring. KU is quick behind. KU pulls M$J up and SACRED NIGHTMARES TO THE BACK OF M$JS HEAD! KU drags M$J to the corner and gets M$J up on his shoulders for a powerslam... KU jumps out of the ring into Last Resort! LAST RESORT! The powerslam piledriver Avalanche Emerald Flowsion spikes M$J through a table. That's it, it's over. Five tables!
DING DING DING
Starr:
And your winner, via five table breaks...
KU!
KU gets to his feet, he yells out and drags M$J up. KU goes for another Sacred Nightmares but he's had it, his tank is empty. KU collapses before he can hit the lariat on to M$J's shoulders. M$J uses KU's momentum to slam KU with a Death Valley Driver through a table. M$J falls deadweight, KU is deadweight. They are both bloody messes after going through five tables and having a war. But this feud, this isn't over.
Watson:
KU won the battle, I think? But this war is far from over. Not by a long-shot.
Sydney:
M$J put KU through five tables himself. KU gets the victory, but this match was a draw in every sense of the word. They are two evenly matches men hellbent on hurting each other. We will be seeing more from them, very very soon.
Watson:
We still have TWO Championship matches to come folks, plus the EWC Undisputed champion is in action... NEXT! stay tuned, we will be right back!
Camera cuts to ...
---
---
We are backstage now as a camera is walking up to a door marked "Paramount General Manager Chris Brock". The arm of the camera man stretches out and knocks three times. After a few seconds, we hear a voice shout "come in!" and the door to the room opens. Once inside, the camera quickly focuses on Chris Brock sitting behind his desk, a monitor with tonights show playing live is to his side.
Brock
: That was an insane match that we just witnessed. Kudos to both men for a hard fought battle tonight. I wanted to take a moment tonight though and let you all know what comes next for the young mogul... You see, at Uprising Marcu$ earned the right to be the next in line to challenge for the North American championship.. I am not about to keep him waiting. So tonight I am announcing the ton June 8th, live from Stockholm, Sweden, In the Main Event of Paramount 21 it will be Marcu$ $t. John taking on James Keaton for the EWC North American championship!! I hope you both come prepared because I expect one hell of a fight gentlemen!
Brock smiles as the camera fades out to commercial...
---
---
---
The camera cuts backstage where we find 'The Prodigal Son' Buddy Love adjusting his bowtie in a mirror. He wiggles it around until he thinks it's perfect and smiles. Buddy sees the camera in the reflection of the mirror and gives them a wink.
Love:
Oh, hello there…
Buddy turns to face the camera.
Love:
And welcome back to Paramount Mr. Gautier…it's been awhile hasn't it…
Buddy lets out a small laugh, clearly forced and fake.
Love:
In fact it's been 462 days since Kyle Gauiter has stepped foot inside a Paramount ring…we have to go all the way back to Feb 3rd, 2021 and Paramount #001…what a night that was right…
Buddy smiles
Love:
I mean Killjoy was just in some little match against Jason Rayne in the second match of the night…I point that out because you seem obsessed with where Killjoy wrestles on the card Kyle…but you were, like you are tonight were in the third to last match of the night, a match against Candy and Brawl's King Flip in a elimination match…a pretty big match for us here in Paramount but you pooped the bed that night Kyle…you were the first one eliminated by King Flip and thank goodness for Candy or we would have fallen to Brawl on our first night…
Buddy mouths 'thank you Candy'
Love:
We were the upstarts, the New Kids on the Block…I call Donnie…but we were trying to establish ourselves that night and Paramount was counting on you…you the former North American Champion in the FSW, Kyle Mr. Brock was counting on you to be one of the pillars of this new brand and you weren't up to it…not that night and not in the future…you split, took off and we didn't see you again…you abandoned us Kyle and yet now, you return to Paramount and question Killjoy's place in the company…
Buddy shakes his head and waves his finger into the camera.
Love:
NO, no, no, no, you don't get to do that Kyle, Killjoy has established himself as one of the Founding Fathers of Paramount, he helped build this place into the BEST DARN BRAND IN ALL OF THE EWC…he brought the Undisputed Championship back to Paramount and defended that championship on Paramount's Excluding ppv Uprising and yet you want to take a shot at him, toss around accusations that Mr. Brock no longer has faith in Killjoy because Jordan Sharpe and James Keaton went on last at Uprising…because the brand championship ALWAYS goes on last on Brand Exclusive ppv…this is a known fact Kyle, jeez and they call me slow…
Buddy rolls his eyes in disgust.
Love:
What were you hoping to gain there Kyle, were you hoping that Killjoy was so fragile that he'd start to doubt himself, start to question his place here in Paramount…would be so deep inside his own head that it would make your night easier…was this you TRYING to play head games with the Undisputed Champion of the EWC…did you really think that would work Kyle…
Buddy smiles and shakes his head no.
Love:
Come on Kyle, I know you haven't been paying attention because if you had been you would have seen Gabi try this nonsense with Killjoy and suggest that my father lost all hope for him, that he was cast aside like he was nothing and it didn't phase him, in fact he went out there and beat her just like he's going to beat you tonight…we are going to send you back to Prime on a losing streak and if you are lucky still able to compete in the Prime G1…
Killjoy Ito walks into frame, the Undisputed Championship over his shoulder.
Love:
Tonight you are stepping into the ring wit greatness Kyle, the very best the EWC has to offer…THE ACE of this company and while Killjoy has been sharpening iron with iron, facing the likes of Gabrielle Visconty, Ace King, Asriel Buzzard you Kyle have been in the ring with the cast of Island of Misfit Toys, Old Man Jeff…a cheap knock off of The Southern Express if I ever saw one, Kazia Siona, an Interstellar being that I guess has been called back to her home planet of Ramgula 19 or something, ViVi, a cute and bubbly girl who gets excited by the wind blowing and Dalilah Ashe, Scorpio's person…um, who's next in line after the Prime Minister…I was never good with British History but no matter, these are cast offs Kyle, much like yourself and tonight we are going to show all of Paramount and Mr. Brock himself that letting you walk out those doors some 462 days ago was the best thing that ever happened to Paramount because we want ELITE on our roster Kyle…not sidekick best friends that nobody cares about…
Buddy laughs.
Love:
You have always been 2nd place Kyle, a side attraction there to support the main character and tonight you once again fill that roles as you step into the ring and become the man Killjoy beats up for these lovely fans of Vancouver, British Columbia, Canada because that's your role in life…you are never going to be the star…the headline act…heck you are working so hard on this G1 Musical and you don't even realize it's never going to hit the stage…Bosa is going to win Group B and you are going to be left standing outside in the rain like a sad little kid that's been forgotten once again but it's ok Kyle, maybe Peach can get you a job on Gambit being fodder for the real stars of the EWC…hey tonight can be your very own audition…show the good people of the EWC how you can take a beating by a better man…show them that you can be that star on Gambit…
Buddy claps his hands in enjoyment.
Love:
I believe in you Kyle, just go out there and star in the role you were made for…
Buddy smiles as he looks down at his watch and sees that it's time to go.
Love:
Dim the lights ladies and gentlemen…the STAR is about to take the stage…
Buddy walks off camera as Killjoy lingers for a moment before walking off camera himself.
---
---

SINGLES MATCH
NON-TITLE MATCH
Kyle Gautier
VS Killjoy Ito
We return to ringside where Tim and Cid are standing by.
Watson: Some tough words from the manager of the Undisputed champion prior to their match, which happens... RIGHT NOW!
Starr:
The following match is set for oe fall. Joining us first, residing in Mobile, Alabama and weighing in at 235 pounds ...
KYLE GAUTIER!
An elegant Purple spotlight shines on the ramp as 'The Man' by the Killers blares. Kyle Gautier is standing at the top soaking in the raucous cheers. He slaps hands with anyone as he runs down to the ring. He slides under the bottom rope and goes to as many corners as he can to get ready.
Starr:
And the opponent, residing in Daly City, California and weighing in at 235 pounds he is the EWC Undisputed Champion. Ladies and gentlemen he is ...
KILLJOY ITO!
'The Prodigal Son' Buddy Love walks out onto the stage and raises his arms into the air as the lights fade out. He jumps up and down as 'Deeper Depper' begins to play. A strobe light circles around the stage as a single white spotlight hits the stage where Killjoy Ito is standing, his back facing the ring, his arms stretched out and his head down. He swings around to face the ring as Buddy Love runs up and stands next to him. After a quick word the pair start to walk towards the ring, Buddy runs ahead and charges up the steps and holds open the ropes for Killjoy to step through. Killjoy walks to the center of the ring, extends his arms and tilts his head back to soak everything in.
DING DING DING
Ito runs at Gautier who meets him with a dropkick. Gautier runs at Ito hitting a bulldog. Ito gets to his feet but walks into a DDT. Ito staggers to his feet but gets caught with a back elbow strike. As Ito clutches his nose, Gautier lifts him hitting a side suplex. He bridges it into a pin.
Ito rolls to his feet breaking the count before dropping on Gautier with a legrdop. Ito grabs Gautier and hits a falcon arrow. Ito grabs Gautier in a chinlock. Gautier manages to get to his feet and lifts Ito for another side suplex. Ito rolls over Gautier's shoulder and spins him round hitting Gautier with a last ride powerbomb into a sitout powerbomb. He places his feet on Gautier's shoulders as the referee counts.
Gautier smacks his feet against the side of Ito's head breaking the count.
Watson:
An authoritative kick out.
Sydney:
It needed to be against someone like Killjoy. But both will need something special to beat the other.
Ito gets to his feet and tries to lift Gautier. Instead, Gautier drops Ito to the canvas with an Alabama slam. Gautier climbs to the top turnbuckle and leaps at Ito hitting a tMc Club Initiation. He hooks the leg.
Ito rolls to his side breaking the count. Gautier gets to his feet screaming into the face of the referee. He turn to find Ito on his feet. Ito kicks Gautier in the gut and lifts him for a Screwdriver. Ito grabs the legs.
Gautier just manages to get a shoulder off the mat to break the count.
Watson:
How did the bell not ring? I'm pretty sure Gautier's head left a dent in the ring and yet he still kicked out!
Sydney:
The ego of Kyle Gautier refuses to stay down. He wants to say that HE can beat the Undisputed Champion.
Ito stands in the corner as Buddy Love yells instructions at him. Gautier gets to his knees. Ito runs hitting a Kettei-Da. He covers Gautier.
DING DING DING
Starr:
And your winner, via pinfall
KILLJOY ITO!
Buddy Love rolls into the ring and hands Ito the Undisputed Title. Love raises Ito's hand in victory as they stand over Gautier.
Watson: A dominant win for the Undisputed Champion here on Paramount. Buddy has been telling everyone that he is sick and tired of Killjoy being undervalued as Undisputed champion, and that win right there is a statement to just exactly how dangerous Ito is.
Sydney:
I take my hat off to Kyle Gautier though, His will to keep fighting had him going until Killjoy had to damn near knock him the hell out.
As Ito and Love head up the isle, Gautier slowly comes to. He slaps at the canvas in frustration as he realises why he hears Ito's music playing
Watson: We still have TWO championship fights to come tonight folks... DO NOT go anywhere!
---
---
---
EWC cameras cut to the backstage area where we find "The Miracle" Johnny Maelstrom, who tonight will be competing for the newly vacated CW Broadcast Championship against Shaker Jones. Johnny is dressed out in his gear and is just finishing up taping his hands. He uses his teeth to cut the roll of tape and then reaches over and throws it back into his bag. He then starts jumping up and down and stretching out as he warms up for what may just be one of the biggest matches of his career, coming up in just a few short moments! He stops and takes a moment to address the camera before heading to the curtain.
Maelstrom
: Over the past three months that I have been here in the EWC, I've saw a lot of things. I've dived in head first, stepping into the ring with some of the greatest professional wrestlers the world has ever or WILL ever see! And I've proven myself time and time again to not only be worthy of being here, but I've proven that I deserve a fair shot at EWC gold. Shaker Jones, I'm not about to underestimate you. You're one of the craziest bastards on the Paramount roster and you've shown time and time again what you'll do for a championship when it comes to you and that hardcore title, so don't think I'm coming in unprepared. Now unfortunately for you, this isn't your toy title belt and this ain't 24/7 where you can jump me outta nowhere like a coward. This is the CW championship, I'm "The Miracle", and in just a few shorts minutes you're going to come face to face, man to man and toe to toe in the ring with the next CW Broadcast Champion!
Maelstrom walks out of camera shot, a man on a mission as he begins his long march to the ring and the scene fades to black.
---
---

SINGLES MATCH
FOR THE CW BROADCAST CHAMPIONSHIP
Shaker Jones
VS "The Miracle" Johnny Maelstrom
We return to ringside where Tim Watson is ready to kick off the next match.
Watson: Well fans, we just saw Johnny Maelstrom backstage, he looks fired up and like a man on a mission! Since he came here to the EWC he may not be undefeated but he has consistently overperformed and impressed and when you do that, when you put it in the work this is where it leads you. To high profile, high stakes matches here in Paramount Wrestling and the EWC! Tonight, he'll be facing one of the most prolific stars in our hardcore division and a man with redemption on the brain in "The Canadian Badass" Shaker Jones, this crowd here in Canada looking to see one of their own get the biggest win of his career tonight.

Sydney: Keep in mind though Tim, This CW Broadcast championship is as of tonight the ONLY championship in the EWC that has never changed hands in a match! Both of the previous CW Broadcast champions have held the belt long enough to cash in and become the North American champion...That is a BIG set of shoes to fill for whomever walks out with this championship tonight. Let's get to it though, take it away Starr!!!


Starr: The following match is a singles match and IT IS FOR THE VACANT CW BROADCAST CHAMPIONSHIP! Joining us first, from INGLIS, MB, CANADA and now residing in BOSTON, MASSACHUSETTS, weighing in at 230 pounds ... "THE CANADIAN BADASS" SHAKER JONES!
Shaker comes through the crowd like Jon Moxley as Jackyl's "Locked and Loaded" plays over the arena PA system.
Starr: And his opponent, from THE PLEAIDES, weighing in at 210 pounds ... "THE MIRACLE" JOHNNY MAELSTROM!!
The lights in the arena dim as the crowd quietens in anticipation of who is about to step through the curtain, immediately erupting in cheers when they hear "My Name Is Human" by Highly Suspect hit the speaker system. Fog machines and blue, orange and white strobe lights are in overdrive as "The Miracle" Johnny Maelstrom steps through the curtains, waving through the smoke and placing his right hand over his eyes, mask covering his mouth and hoodie over his head. Scoping the crowd out as they show approval for The One and Only. He spans from left to right… up and down and then shows love right back, patting his heart, kissing his hand and then pointing out towards the sea of EWC fans in the area, sealing it off with a big thumbs up and a round of applause from him to the fans.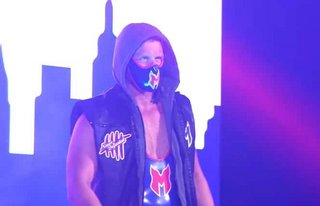 Johnny then makes his way down the ramp slowly and confidently, bumping fists with each fan that throws their hands out along the way. He reaches the ring steps and gingerly makes his way to the apron, wiping the bottom of his shoes on it. He looks back at the hard cam as the crowd on that side pops! Then he points in front of him, prompting a pop from that side! He raises his right hand up to his ear and the right side of the building responds followed finally by the left. Maelstrom steps into the ring as Highly Suspect continues to rock everyone's ears off and starts hitting the ropes! Back and forth, back and forth with speed and precision as the crowd follows along, building in steam as they cheer Maelstrom along. He finally stops, sliding on his knees to the very center of the ring as he takes his hoodie off, rips the mask off of his face and raises his arms high, his index fingers extended and pointing to the heavens as fans throw out blue, orange and white streamers everywhere, covering Johnny Maelstrom, the ring and everyone else in it!!
DING DING DING
With stakes this high and both men willing to do whatever it takes to claim that CW title as their own, they waste no time and both rush to the center of the ring where an all out brawl starts before the bell can even ring! The ref signals for the bell and Shaker Jones already has Maelstrom backed into a corner and is laying into his gut like a professional boxer into a body bag. He then steps back… and charges in with a beautiful Handspring Back Elbow! It looks like a tooth flew out of Maelstrom's mouth when that one landed! Shaker pulls him out of the corner and goes for Supa Dupa Kick… The Miracle ducks and lays Shaker Jones out with a kick of his own, hitting a perfectly aimed Superkick square in middle of The Canadian Badass's jaw!
Watson: MY GOD! You could hear the impact of that super kick clear to Saskatchewan!
Sydney: I think the mounties might need to investigate that as an international incident! I hope Shaker has a tough jaw!
Maelstrom quickly mounts the top rope and waits for Shaker to make it to his feet, the Canadian crowd cheering him on. As soon as he makes it to his feet, Johnny leaps off the top with a Missile Dropkick, but Shaker swats him off, Maelstrom instead landing straight on his face. The Miracle kips up and takes a charge towards Shaker, Shaker targeting the legs as he drops and takes Maelstrom down with a Drop Toe Hold. He quickly tries to lock in a Texas Cloverleaf but Maelstrom makes it to the ropes and the ref breaks it up. Maelstrom is back up and Shaker isn't giving up, he's trying to lock in the Anaconda Vice now… has he? He's got it! He now has The Miracle on the ground and the Anaconda Vice locked in tight, using his feet to push away from the ropes and maneuver Maelstrom to the center of the ring, it looks like it may be over! The ref is over Johnny, asking him if he wants to quit but he screams out, "NO, DAMMIT!!" in response. He then uses his free arm to punch Shaker Jones in the head, trying to force him to release. When that doesn't work, he takes to clawing his eyes out, forcing The Canadian Badass to release the hold!
Watson: Shaker Jones just THAT quickly able to inflict massive damage to his challenger. What a turn of events here tonight in this championship fight!
Sydney:
The willpower of both men on display here tonight as neither one wants to be the one to take the L.
Shaker Jones, now blinded gets to his feet holding his eyes in pain, feeling around with his hands to try to make out where he is in the ring. Meanwhile, Maelstrom is back to his feet and is on the attack with various kicks, bringing Shaker down to his knees! Seeing an opening, Johnny sets it up… AND HE LANDS THE OUT OF BODY EXPERIENCE! Maelstrom with the cover…
DING DING DING
Starr:
And your winner, via pinflal... AND NEW CW Broadcast Champion....
"THE MIRACLE"...JOHNNY MAELSTROM!
Maelstrom is on the mat, sucking wind like he can't catch his breath, his chest heaving up and down as Shaker Jones slowly rolls to the outside. "The Miracle" gets his arms raised by the referee as he is still laying on the mat.
Watson: What a brutal contest here from both men. Maelstrom had this match early but Shaker came right back and almost got the submission victory.
Sydney:
In the end though, it was the out of body experience that did it. Maelstrom was able to seal the victory out of the jaw of defeat there. Congrats to the new champ!
The Canadian fans are cheering as Maelstrom is able to open his eyes and finally realize that he won the match. He gets to his knees and is handed the CW Broadcast championship to a thunderous applause from the crowd here in Vancouver. He lays it on the mat in front of him, just staring for a moment before he bows down onto the mat to say "thank you" to everyone in attendance and to show respect for the championship. He looks up at the crowd as he grabs the title and puts it over his shoulder, tears almost forming in his eyes as the culmination of twenty plus years in this business has paid off for him... "The Miracle" is an EWC Champion.
Watson: What a moment and what a show of respect here by the NEW CW Broadcast champion. That belt has so much honor and prestige behind it. What comes next for it? Well we already know Maelstroms' first opponent at Paramount 20. He and Robbie Rayder have a full dance card that night. We still have the EWC World Tag Team Championship match to come... We'll be right back!
---
---
---
The camera cuts backstage inside the BC Place to Paramount's own Lisa Goldrush.
Goldrush:
Ladies and Gentlemen, please help me welcome The History Making…
From off camera we hear the voice of Bobby Rose…
Rose:
EH?!
Goldrush:
Record Breaking…
Again from off camera you can hear the voice of Jimmy Lane…
Lane:
EH?!
Lisa tries to hold back her smile as she continues…
Goldrush:
The TWO TIME EWC Tag Team Champions of the World…
Once again from off camera we hear the voice of Bunny Love…
Love:
And…eh?!
Goldrush:
AND THE 2021 EWC Manager of the Year Bunny Love, please welcome THE SOUTHERN EXPRESS!!!!
The camera pulls back to show Bobby, Jimmy and Bunny standing next to Lisa Goldrush and the Vancouver fans inside the BC Place jump to their feet and cheer as Bobby and Jimmy show off their Southern Express Farewell Tour Stop Vancouver, British Columbia, Canada t-shirts, the camera cut to the fans sitting ringside who are also wearing the t-shirt. The camera cuts back to Lisa with the trio.
Goldrush:
Tonight you two put the gold on the line once again against The Halo Syndicate…
Bobby smiles and puts his arm around Lisa.
Rose:
At Uprising Carrie…
Bobby pauses and looks at Jimmy and Bunny, who once again nod that he got the name right…
Rose:
Ok, just making sure…Carrie and Nina Samson won the right to challenge us for the EWC Tag Team Championships when they beat The Hawaiian Hunters…
Not wanting to be outdone or miss out on a chance to flirt with Lisa Goldrush, Jimmy Lane puts his arm around Lisa also.
Lane:
It was a hell of a win for the Halo Syndicate and they made good on the opportunity they missed out on earlier in the year when they lost to Sabotage at Prime #091…
Rose:
You see this is a theme with Carrie and Nina, they take one step forward and then three steps back right, they FINALLY get a win at WrestleFest…after losing their first 9 matches…and then fell flat on their faces at Prime #091 to those Hemorrhoids…
Lane:
They looked like they might go back to their losing ways after Brawl #579 but they bounced back and showed some life with they beat The Mechanical Animals at Prime #093…
Rose:
They then MADE HISTORY of their own by having a Winning Streak and won the #1 Contendership at Uprising and looked like they had turned over a new leaf and might just become a real threat to these Tag Team Championships and then…
Lane:
They decided when things were going THE BEST for them that it was time to shake it up, they decided to take a Tour of the EWC…with all the momentum they had gained they put it all at risk and…
Rose:
They lost it all…all the momentum they had gained…all the confidence they had gained…
Lane:
They went to Brawl and talked about how Gabi Visconty and Darna Dare weren't a real unit, they didn't have the history in the ring and yet they lost…they lost to two singles tossed together and then…
Rose:
Then faced off against two Bastards at Rampage #500 and once again failed to get a win on the eve of the BIGGEST match of their careers…they went from being on a TWO match winning streak…
Lane:
To walking into the BC Place on a TWO match losing streak…
Love:
BUT they are the official spokespeople of Halo Brand Oranges and Beats by Dre Headphones so at least they have that going for them…
Bobby and Jimmy shake their heads…
Rose:
Carrie and Nina don't understand that while yeah, it's nice to get those checks from Preparation H and being the faces for AARP these championships…
Bobby and Jimmy raise the EWC Tag Team Championships up into the air…
Lane:
Are better than any sponsorship…they mean you are the BEST tag team in the business today and Carrie and Nina don't seem able to understand the opportunity that's right in front of them…
Rose:
Because if they did they wouldn't be jet setting around on the eve of this match, they wouldn't have jetted off to Germany just days before they were fighting for the tag team championships here in Vancouver…they should have been here all week like us, getting ready for tonight but hell…what do we know…
Bobby shrugs and Jimmy shakes his head…
Love:
Tonight Bobby and Jimmy walk out to that ring hell bent on once again making history, to defend these championships for a SECOND time in this reign…a TWELFTH time in total…they are looking to extend this reign to day number 144, a Top Ten Championship Reign by the way…THIS is the most important thing in their careers right now and tonight you are going to get a first hand education in what it means AND what it takes to be the EWC Tag Team Champions of the World…
Bobby and Jimmy nod…
Rose:
Tonight we say goodbye to the great city of Vancouver…
Lane:
And we do so by giving them a championship defense that they can tell their kids about…
Bobby and Jimmy high five as they lean in and give Lisa a kiss on the cheek and then walk off camera…Lisa blushes as the camera cuts away…
---
---

TAG TEAM SHOWCASE
FOR THE EWC WORLD TAG TEAM CHAMPIONSHIPS
The Halo Syndicate
VS The Southern Express
We return to ringside where Matt Mercer stands by to officiate.
Watson:
Here we are folks! The Main Event of the evening. At Uprising, Carrie and Nina Samson won the right to challenge for the EWC World Tag Team Championship and they cash in tonight! But will they leave with the titles? Or the will the History Making, Record-breaking champions continue to break records and make history?! We are about to find out!
Starr:
The following match is for one fall, and is for the EWC Tag Team Championship! Joining us first, from Dallas, Texas, at a combined weight of two hundred and forty seven pounds ... Carrie and Nina Samson ...
THE HALO SYNDICATE!!!
The opening chords of "Want to Want Me" suddenly begins to play as purple, blue and yellow lights begin dancing around the arena. Carrie and Nina Samson step through the curtains with their blonde friend right beside them. The blonde walks halfway down the ramp, stops and turns to face Carrie and Nina while holding two very large cannons. Carrie and Nina walks towards her and proceeds to take each cannon into their hands. The sisters do a countdown then fires a bunch of confetti all over the crowd. Carrie and Nina bounce their way down the ramp as their friend slides into the ring. Nina high fives several audience members in the front row before hopping up onto the apron. Carrie does a lap before hopping up next to her sister. They both leap over the top rope, high five their friend before climbing up onto the turnbuckles. While standing there, their friend hands them both a small confetti cannon. All three ladies fire off their cannons then Nina and Carrie both connect with backflips off the turnbuckles.
Starr:
And their opponents!
The electric guitar kicks in to 'Stranglehold' as the crowd gets to their feet, some of the older females in the crowd start to scream like they did when they were younger as Bunny Love walks out onto the stage and is quickly followed by Bobby Rose and Jimmy Lane.
Starr:
Being accompanied to the ring by Bunny Love, from Nashville, Tennessee, they are the EWC Tag Team Champions of the World ... Bobby Rose and Jimmy Lane ...
THE SOUTHERN EXPRESS!!!
Bunny leads the way as the pair reach out and high five with the fans as the walk to the ring, Bunny marches up the steps and steps through the ropes as Bobby and Jimmy climb up onto the apron and step through the ropes, take off the titles and hands them to Bunny and head to opposite corners, Jimmy climbs up to the middle turnbuckle and Bobby stands in the corner as both men toss out bandannas to the crowd as Bunny stands in the middle of the ring holding up both tag team championship belts
Watson:
Could it be the third time lucky for the Halo Syndicate, or are the Southern Express just too damn good at what they've been doing for decades? Let's find out in our main event!
DING DING DING
Carrie Samson is already in the ring as Bobby and Jimmy toss a coin. Tired of their shit, Bunny jumps up, swats the coin out of the air, and bundles Jimmy through the ropes into the ring. He walks straight into a dropkick from the elder sister! Carrie lands tidily, rolls to her feet, and follows up with a couple of crisp arm-drags then an Irish whip that sends Jimmy off the ropes with a loud 'SLAP!' ... it's not a knee finally giving out, but Bobby tagging himself in!
Jimmy stumbles to a knee, and eats a Shining Wizard from Samson, but before she can make the pin Carrie is cut off by Bobby, eating a couple of chunky forearms then sent for a ride off the ropes herself. Bobby hits a big crossbody, and then both members of the Southern Express haul her upright. Jimmy directs traffic, hooking Carrie up for a suplex, and slowly bringing her up and over as Bobby scrambles onto the top rope, signals to the crowd - garnering a huge pop - and then soars out under the arena lights, twisting into a splash as Jimmy brings Carrie crashing down!
Matt Mercer attempts to gain control, and eject a member of SE, but Bobby already has Carrie Samson rolled up and Jimmy is turning his attention to the rapidly incoming Nina, who leaps the top rope in a bound and snaps a jab into the vet's chin as she lands! He stumbles back, as she tries to follow up with a left hook and flow into the Chrissy Shuffle, but the combination whiffs against air as Jimmy falls over his partner and witlessly breaks up the pin.
Nina looks confused for a moment before shrugging happily, pulling her sister to her feet and dusting her down. Carrie's eyes widen as she's taken from behind by Bobby! With a chop block, you perverts! Jimmy sorta-kinda kips up, clutching at his back, and hooks Nina up for a suplex. The prankster 'eeps', drives a knee into his midsection, slams a fist into his lower back, and reverses to pick him up and drop him across the top rope! Carrie rolls to her feet, brawling with Bobby, and both tumble out of the ring along with Jimmy, who bounces off in the tangled frenzy of bodies!
Watson: I must say this is a way more driven Halo Syndicate than I think we have seen recently here Cid!
Sydney: They better be, Tim! Tonight is not for pranks, it's about the Tag Team Championships and if the Halo's want to wear them they gotta EARN THAT SHIT!

Watson: Again, apologies to those watching on the CW. Please don't fine us!
Now along in the ring, Nina Samson catches herself on the ropes and draws in a couple of breaths, looking out to the crowd. Grinning as they respond with wild cheers - perhaps to her, perhaps to the absolute chaos now ensuing on the outside, perhaps both - she pauses, pulls an iPhone from her capris, and snaps a selfie. Carrie yells something at her that's deftly censored by the live broadcast team, and Nina sighs, rolling her eyes, before taking off toward the ropes...
The prankster leaps, flips off the ropes, and soars into a beautiful body press onto both members of Southern Express and her long-suffering sister! Nina stumbles against the barricade, pausing to take another selfie with the fans. Carrie is first to her feet, incensed but focused as she commands her sibling to help her. Both of them pick up Bobby Rose, and Carrie drops him with a side Russian leg sweep as Nina waffle him with a pump kick! Clown Mask Special! Bobby is down!
The Halos proceed to pick up Jimmy Lane, who already looks out of it, but comes ALIVE as Carrie attempts to scoop him into a powerbomb-- managing to flip up and SPIKE her with a frankensteiner on the outside! Jimmy looks shocked at his own maneuver, and the crowd obliges:
"HOLY SHIT! HOLY SHIT!"
Nina Samson ain't into that. She dashes in, grabs the wide-eyed old bastard by the head, and kicks acrobatically off the barricade to spin him around into the ring steps with a massive tornado DDT! Halo Control Station, into the steps! Jimmy is GUSHING!
"HALO SHIT! HALO SHIT!"
Watson:
MY GOD JIMMY LANE IS LEAKING LIKE A SIEVE!!!!!
Sydney:
Goddamn Nina! Now that is what I am talking about!!!!! Get 'it girl!
Bobby Rose staggers upright, sees his crimson-masked partner, and sees Nina Samson preparing to take yet another triumphant snapshot of herself. He sprints forward, uses the groggy Carrie Samson as a springboard, and hits a diving elbow to the back of Nina's head! She's sent sprawling, flying over Jimmy Lane and rolling head over heels into the announce desk as Bobby lands on one knee and catches her phone from the ear. Grinning lasciviously and tipping a wink to a big-busted fan, he shoves the iPhone down his trunks and leaves a present for his opponent.
The phone bounces off her head a moment later, as she tries to stand.
Meanwhile, Carrie has found vertical base and is rolling Jimmy into the ring, pretty sure he was the last legal man. Bobby dives to grab her leg as she rolls under the bottom rope, but she turns around and kicks him twice in the mouth, then slithers through. The bloodied Lane is up, and meets her with a drop toe hold, immediately driving her back into the canvas, then floating over to maintain a snug headlock. Matt Mercer nurses a headache, and starts yelling at Bobby to get back into the ring!
Carrie gets a foot onto the ropes, and the break is forced in the same moment that Rose slides on in. Lane has, by this point, gushed all over the elder Samson sister, both of them soaked in his blood as he lets her clamber to her feet and immediately decks her with an uppercut, then a hip toss that places her perfectly for a big flipping leg drop from a very fired-up Bobby!
Experience wins out. Jimmy DID remember who was legal, and Rose goes for the pin as he exits...
Watson: Maybe a little confusion there on the part of the Samsons.... but Jimmy Lane, crimson mask and all, almost won this bout!


Sydney: Perhaps the Halo Syndicate will learn from this... ALWAYS KNOW WHO'S LEGAL! It's important in wrestling AND at the bars when picking up partners folks!
Nina is too late to make the save, but Carrie kicks out under her own power, staring daggers at her own corner as her sister clambers up ready for a tag. She's leaning out, begging for it, as Bobby drags Carrie back toward the middle of the ring. Again she turns to boot the lecherous old man in the mouth, but this time it's to no avail - he leans back and her kick goes wide. Desperately she gets her arms up, pushes into a handstand, and catches Bobby with a headscissor takedown. He holds onto her leg ANYWAY, and she's forced to bend herself almost in half to drive him off with a couple of elbows, staggering to her feet tired and covered in Jimmy Lane's blood...
To immediately launch into a standing 450, the Lexi Splash! The crowd goes wild!
Carrie rebounds, clutching her ribs, gasping as she stumbles toward the corner and tags in Nina!
The prankster comes in a house of fire, doesn't even bother for the cover on Bobby - she just picks him up and drives him toward the outside of the ring with a spinning heel kick, then drives into a Chrissy Shuffle that lands flush, the final strike sending Rose back to the outside! Matt Mercer starts a count, as Jimmy ducks through the ropes and immediately eats a leaping hook kick. Nina lands in horse stance with a "Wa-TAAAAA!", pinwheels her arms and then lunges to catch the bloodied Lane with the Fairfield Exit! He's brought down right on his skull...
But he's not the legal man! Carrie is doing something about it, dropping down to the outside and hitting Bobby Rose with a flying forearm, before hooking him up to dump him backfirst onto the apron with a very tidy suplex. She cries out to her sister, and the two roll Rose into the ring together, where Nina scoops him up onto her shoulders and Carrie springboards in, the combo electric chair/blockbuster levelling Bobby out next to his partner! CRUSHING HALOS!
Despite all the punishment he's absorbed, BOBBY ROSE KICKS OUT!
Watson:
HOW?! HOW DID BOBBY ROSE KICK OUT?!
Sydney: He very well could be one hundred percent blacked out right now Tim. That could have been a non-conscious reaction based on decades in that ring.
They've had an astonishing reception from Vancouver, but with that turn of events it's the Southern Express who demand the lion's share of the crowd's attention as BC Place rallies behind them. Bobby struggles to all fours, eating stomps and kicks from both Samson sisters before Nina peels away to try and deal with Jimmy Lane. He's halfway to his feet when she meets him with a kick right to the jaw, which he ABSORBS, staggering around her and raking both hands down her back! She screams in pain, and he steps in with a kick to the gut, then launches her into a big ol' spinebuster, holding on to drag her upright and whip her into the corner.
Bobby is meanwhile locked up with Carrie Samson, who is fighting with the tenacity of a bulldog, attempting to counter-grapple the veteran into another pinning predicament! Meanwhile, Jimmy mounts the younger sister with punches, only to be shoved out of the corner. Nina scrambles out underneath his legs, catches the tied-up Rose with a swinging neckbreaker to extricate her sister, and the pair of them drive Jimmy Lane back into the corner before tagging off.
Nina takes a run-up and hits Jimmy Lane with a hesitation dropkick, before rolling out of the ring and dragging him with her. Carrie turns her attention to the legal man, lining him up for the Care Bear Solution as he staggers, dazed, to his feet. The 540 spin kick misses by inches, as Bobby weaves aside, shoulder checks her out of the air and reverses his own momentum into a superkick! Carrie stumbles against the ropes, eyes rolling upward from the force of the blow. Bobby marches into seize her arm and whip her across the ring--
--when Nina Samson slides back in! Her eyes are wide as she finds her opening, clearly confounded as to how best to win this thing... and then settles for pantsing Bobby Rose! Down go the man's trunks, and the broadcast team are forced to be on their A-Game once again, because of COURSE this man goes commando! As a blur of pixels outline Bobby's sweaty crotch, Nina rolls back out of the ring, and Carrie shakes herself alert, expression quickly twisting into horror. Rose does nothing to correct his wardrobe malfunction, spreading his arms and actually looking pretty pleased with the situation...
Until the elder Samson darts forward, bracing herself emotionally before hitting him with a roll-up!
Jimmy Lane slides back in, and breaks the pin by bundling Carrie halfway across the ring. She catches herself in a skid, straightens up and tries to make the tag to her sister. Her hand remains extended, as with a horrified, "EW! NO!" Nina Samson drops to ringside and gets as far from her sister's tainted hand as she possibly can. Carrie, betrayed, is abruptly seized by Jimmy Lane and spun around into the tombstone position. Lane steps into the middle of the ring, as Bobby Rose pulls up his pants and hops up onto the top rope, springboarding off--
To hit the
GOOD NIGHT, VANCOUVER!
BC Place
explodes
in appreciation for the retiring heroes as Carrie Samson is spiked headfirst into the piledriver, and flops uselessly onto the canvas. Jimmy Lane stands, posturing to the delirious crowd as Bobby rolls into the cover.
DING DING DING
Starr: And your winner, via pinfall, and STILL the EWC Tag Team Champions of the World ... THE SOUTHERN EXPRESS!
Jimmy Lane is still dripping blood, but grinning from ear-to-ear as he waves to each side of the crowd, and takes a bow in turn. Bobby Rose pulls Carrie Samson to her feet and, though she's still senseless, props her in the corner and shakes her hand emphatically before joining his partner in rolling out of the ring to do a brisk victory lap, scoring high-fives from several dozen fans as they sprint... well, jog... around the outside of the ring. Nina Samson has retreated as far as she possibly can against the barricade, and absolutely RECOILS as Bobby passes her by and tries to bait her into a high-five. Shuddering, she slides into the ring to help her sister out.
The crowd continues to go wild for the good ol' boys as the Southern Express complete their victory lap and wrap each other in a big, sweaty and bloody bearhug, before parting ways as Bobby Rose looks to finish some important business on the outside of the ring. Finding the busty beauty from earlier, he tips her a wink and then yanks her forward into a sloppy kiss as Vancouver explodes anew!
Watson: Can we... cut away from that? Please? Ahem. The Halo Syndicate left everything out there tonight, and showed us a little more of their opponents than we'd ideally like, Cid, but came out of this devoid of those title belts for the third time! We have to ask, what's it going to take to end this triumphant retirement tour, and where do the girls from Texas go from here?
Sydney: Hey, the Samson sisters should just be glad they got away without overt sexual harassment. Nina did her best to encourage Bobby! But you're right, they tried damn near everything but getting good and dirty, so that's your answer. Bend those rules until they break. You can get bet your ass the Southern Express would do the same in their Air Jordans! But for now, our tag straps remain right where they should be! It doesn't get any better than these boys!
Watson: What a night it has been folks. Two title matches, every champion on the Orange brand in attendance tonight and the Vancouver crowd was as hot as ever. Join us on May 25th as Paramount Wrestling invades jolly old London, England and Paramount 20 comes to you live from Wembley Stadium! For now though, I am Tim Watson for Cid Sydney saying good night and see you in London!
The last image of the night is that of a bloody Jimmy and Bobby, The EWC World Tag Team Championships both across their chest as they clutch the belts, walking backward up the ramp, their manager leading the way. Both men nod at the Samson sisters in the ring, acknowledging what might be their last encounter with the Samsons. the camera slowly fades to black.
---
..................................................................................................................

MATCH WRITERS
MATCH ONE
WRITER: @themiracle
MATCH TWO
WRITER:

James Keaton/Jocelyn Gage
MATCH THREE
WRITER:

FN'R
MATCH FOUR
WRITER:

EWC Staff Assistant: Em
MATCH FIVE
WRITER: @themiracle
MATCH SIX
WRITER:

Calamity Nguyen
..................................................................................................................
RECAP OF WINNERS
SINGLES MATCH
Adriana Aquilla Vs Robbie Rayder
WINNER: Robbie Rayder
...
TRIPLE THREAT MATCH X-DIVISION RULES
NON-TITLE
Jamie Love Vs Aiya(PINNED) Vs El Pablo
WINNER: El Pablo
...
SINGLES MATCH
5-TABLES MATCH
KU Vs Marcu$ $t. John
WINNER: KU
...
SINGLES MATCH
NON-TITLE
Kyle Gautier Vs Killjoy Ito
WINNER: Killjoy Ito
...
SINGLES MATCH
FOR THE CW BROADCAST CHAMPIONSHIP
Shaker Jones Vs Johnny Maelstrom
WINNER: And NEW CW Broadcast Champion: Johnny "The Miracle" Maelstrom
...
TAG TEAM SHOWCASE
FOR THE EWC WORLD TAG TEAM CHAMPIONSHIPS
The Halo Syndicate Vs The Southern Express
WINNERS: and STILL EWC World Tag Team Champions: The Southern Express
...
..............................................................................................................…
MVP OF THE NIGHT:

House Hunters

&

Ibuki Ito


MATCH OF THE NIGHT:

House Hunters

Vs

Marcu$ $t. John




© THE EXTREME WRESTLING CORPORATION 2022