Post by PARAMOUNT on Apr 26, 2023 21:13:53 GMT -6
The Extreme Wrestling Corporation Presents


** There's Going to be an UPRISING!!!! **

EPISODE #30
April 26TH, 2023
LIVE!
from the Albertson's Arena - Boise, Idaho
---
---
WARNING: This live event contains strong coarse language (L), and intense violence (V) which may be unsuitable for younger viewers. None of the matches you are about to watch have been predetermined. Only some of the thematic story-lines have been discussed beforehand. Accordingly, EWC and it's producers must insist that no one attempt to recreate or re-enact any match or activity performed in this live event.




---
---
"Superstar" by For Squirrels begins to blast over the arena speakers as our feed comes to life...
The scene immediately cuts to a pyro show erupting on the outside of the Albertson's Arena!
Then a cut to another, equally explosive show on the inside!


The fans packing the Albertson's Arena tonight all come to their feet. Further explosions rock the very foundation of the arena as a large video screen is lowered from the rafters, stopping 15 feet above the ring! Everyone in Boise knows that the self-proclaimed greatest show on Wednesday night is about to begin and they cheer accordingly! The heavy riffs from 'Superstar' continue to blare over the arena, setting the tone for what is to come later on this evening.




IT'S ALL I WANT, IT'S ALL I NEED

IT'S ALL I SEE, IT'S ALL I BREATHE

IT'S WHAT I AM, IT'S WHAT'S I KNOW

IT'S WHAT I FEEL, IT'S WHAT I BLEED!
On the X-Tron, this episode of Paramount Wrestling begins with its opening video montage detailing many of the historic events that have taken place in the five-year history of Future Stars of Wrestling, setting the tone for the history of the Orange brand. From past champions like Jason Anderson, Dixie Dubois, Amis Shelton, Magdalena Lockheart, and Otaki all standing underneath an old FSW logo to the more current Future Stars Champions like Xavier Reid, Cletus Franklin, Robina Hood, Robbie Rayder, Stitches, Candy, and Wes Walker tearing down that mold, showing the Paramount Wrestling Logo...


As more pyro goes off the Paramount Wrestling logo appears and flashes of the roster appear on the screen such as Ibuki Ito, "La Belicista" Isabella, "The Wicked" James Keaton, "The Beautiful Battleship" Sonya, Jadyn Keem, Marcu$ $t. John, Tanja Devereaux, The Kreel Masters, Shaker Jones, Adriana Aquilla, El Pablo, Emma Louise, 3Pac, Nika Kosov, Next Level and Sueñe El Molde. The final images shown are a montage of Narumi Tsutsumi from StrangleMania, One half of the current EWC World Tag Team Championship titles over her shoulder and the EWC Undisputed Championship around her waist, Xavier Reid with the EWC X-Division Championship over his shoulder, "Salvation" Salvador Serenity and the EWC North American championship high over his head, and "The Last Magician" Sally Talfourd proudly sporting the Apple TV + Broadcast Championship around her waist.
The camera pans around the loud and out of control audience. As the fireworks continue to explode, the fans chant and cheer! Cameras pan around the arena to catch some of the signage that many fans have brought to Albertson's Arena with them here tonight. The Paramount Wrestling fan-base is as adamant about having their voices heard now as ever:
"EL PABLO IS FOREVER OUR X-DIVISION CHAMPION!"
"THE REIGN OF THE ONIHIME HAS BEGUN!!"
"SALVATION WILL SAVE PARAMOUNT"
"WE WANT AN UPRISING!!!"


"GET WELL SOON M$J"
"PAR-A-MOUNT!!!"



"PARA-A-MOUNT!!!"



"PARA-A-MOUNT!!!"



"PAR-A-MOUNT!!!"
The lights come back to full and the fans offer one last rousing cheer at the opening festivities. Tonight's announcers are on standby and ready for the show to begin.
Watson:
Good evening and welcome to the 30th episode of Paramount Wrestling! We are coming to you live from Albertsons Arena in Boise Idaho. My name is Tim Watson and with my as always is Cid Sydney
Sydney:
It's great to be back with another episode of Paramount Wrestling! We're just one month out from UPRISING XXIII and the pressure is on! We're opening up tonight with TWO triple threat matches, where Paramount is looking to send these guys from Brawl back to Monday Nights where they belong!
Watson:
Don't forget our tag team showcases tonight, former EWC World Tag Team Champions Damage, Inc will go head to head with 3Pac who say it should've been them at StrangleMania instead of our new champs Bloody Sureiyāzu. And later on, it'll be King Flip teaming with Paramount's "Lo Dovino" Adriana Aquilla to take on the Next Level!
Sydney:
Flip better bring Addy to the next level, but before we get that deep tonight we're gonna see the ACE of Paramount Ibuki Ito one on one against Friday Night Rampage's Darna Dare. Ibuki is fresh off his win at StrangleMania against Ace King and you know he's going to look to make a statement here tonight.
Watson:
And who can forget, our NEW EWC North American champion Salvation, who bested Marcu$ $t. John at StrangleMania, will be in action tonight in a non-title match with "The Beautiful Battleship" Sonya, before we cap off the night with our Apple+ TV Broadcast Championship match! Sueñe El Molde looks to call the Magician's bluff in the main event!
Sydney:
We have all this and SO MUCH MORE! Our first match of the night will be coming up right after this quick message from EWCTV. Don't go anywhere .. Paramount Wrestling action -
---
Cid is cut off by the blaring sounds of Fort Minor's "Remember The Name" as the Albertson's Arena is on its feet for the pending arrival of Paramount General Manager Chris Brock!
Brock walks out onto the ramp in a button down shirt that is not totally buttoned up. He looks slightly disheveled as opposed to his normal put together self. He makes the walk down the isle as we cut to a wide shot of the crowd on hand in Boise.

Watson: Apparently paying our bills will wait, Chris Brock is coming to the ring!

Sydney: It better be good, I was in a groove there, Tim!

Brock makes his way to the ring and up the stairs where Isabella Starr hands him a microphone. Brock looks around the arena, taking in the adoration of the Paramount faithful before he wipes his feet on the apron and enters the ring. He gingerly wipes his left hand over his scarred neck as he gives the crowd a moment to calm down before he addresses the capacity arena.

Brock: I don't like to make a habit of coming out here and taking up time that should be given to the roster of this amazing show, so I am going to try and be quick so we can get to the action. I think the fans here in Boise deserve that!

The crowd pops for their hometown mention.

Brock: A lot went down at StrangleMania, We have a new EWC North American Champion! Give it up for Salvation! Hard fought match and victory!

The crowds cheers lightly at the mention of the top champion on Paramount.

Brock: The man he defeated went on to wrestle again later that night for the EWC Undisputed championship. In that match, Marcu$ $t. John was brutally injured at the hands of a man who thinks that he can come to Paramount whenever he pleases and just run amok to further his own agenda. So I want to clear the air on a few things tonight. First off, I have been in constant contact with Marcu$ $t. John since StrangleMania and his camp has informed me that King Flip completely ripped his pectoral muscle off of the bone and Marcu$ had to have emergency surgery to make sure that there was no risk of infection or further injury.

The arena goes almost silent at this news.

Brock: I know, not the best positive note to start the show on. Everyone in that locker room is hoping for a speedy recovery for The Young Mogul. I want to back up a bit though and explain how we got to that moment at StrangleMania. Last year, The Rumble, at Wembley stadium.... King Flip was attemting to end El Pablo's Record setting EWC X-Division title reign. On that match, The Bayou Queen Tanja Deveraux interfered in favor of El Pablo. Did it cost Flip the match? Not by a long shot, EP had the CHKs number that night from the opening bell... But it did make it that much more difficult for Flip to win.

Now if we are to believe Flip, he has insinuated that I sent Tanja out there to interfere and cement a win for Paramount... Which is the biggest crock of bullshit I have ever heard in my life!

Brock is getting fired up now as the fans cheer.

Brock: Tanja came to me AFTER that stunt and told me she wanted to be on Paramount. Not before. Paramount is the Pinnacle of Professional Wrestling and I don't have to go out and recruit people from other shows... They come to me! I am not Jim Connors, I have never and will never send someone out to attack someone else. So Flip, you can justify it however you want but you lost in England, you got your revenge and it just wasn't enough you psychopath.. So I hope you enjoyed it because a man who has nothing but the sky in front of him is now sidelined probably for the rest of the season because of your cowardly actions.

Brock lets there be a beat of silence before continuing.

Brock: This incident has obviously changed a lot of possibilities about EWC and Paramount, particularly because we have our Brand exclusive Pay Per View UPRISING XXIII coming up in about a month! So tonight, you are going to be seeing a lot of this face as I start to piece together what is going to be the best UPRISING show yet!

The crowd erupts in cheers as Brock lowers the mic and walks out of the ring.

Sydney: The boss has spoken, big things in store tonight folks. We will be right back after this!

The camera cuts to...
---
---
---
---
WHAT IS EWCTV?


All live EWC Pay-Per-View events (including StrangleMania, Night Of Champions, EWC Rumble & WrestleFest)
All day scheduled & live programming
Plus, hours and hours of on-demand content & never before seen behind-the-scenes footage!
Groundbreaking original series - See new episodes of BRAWL, RAMPAGE, PARAMOUNT WRESTLING, EWC PRIME and more
Live in-ring action, reality shows and documentaries
HOW TO ORDER
Get the award-winning EWC Network through your TV provider. Call your local TV Provider today to subscribe.
Only $7.95/month

WATCH ONLINE
If you are subscribed to EWC Network through your TV Provider you can now enjoy EWC Network on your:
PC, Laptop, Playstation, mobile app, or tablet.



EWCTV for only $7.95 USD per month
Along with being an EWCTV Subscriber, you get:
EVERY Pay-Per-View event included at no extra charge
15% off any and all EWC Merchandise from the EWC Store
20% off all tickets to LIVE EWC Shows
A free EWC Yearly Wall Calendar signed by the entire active EWC Roster
As an added bonus for all those currently subscribed including any new subscriptions
prior to midnight May 5th
Receive
a
FREE
copy of
STRANGLEMANIA XVIII
on
DVD and Blu-Ray combo when it's released later this year
+ free T-Shirt and Replica EWC North American Championship belt.
So act now if you aren't already subscribed to EWCTV
---
We come back from break to see Paramount interviewer Lisa Goldrush standing by with Nika Kosov.
Lisa:
Nika, you're set to compete in a triple threat match against Shaker and JoJo, or as you like to call him, cowboy. How are you feeling going into this match?
Nika:
Lisa, darling, I'm feeling absolutely fabulous! This is my chance to show the world what I'm made of and make a name for myself in the EWC.
Lisa: You're known for your success in MMA, how are you transitioning to wrestling?
Nika:
It's been a challenge, but I'm adapting quickly. I've made changes at Kosov Kourt, my gym, to cater to wrestling instead of MMA. And let me tell you, darling, it's been a hoot seeing my students try out some wrestling moves.
Lisa:
Speaking of your time here in EWC, it hasn't been the smoothest start for you. You've had a few setbacks and losses. How are you feeling heading into this match?
Nika:
Well, Lisa, let me tell you, it's been a bit of a bumpy ride. But, you know what they say, "when life gives you lemons, make vodka!"[/font]
Nika laughs as Lisa smiles.
Lisa:
I think you mean "when life gives you lemons, make lemonade."
Nika grins in response.
Nika:
Oh, right! My apologies, Lisa. I must have had too much of that Russian spirit before the interview. But let me tell you, I've been training hard at Kosov Kourt to get my head back in the game. We've made some changes to the gym to suit wrestling over MMA, and I feel more prepared than ever.
Lisa:
That's great to hear. And what about your opponents? What's your strategy going up against Shaker and cowboy?
Nika:
Well, Lisa, darling, Shaker is a powerhouse, but I can handle him. And cowboy, well, he's got some tricks up his sleeve and is a bit of a meany, but I've got a few of my own and I won't let a bully off lightly. It's going to be a showdown, but I'm confident I'll come out on top. But as you know, I like to call JoJo here the cowboy. He's a tough cookie, but I'm not afraid of a little rodeo. And Shaker, well, I hope he brings his A-game, or it'll be a very short shake.
Nika giggles and Lisa can't contain her own chuckle.
Lisa:
You're quite the character, Nika.
Nika:
Thank you, Lisa. I try my best to keep things fun and flirty. But make no mistake, I take competition seriously, and I'm ready to show everyone what I can do in that ring. And who knows, maybe I'll finally get EWC's name right this time!
Lisa:
You've made changes at Kosov Kourt to prepare for your shift from MMA to EWC wrestling, can you expand on what you have done?
Nika:
Well, Lisa, I've made quite a few changes at the gym. We've been focusing on more wrestling-specific training, things like grappling, submissions, and ring awareness. We've even installed a brand new ring at the gym to give my team and me a more authentic experience. We've changed the mats to be a bit softer, added some more flashy lights, and made sure our entrance music is on point. But seriously, we've also been focusing on different techniques and strategies that work better in wrestling than in MMA.
Nika pauses for a moment, her eyes lighting up with excitement.
Nika:
But I haven't completely abandoned my MMA roots, Lisa, I've been working hard to adapt my striking and ground game to fit the EWC style. And of course, I've been studying tapes of my opponents, especially that cowboy JoJo. I'm ready for anything he tries to throw at me in that ring.
Lisa:
It definitely sounds like you're bringing your A-game. Anything else you want to say to your fans before the big match?
Nika:
Just that I appreciate all the support I've been getting, and I hope to make you all proud. And cowboy, if you're listening, I'll see you in the ring, partner.
Nika walks away as we cut to...
---

TRIPLE THREAT MATCH
INTERBRAND INSANITY PART I
JoJo Rush
VS Nika Kosov
VS Shaker Jones
---
We kickoff the show with a Triple-Threat match between Paramount stars, Shaker Jones and Nika Kosov facing off against Brawl's JoJo Rush.
Watson:
Bold words from Nika Kosov, thanks Lisa! Now let's see if she can back them up.
Starr:
The following match is a Triple-Threat Joining us first, , from the Badlands, weighing in at 270 pounds, representing The House ...
JOJO RUSH!
JoJo approaches the stage and points a "Too Sweet" hand gesture toward the ring similar to a finger gun. When JoJo "fires", pyro explodes behind him around the Extreme-Tron. JoJo approaches the ring keeping his attention focused on the task at hand, ignoring jeers and boos. Once in the ring, JoJo stares directly at the hard cam and points a finger gun, and fires it once more.
Starr:
And his opponent, from the USA, weighing in at 145 pounds ...
NIKA KOSOV!
As the lights dim and the cheers of the crowd fill the air, as Nika's music fills the ears of everyone in attendance. The curtains part, and out steps the stunning Nika Kosov, her piercing blue eyes scanning the audience. She strides purposefully towards the ring, her movements graceful and fluid, as the crowd cheers her every step. With a flick of her wrist, she tosses her black and red jacket to the side, revealing the curves and toned muscles beneath her wrestling gear. As she climbs the steps and enters the ring, she flashes a confident smile, ready to unleash her years of military training and MMA expertise.
Starr: And their opponent, from Boston, weighing in at 230 pounds ...
SHAKER JONES!
Shaker's music hits, and spotlights go to the top of the arena stairs to reveal a determined Shaker Jones walking down to the ring.

DING DING DING
With all three competitors in the ring, the trio circle each other, looking for an opening to begin the match. Nika and Shaker stop and quickly look at each other give each other a nod before attacking JoJo Rush together. Shaker and Nika overwhelm JoJo with a flurry of punches and kicks. The two eventually work JoJo into a corner. Shaker holds JoJo in the corner with stiff shoulder blocks into the corner, which gives Nika enough room to strike overhead. But JoJo catches a blow from Nika and counters with a stiff headbutt, which staggers her to the ropes. To get Shaker off of him, JoJo grabs the top of Shaker's head and begins biting. When Shaker tries to fight back, JoJo shoves him off, causing Shaker to roll off his back and at his feet in front of JoJo who was now spitting out the blood he drew from the top of Shaker's skull. Shaker staggers back holding his head, which JoJo takes advantage of by taking Shaker down with a double leg takedown. He spins his finger in the air. Indicating that he's taking Shaker for an 8 Second Ride, but to JoJo's surprise, Nika leaps onto JoJo's back from the top rope! JoJo however stays on his feet, and takes Nika with Shaker on the big swing!
Watson:
A good game plan to start this off, but it looks like the wheels might be falling off for Shaker and Nika.
Sydney:
Where's the official?! Normally I'm all about a little foul play but not when it's BRAWL...
After the tenth spin, JoJo drops Nika and Shaker and stumbles into the ropes to get his balance back. Despite being able to stand up-right, JoJo bangs on his chest to challenge the two for more. Shaker accepts the invitation faster than Nika could and goes for a homerun swing with a Whipsmash clothesline from hell, but JoJo ducks it, Shaker bounces off the opposite set of ropes to go for attempt #2 but JoJo plants Shaker with a Rush-Buster! JoJo pops up from the move, feeling energized from landing the move flawlessly, but Nika rewards the Blackhat with a double-leg takedown and absolutely crushes JoJo with a series of stiff hammer strikes, a classic MMA Ground n' Pound! JoJo keeps his hands up to protect his head, but more than enough strikes are landing to cut up JoJo's cheek and brow with rough elbows. Precariously, JoJo turns his back to Nika and begins lifting himself up to his feet. Nika goes from striking to trying to hold in a sleeper hold, but the Blackhat gets to a standing base and squashes Nika against a corner turnbuckle which leaves her slouched and leaning against the turnbuckle. JoJo shushes the booing crowd and raises an open palm and clobbers Nika with a stiff chop heard across the entire arena. JoJo readies and cocks back another one, but before he can land the strike he looks to see Nika grinning and waiting for more of the strikes. Which stuns the Blackhat in place to grimace. Shaker takes the opening and rolls JoJo into a schoolboy pin!
TWO...
Nika makes the save!
Watson:
Nika Kosov breaks up the pin, and Shaker doesn't look happy about it Cid!
Sydney:
Typical Russians, invading where they don't belong.
Nika and Shaker jab fingers back and forth at one another while JoJo rolls on the floor to recover from the damage. The argument breaks down with Shaker pushing Nika with a hard shove. Nika takes offense and returns the push with a stiff strike, which only elicits strikes from Shaker in return. Shaker goes for a shaky overhead strike and misses. Nika takes hold of Shaker and goes for a Twist of Fate, Kourt Ordered! But Shaker pushes Nika off. When Nika turns back and goes for Shaker, Shaker himself goes for a cutter of his own, The 87! Nika is out cold and Shaker is feeling alive! He sets Nika up for a Navarro Death Roll, or as Shaker would call it, the Technodrome! But before Shaker can complete the move, he's stopped in his place with a belt-buckle assisted punch. With Shaker stunned, JoJo sprints to the ropes to pick up speed and level Shaker with a Bull-Rush Lariat! The move turns Shaker inside out. The Blackhat however, wasn't done. After kicking Nika out of the ring, JoJo takes hold of Shaker and sets him up for the House Special, an inverted standing Texas Cloverleaf! With no way to free himself, and Nika crawling up the apron to her feet, Shaker is forced to tap out!
DING DING DING
Starr:
And your winner, via submission,
JOJO RUSH
!
JoJo doesn't release the hold, he even adds a few twists before the referees finally free Shaker from JoJo's grip. The officials reluctantly raise JoJo's hand who raises a "Too Sweet" to the jeering crowd. After that, JoJo rolls out of the ring and snatches a replica X-Division Championship out of a fan's hand and raises up high shouting and jeering toward Xavier Reid.
Watson:
Shaker and Nika had a solid gameplan to work together against the bigger opponent, but a breakdown in communication was all JoJo needed to get back into the match with two really strong competitors.
Sydney:
Rush might have kept his winning streak alive, but Nika Kosov certainly had his number a number of times throughout the match, she only seems to improve each time we see her compete.
JoJo spits on the replica title before tossing it back at the fan. Rush ignores the booing crowd and hits one last "Too Sweet" before exiting the stage. Shaker and Nika sit up and are checked on by officials.
Watson:
Sit tight folks, we've got plenty more action where that came from! But first, a quick break sponsored by Apple TV+.
Camera cuts to our first commercial break of the evening.
---
---
"VIVA LA RAINBOWLUTION!!!"


'Party Hard' by Andrew WK hits the soundsystem as the stage and ringside area become bathed in flashing, flickering, brightly-coloured lighting right as we return from commercial break. As the main hook hits, El Pablo makes his way out through the curtain - however, this is not the jovial, hyperactive Technicolour Tecnico we've come to know and love, playing to the fans and chugging Skittles like a Steveweiser. Instead, he appears remarkably serious - sombre, even - as he slowly ambles his way down the ramp with little more than the occasional sheepish salute offered to the fans closest to the barricade as he passes.
Watson: A sight that's not been seen by an EWC audience for over five-hundred-and-sixty days: El Pablo without the X-Division Championship belt around his waist!
Sydney: He was the greatest to ever hold it, without a doubt - and he damn sure gave everything he had to try and keep that record reign going at StrangleMania XVIII - but, in the end, the curse of Xavier Reid struck once again!
Watson: Absolutely, and we now find ourselves in a new era of X-Division competition - although, of course, with a record six successful defences under his belt, Pablo may yet have a significant say in just how long this new era lasts!
As he reaches the apron, Pablo rolls seamlessly beneath the bottom rope and into the ring. Hopping back to his feet, he approaches one of the turnbuckles and, after a deep breath, hops up onto the second rope and tosses an assortment of Skittles packets from his pockets into the crowd, his masked face just about able to muster a smile before he hops back down to the canvas. As his music fades, Pablo calls for a microphone, with Isabella Starr duly obliging and tossing one in his direction. The Tecnico takes up position in the centre of the ring; his head bowed, fingertips fidgeting with the stick of the microphone as he attempts to gather his thoughts amid the backdrop of a swell of supportive chanting from the fans inside the Albertsons Arena.
PA-BLO!
PA-BLO!
PA-BLO!
PA-BLO!
PA-BLO!
El Pablo: You're too kind, Idaho.
The acknowledgement brings a cheer from the fans, as EP smiles again, lifting his head as he presses an open palm against the centre of his chest. He sighs.
El Pablo: Urghhhhh… I suppose we've gotta frickin' talk about it, huh? But, like, I dunno - I really don't want this to turn into a kind of 'intermission' of soul-searching and self-pity, you know? I don't wanna keep you guys too long, so I guess all I really wanna say is…Xavier…
The mention of El Pablo's brother's name draws a decidedly more mixed reaction from the Noise crowd, though Pablo promptly gestures for the more hostile sections of the audience to temper their disdain.
El Pablo: I may not have been in a position to literally place that belt upon your shoulder at StrangleMania XVIII…but I still meant what I said. Becoming a three-time X-Division Champion certainly cements your place in the conversation as one of the greatest in this division's history and, you know what? If it couldn't be Aiya that ended my reign…if it couldn't be King Flip…Scrappy Coco…this guy right here in the third row or, I guess, literally anybody else on the EWC roster…then I'm happy it was you.
EP chuckles, looking off to the side and making a throat-slitting gesture, perhaps in reference to the potential for an unfavourable reaction from his brother to that last remark. Dipping into his vest pocket, he pulls out a packet of Skittles that he promptly tears into, tossing a fistful of technicolour candy pieces into his mouth.
El Pablo: Now…all that said...I'm well aware that there's a particular burning question on the minds of everybody watching right now - least of all Xavier's; The question of exactly when El Pablo's gonna cash in his X-Division Championship rematch clause!
The crowd roars in approval, as the Tecnico nods his head.
Watson: A successful defence earns every champion that opportunity - and Pablo's got six of 'em to his name!
El Pablo: Yeah, you like that, huh? Well, I considered all the options - like, maybe we could do it on May 15th at Hardcore Revolution!
The crowd pops again at the suggestion.
El Pablo: Maybe we could do it on May 24th at Uprising XXIII!
The orange brand crowd, unsurprisingly, shows an even greater level of support for that one.
El Pablo: Hell, maybe we could even do it right here tonight!
The fans lose their ever-loving biscuits at that, although EP simply shrugs.
El Pablo: Well, I mean…we can't do it tonight. Honestly, I'm not even sure if Xavier's here…and, look, to be honest, the more that I thought about it, the more I came to realise that…I'm not sure I really wanna have that rematch.
Watson: What!?
Sydney: Is he serious!?
In a scene not often seen on an EWC screen, the crowd actually boos the Technicolour Tecnico!
El Pablo: I know, I know…
He holds his hands up in apologetic acknowledgement of the reception he's receiving.
El Pablo: …but, look; I meant what I said to Xavier about wanting to have things between he and I and our father patched back up - and, frankly, me immediately trying to tear the X-Division Championship back out of my brother's hands is certainly not the way to make that happen! Plus, I mean…I kinda did everything I set out to do the first time around, right? I almost doubled Harlow Kinsley's record for longest reign; I held that belt for longer than every single other champion in EWC history with the exception of Ace and '777'; and, sure, I could always try and shoot for that again but, honestly, I dunno if I have the energy to pick it up from day one again, y'know?
He shrugs, dipping into his pocket again to take another hit of Skittles.
El Pablo: So, if I'm not gonna do that…what am I gonna do instead? Where does the Rainbowlution go from here? Well…I may not have had the greatest start to the season so far, but I do have a victory over the new North American Champion to my name…
That suggestion seems to bring a section of the audience back inside - though the Tecnico appears unconvinced.
El Pablo: No, you know what? If we're shooting shots here, I'm shooting for the moon! Now, things may not have gone my way at WrestleFest XX - and, sure, if I was my brother, I could stand here and question whether the fine print of my winning the Insanity Cage mentioned anything about two other people sharing my shot - but the fact is, I almost gave my life that night to try and bring the Undisputed Championship back to Paramount…and, given that I've now cemented this brand's place on the podium of 'Longest Reigning Champions' for at least as long as Callie Clark and…I dunno, Moxie?...hold onto theirs, I'd like to think I'm still in a position for consideration of a shot at the Onihime.
Now the fans inside the Albertsons Arena are fully on board, salivating at the prospect of a potential clash between El Pablo and Narumi Tsutsumi.
Watson: Wow!
El Pablo: So, Chris Brock - if you're listening, which…I mean, it'd be weird if you weren't - just tell me what I need to do! Tell me who and how many people I need to beat, in what order and under what stipulations, to position the Rainbowlution at the gates of the Undisputed Championship…to finally give these fans that first ever one-on-one singles clash between arguably the two greatest EWC champions of the last few years! Tell me what I need to do…to face Narumi Tsutsumi.
EP dips into his pocket again, extending one fist toward the camera before drawing his other arm back as if extending a bow and arrow. After pausing for a second, he drives his arm forward, firing a fistful of Skittles towards the lens as a wry smirk spreads across his masked face.
El Pablo: Viva la Rainbowlution.
'Party Hard' returns to the
Soundsystem
as EP drops the mic and, fire
refueled
, tosses the remaining Skittles out into the crowd before hopping out of the ring through the ropes and taking his leave.
Watson: Well, not quite the announcement we were expecting from the former X-Division Champion but, an announcement all the same!
Sydney: He wants that Undisputed Championship…he feels he's still worthy of a shot at it…I guess now all eyes turn to Chris Brock to find out if and when and what he might have to do to get it!
The camera lingers on Pablo for a few moments longer as he makes his way up the ramp, before finally cutting to the show's next segment.
---
The camera cuts backstage where we find Bunny Love looking down at her phone. She is reading a text and smiles, her thumbs start going nuts as she starts to respond to the text but a man in an Apple TV+ polo slowly approaches her.
Apple TV+ Guy:
Excuse me, Miss Love…
Bunny looks up as the guy waves…
Apple TV+ Guy:
Hello there…I'm Mr. Gary Kavanagh, Vice President of Apple Marketing and Development…
Bunny looks at him and shrugs…
Kavanagh:
It's ok…I don't usually show up on the set of our shows but…
He looks around and smiles…
Kavanagh:
How could I pass up a chance to see how Paramount Wrestling works…it's really been amazing so far and I can't wait to watch our Apple TV+ Broadcast Championship match later tonight…
He smiles at her and gives her a thumbs up but Bunny hits send on her message and looks at Gary…
Love:
Listen, Mr. Kavanagh was it…
He nods and smiles at Bunny…
Love:
I'm glad you're having a nice night but I have…
Kavanagh:
I know, you are a busy manager and all but I need just one second of your time Miss Love…see, our staff has been watching the 'other' brands…you know, market research and all…plus it's nice to see how the other channels are doing things but…
He smirks as he looks at the Paramount banner…
Kavanagh:
We have noticed a very interesting thing of late…now, we all read The Wolfe Pack and know that Xavier Reid's contract is set to expire after Hardcore Revolution and we have seen Maria Love talking with Rampage's Grizzly Duggan, we saw Buddy Love prepping to talk to Prime's GM Jordan Sharpe…and we know Tommy is talking to Brawl but well…we want in the game Miss Love and seeing as you are his girlfriend we thought we'd come to you before you came to us…
Love:
I wasn't going to 'come to you'...listen, I'm not getting involved in Xavier's contract…I'm not going to mix business with pleasure…
But Gary Kavanagh just smiles at her…
Kavanagh:
But you have been Miss Love, we have been watching you very closely of late, you have been at Xavier's at StrangleMania and at Brawl #595…Bunny, you've been by his side all season, helping him, steering him…you have been his 'go to'...even more than your father…he trusts you, he listens to you…and we want in on the Xavier Reid sweepstakes and we want you to be our representative…we want you to help bring Xavier Reid to Paramount…
Bunny starts to say something but Mr. Kavanagh holds up his hand…
Kavanagh:
I know, you don't want to be involved but you've been spending so much time on a plane of late, bouncing all over the world…wouldn't it be nice to just travel with him…instead of traveling to him…
Mr. Kavanagh shrugs…
Kavanagh:
Just imagine Bunny, the two of you could fly on Apple's jet from show to show, staying at the nicest hotels…the penthouse…enjoying the same work schedule instead of killing yourself running from Paramount to Brawl…
Bunny looks at him, about to say something but the words don't come…
Kavanagh:
I know, that sounds nice right…and all you have to do is tell him that Paramount and Apple want to make him a serious offer to bring him here…with Bunny Love as one of his managers…just think about it ok…I'll be in tough…
Mr. Kavanagh gives her a thumbs up as he walks away…
---

TRIPLE THREAT MATCH
INTERBRAND INSANITY PART II
Chris Miller
VS Kolby Kreel
VS Tanja Devereaux
We return to ringside where a "PAR-A-MOUNT" chant has begin to pick up in the Albertsons Arena.
Watson:
An interesting development, who knows? Maybe the EWC X-Division champion comes home to Paramount, but one thing is for sure. These fans are itching for a win for the good guys tonight!
Starr:
The following match, set for one fall, is a Triple Threat Match! Joining us first, residing in The Core Spire and weighing in at 241 pounds...
KOLBY KREEL!
A twenty sided dice rolls across the EXT as "Wolf Totem" suddenly starts playing over the sound system. A man with a hooded cloak and a woman step out onto the stage. The woman is holding a book in her hand as he appears to have one hand open with the other closed. The moment "How Do you Want to do this" is said in the song, the man opens his hand as a twenty sided die appears in his hand. He holds it up as the woman starts chanting in a some language. The man let's out a chuckle before walking down the ramp as fire pops up along the ramp. He reaches the ring, rolls inside while staying in a kneeling position. He lowers his hood before tilting his head back up. A sly smirk appears on his face as he slithers to one of the corners and waits.


Pyros hit as Videos of bustling crowds of New Orleans appear on the tron as the dark and melodic tones of "Voodoo" by Godsmack blasts. Tanja comes out onto the top of the ramp in a style compared to Gail Kim during her early time in TNA before heading down the ramp with Celeste St. Laurent coming behind her to the ring as Tanja's black leather coat flows at her feet while the boos from the crowd fills the arena. She hisses at those at ringside while coming down to the ring
Starr:
And his opponents, first c
oming to the ring hailing from New Orleans, Louisiana and being accompanied to the ring by Celeste St. Laurent; she is the Bayou Witch,
TANJA DEVEREAUX!!!!!
Tanja walks up towards the ring and enters via under the bottom rope and jumps onto the middle turnbuckle. She poses as she does her usual taunt with a hand and arm in the air as "Voodoo" continues to play. Tanja steps off the turnbuckle as she removes the leather coat as "Voodoo" fades.
Starr:
And residing in Austria and weighing in at 227 pounds...
CHRIS MILLER!
"Disintegration - Celldweller" begins to play through the arena speakers, signifying the entrance of Chris Miller who comes out and kneels down to the song. When the first Disintegration is heard, he stands up on his feet and begins making his way to the ring. When he gets into the ring, he climbs up to the second turnbuckle and poses by flexing his muscles, as a rookie would. He jumps down from the second turnbuckle and crouches in his corner so that he can start the match.
DING DING DING
Miller runs at Kreel for a big boot but Kreel ducks and Tanja gets a face full of boot that knocks her out of the ring. Kreel smacks him on the back with a forearm that doubles Miller over. Miller continues with more forearms before grabbing Kreel for a suplex. Kreel reverses lifting Miller up for a suplex of his own. Miller slips off his shoulder landing on his feet. Miller pushes Kreel off the ropes for an O' Connor roll but Kreel grabs the ropes sending Miller rolling backward. Kreel turns to face him and walks into an exploder suplex by Miller. He makes a cover.
Kreel gets a shoulder off the mat to break the count. Tanja dives in at Miller as Kreel rolls outside to recover. Tanja puts the boots to Miller before pulling him to his feet. She whips Miller off the ropes but he reverses sending Tanja off the ropes. On her rebound, Tanja ducks a clothesline and cracks Miller on the side of the head with a roundhouse kick. Tanja runs off the ropes spinning Miller with a tornado DDT. Tanja runs at Miller hitting a rear view to the back of the neck. He falls back and Tanja covers him.
Kreel at pulls Tanja's ankle breaking the count. He pulls Tanja to her feet but drops her back to the mat with a swinging neckbreaker. Tanja gets to her feet but is knocked back down with a dropkick. Kreel pulls Tanja to her feet and whips her off the ropes. Kreel spins Tanja to the mat with a belly to belly suplex. He hooks the leg.
Miller dives in breaking the count.
Watson:
And Chris Miller saves not only Tanja Devereaux but also his own chances in this match!
Sydney:
That's the problem with matches like this. I do look forward to seeing how they overcome this however.
Miller lifts Tanja to her feet. She fights him off with forearms before whipping Miller off the ropes. He rebounds and ducks a clothesline before running off the opposite ropes and blasting Tanja with a Spear. He hooks the leg.
Kreel dives in breaking the count. Kreel hits Miller with right hands before Miller blocks one and hits Kreel with rights of his own and a boot to the gut. Miller grabs Kreel in a front facelock but Kreel lifts him and shoves him away. Miller runs at Kreel only for Kreel to grab him and pull him to the mat with a DnD Beyond. He rolls Miller over and makes a cover.
Tanja dives to break the count. Kreel is on his feet and he shoves Tanja. She fires back with a forearm to the jaw of Kreel before grabbing his arms and twisting him for a Hoodoo. She brings him crashing to the mat before making a cover.
Miller dives in breaking the count.
Watson:
My god! This match should have been over about four or five times!
Sydney:
If it goes on for the next few hours, I won't mind either. This is a great match!
Miller pulls Tanja to her feet. He smacks her with a forearm that spins her on her feet allowing him to lift her onto his shoulders. He drops her to the mat with Crescent Moon. He grabs the legs as the referee counts.
Kreel pulls Miller to his feet breaking the count. Kreel lifts Miller and slams him to the mat with a Welcome To The Jungle he places his feet on Miller's shoulders as the referee counts.
Tanja dives in breaking the count. She pulls Kreel to his feet and spins him around before dropping him down onto Miller with a Voodoo. She covers Miller.
DING DING DING
Starr:
And your winner, via pinfall
TANJA DEVEREAUX!
Tanja leaps to the middle turnbuckle and poses for her usual taunt of one arm in the air as she looks out on the cheering crowd.
Watson:
The definition of victory from the jaws of defeat here on Paramount. I thought it was all over for Tanja Devereaux after that Crescent Moon but Tanja came back and took the win.
Sydney:
She took the win but one on one, and this would have been a loss for her and a win For Chris Miller. Maybe even a win for Kolby Kreel. She was saved tonight and she will know it!
Watson: Who knows what kind of implications this match will have moving forward, but for now, we've got a special word coming to us from one of tonight's other victors, JoJo Rush.


---
Camera fades in on JoJo Rush sitting alone at a table with a pensive look on his face. Sad piano keys begin to play as Mark Paulson approaches with two different bottles of whiskey in each hand and asks.
Mark:
Hey JoJo, so I got the two types of whiskey you wanted and I'm gonna need to know which one you want more--
Sound fades out as the camera focuses on the House Enforcer. He stands up and pronounces.
JoJo then approaches Mark and kisses the tag team competitor on the top of his head before walking away. Leaving Mark holding both bottles and staring at JoJo confused and shouting
The preview package cuts to Brian Knight & Mark Paulson sitting down for an interview.
Brian:
JoJo really scares me.
Mark:
One day we were showing up to the House Gym to train, and JoJo was there and he was pulling the truck--
Brian:
Like-- the truck was strapped to JoJo. He was screaming the– entire time.
Mark: He already beat Xavier Reid within an inch of his life before. If he gets his hands on Xavier Reid in a title match? It's GGs no REs. Know what I'm saying?
The two men look away and scratch the back of their heads, clearly uncomfortable. Then a sharp cut to JoJo Rush doing exactly that, screaming in the parking lot while pulling his truck loaded down with extra weight. Next Level were out of focus, clearly looking on with fear and confusion before walking into the House Gym. The trailer then fades to the Gold Rush movie poster.
---
---
The camera cuts backstage inside the Albertsons Arena and inside The Love Club locker room where we find Deimos and 'Little' Danny huddled around a phone looking at the screen where we see 'Little' Danny's Burger King Manager Steve looking back at them.
Steve:
Listen guys, you got this, Malice and Mayhem don't stand a chance if you guys just follow the plan…
Deimos:
Yeah…the one where we use Danny here as a human punching bag…
'Little' Danny:
I can take it…remember the time I faced both Wildcats alone because you were detained at the airport…
Deimos waves him off…
Deimos:
That was bullshit, Cass Avery set me up because she was pissed that I added Nair to her shampoo and she had to sport a buzz cut for 'Hot Girl Summer'...
Steve just shakes his head, trying not to laugh…
'Little' Danny:
They way these two clowns walk around acting like we are a 'knock off version' of The Southern Express just because Bunny is our manager…shit, do we look like two handsome studs that can get laid anytime we want…
'Little' Danny looks at Deimos who shrugs…
Deimos:
Speak for yourself loser, I can get laid whenever I want bro…
But before anyone else can speak Bunny Love clears her throat behind them, causing them all to turn and look…
Love:
I beg to differ…Deimos, you couldn't get laid with a working credit card in a whore house…
Steve laughs as Bunny looks at the phone…
Love:
What the hell is this…Steve, 'Little' Danny has a show tonight and can't fill in for any of your idiot employees that called off…we are working a 'real' job here tonight…
But Deimos holds up his hands…
Deimos:
First off toots, Steve isn't calling Danny in to work…he, unlike you…is a manager that doesn't flake on his 'teammates'...while you were off running around Peru and Japan with my friend Xavier, we were back home being forgotten…training for this match on our own…
'Little' Danny:
Watching old matches of Damage Inc…
Deimos:
Being ignored by our manager…so Steve stepped in…
Steve waves to Bunny through the phone…
Steve:
I hope you don't mind Bunny, like you I have experience as a manager…
Love:
AS A BURGER KING MANAGER!!! NOT AS A DAMN WRESTLING MANAGER!!!
'Little' Danny:
He did come up with a pretty solid game plan…
'Little' Danny smiles as Steve nods…
Steve:
It's called…
But Bunny knocks the phone over…
Love:
ENOUGH!!! We are not taking the advice of a fast food manager over the advice of ME!!!
Deimos:
Sorry, we are taking his advice because YOU were MIA, so we are going to Steve's plan here tonight…we are going to go out to that ring and show those two idiots that we are more than just the replacement for your old tag team…
'Little' Danny:
They talk a tough game but the fact is they haven't been able to back that tough talk up this season…
Deimos:
ONE WIN…one and that was over two winless fucks…wow, big deal right…we have THREE WINS and one is over them…
'Little' Danny:
They want to say it 'wasn't a real loss' because we didn't pin them but the fact is our hands got raised and they started off the season 0-1 because of us…
Deimos:
They want to act all pissed off at us, well here is the truth. They aren't pissed at us, they are pissed at themselves…
'Little' Danny:
Because they FINALLY won the EWC Tag Team Championships and then pissed them away…their reign as champions was a joke…they never won a match as the champions, not one…
Deimos:
Sad right, to FINALLY make it to the top and then trip all over themselves and disgrace those championships…teams like The Bastards, The Southern Express, Rustin' Roulette, they beat SUPERSTARS while they were champions and Malice and Mayhem, they couldn't get a win over The Kruel Masters and us…
'Little' Danny:
Us, who are nothing more than idiot losers Southern Express knockoffs…
Deimos:
What's that say about them really…if we are half as bad as they say we are and they couldn't beat us…well…
'Little' Danny:
Then maybe they are the Damage Inc of old…the joke bottom dwells that all the other teams kicked around and laughed at…
Deimos:
Because we…
Deimos points at himself and then 'Little' Danny…
Deimos:
We are laughing at them…laughing our asses off at those two goons…
'Little' Danny:
Tonight we are going to go to that ring, beat Damage Inc with 'Doormat and Savior' and show all the EWC suits that the 3pAC is the next in line for those tag team championships…
From the turn over phone we here Steve's voice…
Steve:
I believe in you guys…
Love:
Guys…
But Deimos shakes his head…
Deimos:
No…we are going with Steve's plan…so you just watch and learn…
Deimos flips the phone over as he walks towards the door…'Little' Danny smiles at Bunny before nodding at Steve and following Deimos out the door leaving Bunny alone with Steve…
Steve:
So Bunny…while I have you here…I have a few ideas about Xavier's match against Moxie…
Bunny flips the phone back over and walks towards the door leaving Steve on the screen looking at a black screen on his end.
---
---

TAG TEAM SHOWCASE
Damage, Inc
VS 3Pac
---
We return to ringside where the crowd is buzzing, waiting on the next round of action.
Watson:
3Pac's management might look a little shaky, but they're confident! Let's see if their confidence is well placed.
Starr:
The following tag team match is set for one fall. Joining us first, at a combined weight of 400 pounds, Deimos & 'Little' Danny...
3PAC!
'My Hero' plays out as Deimos and 'Little' Danny walk out onto the stage holding up crowbars to some cheers. Behind them Bunny Love walks out as the two men drop to a knee and whisper back and forth about their game plan. Bunny taps them on the shoulders and the two mean stand up and they walk towards the ring. When they reach ringside they hand Bunny the crowbars and roll into the ring under the bottom rope.
Starr:
And the opponents, fighting out of the Fear Factory Dojo and weighing in at a combined 725 lbs, Malice and Mayhem...
DAMAGE INCORPORATED!
Pyro explodes across the stage. The light pulses like lightning and Lacey Savage appears wearing a skull bandanna that covers her lower face. When the lightning pulses again a thick smoke rolls in, and from the smoke come two huge figures dressed in matching leather jackets that reach all the way to their matching boots. The two men are wearing full face masks that look like skulls. Each skull face is partially covered by a bandanna, outlaw style. The two men flank Lacey and they all come to stand in the center of the stage.
Removing their masks the group marches in lock step down the ramp to the ring in the shadow of Bedlam Briggs, Lacey's personal security. Once between the ropes both Malice and Mayhem huddle up to go over their final game plan, each member sizing up their opponents and getting ready for a war. Briggs holds the ropes open for Lacey before the bell rings where she takes her place at ringside where she prepares to aid her team however she can while being shielded from harm at all times by the monstrous form of Bedlam.
DING DING DING
Danny and Mayhem start. Danny runs at Mayhem and rams a shoulder into his gut. He whips Mayhem off the ropes and chops him hard across the chest. Danny brings Mayhem to the mat with a Russian Leg Sweep. As Mayhem gets to his feet, Danny comes down on his back with an elbow drop. Danny pulls Mayhem to his feet and drops him to the mat with a suplex. Danny grabs Mayhem with a chinlock. He wrenches on it but Mayhem powers to his feet and drops Danny to the mat with a side suplex. Mayhem fires at Danny with a roundhouse kick that Danny ducks. Mayhem drops back smacking Danny with a Pele kick. He tags in Malice. Malice grabs Danny in a Full Nelson. Mayhem delivers a Superkick to to the face and Malice falls back into a Full Nelson Suplex. The referee counts.
Danny manages to roll to his side breaking the count. He dives and tags in Deimos. Malice runs at Danny but he sidesteps and Malice crashes into the corner. Danny runs at Malice hitting a Stinger splash. Deimos gets into the ring and he runs hitting a Stinger splash of his own he takes a few steps back and dives for another. Malice catches him in mid air. He steps out of the corner but Danny dives at the back of Malice's knees and Malice drops to the mat. Deimos lands atop and hooks the legs.
Malice lifts a shoulder high off the mat. Deimos unloads with a series of rights and lefts. Malice gets enough off the mat to lift Deimos with a backdrop that sends him crashing to the mat. Deimos gets to his feet and runs at Malice but instead he runs into a clothesline. Deimos gets to his feet as Malice runs hitting a spear. He hooks the leg.
Danny dives into the ring breaking the count. Malice gets to his feet his attentions on Danny who backs away through the ropes. Deimos rolls Malice in a
crucifix
. The referee counts.
Mayhem reaches into the ring and pulls Malice free.
Watson:
Both teams getting some near falls in the early goings of this one.
Sydney:
Getting near falls is easy. Getting the upper hand and keeping it, now that's a hard difficulty setting
Deimos gets to his feet and confronts Mayhem but eats a raised boot for his troubles before Mayhem officially tags in. Malice grabs Danny and bucklebombs him. Mayhem hits a running V-Trigger. Malice hits a running corner splash and throws Deimos out of the corner and into the path of a Spear by Mayhem who completes the full Shock and Awe attack. Mayhem covers.
Danny comes running into the ring and leaps at Mayhem almost tackling him off Deimos. Danny gets to his feet and gets clotheslined over the top rope by Malice. Deimos grabs Malice and lifts him over the top rope. Mayhem charges at Deimos but he lashes out with a kick to the knee that drops Mayhem his knees. Deimos smacks Mayhem with a superkick. Danny slides into the ring and smacks a superkick to the back of Mayhem's head. The Super Kick… Par-Tay continues until Mayhem drops to the mat. Deimos makes a cover.
From the outside of the ring, Malice pulls Deimos by the ankle to break the count.
Watson:
I thought that was it!
Sydney:
I thought it was all over after the spear! We were both wrong.
Danny runs into the ring and throws himself over the top rope at Malice crashing down on him with a cross body that sends both men rolling over the commentary table. Deimos stands in the ring watching the action on the outside. He doesn't see Mayhem roll him up in a School Boy
Deimos rolls to his feet breaking the count. Mayhem is on his and he runs at Deimos for a clothesline. Deimos ducks and Mayhem runs into the grasp of Danny who lifts him into position for a Pac Drop. Deimos makes the cover.
Malice slides into the ring but is stopped by a dropkick from Danny.
DING DING DING
Starr:
And your winner, via pinfall
3PAC!
Danny and Deimos leap to the turnbuckles to celebrate their victory while Bunny stands in the middle of the ring her arms raised in celebration.
Watson:
You can call it an upset if you wish but this is a big win for 3pAC!
Sydney:
All I know is how well they must have done to defeat Damage Inc. I got hit in the shoulder by Malice as they went clattering over our table. I think I've dislocated my shoulder
Watson:
We'll get the med staff to get a look at you, but first -
---
Chris Brock appears on the Extreme-Tron as the crowd cheers.

Brock: I told you that you would be seeing me throughout the night! Boise, tonight I correct a majoring wronging.

The camera cuts to a shot of the ring, where Danny and Demois as recovering with Bunny Love encouraging them. Malice and Mayhem are making their way up the ramp, watching the Tron.
Brock: That match we just saw? We should have seen it at StrangleMania. 3pac may be a new team, but there is no denying that Tag Team wrestling lives and breathes here on Paramount! So I can officially announce our fist match for UPRISING XXIII will be 3Pac

The crowd cheers a little bit.

Brock: Against the EWC World Tag Team Champions, "Headhuntress" Aiya and the Onihime herself, EWC Undisputed Champion Narumi Tsutsumi, better known as the tag team Bloody Sureiyāzu and it WILL be for the EWC World Tag Team Championships!!!!!!

The crowd erupts as we see Danny and Demois stop immediately and freeze... before they both start jumping up for joy

Brock: You earned it boys! make us proud in Tallahassee!

Watson: HOLY SHIT! Talk about an amazing opening salvo for UPRISING XXIII! The EWC World Tag Team Championships will be on the line! W ehave to go backstage now though as we are being told that something is happening back there.


---
The sound of high heels on concrete echoes through the back hallways of Albertsons Arena, the culprit off screen as the cameras instead catch the face of Lisa Goldrush. Her eyes widen, knuckles whitening around the microphone as she motions for the camera crew to follow her lead. She makes her way through the backstage area like a heat seeking missile, blowing by the younger talent in catering, the Gambit stars, and even Paramount senior referee Matt Mercer looks down the hallway just in case wherever Lisa's headed needs an extra set of hands to keep the peace. There's no melee in the hallways though, instead it's Paramount's most successful alum, the Queen herself, Melody Malone. She's flanked by Rory, walking through the halls as though she's as familiar with this
Podunk
arena in Idaho as she is the Cow Palace in Daly City.
The Queen pays her no mind, continuing on with an icy expression on her face beneath a pair of black and red rhinestone sunglasses. She's clearly still sour from her loss at
StrangleMania
, but she's not dressed for a fight tonight. Lisa keeps pace with Malone on the opposite side away from her security detail, trying to worm anything she can from the elite talent as she marches on.
Goldrush:
You're due in Amsterdam next week, why are you here in Boise?
Melody Malone:
I have business to take care of.
She's short in her answer, sunglasses raising up into her hair. Her stride doesn't slow before answering Lisa's unasked question.
Melody Malone:
I have messages that need sending, and while I could just as easily send Rory to deliver them for me, or send a tacky fruit arrangement… I'm a fan of doing business face to face. Once I get done here, I'll be on my way to the Netherlands to handle that business just like I do everything else. I'm not here to fight, clearly.
She looks down at herself, the skirt and suit jacket far more suited for a board room than the locker room. Rory stops walking as he seems confident they've reached their destination and Melody pauses, giving Lisa an expectant look..
Melody Malone:
You're dismissed now. This isn't an episode of Scorncenter you know.
Before Lisa can protest, a door along the hallway opens and Rachel pokes her head out from behind the door.
Rachel Howard:
Oh good, you're here! He's ready to see you now.
Melody looks to Rory before looking back to Lisa and giving her a little wave of her hand to shoo her away. Slipping the sunglasses back down onto her face, she squares her shoulders back and enters the room with Rory on her heels. Lisa looks at the door as it swings closed, the name plate on the door in bright orange before we head back ringside...
Chris Brock
---
---
The camera cuts backstage inside the Albertsons Arena where Paramount's Lisa Goldrush is standing by.
Goldrush:
Ladies and gentlemen, please help me welcome to Boise, 'The Prodigal Son' Buddy Love and Paramount's own…Ibuki Ito!!!
There are cheers out inside the arena as the camera pulls back to show both Buddy and Ibuki standing on either side of Lisa Goldrush…
Goldrush:
Gentlemen, let me be the first to congratulate you both on your StrangleMania win over the great Ace King…
Buddy jumps at the bait, pulling the microphone that Lisa is holding his way…
Love:
It was an impressive win wasn't it Lisa…our boy showed the EWC that he is one of its elite superstars and Paramount's 'ACE'. Now listen, we…we all feel terrible about what happened to Marcu$ $t. John and we wish him a speedy recovery and can't wait to welcome him back here to Paramount…but…
Buddy holds up a finger…
Love:
In the meantime Paramount is in need of a star…a hero…and who better than the man that beat Ace King at StrangleMania, the man that brought the Undisputed Championship back here to Paramount…the man that went to Brawl last week and went toe-to-toe with Brawl's International Champion and while that match ended in a draw…he showed King Flip what happens when you run amok here on Paramount…he showed Mr. Brock that he is the one he can count on when Paramount needs a star and he will do so again tonight when he faces the former US Champion Darna Dare…
Lisa pulls back the microphone and holds it closer to Ibuki…
Ito:
Darna Dare was once on the fast track on Rampage, she was the shining star that Rampage had hoped for, that could become the next 'big thing' on that brand but she's had a few setbacks, last year's BORT for one…that semi-final loss to Lavender…she lost more than just the US Championship that night, she lost her spot on the brand…Lavender went on to become the Undisputed Championship, she went on to Main Event WrestleFest along with El Pablo, Melody Malone and myself…she became the star Darna Dare was supposed to me…
Buddy nods in agreement…
Ito:
Well I am still the star Paramount believes in and tonight I'm going to go out there and take care of the former US Champion and make my statement…to show that I'm ready…
Goldrush:
Ready…ready for what Ibuki…
But Buddy once again grabs the microphone and pulls it in his direction…
Love:
The North American Championship Lisa…Ibuki Ito is ready to accept his place here in Paramount as its top champion…to be the man that leads this promotion from the front…he's ready to challenge the champion…
Buddy smiles as Lisa looks at Ibuki…
Ito:
I'm guessing that the North American Championship will be defended at Uprising and I'm putting my name into consideration…right after I go out there and beat the former US Champion…I'm going to make my case by beating Darna Dare that I am ready to challenge for our top championship here on Paramount…that I'm ready to be 'The Ace' this brand needs…that this brand deserves…
Love:
Mr. Brock, consider tonight our audition…we will take out Darna Dare and punish her for her shenanigans the last time she graced our ring…we will handle this problem for you Mr. Brock and we hope you consider Ibuki when the time comes…
Buddy gives the camera a wink as the camera fades out.
---

SINGLES MATCH
INTERBRAND INSANITY PART III
Darna Dare
VS Ibuki Ito
---
We return to ringside where we're gearing up for our next bout.
Watson:
Ibuki Ito is throwing his name in for a shot at the North American championship! You've gotta believe a win tonight over Darna Dare would fast track him to his shot at gold come Uprising.
Starr:
The following contest is a singles match scheduled for one fall. Joining us first,
from Sugbu, Phillippines, weighing in at 113 pounds ... The Exorcist
DARNA DARE!
Coils of thick, gray smoke drift across the stage, carrying in their midst the ethereal, ghostlike form of Darna Dare. As the beat drops, she twirls into an emphatic pirouette, her bare foot scything through the air as she follows its arc into a tumble, landing in a three-point crouch with her jaw raised and gaze trained upon the ring. She straightens with a fierce urgency, The Apple TV + Broadcast Championship around her waist, bold steps carrying her forward with arms swinging and skirts swishing. At the base of the ramp she handsprings onto the apron and arches over the ropes, twisting her frame to land balanced on her hands upon the turnbuckle, spine curved dramatically and one leg extended, toes pointed out into the crowd. She holds her signature pose with a determined glare, then spins into a second tumble, plunging into a casual, bounding skip, arms loose at her sides and a devilish grin gracing her lips. As she hands the Apple TV + Broadcast championship to the referee, he quickly hands it off to security, who rushes it backstage as Darna hisses at them.
Watson: FINALLY! The Apple TV + Broadcast Championship belt can go back to the REAL champion.
Starr: And her opponent, accompanied to the ring by his manager Buddy Love, from Daly City, California, weighing in at 235 pounds ... The Ace of Paramount IBUKIII ITOOO!
'The Prodigal Son' Buddy Love walks out onto the stage and raises his arms into the air as the lights fade out. He jumps up and down as 'Deeper Depper' begins to play. A strobe light circles around the stage as a single white spotlight hits the stage where Ibuki is standing, his back facing the ring, his arms stretched out and his head down. He swings around to face the ring as Buddy Love runs up and stands next to him. After a quick word the pair start to walk towards the ring, Buddy runs ahead and charges up the steps and holds open the ropes for Killjoy to step through. Ibuki walks to the center of the ring, extends his arms and tilts his head back to soak everything in.
DING DING DING
Darna leaps into a headbutt right out of the gate. Ito can't even react, merely stumbling backward into the corner. Dare relentlessly follows with three more headbutts, the unsettling sound of cracking watermelon not far off from what echoes through the audibly wincing crowd response. The Exorcist screeches out as she leaps to the second rope to trap Ito. Buddy jumps to the ring apron and takes a stumble right back off after a wicked Darna Dare backhand. She returns to Ito and finds him immediately fired up. Ibuki rapidly replies with a collection of right forearms until he can shove Darna to the canvas. Dare rolls to her feet and Ito hops to the second turnbuckle. Beautiful missile dropkick sends Darna Dare completely out of the ring. Ito bounds to his feet with ease, taking only a second to look down toward Buddy Love, then makes chase toward his opponent of the evening. Darna and Ibuki meet on their feet on the outside with each getting a few blows in before it's clear Ito retains control. He grapples around behind her. Bridging tiger suplex to perfection right into the Spanish announce team. The referee rushes down and it isn't long before a few medical personnel start rushing down to attend to Pablo and Francisco as the action continues. Darna and Ibuki both showing signs of a painful exchange with neither showing much the better for it, they both stumble toward the ring as the referee gets to five out of a ten count.
Watson:
Darna Dare heard Ibuki Ito loud and clear coming into tonight!
Sydney:
Neither of them have ever given their opponents an inch in the ring, tonight is no different.
They stand almost in unison as Ito and Dare slide into the ring from opposite ends of the same corner. Ito ducks a wild spin kick and rolls underneath Darna when she completely backflips to attempt another brutal strike with her leg. She lands defensively and takes a single step backward before having to juke away from a kick of Ito's design. She ducks the clothesline attempt Ito follows with and bounds off the ropes. Dropkick! Ibuki plants Dare to the canvas, landing on one knee in perfect position for a quick pin attempt.
Dare with the kickout before three. Ito tries to keep the pressure, lifting Darna as he himself also stands. Small package from Darna!
Ito kicks out in the nick of time and shuffles back, a little alarmed by his opponent's sudden reversal. They're both vertical once again lunge into a grapple. Ibuki snaps Darna up. Suplex into a neckbreaker over the knee sends Darna right back down. Ito lifts the legs again.
Darna Dare kicks out, this time much closer to the third count then before. Ito slaps the mat in frustration. Buddy Love snaps him out of it, however, with a few quick words to remind him of his goal. Ibuki positions himself to stalk Darna but she still ducks under the
Konbanwa,
Ito's signature elbow to the back of the head.
SOUL-TEARING FANG!
Darna counters with a DEVASTATING triple-spun backfist from her previously kneeling position and Boise doesn't know what to think. Dare's arm seems to take the life of a snake, slithering and biting at the referee, then Buddy Love, then wildly about for a few more seconds after that. When The Exorcist finally gets a hold of herself again she runs full sprint across the ring with a hop over the slumped Ito.
MONKEY-EATING EAGLE SPLASH!
BUT NO. Darna takes to the sky, capturing many in wonderment of the moment, but not Ibuki Ito in the finality of the splash. Dare bounces off the canvas after Ito quickly evades what would've been a second consecutive signature move.
Watson:
Darna Dare is creeping me out just a little... but Ibuki Ito manages to avoid catastrophe.
Sydney:
The Ace of Paramount is on his feet, INCOMING!
KUSHU!
Ito set himself up perfectly, rolling just to the ring apron and pulling himself up in time. The signature springboard forearm smashes Dare right back down to the canvas before she can so much as stand up straight. Ito feels a certain adrenaline pulling him through the final stretch of the match as the fans finally begin to rally behind him. He stalks Dare much the same as last time, only this time the target is struck true.
KONBANWA!
Idaho potatoes as Ito racks Dare with the signature elbow oops upside her head. Ito clutches his elbow as he drops to one knee before her, taking in a breath before standing back up. Buddy Love is up and squealing like Paul Heyman. Ito nods as another suggestion is given from ringside. Dare tries to push away but simply can't fend it off anymore.
RONGUGUDDONAITO!
Ito forces his submission finisher, locking in the rear naked choke with an unmatched intensity. Dare tries and tries as she might it goes to no avail. She attempts for rope breaks but can't get a single appendage on or near the bottom rope. Centimeters away yet she struggles on, as if her arm could grow, until she slowly fades out. The referee lifts her arm and lets go to a very limp thud. He immediately calls for the bell.
DING DING DING
Starr:
And your winner, via submission
IBUKI ITO!
Ibuki gets to his feet, looking down at Darna Dare who is still, mercifully, out on the mat as the official goes to check in on her. Buddy Love gets into the ring, putting Ibuki between himself and the still fallen Dare juuuuuust in case as he raises the Ace's arm in the air.
Watson:
A hard fought and absolutely vicious effort from both competitors. If Ibuki had been just a hair slower avoiding that splash from Darna, this night would've had a very different outcome.
Sydney:
There's a time and a place, but not at the expense of the ACE. And with that win in his back pocket, Chris Brock's gonna have some pressure on him to make a call and fast.
As Ibuki and Buddy Love make their exit, Darna Dare slowly begins to come to in the ring, She sputters, an unnerving laugh erupting from her throat as she sits upright, throwing her head back in glee as she groggily gets to her feet under her own power.

---
Once again the GM of Paramount is seen on the Extreme-Tron.
Brock
: Sorry, I had to meet with someone and had to go, but I'm back!
Their is an audible laugh from the crowd.
Brock
: Ibuki Ito! Great victory tonight against a very formable foe in Darna Dare. Now that the real Apple TV + Championship belt is back where it belongs, its on to better and bigger business. Ibuki, you have shown time and time again why you are not only the ACE of Paramount, but arguably the ACE of all of EWC! I think it's high beyond time that you are given an opportunity to truly represent Paramount Wrestling... So the SECOND match that I am making official for UPRISING XXIII is going to be Ibuki Ito... versus "Salvation" Salvador Serenity for the EWC North American Championship!
The crowd absolutely erupts and a chant of
"YOU DESERVE IT"
begins.
Brock:
This match is sure to be an absolute classic and it will be the MAIN EVENT of UPRISING XXIII!!!!


The Extreme-Tron goes dark again.

Watson:
MAJOR NEWS from Chris Brock tonight, as we now know our MAIN EVENT for UPRISING XXIII live from Tallahassee, FL next
month!. Coming
up next, we've got a non-title exhibition between Salvation and Sonya, stick around Paramount fans through this commercial break.
Camera cuts to a commercial break for UPRISING XXIII, live on PPV May 24th!
---
---
The camera finds Lisa Goldrush backstage outside of the Shinijoshi locker room, who smiles when her surprise guest on Paramount Narumi Tsutsumi walks into the frame wearing her prizes around her body, the Prime Minister Necklace at the neck, her half of the Tag Team Championships at the right shoulder, and the Undisputed Championship centered at the waist.

Goldrush:
Ladies and gentlemen we have a rare treat on Paramount, a sudden interview from the Legends of the Ring tournament winner, the EWC World Tag Team and sole EWC Undisputed Champion, Narumi Tsutsumi! All the way from Prime! Narumi, it's not every day we can get you with a one-on-one these days, what has brought this about?
Narumi's face is more business than her usual fun demeanor, signifying the subject matter is more serious.
Narumi:
Now that I'm a quad champion, twice over in fact, people might find me wrestling and speaking on other brands spontaneously more often. Now as for today many of the Shinijoshi are focusing on the matches they still have to wrestle in for this cycle of shows, so I felt I should take some time on my own to address what I haven't been able to with my recent busy schedule. And before 3pAC and my other contenders in tag team and singles competition on this show start crying foul due to what I will say next, yes I am also scouting and paying attention to you too. But luck would have it that the EWC stars align with the fact that the show after Prime is Paramount, home of the recently taken-out-of-action mogul Marcu$ $t John.
Goldrush's expression turns solemn at the mention of Paramount's young star who was injured in Narumi's match at StrangleMania.
Narumi:
I won't pretend that these affairs between Paramount, Brawl, Tanja, Darna, and Flip are my business. Nor will I judge who is right and wrong in these antics. But Marcu$? He and I had mutual respect. He was someone who loved Paramount as much as I love Prime. He was one of the top people I was competing with to prove who'd be the new star who'd cause a seismic shift by taking this championship off the old guard who for years had paved the trail for the generation I now lead. I was even hoping I might even see him across the ring one on one on Prime vs Paramount heading into Parabellum. What happened to him was a crime! And this isn't me saying I'll avenge him because, deep in my heart, I believe he shall return someday and avenge himself! Just like I believe Paramount will be okay, as people like Ito, Sonya, and Sally Talfourd will hold down the fort by being the spectacular performers they are! Part of me just wanted to give my words of support to this brand since I was at the scene of the crime and am EWC Undisputed Champion.
Goldrush:
Thank you, Narumi. His injury was felt tragically throughout all of Paramount.
Narumi nods.
Narumi:
Being part of the StrangleMania match is only part of why I felt the need to address this. Now obviously an oni is no saint, I saw the broken body of Marcu$ and with Malone still locked in my Rappu I slid onto Marcu$ to make sure I won the greatest prize in all of professional wrestling. But purposely injuring the competition to get ahead as Flip did isn't what this business is supposed to be about. As two of the best talents in the world, who knows why Flip, let alone Stitches, felt the need to sink this low. Perhaps they've gotten desperate due to how long Brawl hasn't had what I have. Regardless, I would like Paramount to know this, I'm aware that Stitches and King Flip in their depravity think that they'll be taking all the gold I have next long before Marcu$ returns to deliver justice to them.
Narumi shakes her head and then looks at the camera.
Narumi:
I want all of the Paramount community to rest easy, while you await Marcu$ and the best Paramount stars to provide justice, I will never allow Stitches and Flip to prosper in their twisted pursuit to reach the top of the EWC! They will have neither Bloody Sureiyàzu's World Tag Team Championships nor my Undisputed Championship! For I faced the most diabolical figures in EWC history, and have and will continue to prove that the Onihime can overcome any hell lesser demons bring! Watch me.
Narumi gives a stern protective expression to deliver assurance to the EWC universe that the gold will remain safe from the vile plans of the Carnival Clown and the cold-hearted one. She then gives Goldrush a respectful nod and makes her leave.
---

SINGLES MATCH
NON-TITLE
"The Beautiful Battleship" Sonya
VS "Salvation" Salvador Serenity
---
We return to ringside where the Idaho fans are eagerly awaiting our next matchup.
Watson:
Undisputed Champion Narumi Tsutsumi in the house tonight, and just like her, all of us at Paramount want to wish Marcu$ $t John a speedy recovery. But now, we turn our attention to the man who beat Marcu$ for the North American championship at Stranglemania before the Onihime got to him, Salvation and another member of the Shinijoshi - Sonya!
Starr:
The following match is set for one fall. Joining us first residing in Honolulu, Hawaii and weighing in at 150 pounds... "The Beautiful Battleship"...
SONYA!
As the first few notes of "Rusalka" play over the loudspeakers, Sonya stands just a few feet away from the entrance way, the cameras picking up her peaceful expression and smile. The song kicks into high gear and she makes her way to the ring with determined eyes and calm demeanor, stepping into the ring and performing her signature pose in the corner.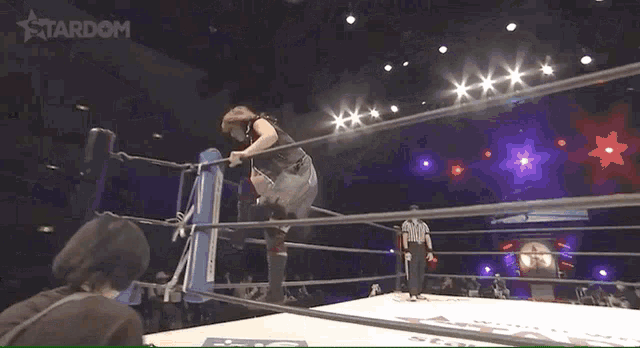 Starr:
And the opponent, residing in the Mystic River and weighing in at 285 pounds...
SALVATION!
Falling Away from Me by Korn erupts throughout the speakers as Salvation walks onto the stage. Salvation smiles wide, waving to the crowd as he makes his way out. Stopping halfway onto the stage, and turning, pointing with his Walking stick to Sienna Wolf making her way onto the stage. Salvation turns back to the fans throwing "Spock Signs" to the crowd with one hand, raising his walking stick with the other, then starts to jog down the aisle, high-fiving fans. Sienna follows down the ramp, also exchanging high fives and fist bumps along the barricade then stops at the ring. Salvation makes a loop around the ring, exchanging fist bumps and high-fives before sliding under the ropes and into the ring. He bounces off the ropes and few times before heading to his corner, handing over his walking stick to Sienna Wolf, then starts stretching.
DING DING DING
Sonya runs at Salvation but he takes her down with a sideslam. Salvation gets to his feet. He grabs Sonya for a headlock. She pushes Salvation off the ropes he rebounds and knocks Sonya to the mat with a shoulder block. He runs off another rope and again knocks Sonya down with a shoulder block. A third one Sonya attempts to leapfrog but Salvation catches her in mid air. He grabs her arm and throws her over his head hitting a suplex. He makes a cover.
Sonya gets a shoulder high off the mat to break the count. Salvation grabs it and applies an armbar. Sonya rolls her way free and into a single arm DDT that drives Salvation into the mat. He gets to his feet as Sonya runs looking for a lariat. Salvation ducks it but Sonya cracks him across the chest with a knife edge chop. Sonya grabs Salvation for a German Suplex. He lashes out with a back elbow to counter. Sonya ducks the elbow and lifts Salvation hitting an inverted atomic drop. Sony a runs off the ropes hitting a running lariat. She makes a cover.
Salvation lifts a shoulder off the mat to break the count.
Watson:
I don't know how he kicked out of that! She waffled him with that!
Sydney:
Because he's made of stronger stuff. In EWC you need to be.
Sonya lifts Salvation off the mat but he hits out with right hands and forearms to Sonya's midsection. Salvation is on his feet and hits Sonya with a forearm to the jaw. Sonya ducks a second forearm and heaves Salvation up and over with an Everest German. She bridges into a pin.
Salvation manages to roll his way free breaking the count. Sonya pulls Salvation to his feet and cracks him with a couple of forearms that send him staggering backward. He turns and charges at Sonya blasting her with a Spear. He then springs from the middle rope hitting the full Phasing. He hooks the leg.
Sonya rolls to the side breaking the count.
Watson:
Such quick offence and so close to a win!
Sydney:
Sonya did well to kick out! Both still in this one!
Salvation lifts Sonya to her feet and hits two raised knees to the gut. Salvation grabs Sonya's arm and pulls her to the mat with a single arm DDT. Salvation pulls at the arm transitioning into a Fujiwara armbar. Salvation reaches for Sonya's other arm looking to apply a Foxhole. Sonya powers to her feet and spins Salvation. She drives him to the mat with a Ruby Buster. She hooks the leg.
DING DING DING
Starr:
And your winner, via pinfall
SONYA!
Sonya climbs to the middle turnbuckle. She looks out onto the cheering crowd before performing her signature pose.
Watson:
I thought it was all over for Sonya here tonight but somehow, SOMEHOW she pulled it off and took the win here tonight!
Sydney:
I still believe that this would have been a win for Salvation had he applied the Foxhole. He did everything else right!
Watson: Sonya wants to see her name in lights, getting a win over the North American champion is a great start to it. But for now, a win is a win. Now let's head backstage to meet up with Paramount's own.. Lisa Goldrush.


---
We go backstage where a well-dressed Lisa Goldrush and King Flip sit opposite one another in a comfortable, non-confrontational setting for the following discussion.
Lisa Goldrush:
Good evening, Wednesday night Paramount! We have yet another jam-packed card filled from top to bottom tonight, but what I'd like to focus on right now is one of the performers in the special order tag team contest. We're all excited to see the next step for Next Level, and who doesn't love a cheeky upstart with a well of endless enthusiasm like Adriana Aquilla? Well, none of them answered my calls, so tonight I'll be having a sit-down interview with International champion King Flip. Please, Paramount, give him a warm welcome.
The cacophony of jeers flow in before she can even finish. They endcap by getting even louder as she makes her request for a warm welcome. Flip smiles as he looks past the camera to the walls of the room, listening to their rejection of him with intent.
Lisa Goldrush:
Wow, they really don't like you.
King Flip:
It's fascinating, actually, and thank you for having me by the way.
Idaho gets even louder as their disdain is met with even more kindness. Flip continues.
King Flip:
It's a reverse Bret Hart, Lisa. When they see these gorgeous threads on Monday nights? Those same people? They love me. But 'Machinegun' by Portishead hits on a Wednesday, or a Friday--
Lisa Goldrush:
Or a Sunday?
King Flip:
Watch you mouth.
Flip hip-fires his response to a mild reaction from the audience. They may not like King Flip, but they don't like Prime either.
King Flip:
But yeah, to answer your question that wasn't a question, no, they don't like me. And it isn't because their darling Marcu$ isn't here.
Once again he beams with a big smile as the hate comes flooding in stronger than before. It doesn't take but a few moments before tandem chants of "Get well, Marcus!" and "King Flip SUCKS!" begin picking up heavy momentum.
King Flip:
Is it because I take my job too seriously, Lisa Goldrush? Is it because I hurt people? Or is it because I'm not skipping around with a big, dumb, fake smile on my face while the world's worst kazoo rendition of 'It's a Small World' plays in the back of my skull? They can be as mad as they want but at the end of the night it's pretty simple. We go out there and we bust our asses for every cheer and every jeer. Whether it's another Monday, Friday, Pay-Per-View, doesn't matter. King Flip goes where he is paid and he goes to give a performance -- whether you love him or you hate him -- that will have you talking about Extreme Wrestling when you leave the fucking arena. That's my job. That's what I do. That's why I say I'm the greatest performer in this business today, because few and far between will you find the men like me that give as much as I can to this business.
Flip shrugs. Lisa adjusts some paperwork in her lap as she shuffles to find something.
Lisa Goldrush:
Well, now that we've gotten that out of the way. I'd like to talk to you about Stranglemania for a moment. From an Ace Heart interview, love that guy, to a run in with now number one contender to your International championship, Rebel Rhodes.
Big pop for the number one contender to the International championship.
Lisa Goldrush:
Then immediately walking into that Glass Tables match against Tanja Devereaux. Can you tell us what was going on in your mind when you walked out there?
King Flip:
Well, honestly, I was a little scattered. Ace was just prodding me about the coming match for my championship against my brother and it threw me off. Then Melinda's in my face out of nowhere so I've got to grandstand. You saw it. Mah mah mah about the championship that I may or may not even have in the thirty-three percent chance she wins her contender match thing, like, fuck sake. I've got enough going on. Meanwhile, I can already SEE Tanja Devereaux heading to gorilla, but here fuckin' Melinda is mah mah mah, still goin, and then she mentioned something I hadn't even considered. Tanja Devereaux could make a play to one up me and take my title before I even get to defend it. Now, Melinda's finally walked away so I just say words and head to gorilla. I had just come off a loss to Reid in that triple on Brawl, then got a small victory over some guy on Rampage, and all I wanted was to get through that Devereaux match all things considered. So, yeah. I was scattered.
Lisa Goldrush:
If you were anything but focused and ready, King, you didn't show it. Is there anything left to say about the violence between the bells during the Glass Tables match?
King Flip:
I could sit here and blow my own horn, Lisa Goldrush, but the content of my career speaks for itself. Tanja Devereaux joins a long list of men and women that have tried and failed to out-animosity the King. 'Cold-Hearted King' is more than just a catchy thing people call me. These scars aren't makeup. Just as many before her and certainly the many more to come, Tanja didn't take that seriously. She looked at these and saw no more than the pain they put me through. And we did the damn thing when those bells rang. There wasn't an inch of give in either of us, Lisa, we both needed that victory for better or worse and she was inches away from putting me down. And hell... had that happened, maybe I wouldn't be here right now. Solid competition is Tanja and I look forward to the next time she wants to stick her nose in my business. I really do.
Lisa Goldrush:
Wow. I can't say I expected you to be nice about that.
King Flip: I'm not being nice, I'm being respectful. When you walk out to the squared circle with another motherfucker that wants to take things to the next level just as much as you do? You see that. You feel it when they hit you. You hear it when they slam the mat after you kick out. King Flip is nothing if he would ever degrade somebody just because they didn't beat us in our last match together. That's goofy.
She straightens her collection of notes on her lap, tap tap tapping them against her legs with a smile and a nod.
Lisa Goldrush:
Fair enough. Moving along in the evening, we'd be remiss if we glossed over your interaction that night with Paramount General Manager, Chris Brock.
King Flip:
Christopher, yeah. Be a
real shame
if we ignored him. Can't have that.
Lisa Goldrush:
What's the story there? We saw how relaxed you were even though you'd hurt yourself in the Glass Tables match. It wasn't until after he'd announce he'd have you on this Wednesday that that relaxation went away. What made you react the way you had and, perhaps more importantly, what made you get involved in the main event for the Undisputed championship?
King Flip:
Well, that's a bit of a layered one. Here goes nothing.
Flip leans to one side, his eyes dropping to the ground a moment. He gives is a few seconds before he looks back to Lisa with a response.
King Flip:
I ran into Chris Brock backstage one night early on in my return. Things weren't going well, I wasn't really finding any solid footing anywhere, and here this guy comes with all the confidence of a man who'd just used a penis pump for the first time. And he hands me this.
Flip procures a business card from his inside coat pocket, handing it over for Lisa to view as he continues.
King Flip:
Couldn't tell you what Christopher's play was with that beyond the fact that he was looking out for his best interest: Paramount. So, I'd like to think I've come to certain level of understanding with Christopher after that night, Lisa Goldrush. I'd like to think that I got it, that Christopher was at least transparent in that aspect. Fast forward roughly two years and, no, it's pretty obvious to me that I don't get it. Christopher was not transparent; quite the opposite, really, as it's come out just what type of man he can be in hotel rooms, for example. So look at it for a moment from my perspective, Lisa. You're having a rough night one night and Ol' Christopher Brockington hands you that. How would you feel about this man, one who smiled genuinely as they handed you that card, only to secretly pork-barrel extra nonsense into a match contract for a quad-brand PPV some time later? How wronged do you think you would feel when, after you've gone above and beyond the call of duty to get something you feel you're owed, some slimy little shitbird tries to pull one over on you? I'm not going to yell it, Lisa Goldrush, but these are rhetorical questions.
Lisa hands the card back to Flip. He places it back in his inside coat pocket as he adjusts uncomfortably in his seat a little.
King Flip:
You'd be furious, Lisa. You'd be justifiably frustrated with the guy who you thought was one way ended up being the exact opposite. You'd be seething at the mouth if, halfway through one of the best nights in your career, some dickhead decides to come in and point out that you're stupid and didn't read every word of your contract. It's disrespectful, it's rude, it's underhanded. And bottom line it isn't something I'm going to lie down and take. Fuck that noise. Moving on to the second part: why. Why did I react negatively? Well, I feel like I just covered that, Lisa. But why did I go out during that main event? Why'd I hurt Marcu$? Well... that's a more interesting answer.
The King pauses with a chuckle he tries to mute and cover with his hand.
Lisa Goldrush:
Marcu$ may be out for a very long time, Flip. I don't think that's very funny at all.
Lisa Goldrush's soft but matter-of-fact tone straightens the King out. He clears his thoat.
King Flip:
You're right. An injury like that isn't funny, but I'm not laughing at that. I'm laughing because the question assumes that one had anything to do with the other. To an extent, yeah, of course, I hurt Marcu$ to get back at Christopher. Hell, I said I was going to do as much before he walked out of that locker room that night. Before Rules Swap, before the main event, I know he heard me when I mentioned that pound of flesh. And I
know
he knew I wasn't talking about taking it from him. So what the hell did he expect? I mean Goddamn it, Lisa, I've said it over and over again this season. Treat me good, treat you better; treat me bad, treat you worse. At what point during that interaction... and I'm not talking just
StrangleMania
. There were nine days -- near a week and a half -- between the time I stole the Apple belt and Chris brought me that contract to sign. Nine. And in those nine days, did he reach out? No. Did he make any effort to contact me, see where my head's at, come to some reasonable adult conclusion with me? NO. He Bobby Heenan weasels this in. So now, after two bloodletting spectacles on
StrangleMania
, after sending his boy Ito home without the win, and after headlining Rampage, I've gotta do this? No matter what? Do not pass go, do not collect $200?
The King's flicks his wrist with each added query to how visibly amped this made him.
King Flip:
I went out during the main event for more than that, though. I assume you watched the last episode of Brawl? I mean, if you didn't put it all together yet, surely you saw the conclusion to all that in the opening moments of the Monday night broadcast?
Lisa Goldrush:
I assume you're talking about Stitches. Some Faustian bargain between the two of you.
King Flip:
Look at you,
Faustian.
She's pretty and she knows big words. Someone guard my heart.
Lisa rolls her eyes, covering her face as she blushes.
King Flip:
So it was one part 'Fuck Christopher' and one part 'Faustian deal' that just happened to end with Marcu$ having quite possibly the worst night of his life. You saw the match, Lisa. You saw me attack Queen Malone, you saw me fight Rori, you saw me all over that Goddamn match. So it wasn't like I ran out, took a saw to Marcu$' chest, and ran away. There were some pretty clear motivations outside of Christopher being a terrible General Manager or Marcu$ being a particular target to our plan.
Lisa Goldrush:
What was the plan, and why the hell did you turn on Dio in the process?
Flip leaps from his seat in a fervor. He stops in front of Lisa's chair and leans all the way into her face. The two are touching foreheads with Lisa trembling a little. This goes for a few seconds before the seriousness of Flip's demeanor washes away. He places a palm on the back of Lisa's head. She jumps in place, he pats twice, and he returns to his seat with one, long, deep breath.
King Flip:
Not that that question deserves an answer...
He clears his throat again after taking a sip of water.
King Flip:
I'm sorry. What was the plan? Well, we have revealed that it didn't go off without a hitch. You saw Stitches get involved in the International championship match. You saw me get involved in the Undisputed championship match. What do you
think
the plan was?
Lisa Goldrush:
Right, well--
King Flip:
Aht ah! Remember, Lisa, rhetorical questions. We went out there that night and we fought for us. We fought for our own personal benefits. None of which included turning on anybody and I don't subscribe to the notion that I did anything of the sort. I made it perfectly fucking clear the type of man I am when he co-signed on King Dong. We've traveled together, we've had mutual experiences, we've bonded, we know each other. Dio knew to expect anything between the bells. Do I think it was right? Of course not, but defending this championship is more important to me than doing the right fucking thing. Now, do I think Dio is in the wrong for attacking me for it? Do I think Dio is in the wrong if he feels the same way you do, wronged for the actions that went down between the bells? Neither of those answers matter to me, Lisa, not in this context. What happens between me and Dio is just that and will stay just that, between me and Dio, until Dio decides to do otherwise. He knows I respect him, I love him, and I look forward to seeing him again. If you don't mind I'd like to move on from the subject.
Lisa nods, moving right along.
Lisa Goldrush:
I can respect that. Moving past
StrangleMania
, tonight, you've got Next Level in this tag team match. Anything you'd like to say to them that hasn't already been said
?
He chuckles again and, again, tries to hide it.
King Flip:
As a matter of fact I do, Lisa.
The camera cuts do one shooting directly on Flip. It zooms in as he leans in to speak, continuing to zoom as he goes on until King Flip's face is the only thing left in the frame.
King Flip:
I look forward to how you're going to make this match about you, gentlemen, when it's been about you from the gate. Pray tell, Next Level, HOW is this about me beyond the fact that my name is on it and Christopher 'requested' it? That's super fucking rich, by the way, the use of the word 'request' on the marquee. This wasn't a request. But whatever. Let's try to find where King Flip benefits here. If it's about me then surely I benefit.
His fingers extend as he counts the ways this isn't about him.
King Flip:
Sub-optimal tag partner, no, no benefit there. Oh, wrestling on a Wednesday out of the blue, ope, no. No benefit there either. This will show the world that King Flip can wrestle with anyone, well, sure I guess, but that was already pretty apparent by the way Next Level approached us. So... again... Next Level, how is this
not about you, exactly?
A genuine curiosity from the King as he face shows as much. The camera begins zooming back out.
King Flip
:
So, I was right, you've got the collective brainpower of a test rat. This is your time to shine, boys. Your opportunity to deliver your magnum opus for all -- including those you've already failed against -- to see, to revel in, to respect...
to fear.
This is probably one of the most important nights of your careers, boys. So you'd better aim proper and you'd better strike true. Because if for a single solitary Goddamn second you let up? You let her tag me in? You let me take that control for you? You're done. Simple as.
We cut back to the camera that has both interviewer and interviewee in the shot. Lisa appears very pleased with how this has gone.
Lisa Goldrush:
Wow. Okay, then. Thank you so much for your time, King Flip, but I think that's about all the time we've got. But! I do have one more question. Hardcore Revolution. Melinda Rhodes. Wh--
Flip had already begun standing and removing his microphone as Lisa was working her way out of the interview. He cuts her off before she can get one last question in.
King Flip:
Thank you for having me, Lisa Goldrush. I'll see you next time.
He forcibly takes her hand, feigns a shake, and walks out of view of the camera. We sit on Lisa for a moment.
Lisa Goldrush:
I... we'll be right back? I can't even...
Cameras finally cut away.
---
---

TAG TEAM SHOWCASE
BY SPECIAL ORDER OF PARAMOUNT GM CHRIS BROCK
Adrianna Aquilla & King Flip
VS Next Level
---
We return to ringside where the aforementioned King Flip's interview has stirred up the crowd as we get into the later stages of the show.
Watson:
King Flip is feeling some kinda way tonight... and if that's any indication this is going to be a long night for the Next Level.
Starr:
The following match is a tag team match scheduled for one fall. Joining us first, from Santa Clarita, California, weighing in at a combined weight of 415 pounds ... THE
NEEEXT LEVEEEL!
Lights begin to pulsate over the crowd as the voices of both members of Next Level come over the PA system "We are.. The NEXT LEVEL!"
The sound of a guitar riff begins over the PA before "FIGHT!" is yelled out and '2nd Sucks' by A Day to Remember begins to play. Both members of Next Level come out onto the stage, giving each other a fist bump as they cross paths and motion out to the crowd before they make their way down the ramp.
Starr:
And their first opponent, from San Francisco, California, weighing in at 120 pounds ... LO DIVINO
ADRIANA AQUILLA!
Iron by Within Temptation hits the speakers and the crowd comes alive as Adriana Aquilla makes her way down to the ring, she slaps hands with a couple of fans before rolling into the ring ready for her match as she removes her jacket.
Starr:
And her partner, from Los Angeles, California, weighing in at 220 pounds ... Representing Monday night Brawl as their International champion ...
KIIING FLIP!
K I N G F L I P
zooms from right to left across the EXT and is followed swiftly by a small pyro. 'Machinegun' begins to play as the man in the hooded vest, head low, emerges from the curtain. He gets to the edge of the rampway when he lifts his hood to reveal that arrogant half smile. The lyrics chime in as he walks slowly down the ramp with his eyes locked in on the ring. He slides into the ring and turns to his opponent ready for the action to start as his theme fades.
DING DING DING
Mark Paulson begins the action opposite Adriana Aquilla. They circle the ring for a moment with neither really going for much. Mark opts to challenge Addy to a strength contest, raising his hand up in the air with a menacing eye. Aquilla doesn't trust it and responds by pulling him into a clothesline after intertwining their fingers together. Mark hits the canvas and stumbles right back into a second clothesline, a third, then stays on the mat after a quick dropkick splays him out. Addy fires up the crowd to a big reaction as she maintains the pressure. Boot boot boot to the back as Mark makes every attempt to crawl to his corner. Barely he evades a stomp and leaps out. Hot tag to Brian Knight. Springboard dropkick to the face sends Addy rolling hurt in a bad way. Brian grabs her by the boot, dragging her toward their corner as he continues bringing the hurt. He keeps the leg and wrenches it into a single leg Boston crab after a few well placed kicks to the midsection. Aquilla wails in pain but fires onto the tips of her fingers before she'll tap. Addy stretches out and baaaaaaarely grabs the bottom rope, forcing the referee to call for the break.
Referee:
Hey, c'mon! Let go! One! Two! Three! Four!
Watson:
Adrianna had Mark on the run, but the tide has turned pretty quick tonight.
Sydney:
Oh come on, everyone knows that was at BEST only a three, not five!
Next Level have collectively spent the next several seconds arguing with the referee's speed of his count. Mark gets tagged back in and they're both just railing into the referee, not realizing Addy Aquilla has slowly gotten to one knee. It isn't until she attempts to get away again that their attention is turned. Brian grabs her by the boot and has Addy hopping on one foot while he gives her a disapproving wag of the winger. Mark leaps from the canvas to the second turnbuckle, bounces up to the third, and leaps out into an impressive looking spin kick that completely misses the mark when Addy pulls her leg back and ducks underneath the assault. She can barely get her footing as the wobbled Brian Knight bounds off the ropes and comes straight for her. Superkick takes Knight to the canvas. Mark bumbles right into a superkick as well. Refusing to show any mercy or end of willpower, Next Level refuses to lie down. Both get up and take three more superkicks to the face before they're send out of the ring and Boise is praising Adriana for her comeback. She, however, makes the mistake of pointing to her tag partner as the continue rallying behind her. Idaho boos at the thought of seeing King Flip enter the ring. She offers the tag to him, personally, and he says something to her that has her turn around. As Next Level collects themselves outside the ring... they can't!
AIR ADDY!
Adriana Aquilla hits her signature suicide dive to a big reaction, keeping Next Level leveled on the thinly-padded concrete.
Watson:
The Next Level might be the basement after that assault!
Sydney:
Aquilla is out to prove something tonight, but these two are tag team specialists, this is a science!
Aquilla follows Mark into the ring, like a lion on prey after getting him vertical enough to roll into the squared circle. Pinning attempt!
ONE...
TWO...
NO!!!
Brian Knight with the save at two, breaking the count with a vicious double-axe handle smash to the back of the head. Flip stops himself mid- getting involved. He pauses with his leg in the air, his body nearly through the ropes, as a Next Level double team begins to go down. The King pulls back to an even bigger sea of jeering with a smile in response. He walks down the steel steps.
POWERING UP!
Mark and Brian connect with a cacophony of kicks on their vertical opponent in the ring. First with several boots to the midsection, a quick double strike to the back, and topping it off with a double dropkick, the signature series is complete to a mixed reaction. Addy topples out of the ring at Flip's feet. He helps her to her feet, pats her on the head, says something to her, and rolls her back into the ring before turning to continue up the ramp. Even Next Level doesn't know what to do with what's going on but they're not one to look a gift horse in the mouth. Addy looks heartbroken for a moment as she watches while Flip continues up the ramp. She shakes her head and turns right into a double superkick. Idaho is furious, but Next Level continues.
GAME OVER!
They execute a beautiful assisted backbreaker finish, Mark pinning Adriana to the canvas as Brian already starts the celebration. Flip walks through the curtain without so much as looking back.
ONE...
TWO...
THREE!!!
DING DING DING
Starr:
And your winners, via pinfall
NEXT LEVEL!
Mark gets back to his feet as Brian grabs his arm and the two hoist them in the air as Addy rolls out to the ring apron, sitting with a disappointed look on her face. She hops down, holding her back from the effects of the finishing maneuver in silent retreat while '2nd sucks' plays loudly over the PA system.
Watson:
You know, King Flip called out Aquilla as a sub-par partner, but walking out on her? You ask me, Flip's the sub par partner here tonight! She kept the pace going, and she still nearly secured the win without him.
Sydney:
Look, Next Level knew they had to keep Addy isolated, so that's what they did. Even when she got momentum going, she let it get to her head instead of making the smart move to tag in Flip. And now, Next Level is finally out of the losers column!
Both members of Next Level exit the ring, Mark making a crying motion toward an Aquilla fan in the front row who throws their soda toward him in disgust. Mark manages to duck it, a smug grin on his face as the fan is admonished by security and they make their way backstage.
Watson:
Ladies and gents, this is it, our main event with Sueñe El Molde challenging Sally Talfourd, the Last Magician, for the Apple TV+ Broadcast championship! Stick around, and we'll see you after the break!
Camera cuts to our final commercial break of the evening as ring staff are seen cleaning up the mess made ringside by the disgruntled fan.
---
---
---

SINGLES MATCH
FOR THE APPLE TV + BROADCAST CHAMPIONSHIP
Sueñe El Molde
VS "The Last Magician" Sally Talfourd
We return to ringside where the soda mess is cleaned up, and the fans are on their feet.
Watson:
The Apple TV+ Broadcast championship is on the line, high stakes as Sally Talfourd attempts to make another brilliant run as champion. Can she knock off an imposing Sueñe El Molde in the process? We're about to find out!
Starr:
The following match, set for one fall, is for the Apple TV+ Broadcast Championship! Joining us first, the challenger. Residing in Los Angeles, California and weighing in at 220 pounds...
SUEÑE EL MOLDE!
The lights go down as "Sweet Dreams" by Marilyn Manson begins to play. Blue and purple strobe lights begins to flash through the arena as the song picks up. After awhile the lights shine on the entranceway as Sueñe el Molde steps out onto the stage. He looks around momentarily before slowly making his way down the walkway to the ring, paying no attention to the fans. He slides in under the bottom rope and stalks around the ring.
As the buzz of the crowd falls as the lights fade down and everyone finds themselves in darkness. After a moment of nothing, there's the crackling of an old recording, and then a voice:
"Ladies and Gentlemen!"
"Your act at this time!"
The Extreme-tron begins to flicker to life with an old reel of film showing various clips of magicians performing, shots of crowds smiling and laughing, point and wondering. All, of course, in silence.
"Sights of wonder and amazement!"
"A spectacle that will confound and amuse your mind!"
The Extreme-tron continues to flicker with the images of an era bygone. The final clip comes to focus on a figure standing alone on a stage, the back to the Extreme-tron, obscured by the shadows.
"Ladies and Gentlemen!"

"The Last Magician!"
There's a pause, and then the beginning of 'Troublemaker' by Troublemaker comes across the PA, the whistling first cutting through the silence then drowned out by the fans' cheers. The Extreme-tron still shows the silhouette of a lone person standing in the shadows.
Then, mirroring that shot, a sole spotlight fades in at the top of the ramp, and we find 'The Last Magician' Sally Talfourd with her back to the arena. The crowd gets louder and then, as the music kicks in, Sally turns to face the crowd, her arms outstretched and her head bowed to everyone.
Starr:
And his opponent, making her way to the ring, she is the Apple TV+ Broadcast Champion, 'The Last Magician ...
SALLY TALFOURD!



Sally lowers her arms, raises her head, and makes her way down the ramp. Fans rush to the railings. She makes a direct line to the ring, pulling herself up to apron, looks around to the fans before she steps in. Sally takes turns on the posts, climbing them with a raised fist before stepping to the centre, and with a flurry and a twirl unwraps her hanbok, handing it over the ropes to the crew and then takes up position in her corner of the ring, stretching her legs on the ropes and readying herself for the match.
DING DING DING
Sueñe fires at Sally with a superkick that Sally catches to block. Sueñe tries to counter with an enziguri that Sally ducks and Sueñe crashes to the mat. He gets to his feet where Sally rolls him in a school boy. The referee counts.
Sueñe rolls out of the pin attempt and back off the ropes . He drops down onto a seated Sally with a clothesline. Sueñe pulls Sally to her feet an into the corner. He chops her hard across the chest not once, not twice but tree times before he whips her off the ropes. Sueñe catches Sally and brings her to the match with a belly to belly. He makes a cover.
Sally gets a shoulder off the mat to break the count. Sueñe takes a moment to argue with the referee but Sally uses it to roll Sueñe in a crucifix. The referee counts.
Sueñe again easily rolls out of the pin attempt. Sueñe rolls to his feet but Sally knocks him ack to the mat with a spinning heel kick. She covers.
Sueñe rolls a shoulder off the mat breaking the count.
Watson:
Good early covers and good early kickouts by both in the early goings of this match
Sydney:
Right now. Not so much the further we get into this and the fatigue takes hold.
Sally grabs the raised arm and applies an armbar while smacking Sueñe with back elbows to the jaw. Sally applies a dragon sleeper. She pulls Sueñe to hi feet as she wrenches on the hold. Somehow, Sueñe manages to spin Sally with a powerslam breaking the hold. Both lay on the mat for a moment before Sueñe stretches an arm over Sally.
Sally lifts a shoulder off the mat. Both get to their feet where Sally lashes out with a superkick. Sueñe catches it to block before throwing her foot away. Sally spins on her other foot and cracks Sueñe with a dragon whip. She almost bends him in half as she leans on his legs to make the cover.
Sueñe pushes his weight and rolls up Sally.
Sueñe pushes down on Sally's shoulders and she falls to the mat.
Sally gets a shoulder up. Sueñe doesn't let go and pulls Sally as he gets to his feet. Sueñe drives Sally to the mat with a Styles Clash.
Sally rolls to her front breaking the count.
Watson:
So close to a new champion right there!
Sydney:
So close to it being defended too.
Sueñe gets to his feet and drops onto Sally with an elbow drop to the spine. Sueñe pulls Sally to her feet but she fights him off with forearms to the jaw. Sally runs at Sueñe and takes him crashing to the mat with a Lights Out. She covers him.
Sueñe rolls to his side to break the count. Sally pulls him to his feet but Sueñe grabs her hitting a sitout jawbreaker. Sally drops to the mat while Sueñe rolls to the apron. He pulls himself to the top turnbuckle and leaps at Sally hitting Dusk Til Dawn. He grabs both legs as the referee counts.
Sally gets a hand to the bottom rope breaking the count.
Watson:
An inch or two to the left and we would have had a new champion!
Sydney:
Good ring positioning! You need it to be a champion here in EWC!
Sueñe drags Sally to the middle of the ring and makes another cover.
Sally rolls to her side to break the count. Sueñe runs off the ropes hitting a shining wizard. He drags Sally to her feet and drives her to the mat with Black Haze. He rolls her over and covers.
Sally lifts her shoulder an inch off the mat to break the count. Sueñe pulls Sally to her feet and smacks her across the back and shoulders with forearms before whipping her off the ropes. He attempts to backdrop Sally but Sally counters hitting Either Or. She hooks the leg.
Sueñe pushes himself free rolling onto his stomach as he does.
Watson:
How is this match still going? Where are they getting the strength and stamina.
Sydney:
It sure isn't from a Powersauce bar, I know that.
Sally pulls Sueñe to his feet but Sueñe counters with an inverted atomic drop and a clothesline that drops Sally to the mat. Sueñe pulls her to her feet and grabs at her arms as he applies a Dust cloud Explosion. Before he can hit it, Sally springs off the top rope hitting High Hopes. She crashes down on Sueñe where she hooks the leg.
DING DING DING
Starr:
And your winner, via pinfall and STILL EWC Apple TV+ Broadcast Champion
SALLY TALFOURD!
Sally climbs to the middle turnbuckle and holds her championship high in victory.
Watson:
A hard fought contest but Sally Talfourd remains the Broadcast Champion!
Sydney:
It was indeed. Sueñe El Molde came close on several occasions. An inch here a rope there is all that stopped him from leaving here tonight as champion.
Watson:
That's it from us tonight folks, don't forget to set your alarms, remind Siri, and catch us back here on Apple+ on May 10th LIVE from Investors Group Field in Winnipeg, Manitoba as we bring you our final episode of Paramount before UPRISING! Good fight, and good night!
The show closes out on Sally Talfourd, championship held high as she looks at the Uprising logo plastered on the Extreme Tron with a magical gleam in her eye.
---