Post by PARAMOUNT on Jun 7, 2023 20:31:23 GMT -6
The Extreme Wrestling Corporation Presents


** IT'S ALMOST TIME FOR AN INVASION **

EPISODE 032
JUNE 7TH, 2023
LIVE!
from the Robert F. Kennedy Memorial Stadium - Washington, D.C.
---
---
WARNING: This live event contains strong coarse language (L), and intense violence (V) which may be unsuitable for younger viewers. None of the matches you are about to watch have been predetermined. Only some of the thematic story-lines have been discussed beforehand. Accordingly, EWC and it's producers must insist that no one attempt to recreate or re-enact any match or activity performed in this live event.




---
---
"Superstar" by For Squirrels begins to blast over the arena speakers as our feed comes to life...
The scene immediately cuts to a pyro show erupting on the outside of the Robert F. Kennedy Memorial Stadium!
Then a cut to another, equally explosive show on the inside!


The fans packing the Robert F. Kennedy Memorial Stadium tonight all come to their feet. Further explosions rock the very foundation of the arena as a large video screen is lowered from the rafters, stopping 15 feet above the ring! Everyone in Washington D.C. knows that the self-proclaimed greatest show on Wednesday night is about to begin and they cheer accordingly! The heavy riffs from 'Superstar' continue to blare over the arena, setting the tone for what is to come later on this evening.
IT'S ALL I WANT, IT'S ALL I NEED

IT'S ALL I SEE, IT'S ALL I BREATHE

IT'S WHAT I AM, IT'S WHAT'S I KNOW

IT'S WHAT I FEEL, IT'S WHAT I BLEED!
On the Extreme-Tron, this episode of Paramount Wrestling begins with its opening video montage detailing many of the historic events that have taken place in the five-year history of Future Stars of Wrestling, setting the tone for the history of the Orange brand. From past champions like Jason Hunter, Dixie Dubois, Amis Shelton, Magdalena Lockheart, Melody Malone, and Otaki all standing underneath an old FSW logo to the more current Future Stars Champions like Xavier Reid, Cletus Franklin, Robina Hood, Robbie Rayder, Stitches, Candy, and Wes Walker tearing down that mold, showing the Paramount Wrestling Logo...
As more pyro goes off the Paramount Wrestling logo appears and flashes of the roster appear on the screen such as "La Belicista" Isabella, Next Level, "The Beautiful Battleship" Sonya, Jadyn Keem, Marcu$ $t. John, Tanja Devereaux, The Kruel Masters, Shaker Jones, Adriana Aquilla, El Pablo, Emma Louise, 3Pac, Nika Kosov, and Sueñe El Molde. The final images shown are a montage of Narumi Tsutsumi from StrangleMania, the EWC Undisputed Championship around her waist, Xavier Reid with the EWC X-Division Championship over his shoulder, 3Pac, with Bunny Love holding the EWC World Tag Team Championships aloft, Ibuki Ito and the EWC North American championship high over his head, and "The Last Magician" Sally Talfourd proudly sporting the Apple TV + Broadcast Championship around her waist.
The camera pans around the loud and out of control audience. As the fireworks continue to explode, the fans chant and cheer! Cameras pan around the arena to catch some of the signage that many fans have brought to Robert F. Kennedy Memorial Stadium with them here tonight. The Paramount Wrestling fan-base is as adamant about having their voices heard now as ever:
"3Pac: Keeping Tag Team wrestling alive and well on Paramount!"
"The Beautiful Battleship is going to war tonight!"
"Jadyn Keem Don't Miss!"
"The Joker can't handle the Voodoo Queen!"

"Sueñe El Molde is the future of Paramount Wrestling!"
"PAR-A-MOUNT!!!"



"PARA-A-MOUNT!!!"



"PARA-A-MOUNT!!!"



"PAR-A-MOUNT!!!"
The lights come back to full and the fans offer one last rousing cheer at the opening festivities. Tonight's announcers are on standby and ready for the show to begin.
Watson:
Good evening and welcome to the 32 episode of Paramount Wrestling! We are coming to you live from Robert F. Kennedy Memorial Stadium in Washington D.C. My name is Tim Watson and with my as always is Cid Sydney
Sydney:
It's great to be back with another episode of Paramount Wrestling! And what a better way than to open up the show with the new EWC Tag Team champions, 3Pac bringing the belts BACK to Paramount as they take on the Kruel Masters!
Watson:
On top of that Rampage is invading early, as we get to see Tanja Devereaux take on Luke Saito. She's been entangled with quite a few members of her former brand, but tonight we'll see if its Rampage or Paramount that take the victory home.
Sydney:
We're keeping it in house later on, when we get champion versus champion, Sally Talfourd and Ibuki Ito going one on one! It's our reigning Apple TV+ champion versus the newly crowned EWC North American champion!
Watson:
Speaking of the new champion, we can't forget our main event, where we determine who the number one contender to Ibuki Ito's North American championship will be! This triple threat could go anybody's way tonight Cid!
Sydney:
We have all this and SO MUCH MORE! Our first match of the night will be coming up right after this quick message from EWCTV. Don't go anywhere .. Paramount Wrestling action will be back in exactly 1 minute
---
---
---
---
WHAT IS EWCTV?


All live EWC Pay-Per-View events (including StrangleMania, Night Of Champions, EWC Rumble & WrestleFest)
All day scheduled & live programming
Plus, hours and hours of on-demand content & never before seen behind-the-scenes footage!
Groundbreaking original series - See new episodes of BRAWL, RAMPAGE, PARAMOUNT WRESTLING, EWC PRIME and more
Live in-ring action, reality shows and documentaries
HOW TO ORDER
Get the award-winning EWC Network through your TV provider. Call your local TV Provider today to subscribe.
Only $7.95/month

WATCH ONLINE
If you are subscribed to EWC Network through your TV Provider you can now enjoy EWC Network on your:
PC, Laptop, Playstation, mobile app, or tablet.



EWCTV for only $7.95 USD per month
Along with being an EWCTV Subscriber, you get:
EVERY Pay-Per-View event included at no extra charge
15% off any and all EWC Merchandise from the EWC Store
20% off all tickets to LIVE EWC Shows
A free EWC Yearly Wall Calendar signed by the entire active EWC Roster
As an added bonus for all those currently subscribed including any new subscriptions
prior to midnight June 10th, 2023

Receive
a
FREE
copy of
Uprising XXIII
DVD and Blu-Ray combo when it's released later this year
+ free T-Shirt and Replica EWC World Tag Team Championship belts.
So act now if you aren't already subscribed to EWCTV
---
---

The camera cuts backstage where we find Lisa Goldrush standing by with the EWC Tag Team Champions of the World, Deimos and 'Little' Danny, the 3pAC alongside their manager Bunny Love…

Goldrush: As we have seen, Malice and Mayhem…Damage Inc is in the house tonight…

But before she can finish Deimos holds up his hand as he smiles…

Deimos: Lisa, why are people making such a big deal about these guys…acting like Luke Wolfe or Shadow Man just walked into the building…

Danny: Or even Ace King for that matter…that would be HUGE news…

Deimos: But this is Malice, Mayhem and their little Bunny Love knock off Lacey what's her name…

Goldrush: It's Sav…

Danny: IT DOESN'T MATTER WHAT HER NAME IS!!!

Danny smiles as, with help from his index finger, raises his own eyebrow as Deimos nods his head in delight but Bunny drops her head…

Love: Hello lawsuit #42…

Deimos waves off Bunny's concern…

Deimos: We got Apple money now, fuck it…and fuck all this 'Damage Inc is here crap'...of course they are, Lisa I'm going to let you in on a dirty little secrete and help shine some light on just why they are here…

Danny: TESTIFY!!!!

Love: #43…

Deimos: It's because the EWC is moving on without them, mainly Prime…see dumbass and dipshit won the rights to become 'contender' to these…

Deimos and 'Little' Danny rub the faces of the EWC Tag Team Championships…

Deimos: And they beat The Lone Wolves to become those 'contenders' and that was what…

Danny: 15 days ago…

Deimos: A little over TWO WEEKS AGO and if you go and look at the World Wide V card Prime set up the match between The Heat Packers and The Kruel Masters for the same prize, a 'contendership' and maybe that's because they don't plan on waiting for Damage Inc to 'play the game' and set up the match for these so they are moving on…or they are pissed they have Damage Inc as a 'contender' knowing they have ZERO shot to win these back...

Danny: Toss in Jordan Sharpe really wants these belts back on Prime…

Deimos: Well that too, but they know this 'contendership' is wasted on Damage Inc…how many times do we have to beat them to show the EWC they aren't in our league…

Danny: People act like these guys are The Southern Express, a great tag team in this business and what, they've won two matches this season…

Deimos: And this is the team Paramount is geeking out over because they showed up here tonight, they should be more shocked they showed up for work this week…

Danny: Lisa, you are looking at the hardest working tag team in the EWC…Deimos and I have been carrying this division since day one, since we walked into the building and yet now you want us to care about Malice and Mayhem gracing us with their time…please…

Deimos: Exactly, who give a fuck…boys, if you are hearing this, go ask for notebook and take notes at what a real tag team looks like out there tonight…what winning looks like…and enjoy your time out there with the fans because something tells me you will be sitting with them full time really soon…

Danny: Now, we've wasted enough time on a sub .500 tag team but let's waste some more, The Kruel Masters…

Deimos smirks and holds back a laugh as he points at 'Little' Danny…

Deimos: I see what you did there, funny…yeah Kolby and Daphne…how quickly your tone has changed, you called us jokes, called us idiots…said we were on borrowed time and yet now we sit on top of the division a YOUR champions and now…you 'respect us'...please…

Danny: It must be a cool day in hell when two stuck up pricks have to go on camera and claim they 'respect' us two idiots…that's got to leave a bad taste in both of your mouths right…

Deimos: And we see you both puffing out your chests a bit because what, you've won a couple of matches…

Danny: You beat a team that wasn't really a team and a team you openly said was beneath you…that wasn't in your league and now you want to take a victory lap…jesus…

Deimos: And hey, kudos for getting that match at World Wide V but how worthy of a 'contender' are you going to be if you win there but lose to the champs tonight…

Danny: And what, you're 'master plan' here tonight is hoping we haven't recovered from our match at Uprising…are you serious right now…how are the two of you on a two match winning streak, seriously…did you see us at Prime, you know, in the main event…we are just fine and you both are about to see that here tonight in DC…

Deimos: Daphne had a little more bass in her voice, trying to go all 'big dick' on us, making threats she can't back up…proclaiming us GUILTY…well you can several lower courts but that's never stopped us before and cute move bringing in Ashley Freeman…

Danny: Who…

Deimos: Exactly…Bunny Love has been a staple here in the EWC, she's been the EWC Manager of the Year…she's been busted open, tossed around and yet she's still here and you think a hack who's gracing Gambit is going to be a threat to her…please…you are reaching and it's sad honestly…

Danny: Tonight we do what we have always done, we go out there and get the win by any means necessary and show the EWC why we are the EWC Tag Team Champions and The Kruel Masters had to under-go a name change in their first few months of being here…

Deimos and 'Little' Danny smirk as the camera fades out…


---
---

TAG TEAM SHOWCASE
NON-TITLE MATCH
The Kruel Masters
VS 3Pac
Watson:
Welcome back to Paramount 32, emanating from the RFK Memorial Stadium in Washington, DC. Our next match is a tag team contest between your new EWC World Tag Team Champions Danny and Deimos of 3Pac, whom we just heard from!
Sydney:
And tell me you ever expected to be saying THAT before Uprising Watson?
Watson: 3Pac did indeed shock the odds makers by beating the Undisputed Champion Narumi and her Shinijoshi partner Aiya in Tallahassee Cid. But like it or not...
Sydney: And there's plenty of teams that don't.
Watson:
Like it or not Bunny Love's boys are now the team on top of the tag division in the EWC. And right here tonight they will be taking on The Kruel Masters, a team looking to keep their positive momentum alive after a victory over Moonshine Inc on Prime, by knocking off the new champs in a non-title bout. Let's go to Isabella Starr with the introduc...
Sydney: Hold on Tim! I've just been informed that we've got some VIPs in attendance here tonight in Washington. It's Malice, Mayhem and Lacey Savage from Damage Incorporated. And they're taking their seats at ringside as we speak. Can we get a camera over there already?
Stepping lightly past the other spectators Damage Inc work their way to three empty seats at the center of the first row at ringside. Both Malice and Mayhem are wearing Kruel Masters t-shirts that fit a little too snug over their gigantic frames.
Mayhem does his best to keep from spilling his drink and popcorn as he tries not to step on anyone's toes. Lacey is in the middle. With a disgusted look she tries hard not to touch anyone or let anyone touch her. Malice comes last, watching like a hawk to make sure that no wandering hands move Lacey's way.
When they finally reach their seats Mayhem sprawls out, taking up as much space as possible. Malice wipes off Lacey's seat and hands her a small bottle of liquid hand sanitizer before he turns to the camera and holds up a handmade poster-board sign that reads:
BACK OFF. WE'VE GOT TICKETS. He holds his ticket stub up as proof.
Turning the sign around he displays the other side which reads in large red letters:
WE'RE HERE TO SEE IF 3PAC CAN SUCK HARDER THAN BUNNY LOVE
Watson:
Oh come on now! That's just tasteless.
Sydney:
I'm kind of curious about that myself though Tim.
Watson: That's enough. Show some class Cid, My goodness! Let's go to the ring and get this thing going already.
Sydney: I think that's a great idea Tim. I can't wait to see how happy the champs are going to be to see that Damage Inc have apparently joined the Kruel Masters fan club.
Watson: Oh good grief. Can we please just throw it over to Isabelle Starr?
Starr:
The following match is a tag team match scheduled for one fall, Joining us first, accompanied by Ashley Freeman, from The Core Spire, weighing in at a combined weight of 398 pounds, Kolby and Daphne Kreel...
THE KRUEL MASTERS!
Black lights shine on the stage as "Rest In Peace" suddenly starts playing over the loud speakers. Kolby Kreel and his wife Daphne Kreel step out from the back with Ashley Freeman right behind them. The audience instantly shows their displeasure of seeing these three as they walk down the ramp. Kolby slides into the ring as Daphne hops up onto the apron and leaps over the ropes. Ashley takes her position in the corner as Daphne helps remove Kolby's jacket.
Starr:
And their opponent, accompanied to the ring by The Bunny, from New York City, weighing in at a combined weight of 400 pounds, they are the EWC World Tag Team Champions, Deimos and "Little" Danny...
3PAC!
'My Hero' plays out as Deimos and 'Little' Danny walk out onto the stage holding up crowbars to some cheers. Behind them Bunny Love walks out as the two men drop to a knee and whisper back and forth about their game plan. Bunny taps them on the shoulders and the two mean stand up and they walk towards the ring. When they reach ringside they hand Bunny the crowbars and roll into the ring under the bottom rope.
DING DING DING
Deimos and Danny quickly rush Kolby and Daphne as they lay into them with fists and boots. Deimos backs up while grabbing Danny by the hand. He goes to fling Danny towards Kolby who catches Danny with a big boot the mush. Danny drops to his back as Deimos gets caught with a drop toe hold by Daphne. Matt Mercer is trying to gain some order as Kolby lifts Danny up to his feet and flings him over the top rope. Danny lands hard on his back as Kolby steps out onto the ring apron. Daphne mounts Deimos and starts delivering multiple rights and lefts to the side of his head. Mercer admonishes Daphne about her clenched fist as she just glares at him while grabbing Deimos by the arm and trying to hyperextend it.
Deimos is trying to fight it until Danny comes back into the ring and drops a leg across Daphne's throat. Daphne immediately releases the arm as Danny drags Deimos over to his corner and tags himself into the match. Danny gets back into the ring, picks Daphne up by her hair and uses a hand full of her hair to throw her across the ring. Mercer admonishes him about the hair pulling as he just flicks him off. Daphne is getting back to her feet as Danny comes flying at her with a dropkick which sends her back first into a neutral corner. Daphne is leaning against the turnbuckles as Danny kicks her multiple times in the gut before placing his boot across her throat and pressing it down. Mercer starts counting as Danny just looks at him.
Mercer gets to a four count as Danny picks his boot up and feigns moving before placing it back in the same position. Mercer gets to another count of four as Danny picks Daphne up and shoots her off towards the other side. Danny let's out a scream before sprinting towards her. Daphne just does move out of the way as he slams back first into the corner. Danny stumbles out of the corner as Daphne comes bouncing off the ropes and connects with a running facebuster on Danny. Deimos quickly enters the ring which draws Kolby into the ring. Unfortunately Mercer stops Kolby as Deimos drags Daphne over towards his corner while throwing Danny out of the ring.
Kolby steps back out of the ring as Deimos is stomping a mud hole into Daphne as Mercer is telling him to get her out of the corner. Deimos backs up while keeping Mercer's attention as this is happening Danny is on the floor while holding Daphne against the ropes. Danny hopes back up onto the ring apron as he tags himself back into the match. Danny picks her up and goes to shoot her off. As he goes to pull her back, Daphne catches him with a quick headscissors while sending him across the ring. Daphne pops back up to her feet and catches Deimos flush with an enzuigiri to the back of his head. Deimos drops as Daphne works her way towards her corner.
Watson:
There is certainly no love lost between these two teams and tonight is no exception, folks! Deimos and Danny came out swinging but the new and improved Kruel Masters are taking it right to the Tag Team champions!
Sydney:
This new aggression from Kolby and Daphne is working in their favor, let's see if they can keep it up!
Danny stops her on a dime with a running clothesline. Deimos joins in on the stomp party as Kolby is going ballistic on the apron. Danny walks over toward him and pie faces him. That draws Kolby into the ring only to get stopped by Mercer once again. Deimos waves a little as he drags Daphne out of the ring and throws her into the steel guardrail. Daphne let's out a grunt as Deimos pulls her up and slams her face first into the steel ring steps. Daphne staggers as a small trickle of blood comes down her face. Deimos grabs Daphne by her tights and throws her back into the ring. He follows after her and tags Danny back into the ring. Danny comes up to Daphne with a smirk on his face. Kolby swings himself into the ring which draws Deimos into the ring. This time Mercer stops Deimos from entering which causes Kolby to deliver a big boot to Danny's face. Kolby exits the ring as Deimos is yelling at Danny to get up.
Daphne eventually makes it over toward her husband and tags him into the ring. Danny is just getting to his feet when he nearly gets knocked out of his boots with a shoulder block from Kolby. Kolby doesn't stop there as he knocks Deimos off the apron with a straight right hand. The Bunny is beside herself as Kolby turns his attention back towards Danny. Danny is just getting back up when Kolby locks his arms around his waist and throws him over head with a German Suplex. Kolby maintains his grip around Danny's waist as he pops his hips and gets back up to a vertical base. Kolby throws him again with another German Suplex. This time he bridges his back up while going for a cover.
Deimos breaks up the pin attempt by raking his fingers across Kolby's eyes. Kolby lets go of Danny while trying to get his vision back. Deimos rolls back out and gets back up onto the apron. Danny gets up to his feet, throws a few punches at Kolby before dropping him onto his head with a DDT. Danny goes for a cover.
Kolby gets his shoulder up as Danny pulls Kolby up to his feet. Danny shoots him off towards the ropes where Daphne blind tags herself into the match as Kolby rebounds off the ropes. Danny catches him with a snap power slam. He goes for the cover but Mercer doesn't count. Danny looks at him as he tells Danny that he isn't the legal participant. Danny starts to argue with the referee as The Bunny is trying to get his attention. Danny ignores her as he turns to find Daphne coming off the ropes and connects with a hurricanrana. Danny goes flying across the ring as Daphne follows it up with a sliding clothesline. Deimos comes into the ring only to get caught with a series of rights and lefts before getting knocked down with a spinning roundhouse to the head. Deimos rolls out of the ring as Daphne sprints toward the ropes but Bunny Love grabs her by the foot while Mercer was dealing with Danny.
Watson:
And this is where the experience of Bunny Love comes into play here! She is so good at finding any way to help her clients win!
Sydney:
Yea, but she's not the only equalizer out here tonight, Ashley Freeman is here as well!
Daphne looks down at Bunny while pointing her finger. Bunny holds her hands up as Danny comes up behind Daphne and rolls her up while grabbing a handful of tights.
Daphne manages to kick out as Danny quickly gets up to his feet. Daphne is already back up to hers as she open hand slaps Danny across the face before sending him off towards her corner. Danny bounces out of the corner while looking for a clothesline. Daphne evades him with a Matrix style move as Danny staggers forward. Daphne leans back up only to get a hard right forearm to the back of her head. Daphne staggers forward as Kolby tags himself back into the ring.
Danny motions for Kolby to come to him. Kolby obliges him by sprinting towards him. Danny catches Kolby with drop toe hold but Kolby lands throat first onto the second ring rope. The Bunny hops up onto the ring apron while tossing Danny a crowbar.
Mercer is telling Bunny to get down as Kolby is slowly getting to his feet while holding his throat. Danny slams the crowbar into the back of Kolby as Deimos gets into position for the PAC Drop. Danny quickly goes for the cover as Bunny drops down and Deimos uses the crowbar to hook Daphne by the foot while not being seen by Mercer.
DING DING DING
Starr:
And your winners, via pinfall
3PAC!
Danny and Deimos begin celebrating as Daphne and Ashley help Kolby out of the ring. The Bunny joins them as the crowd is booing.
Watson:
What a match! I hope we get another match between these two teams. 3pac proved they will do whatever it takes to win again here tonight. They are not going to give up those EWC World Tag Team titles without a hell of a fight. The Kruel Masters hung with them until Bunny got involved.
Sydney:
The Kruel Masters are still a legitimate tag team in my opinion. They proved they could get down and dirty against 3pac. Hopefully we will see these teams go at it again.
Daphne is shouting profanities toward 3pac as Kolby looks at them with intense anger in his eyes. 3pac continues to celebrate as the Kruel Masters make their exit up the ramp. Deimos looks over at Damage, Inc who are now standing up, arms crossed and mean mugging the EWC World Tag Team Champions. Deimos taps Danny on the arm to get his attention as Bunny Love is handed the tag team titles. Danny and Deimos both drop down and slide out of the ring, heading right to Damage, Inc.
Watson:
Oh business, as they say, is about to pick up here! 3Pac is getting right in the face of Malice and Mayhem!
Sydney
: Apparently twenty pounds of gold also adds one hundred pounds of balls to 3Pac. Damage, Inc is going to destroy these two
pipsqueaks
!
Danny is first to arrive and gets right into Malice's face, while Deimos gets into Mayhem's. Lacey Savage starts talking trash at them, when out of nowhere she gets obliterated by one of the EWC World Tag Team Championship belts that Bunny Love shoves right into her face! Lacey hits the floor as all four men start exchanging blows!!!
Watson: HOLY SHIT! IT'S ON!!!!
Sydney: Goddamn Bunny, That was SAVAGE!
Danny and Deimos are thrown over the guardrail and now both teams are brawling in the crowd! Mayhem is putting the boots to Danny as Malice goes to scoop up Deimos. Lacey is staggering to her feet and immediately tackles Bunny Love with a spear OVER the guardrail! The crowd is going wild now as Bunny and Lacey fight on the floor. Malice was looking to drop Deimos on his back across the guardrail but security got there just in time to stop the potential injury.
Watson: EWC security got here JUST in time, this almost got really out of hand! These two teams are read to rip each other apart!
Sydney: Whenever this match happens, it is going to be BRUTAL! Right now though we have to take a break, We'll be right back!
The camera fades to a commercial for the next EWC PPV; WORLDWIDE V Live on June, 18th.
---
---
---

SINGLES MATCH
INTERBRAND INSANITY
Luke Saito
VS Tanja Devereaux
We return to ringside where Tim and Cid are standing by with the red hot crowd in Washington, D.C.!
Watson:
Welcome back to Paramount Wrestling folks! It has been a night filled with absolute mayhem tonight and we're not JUST talking about what happened between Damage, Inc and 3Pac before the break! Right now, it's time to see some Interbrand Insanity as Rampage's Luke Saito takes on The Voodoo Queen Tanja Devereaux!
Starr:
The following match is set for one fall!
Pyros hit as Videos of bustling crowds of New Orleans appear on the Extreme-Tron as the dark and melodic tones of "Voodoo" by Godsmack blasts. Tanja comes out onto the top of the ramp in a style compared to Gail Kim during her early time in TNA before heading down the ramp with Celeste St. Laurent coming behind her to the ring as Tanja's black leather coat flows at her feet while the boos from the crowd fills the arena. She hisses at those at ringside while coming down to the ring
Starr:
Coming to the ring hailing from New Orleans, Louisiana and being accompanied to the ring by Celeste St. Laurent; she is the Bayou Witch...
TANJA DEVEREAUX
Tanja walk up towards the ring and enters via under the bottom rope and jumps onto the middle turnbuckle. She poses as she does her usual taunt with a hand and arm in the air as "Voodoo" continues to play. Tanja steps off the turnbuckle as she removes the leather coat as "Voodoo" fades.
Starr:
And the opponent, coming down to the ring... weighing at 156 lbs... from Brooklyn, NY....
LUKE... "THE JOKER".... SAITOOOOOO !
The lights in the arena are slowly going off and on as on the top of the ramp only to see Luke standing there with his shades on his face with his long black coat on and standing behind him is Luna wearing the same coat but she has a hood with her and wearing the hood over her head. He grabs her hand and has her standing in front of her as he slowly removes her hood off her head as they both grin.
They both started walking down to the ramp together when the words "Rise" came blasting over the speakers. Luna was playing with the crowd as Luke kept walking slowly down to the ramp. Luna gets to the bottom as she stands on the outside of the ring while Luke stands behind her on top of the apron as the lights flash like crazy on the words "Rise" they put up a fist together. Luna then climbs inside of the ring with him and helps him out of his jacket. She holds it as they bump their heads together like they were praying before the match. She gives him a small kiss before climbing out of the ring as he starts to test the ropes.
DING DING DING
Tanja lashes out at Luke with a roundhouse kick. Luke ducks it but Tanja charges at Luke spinning him with a tornado DDT. Luke staggers to his feet where Tanja scoops him up and drives him to the mat with a Death Valley driver. Tanja rolls over him and hooks the leg.
Luke lifts an arm into the air to break the count. Tanja lifts him to his feet but Luke grabs Tanja dropping her to the mat with a spinebuster. Tanja pulls herself to her feet but Luke cracks her with a high knee that spins Tanja on her feet. Luke spins her to the mat with a reverse frankensteiner. He rolls her over and makes a cover.
Tanja rolls to her side breaking the count.
Watson:
He knocked Tanja Devereaux silly and she still kicked out!
Sydney:
There are some in EWC that kick out when they're knocked out!
Luke pulls Tanja to her feet and smacks her with forearms and elbows. Luke runs at the ropes and kicks off the middle rope. He flies over Tanja and drives her to the mat with a Joker Poker Face. He hooks the leg.
Tanja just manages to lift a shoulder off the mat to break the count. Luke lifts Tanja to her feet but she lifts him onto her shoulders and crashes him down with a City Of The Dead. She hooks the legs.
Luke lifts an arm of the mat at the last split second to break the count
Watson:
How the bell hasn't rung I don't know!
Sydney:
For both! I do not have a clue how Devereaux managed to get a shoulder off the mat after that DDT either!
Tanja lifts Luke to his feet. He catches her with a clothesline. Luke pulls Tanja to her feet and grabs for her arm but She manages to lift him onto her shoulders for a fireman's carry that she turns into Voodoo. She grabs both legs.
DING DING DING
Starr:
And your winner, via pinfall...
TANJA DEVEREAUX!
Tanja jumps to the middle turnbuckle and poses with her usual taunt. The crowd is split between cheering and booing her.
Watson:
A big win for Tanja Devereaux here on Paramount! That has to do something for her rankings in EWC!
Sydney:
I'm sure it will. Luke Saito was not an easy win here, he came close to the win himself.
Watson:
We still have our champion showcase and our MASSIVE main event to come. We will be right back!
Camera cuts to a commercial for Rampage's brand exclusive event Scars and Stripes Live! on Pay Per View June 30th.
---
---
The camera cuts backstage where we find 'The Prodigal Son' Buddy Love standing by…he smiles as the camera zooms in on him…
Love:
Let me ask you a question…
Buddy's smiles widens as the camera pulls back to show him standing next to Ibuki Ito, the North American Championship around his waist…
Love:
Does this look like a 'desperate' man…
Buddy raises his eyebrows as he tilts his head a little to the side…
Love:
I mean seriously, do you see an ounce of 'desperation' in this man Sally…
Buddy shakes his head no…
Love:
Of course not and you want to know why…because this man has Main Evented StrangleMania, he's headlined Uprising and World Wide…he's been in the ring with the GREATS at WrestleFest two years in the row on the final night in the final match…he's fought for the GREATEST PRIZES in the EWC, the top championships and won…he's overcome the pressures and the doubt, proven people wrong and become the ACE he was meant to be…while you…you talked a big game while Salvation was a absentee champion but that tone seemed to change with the reality that you aren't facing Salvation but a PROVEN champion like Ibuki…funny how that works right…
Buddy smirks as he gives the camera a little wink…
Love:
I get it, you are trying to deflect the pressure back on Ibuki…asking the age old question, 'what if the North American Champion loses to the Apple TV+ Broadcast Champion' well Sally, you sort of answered your own question didn't you…it truly does make the match later tonight between Suene el Molde, SONYA and Jadyn Keem pretty insignificant because how couldn't YOU be named the outright #1 contender…but I get it, you asked the question in hopes Ibuki would get into his own head…start worrying about the optic of it all and maybe…just maybe make a mistake against you giving you an opening but Sally, this is Ibuki Ito you are talking to, he's been under extreme pressure packed situations here in the EWC before…do you really think losing a non-title match is keeping him up at night…
Buddy shrugs his shoulders…
Love:
Now he gave you your do, you picked up the ball these last few weeks and ran with it while Salvation held this championship but Salvation has been replaced…allowing you to worry about being the best broadcast champion you can be, maybe even trying to become the best broadcast champion the EWC has at the moment…it's an uphill battle but we believe in you, but to be Paramount's top champion well, Sally you are getting a little ahead of yourself…I mean heck, the 3pAC brought the tag team titles back to Paramount and they beat our Undisputed Champion to do that…but hey, points for the ambition I guess…
Buddy gives the camera a thumbs up…
Love:
But tonight we kick off the Ibuki Era as the North American Champion here in Paramount as we do so by beating the 'other' champion…you said it yourself right, when you first came into Paramount it was during Ibuki's run as the Undisputed Champion, well champion or not Ibuki has been the face of Paramount since day 1, since the FSW became Paramount really…but tonight he cements his legacy by starting this reign off with a win and setting the tone for his championship…
Ibuki reaches out and puts his hand on Buddy's shoulder, Buddy falls silent the moment his hand hits him…
Ito:
You have made promises Sally, I understand you set the bar high for yourself and now are trying to live up to those standards but what do you think, that someone like me does not…do you understand how long I've waited for a shot at this championship, to be the man that holds Paramount's top prize…I didn't chase the X-Division Championship because I wanted it more than this…I chased it because I thought I was one of the few that could take it off of Ace King and bring it here to Paramount…I wanted to test myself against one of the greatest of all times and I was able to beat him twice for it…I was one of the winners of the Rumble and it allowed me to challenge, win and bring the Undisputed Championship back to Paramount…I have given this brand my everything and now I have this…
Ibuki looks down at the North American Championship…
Ito:
And now I get to be the flagship champion of this brand…to defend it and my place at the top of Paramount and tonight that starts with you…I get to take the steps to restoring this championship to the elite level it should be and losing to you…would set me back in that quest so understand this, while nobody thinks you have a chance here tonight I am treating you like you are Ace King, like you are Melody Malone…like you are Stitches, Candy and Marcu$ all wrapped into one…I look at you and see someone I need to be elite to beat so there is no overlooking you Sally…you have my total focus as I start my reign here…winning this championship, it wasn't my endgame, I'm not settling for just having it…tonight I start the process of restoring and elevation this championship to an elite level…and I start this process by beating you…
Buddy smiles once again as the camera fades out.
---
---

CHAMPIONS SHOWCASE
NON-TITLE MATCH
Sally Talfourd
VS Ibuki Ito
We return to ringside where the Washington D.C. crowd is buzzing in anticipation of the next match.
Watson:
Strong words from our North American champion, but will Ibuki Ito be blinded by the Magic of Paramount's Last Magician??
The lights turn blue and red. 'TroubleMaker' hits the speakers. The song bursts to life, out races Sally to the front of the stage. Raising her hands to the crowd, she kicks her leg and heads towards the ring, slapping hands with the crowd.
Starr:
The following match is set for one fall. Joining us first, making her way to the ring this evening, weighing in at a sublime 140 pounds, standing in at five feet and ten inches of perfection, this is 'The Last Magician' and the EWC Apple TV+ Broadcast Champion...
SALLY TALFOURD!
Sally stands at the base of the steps to the ring, waving to the crowd, then dashes up the steps, hoists herself over the top and strides to the centre of the ring.
Starr:
And her opponent, residing in Daly City, California and weighing in at 235 pounds.... he is the EWC North American Champion...
IBUKI ITO!
'The Prodigal Son' Buddy Love walks out onto the stage and raises his arms into the air as the lights fade out. He jumps up and down as 'Deeper Deeper' begins to play. A strobe light circles around the stage as a single white spotlight hits the stage where Ibuki is standing, his back facing the ring, his arms stretched out and his head down. He swings around to face the ring as Buddy Love runs up and stands next to him. After a quick word the pair start to walk towards the ring, Buddy runs ahead and charges up the steps and holds open the ropes for Killjoy to step through. Ibuki walks to the center of the ring, extends his arms and tilts his head back to soak everything in.
DING DING DING
Sally lashes out with a superkick. Ito blocks and tosses her foot to the side. Sally spins on her other foot and smacks Ito with a dragon whip. Ito gets to his feet but Sally lashes out with forearms that knock him back against the ropes. Sally whips Ito off the ropes and takes him to the mat with a hiptoss. Sally attempts to apply an armbar but Ito tries to slip out of the hold. Ito pulls Sally to the mat with a school boy. The referee counts.
Sally kicks her way free and applies a cross armbreaker at the same time. Sonya pulls and wrenches on the arm as Ito screams in pain. Ito manages to get to his feet and he brings Sally down with a powerbomb to break the hold. Both get to their feet and Sally throws herself at Ito with a spinning heel kick that Ito ducks. Sally picks her self to her feet. Ito grabs her hitting a sitout Last Ride. The referee counts.
Sally rolls out of the attempt. Both get to their feet. Sally jumps hitting Ito with a dropkick that knocks him to the mat. Sally climbs to the second turnbuckle and drops down onto Ito with a legdrop. She grabs the legs.
Ito raises an arm up off the mat to break the count.
Watson:
Both getting some early shots and early kick outs!
Sydney:
Just trying to weaken the opponents right now. The more damaging shots will come soon.
Sally gets to her feet and lifts Ito to his. She grabs him and hits an Either Or that sends him forward rolling to the mat. Sally makes a cover.
Ito rolls to his side breaking the count as Buddy Love at ringside holds the rope to keep himself on his own feet. Sally pulls Ito to his feet and smacks him with a European
uppercut
that knocks Ito against the ropes. Sally grabs Ito for something but he grabs her hitting Sally with a Tobidashi Naifu. Ito makes a cover.
Sally pushes her way free to break the count and rolls to her front. Both lay on the mat.
Watson:
Smart move to roll to her stomach.
Sydney:
Both getting closer and closer to the win but who will get it?
Sally gets to her feet. She runs at the ropes and springs off them and back at Ito with High Hopes. At the last second, Ito rolls to he side and Sally crashes to the mat. Io is on his feet. He charges at Sally and smacks her with a Kettei-Da. He makes the cover
DING DING DING
Starr:
And your winner, via pinfall
IBUKI ITO!
Buddy Love gets into the ring and raises Ito's arm in victory. Ito then moves to the middle of the ring, extends his arms and tilts his head back o soak everything in.
Watson:
A big win here tonight for Ibuki Ito! He was adamant that he was going to bring the North American championship up a notch, and I'd say he did just that.
Sydney:
A tough loss for Sally Talfourd here too. She came close to the win tonight. She's a game girl though, it's no small feat to keep pace with the former Undisputed Champion. The Apple TV+ champion is still one of Paramount's absolute benchmarks.
Watson:
With this out of the way, all that's left now is for Ibuki Ito to find out who his next contender is going to be, and we're going to find that out next. Sit tight Paramount, after this break we've got triple threat action between Suene el Molde, SONYA, and Jadyn Keem!
Camera cuts to a promotion for the upcoming Prime Pay Per View "World Wide" before heading to our final commercial of the evening.
---
---
---

TRIPLE THREAT MATCH
WINNER BECOMES #1 CONTENDER FOR THE EWC NORTH AMERICAN CHAMPIONSHIP
Jadyn Keem
VS Sueñe El Molde
VS SONYA
We return to ringside where the Capital crowd is RED HOT for the Main Event!
Watson:
We've arrived at our main event folks! Three of Paramount's hottest talents battle it out for the right to face the EWC North American Champion, Ibuki Ito with the title on the line! Take it away Isabella Starr!!!
Starr:
The following match, set for one fall, YOUR MAIN EVENT OF THE EVENING! And is a Triple Threat Match! Joining us first, residing in Los Angeles, California and weighing in at 220 pounds...
SUEÑE EL MOLDE!
The lights go down as "Sweet Dreams" by Marilyn Manson begins to play. Blue and purple strobe lights begins to flash through the arena as the song picks up. After awhile the lights shine on the entranceway as Sueñe El Molde steps out onto the stage. He looks around momentarily before slowly making his way down the walkway to the ring, paying no attention to the fans. He slides in under the bottom rope and stalks around the ring.
Starr:
And the opponents... first, residing in Honolulu, Hawaii and weighing in at 150 pounds...
SONYA!
As the first few notes of "Rusalka" play over the loudspeakers, Sonya stands just a few feet away from the entrance way, the cameras picking up her peaceful expression and smile. The song kicks into high gear and she makes her way to the ring with determined eyes and calm demeanor, stepping into the ring and performing her signature pose in the corner.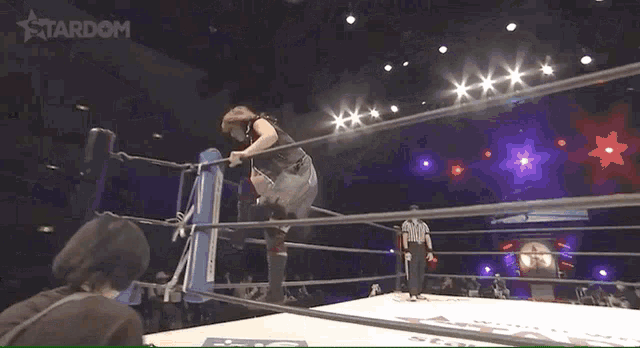 Starr:
And, from Santa Monica, California and weighing in at 210 pounds...
JADYN KEEM!
A spotlight shines down onto the stage as the intro to 'Top 5' begins to play throughout the arena before it loudly kicks in, the Extreme-Tron reading the words of "NEW ERA" just as the lyrics soon are heard. With the opening lyrics playing out through the P.A. System, the entrance curtain opens up as a figure soon walks through with his head lowered and his arms stretched out wide.
That's when the man lifts his head up and the spotlight shines down onto only Jadyn Keem. A grin on his face as he soaks in his time in the spotlight, before lowering his arms and beginning his walk towards the ring. Upon climbing up the ring steps and entering through the middle ropes, he slowly takes his time entering the ring and heading for the ropes where the hard cam resides—standing on the second rope and stretching his arms out wide again for the spotlight to be soaked in.
DING DING DING
Sueñe fires at Jadyn with a quick enziguri. Jadyn ducks it and Sueñe lands uneasy on his feet. Jadyn hits Sueñe with a gut punch, an uppercut and a series of one hand slaps that send Sueñe staggering back to the corner. Jadyn whips Sueñe across the ring with an Irish whip. Sueñe hits the corner hard but gains enough composure to superkick Sonya sending her sailing over the top rope. Sueñe spends a second or two longer than he should have watching Sonya. He turns into a superkick from Jadyn. Sueñe gets to his feet but Jadyn lays into him with forearms to the back. Jadyn whips Sueñe the corner. Jadyn charges at him. Sueñe raises his feet to block but Jadyn grabs him and drives him to the mat with a back suplex. Jadyn makes a cover.
Sueñe raises a shoulder high off the mat to break. Sueñe slowly gets to his feet giving Jadyn time to run and grab Sueñe hitting a bulldog. Again Jadyn makes a cover.
Sueñe rolls to his side to break the count. Jadyn lifts Sueñe to his feet and up for a reverse atomic drop. Sueñe counters hitting a DDT. Jadyn staggers to his feet and walks into the grip of Sueñe who spins Jadyn around and drives him to the mat with a belly to belly suplex. Sueñe makes a cover
Jadyn rolls to his side to break the count. Jadyn slowly gets to his knees when Sueñe charges at him and smacks Jadyn with a shining wizard. Jadyn lays flat on the mat as Sueñe makes a cover.
Sonya dives into make the save as Jadyn rolls from the ring.
Watson:
So close to a finish there!
Sydney:
While I believe he would have kicked out anyway, Sonya brings with her that third person problem that all multi person matches do!
Sonya pulls Jadyn to his feet and runs off the ropes before smacking him with a big boot that drops him to the mat. Jadyn gets to his feet but takes a dropkick to the chest that knocks him back down. He gets to his feet again where Sonya grabs what hair she can and throws Jadyn back to the mat sending him crashing down. She hooks the leg as she makes a cover
Jadyn gets a shoulder up off the mat to break the count. Sonya lashes out with rights and forearms to Jadyn's temple before dragging him to his feet. There Sonya chops Jadyn hard across the chest. The sound echoes through the stadium. Jadyn retaliates with a one handed slap to the jaw. Sonya holds her face with one hand and chops Jadyn with the other. She whips him off the ropes but Jadyn reverses it sending Sonya off the ropes. She rebounds and throws herself at Jadyn with a running lariat. She hooks the leg again.
Jadyn rolls to his side. Sonya runs off the ropes again looking for another lariat. Jadyn knows it's coming and ducks before knocking Sonya to the mat with a superkick. Sonya staggers to her feet but Jadyn grabs her around the waist sending her across the ring with a German suplex. Sonya pulls herself to her feet in the corner. Jadyn charges. Sonya gets her feet up to block but Jadyn grabs her and pulls her away and down with a powerbomb. The referee counts.
Sueñe dives in to break the count.
Watson:
Showing up in just the nick of time to continue this match!
Sydney:
For him and Sonya maybe. Jadyn Keem would have preferred if he was outside the ring for another half second.
Jadyn rolls to the outside as Sueñe pulls Sonya to her feet. Sueñe lifts Sony up for a bodyslam but transitions it into a reverse DDT. Sonya pulls herself to her feet but Sueñe is on his and he drives her down onto his knees with a double knee facebuster. He makes a cover.
Sonya rolls Sueñe over with a small package. The referee counts.
Sueñe shoves his way free to break the count. Sueñe gets to his feet as Sonya runs off the ropes and cracks him in the jaw with a knee lift. Sueñe falls back against the ropes and drops to the mat. Sonya makes a cover.
Jadyn dives into the ring and shoves Sonya from the cover.
Watson:
Just when you think it's over Jadyn Keem appears from nowhere.
Sydney:
That's the problem with these matches. You get one opponent down and another springs up. The trick is stopping them from doing so.
Jadyn shoves Sonya into a corner before running at Sueñe. Jadyn cracks him on the back of the head with a Snake Shot. Sueñe drops to the mat where Jadyn rolls him over and makes a cover.
Sueñe just gets a shoulder off the mat to break the count. Jadyn gets to his feet for his next attack but Sonya charges at him and cracks Jadyn with a Clean-Up Hitter. Jadyn's knees buckle and he drops to the mat. Sonya covers him.
Sueñe pulls Sonya to her feet and drops her down onto Jadyn and the mat with a Black Haze. Sueñe rolls her over and hooks the leg.
Sonya lifts her shoulder about an inch or two from the mat to break the count. All three lay on the mat.
Watson:
How? How do you stop these three?
Sydney:
Maybe you don't. The winner becomes the number one contender to the EWC North American Championship. That's enough to keep driving you to get that shoulder up even if that's the only part of you that can move.
Jadyn pulls Sonya to her feet and twists her into a Sovereign's Kiss. Sonya drops to the mat and falls from the ring as Jadyn reaches to grab her. Sueñe stands over Jadyn and drives him to the mat with a Dustcloud Explosion. He rolls Jadyn over. Before he can make the cover, Sonya slides into the ring and throws Sueñe into the corner with a crack of his shoulder colliding with the post. Sonya lifts Jadyn hitting a Fisherman Suplex. She bridges into the pin.
Sueñe dives but Sonya is just out of reach.
DING DING DING

Starr:
And your winner, via pinfall
SONYA!
Sonya climbs to the turnbuckles and performs her signature pose before she makes a championship taunt around her waist.
Watson:
With that Sonya is number one contender for the EWC North American Championship and she went through a war to get it!
Sydney: She went through a war to get it, Sueñe El Molde and Jadyn Keem went through the same war and didn't. However you look back on it and the moments of 'almost got it' are there. This could easily have been a win for one of the other two.

As Sonya hops down from the turnbuckle, the sound of 'Deeper Deeper' by One Ok Rock kicks on over the PA system and the crowd roars to life to see the EWC North American champion, Ibuki Ito, standing at the top of the stage. Sonya points toward Ito, making that same motion around her waist for the championship before the faintest look of bemusement from Ito can be seen as he raises the championship high in the air. The crowd EXPLODES in anticipation for this eventual fight!
Watson: Sonya had some choice words about being in this match, having beaten the former champion and how she felt SHE should have been the one to face Salvation at Uprising... seems to me, her words might've struck a chord with our new North American Champion!

Sydney: Folks we're out of time, this is good night from Washington D.C. and we'll see you all LIVE on June 21st from sunny Guadalajara, Mexico! I'm Cid Sydney, he's Tim Watson, and THIS has been Paramount Wrestling!
The camera focuses on Ito on the stage, Sonya's determined face in the background on the Extreme-Tron giving the fans a taste of what's to come before we fade out.
---