Post by PARAMOUNT on Aug 2, 2023 21:16:18 GMT -6
The Extreme Wrestling Corporation Presents


** Next Stop: The Insanity Cage **

EPISODE #034
AUGUST 2ND, 2023
LIVE!
from the LaVell Edwards Stadium - Provo, UT
---
---
WARNING: This live event contains strong coarse language (L), and intense violence (V) which may be unsuitable for younger viewers. None of the matches you are about to watch have been predetermined. Only some of the thematic story-lines have been discussed beforehand. Accordingly, EWC and it's producers must insist that no one attempt to recreate or re-enact any match or activity performed in this live event.




---
---
"Superstar" by For Squirrels begins to blast over the arena speakers as our feed comes to life...
The scene immediately cuts to a pyro show erupting on the outside of the LaVell Edwards Stadium!
Then a cut to another, equally explosive show on the inside!


The fans packing LaVell Edwards Stadium tonight all come to their feet. Further explosions rock the very foundation of the arena as a large video screen is lowered from the rafters, stopping 15 feet above the ring! Everyone in Provo knows that the self-proclaimed greatest show on Wednesday night is about to begin and they cheer accordingly! The heavy riffs from 'Superstar' continue to blare over the arena, setting the tone for what is to come later on this evening.




IT'S ALL I WANT, IT'S ALL I NEED

IT'S ALL I SEE, IT'S ALL I BREATHE

IT'S WHAT I AM, IT'S WHAT'S I KNOW

IT'S WHAT I FEEL, IT'S WHAT I BLEED!
On the Extreme-Tron, this episode of Paramount Wrestling begins with its opening video montage detailing many of the historic events that have taken place in the five-year history of Future Stars of Wrestling, setting the tone for the history of the Orange brand. From past champions like Jason Hunter, Dixie Dubois, Amis Shelton, Magdalena Lockheart, and Otaki all standing underneath an old FSW logo to the more current Future Stars Champions like Xavier Reid, Cletus Franklin, Robina Hood, Melody Malone, Robbie Rayder, Stitches, Candy, and Wes Walker tearing down that mold, showing the Paramount Wrestling Logo...


As more pyro goes off the Paramount Wrestling logo appears and flashes of the roster appear on the screen such as Ashley Freeman, Eavan "Sykobitty" Maloney, "La Belicista" Isabella, Next Level, "The Beautiful Battleship" Sonya, Jadyn Keem, Marcu$ $t. John, Tanja Devereaux, The Kruel Masters, Shaker Jones, Adriana Aquilla, El Pablo, Emma Louise, 3Pac, Nika Kosov, Sueñe El Molde, Savage Aura, Eddie Dozier, Ashley Freeman, and Sakura Yamamoto. The final images shown are a montage of Lavender, the EWC Undisputed Championship around her waist, arms outstretched, JoJo Rush with the EWC X-Division Championship over his shoulder, 3Pac, with Bunny Love holding the EWC World Tag Team Championships aloft, Ibuki Ito and the EWC North American championship high over his head, and "The Last Magician" Sally Talfourd proudly sporting the Apple TV + Broadcast Championship around her waist.
The camera pans around the loud and out of control audience. As the fireworks continue to explode, the fans chant and cheer! Cameras pan around the arena to catch some of the signage that many fans have brought to LaVell Edwards Stadium with them here tonight. The Paramount Wrestling fan-base is as adamant about having their voices heard now as ever:
"PARAMOUNT HAS RE-INSTATED PROHIBITION: NO MOONSHINE AT THESE SHOWS!!!!"
"ORANGE IS THE NEW SUPREME!"
"SALLY IS ABOUT TO PUT ON A MAGIC SHOW!!!"
"THE PHILOSOPHER CAN'T HANDLE THE ACE!!!"


"THE HOUSE AIN'T WINNING TONIGHT!!!"
"PAR-A-MOUNT!!!"



"PARA-A-MOUNT!!!"



"PARA-A-MOUNT!!!"



"PAR-A-MOUNT!!!"
The lights come back to full and the fans offer one last rousing cheer at the opening festivities. Tonight's announcers are on standby and ready for the show to begin.
Watson:
Good evening ladies and gentlemen and welcome to Paramount #34 from the Beehive state! We are LIVE! From BYU campus and LaVell Edwards Stadium in Provo, Utah! We are fresh off the heels of Parabellum where team Paramount may not have gotten the victory in Brand Warfare, but they added a name to the Insanity cage as Apple TV+ Champion Sally Talfourd has punched her ticket to Night of Champions!!! We'll be seeing her in action later as she takes on Rampage's Kendrick Kross in non-title action! I am Tim Watson, this is Cid Sydney! Cid, how the hell are you?!
Sydney:
It's great to be back with another episode of Paramount Wrestling! We have so much to see tonight and our main event kicks off the EWC Trios tournament! 8 Trios teams will be fighting over the next few shows for bragging rights, a cash prize and that big trophy! Paramount gets to kick it off tonight when The Left Hand, consisting of Zack Tyler and Moonshine Inc, take on The Supreme, the team of JDF, Cosmo Goldworthy and "Box office" Bruce Booth!
Watson:
We also have tag team action as newest Paramount roster member Eddie Dozier tags with his House stablemate and NEW EWC X-Division champion, JoJo Rush, to take on The and STILL EWC World tag team champions, 3pAC!
Sydney:
The EWC North American champion, Ibuki Ito, will also be in action as he takes on Brawl's returning Philosopher, the man they call Dio, in non-title action.
Watson:
Four up and comers to Paramount will vie for the right to take on Apple TV+ champion Sally Talfourd at Paramount #35 when Savage Aura, Sueñe El Molde, Ashley Freeman and "Lo Dovino" Adriana Aquilla square off in our opening match! We also have The Voodoo Queen herself, Tanja Devereaux taking on the Beautiful Battleship of Paramount, SONYA In what should be a fantastic contest!
Sydney:
We have all this and SO MUCH MORE! Our first match of the night will be coming up right after this quick message from EWCTV. Don't go anywhere .. Paramount Wrestling action will be back in exactly 1 minute
---
---
---
---
WHAT IS EWCTV?


All live EWC Pay-Per-View events (including StrangleMania, Night Of Champions, EWC Rumble & WrestleFest)
All day scheduled & live programming
Plus, hours and hours of on-demand content & never before seen behind-the-scenes footage!
Groundbreaking original series - See new episodes of BRAWL, RAMPAGE, PARAMOUNT WRESTLING, EWC PRIME and more
Live in-ring action, reality shows and documentaries
HOW TO ORDER
Get the award-winning EWC Network through your TV provider. Call your local TV Provider today to subscribe.
Only $7.95/month

WATCH ONLINE
If you are subscribed to EWC Network through your TV Provider you can now enjoy EWC Network on your:
PC, Laptop, Playstation, mobile app, or tablet.



EWCTV for only $7.95 USD per month
Along with being an EWCTV Subscriber, you get:
EVERY Pay-Per-View event included at no extra charge
15% off any and all EWC Merchandise from the EWC Store
20% off all tickets to LIVE EWC Shows
A free EWC Yearly Wall Calendar signed by the entire active EWC Roster
As an added bonus for all those currently subscribed including any new subscriptions
prior to midnight August 6th

Receive
a
FREE
copy of
PARABELLUM
DVD and Blu-Ray combo when it's released later this year
+ free T-Shirt and Replica EWC Undisputed Championship belt.
So act now if you aren't already subscribed to EWCTV
---
---
---
The cameras cut to the back as Ashley Freeman is just putting on the last pieces of her gear. Mr. Donaldson is looking at his phone as Ashley looks up toward the camera.
Ashley Freeman:
In just a few minutes, four souls will walk to the proverbial gallows but only one will be left standing.
Ashley tugs on one of her wristbands while taking a deep breath.
Ashley Freeman:
Savage Aura, Addy Aquilla and Suene will
not get past me. That title opportunity will soon be mine. You are merely my stepping stones toward Sally Talfourd. Soon, I will hold that Apple TV Broadcast Championship around my waist. Until that day comes, I will leave the three of you broken in my wake.
Ashley snickers before walking out of the shot with Mr. Donaldson right behind her.
---
---
The lights dim, but don't go dark before the soft words of Billie Eilish begin to play over the P.A. system.
Watson:
Do our eyes deceive us?!
Sydney:
Tim, get on your feet the QUEEN is here!
Bite my tongue bide my time
Wearing a warning sign
Wait till the world is mine
Visions I vandalize
Cold in my kingdom size
Fell for these ocean eyes
As the chorus hits, a bright flash of pyro explodes from the base of the EXT and Melody Malone stands on the stage, flanked by her personal retainer Rory Hyland. Melody stands with a crown atop her head as a spotlight follows them down to the ring.
Starr:
Making her way to the ring, accompanied by Rory… she is YOUR QUEEN of EWC… MELODY MALONE!
Malone isn't in ring gear tonight, instead opting for an orange strapless dress with a bold black belt. Rory holds the ropes open for her, careful to not cause her to needlessly bend over as she steps into the ring. Isabella hands her the microphone, retreating to a corner of the ring as the Paramount faithful fill the night air with a voracious welcome after her efforts, fruitless though they were, at Parabellum.
She looks to Rory with a wink, before turning her attention back out to the crowd.
It prompts another wave of cheers through the crowd, a brief 'Welcome Home' chant breaks out before she settles them down, a hand in the air with a serious expression on her face.
Melody Malone:
And as much as I would LOVE to come out here and bask in the success of Paramount in the Brand Warfare match… I can't. It pains me to say it, because when I went out there to represent Paramount I did it with
everything
I had, but in the end, not only did my shoulders hit the mat… but my shoulders weren't strong enough to carry the rest of the field to the end of the match alongside our North American champion. Which is a shame, because I can't tell you how much I wanted to come out here and make this speech on the high of winning my third brand warfare match and representing Paramount the same way I did all those years ago. It would've been the perfect bow to wrap up what's been a HELL of a career here in EWC.
The crowd murmurs, a few boos rumbling in the audience as that last sentence starts to settle in. She smiles, maybe enjoying the fact they're disappointed to hear it juuuust a little.
Melody Malone:
It's true. When Chris Brock told the world at Parabellum that he'd convinced someone to come out of retirement on behalf of Paramount, he wasn't lying. After my loss to El Pablo at Uprising, I was off in Georgia filming for a show on Paramount+. I was living a life that didn't involve bleeding every other week, breaking my body, losing
pieces
of myself every time I stepped into the ring. And, frankly, it was a nice break. But at the end of the day, I know this is where I belong. But, I also have contracts signed. I can't just go out and risk getting concussions on the daily, splitting my lip open, breaking a wrist… so I had to settle for watching from afar. Until the strike put my contract and all my schedules on hold and I ended up back here. The same brand where I earned my stripes, where I put on performances that made everyone sit up and know that my name meant something. And when he called me, we had a long talk and we came to the only solution we could. I would come back to Paramount for
one night only
and represent. I would lace up my boots and do what only I could do. And in exchange, we would modify my contract to put me in a position to reach the only milestone left in a career as decorated as mine. So not only will you see my face on Paramount+ this fall, but you're all going to get to witness my directorial debut.. As Paramount's NEW Executive Director.
Watson:
Melody Malone's gone corporate?
Sydney:
Does this make her my boss? HR is NOT going to like this..
Melody Malone:
Where else is a girl to go, but up the corporate ladder? I've done everything there is to do in the EWC. Three time Undisputed Champion, two time United States champion. Two time Tag Team Champion, and my very first championship…. Right here, as the FSW champion. There was nowhere else I wanted to end my in-ring career, than right here where it all began. Now I do still have some outstanding contractual obligations on Prime, two matches left for the season with one coming up very soon against Callie Clark…
The crowd immediately begins to boo at the name drop, and Malone smirks, giving a nod along with them.
Melody Malone:
You don't have to say it, we're all thinking it. But nevertheless, the rest of Paramount can consider this my official coming out party, as your new Executive Director. I'll be working alongside Chris Brock to make Paramount the best brand in EWC for years to come. And no… you don't
have
to curtsey when you walk by my office but…. It doesn't hurt.
She winks, the music coming back up as the Paramount faithful rise to their feet and Malone hands the mic back to Isabella and Rory props open the ropes for her to make her exit.
Watson:
Cid, this could be the start of a whole new era in Paramount history!
Sydney:
Melody always loved to put people on notice, but THIS was something I don't think I ever expected.
As Melody disappears through the curtain, Isabella Starr takes her place in the center of the ring, ready to call the opening bout.

FATAL FOURWAY
WINNER GETS APPLE TV+ OPPORTUNITY POST NOC!
Savage Aura
VS Ashley Freeman
VS Sueñe El Molde
VS Adrian Aquilla
Watson:
Well she'll have her work in the front offices cut out for her, this week because we're on our final stop before Night of Champions! And I'm sure both she and Chris Brock, along with Sally Talfourd, will be following this match, very closely.
Starr:
The following match, set for one fall, is a Four Way Match! Joining us first, residing in Nation 6 and weighing in at 180 pounds...
SAVAGE AURA!
"Easy Rider" by Action Bronson fills the room around Savage Aura walking onto the stage in a buckskin ring jacket and a black towel over his head shrouding his face. Aura is striding down to the ring with loose body language but intent pace. Savage Aura climbs the steps and the ropes up to the top turnbuckle. Savage Aura reveals his face by tossing the towel to the side. After taking a moment to peer around, taking in his surroundings, he hops down into the ring.
Starr:
And the opponents, first residing in San Francisco, California and weighing in at 120 pounds...
ADRIANA AQUILLA!
Iron by Within Temptation hits the speakers and the crowd comes alive as Adriana Aquilla makes her way down to the ring, she slaps hands with a couple of fans before rolling into the ring ready for her match as she removes her jacket.
Starr:
Residing in Los Angeles, California and weighing in at 220 pounds...
SUEÑE EL MOLDE!
The lights go down as "Sweet Dreams" by Marilyn Manson begins to play. Blue and purple strobe lights begins to flash through the arena as the song picks up. After awhile the lights shine on the entranceway as Sueñe el Molde steps out onto the stage. He looks around momentarily before slowly making his way down the walkway to the ring, paying no attention to the fans. He slides in under the bottom rope and stalks around the ring.
Starr:
And finally, residing in The Lost Valley and weighing in at 129 pounds...
ASHLEY FREEMAN!
A video package plays on the X-Tron as "Flowers" suddenly begins to play as a woman wearing a sleeveless hooded cloak steps out onto the stage. The woman looks side to side before making her way down the ramp. Part way down the ramp, the woman throws the hood back as Ashley Freeman reveals herself to a mixed reaction from the audience. She slides inside the ring, climbs up onto one of the corners before removing her cloak and hopping down. She sits in the corner while glaring at nothing in particular.
DING DING DING
The bell rings and the fight is on. They pair off with
Sueñe
fighting Savage in one corner and Ashley and Adriana in another. Savage strikes with right hands and chops before taking
Sueñe
to the mat with a leg sweep that Savage follows with a double foot stomp to the chest. Savage grabs
Sueñe
and dumps him into the corner. Adriana goes flying past after an Irish whip from Ashley. She charges at Adriana but Adriana manages to get a foot up to block. Adriana jumps to the middle turnbuckle and throws herself at Ashley for a moonsault but twists in mid air and crashes on Ashley with a cross body. Adriana then smacks Savage in the back of the head with a superkick but she's knocked to the mat by a clothesline from
Sueñe
. He pulls Adriana to her feet and chops her hard across the chest. He attempts a second chop but Adriana manages to duck.
Sueñe
reaches back with his trailing arm and grabs Adriana hitting her with a reverse DDT. Before he can follow up, Ashley slides in taking him down with a German Suplex. She hooks a leg.
Sueñe
gets a shoulder off the mat but Ashley knocks him from the ring with a dropkick as
Sueñe
gets to his feet. Ashley turns as Savage leaps at her with a slingshot lariat. Savage pulls Ashley to her feet and takes her back down with a snap suplex that he floats over into a pin.
Ashley gets a shoulder up breaking the count. Savage gets to his feet but Adriana comes flying in hitting a missile dropkick. She makes a cover.
Savage rolls to his side to break the count. Adriana gets to her feet but
Sueñe
slides into the ring rolling her up in a school boy.
Adriana manages to roll herself free breaking the count.
Watson:
All four getting near falls but who has what it takes to get the deciding fall?
Sydney:
Having it is the easy bit. Pinning somebody in a match like this where there's two others to break the count is the hard bit.
Adriana and
Sueñe
get to their feet.
Sueñe
grabs Adriana and drives her to the mat with Black Haze. He rolls her over and makes a cover.
Ashley dives in at
Sueñe
to break the count crashing down on him with a Lone Star Chaos. She rolls him over and hooks the leg.
Savage pulls Ashley to her feet hitting her with a War Call. He covers her.
Adriana slides in cracking him with a Divine Wizard. She rolls him up for a cover.
Sueñe
dives into the ring to break the count. All four lay on the mat.
Watson:
And therein lays the problem. Plenty of pin attempts but each one broken up by another opponent.
Sydney:
This is just the opener. We could be here all night on this match alone!
Adriana gets to her feet and grabs
Sueñe
she lifts him up and drives him to the mat with Divine Judgement. Before she can make a cover, Savage grabs Adriana hitting a Small Package Driver. He remans locked in the Small Package as the referee counts.
Ashley slides in hitting a low dropkick to Savage's face. As Savage clutches his nose. Ashley pulls
Sueñe
to his feet and drops him down onto Savage and Adriana with a Lavore Delight. She covers
Sueñe
as the referee counts.
DING DING DING
Starr:
And your winner, via pinfall
ASHLEY FREEMAN!
Ashley climbs to the middle turnbuckle and stands there. No arms raised, nothing. Behind her, Savage,
Sueñe
and Adriana all lay flat on the mat. Ashley climbs down from the corner and raises her arm in the air in celebration as she looks down at her defeated foes.
Watson:
Some good timing and dropping one opponent onto the others is an interesting way of keeping all her opponents down but Ashley Freeman has won this match! Smart of her here.
Sydney:
Smart and luck are different things. If anyone here was lucky to hit their finisher last, it could have been their win and not Ashley Freeman's. All three put on spirited performances in this match. One on one, a rematch of this one, they showed that they had all the talents to pick up the wins on any other night
Watson:
I think there's a good chance these competitors will cross paths again, but up next is a pairing we might see just one night only, as Sally Talfourd gets a reprieve from defending the Apple TV+ Broadcast championship as we get closer to Night of Champions. She takes on Rampage's Kendrick Kross NEXT!
Camera cuts to Ashley Freeman as she exits the ring, giving her opponents one final glower as Savage Aura and Adriana begin to stir and the cameras fade backstage.
---
---
---
Daphne Kreel appears on the Extreme-Tron as she is standing in a dimly lit room with her red hair tossed into strong ponytail.
Daphne Kreel:
King Flip! I know for a fact you can fucking hear me. At Parabellum, you had the nerve to ask me one of the most stupidest questions ever. I really wanted to do more but our time was cut short thanks two imbeciles sticking their nose into my business.
Daphne narrows her eyes as she lifts her hand up while holding her finger out.
Daphne Kreel:
Now, this might be career suicide on my part but I want to get my hands on you. So Chris Brock, if you want a main event then book King Flip vs Daphne Kreel inside a steel fucking cage. I want this bastard and I will make sure he gets what is coming to him.
Daphne curls her lips before punching her fist into the camera lens as the screen suddenly goes black.
---
---

SINGLES MATCH
NON-TITLE
Kendrick Kross
VS Sally Talfourd
We return to ringside where Matt Mercer is standing in the corner awaiting the next set of combatants to come down the aisle.
Watson:
Daphne Kreel with a challenge thrown down to The Mad King! Will we see this match happen?! For now, we go from a chaotic fatal four way to our Apple TV Broadcast champion facing off against a Rampage invader.
Starr:
The following match is scheduled for one fall, Joining us first, from Los Angeles, California, weighing in at 215 pounds ...
KENDRICK KROSS!
As The Devil in I plays smoke slowly starts to raise as Kendrick walks out from the back with a barbed wire bat in his right hand. He walks down the ramp with a smirk on his face before dropping the bat by the ring and sliding in ready for the match.
Starr:
And his opponent, from Boryeong, South Chungcheong Province, South Korea, weighing in at 140 pounds, she is the EWC Apple TV Broadcast Champion, "The Last Magician ...
SALLY TALFOURD!
The lights turn blue and red. 'TroubleMaker' hits the speakers. The song bursts to life, out races Sally to the front of the stage. Raising her hands to the crowd, she kicks her leg and heads towards the ring, slapping hands with the crowd.
Sally stands at the base of the steps to the ring, waving to the crowd, then dashes up the steps, hoists herself over the top and strides to the centre of the ring.
DING DING DING
Sally and Kross step out from the respective corners and begin to circle each other. Sally goes to meet him in the center but he kicks her in the gut before wrapping his arms around her waist. He lifts her up and slams her back down with a gut wrench Suplex. Kross maintains his grip while popping his hips and standing back to a vertical base. He goes to lift her again but she counters by hooking her legs around his neck. In one fluid motion, Sally sends Kross across the ring with a hurricanrana. Sally gets back up to her feet as she quickly moves over toward Kross as he is getting to a knee. Sally charges at him, lands a basement dropkick which sends him into the bottom turnbuckle.
Sally quickly gets up to her feet, bounces off the ropes and connects with a running face wash in the corner. She quickly pulls Kross out of the corner and goes for a pin.
Mercer barely gets a one count as Kross throws Sally off of him with ease. Sally bounces back up to her feet as Kross is doing the same. Sally comes running at him but he catches her with a snap powerslam.
Watson:
Kross showing his power early.
Sydney:
I'm pretty sure I heard hate leads to suffering or...something
Kross bounces back up to his feet as Sally is slowly getting up to hers. Kross bounces off the ropes as Sally ducks his initial clothesline attempt but gets blasted with a clothesline to the back of her head. Sally drops to the canvas as Kross starts laying boots into each limb and body. He gets back towards the head, pulls her up to a kneeling position before bouncing off the ropes and connecting with a hard right across her jaw.
Kross goes for a quick cover.
ONE...





Sally just gets her shoulder up as Kross picks her up by the head before planting her with a snap DDT and going for another cover.
ONE...





TWO...




Sally just barely rolls her shoulder up as Kross is looking at the referee. He shakes his head while standing back up to a vertical base. He motions for Sally to get up. Sally slowly gets to her feet as Kross grabs her by the shoulders to spin her around. He goes kick her in gut but she catches the leg. She swings her leg over it before catching him with a wheel kick knocking him to the canvas. She follows it up with a quick leg drop followed by an elbow drop across the sternum.
Watson:
Talfourd taking the fight back to Kross!
Sydney:
She's a little strange but she's effective in the ring, Tim!
Sally is back to a standing position as she slowly pulls Kross up to his feet. She hooks her arm around his neck and proceeds to connect with Lights Out. As Kross is lying on the canvas, Sally follows it up with High Hopes before going for the cover.
DING DING DING
Starr:
And your winner, via pin fall
SALLY TALFOURD!
Sally brings herself back to a vertical base as Matt Mercer lifts her arm in victory. Sally proceeds to climb onto one of the turnbuckles as celebrates with the crowd. Meanwhile Kross slowly rolls himself out of the ring.
Watson:
Sally Talfourd did what she set out to do and that is win. Kendrick Kross put up a good fight but it just wasn't enough.
Sydney:
Kross had this match twice but Sally proved she is as tough as nails. I believe she is more than ready for the Insanity Cage.
Sally Talfourd continues to celebrate as cameras show Kendrick Kross leaning against the barricade before exiting through the crowd.
Watson:
Speaking of the Insanity Cage, up next we've got the fiery Cajun Tanja Devereaux going one on one with "The Beautiful Battleship" Sonya, who's going to be watching that Insanity Cage match very closely before she calls her shot against our North American champion Ibuki Ito. It's next folks, don't go anywhere!
Camera cuts to a commercial for Night of Champions LIVE from Tiger Stadium in New Orleans, LA on August 21st!
---
---
---
We open to a black and white image of the moonlit sky before the camera slowly pans down and the jangling guitar of Bob Dylan's 'Things Have Changed' begins to play. We see a bustling street of bars as two thickset men outside a run down saloon push and shove one another, with passers by trying to break up the chaos. Before a punch can be thrown, into the shot arrives a distinct man on a horse wearing a cowboy hat and swigging from a bottle of whiskey. The commotion stops to an immediate halt as all attention is drawn towards the perplexing figure. He and his horse part the crowd like the red sea and trot straight on through them as he continues to drink from his bottle of Bourbon. Bob Dylan starts to growl as the man and his horse continue down the busy strip.
A worried man with a worried mind
No one in front of me and nothing behind
There's a woman on my lap and she's drinking champagne
Got white skin, got assassin's eyes
I'm looking up into the sapphire tinted skies
I'm well dressed, waiting on the last train
Standing on the gallows with my head in a noose
Any minute now I'm expecting all hell to break loose
People are crazy and times are strange
I'm locked in tight, I'm out of range
I used to care, but things have changed

We follow this enigma as he passes through a sea of people, who all stop to take note of the strange sight they see before them. One woman rubbing her eyes to check she hasn't had too much to drink. A tramp vomiting into the sewers below turns his head to see the man on horse back, before shrugging his shoulders and continuing about his daily routine as a young couple engaged in some tonsil tennis spot the bewildering sight and unhand each other, gazing at the bizarre scene before them.
This place ain't doing me any good
I'm in the wrong town, I should be in Hollywood
Just for a second there I thought I saw something move
Gonna take dancing lessons do the jitterbug rag
Ain't no shortcuts, gonna dress in drag
Only a fool in here would think he's got anything to prove
Lotta water under the bridge, lotta other stuff too
Don't get up gentlemen, I'm only passing through
People are crazy and times are strange
I'm locked in tight, I'm out of range
I used to care, but things have changed
The outlandish figure slows his horse almost to a halt as a group of Hells Angels across the street stop their drinking and lock eyes with him with faces like thunder. Our protagonist slowly lets himself down from the horse, not taking his eyes off of the bikers as he ties his nag up to the nearest street light and from behind we see him calmly approach the aggressive group. The cowboy like silhouette removes his hat to reveal a mane of blonde hair. He throws the hat onto the ground as some hostile words are exchanged out of earshot before the faction set about on attacking the lone wolf. The distinctive figure takes out the leather assailants one by one with a series of punches, kicks and grapples, finally choking out the final member, still with his back to us.

I've been walking forty miles of bad road
If the bible is right, the world will explode
I've been trying to get as far away from myself as I can
Some things are too hot to touch
The human mind can only stand so much
You can't win with a losing hand
Feel like falling in love with the first woman I meet
Putting her in a wheel barrow and wheeling her down the street
People are crazy and times are strange
I'm locked in tight, I'm out of range
I used to care, but things have changed
The camera circles the pile of bodies on the deck, holding their ribs and blood pouring from their faces until it finally pans up to the brutes cowboy boots, then his blue jeans. Slowly the camera raises to reveal a white t-shirt covered in blood, emblazoned on it is a card, the Jack of Hearts. The camera pauses on this image for a couple of second before quickly lifting to show the slightly bruised and bloody face of Jack Hart. An intense look on his face turns into a crazed smile as he pushes away the camera and we fade to black.
---
---

SINGLES MATCH
Tanja Devereaux
VS SONYA
We return to ringside where the crowd is buzzing over what they just witnessed on the Extreme-Tron.
Sydney: Jack Hart?! We haven't seen him since his win over Divewire at Youngblood last season.

Watson: Calm down Cid, you'll burst a blood vessel over the wrong thing. We don't have time to talk about last season, not when we've got two women looking to make the most of THIS season!
Pyros hit as Videos of bustling crowds of New Orleans appear on the Extreme-
Tron
as the dark and melodic tones of "Voodoo" by Godsmack blasts. Tanja comes out onto the top of the ramp in a style compared to Gail Kim during her early time in TNA before heading down the ramp with Celeste St. Laurent coming behind her to the ring. Tanja's black leather coat flows at her feet while the boos from the crowd fills the arena. She hisses at those at ringside while coming down to the ring.
Starr:
The following match is set for one fall. Coming to the ring hailing from New Orleans,
Louisiana
and being accompanied to the ring by Celeste St. Laurent; she is the Bayou Witch…
TANJA DEVEREAUX!
Tanja walk up towards the ring and enters via under the bottom rope and jumps onto the middle turnbuckle. She poses as she does her usual taunt with a hand and arm in the air as "Voodoo" continues to play. Tanja steps off the turnbuckle as she removes the leather coat as "Voodoo" fades.
Starr:
And her opponent, residing in Honolulu, Hawaii and weighing in at 150 pounds...
SONYA!
As the first few notes of "Rusalka" play over the loudspeakers, Sonya stands just a few feet away from the entrance way, the cameras picking up her peaceful expression and smile. The song kicks into high gear and she makes her way to the ring with determined eyes and calm demeanor, stepping into the ring and performing her signature pose in the corner.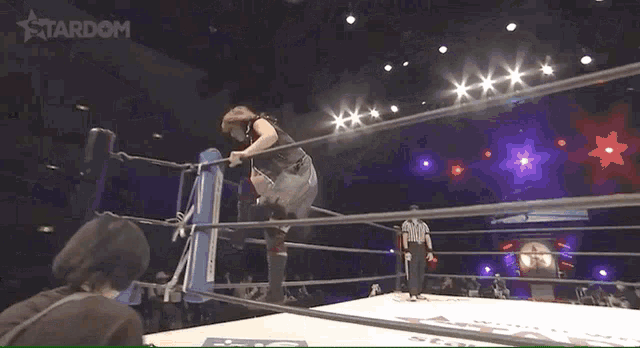 DING DING DING
Tanja lashes out with a roundhouse kick. Sonya catches her leg to counter and spins Tanja around hitting a German suplex. Tanja gets to her feet as Sonya grabs her and launches Tanja across the ring with a hair grab toss. Sonya runs at Tanja for a lariat but Tanja ducks and pushes Sonya off the ropes for an O'Connor roll. Sonya grabs the ropes sending Tanja rolling backward. Tanja rolls to her feet and charges at Sonya who knocks Tanja down with a dropkick. She makes a cover.
Tanja pushes Sonya off her to break the count. Both get to their feet and Sonya whips Tanja off the ropes and spins her around for a tilt-a-whirl backbreaker but Tanja rolls over Sonya's shoulder and drops her to the mat with a reverse DDT. Both get to their feet and Sonya lashes out with a right hand. Tanja ducks and spins her around before booting Sonya in the gut and taking her over with a butterfly suplex. Sonya gets to her feet she lashes out again with a right hand. Tanja manages to grab Sonya's arm, twist and grab the other arm taking her over with a tiger suplex. Tanja bridges her back into a pin. The referee counts.
Sonya manages to roll free breaking the count.
Watson:
Close to a three for both here!
Sydney:
It will need a lot more from both to keep the other down. I don't see this ending with a roll up.
Both get to their feet but Sonya walks into a spinning heel kick from Tanya. She pulls Sonya to her feet and drives her to the mat with Legba's Spirit. Tanja covers Sonya. The referee counts.
Sonya just manages to get a shoulder off the mat to break the count. Tanja lifts Sonya off the mat but Sonya grabs her and drives her to the mat with a Belly To Back Suplex. Sonya stretches over Tanja and hooks the leg.
Tanja lifts a shoulder off the mat to break the count. Tanja uses the ropes to pull herself to her feet. Sonya grabs her around the waist and throws her in to the air and down to the mat with an Everest German. Sonya rolls over and hooks the leg.
Tanja just manages to roll to her side to break the count. Sonya lifts Tanya to her feet but Tanja manages to twist Sonya into a Hoodoo. She hooks the leg.
Sonya rolls to her front breaking the count.
Watson:
How is this match still going? Both were driven into the mat multiple times and still they kick out!
Sydney:
I don't know. I just don't know.
Both women are back to their feet and Tanja runs at Sonya. She drives a shoulder into Sonya's midsection, driving her back into the corner with a series of stiff shots to the torso. Sonya tries to block some of them, getting her arms in the way before she unleashes a loud yell that fires up the crowd and slams both her arms down as Tanja strikes again, making Tanja stumble back from the impact. Sonya drapes her arms over the ropes, catching a breather before Tanja comes right back at her again. Sonya is ready this time with a boot to the midsection, doubling over Tanja in front of her. Sonya sees her opening, grabbing Tanja and hoisting her up high for her Dreadnought Bomb! Tanja has the finish scouted though, delivering heavy strikes to the top of Sonya's head as she tries to get her running start. Sonya staggers out, still holding onto Tanja before making a final dash to get the power behind the maneuver she needs. Tanja however grabs Sonya by the hair, and as both women fall to the mat Tanja slams Sonya face first down onto the mat in a modified face buster as she herself lands flush on the canvas below. Both women are down!
Watson:
Did you see that?! Sonya connected with the Dreadnought bomb but at what cost?!
Sydney: That sounded sick!

Sonya starts to move, groggy from the impact as Tanja is slowly coming to, clutching her head as it snapped back during the landing.

Sonya gets a knee under her as Tanja rolls to her side, looking to get back to a vertical base, but neither woman can get there before the final 10.
DING DING DING


Starr:
Ladies and gentlemen, since neither competitor could answer the referee's ten count, this match has been declared a
DRAW!
Sonya and Tanja are slow to their feet, glaring utter DAGGERS into one another as a result of the outcome of the match. Sonya makes a move toward Tanja, but official Jesse Lizarraga steps in to keep the peace as Tanja gives Sonya a disappointed but still satisfied smirk at having at least accomplished her task of slowing the Battleship's momentum.
Watson:
A game of inches tonight Cid, literally toes. If either of these women could have gotten to their feet, it would've been theirs for the taking.
Sydney:
This has gotta sting for Sonya, a draw doesn't win the North American championship, but it does put Tanja in a very interesting position in the pecking order. You have to think after tonight, she'll have an argument for our GM and our new Executive Director about where she belongs in the rankings.
As Tanja exits alongside Celeste, Sonya shakes her head but the crowd gives her some well earned applause for her efforts before she too exits the ring and heads up the ramp. Just as she gets to the stage, the crowds attention turns to the Extreme-Tron



---


The office of the General Manager comes into view as Chris Brock is seen, sporting a smile as wide as the green river.

Brock: Tanja! Sonya! Amazing fight from the both of you. My new Executive Director and I are going to have to come up with how this will play out with the North American Championship rankings later, but I wanted to take a moment and set something in stone, as it were. The Beautiful Battleship has earned her shot at the EWC North American Championship and while Ibuki Ito has declared she can cash that in anytime, I am going to force the hand a little bit. So I am pleased to announce that we will see this match very soon! In fact, we will see it at the EWC RUMBLE on September 25th! Ito Vs Sonya. Round One of what I think may be many encounters these two amazing fighters will have here on Paramount!

The Extreme-Tron goes black as the camera cuts back to Sonya, who is keeping her composure as she nods to the massive screen, the crowd in Utah is singing their praises for what is sure to be an amazing match!


Watson:
What an announcement! I am looking forward to that one for sure, but first we've got tag team turmoil tonight, and that includes our main event Trios Tournament match! And we've got word that our camera crews caught one team from tonight's main event backstage, The Supreme!
---
---
Standing at a brightly, green-lit corridor of the backstage hallway at Paramount with a detached cage fence wall propped against the wall behind them, Box Office Bruce & Money Mo stand dressed in ring gear, peeping their heads over the walls to make sure the coast is clear, and after exchanging nods, Bruce speaks up.
"Alright, look…I know it's a little early in the game, but don't you think it's time we talk about the elephant in the room?" Booth inquired, folding his arms.
"Maybe…maybe not." Cosmo vaguely answered.
"Come on, man– we gotta talk about this guy, JRF! This was your idea!" Bruce complained, throwing his hands in the air. He's truly outraged.
"I know, I know! It was a good idea, it was interestin', I-I already got my graphic designer–" Cosmo attempts to reason with his cousin, although he knows that's an uphill battle.
"Mike?" Bruce interrupts.
"No, Matt." Goldworthy casually answers.
"Oh, good. Matt sucks." Booth nods, feeling a very small, about 0.5lb weight lifted off of his shoulders.
"I already got him whippin' up a logo, a t-shirt, a hoodie, a car decal, a coaster, a keychain, a wallet, and wristbands, ALL with the Supreme logo on 'em!" Mo continued.
"I know, I know!" Bruce said, deeply sighing– he did seem like he felt a little bad about all this.
"This thing can make MONEY!" Cosmo raised his voice, trying his best to drive the point home for Booth.
"Look, you know I love making money, but…I also…love winning, Cosmo." Bruce explained, pointing to himself each time he mentioned his own self interests.
Goldworthy sighed, cupping a hand over his face.
"And if we wanna win? We ain't doing it with this guy. He's holding us back. All this, saving cats from trees, helping old ladies walk across the street, hugging and kissing babies…and calling me– what the Hell did he call me again?" Booth seemed like he was about to blow a gasket just thinking about it.
"I- I know! I know! Bruce, I'm tellin' you I understand, and maybe deep down I agree, but don't you think we should give it at least one more chance?" Mo pleaded, well-aware that Bruce was beginning to get heated, but Cosmo knew he'd invested too much into this shtick to give it up yet.
"Nah. Nah, man. When that bell rings? We're taking this guy out." Booth stated, as though there would be no question about it.
"What if we win?" Goldworthy inquired, quirking an eyebrow.
"Then–..." Booth hadn't considered this. "Then we find someone else! But the point is, the only thing this guy's gonna do is hold us back, make us look like idiots, and try and steal our spotlight. This Trios tournament is New Money and a friend, you and I both know it was never supposed to be about three guys!"
"You don't gotta say it out loud…" Cosmo stifled a chuckle, putting his hands up.
"What?!" Bruce questioned, almost sounding outraged.
"Look…I'll think 'bout it." Cosmo placed a hand on Bruce's shoulder, as if in an attempt to assure him things would be okay. He kept his voice lower than Bruce's, trying his best to keep his composure more than his cousin was doing.
But it didn't seem to work. "Think about it? There ain't much time to think about it, I need an answer now!" The ex-movie star continued his tantrum, the incessant complaining with no end in sight.
"Bruce, you're askin' a lot of me right now, I gotta think 'bout it!" Money Mo insisted, and he began to visibly wonder if his side of this argument would ever be apparent to Bruce.
"...Fine." He sighed. "But– like– which side are you leaning on?" Bruce asked, keeping his voice low.
"...It's like a 60/40." Cosmo said, with a matter-of-fact tone. He was being as honest as he could be.
"Towards?" Bruce tilted his head, awaiting the answer he was expecting.
"...You. But– like I said. Let me think on it." Goldworthy patted Booth's shoulder, spinning on his heel and turning the corner, out of sight.
Bruce watched his cousin walk off, and exhaled a deep, deep sigh. He had no doubt in his mind that their combined talents would defeat the team of Tyler & Moonshine Inc., but this added stress– which he brought on himself– was making matters a lot more complicated than they needed to be. Just don't tell him that's his fault.. The camera then fades out to a commercial for Paramount #35 coming to you LIVE from Estadio BBVA Bancomer in Monterrey, Mexico on August 30th!
---
---
---
The camera cuts backstage inside LaVell Stadium where we find Lisa Goldrush standing by…
Goldrush:
Ladies and Gentlemen, please help me welcome at this time, fresh off their FIRST championship defense, the reigning EWC Tag Team Champions, along with their manager Bunny Love, Deimos and 'Little' Danny….THE 3PAC!!!!
There is a surprising pop inside the stadium for The Love Club team but that's mainly because every person and their mother's hate The House…Deimos walks onto camera wearing a red Utes t-shirt while Danny is sporting a shirt that reads: Mormon Women Love 5th Base…Lisa looks at the shirt for a moment before 'getting it' and shaking her head as she looks at Bunny, who just shrugs…
Love:
I can't say anything or force him to take it off because it seems like it's a true statement Lisa…anything to get around their rules and keep their man happy I guess…
Lisa continues to shake her head as Bunny shrugs…Danny smirks and nods but Deimos isn't in the mood for jokes…
Deimos:
Listen Lisa…tonight should be an amazing night for the 3pAC…we should have had the red carpet rolled out for us…balloons and streamers…a celebration for keeping these…
Deimos holds up his Tag Team Championship up for the camera…
Deimos:
Here on Paramount and a night of satisfaction for myself and Danny as we proved the haters wrong and became the first team since The Bastards to get a defense…it should be a night where we reflect on how far we've come since the last time we were tag team champions and sent home because we succeeded against the will of the company…we should be basking in our glory but instead we feel like shit because we let our friend down…we weren't there for him when he needed us the most and now the EWC is stuck with JoJo Rush as the X-Division Champion…
Danny:
JoJo, who talks about being 'so tough'...all big and bad and yet he needs the help of The Heat Packers to win a match…real tough of him…
Deimos:
He's fake tough…faker than a Lisa Goldrush orgasm when Chris Brock gives her her 'performance review'...
Goldrush:
HEY…
Danny:
It's ok Lisa, we get it…you just want it to be over and that's how we feel about JoJo's run as X-Division Champion…but instead of closing our eyes and hoping we get the chance here tonight to fight back and avenge what happened at Parabellum…
Deimos:
And the cherry on top…we get to ruin Eddie Dozier's debut here on Paramount…why the hell Chris Brock decided to hire that bum is beyond me but we are going to give him the beating of his life here tonight…
Danny:
We have been the most dominant tag team this season here in the EWC and these clowns are making their debut against the best…
Danny holds up his tag team championship…
Danny:
And they thought the best strategy was to mock us…
Deimos:
Well the joke's on them because while we might borrow a line here and there their entire shtick is one giant rip off…there is no originality to The House…they are a damn joke…
Danny:
With their 'Too Sweet' hand jesters like they are Hall and Nash or Matt and Nick…I mean come on…
Deimos:
And we know that The Heat Packers are probably around here somewhere…lurking in the shadows like pervs watching people 'getting it on' because we all know where JoJo goes the Packers are right behind them…
Danny:
It's what The Packers do…
Lisa shakes her head as she once again looks at Bunny who just shrugs…
Deimos:
And The Heat Packers would love for Eddie and JoJo to rough us up…weaken us ahead of our match at Night of Champions and that's their game right…but the jokes on them because Danny and I have had the shit kicked out of us more times than we can remember…
Danny:
Because of all the concussions and such…
Deimos:
And while they may have the numbers game we will get our shots in…
Deimos and 'Little' Danny both hold up their crowbars…
Danny:
What's their saying…'The House might always win' but…
Deimos:
This is our mother fucking HOUSE!!!!
Deimos and 'Little' Danny smack their crowbards together as the camera fades out…
---
---

TAG TEAM SHOWCASE
NON-TITLE
The House
VS 3pAC
We return to ringside where Isabella Starr has taken her place at the center of the ring.
Watson: 3pAC is ready for a battle tonight, they REALLY don't like JoJo Rush...

Sydney: I don't think he likes them too much either, frankly.
Starr:
The following match is Tag-Team match set for one fall. Joining us first, representing the House, weighing in at a combined 545 pounds ...
EDDIE DOZIER & JOJO RUSH!
"The Mess We've Made" blasts over the PA system cuing JoJo Rush and Eddie Dozier to approaching the stage. The two men "Too Sweet" each other before approaching the ring. JoJo actively ignoring the boos of the crowd while Eddie actively antagonizes them. Rush unclasps the X-Division Title from around his waist and raises his title whilst aiming a "Too Sweet" to the hard camera. JoJo fires the hand sign, signaling pyro to fire around the rafters.
Starr:
And they're opponent, escorted to the ring by Bunny Love, representing the Love Club, weighing in at a combined 400 pounds, they are the EWC World Tag Team Champions ...
DEIMOS & 'LITTLE' DANNY,
3PAC!
'My Hero' plays out and both men barrel towards the ring and slides in and goes straight on the attack. Deimos tackles JoJo and brings him down hard to the mat, X-Division title flying off wildly to ringside. While Deimos and JoJo roll and strike at each other, Danny tangles up with Eddie, but Eddie easily throws Danny against the turnbuckle before leveling him with stomps. As soon as JoJo and Deimos fall out of the ring and onto the mat, the ref signals for the bell to get this match underway!
DING DING DING
With the match
officially
begun, the referee pulls on Eddie to get him off of Danny in the corner, getting to the count of four before Eddie pulls away to argue with the referee. Danny takes the opening to plant a superkick flush against Eddie's chin. With distance between the two, Danny pops Eddie with another superkick, leaving the big man wobbling in the center of the ring. Danny picks up speed running the ropes around Eddie to wind up enough speed for another attack, but Eddie catches Danny with a Tilt-a-whirl backbreaker! Meanwhile, JoJo and Deimos are still teeing off on one another. Deimos gets the advantage after throwing JoJo into the barricade. The referee started a count to get both men back to their corners or risk disqualification. Which both men follow at the count of four and a half.
Watson:
I don't think you can even call this a tag team match Cid!
Sydney:
This is a FIGHT Watson. JoJo and Eddie don't care about being a team, they're just out here to hurt somebody. Softening up 3pAC for The Heat Packers is just icing on the cake.
Eddie holds onto Danny's foot who fruitlessly kicks and wiggles to try and reach for Deimos for a tag. Eddie turns his attention to JoJo to bark out a gameplan, but when he turned back around Danny surprises him with an enzuigiri! Eddie staggers into the wrong set of ropes while Deimos makes the hot tag! Deimos levels a rebounding Eddie with a shoulder press, Eddie gets back up and runs into another shoulder press, Deimos is rolling and the Utah crowd cheers! Deimos drags the stunned Eddie to the corner for a tag. Danny climbs up to the top rope and hits the The Wassup Drop! Danny makes the pin.
ONE...




TWO...
Eddie kicks out on his own, and reaches toward JoJo for the tag, but Danny cuts him off and applies a side headlock. Eddie is able to drag himself, despite having Danny on his back. JoJo turns his attention and grabbed hold of the referee. Distracting the ref long enough for Eddie to start biting on fingers to break the hold. The crowd boo at the unsportsmanlike display, but Eddie takes advantage by finally diving out and tagging out with JoJo. Eddie rolls out to recover while JoJo takes control of the match. JoJo grabs Danny by the waist and hoists him up from a deadlift and right into Suplex City. The crowd count along while JoJo lock eyes with Deimos between suplexes. JoJo bridges for a pin on the third Suplex.
Watson:
Near fall by the X-Division champion!
Sydney:
Give credit to 3pAC, they're not backing down. Size advantage be damned!
JoJo shoots up and rewards Deimos' heroism with a brutal chop to the chest. Deimos chops back, the referee tries to break it up but knows better than to get in between two meaty men slapping meat. JoJo cocks back another chop, and then so does Deimos, but Deimos gets an assist with Danny table-topping JoJo! Deimos makes it back to his corner for a quick tag with Danny. The two signal for the Pac Drop! Deimos throws JoJo into the ropes, and Eddie makes the blind tag! Deimos lifts up JoJo for the cutter that Danny nails to perfection, but they don't see the tag! The referee explains to Deimos the miscommunication, but it proves to be a costly mistake as it gives Eddie the chance to nail a Tazmission Suplex on Deimos, Kentucky Deluxe! Eddie makes the pin.
Watson:
Another save by 3pAC! This is how teams stay champions. It's not a wrestling clinic, but it's a damn good example of tag team wrestling.
Sydney:
Tag teams are alive and well on Paramount but Danny and Deimos might not be either of these things for long!
Eddie bangs the mat in frustration, then glares a hole into Danny who taunts the Southerner while getting himself back to the corner. Eddie blows by the referee, tossing him aside which gives Danny the distraction he needed to hit Eddie in the gut with a crowbar handed to them by Bunny Love! Eddie staggers back from the hit, giving Deimos the chance to roll Eddie up in a school-boy!
Eddie and Deimos crawl back up to their feet and knock the cobwebs out of each other's heads with stiff strikes. Eddie takes the advantage and presses Deimos into the ropes to catch him on a rebound to get him in the End, but Danny tags himself in, Eddie gets Deimos up on his shoulders, but Danny makes the save and helps break his teammate free. Danny and Deimos whip Eddie into the ropes and hit Eddie with a Pac Drop as well! Danny makes the cover while Deimos slides out to tangle up with JoJo.
TWO...



DING DING DING
Starr:
And your winner, via pinfall
3pAC!

Danny & Deimos gather their belts and get the hell out of town before the Calvary can come through and ambush the Champions. The Heat Packers come barreling down the stage, but 3pAC make off through the cheering crowd for a quick escape.
Watson:
3pAC with what could almost be called a statement win. They might not have been an "official" tag team but they're not pushovers. If it wasn't for Danny and Deimos' quick thinking, there were several instances tonight where they're going home with an L.
Sydney:
If they struggled like this with an "unofficial" tag team, they might be in deeper waters come Night of Champions when they defend those belts against a REAL tag team.


The Packers help up their stablemates in the ring while cussing and swearing at the Tag-Team Champions that raise their titles up high among a roaring Utah crowd.
Watson:
From one Love to another, don't go anywhere Paramount fans, we've got the North American champion Ibuki Ito taking on Brawl's own philosopher Dio - NEXT!
Camera cuts to 3pAC and Bunny Love in the crowd before fading to a commercial for the Southern Express's Apple TV+ show.
---
---
---
The camera cuts backstage inside LaVell Stadium where we find 'The Prodigal Son' Buddy Love walking towards The Love Club locker room…he reaches out and knocks on the door before slowly opening it and peeking his head in…
Love:
We all good in here champ…
He opens the door further and walks into the room to see the North American Champion Ibuki Ito sitting on a bench finishing lacing his boots up…
Love:
Big night for you…facing Brawl's Dio…and get yourself ready for Night of Champions…
Buddy smiles nervously as Ibuki, who still hasn't looked up at him…
Love:
I know you feel like you let Paramount down at Parabellum but they aren't holding a grudge against you…they aren't pissed at you…you lasted longer than the rest of Team Paramount and just got caught…
It's the term 'got caught' that brings Ibuki's eyes up to meet those of his manager…
Love:
There is no shame in getting caught by Scorpio…he's an amazing talent and he was fighting for the last time at Parabellum…he just…
Buddy stops before he finished the sentence but it's too late…Ibuki slowly gets to his feet…
Ito:
He what…wanted it more…wanted it more than me…is that what you're saying Buddy…
Love:
I didn't mean it like that…just…
Ito:
I put this brand on my back at Parabellum, I wanted to bring this brand the win and I failed…I didn't get the job done…I let Paramount down…
Love:
Well than make up for it tonight by beating Dio…use that to go into the Insanity Cage and win the right to face the Undisputed Championship at WrestleFest…ignore Dio…
But Buddy stops…he looks at Ibuki and just tries to smile…
Ito:
Taunts about 'Killjoy'...the jabs that I'm not the same man that was the Indy Champion, the X-Division Champion or even the Undisputed Champion…why because I use my real name instead of a stage name…I am still the same man Buddy…
Love:
Yeah…well I mean, 'Killjoy' did have an edge to him…a violent side that we haven't seen…
Ito:
That I didn't need to show…
Love:
Apples and oranges…
Buddy smiles and nods…
Ito:
I'm going to show Dio out there tonight that I am still the same man…and that he is still the same man that nearly had his head caved in by Stitches…I'm going to take my knee and cave in his face Buddy…I'm going to drive my forearm and fists into his skull until I punch a hole through it…
Love:
Now that sounds like the KILLJOY I know…
Buddy smiles and gives him a thumbs up as Ibuki turns and walks away…
---
---

SINGLES MATCH
NON-TITLE
Dio
VS Ibuki Ito
We return to ringside where the crowd is still coming down after the crowd antics of 3pAC.
Watson:
Ibuki Ito is ready for a fight tonight after some strong words for his opponent, making his first ever appearance on Paramount.
Starr:
The following match is set for one fall. Joining us first, residing in Seattle, Washington and weighing in at 205 pounds, he is your crux. He is...
DIO!
The lights dim down, and a voice comes over the PA system.
The phrase kicks off the sounds of "Change (in the house of flies)" by the Deftones as Dio emerges from the curtain and stands atop the stage. He surveys the crowd, tugging at the collar of his leather jacket before heading down toward the ring.
Starr:
And the opponent, residing in Daly City, California and weighing in at 235 pounds, the reigning EWC North American Champion...
IBUKI ITO!
'The Prodigal Son' Buddy Love walks out onto the stage and raises his arms into the air as the lights fade out. He jumps up and down as 'Deeper Depper' begins to play. A strobe light circles around the stage as a single white spotlight hits the stage where Ibuki is standing, his back facing the ring, his arms stretched out and his head down. He swings around to face the ring as Buddy Love runs up and stands next to him. After a quick word the pair start to walk towards the ring, Buddy runs ahead and charges up the steps and holds open the ropes for Killjoy to step through. Ibuki walks to the center of the ring, extends his arms and tilts his head back to soak everything in.
DING DING DING
Ito chops Dio hard across the chest. Dio slaps Ito across his chest. Ito responds with a hard forearm smash to the jaw that spins Dio around. Ito grabs Dio and launches him back with a snap German suplex. Dio gets to his knees as Ito runs off the ropes and cracks Dio in the jaw with a running boot. Dio drops to the mat where Ito makes a cover.
Dio raises an arm high off the mat to break the count. Ito grabs the raised arm and uses it to drag Dio to his feet. Ito then twists around and takes Dio to the mat with a tiger suplex that he bridges into a pin.
Dio rolls to his side to break the count. Both get to their feet where Dio runs at Ito hitting a slingblade. Ito gets to his feet but staggers into a uranage from Dio who hooks the leg.
Ito shoves Dio away to break the count. Both get to their feet. Ito runs at Dio but Dio pops him into the air and brings Ito's gut down across his knee. Ito clutches his gut as he gets to his feet. Dio knocks Ito back to the mat with a standing dropkick and makes a cover.
Ito rolls a shoulder into the air to break the count. Dio gets to his feet and runs off the ropes. Ito attempts a back elbow to counter. There is a clash of bodies and both drop to the mat.
Watson:
Equal footing in the early going wouldn't you say?
Sydney:
Footing maybe the wrong word when both are laying on their asses. However it has been an even match thus far.
Both get to their feet. Dio is on his first and he grabs Ito hitting
Tranquility
. He pulls Ito over and hooks the leg.
Ito rolls to his side to break the count. Dio pulls him to his feet and leaps for an Inevitable. Ito shoves him off the ropes to counter and rams a knee into Dio's gut upon his return. Ito grabs Dio and lifts him hitting a Screwdriver. Ito hooks the legs.
Dio just manages to lift a shoulder from the mat to break the count.
Watson:
How in the hell did he kick out of that?!
Sydney:
Dio from the Screwdriver or Ibuki from the
Tranquility
? Either way I have no idea!
Ito lifts Dio up off the mat but Dio counters with a backdrop. As he falls, Ito rolls Dio with a school boy. Dio rolls right out of it to his knees. Ito takes a few steps back and runs for a Kettei-Da. At the last second, Dio ducks and rolls Ito with a school boy of his own. Like Dio, Ito rolls right out but Dio grabs him hitting a Laertius Effect. Dio makes the cover.
DING DING DING


Starr:
And your winner, via pinfall
DIO!
Dio gets to his feet and climbs to the middle turnbuckle. He looks out to the crowd and points with his right hand out at the mass of humanity before leaping over the top rope to the floor and heading back up the ramp.
Watson:
A big win for Dio over the North American Champion. It won't put him in contention for the North American but somehow I don't think that was his intention tonight anyway.
Sydney:
Dio was smart and lucky to avoid the Kettei-Da. Had that connected, I believe we'd be sitting here saying 'what a good win by the champion'.
Watson: He wouldn't be the first to fall to it, and he definitely wouldn't have been the last. And not to be cheesy but speaking of last - our last match tonight - our trios tournament MAIN EVENT is coming up in exactly two minutes.

Sydney: Terrible segue Tim.
Camera cuts to Ito heading backstage, the North American championship in hand as we fade to one final commercial for Night of Champions LIVE on August 21st!
---
---
---

TRIOS TOURNAMENT MATCH
ROUND OF EIGHT
The Supreme
VS The Left Hand
We return to ringside where it is officially time for the main event to take place.
Watson: Folks, do not go anywhere because it is finally time for tonight's long awaited main event! It is Round One of the Trios Tournament, as The Supreme takes on The Left Hand!
Starr: The following match is scheduled for one fall and it is a round one matchup in the EWC Trios Tournament! Joining us first, the team of Jimmy Evans, Matt Evans & Zack Tyler … THE LEFT HAND!
Sections of lights that illuminate the crowd begin to randomly cut off until the whole area is completely dark. Fog machines then proceed to slowly billow the entrance area just as the giant production screen flashes an image of a Red circle that is drawn around a Red Left hand palm print. The Left Hand [3:14] music then plays. At the [:14] mark, a Red spotlight illuminates the entrance stage from above in which Matt Evans appears standing in the light with no expression on his face. Again at the [:20] mark, a separate Red spotlight illuminates another area from above in which now Jimmy Evans appears. At the [:27] mark, another Red spotlight illuminates the entrance stage and now Zack Tyler is seen with his painted half face. At the [:34] mark, Matt and Jimmy Evans begin walking forward and steps behind, Zack follows them to the ring.
At the ring, they stop and the lights in the arena go dark. At the [1:00] mark, the lights return as all three members are in the ring with the two brothers of Moonshine Corporation (Jimmy & Matt Evans) are standing on the apron outside the ring facing the hard cam, while Zack Tyler is sitting on the apron outside the ring facing the hard cam. At [1:13] when the bass beat stops, the whole area is once again completely dark but at [1:20] they return to another Red spotlight shining in the middle of the ring where now Zack is on his feet but now Matt and Jimmy are standing next to him. Typically the music continues and fades to end [2:34] and the lights begin to fade up to normal.
Starr: And their opponents, the team of Cosmo Goldworthy, Bruce Booth & JRF ... THE SUPREME!
The opening beat of "Right Above It" plays, prompting Cosmo "Money Mo" Goldworthy and "Box Office" Bruce Booth to walk out with smug grins on their face. The two stop at the start of the ramp, flashing their chiseled abs - and then, in one swift motion, raise their arms up as gold pyro rains down behind him. Just as Bruce is about to ask where their third guy is, a row of pyro bursts on the stage as a determined JRF walks out, pumping his fist as he marches down the ramp and tags the fans. The three enter the ring and while Cosmo and Bruce pose on the top rope, JRF poses for the crowd - prompting thunderous applause from the audience for him; which does nothing except irritate Cosmo and Bruce some more.
Watson: High stakes for both of these teams, as the winners will meet Shinijoshi or The House on the 600th episode of BRAWL!


DING DING DING
Starting this one off is Jimmy Evans and Bruce Booth. The two lock up, and it's immediately Bruce who gets the upper hand as he knees Jimmy square in the ribs. Bruce sends Jimmy propelling off the ropes with an irish whip and swings an immediate clothesline but Jimmy ducks under! He rocks Bruce with a jab, and then another jab. Bruce is on wobbly legs as he swings for the fences, and Jimmy ducks and lifts him for a big time back suplex! He rolls over, pinning him, only for Bruce to kick out at one. Jimmy drags Bruce up and Bruce takes advantage by raking eyes. Cosmo chuckles at the apron, while JRF is very unapproving of that. Bruce Irish whips Jimmy off, slamming him into the mat with a scoop powerslam! Bruce rises to his feet and follows up with a knee drop to the forehead for added emphasis. He drags Jimmy up and tags in Cosmo. Bruce holds Jimmy in position, and Cosmo bounces off for a Rocket Kick to the jaw of Jimmy, just as Bruce drops into a Russian Legsweep! Bruce rolls out as Cosmo makes the cover.
Cosmo looks around, annoyed as he drags Jimmy up. Cosmo snaps a heavy roundhouse kick to the chest of Jimmy, which wobbles him. Cosmo snaps off another one, which again sends Jimmy back into the ropes. And as he looks to wind up a third one, Jimmy DROPS him with a vicious elbow strike to the jaw! Jimmy tags in Matt Evans! Together, the two brothers go to work as they start stomping away all over Cosmo's body, the 6 Feet Deep! After the referee's constant warnings, Jimmy steps out and Matt drags him up. He wastes no time, rocking Cosmo with a vertical suplex. Matt covers Cosmo, only for a two count. He drags Cosmo up and starts kneeing him in the ribs, and he Irish whips him off, only for Cosmo to counter. Matt bounces off the ropes and Cosmo headstands into a Scorpion Kick! Matt is barely up on his feet, and Cosmo lifts him for an exploder suplex! Cosmo is feeling it now as he drags Matt up, but Matt grabs him by the waist and RAMS him back first into their turnbuckle! Zack Tyler tags Matt's back and enters the ring. Matt steps out, as Tyler drags Cosmo up and lifts him in powerbomb position.. HE TOSSES HIM FOR A BUCKLE BOMB, AS MATT AND JIMMY DROPKICK COSMO WHEN HE HITS THE BUCKLES, THE THREE WAY DANCE! Cosmo plops out of the corner, not even aware of where he's at.
Watson: This one was all The Supreme at first but The Left Hand have turned the tides a bit here!
Sydney: Is it enough to get the win and make The Supreme suffer their first collective loss though?!
Tyler smirks, thinking that it's over here. He drags him out the corner, making the cover! Could this be it right here?!
All hell breaks loose when Bruce gets involved, as Jimmy & Matt hop in and they start to triple team him. JRF tries to step in, but Moonshine Inc dropkicks him off the apron! Tyler nods to his boys, disregarding the referee's calls to get all three out. He lifts Bruce up and throws him to the ropes.. But Bruce ducks under Tyler AND CLOTHESLINES JIMMY & MATT DOWN! Cosmo crawls to the corner, as the referee goes to check on him after a nasty fall earlier. But all Cosmo is doing is holding the referee away from the action, as Bruce turns back to Tyler and kicks him right in the dick! Cosmo smirks, rising to his feet when he sees this, as Bruce lifts Tyler into flapjack position and Cosmo drives him down with a DDT, THE MONEYMAKER! Bruce rolls out and Cosmo goes to the cover!
TWO!
Watson: That was almost all she wrote, but Zack Tyler kicked out at 2 and 8/9th!
Sydney: who the hell uses that kind of measurement, Tim?!
Cosmo slaps the mat, pissed that it didn't work. He rises to his feet and gets in the referee's face, yelling. But as he's arguing with the referee, Matt & Jimmy pull Bruce off the apron and THROW HIM INTO THE STEEL STEPS! Both The Supreme and The Left hand are bending the rules! Cosmo turns back to a rising Tyler and gets rocked with an enzuigiri! Cosmo bounces off the ropes, dazed as Tyler drops him to a knee with a FLYING KNEE STRIKE! Tyler rises to his feet, bouncing off the ropes and leaps onto Cosmo's knees, trying to propel him into the air with a monkey flip.. But COSMO LANDS IT! Both men swing for each other, and both duck at the same time. They swing again, and this time drop each other with a double clothesline! Matt & Jimmy hop back on the apron, demanding a tag as JRF is back up and he's the only man remaining for Cosmo to tag in to!
Watson: HERE COMES JRF!!!
Sydney: and Here comes Jimmy!!!
Cosmo groans, crawling over.. Tyler crawls over, and at the same time both men tag! Cosmo tags in JRF, and Tyler tags in Jimmy! Jimmy steps in, and JRF drills him with a clothesline! Matt climbs up to leap at JRF, and JRF catches him with a SPINEBUSTER IN MID AIR! JRF is rocking now, as he kicks Jimmy in the ribs and pulls him to the center. JRF turns, LEAPING UP THE MIDDLE ROPE AND HITTING THE CALAMITY KICK! JRF rises to his feet, shaking the ropes as he's calling for the end here! JRF drags Jimmy up and lifts him onto his shoulder in front powerslam position. JRF is looking for the JRFinale, but Jimmy slips off and shoves him to the ropes where JRF teeters his head inbetween the top and middle ropes, and ZACK TYLER GETS HIM WITH A DROPKICK TO THE SIDE OF THE HEAD! Jimmy follows up with a BACKSLIDE PIN!
ONE...
TWO...
Both men rise, and Jimmy DRILLS JRF WITH ONE OF THE DAMNDEST LARIATS EVER! The bigger man is laid out, and Jimmy tags in Zack Tyler. Tyler waits on JRF to rise up, anxiously tapping his foot. JRF is up to his feet and Tyler NAILS him with the 666! THE SPINNING BACK KICK LANDS FLUSH ON JRF'S JAW! AND JRF CRUMBLES TO THE MAT! Tyler scatters over, hooking the leg for the cover!
TWO...
THR–
COSMO BREAKS IT AT THE VERY LAST SECOND!
Cosmo rises up quickly, throwing elbows to the jaw of Tyler! Then roundhouse kicks to the chest! He bounces off the ropes and gets thrown over to the apron! Behind him is Matt & Jimmy Evans, trying to pull him off - but Cosmo kicks both back! Tyler turns back, and COSMO ROTATES INTO THE RING FOR THE GOLD RUS– NO! TYLER DUCKS OUT THE WAY AND DROPKICKS HIM TO THE OUTSIDE! Cosmo spills to the outside, landing on his feet. Tyler watches JRF rise and goes for another 666, but JRF blocks it this time! Tyler holds his ankle, turning in pain TO A DIRECTOR'S CUT FROM BRUCE BOOTH! HE CAME FROM COMPLETELY OUTTA NOWHERE! The referee is getting seriously frustrated by these lack of following the rules, and gives Booth a talking to as he's exiting the ring! But while the referee is distracted, Jimmy Evans slides in with the skateboard of Zack Tyler! JRF pulls Tyler to the center to try and end this one, but HE GETS SMACKED IN THE BACK WITH THE SKATEBOARD! JRF falls to all fours, groaning in pain. Jimmy raises it up one last time, but Cosmo Goldworthy slides in with his gold brass knuckles on his fist.. AND HE PROPELLS OFF JRF INTO THE 24K MAGIC! Jimmy goes flying out the ring! Cosmo drills Matt off the apron with a shotgun dropkick!
Watson: JESUS CHRIST! That was a hell of a maneuver!
Sydney: Which one?! They both were absolutely brutal!
Cosmo rolls to the apron, hiding his knucks. JRF rolls over, writhing in pain as the referee finally turns his attentions back to the match! JRF pulls himself onto the turnbuckles, leaping up the middle rope, then up top FOR THE DOUBLE JUMP MOONSAULT! BUT AS JRF IS GOING UP TOP, BRUCE TAGS HIS FOOT! JRF makes the cover, calling for the ref - having no idea that Bruce just tagged himself in! JRF looks at Bruce, asking him what he's doing! Bruce shoos JRF, as he tags in Cosmo. Bruce drags Tyler up in an inverted lift and Cosmo hits off the ropes.. AND THEY HIT THE BOX OFFICE BOMB! Bruce gets up and gets in JRF's face, and it's incredibly tense as Cosmo makes the cover!
TWO!
DING DING DING


Starr:
And your winner, via pinfall,
THE SUPREME!
Cosmo raises his arms up, pumping his fist upon hearing their theme play. "THAT'S WHAT I'M TALKIN' BOUT, BABY!" He shouts, with a wide grin on his face. Cosmo climbs up top, raising his arms up. JRF and Bruce finally break their gaze, and Bruce walks over to meet his cousin when he drops off the top rope. The two raise each other's arms up, while JRF stands there with his hands on his hips, conflicted.
Watson: It appears New Money have changed their stance on JRF as The Supreme advance to the next round, but WHAT a performance from The Left Hand as well! Both of these teams gave it their all tonight, but I'm not quite sure how The Supreme will continue to get along as this tournament progresses..
Sydney: Great point! Honestly, I dunno, but I absolutely love that these two teams exerted about pretty much everything in their playbook! It was Bruce & Cosmo who outwitted the dirty tricks of The Left Hand, and perhaps showed there's 'levels' to this cheated thing!
Watson: Again, one hell of a match and it–
Before anyone can do anything further, Bruce & Cosmo turn and DROP JRF with a double clothesline! This takes everyone aback, as the mixed crowd shifts to straight boos as the two have completely turned on their partner! The two cousins kneel down, bringing absolute heat as they gang on JRF with heavy punches after heavy punches.
Watson: What the– What is this for?! These two are laying waste to JRF, and what for?!
Sydney: Ha! They LAID IT OUT EARLIER! THEY WERE GOING TO GET RID OF JRF, AND HERE THEY ARE, DOING JUST THAT!
Bruce drags JRF and throws him head first into the turnbuckles. He continues beating down on JRF, while Cosmo digs back into his trunks and pulls his trusty 24k Gold Brass Knuckles out. Cosmo slips the knuckles onto his hand, while Bruce pulls JRF to the ropes. He leans JRF on the ropes, and ties his arms to them! Cosmo nods and approaches JRF, BEATING SENSELESSLY INTO HIS FOREHEAD WITH THE BRASS KNUCKLES! JRF yelps out in pain, as blood rushes down his forehead with every single shot!
Cosmo shakes his hand out, staring at JRF, who still seems to be conscious. Bruce looks at Cosmo and the two nod. Bruce rolls out, grabbing a steel chair, sliding it in. Bruce rolls in and unties JRF from the ropes. He jams his head into his thighs, and Cosmo knows what to do. Cosmo climbs up the middle rope, as Bruce lifts JRF up into piledriver position, standing over the chair.. Cosmo takes a deep breath, and JUMPS OFF THE MIDDLE ROPE INTO THE BANKRUPTCY! PILEDRIVER ON THE STEEL CHAIR! JRF'S NECK MAY BE BROKEN!
Watson: Oh my– OH MY GOD! THEY MAY HAVE JUST BROKEN JRF'S NECK!
Sydney: I would say that's good far, but GOOD RIDDANCE! THESE TWO ARE HEADED TO THE TOP, AND THAT'S HOW YOU MAKE A STATEMENT!
Cosmo rises to his feet, breathing heavily. He stares down at JRF, as he takes in for the first time what the hell he just did. Bruce rises to his feet and he's in JRF's face, shouting insults at him the whole time. Cosmo runs his hands over his face, and he grins. Knowing full well that this is now their moment, Cosmo steps over JRF and HUGS his cousin, Bruce.
Watson: And now they celebrate it! This is truly despicable!
Sydney: What a WAY to end our main event! New Money is headed to the top, and that's how you send a message to EVERYONE on the EWC roster!
Watson: And what about finding a new partner?!
Sydney: They made it clear that they've already got a plan, yeah?
Referees and doctors come down to tend to the unmoving JRF, as Bruce and Cosmo exit the ring. JRF is placed on a stretcher, wheeled out the arena while New Money show zero remorse for it.
No one
gets in Cosmo's way of success, and
no one
makes "Box Office" Bruce Booth look like a fool, which JRF has done before. The show fades out on the image of JRF being fitted with a neck brace and put on to a stretcher...