Post by EWC Staff Assistant: Anna on Aug 30, 2023 20:35:10 GMT -6
The Extreme Wrestling Corporation Presents


** Let's Get Ready to RUMBLE!!! **

EPISODE #35
August 30TH, 2023
LIVE!
from the BBVA Bancomer - Monterrey, Mexico
---
---
WARNING: This live event contains strong coarse language (L), and intense violence (V) which may be unsuitable for younger viewers. None of the matches you are about to watch have been predetermined. Only some of the thematic story-lines have been discussed beforehand. Accordingly, EWC and it's producers must insist that no one attempt to recreate or re-enact any match or activity performed in this live event.




---
---
"Superstar" by For Squirrels begins to blast over the arena speakers as our feed comes to life...
The scene immediately cuts to a pyro show erupting on the outside of the Estadio BBVA Bancomer!
Then a cut to another, equally explosive show on the inside!


The fans packing the Estadio BBVA Bancomer tonight all come to their feet. Further explosions rock the very foundation of the arena as a large video screen is lowered from the rafters, stopping 15 feet above the ring! Everyone in Monterrey knows that the self-proclaimed greatest show on Wednesday night is about to begin and they cheer accordingly! The heavy riffs from 'Superstar' continue to blare over the arena, setting the tone for what is to come later on this evening.




IT'S ALL I WANT, IT'S ALL I NEED

IT'S ALL I SEE, IT'S ALL I BREATHE

IT'S WHAT I AM, IT'S WHAT'S I KNOW

IT'S WHAT I FEEL, IT'S WHAT I BLEED!
On the Extreme-Tron, this episode of Paramount Wrestling begins with its opening video montage detailing many of the historic events that have taken place in the five-year history of Future Stars of Wrestling, setting the tone for the history of the Orange brand. From past champions like Jason Hunter, Dixie Dubois, Amis Shelton, Magdalena Lockheart, and Otaki all standing underneath an old FSW logo to the more current Future Stars Champions like Xavier Reid, Cletus Franklin, Robina Hood, Robbie Rayder, Stitches, Candy, and Wes Walker tearing down that mold, showing the Paramount Wrestling Logo...


As more pyro goes off the Paramount Wrestling logo appears and flashes of the roster appear on the screen such as Ashley Freeman, Eavan "Sykobitty" Maloney, "La Belicista" Isabella, Next Level, "The Beautiful Battleship" Sonya, Jadyn Keem, Marcu$ $t. John, Tanja Devereaux, The Kruel Masters, Shaker Jones, Adriana Aquilla, El Pablo, Emma Louise, 3Pac, , Sueñe El Molde, Savage Aura, Eddie Dozier, Ashley Freeman, and Sakura Yamamoto. The final images shown are a montage of Lavender, the EWC Undisputed Championship around her waist, JoJo Rush with the EWC X-Division Championship over his shoulder, The Heat Packers holding the EWC World Tag Team Championships over their respective Shoulders, Ibuki Ito and the EWC North American championship high over his head, and "The Last Magician" Sally Talfourd proudly sporting the Apple TV + Broadcast Championship around her waist.
The camera pans around the loud and out of control audience. As the fireworks continue to explode, the fans chant and cheer! Cameras pan around the arena to catch some of the signage that many fans have brought to Estadio BBVA Bancomer with them here tonight. The Paramount Wrestling fan-base is as adamant about having their voices heard now as ever:
"THE MAGIC HAS ARRIVED IN MONTERREY"
"LO DOVINO HAS COME HOME!"
"LET THE NEW ERA BEGIN"
"THE PROPERTY BROTHERS ARE ABOUT TO DO SOME REMODLING!"


"HOW MUCH BURGER KING CAN NEW MONEY BUY?!"
"PAR-A-MOUNT!!!"



"PARA-A-MOUNT!!!"



"PARA-A-MOUNT!!!"



"PAR-A-MOUNT!!!"
The lights come back to full and the fans offer one last rousing cheer at the opening festivities. Tonight's announcers are on standby and ready for the show to begin.
Watson:
Buenas noches landies y señores de Monterrey! I am Tim Watson, HE is Cid Sydney, and THIS IS PARAMOUNT wrestling! Welcome to the pinnacle of professional wrestling, folks! We have an absolute non-stop banger of a card for you this evening as we head directly into the EWC Rumble!
Sydney:
It's great to be back with another episode of Paramount Wrestling Tim, and tonight the action is going to be full throttle all the way from moment one! We open things tonight with a triple threat match of some incredible female athletes as Eavan Maloney, Adriana Aquilla and Paramount's newest acquisition, AMBER LISA, will do battle!
Watson:
From Friday Night Rampage, Vespertine makes her Paramount debut against The number one contender to the EWC North American Championship SONYA!
Sydney:
THE NEW ERA Jadyn Keem takes on El Pablo, Then in Tag Team action The Property Brothers come the orange brand to take on Bloody Sureiyazu!
Watson:
The Canadian Badass Shaker Jones and Ibuki Ito go at it in the first of TWO X-Division bouts tonight, that one should be an absolute massacre. Then King Flip pays Paramount another visit to take on Daphne Kreel in our second X-Division match up!
Sydney: The Apple TV+ Broadcast Championship is on the line as another of the core avengers, Ashley Freeman gets her shot at the woman who won it ALL at Night of Champions!
Watson: That's right, The Insanity cage was won by a member of Paramount Wrestling for the second year in a row as Sally Talfourd has punched her ticket to the main event of WrestleFest where she will fight for the EWC Undisputed championship! But tonight, she puts the Apple TV+ Broadcast title on the line in what will be her 5th defense attempt. Then, in the main event, We have some more tag team action as New Money also make their Paramount debut against 3pAC who will be out for blood after failing to defend the EWC World Tag Team championships at Night of Champions against The Heat Packers!
Sydney:
We have all this and SO MUCH MORE! Our first match of the night will be coming up right after this quick message from EWCTV. Don't go anywhere .. Paramount Wrestling action will be back in exactly 1 minute
---
---
---
---
WHAT IS EWCTV?


All live EWC Pay-Per-View events (including StrangleMania, Night Of Champions, EWC Rumble & WrestleFest)
All day scheduled & live programming
Plus, hours and hours of on-demand content & never before seen behind-the-scenes footage!
Groundbreaking original series - See new episodes of BRAWL, RAMPAGE, PARAMOUNT WRESTLING, EWC PRIME and more
Live in-ring action, reality shows and documentaries
HOW TO ORDER
Get the award-winning EWC Network through your TV provider. Call your local TV Provider today to subscribe.
Only $7.95/month

WATCH ONLINE
If you are subscribed to EWC Network through your TV Provider you can now enjoy EWC Network on your:
PC, Laptop, Playstation, mobile app, or tablet.



EWCTV for only $7.95 USD per month
Along with being an EWCTV Subscriber, you get:
EVERY Pay-Per-View event included at no extra charge
15% off any and all EWC Merchandise from the EWC Store
20% off all tickets to LIVE EWC Shows
A free EWC Yearly Wall Calendar signed by the entire active EWC Roster
As an added bonus for all those currently subscribed including any new subscriptions
prior to midnight September 30th

Receive
a
FREE
copy of
NIGHT OF CHAMPIONS XX
DVD and Blu-Ray combo when it's released later this year
+ free T-Shirt and Replica EWC Undisputed Championship belt.
So act now if you aren't already subscribed to EWCTV
---
---
---
We cut to the Extreme Tron which shows Jack Hart sitting at a bar stool in a dimly lit setting, holding a glass of Scotch. He twirls the glass around his fingers with a pensive look across his face, his black leather jacket acting as camouflage in the dark setting.
Jack Hart:
I've been doing a lot of reflecting on the last year of my life. I was given everything I'd ever asked for, everything I'd ever dreamed about. I'd lay in my bed at night and imagine all the things that I could achieve, all the things that I could become.
The camera cuts away to a replay of Jack getting his hand raised after defeating Divewire at last years Youngblood Pay-Per-View, panning around the arena, and showing the cheering crowd that surrounded the ring.
Jack Hart:
And when those dreams finally became reality, I was in another world. I was standing there in the middle of the ring, but I felt I wasn't really there at all. It was an almost out-of-body experience. I didn't feel like I had any control over my destiny, and I was experiencing all of this through someone else's gaze. It was too good to be true.
We cut to an image of a stricken Jack pulling himself up from the ground after a defeat on Paramount to Sally Talfourd.
Jack Hart:
And I truly didn't know what I had, until I threw it all away.
The Tron now shows Jack, bloodied in the corner, resting against the bottom turnbuckle, after being pinned by Tanja Devereaux.
Jack Hart:
See, when you get to where you'd hoped you would all along, then just being there isn't enough. And failure is magnified ten-times over. Every loss that I suffered felt like I'd been swallowed by a black hole. And every time I had to get back up, I'd lost another piece of myself.
We return to the image of Jack sitting in the darkened bar, taking a big gulp from his glass of Scotch. He places the glass back down and composes himself.
Jack Hart:
It's taken a good while for me to pull myself from the last hole that I'd dug for myself. But here I am. I've dusted off the cobwebs and I've escaped from the prison in my own mind. The version of Jack Hart that you saw blow his chances against Sally and Tanja was weak. Weak in mind, and weak in soul. I'd got to where I wanted to be, and didn't have a thought about what was next. Every loss was filled was confusion, filled with if's, but's and maybe's.
Jack now stares directly into the lens with a look of intensity, tinged with anger.
Jack Hart:
I've gone back and I've found that I not only have to accept defeat, but I have to learn from it. So I'm back here in the EWC, and I'm here to be beaten up, bloodied, and I'm happy to break every bone in my body if it teaches me a lesson. I'm here with the biggest names that there are in this business, and I want to fight every single one of them. If I'm ever going to amount to anything and win titles and main event the biggest shows that this industry has to offer, I'll need to take some losses along the way. I know that I'm an exceptional pro-wrestler, but the EWC is littered with them. So put me in a ring with your Talfourd's, and your Devereaux's, I'll fight anyone that you put me in with. But don't expect me to make the same mistakes, I've learned from them. I'll make plenty more along the way, but with every loss is a lesson, and I'm not afraid to learn anymore.
Jack takes one last sip of his Scotch and plants it down on the bar with a purpose as he walks out of shot and we fade out.
---
---

TRIPLE THREAT MATCH
Eavan Maloney
VS Amber Lisa
VS Adriana Aquilla
We return to ringside where Tim and Cid are standing by
Watson: Welcome back to Paramount Wrestling, We just heard from Jack Hart who appears to be absolutely ready to go in coming back to the show, but right now it is time to kick things off with three warriors beating the absolute tar out of each other!
Starr:
The following match, set for one fall, is a Triple Threat Match! Joining us first, from Brooklyn, New York and weighing in at 136 pounds...
AMBER LISA!
Run It came blasting over the speakers as Amber stood on the top of the ramp with her leather jacket on with a smirk across her face. She comes out playing to the crowd a bit before she climbs inside of the ring. She takes off her jacket with a smile looking over at the opponents with a grin ready to start. Outside on ringside her Uncle is just walking down with her with a bit of a smirk on his face shaking his head while she play to the crowd a bit.
Starr:
And the opponents first residing in New Egypt, New Jersey and weighing in at 123 pounds...
EAVAN MALONEY !
As 5FDP's Judgement Day starts, lights flash all over the arena before they all center on the entranceway. Eavan Maloney walks out with a bandana over her face, her arms outstretched, demanding to be seen and accepted. Eavan slides under the bottom rope and gets up on the second rope of all four corners, arms outstretched again before leaping backwards off the last corner, removing her bandana, and paces around as she awaits her next opponent.
Starr:
And, finally, residing in San Francisco, California and weighing in at 120 pounds...
ADRIANA AQUILLA!
Iron by Within Temptation hits the speakers and the crowd comes alive as Adriana Aquilla makes her way down to the ring, she slaps hands with a couple of fans before rolling into the ring ready for her match as she removes her jacket.
DING DING DING
Adriana knocks Maloney down and rolling out of the ring with a superkick. Amber charges at Adriana and knocks her down with a body block. Amber lifts Adriana for a powerslam but she slides off Amber's shoulder. Adriana kicks off the middle rope and springs back knocking Amber down with a clothesline. Adriana springs off the ropes a second time, this time for a roundhouse kick. Amber catches Adriana in mid air and slams her to the mat with a spinebuster. Adriana gets to her feet but she's knocked back down by Amber from a headbutt to the face. Amber makes a cover.
Adriana gets a should off the mat breaking the count. Amber gets to her feet. Maloney is in the ring and she attacks Amber with right hands as Adriana rolls out the ring. Maloney chops Amber hard on the chest. Amber lashes out with a clothesline that Maloney ducks hitting another chop to Amber's chest. Maloney whips Amber to the corner and bulldogs her out. Maloney fires at Amber with a superkick that Amber blocks. She tosses the leg to the side spinning Maloney around. Maloney spins back round hitting a dropkick to Amber's knee that drops her to the mat. Maloney connects with a superkick that knocks Amber down. She makes a cover.
Amber just gets a shoulder off the mat to break the count. Adriana flies into the ring hitting Maloney with a dropkick allowing Amber time to rest on the outside. Adriana grabs Maloney and whips her off the ropes knocking her to the mat with a dropkick as she rebounds back. Both get to their feet where Maloney cracks Adriana across the jaw with a forearm. Adriana falls against the ropes but blasts Maloney with a superkick that knocks her to the mat. Adriana climbs to the top rope and throws herself at Maloney crashing down on her with a moonsault. Adriana hooks the leg.
Amber pulls at Adriana's leg dragging her out of the ring to break the count.
Watson:
And there it is! I was wondering when the 'third person problem' would strike.
Sydney:
The trick isn't about when it strikes, it's about how they combat it!
Amber slides into the ring and pulls Maloney to her feet. Maloney rams a knee into Amber's gut doubling her over before driving her to the mat with a Gnat Gnat. She rolls Amber over and makes a cover.
Adrianna slides into the ring and smacks Maloney with a Divine Wizard to break the count. Maloney drops to the canvas where Adriana makes a cover.
Amber pulls Adriana to her feet and cracks her with Smack In Your Face. Adriana drops to the mat where Amber makes a cover.
Maloney dives in to break the count.
Watson:
And still there is no combating the third one in the ring.
Sydney:
If they don't, we could be here all night. Not that that is a bad thing.
Maloney pulls Amber to her feet. She attempts a Sykobitty Stunner but Amber manages to shove Maloney off the ropes to counter. As Maloney springs back, Adriana is back on her feet. Maloney manages to grab her hitting a Sykobitty Stunner to Adriana. Before she can make a cover, Amber sends Maloney flying across the ring with a Drive By. Amber drags Maloney out of the corner and makes a cover
DING DING DING
Starr:
And your winner, via pinfall
AMBER LISA!
Amber gets to her feet and raises her arms in victory. She dances to her theme as Saul looks on with a raised eyebrow. Amber laughs at his unimpressed look as she heads out of the ring and up the ramp.
Watson:
As the bodies of her fallen opponents lay in the ring, Amber Lisa picks up a huge win here tonight in her Paramount debut!
Sydney:
Turns out she can counter act that third person thing by picking her moment. One on one and this night could easily have gone the way of Eavan Maloney or Adriana Aquilla
Watson: Indeed it could have, Cid. Right now we are being told that we have something going on in the parking lot.
Camera cuts to ...
---
---
Mexico boos heavily as cameras pan to the parking lot. They boo because immediately in view, coming from the backseat of some Tesla bullshit is The Mad King. He bings happily regardless to the jeers. King gives the driver a polite wave before shutting the passenger door and turning to the camera before him. With enough time here a "Marcu$ $t. John" chant begins. Flip smiles and nods as he continues approaching the viewfinder.
The Mad King:
Marcus? But tonight's about another young Paramounter for me. What about... Daphne Kreel?
They boo even louder and this brings Flip's smile a little wider.
The Mad King:
Aha! So you WOULD like to see The Mad King beat down The Dark Wizard!?
A mixed reaction agitates Flip a little.
The Mad King
: Oh, make up your minds. Would you? And make sure to congratulate Daphne Kreel for surprising me. We tried, you see, to sort of wager a guess
at the moniker but... Odindamn, folks. She scared me a little bit.
He looks but does not sound very serious as he clutches his chest a bit. Cameras follow him into the building.
The Mad King:
The Mad King just sort of assumed this was another 'lady who wears the pants' situation. Oh no!
It's much worse.
Flip eyeballs the hallway before picking a direction, heading left past some of the Extreme Wrestling backstage crew as he continues speaking to the following camera.
The Mad King:
So on the eve of anoth-- OHHHH.
Flip puts a little Jack Black stank on that last word as he stops in place and turns around. He looks like he smells something awful. Turns out he forgot to say something before or something, King just shrugging before chiming in again.
The Mad King:
Congratulations, Umbra.
He winks to the camera, slinks back around, and continues as if nothing happened.
The Mad King:
So on the eve of another dance for Effie. On the
PRECIPICE
of The Mad King's ascension back up to the top. Right here... in Monterrey, Mexico...
Mexico hates Flip but cheers for the name drop anyway. Flip gives a bang bang with his fingers, still moving forward.
The Mad King:
"Dark Wizard" Daphne Kreel proves her mettle in X-Division competition against someone all too familiar with the blood, with the sweat, and with raking the tears right out of your eyes myself if I have to. BUT!
He throws a pointer finger in the air like a true superhero.
The Mad King:
While this may not be the pre-main event. I have no real testament to that on the orange brand, all things considered, but what I do know is that you and I, Miss Kreel, we're going on after your brand's top champion. We're going on after because of you.
Mexico is once again in a murmur. They're not sure where this is going and by the look of Flip as his head darts both ways again, the King having come to a cross in the hallway, veering right this time as the camera keeps up a few paces back.
The Mad King:
Now, sure, blah blah blah, King Flip was just number one to The One, we held a title belt before, blah blah blah, yeah whatever. Right?
Flip looks a little agitated as he looks back to the camera again, stopping.
The Mad King:
I'd be remiss if we didn't acknowledge the fact that you are in fact a little younger, you've still got a lot to give the business, and you've had much better matches recently than... now, Mexico, don't get me wrong. I love Shaker Jones, too.
Mexico explodes for Shaker Jones.
The Mad King:
But comparing Shaker Jones' opportunity against Ibuki Ito to Daphne Kreel's opportunity against me is seriously apples to oranges. And that's because of you, too, Dark Wizard.
The camera gets into a better position and we can see Flip has stopped before a room labeled "CHRIS BROCK" with a smaller "Paramount Showrunner" underneath. Mexico murmurs again at the implications.
The Mad King:
So The Mad King wishes you well in your future, Daph. We do. You've all been so rude to me, then Pikachu shock when I treat you like a smashed asshole afterward, but listen. We hope these things because we wanted you to take that challenge we made seriously. Maybe it doesn't end up being Brother Crimm facing all four of the super squad. Maybe just a third. What was his name, again... Sebastian?
We're back to boos from Mexico to King Flip. He peers at the camera.
The Mad King:
Anyway, look. We're going to have a great match tonight. Then you'll be ringside as King Flip A-WHOPPAHHHH~
He feigns clotheslining Kolby over the top rope.
The Mad King:
...takes Kolby OUT and I ain't talkin' about no date. OHHHHH.
He did the Jack Black oh again for some reason. He knocks on the door. Some sound comes from inside. Flip winks to the camera and gives a polite wave as he opens the office door to head inside.
The Mad King:
Tonight the Dark Wizard wears the FLOPPY hat!
Mexico is as confused as the announce team looks as the camera cuts back to them after the office door closes behind the King.
---
---
---
---
We open up backstage with both Aiya and Narumi sitting beside one another on a nearby bench in their locker room. Noting the more stoic-than-usual look on her partner's face, Narumi glances over at Aiya with a bit of worry reflecting in her eyes.
Narumi:
Is something bothering you?
"Headhuntress" Aiya:
Yeah, actually. I'm starting to wonder if Cosmo may have brought up a golden question of sorts.
Seeing the confusion on Narumi's face, Aiya wastes little time in elaborating.
"Headhuntress" Aiya:
Why are we giving people who just continue to disrespect us any bit of honor, let alone respect? The House … they weren't surprising in their mannerisms. Nor were 3pAC. But Damage Inc. was disappointing, at least when I faced them with Sonya. And now … the amount of shit
these
idiots spewed?! I mean … fuck sakes …
Aiya shakes her head, disappointment entering her own eyes as she weakly chuckles.
"Headhuntress" Aiya:
I'm not sure if the line about me being hasty enough to actually risk disqualifying us, hearing the stupidity of my singles record - even though we've repeatedly pointed out that means absolutely nothing with our tag record, or them whining that … I talk a lot?
Sorry, what am I supposed to do? Become a fucking mime? Do they not understand promos are done by fucking talking? Given they've been shooting their own, you'd hope, but just … I can't listen to idiots like this without feeling as if I'm going to lose some of my IQ. So yeah …. Why are we giving people like them anything positive? Is it just to be the better team? Something else?
Narumi rubs at her chin for a moment and responds.
Narumi:
I don't particularly feel a need to sink to other people's levels is all, they can keep saying what they want, but we'll keep performing as one of the top tag teams in the division and give the fans the quality they deserve. Plus, to be honest I think you had a fondness for Damage Inc that I never had. Those guys have wrestled 10 tag matches to our 5 this season, yet we have still won more matches, why should we beg for their approval?
A smile forms on the Onihime's face.
Narumi:
There's a lot of people who still seem to underestimate what we can do, but that just gives us the opportunity to surprise them. It's sort of how everyone is going crazy about the Insanity Cage deciding what they believe is the first ticket to Wrestlefest, forgetting that I earned a ticket to the main event of anywhere I want for the Undisputed Championship when I pinned El Pablo. It wasn't long ago I left the biggest PPV with both the Undisputed and Tag Team Championships, and now you and I are even great trio performers. Not to mention, you're still a former singles champion. The idea that either of us is easy pickings after we've shown we can thrive in so many different scenarios show people still have a lot to learn.
Aiya takes a deep breath as she slowly nods.
"Headhuntress" Aiya:
It's not really begging for anyone's approval. Far from it. But just … my goodness. It's not that hard to do your homework and research basic things. Be it the fact I've never broken the rules and had any of my fights end in a disqualification or even knowing the answer as to how Jason beat me … it's simple, actually. And that …
Aiya looks straight at the camera, moving a few red strands behind her ears as she reveals the answer.
"Headhuntress" Aiya:
Is because Jason is literally one of the few people who knew me even before I stepped foot into the EWC. He, therefore, is one of the small handful of people who knows me best. He literally directed me to this company … it's in my app. I don't try to hide shit, be it my records or anything. But the amount of people who can't seem to get their facts straight … it gives me migraines sometimes with how easily they miss what should be simple ass observations and shit.
Also … unless you two - in fact, this extends to any of the teams, really - wanna take a book from Cosmo's or our own page and partake in both singles
and
the tag team scene? You can disprespectfully shut the fuck up about wondering how I lose seemingly easy fights. Take a step in my shoes and
then
maybe I'll humor you dumbasses more often.
Narumi gets behind Aiya and leans her head on her shoulder with a yokai's grin.
Narumi:
You know they don't have the audacity to even try being complete wrestling performers like that, it's one of the reasons I respect Cosmo for being so daring. These other teams sure are getting you primed to want to collect heads, as annoying as they can be sometimes it excites me that you're in that mood, it's fun for an oni to have a friend with a little lust for blood and souls. Let's see what we can collect tonight.
Aiya nods, a smirk finally emerging as she glances at the camera.
"Headhuntress" Aiya:
Indeed, let's. I hate to say it Property Brothers … but now you officially lost your chance to get any bit of mercy. She's the calmer person between the two of us usually, so to hear that she's
happy
I'm like this? Well .. this match
really
isn't going to be fun for you two. Us though … that'll be a different story.
The Bloody Sureiyazu hit their signature pose as the camera returns too...
---
---

SINGLES MATCH
Vespertine
VS SONYA
We return to ringside where among the crowd there is a small "BATTLE-SHIP! BATTLE-SHIP" chant breaking out.
Watson: Bold comments from Bloddy Sureiyazu as we return from break, they are on a mission to get back to the EWC World Tag team championships! They are in action a bit later, but right now its time for a different member of Shinijoshi to due battle.
Starr:
The following match is set for one fall. Joining us first, residing in San Francisco, California and weighing in at 115 pounds...
VESPERTINE!
The sound of a Japanese flute starts out playing quietly over the loudspeakers and the lights go down. Suddenly the spotlights in the arena come up and we see a lone figure standing at the top of the ramp. One arm is raised and we see it is Vespertine and she is standing facing the entrance curtains. She spins around rather quickly and at the end of the turn she points at the audience where upon a couple of pyros go off on each side of her. She stands at the top of the ramp looking around at the audience. Then suddenly she reaches her hands out to them as if to encompass their souls and fire pillar pyros go off behind her. She saunters on down to the ring, stepping in time to the music. She wears black wrestling shorts, a black wrestling sports top with purple sequins which reveals her midriff and abs, black wrestling boots, her black trenchcoat duster and black sunglasses. She slides in underneath the ropes, takes off her sunglasses and looks around at various spots with a feral like look in her eyes and slightly licking her lips. We see she has heavy glitter around her eyes and a heavy dark turquoise black eyeliner. She crawls seductively like a cat to the other side of the ring and then suddenly jumps up and spreads her arms out and lands in an V like pattern where upon at each corner of the ring, showers of sparks come flying out. She looks around, still with the feral look in her eyes, and takes off her trenchcoat duster and gives it to a person outside the ring and goes to sit on the turnbuckle facing the ring entrance until the match starts.
Starr:
And the opponent, residing in Honolulu, Hawaii and weighing in at 150 pounds...
SONYA!
As the first few notes of "Rusalka" play over the loudspeakers, Sonya stands just a few feet away from the entrance way, the cameras picking up her peaceful expression and smile. The song kicks into high gear and she makes her way to the ring with determined eyes and calm demeanor, stepping into the ring and performing her signature pose in the corner.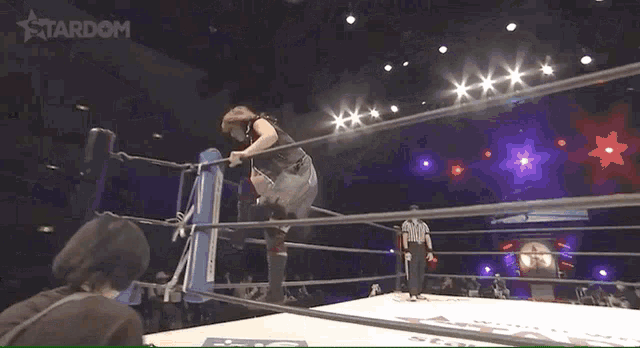 DING DING DING
Sonya lashes out at Vespertine with a right hand that Vespertine ducks. She lifts Sonya for a side suplex but Sonya quickly counters with a headlock takeover. Before she can apply any pressure, Vespertine wraps her legs around Sonya's neck to pull her away. Sonya's on her feet and lashes out with a clothesline. Vespertine ducks and grabs Sonya hitting her with a DDT. Vespertine whips Sonya off the ropes and spins her around hitting Sonya with a tilt-a-whirl backbreaker. Vespertine makes a cover.
Sonya gets a shoulder off the mat. Vespertine climbs to the middle turnbuckle as Sonya gets to her feet. Vespertine dives at Sonya and crashes onto her with a cross body that knocks Sonya to the mat. Vespertine climbs to the top turnbuckle and throws herself at Sonya with a 450 Splash. Vespertine hits nothing but canvas as Sonya rolls out of harm's way at the last second. Vespertine gets to her feet as Sonya charges in hitting a running boot. Sonya pulls Vespertine to her feet and grabs her hand. Sonya pulls Vespertine into a German suplex that she bridges into a cover. The referee counts.
Vespertine lifts a shoulder off the mat to break the count.
Watson:
A big kick out by Vespertine there!
Sydney:
It HAD to be! That was a big German suplex that had plenty of force to it!
Sonya lifts Vespertine to her feet and whips her off the ropes. Sonya smacks a rebounding Vespertine in the jaw with a back elbow. Vespertine stumbles around the ring before Sonya smashes Vespertine with a Clean-Up Hitter. Vespertine drops to the mat in a heap. Sonya rolls her over and makes a cover.
Vespertine just manages to roll to her side to break the count. Sonya lifts Vespertine to her feet and up for a suplex. Vespertine slides off Sonya's shoulder and holds Sonya in a reverse DDT position. Vespertine drives Sonya's neck down across her knee then lifts Sonya up and over hitting Breaking The Bank. Sonya drops back to the mat where Vespertine makes a cover.
Sonya rolls to her front breaking the count.
Watson:
That was a close one right there!
Sydney:
Any closer and the bell is ringing! That said, I have no clue how she managed to even kick out, I thought she was done!
Vespertine runs off the ropes and smacks Sonya with an axe kick that drops her back to the mat. She runs off the ropes as Sonya gets to her feet. Vespertine throws herself at Sonya for a spinning heel kick. Sonya ducks and Vespertine crashes to the canvas. Sonya grabs Vespertine and lifts her up to her shoulders. She runs for a Dreadnought Bomb but Vespertine manages to lift herself over Sonya's head and shoves Sonya into the corner. Sonya staggers out of the corner where Vespertine jumps for an Epically Diva. Somehow, Sonya manages to counter and hoists Vespertine onto her shoulders. She spins Vespertine driving her to the mat with a Ruby Buster. She puts her feet on Vespertine's shoulders as the referee counts.
DING DING DING
Starr:
And your winner, via pinfall....THE BEAUTIFUL BATTLESHIP.....
SONYA!
Sonya gets to her feet. She climbs to the middle turnbuckle and looks out at the crowd before performing her signature pose. She climbs down and heads to the opposite corner and poses again before climbing down and heading up the ramp.
Watson:
An amazing feat of strength by Sonya and that allowed her to pick up the win here tonight.
Sydney:
It may have been blocked tonight but had Vespertine hit Epically Diva, this would have been over. Vespertine did everything right here except pick up the win. She is gaining momentum with each match Tim.
Watson: That she is, but the next time we see Sonya she will be battling for the EWC North American championship against Ibuki Ito at EWC RUMBLE! Right now though, we have to pay some bills. Paramount Wrestling will be right back!
Camera cuts to ...
---
---


There's a bit of commotion going on in the parking lot, as Lisa Goldrush has approached the scene, a cameraman in tow. When the camera pans up to what Lisa is standing in front of, it becomes much clearer…




"Box Office" Bruce Booth is riding into the arena on a horse, while Cosmo Goldworthy is walking alongside the horse, trying to direct traffic to this potentially undomesticated horse. The horse squeals, tired of holding Bruce up.
Bruce Booth:
Cosmo! Cosmo! She won't shut u–
Lisa Goldrush finally approaches the scene, holding the microphone up to the two as she immediately inquires what is going on here.
Lisa Goldrush:
Bruce! Cosmo! I– what is Bruce doing here, riding on a horse?!
Bruce scoffs, and Cosmo gasps.
Cosmo Goldworthy:
A HORSE?!
Bruce Booth:
HOW DARE YOU?!
Lisa is appalled, because what else could it be?! Before she can ask any further questions, Cosmo steps up to the microphone.
Cosmo Goldworthy:
I'm going to brush over your disrespect, but..
Cosmo turns back to Bruce and the horse, or not horse, and sighs.
Cosmo Goldworthy:
I don't know what happened earlier today and now, but we arrived at the arena.. And we saw Bunny Love, here, standing outside..
Cosmo sniffles, rubbing "Bunny" the horse on the back, while Lisa is both appalled and disgusted.
Cosmo Goldworthy:
..And we helped her get in the arena, and
this
is how you treat our act of kindness?!
Lisa is genuinely speechless. She doesn't know what to say – and quite frankly, it's probably for the better.
Bruce Booth:
Bunny Love is one of the most ESTEEMED managers in all of the –
Bruce Booth:
EWC, and she has earned her keep in this company by –
The horse grunts, this time.
Bruce Booth:
holding Deimos and "Little" Danny's hard, stiff, bulging –
The horse spits all over the floor, meanwhile Cosmo raises an eyebrow.
Bruce Booth:
..crowbars.. And yet! They couldn't even get her INSIDE the building! Not only is it despicable by you Lisa to call her a horse - when she is a BUNNY..
Lisa facepalms. And before Bruce can finish, Cosmo interjects.
Cosmo Goldworthy:
And it's also
despicable
that you made your last name, the same name as my FINISHER, the GOLD RUSH! CHANGE IT! NOW!
Cosmo shouts at Lisa. She tries to plead with the fact that she was
born
with this name, but New Money is having none of it.
Lisa Goldrush:
..I'm sorry? I mean, guys, I don't really choose what my las–
Bruce doesn't let her finish.
Bruce Booth:
You better be sorry.
Lisa covers her face in shame, completely shut down. While she's coping, "Bunny" the horse starts to finally lower down, the weight of Bruce getting to her. Bruce hurriedly gets off the horse.
Bruce Booth:
Look! You made Bunny cry!
Cosmo Goldworthy:
Shame on you, Lisa! Shame on you! That's two strikes today!
Cosmo circles around the horse and pats Bruce on the back, and it looks like they're about to head to the lockers, until Lisa lets out a loud shriek. The two quickly turn back and their eyes widen, when they realize "Bunny" the horse is SHITTING on the concrete floor - and it's a
fat
one.
Cosmo Goldworthy:
Her shit is fatter than Buddy Love! I–I didn't realize it was possible for something to be bigger than him!
Bruce remains still, in stunned shock. He quite literally did not expect the horse to start fucking shitting all over the place. While Bruce is starting to regain his bearings, Cosmo calls for a sudden shift of tone.
Cosmo Goldworthy:
3pAC, whether or not you're watchin' this is none of my concern - but here's something that I want set in stone.
We are takin' you boys to hell in ways that you won't even be able to FATHOM. Y'all are fuckin' with the wrong team, and win or lose..
Bruce Booth:
Whether you got old money, new money, or in 3pAC's case, no money - one thing will ring true tonight..
Bruce finally comes back to life, to deliver this closing line..
Bruce Booth:
New Money, always..
In unison, they wink to the camera. Bruce and Cosmo storm off, while Lisa Goldrush and the cameraman are left alone to try and tame this wild horse.The camera fades to a commercial for EWC RUMBLE!
---
---
---
---
The camera cuts backstage where we find Paramount's Lisa Goldrush waiting outside the office of GM Chris Brock. The door opens and to her surprise it's not the GM that steps out but the former EWC Tag Team Champions, Deimos and 'Little' Danny…the 3pAC and their manager Bunny Love…
Goldrush:
Um, hello guys…I wasn't…
Deimos:
Expecting us…that's clear judging by the look on your face Lisa…
Danny:
We were the ones that requested you to meet us right here at this time…
Deimos:
Yeah…see Chris Brock invited us to his office to have a little chat about things…
Danny:
That thing being our rematch for the EWC World Tag Team championships…
Deimos smiles and nods his head…
Deimos:
You see when we beat Damage Inc at Parabellum we activated a 'defense rematch clause' and while some…
Deimos and 'Little' Danny turn and look at Bunny…
Deimos:
Wanted us to jump right back into the fire and demand we have our rematch at the Rumble we decided to hold off and cash in that rematch at this year's YoungBlood V and one might wonder why…well…
Danny:
It makes it impossible for the EWC to fire us if we have a championship match set for late October…
Lisa looks over at 'Little' Danny…
Goldrush:
Why would the EWC fire you two…you guys have been killing it this season…
But Deimos waves his hand, cutting Lisa off…
Deimos:
Because Danny is a 'cup half empty' kind of guy, our own personal Eeyore who thinks a dark cloud hovers over his head all the time…ok sure, he's had a rougher go of it than most…what with starting off life being left in the bathroom of a K-Mart and bouncing around foster care most of his life until he was 18 and aged out of the system and lived out of a garbage can in a back alley like he was Oscar The Grouch but it wasn't all bad…that's how he met Brandy…
Goldrush:
Who's…
Deimos:
Brandy you ask…just some tweaked out former meth head Danny took a liking too…when I met them he was working as a crew hand for the CEW and she would ride at his feet in the truck from town to town…she was our first Bunny if I'm being honest but we got fired and her dumb ass bit a cop and is doing 12-18 months down in Tallahassee but the point is…Danny here always sees the worst in things so he was positive that we would come here to Paramount #035 and be fired…so…
Danny shoves Deimos aside, a little annoyed about how he just told the world his life story…
Danny:
So we picked YoungBlood V so we have time to bank some good will with Paramount and the EWC and show them we still have value and that starts tonight against New Money…
Deimos:
They called us 'cowards' because what…Bunny jumps into the mix from time to time, that doesn't make us 'cowards'...it makes us smart…we are paying her 10% of everything we make…so why not get a return on that 10%...
Danny:
And you talk about us having egos yet you have declared yourselves the 'fast rising tag team' after what…ONE WIN…
Deimos:
And I hate to break it to Cosmo and Bruce but we create chaos everywhere we go…tonight will be no different…yes we like to brawl and they can try to slow things down inside that ring to test out gas tanks but the truth is every time things start to go south in a match we find a way to bring that chaos and if that means kicking Cosmo in his 'cosmo-politans' than so be it…
Danny:
We do have a fire that's been lit under our asses after Night of Champions and we are here on our home turf to right a wrong…to get back in the win column and build some momentum as we march towards YoungBlood V and they are just the first team on that march…
Deimos:
Tonight we welcome New Money to the tag team division the only way we know how…with a crowbar to the side of the head and a L to take back to the hotel…
Danny:
And we PROMISE…Mr. Brock, we won't let you down again…
Deimos shakes his head as he grabs 'Little' Danny and pulls him off screen…
---
---

MATCH TYPE
Jadyn Keem
VS El Pablo
We return to ringside where the Monterrey crowd is still buzzing with excitement as they await the next match of the night.
Watson:
Bold promises from 3pAC, but we just CONFIRMED a match for Youngblood in October! The Heat Packers will be defending their newly won EWC World tag team championships against 3pAC!...We've got a big matchup in store for you all up next, as El Pablo looks to once again stake his claim to finally winning that EWC Undisputed Championship, but first he's got to get through the brash and talented Jadyn Keem in El Pablo's home country!
Starr:
The following match is a singles contest scheduled for one fall! Joining us first, from Santa Monica, California, weighing in at 210 pounds ...
JADYN KEEM!
The lights go out.
A spotlight shines down onto the stage as the intro to 'Top 5' begins to play throughout the arena before it loudly kicks in, the titantron reading the words of "NEW ERA" just as the lyrics soon are heard. With the opening lyrics playing out through the P.A. System, the entrance curtain opens up as a figure soon walks through with his head lowered and his arms stretched out wide.
That's when the man lifts his head up and the spotlight shines down onto only Jadyn Keem. A grin on his face as he soaks in his time in the spotlight, before lowering his arms and beginning his walk towards the ring. Upon climbing up the ring steps and entering through the middle ropes, he slowly takes his time entering the ring and heading for the ropes where the hard cam resides—standing on the second rope and stretching his arms out wide again for the spotlight to be soaked in.
Starr:
And his opponent, from Puebla City, Mexico, weighing in at 180 pounds, "THE TECHNICOLOR TECNICO" ...
EL PABLO!
A cry of "VIVA LA RAINBOWLUTION!!!" leads to 'Party Hard' by Andrew WK hitting the soundsystem, as the stage and ringside area becomes bathed in flashing, flickering, brightly-coloured lighting. As the main hook hits, El Pablo bursts through the curtain, playing to the fans and chugging Skittles like a Steveweiser. He charges down the ramp and slides under the ropes into the ring, before running up the turnbuckle and tossing a couple of fistfuls of Skittles out into the adoring crowd. After offering a final salute, he hops back down to the canvas, handing his belt to the referee and performing a few final stretches as his music fades.
DING DING DING
As soon as the bell rings, loud claps emit from the audience who are clearly interested in how this one goes. El Pablo paces around the ring along with Keem, but stops to throw his hands up, hyping the fans! Pablo smirks at the cheer, while Keem isn't impressed and immediately goes on the attack. Pablo senses it and ducks under, grabbing him in a waist lock. Keem grunts, taking the wrist of Pablo and immediately swinging into a wrist lock. Pablo grits his teeth, then rolls forward, loosening Keem's hold. He rolls backwards, into a headstand, then kips up to spin into a wrist lock of his own. Keem yells out, frustrated at Pablo's athleticism. He spins out, grabbing Pablo in a hammerlock. Pablo reaches out, and with the crowd on side - he finds the momentum to yank Keem over with a snapmare. Keem rises to his feet, swinging for the fences. Pablo ducks and catches the wrist of Keem. He runs up the middle rope, and bounces to the top rope to send Keem flying with a beautiful arm drag! Keem rolls backwards, falling into the turnbuckles as the crowd clap up the effort from both men. Pablo beckons him up, but Keem takes his sweet time getting up..
Keem's frustration gets the best of him as he looks for another clothesline, but Pablo ducks under once again. He nails a knife edge chop, which is heard all throughout the building. Pablo takes Keem's wrist for an irish whip, but Keem reverses with one of his own and follows up with a kitchen sink against the ropes. Pablo writhes in pain, as Keem follows up with a gut punch - then a kidney shot that doubles Pablo over. Pablo falls to his knees, groaning as Keem drags him up by the mask. Keem takes the wrist and pulls it over his shoulder, yanking him to the center of the ring into a Yama-arashi. Pablo yells out in pain as the judo throw frazzles the luchador. Keem, looking to tire Pablo out makes the first cover of the match.
ONE...
T- PABLO KICKS OUT!
Watson:
Jadyn Keem making Pablo have to use the energy to kick out early here.
Sydney:
That's a smart, vermin move from the The New Era here. Every little ounce of energy Pablo spends is less he has later in the match!
Keem rolls his wrist, knowing that Pablo is hurt. He rises to his feet and begins stomping out the body of Pablo, resulting in loud yelps of pain from him. Keem grabs Pablo by the head, sitting him up so he can rain down heavy punches to the side of the head. Pablo is taking an absolute beating, but as Keem winds back for one more - Pablo catches his wrist and punches him right in the ribs! Pablo shifts himself backwards, shoving Keem full force with his legs. Keem skids backwards, looking for a boot but Pablo rolls out of the way, and to his feet! Keem turns back to Pablo, and Pablo leaps onto his thighs, tossing him with a Monkey Flip! Keem rises, holding his back. Pablo is up, waiting for him as he leaps right into a Frankensteiner! Straight into the cover!
ONE...
TWO...
KEEM KICKS OUT, AND ROLLS INTO A SEATED PIN!
ONE...
TWO...
PABLO KICKS OUT, AND ROLLS INTO A KNEELING PIN!
ONE...
TWO...
KEEM KICKS OUT, AND ROLLS PABLO TO HIS FEET!
AND PABLO FLIES RIGHT INTO A DROPKICK TO THE JAW OF KEEM! Keem rolls away, holding his jaw in pain. Pablo twirls his finger around, clotheslining Keem out the ring. Keem hangs on though, falling onto the apron. Pablo sees that Keem is still on the apron and bounces off the ropes, building steam.. But Keem intercepts his momentum with a superkick to the side of the head! Pablo wobbles, barely on his feet. Keem takes the ropes and springboards up!
SHOTTA FLOW!
Pablo is knocked inside out from that clothesline! Keem wastes no time, scrambling to the cover!
ONE...
TWO...
T- PABLO KICKS OUT!
Watson:
Back and forth, back and farther here. The jockeying for position has begun!
Sydney:
Keem has learned from his last encounter with the technicolor technico it seems!
Keem slaps the mat, irate. He shoots darts at the referee, slightly questioning his judgment. Keem turns back to Pablo, who is trying to work his way up. Keem yanks Pablo up by the waist, holding him in a wrist clutch. He ripcords him out, looking for the Sovereign's Kiss - but Pablo ducks free and breaks the wrist hold! He leaps onto Pablo's shoulders, POISON RANA! Keem spikes upward to his feet, dazed! Pablo sees where he's at and rushes behind him, hitting the
FURRY NINJA STRIKE!
Keem meets Pablo's feet right to the back of his head! Pablo rolls Keem over, making the cover!
ONE...
TWO...
T- KEEM
BARELY
JOLTS A SHOULDER UP!
Watson:
LAST MINUTE KICKOUT BY JADYN KEEM!!!!
Sydney:
That is pure adrenaline and desperation to not get beaten right there. It usually takes YEARS for instincts like that to kick in.
Pablo runs his hands over his head, respecting the fight in Keem. Keem is still holding at his head, starting to reel. Pablo sees Keem starting to move and kicks him onto his back. Pablo steps out to the apron, climbing up the top rope. He looks around, calling for the end here - but Keem rises to his feet and throws his entire body at the ropes! Pablo falls to the mat, holding his knee. Keem shakes his head, looking to rain on Pablo's parade here in Mexico.
Keem yanks Pablo up, raining down heavy elbow strikes to the side of the head. He bounces off, starting to get desperate AS HE JUMPS INTO THE
EGO DEATH
– BUT PABLO REVERSES THE SPEAR WITH A SPIKE DDT! Keem holds his head, as his head makes a thudding impact on the canvas! Pablo rolls Keem over onto his back, rising to his feet! Pablo wastes no time, climbing up top!
RAINBOWLUTIONS PER MINUTE
– THE
R.P.M.
CONNECTS!! Pablo climbs on top of Keem, pulling the legs forward for a cover!
ONE...
TWO...
THREE!!!
DING DING DING
Starr:
And your winner, via pinfall
EL PABLO
Everyone in the arena erupts as "Party Hard" blares throughout the PA speakers, getting up on their feet and clapping it up for El Pablo. Pablo rises up, throwing his fist up in celebration after a great performance, decisively picking up the victory tonight. He paces around the ring, continuing to rally the fans up, who are rightfully, giving him his flowers tonight.
"PABLO! PABLO! PABLO! PABLO!"
Watson:
What a matchup from both men! Pablo and Keem gave it their all tonight, but it was El Pablo who walks out the victor here in Monterrey, Mexico, much to the delight of a very AMPED UP crowd! What a showcase from El Pablo, and maybe he's one step closer to that EWC Undisputed Championship again!
Sydney:
Jadyn Keem gave it his all, I agree! But this is El Pablo's turf, and did you hear those people?! I'd love to say more about how I think those counts were a little slow, but I'm afraid that this mob of fans are just gonna pull me over the barricade and jump me!
Keem rolls out the ring, holding his head in pain as he heads to the back on his own accord, disappointed in his inability to win tonight. Meanwhile, the camera cuts back to ringside as El Pablo has begun tagging the fans all around the ring and fully embracing them!
Watson:
There is still so much more show to go folks, we'll be right back!
Camera cuts to ...
---
---
---
Ashley Freeman steps out of her dressing room with a smirk on her face. Her hands are gripping her cloak as she looks at the camera.
Ashley Freeman:
Tonight, I obtain my first championship that matters. Tonight, I end the reign of Sally Talfourd.
Ashley puts the cloak on her shoulders.
Ashley Freeman:
Tonight, the magic dies.
Ashley laughs as she puts her hood up before walking out of sight.
---
---
TAG TEAM SHOWCASE
The Property Brothers
VS Bloody Sureiyazu
We return to ringside where the crowd here in Mexico is ready for a tag team battle!
Watson:
Ashley Freeman is VERY confident going into her Apple TV+ title opportunity in our Semi-Main event. That is still to come, but right now it's time for some tag team action!
Starr:
The following match is a tag team match, scheduled for one fall. Introducing from Shinjuku and Kyoto Japan respectively, weighing at a combined weight of 262 pounds and representing The Shinijoshi, they are...
NARUMI TSUTSUMI AND "HEADHUNTRESS" AIYA! BLOODY SUREIYĀZU!
As 'Gurenge' blares over the PA system, both Narumi(in her oni mask) and Aiya emerge from behind the curtains to a pinkish red fog. Aiya chillingly studies the arena with her gaze while Narumi makes spooky ghoulish gestures closely behind her. When Narumi steps up to stand beside Aiya she removes her mask and both women smirk at each other and then towards the ring with ill intent. Aiya saunters forward down the ramp while Narumi hops behind her sticking her tongue out at the camera. Aiya enters the ring through the top and middle rope while Narumi follows sliding under the bottom. Aiya leans against the corner staring forward while Narumi stands up to whisper in her ear as they go over the game plan while waiting.
Starr:
And their opponent, Standing at a combined weight of 440 Pounds, The Dynamite Duo Of Doubting Dubious Devils ...
Jonathan Snowbank & Captain EWC! THE PROPERTY BROTHERS!
The Property Brothers walk out from the back. They Too Sweet each other, and then turn the Too Sweet's into middle fingers and then those into downward pointing thumbs that the flash the camera while sticking their tongues out. Captain EWC smashes a light-tube he was carrying against his head and yells
Captain EWC:
FUCK THE HOUSE!
Jon Snow heads to the ring, sliding under the bottom rope and doing push-ups because he thinks that's what a wrestler should do. Captain EWC somehow now has a chainsaw and security are trying to take it from him. He gives them the chainsaw and heads to the ring. Captain EWC jumps onto the apron, and then does a front-flip over the rope, purposely landing on his head. When Captain EWC lands, pyro shoots from all four corners of the ring.
Watson:
I tell you right now, this match could be more nutty than a peanut farm.
DING DING DING
Jon Snow and Headhuntress Aiya start this one off. They step into the middle of the ring, Jon raises his arms looking for a shoulder/collar tie-up. Aiya sends a stiff kick right into the side of Jon's left leg causing Jon to stumble to his knee hunched over. Aiya leaps up and brings her kneecap right into Jon's temple, sending him off his feet down to his ass on the canvas. Aiya jumps in a lands the point of her foot right into Jon's sternum with a vicious PK. Jon grabs his chest and rolls over onto his back, coughing up a lung. Aiya grabs Jon's head and drags him up to his feet, then she spins him around and headbutts him right in the mouth. Jon stumbles back into the corner, spitting up blood as the impact made him bite his tongue. Aiya rushes towards Jon and gives a players boot, smashing the sole of her boot right into his mouth. Aiya takes a few steps back and then she pumps her sole back up to big-boot Jon in the mouth. Jon Snow falls to a seated position in the corner while Aiya starts to clap and get the crowd into it as she takes a few steps back. Aiya rushes in and goes for a dropkick, but Jon rolls out of the way.
Aiya pulls herself to her feet and she turns around to eat a left-right-left combo from Jon, followed by a stiff leg kick of his own, followed by another left-right jab combo. The sudden flurry of jabs and a kick backs Aiya into the same corner and now Jon begins to rain down jabs and hooks to Aiya's face and midsection. Jon Snow grabs a handful of Aiya's hair and drags her out of the corner right into a hair-pull burning lariat. The impact off the lariat sends Aiya of her feet and down hard onto her back about a foot away from where she was standing. Aiya spins around and jumps up to tag out to Narumi.
Watson:
A very physical opening to this match, with punches and kicks to delight the entire audience.
Sydney:
I think Jon Snow is making a dumb move right now but staying in the ring. If I was him, I'd have tagged out to Captain EWC to keep everything fresh.
After the tag Narumi Tsutsumi jumps into the ring to a large pop from the crowd. She gives them a bow, and then she makes her way over to Jon Snow who has his hands behind his back. Narumi, sensing what this is about, gives Jon a giant smile before chopping the ever loving Jesus Christ out of his left breast. Jon takes a few steps back and his eyes nearly pop out of his skull and blood starts to trickle down his torso off that knife edged chop. Jon Snow clinches his teeth and then he yells out in defiance at Narumi's chest for もうひとつ! Narumi gives a smile and then she fires another knife edged chop right into the same spot. It sounds like a gunshot ringing out through the venue as Jon Snow is taken off his feet and his chest is bleeding pretty good now. Narumi puts her own hands behind her back and encourages Jon Snow to give her one. Jon Snow pulls himself up and starts rubbing his two hands together.
Jon swings wild with a chop, but Narumi ducks the chop and pulls Jon backwards into a sleeper that she instantly pulls backwards into a Dragon Suplex. The sudden yeet pulls Jon off his feet and sends him backwards landing on his stomach with enough force to bounce him up to his feet. Narumi takes-a-back with a waist-lock before hoisting Jon up and then bringing him down on the back of his neck with a high angle German suplex and cover!
ONE...
TW... Broken Up By Captain EWC.
Captain EWC drags Narumi off Jon Snow by her foot, Narumi spins around to her back and kicks Captain EWC in the chest sending him backwards into the ropes. Narumi gets to her feet but on the rebound Captain EWC throws himself off his feet into a shoulder block that levels Narumi inside-out!
Watson:
Captain EWC with a save on Jon Snow, something Jon Snow had doubts about following their Trios Tag Team Match last Rampage.
Sydney:
They need to take this chance to tag in Captain EWC before Aiya joins the fray and does away any advantageous affect they may garner right now.
Captain EWC rolls out of the ring to the apron following the shoulder block and then he awaits a tag from Jon Snow. Jon Snow pulls himself up and hits the tag on Captain EWC. Cap climbs up to the top turnbuckle while Narumi Tsutsumi pulls herself up. Captain EWC spins around on the top and then he jumps down into a moonsault right into Narumi! Captain EWC drags Narumi up and sends her into the ropes, on the rebound he jumps into her with a Lou Thesz Press and starts to wail down on her head with closed fist punches. Captain EWC gets off of Narumi and grabs her arm to drag her up into a short-arm clothesline. Captain EWC maintains wrist control and then drags Narumi up into another short-arm clothesline. Captain EWC maintains wrist control and goes for it again, except this time he catches it into a Spanish fly! Cover!
ONE...
T... Broken Up By Headhuntress Aiya.
Aiya gives Captain EWC a second stomp to the back of his head to fully break up the cover. Then she exits the ring and starts to clap to fire up Narumi and the crowd. Captain EWC pulls himself up and rubs his groggy head. He sees Narumi starting to stir and he boots her in the face to drop her down. Captain EWC drags Narumi up by her wrist again- but this time sends her towards the ropes where Jon Snow stands. Jon drops down the ropes to send Narumi over the top and to the outside. Captain EWC starts to stomp his feet and clap his hands, then he rushes the ropes and throws himself over the top rope down into Narumi with a massive crossbody that wipes them both out!
Watson:
Good Lord! That crossbody was a thing of marvel, but also that'll end your own career if you're not careful!
Sydney:
I tell you, I don't know if these guys have much of a career to worry about those ramifications right now.
Captain EWC starts to cough up a lung but he's able to drag Narumi up and send her into the ring. He joins and covers.
ONE...
TWO... Kickout By Narumi Tsutsumi
Captain EWC drags Narumi over to their corner by her foot. Captain EWC stomps down on Narumi's other foot before tagging out to Jon Snow. Jon Snow pulls Narumi up and then he gives her a stiff kick right into the same leg Captain EWC stomped, and then another kick, and then another kick. Narumi shoves Jon Snow away from her, but that gives him enough distance to jump in and spartan kick her right in the knee-cap. Narumi falls to the canvas yelling out. Jon Snow drags her up and gives her a stiff chop that topples her over. As Narumi pulls herself up and shakes feeling into the ring, Jon hits the ropes and comes in with a big lariat off the rebound, but Narumi jumps up to her feet and sends her hips right into Jon's face with a rearview! The sudden impact sends Jon's head whiplashed back while his body continues forward, causing him to fly forward off his feet in between the middle and bottom rope out to the padded concrete. Narumi rushes and jumps into the hot tag.
Captain EWC jumps into the ring, but Aiya hits him with a shotgun dropkick that sends him over the top rope to the outside. Narumi rushes over to the ropes as Jon and Cap stand, and she throws herself over into a SNAFU corkscrew moonsault plancha on both! Narumi drags Jon Snow up by his head and she sends him into the ring. Jon Snow pulls himself up to his feet, Narumi comes in and gives him a superman punch. The impact spins Jon around to eat a roundhouse kick from Aiya. As Jon slumps backward, Narumi grabs his waist and rips him off his feet into another high angle German suplex. Jon Snow rolls onto his stomach and drags himself up but Aiya comes in and hits a big boot right into the side of his head to send him back out to the padded concrete. Aiya looks back at Captain EWC, Narumi looks forward at Jon Snow. The two nod and then rush the ropes and throw themselves out with suicide dives into both men!
Narumi's dive sends Jon Snow toppling backwards over the barricade into the front-row. Aiya's dive is met by a Spanish fly out of nowhere!!! Captain EWC rushes into the ring and then rushes the opposite ropes and throws himself over into a Tope Con Hilo right into Narumi! The entire sequence gets a massive
HOLY SHIT HOLY SHIT HOLY SHIT!!!
chant from the crowd.
Watson:
You're not wrong about that one crowd. What incredible team work from Bloody Sureiyāzu, and one hell of a counter from Captain EWC!
Sydney:
And now everyone's down, this could go to a double count-out!
After a few seconds of no one moving, Captain EWC drags himself up using the ring apron. Captain EWC goes up underneath the ring and retrieves two tables. Captain EWC sends both tables into the ring, and then he drags Narumi Tsutsumi up and sends her into the ring. Then he stumbles back to the barricade and drags Jon Show back ring-side, gives him a good slap to jar him back awake and then the two enter the ring. Jon Snow climbs up the top turnbuckle, Jon Snow punches Narumi in her face and then he drags her up and slams her down with a spinebuster, Captain EWC flies down off the top rope and lands a flying headbutt right into Narumi's head! Captain EWC and Narumi Tsutsumi both roll around in pain after that
Falling Property Values
, while Jon Snow sets up a table. Jon Snow turns around and catches a roundhouse kick from Aiya that sends him laid out onto the table. Aiya jumps up onto the top rope and then she springboards off into a
FUBAR
! Both Aiya and Jon Snow explode through the table. Aiya covers!
ONE...
TWO...
TH... KICKOUT BY JON SNOW!
Aiya yells out for Narumi as she drags Jon Snow from the wreckage up to his feet. The Onihime joins Aiya, and the two let out a yell as they both throw a buzzsaw kick at Jon, Jon Snow drops down to his knees, causing Aiya and Narumi to slam their legs into each other. They recoil back and leave and opening for Jon Snow to explode up into a double lariat that turns both women inside out. Aiya tries to bounce up to her feet, but Captain EWC rushes in and leaps over her pulling her into the flipping piledriver he calls the JoJo Rush Destroyer! The impact flips Aiya off her head up to her feet where Jon Show smashes a lariat into the back of her head, spiking her forward head first into the canvas. Jon Snow covers!
ONE...
TWO...
THREE... KICKOUT AT 2.99 BY AIYA!
Watson:
OH MY GOD! THAT MIGHT BE THE CLOSEST KICKOUT ALL YEAR!
Sydney:
YOU CAN SAY THAT AGAIN!
Jon Snow looks absolutely stunned. Meanwhile Captain EWC drags Narumi up and goes to throw her out of the ring, Narumi reverses it and sends Captain EWC crashing outside. Jon Snow rushes to his feet and charges Narumi, but Narumi jumps up and clotheslines him with an enziguri! Narumi rushes over to Aiya and drags her to their corner and gets the tag. Narumi makes her way over to the second table and she sets it up. Jon Show pulls himself up using the ring ropes and wobbles over to Narumi. Narumi spins around and catches Jon with a knife edged chop that drops him to a knee, then she grabs on a side-headlock and goes to rip him backwards through the table. Jon Snow uses his size difference to swing Narumi towards him and down into a brainbuster. Jon Snow maintains the side-headlock and he pops his hips to roll up to his feet with Narumi in... Narumi drops the hold and counters into a roll-up!
ONE...
TWO...
TH... CAPTAIN EWC FLIES OFF THE TOP ROPE INTO A HEADBUTT TO BREAK UP THE COVER!
Captain EWC pulls himself up and drags Narumi up into a waist-lock. Jon Snow rolls up to his feet. Captain EWC shoves Narumi into Jon who floors her with a haymaker. Narumi falls to her knees in front of Jon Snow. Jon Snow grabs Narumi by the waist and hoists her up and down through the table with a powerbomb while Captain EWC climbs the top rope. Jon Snow drags Narumi up onto his shoulders into an electric chair. Captain EWC jumps off the top turnbuckle and drags Narumi's face down into a double knee facebreaker! The damned
2008 Economic Crash Didn't Hurt As Bad As This
! Captain EWC rushes towards the enemy corner and jumps through the ropes into a spear on Aiya! Jon Snow covers!
ONE...
TWO...
THREE!!!
DING DING DING
Starr:
And your winner, via pinfall
The PROPERTY BROTHERS!
The crowd is almost speechless as the property brothers have achieved victory here in Monterrey. Aiya looks over at her partner, whom is just stirring after being pinned, and they lock eyes for a moment and nod. Acknowledging that they have lost, but that they are far from done proving that they are a championship caliber team.
Watson:
I don't know if anyone thought that this would happen, but Narumi Tsutsumi was just pinned by Jon Snow!
Sydney:
In Tag Team wrestling, anything is possible Tim and the property brothers pulled off an absolute heist here tonight. This has definitely put them on the map!
Watson:
Their quest to take down the house continues and I am sure that Bloody Sureiyazu will be seeing them again very soon. We have so much more to come folks, stick around!
Camera cuts to ...
---
---
The camera cuts backstage where we find 'The Prodigal Son' Buddy Love walking around inside BBVA Bancomer. His head is down as he's looking at his phone and doesn't notice Lisa Goldrush. He's about to walk right past her before she clears her throat and Buddy looks up…
Love:
Oh…Miss Goldrush…hello there…
Buddy smiles as he tucks his phone into his pocket…
Love:
Sorry, I was a bit distracted…
Goldrush:
Well I guess that's what happens when you're the manager of BOTH the North American Champion and the Indy Champion…
Buddy smiles even larger…
Love:
Oh yes…a busy man am I…here in Mexico tonight and then a flight to Boston for Prime #112 for Gabi Vee v. Joseph Soloman…
Goldrush:
But before that we have Ibuki v. Shaker Jones…and he seems pretty hell bent on making this a rough night for your client…
Buddy shrugs as he looks at Lisa…
Love:
Yeah…truth be told Lisa I forgot Shaker Jones was even still employed by the EWC…I mean the guys' had three matches this season and the one was canceled because I guess he was stuck up in Canada…I mean heck Lisa, the last time we saw Shaker Jones was Prime #110: Paramount v. Prime and even that was a quick viewing…he was the second person eliminated in the Battle of the Brands Battle Royal and did NOTHING to help Paramount…
Goldrush:
Well one could question the motivation of Ashley Freeman to eliminate one of her own brand members…
But Buddy waves this off…
Love:
It was every person for themselves but Shaker was a non-factor much like he's been a non-factor this year and all his years here in the EWC…now…
Buddy smiles once again…
Love:
I respect a man for going home and helping his father in the manner Shaker did…I'm no stranger to having to roll up my sleeves and help out my old man in the 'family business'...heck that's how I got started managing Ibuki here so I understand the need to help family HOWEVER…I have to question if he's ready for the step up in competition Lisa…I mean he couldn't handle Ashely Freeman but now he expects to step into the ring with the North American Champion Ibuki Ito and stand a chance…
Buddy shrugs…
Goldrush:
Well he is promising violence out there tonight…even claiming that Ibuki is…
But Buddy waves her off once again…
Love:
His 'playground'...his 'wheelhouse'...his 'environment' in the X-Division but riddle me this Lisa…which one of them is a TWO TIME X-DIVISION CHAMPION…which one of them stepped into the Rage in the Cage against Ace King in the Main Event of StrangleMania last year…which one of them just competed in the Insanity Cage…placed 3rd in the Legends of the Cage…won the Undisputed Championship in a No Holds Barred Ladder Match…because last time I checked it wasn't Shaker Jones…
Buddy raises his eyebrows at Lisa…
Love:
He can prance around here and hold up that 'Combat Championship' like it means something but we all know differently…it doesn't make him a bad man…it would be like me walking around here calling myself the 'King of Hardcore'...it's meaningless and we all know that…the only one that doesn't is Shaker Jones and maybe he spent all that time up in Canada trying to convince himself otherwise…trying to forget he's what…3-19 here in the EWC and that he's a 'major player' here in Paramount…
Buddy shrugs…
Love:
He's fodder Lisa…someone Mr. Brock rolls out to put the 'stars' over and tonight that's going to be his role…he's here to be a human punching bag for Ibuki Ito as he heads towards the Rumble…towards defending his North American Championship against SONYA and then going on to win the Undisputed Championship for a second time inside the Rumble and while Ibuki is doing all that Shaker will be watching…not from backstage but from his daddy's farm back in Canada…
Buddy smiles as he gives Lisa a thumbs up before walking off camera…
---
---
---
---

X-DIVISION RULES MATCH
NON-TITLE
Shaker Jones
VS Ibuki Ito
We return to ringside where the blood lust in Monterrey is boiling over!
Watson:
Address whatever transition just happened and then opening Match Hype Comments
Starr:
The following match, set for one fall, is an X-Division Rules Match! Joining us first, residing in Boston, Massachusets and weighing in at 230 pounds...
SHAKER JONES!
'Locked and Loaded' by Jackyl plays throughout the arena as Shaker Jones steps through a curtain at the far end of the arena. He carries with him a bottle of water that he drinks from as he snakes through the throng of people. He climbs over the ringside barrier and slides into the ring. He stands in the corner performing last minute stretches as he waits for his opponent.
Starr:
And the opponent, residing in Daly City, California and weighing in at 235 pounds...
IBUKI ITO!
'The Prodigal Son' Buddy Love walks out onto the stage and raises his arms into the air as the lights fade out. He jumps up and down as 'Deeper Depper' begins to play. A strobe light circles around the stage as a single white spotlight hits the stage where Ibuki is standing, his back facing the ring, his arms stretched out and his head down. He swings around to face the ring as Buddy Love runs up and stands next to him. After a quick word the pair start to walk towards the ring, Buddy runs ahead and charges up the steps and holds open the ropes for Killjoy to step through. Ibuki walks to the center of the ring, extends his arms and tilts his head back to soak everything in.
DING DING DING
Ito chops Shaker hard across the chest. Ito charges at Shaker but a raised elbow knocks Ito to the mat where Shaker drops onto him with an elbow drop. Ito pulls himself to his feet in the corner but Shaker cartwheels at him with a handspring back elbow. Before Ito can take more than two steps forward, Shaker spins and cracks Ito on the side of the head with a roundhouse kick. Ito is dazed as Shaker rolls him with a school boy. The referee counts.
Ito rolls out and kicks Shaker in the face. Ito lifts Shaker up off the mat and up for a suplex before bringing Shaker's neck down across his knee. Ito makes a cover.
Shaker lifts a shoulder high of the mat to break the count. Ito rolls from the ring and grabs a chair. He rolls back into the ring. Ito raises the chair but Shaker grabs him in a drop toe hold that sends Ito crashing to the mat where he lands on the chair. Shaker gets to his feet. As he moves closer to him, Ito stretches and smacks Shaker with the chair. Ito gets to his feet and grabs Shaker bringing him crashing onto the chair with a tiger suplex. Ito bridges as the referee counts.
Shaker manages to get an arm free and lifts his shoulder from the mat to break the count. Ito lifts Shaker to his feet but Shaker rams a shoulder to Ito's gut to counter. Shaker lifts Ito up and brings him crashing onto the chair with a gutwrench powerbomb. He hooks the leg.
Ito rolls to the side to break the count.
Watson:
A sheet of paper could have fit between the canvas and the referee's hand right there but not much else!
Sydney:
Both have come close already this match! That's to be expected with such a high calibre of athlete such as these two.
Ito again rolls to the outside. Shaker gets to his feet and throws himself over the top rope and he comes crashing down onto Ito with what looks like a slingblade. He gets to his feet and he lifts Ito for something. Ito counters with a backdrop that sends Shaker crashing through the commentary table. Ito drops to his knees before dropping to the ringside mats. Both lay in the destruction for a moment before Ito gets to his feet. He turns to lift Shaker but Shaker smacks Ito on the side of the head with a monitor. Shaker punches at Ito before Irish whipping him. Ito reverses sending Shaker into the ringside barrier. Shaker stumbles forward doubled over. Ito grabs Shaker and lifts him for a powerbomb but Shaker manages to grab the middle rope and roll his way back into the ring. Ito rolls into the ring and to his feet as Shaker charges at him and smashes Ito with a Whipsmash. Shaker makes a cover.
Ito manages to roll to his side breaking the count. Shaker rolls from the ring and reaches under the ring. He pulls out a small cloth bag and rolls back into the ring. Before he can do anything with the bag, Ito grabs him and bodyslams him to the mat causing him to drop the bag. As Shaker gets to his knees, Ito cracks him with a Konbanwa. He rolls Shaker over and makes a cover.
Shaker just manages to roll a shoulder off the mat to break the count. Both lay on the mat.
Watson:
How did he get a shoulder off the mat? I thought he was out!
Sydney:
Everyone did! Only Shaker Jones thought otherwise.
Shaker pulls himself to his feet and grabs the bag. He empties the bag. Thousands of tacks fall to the mat. Shaker evenly spreads them out. Shaker pulls Ito to his feet. He grabs Ito for a RocknRolla but Ito manages to counter with an inverted atomic drop. As Shaker clutches the affected area, Ito scoops him up and brings Shaker down onto the tacks with a Screwdriver. He hooks the legs.
DING DING DING
Starr:
And your winner, via pinfall
IBUKI ITO!
Ito gets to his feet and pulls some tacks from his leg and throws them at Shaker. He raises a hand in the air and stumbles against the ropes. Buddy Love holds the ropes as Ito rolls through them to the outside. Together they head up the ramp.
Watson:
His leg looks like a pin cushion, he looks like he's struggling to stand, he's been through a fight and yet Ibuki Ito is the winner here on Paramount.
Sydney:
You look at it back and it comes down to this: If Shaker Jones was able to put Ito through the tacks with RocknRolla, this would be a Shaker Jones win.
Watson:
Staff to add final commentary and transition to next scene
Camera cuts to ...
---
---
King Flip is in his locker room getting ready for his match against Shaker Jones when he hears a knock at the door. He pauses wrapping up his wrists for a moment and goes to the door and opens it to see a smiling Lisa Goldrush with a nicely wrapped up present. He looks perplexed for a moment.
Lisa Goldrush: This present was left for you and since I have you here, can I ask you a few questions?
King Flip stares at Lisa for a few seconds and takes the present out of her hand and immediately closes the door. He smiles at the box and begins to unravel it with a frenetic curiosity to find out what it is. He gets all of the wrapping paper off of the box and opens it so that the camera can't initially see it. His face tells the story though as he goes through a range of emotions, from shock and awe, to confusion, to elation and he picks up the present so that the camera can finally see what it is. It's the arm brace that Marcu$ $t. John was wearing along with his signature on the brace. He also pulls out a note from the box as well. It reads, "The two most powerful warriors are Patience and Time!" Just as King Flip finishes reading there is another knock at his door.
The Mad King: WOMAN, I WILL STRIKE YOU.
He ignores the initial knock. There is a knock once more but this time the knock is different and catches his ear. The knock is in the pattern of his previous theme music, "Machine Gun", by Portishead. Now curious, he goes to the door and yanks it open. His eyes widened. Standing in his face as the camera rotates around is none other than Marcu$ $t. John. wearing an Iggy Swango T-Shirt The crowd in the arena erupts. Returned at Gambit but his first official Paramount appearance since injury. Before King Flip can speak, Marcu$ motions for him to shush. He reaches in for a hug and King Flip looks confused as M$J squeezes him tightly while Flip keeps his arms down by his side.
Marcu$ $t. John: Mi amigo! Did you like the gift I sent you? It's so good to see you in person. The last time we were together was when? Refresh my memory please if you don't mind.
The Mad King: Oh, uh. Y'know. Just the time I uh… went a teensy bit too far.
Flip chuckles nervously.
The Mad King: Stranglemania. Honestly, all in all, it's a night Extreme Wrestling will never forget. You gave everything in that ring that night. You dropped a championship. And then Narumi Tsutsumi pins you after everything else that happened? What a bitch.
The King shuffles in place a little. He peers Marcu$ up and down once for good measure.
The Mad King: So… the arm brace, seriously, thank you. It'll be a great reminder for the results of the poorer actions I've taken in my career. You are a good person, Marcu$, but The Mad King has a, eheh, Dark Wizard to fight. You want to talk about Stranglemania? We can go get a beer after.
Flip peers out of his locker room door both ways to see who may be in the general vicinity, then looks back to Marcu$.
Marcu$ $t. John: A beer you say, some fine Mexican brew sounds delicious but I think I'll pass this go round. But yeah it was StrangleMania, rough night to say the least. But no hard feelings. Things didn't work out for me that night and I can live with that. What I came here for though was that I issued you a challenge. A challenge I haven't gotten a response for yet, but hey no pressure if you need more time to think about it I totally understand. Good luck tonight, I hope you break a leg.
M$J winks at The Mad King after making that statement then looks down at Flip's left leg. The King gulps as Mexico murmurs at the intent. Once again Flip awkwardly chuckles before even that cracks. His eyes meet the shirt and he has to clear his throat and look away.
The Mad King: Yeah, no, totally. Uh. Interesting thing about time, y'know? Never uh… never know how you've got. I'm damn glad – correction, Extreme Wrestling is elated to have you back, Marcus. And if The Mad King accepted your challenge TONIGHT…
Mexico booms.
The Mad King: Well that just wouldn't be right, would it? We gotta see how you fare when you're back in the ring proper. Make sure you healed well. Make sure all this you're spouting aren't just fancy words.
Mexico boos. Flip turns to face Marcu$ with his right hand extended.
The Mad King: So we'll raincheck the beer and the Strangle talk, but I do have a question for you Marcu$. Y'see, The Mad King has been all hype no man about the upcoming Rumble. You, uh… you wouldn't happen to have tossed your name into that cap? Didja?
Flip looks nervous again. Marcu$ smiles as he looks down at Flip's hand. He extends his hand out and they shake. You can see the look of relief on The Mad King's face.
Marcu$ $t. John: Relax, I was just kidding about the whole break a leg thing. I want you to be the healthiest man in all of EWC, well besides me. As for the Rumble, well I'll go ahead and let the cat out of the bag right here. I will not be entering the Rumble this year, can't risk us crossing paths just yet now can we?
The crowd audibly groans at potentially missing out on the chance to see M$J in the rumble. Flip takes his left hand and comically wipes the sweat from his brow. Mexico appreciates, but still they lament the two not going head to head.
Marcu$ $t. John: You want to see me in the ring first huh? Ok, I can respect that but if you want, I do recommend you go back just one day and watch my Gambit match against Steve Lawson. You want to see me against "real" competition though, I bet. Well that's coming soon. Go handle your business though, I'll be watching closely.
Flip tries to feign respect for that name but the smile he's cracking gives him away.
The Mad King: Oh, Steve Lawson. Well you're well on your way there, Mister Aquilla. Thank you for your, uh, well wishes?
Flip withdraws his hand from Marcu$' and pats him on the right shoulder.
The Mad King: We only want the best for you, too. So you watch me, I watch you, good, all good. But make sure to watch Brawl 600 for me. I'll need all the fans I can get when The Mad King makes his fourth run for the FX Broadcast championship in that… mini… rumble, thing… maybe. But anyway. Watch! I'll watch, too! It was… great to see you, man. Until next time.
He takes one last look at the shirt and you can see those same emotions come back to him. Flip grips Marcu$' left shoulder, and gives him a nod. M$J laughs at the "Mister Aquilla before responding.
Marcu$ $t. John: Ahhh yes, your chance and opportunity at gold. It would be a shame if somebody ruined that for you. But yes, I'll be rooting you on. Maybe I'll be there live, maybe I won't, who knows. After all, I'm a very busy man. Go get that dub though, I've got to make an appearance in front of the live crowd later tonight myself. Just don't forget about that challenge.
M$J walks away and The Mad King lets him get all the way out of sight before he decides to leave himself to make his way out to the ring for his match.
---
---
---
---
The cameras cut to the back where Lisa Goldrush is standing next to Daphne Kreel. Daphne doesn't look to be the best of moods as she is finishing wrapping her fists up with sports tape.
Lisa Goldrush:
Thanks guys, I am standing here with Daphne Kreel.
The camera zooms out to show Daphne.
Goldrush:
Daphne, how are you preparing for this upcoming fight with King Flip?
Daphne Kreel:
I have been waiting for this for months. I have been dreaming about feeling King Flip's blood drip through my fingers. That man has been a thorn in my side and tonight I will pluck him out like a feather. The Mad King will soon realize that I am not the BITCH too fuck with these days.
Goldrush nods her head as she looks at Daphne.
Goldrush:
What is next for you after King Flip?
Daphne glares at Lisa.
Daphne Kreel:
You know damn well what is next for me. Alexander Umbra!
Goldrush:
Will we see you on Brawl?
Daphne smirks at the question.
Daphne Kreel:
Just watch and see as Kolby plants his boot into Alexander's head. Now if you don't mind, I have a King's head to snatch off.
Daphne walks out of the frame as the cameras cut away.
---
---

SINGLES MATCH
X-DIVISION RULES
King Flip
VS Daphne Kreel
We return to ringside where Starr is ready to call the next bout.
Watson:
BIG NEWS right before the break there if you missed it. Marcu$ $t. John has stated that he is NOT going to be entering the rumble, and his reasoning is very strange... He is avoiding being in the ring with King Flip?! We will stay on that one as more develops. WE also heard from Daphne Kreel just now and she is in action up next!
Starr:
The following match is X-Division rules and it is scheduled for one fall! Joining us first, from The Land, weighing in at 220 pounds ... "UNTOUCHABLE"
KIIING FLIP!T H E M A D K I N G
zooms from right to left across the EXT and is followed swiftly by a red pyro. 'Heimdallr' begins to play, King emerging with his usual war paint. A big white palm across his face, small gold lines accented the edges of his face. Upon the usual red vest is a blood-matted fur that lines the collar down the button line and goes up into a massive hood. He gets to the edge of the rampway when that arrogant half smile emerges, the crowd fully immersing in the moment. The "Mad King" chant grows as he walks slowly down the ramp with his eyes locked in on the ring. His approach to the steps is slow, eyeballing the corner nearest them, as he slaps a few hands. Flip hands a small child a little red 'Core Avengers DROOL!' flag. He slaps the ring corner with a smile, reminiscing a moment before sauntering the steel and quickly slipping through the ropes. After a sarcastic bow, King turns to the stage ready for the action to start as his theme fades.
Starr:
And his opponent, from The Core Spire, weighing in at 157 pounds ... "THE DARK WIZARD"
DAPHNEEE KREEEEEEL!!
The opening rift of "Strike Back" comes over the sound system as Daphne Kreel steps out with a look of disdain all over her face. Through the curtain come Kolby, Ashley, and Solomon, the other three members of the Core Avengers. As the song intensifies, Daphne makes her way down the ramp while ignoring the fans in the front row. She walks around the ring before hopping up onto the ring apron. The Avengers simply follow her, discussing something amongst themselves as they do. Daphne throws her trench coat off to Kolby before leaping over the top rope. She chuckles to herself before stepping onto the middle rope and giving a sultry wink of her eye towards the audience. The boos grow louder as Daphne smiles with a wicked grin before leaning in the corner.
DING DING DING
Daphne is still smiling something wicked at King Flip who, to his credit, has opted to stay seated in his corner as he mutters to himself. His eyes casually gaze around as Avengers assemble around the ring. They look like they're about to get on the apron and turn this into a real party when "Make Believe" by Memphis May Fire echoes out from the speakers. Paramount in Mexico explodes as Alexander Umbra steps out onto the entrance ramp with the FX Broadcast championship strapped firmly around his waist. Joseph and Ashley retreat back toward Kolby. Without hesitation, Alexander makes his way to the ring, but holds his arms out to the sides, taking in both the cheers and the jeers of the crowd as he walks around the opposite end of the ring. Flip just gives a nod with a smile. Kolby looks like he's ready to fight the man right now. Umbra, on the other hand, has his eyes squarely on Daphne Kreel.
Watson:
We're just about to get this X-Division match started here for you, folks, but I guess Brawl's newest champion has a thing or two to say about that.
Sydney:
Is he trying to steal Kolby's wife? He'll protest!
Watson:
I don't know, Cid, but he's coming this way! Ladies and gentlemen, please join me in welcoming FX Broadcast champion, Alexander Umbra! Hello!
Umbra:
Hello. No, Sydney, I'm not here to steal this red-headed harlot. Did it ever occur to you that maybe I'm here to see Flip? After all, he is coming for MY title in less than a week.
Sydney:
Well that's only if any of you can survive Ruthless Aggression.
Flip has gotten to his feet and sits idly on a second rope as if to invite Umbra in. Alex doesn't even acknowledge him with more than a tertiary glance between glares and words for Daphne Kreel. The champion snags up a free headset when he gets to the commentary booth, taking a seat next to the team to help call the rest of the match. Flip walks over to the side Kolby is on and starts to try to get in his ear about Umbra's presence. Daphne immediately freaks out and yanks Flip up by the tights to give him the special something. Right hook, left hook, right cross, left uppercut and Flip is spaghetti legging it in the center of the ring. But the spinning roundhouse from Daphne gets caught and Daphne gets gripped tight. T-bone suplex sends Daphne rolling from the ring. King sits up and shakes the strikes off for a moment. Miss Kreel has been surrounded by her Avengers only for a second when she starts wailing out more screech then scream. She tears back into the right and goes for a variation of the roundhouse. Flip barely rolls beneath.
DETHRONEMENT!
King Flip gets a big pop from Mexico when he surprises them with the rolling thunder signature right out of the ring, effectively senton splashing the Avengers out of nowhere.
Umbra:
What a move! Too bad this Mad King couldn't snap his fingers and turn all of this ill-tempered heathens into dust. Although, with that move, I'm sure he's done that to a few of their bones.
Watson:
Thanos jokes aside, that was an impressive display there by the Mad King!
Sydney:
Piss of the king and you will get crowned the hard way!
Joseph, Ashley, and Kolby all splayed with Flip somehow staying vertical after the collision. He stumbles right into the announce table. He nods toward Umbra's belt and mutters something that Umbra must've heard because the champion immediately stands up.
Umbra:
No you may not
borrow
the ti-
SEEING RED!!!
Daphne Kreel slid out of the ring and came soaring in like a bat out of hell. King luckily, groggily, heard her screech again and purposefully throws himself to the ground to get out of the way. Kreel connects with the most vicious right forearm in the business and Umbra collapses over the rolly chair he's stood in front of. Daphne realizes her mistake as he roars out to the crowd. Mexico cajoles and jeers Daphne, The Dark Wizard soaking it all in for a few seconds as she slips the championship off the announce table. The Avengers have helped one another up and Kolby is angrily staring at the hardly moving champion. Joseph and Ashley begin tearing the announce table apart, pulling off the top to toss onto Flip, then add the monitors and errant other sound equipment as he begins pulling himself away. Flip takes boots from Joseph and Ashley as Daphne approaches from behind with commands to get the King up. Speaking of up, however, just as Daphne Kreel is setting up to blast Flip in the face with the title belt, Kolby excitedly looking on to encourage his wife, someone else has gotten up right behind him.
THERAPY SESSION!
Champion Umbra cracks Kolby with the double knee backbreaker finish to a massive pop from the crowd. Ashley sees this as Daphne rushes at Flip with the title. King uses Ashley's distracted grip to yank her in front instead.
CRACK!
Daphne Kreel FLATLINES Ashley with the FX Broadcast championship. Flip yanks away, this time retreating back toward the announce table, as Joseph Solomon freaks out a little bit. He drops to a knee and immediately starts checking on her as Daphne takes a moment with them. She then turns to see her husband also out flat. Flip smiles as he slumps over to the third announce table seat.
The Mad King:
Business is about to pick up in this X-Division match between Alexander Umbra and Daphne Kreel!
Sydney:
Hahaha, you tell 'em, Flip.
Watson:
Don't encourage this behavior, he's got a match to wrestle!
The Mad King:
Nope.
Sydney:
You heard the man. No he doesn't.
Daphne catches Umbra ducking under the ring apron on the other side of the steel steps. She looks to Flip who appears in pain at the announce table then nods as she goes for the man who hurt her husband. Flip drops the possum act and just walks back to the ring and slides in as Kreel approaches Umbra.
FWOOOOOOSH!
Daphne is just about to blast Umbra in the back of the head with his own belt when he twists around to reveal and expunge the contents of a fire extinguisher on The Dark Wizard. She coughs to the point of almost vomiting as the staggers through the cloud. The title drops to the ground somewhere between her stumble as she heaves on the ramp with EMTs rushing down to check on Kolby and Ashley. Flip sits with twisted legs in the center of the ring apparently trying to find zen as chaos continues around him. Umbra tosses the extinguisher into the ring, picks up his title, and raises it up as he has sent any message he may have wanted to here. He ascends the ramp with a smile and a mixed reaction as Daphne catches her breath. Daphne slides into the ring and Flip opens his eyes. He's trying to get up when instead he eats a tasty basement dropkick. He rolls pained to one knee and takes another dropkick from Kreel. Slower, but still, he once again finds himself on one wobbly knee. Daphne Kreel hit the ropes and comes rushing forth into a shining wizard. Daphne scoops the legs up for the pin.
ONE...
TWO...
THR-Flip gets the shoulder up!
Daphne stalks him, even angrier, even more prepared. Flip looks like he's barely even able to stand.
ANGER MISMANAGEMENT!
After a swift forearm to the balls, Daphne finishes the signature combination with a beautiful front flip neckbreaker. Kreel quickly goes for the pin with Mexico buzzing.
ONE...
TWO...
THR-ROPE BREAK!
The referee realizes Flip has gotten his free foot on the bottom rope and informs Daphne of the break. She just punches Flip in the balls again and pins with both legs.
ONE...
TWO...
THR-WAIT A MINUTE!
Apparently Umbra never left because now he's pulling the referee out of the ring by the boots before the three count. The champion yells at the referee about the shots below the belt on his favorite wrestler and Daphne is incensed. She begins yelling at Umbra to bring it into the ring if he's got a problem. Mexico cheers it on and it almost looks like Umbra is going to take her up on it. Apparently, however, this was all a rouse. Flip has gotten the fire extinguisher and uses it to get himself vertical. He cracks Daphne in the shoulders with it and drops it. Daphne drops to one knee with the pain shooting her arms up and instinctively putting herself right into position.
COBRA CLUTCH!
Mexico goes wild. For minutes, Daphne tries to fight; however, the referee sees her refusal to submit right until she can no longer consciously reply. He calls for the bell.
DING DING DING
Starr:
And your winner, via submission.....
KIIIING FLLIIIIIPPPPPPP!!!!
Flip releases the hold and immediately gets to his feet, going to the corner to gather himself. The crowd is surprisingly not all booing him. There are some applause being heard,
acknowledging
the great battle they just witnessed.
Watson:
Daphne Kreel almost got the win against the former International Champion but in the end, King Flip came out victorious!
Sydney:
Kreel is getting so close to that Cinderella moment that is always talked about. That one performance that really announces your arrival. She almost had it here tonight in Monterrey. It is coming for sure!
Flip drops to the mat and rolls out of the ring as Daphne Kreel is just now stirring after being checked on by medical staff
Watson:
We love the X-Division fighters for all they do. just a reminder kids, DO NOT TRY THIS AT HOME! We will be right back!
Camera cuts to ...
---
---
---
---

SINGLES MATCH
FOR THE APPLE TV+ BROADCAST CHAMPIONSHIP
Ashley Freeman
VS Sally Talfourd
We return to ringside where Matt Mercer is checking the ropes and turnbuckles as the crowd is going bananas for the upcoming title match.
Watson:
Alright folks, it's time for our Apple TV Broadcast Championship match. This should be a good one.
Starr:
The following match is scheduled for one fall and is for the EWC Apple TV Broadcast Championship Joining us first, from The Lost Valley, weighing in at 129 pounds, representing The Core Avengers...
ASHLEY FREEMAN!
A video package plays on the Extreme-Tron as "Flowers" suddenly begins to play as a woman wearing a sleeveless hooded cloak steps out onto the stage. The woman looks side to side before making her way down the ramp. Part way down the ramp, the woman throws the hood back as Ashley Freeman reveals herself to a mixed reaction from the audience. She slides inside the ring, climbs up onto one of the corners before removing her cloak and hopping down. She sits in the corner while glaring at nothing in particular.
Starr:
And her opponent, from Boryeong, South Chungcheong Province, South Korea, weighing in at 140 pounds, she is the reigning and defending Apple TV Broadcast Champion, "The Last Magician"...
SALLY TALFOURD!
The lights turn blue and red. 'Let Me Out' hits the speakers. In time with the beat, Sally walks to the front of the stage, looking down to her feat. Slowly, as the blue lights fade and the crowd is awash with read, Sally raises one arm, lets out a sharp scream, then slowly makes her way to ringside.
Sally stands at the base of the steps to the ring, staring now to the space above the ring. Methodically, she climbs the steps, steps through the ropes and strides to the centre of the ring.
DING DING DING
Sally and Ashley start circling each other. Sally lunges forward toward Ashley who ducks under her, hooks her around the waist and slams her down onto the back of her neck. Ashley maintains her grip, pops her hips up and stands back on her feet with Sally still in her arms. She lifts Sally up again but Sally catches Ashley with a sharp elbow across her nose. Ashley doesn't let go immediately as Sally lands another hard elbow in the same location as the first elbow. That causes Ashley to place Sally down while checking her nose.
Sally runs toward the ropes, bounces off them and strikes with a big boot into Ashley's face. Ashley is holding her face as Sally picks her up and tosses her by the hair across the ring. Mercer admonishes Sally about the hair pulling. Sally holds her hands up as she walks toward Ashley. She slams a knee into the midsection of Ashley before bull rushing her into the corner.
Sally starts slamming her shoulder into Ashley's midsection as Mercer starts counting. He gets to four before Sally backs away. She makes her way back towards Ashley who grabs her by the neck and throws her into the corner. As she is in the corner, Ashley returns the favor by slamming her shoulder into Sally's midsection before grabbing her leg and draping it across the ropes. Ashley backs up a bit before charging at Sally and kicking her leg with a front dropkick. Sally yelps out in pain as Ashley continues to kick her leg before hooking it up, pulling Sally out of the corner and landing a dragon screw on her leg.
Watson:
Ashley is targeting the leg and knee of Sally Talfourd here. No mystery why. Sally has spoken many times about her knees, but coming off the insanity cage those knees have to be less than 100% right now
Sydney: This is just smart cricket by Freeman. Target those weak points!
Ashley gets back up to a vertical base and starts stomping onto Sally's leg. She then picks the leg up by the ankle and proceeds to lock in an ankle lock. Sally screams out in pain as Ashley smirks before dropping back down and slamming Sally's foot down with a foot DDT. Ashley rolls back onto her feet as Sally drags herself toward the ropes. She uses the ropes to stand up as Ashley comes running, grabs Sally by the head and leaps over the ropes while hanging Sally's throat onto the top rope. Sally goes flying backwards as Ashley measures Sally. She springs off the ropes while looking for a body splash but Sally rolls out of the way.
Ashley lands hard on her sternum as Sally gingerly gets back up to her feet. She slams her injured knee into Ashley's chest as it sends a shock of pain through her own body. Sally decided to use her hood knee to land the strikes. Sally hooks her arms around Ashley's waist and connects with a gut wrench powerbomb before going for a quick cover.
Ashley manages to roll her shoulder up. As Sally remains in a kneeling position, she starts dropping rights and lefts into Ashley's face. Ashley manages to catch Sally's right arm and hook it into a cross arm breaker. Sally grunts as Ashley starts biting Sally on the fingers.
Sally screams as Ashley stops and rolls over onto her stomach while maintaining her grip on Sally's arm. She places the arm in between her legs while pulling back on her other arm. Sally screams as she is now locked in Ashes to Ashes. Ashley pulls back on her arms while Sally is telling Mercer no. Ashley applies more pressure as Sally continues to say no.
Sally manages to muster enough strength up to roll Ashley onto her shoulders while pinning her a weird combination.
Ashley has to release the hold in order to kick out. Sally shakes her arms while slowly getting back onto her feet. As Ashley is getting up to her feet, Sally lands several dropkicks to her face before catching her with a discus right punch.
Watson: Looks like Sally still has another gear left here!
Sydney:
Don't call it a comeback Tim, Sally is tapping into that Magic she loves to talk about!
Ashley is slowly getting up to her feet as Sally kicks her in the gut with her good leg, hooks her by the neck and connects with Lights Outs. She follows it up by quickly getting to her feet, springing off the ropes with High Hopes. Sally lands right on top of Ashley and goes for the cover.
DING DING DING
Starr:
And your winner, via pinfall and still EWC Apple TV Champion
SALLY TALFOURD!
Sally is helped to her feet while also having the championship placed in her hands. She hoists high in the air as Ashley slowly rolls out of the ring while glaring at Sally.
Watson:
Sally has successfully defended the Apple TV Broadcast Championship for a fifth time! This now puts her into a position to challenge for the EWC North American championship if she chooses, but let's not forget she already has a guaranteed match in the main event of WrestleFest for the EWC Undisputed championship! Will this affect Sally's choice? Ashley Freeman fought hard and showed that she will be a champion one day.
Sydney:
Sally better thank her lucky stars she is walking out of this ring. Ashley proved she can hang with the big dogs and will be in the champions wing in no time.
Sally continues to celebrate as Ashley slips out through the crowd. Sally eventually begins to make her way back up the ramp.
Watson:
We still have our MASSIVE main event to come folks! Don't go -
---
---
An unfamiliar theme echoes through BBVA Bancomer. The theme "Money" is playing as none other than Marcu$ $t. John appears from the back with what seems to be a money gun. The crowd is chanting M$J as he looks all around almost teary eyed as appreciates being in front of the Paramount faithful for the first time in a while.
Cid Sydney:
Well look at that, we knew he was in the arena from his interaction with King Flip earlier, but now Marcu$ $t. John has made his way out to the ring.
Tim Watson:
By the sound of it, the crowd is elated to see him as well as us, I wonder how does the rest of the roster feel about his return though. He looked pretty crisp on Gambit last night.
M$J starts walking down the ramp and shoots the money gun and watches as it sprays one hundred dollar bills into the crowd as they go nuts for him and now the money. He leaves the money gun at the announce table and grabs a microphone. He soaks up the "Welcome Back" chants for about a minute, with his eyes getting a bit glossy from the crowd reaction.
M$J:
Thank you!!!
The crowd cheers once again as he wipes his eyes.
M$J:
The first thing I want to do though is to pay respect to the person's t-shirt that I am wearing. I wasn't around here in the EWC when everything happened, but Iggy Swango, just know that not only I, but everyone here loves you!
A loud "Iggy" chant breaks out as he approves with a head nod and scans around the crowd, now wiping full blown tears away for his fellow wrestler. He takes a few moments to gather his composure before speaking once more.
M$J:
It's been a long time. 176 days to be exact since I last appeared on Paramount. Way too long but it feels damn good to be back. They told me that I wouldn't be able to wrestle after my pectoral muscle was torn until 2024 and the moment it was said, I looked the doctor in the eyes and told him that I would be back before WrestleFest and here I am in the flesh. Now I'm not one of those people who is going to come out here and start demanding anything. That wouldn't be fair to the people that have been here every single week. What I will say though is that it pained me to miss Parabellum. Although I found it funny that Chris Brock went and got the Queen herself and they still couldn't get done, what I did last year.
He slyly smiles.
M$J:
Melody Malone, welcome to Paramount, you're doing amazing. Then I had to watch from the sidelines as the Night of Champions came and went. We had the best representation that you could ask for though. Ibuki Ito and Sally Talfourd. Sally Talfourd came out victorious and let me tell you, she truly deserves it. I've been watching her break through glass ceilings since she got here, I'm so happy for her. After taking care of Salvation, Ibuki Ito once again became the top man on Paramount. Congratulations champ, you really are the Ace. So where does that leave me? Honestly, I really don't know.
The crowd begins a disjointed "Please don't go" that fades out.
M$J:
Nah, Paramount is home, I'm not going anywhere. I just need to figure out where my place is on this roster. What I do know is that I want to go down as the greatest Paramount wrestler of all time though and if that means I have to go through Ibuki, Sally, or El Pablo again, so be it. If I have to step in front of Melody to show that then oh well. If it's Amber, Randy Hall, Jadyn or any other newcomer then it really doesn't matter to me either. The one constant is that I will always be here for Paramount no matter where my journey takes me. I want to one day join the EWC Hall of Fame just like Iggy Swango. So to the boys and gals in the back, the one message I want you to take away from me being back is this. Paramount needs an injection of adrenaline and you're looking at it right here. If you don't want me to take over again, then stop me! Because that's exactly what I plan to do.
Cid Sydney:
Marcu$ leaves the ring with his intent clear, finding his way back to not only WrestleFest but to the top of Paramount Wrestling.
Tim Watson:
His words are sure to irk some people in the back so lets see over the next few months who wins out, M$J or the field.
Marcu$ $t. John leaves the arena as the Tron has a single picture on it before fading to commercial.
---
---
---
---

TAG TEAM SHOWCASE
NEW MONEY
VS 3pAC
We return to ringside where it is finally time for the night's long awaited main event, a clash between New Money and 3pAC.
Watson:
It is finally main event time! 3pAC look to bounce back from their first two-on-two loss at Night Of Champions, losing the EWC Tag Team Championships to The Heat Packers. On the other side, this is a huge opportunity for New Money as they could make a huge leap in the tag team division by defeating the former champs.
Sydney:
Very high stakes main event we've got for the tag team division tonight Watson, but I've gotta cut you off! Because you speak of the Heat Packers, and the champs ARE here at ringside!
The camera cuts to Dan Funk & Brodie Dawson at ringside, holding their EWC Tag Team Championship belts on their shoulders. The two are seen conversing to one another as they await the entrances..
Watson:
What are they doing out here?!
Starr:
The following match is a tag team contest scheduled for one fall! Joining us first, weighing in at a combined 421 pounds ...
"BOX OFFICE BRUCE BOOTH & COSMO GOLDWORTHY, NEW MONEY!
As the opening to "Living In Pain" by The Notorious B.I.G. plays, the lights dim black and flashing white lights strobe throughout the arena. When the beat drops, the lights flash green as all attention goes to the stage. "Box Office" Bruce Booth and Cosmo "Money Mo" Goldworthy swagger out from the back with a smug look on their faces. Cosmo pops the blazer to his jacket and then extends his arms out, showing off his HBO Broadcast Championship while Bruce throws his arms up, signaling gold pyro behind the two. They continue down the ramp and arrogance oozes out of the two, as they ignore the jeering crowd and enter the ring. Cosmo ascends up to the second rope - as well as Bruce as they both raise their arms up at the same exact time. Cosmo drops down after a couple of seconds, removing his jacket and title around his waist to prepare for the match - while Bruce savours the moment, staying up there for a couple of seconds as their theme music cuts off…
When it does, New Money stare down the Heat Packers at ringside, perhaps signaling they're going for their titles..?
Starr:
And their opponents, accompanied to the ring by Bunny Love, representing the Love Club, weighing in at a combined 400 pounds ...
DEIMOS & 'LITTLE DANNY', 3PAC!
'My Hero' plays out as Deimos and 'Little' Danny walk out onto the stage holding up crowbars to some cheers. Behind them Bunny Love walks out as the two men drop to a knee and whisper back and forth about their game plan. Bunny taps them on the shoulders and the two mean stand up and they walk towards the ring. When they reach ringside they hand Bunny the crowbars and roll into the ring under the bottom rope, but New Money are privy to what 3pAC did against The House & instead they stomp 3pAC out as soon as they enter the ring!
Bruce and Cosmo waste no time clearing out 3pAC, as they kick Deimos out the ring and Bruce steps out, letting Cosmo start this with Danny!
DING DING DING
Danny works his way up upon hearing the bell ring, and Cosmo fires off a multitude of punches to Danny, who tries to cover up. Cosmo sends him flying into the buckles with a heavy chest kick. He approaches Danny, who catches him with a thumb to the eye! Cosmo holds his eye, groaning in pain as Danny floors him with a clothesline! Danny stomps Cosmo out, not letting him get a chance to get back up. Cosmo rolls to the apron, breathing heavily as Bunny hops on the apron, yelling at the referee for some strange reason..
But it quickly becomes more apparent why she's distracting the referee, when Deimos rushes over and sweeps Cosmo off the apron! Cosmo hits his back hard on the apron, yelping out in pain. Bruce yells at the referee, telling him to pay attention - and now the referee's attention is split on the hollering of Bruce
and
Bunny, as Danny & Deimos beat down on a defenseless Cosmo!
Watson:
3pAC made it clear they were going to stick to the plan tonight and simply divide and conquer, and with a little help from Bunny they are doing just that !
Sydney:
This is not going to sit well with Bruce or Cosmo. I think they jut poked the bear right there. Let's see if they get away with it or not!
Deimos shoves Cosmo in the ring and hops on the apron, calling for a tag. Danny drags Cosmo up and tags in Deimos. Deimos steps in and the two irish whip Cosmo off. Deimos yanks Cosmo down with a drop toe hold, and Danny flies into a punt kick to the side of Cosmo's head! Danny exits the ring, and Deimos rolls him over for the cover.
ONE...
TWO...
COSMO KICKS OUT!
Following that kick out, Deimos hops right back on offense as he mounts Cosmo and starts beating the hell out of him with some nasty grounded punches to the head. An angered Deimos rises to his feet, marching over to the ropes and pointing at the Heat Packers, yelling at them, whilst the referee tries to get him to focus back on the match.. Cosmo grabs onto the ropes, starting to pull himself up. Danny sees the referee is focused on Deimos and the Heat Packers, so he looks to take advantage with a punch to Cosmo's head, but Cosmo anticipates it this time and ducks under! He drops Danny off the apron with an elbow strike! Bunny slaps the mat, yelling at Deimos to turn around, and he turns as Cosmo barrels himself forward into a scorpion kick! Deimos bounces off the ropes, dazed as he swings a haymaker, only for Cosmo to duck under and toss him with a german suplex!
Cosmo rolls over, crawling forward. Bruce holds his hand out for a tag, and Cosmo rolls forward to tag in his cousin! Bruce enters the ring and drops a rising Deimos with a clothesline! Deimos rises and he drops him with another one! Bruce kicks Deimos in the gut, lifting him up for a heavy vertical suplex! Danny is climbing back onto the apron, and again Bruce clobbers him off the apron! Bunny yells at the referee, claiming that it's not fair that Danny keeps getting knocked off the apron and Bruce turns, marching over to where she's at. "SHUT THE HELL UP!" He shouts. Deimos finds his way up, and drags Bruce down with a schoolboy roll up, pulling the trunks! Cosmo yells at the ref!
ONE...
TWO...
T– THE REFEREE HEARS COSMO AND REALIZES DEIMOS HAS GOT THE TRUNKS, STOPPING THE PIN!
Deimos pleads with the referee, realizing that he got caught red-handed!
Watson:
Deimos tried to get away with one, but the official is not having it!
Sydney:
You gotta play dirty to win sometimes but you also have to live with the consequences of it too!
Bruce crawls up to his feet, and Deimos turns – RIGHT INTO A
SPINNING SCOOP SLAM!
Bruce makes the cover!
ONE...
TWO...
DEIMOS KICKS OUT!
Bruce isn't disheartened though, as he crawls over and tags in Cosmo! Cosmo enters the ring and directs traffic, as Bruce picks Deimos up. The two irish whip Deimos, and Cosmo swings behind Bruce as BRUCE LIFTS DEIMOS UP FOR A DOUBLE A SPINEBUSTER, AND COSMO CATCHES HIM WITH A BACKSTABBER! THE
SPINAL FRACTURE
CONNECTS! Cosmo quickly scrambles to the cover as Bruce rolls onto the apron!
ONE...
TWO...
TH-LITTLE DANNY PULLS THE REFEREE OUT THE RING!
Watson:
DESPERATION MOVE BY DANNY THERE!
Sydney:
Sometimes it's the only play. Danny taking a page right out of the Southern Express manual right there! New Money is just getting angrier and angrier now!
The referee lands on his feet outside the ring, and gives Danny a stern talking to! Bruce and Cosmo can't believe it as they were so close to getting the win, and Bruce rolls out, giving chase to Danny! Bruce chases Danny around the ring, and then Bunny gets in his way! Bruce skids to a halt, looking Bunny up and down. Bunny "pleads" with Bruce to stop it, but he shoves her out the way - but it's too late as Danny flies off the steel steps with a crossbody! Danny pummels Bruce, and turns to the ring. He climbs up onto the apron as Cosmo tries to knock him off again, but Danny has it scouted out this time as he ducks under and SLAMS Cosmo's neck off the top rope with a hot shot! Cosmo falls backward, coughing out in pain. Deimos rises to his feet, holding his back as he tags in Danny.
Deimos stomps Cosmo out some more, and then pulls him up. He throws Cosmo into the turnbuckles and drops to his fours, while Danny enters the ring. Danny points forward, leaping off Deimos' back into the
Poetry 'n' Motion!
Deimos rubs his back from earlier, but he's willing to risk pain to get the win here. Cosmo falls out of the corner, and Danny makes the cover.
ONE...
TWO...
COSMO KICKS OUT!
Danny slaps the mat, irritated by Cosmo's resilience. Outside the ring, Bruce is crawling over to his side of the ring, trying to get his cousin back in this. Danny pulls Cosmo up and starts to unleash some body shots. Cosmo doubles over, holding his sides as Danny snaps him into a sloppy, but very effective DDT. Danny rises, tagging in Deimos. The two enter the ring and drag Cosmo up, throwing him into the buckles once again. Danny backs up, beating his chest and unleashing a "WOOOOOO!" as he flies into a
STINGER SPLASH!
Danny moves out of the way, as Deimos is preparing for a Stinger Splash of his own - but Bruce reaches over the top rope and grabs him by the hair! Deimos shrieks out in pain, as Bruce pulls Deimos over the top rope! Danny turns back, realizing what's happening to his partner as he rushes over to make the save, but Bruce releases Deimos's hair, making him recoil backwards into Danny!
Danny holds his head, stunned - turning back to Cosmo who DROPS him with the
READY TO DIE!
Danny is down and out, and Cosmo crawls to make the tag - but Deimos pulls him down with a desperation inside cradle!
ONE...
TWO...
TH-COSMO KICKS OUT!
Both rise to their feet, and Deimos lifts Cosmo up over his shoulder! He tries to slam him back first into the turnbuckles, but Cosmo starts to slip free, yanking Deimos down into a sunset flip!
ONE...
TWO...
T-DEIMOS KICKS OUT!
As Deimos rolls backwards, it plays to Cosmo's plan as he's already up to his feet, and launches himself over Deimos! Deimos turns back, realizing what's happening as Cosmo LEAPS into the tag to Bruce! Bruce enters the ring and sends Deimos flying with a dropkick! Deimos holds his chest, feeling as if he was blasted by a shotgun. He rolls over, dazed, as Cosmo and Bruce are now both up to their feet. Cosmo drills him with an Axe Kick to the back of the head, forcing his head up - and HE HITS THE
C.R.E!
Deimos is somehow still up to his feet, but not for long as Bruce nearly drops him on the back of his head with an Exploder Suplex, the
KNIFE TALK
COMBO has been completed!
New Money is ready to wrap this thing up, but Danny is back in the ring and he takes Cosmo over the top rope with a CACTUS CROSSBODY!
IT COMPLETELY DISTRACTS BOOTH!
Watson:
New Money is absolutely Dominating right now! I don't know that we have seen a team so impressive so early in their careers!
Sydney:
Booth looks to be distracted though, will this cost them?
Not only is Booth distracted, but so is the referee as he reaches out, yelling at Cosmo and Danny to get back to their corners.. And that allows Bunny Love to grab the crowbar and slide it in the ring to Deimos! Deimos takes the crowbar, groaning. He crawls up to his feet, waiting for Bruce to turn around..
Bruce does… AND DEIMOS CRACKS HIM ACROSS THE JAW WITH THAT CROWBAR!
Watson:
AND THERE IT IS! Deimos just couldn't resist, could he?!
Sydney:
History is written by the winners Tim. It won't matter if it gets them the W.
The Heat Packers are far from impressed, as Danny works his way up, swinging around the ring. He hops on the apron and Deimos slides the crowbar out as soon as the referee turns around. Deimos tags in Danny and he enters the ring, helping him up. Bruce is still motionless, but 3pAC puts a stamp on this as they drag him up and send him to the ropes, watching him bounce off…
INTO THE
PAC DROP!
Deimos rolls Bruce onto his back and scoots backwards, allowing for Danny to make the cover!
ONE...
TWO...
THREE!!!
DING DING DING
Starr:
And your winner, via pinfall,
3PAC!
Bunny slides in, checking on her boys as "My Hero" rings throughout the building. Both Deimos and Danny are hurt and exhausted after that back and forth war they had with New Money. Deimos helps Danny up this time, as they raise each other's arms up, beaming with confidence after getting right back in the win column. The Heat Packers shake their head, and they turn around, headed up the ramp.
Watson:
What a great main event matchup! Both of these teams were willing to do whatever it took to obtain victory tonight, but it was 3pAC and that damn crowbar which won them the match! Only one team can say they were able to withstand that, and it's our current champions - so New Money have absolutely nothing to be ashamed of in their first main event outing as a tag team.
Sydney:
Indeed! New Money fought their hearts out, but 3pAC's experience and ability to bend the rules trumped all - as they look to be getting RIGHT into contention for the EWC Tag Team Championships, and rightfully so, after a performance like that.. But not only that Watson, but unfortunately, this means that a big fat one will finally be put on the once flawless overall record of Cosmo Goldworthy!
As 3pAC are taking in their victory, Cosmo slides in the ring with his HBO Broadcast Championship in hand. He checks on Bruce and helps him up, but never breaks his gaze from Deimos and "Little" Danny. Finally, once Bruce is conscious, Cosmo steps up to the two. "I ain't happy with how y'all won, but I saw it comin', and I woulda' did the same thing.."
3pAC slowly nod their heads. They don't actually care about what Cosmo has to say, but they remain on edge.. Cosmo sees how tense they are and chuckles. He waves it off, clearly not wanting to bring the wrong message. Instead, he holds his hand out to Danny - and ushers Bruce to do the same thing, and he extends a hand out to Deimos.
Watson:
Huh?! They're about to shake hands?!
Sydney:
It appears to be an honor among thieves with 3pAC and New Money! I'm not sure if I'm shaking hands with a guy who just knocked me out with a crowbar, but they have acknowledged they would've done the same thing!
Deimos and Danny grab Bruce and Cosmo's hands, and as soon as they do - both Bruce and Cosmo SPIT in their faces! 3pAC have no time to retaliate, because the
HEAT PACKERS BLAST THEM IN THE BACK OF THE HEAD WITH THEIR TITLE BELTS!Watson:
What the hell?! The Heat Packers have returned to the ring and they just LAID OUT 3pAC! What's this all about?!
New Money looks up to the Heat Packers and smirks. Bunny tries to intervene, but Bruce marches towards her, forcing her to leave the ring and avoid any trouble. After, they waste no time, stomping the hell out of Deimos and Danny while the champions watch on. Bruce grabs Danny by the hair, unleashing heavy punches to the forehead, cutting above the brow. "You should've stayed at Burger King, you stupid, useless, son of a bitch!" He piefaces Danny, slamming his face into the mat.
Deimos tries to work his way up, but Cosmo lets loose a nasty soccer kick to the ribs. Deimos groans out in pain as it feels like his ribs locked up. Cosmo lifts Deimos up and stares into his face, shouting. "Y'all got lucky! Go without those crowbars, I DARE YOU!" Cosmo takes Deimos' leg and lifts him up in a flapjack, as Bruce takes him down with the
Director's Cut
cutter in mid air - set up exactly like the
pAC Drop!Watson:
pAC DROP ON DEIMOS! Not only did they jump them, but they just laid Deimos out with their own move! What is going on here?! Why did The Heat Packers get involved?!
Sydney:
'Twas a SETUP, Watson! There's still bad blood between the Love Club and The House, and it seems like the Heat Packers just made a call in…
Cosmo steps to the center of the ring, looking around. Bunny wants to check on her boys, but this time, Bruce dares her to step in the ring - which she knows not to do. The Heat Packers face New Money off in the center in the ring.. And then they raise a "Too Sweet" up, to which New Money reciprocate with one of their own, meeting fingers with Brodie and Funk!
Sydney:
…TO THE NEW MEMBERS OF THE HOUSE!
Watson:
I can't believe this! Bruce Booth and Cosmo Goldworthy have just joined The House!
The crowd is conflicted on how to feel, but it starts to turn to boos out of pure disdain for New Money and what they've just done. The Heat Packers slap them on the back, and Brodie tells him that their "work here is done". Cosmo nods, and Bruce points a finger gun down at the bloodied Danny, firing off at him.
New Money exits the ring, and follows The Heat Packers to the back, as referees and doctors finally find it safe enough to enter the ring and check on 3pAC.. Bunny enters the ring, assisting the referees in checking on her boys, completely distraught.
Watson:
What an absolutely despicable end to what was an amazing match here in our Main event. New Money have joined the house?! How many tag teams do they need?! Folks we are completely out of time, for Cid Sydney I am Tim Watson. We will see you all... at the RUMBLE!!!!
The last image of Paramount Wrestling is of Bunny Love mouthing the words "You're so fucked now... Just wait"
..................................................................................................................

MATCH WRITERS
MATCH ONE
WRITER:

EWC Staff Assistant: Em
MATCH TWO
WRITER:

EWC Staff Assistant: Em
MATCH THREE
WRITER:

Cosmo Goldworthy
MATCH FOUR
WRITER:

FN'R
MATCH FIVE
WRITER:

EWC Staff Assistant: Em
MATCH SIX
WRITER:

The Mad King




MATCH SEVEN
WRITER
:
Daphne Kay
MATCH EIGHT| MAIN EVENT
WRITER:

Cosmo Goldworthy
..................................................................................................................
RECAP OF WINNERS
TRIPLE THREAT MATCH
Eavan Maloney (N/S)(PINNED) Vs Amber Lisa Vs Adriana Aquilla
WINNER: Amber Lisa
...
SINGLES MATCH
Vespertine Vs SONYA
WINNER: SONYA
...
SINGLES MATCH
Jadyn Keem (N/S) Vs El Pablo
WINNER: El Pablo
...
TAG TEAM SHOWCASE
Property Brothers Vs Bloody Sureiyazu
WINNERS: Property Brothers
...
X-DIVISION RULES MATCH
NON-TITLE
Shaker Jones Vs Ibuki Ito
WINNER: Ibuki Ito
...
SINGLES MATCH
X-DIVISION RULES
King Flip Vs Daphne Kreel
WINNER: King Flip
...
SINGLES MATCH
FOR THE APPLE TV+ BROASCAST CHAMPIONSHIP
Ashley Freeman Vs Sally Talfourd (c)
WINNER: and STILL APPLE TV+ Broadcast Champion: Sally Talfourd


...
TAG TEAM SHOWCASE
New Money Vs 3pAC
WINNERS: 3pAC
...
...............................................................................................................…
MVP OF THE NIGHT:

3pac

&

EPFTW!

!
MATCH OF THE NIGHT: New Money Vs 3pAC


© THE EXTREME WRESTLING CORPORATION 2023